DIY Hanging Flower Installation — If you're looking for a statement party, engagement, or wedding decor piece, then this DIY hanging flower installation is for you!
If you follow us along on Instagram, you might recognize this DIY Hanging Flower Installation from a video sneak peek that I shared on Sunday.
Trust me, I'm just as giddy over it as you were! It's a project that I've been wanting to make for a while now. And the new studio was the perfect white backdrop for it.
I also love the photos that Jared took of the finished piece. (How awesome is this one below?!)
He helped me hang every last stem in the middle of a sunny Friday afternoon while I was battling a severe case of hangry-ness.
Somewhere in the middle of the frantic flowering, it was true love even if we were way too checked out once everything was done to enjoy it at the time…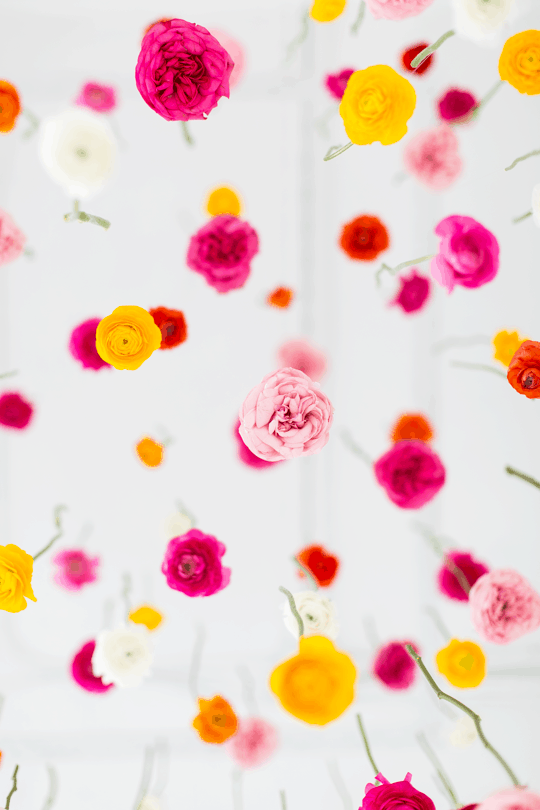 Materials And Tools Needed To Make A DIY Hanging Flower Installation
To be able to suspend and space the flowers easier, I wanted to make something simple to reconstruct that would withstand the weight of the flowers while not being a total eyesore.
Instead of creating more work for myself, I just repurposed the framed chicken wire from my DIY paper wall art post.
Essentially, it's just a wooden canvas frame (however big you want the artwork/installation to be) with chicken wire stapled to the back. You can find the step by step photos for it here.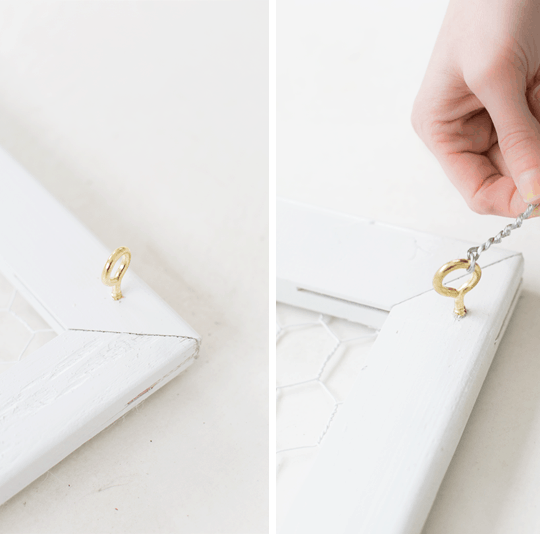 How To Make A DIY Hanging Flower Installation
Once you have the wooden frame and chicken wire portion constructed, drill a hole in each of the corners on one side of the frame.
Next, screw an eye hook into each corner to be able to attach the picture wire.
Measure how far down you'll need the structure to hang from the ceiling. In our case, it was two feet.
Loop the wire through and make a tight knot on one of the hooks, and wrap the excess wire around the loop and around the remaining wire until it's secure.
Then, measure two feet of wire from the top of the hook (as opposed to pre-measuring and accidentally making different sized knots), leaving yourself about 4-6 inches extra to make a loop on the end.
Repeat for all four corners.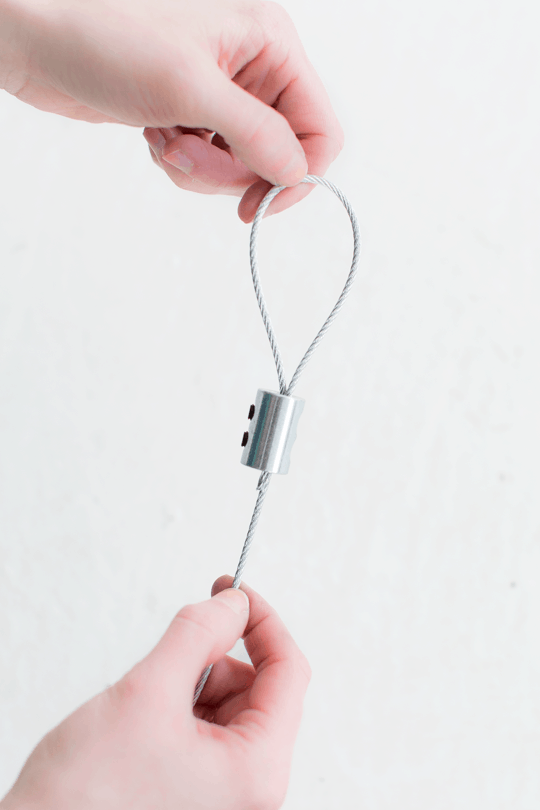 Once you have the hooks in place, use the wire loop enclosures to make a loop at the end of each corner to hang to structure evenly.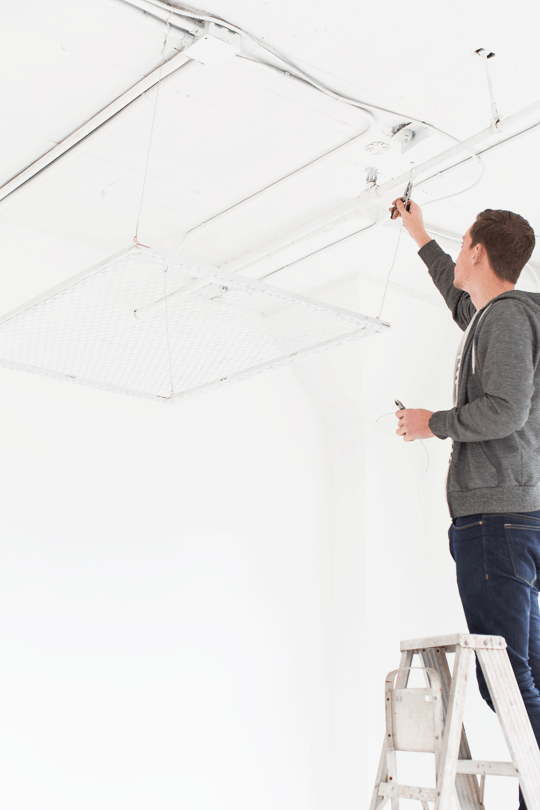 Screw the other four cup hooks into the the ceiling equal distance to where each of your four corners of the structure will be placed, and suspend the loops from each.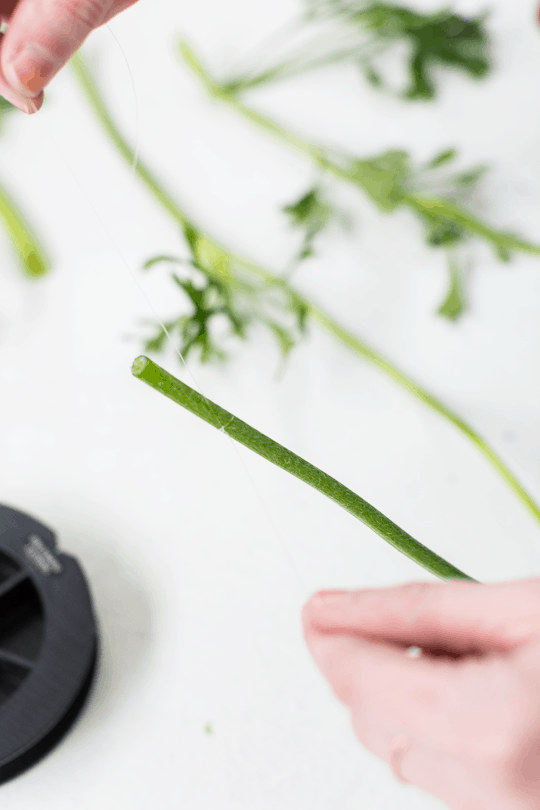 To hang each stem, simply wrap and knot fishing wire to the end of each flower. Wrap and knot them tightly, but not so tight that it cuts through the stem.
Hang each stem from the chicken wire by the other end of the fishing line, placing them sporadically as you go.
Five hours and a few arguments later, you should have something that looks like this!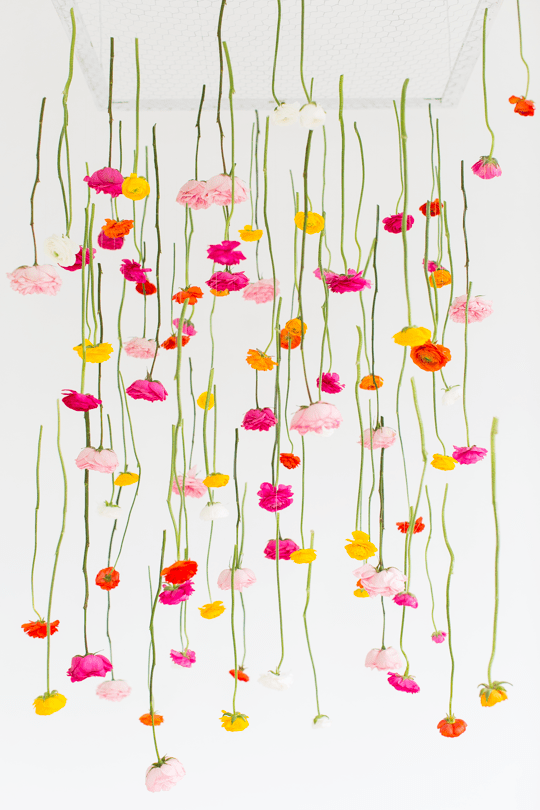 How Long Will This DIY Hanging Flower Installation Keep
You'll definitely want to be sure that you install the flowers the day of (and as close as possible to the time) of the event or party so that the flowers are still fresh and bright.
We left ours up for three days to see how long it would last. And by the next day only two or three stems had fallen but they were definitely sad looking!
By day three, all of the colors were much darker with a few petals lost.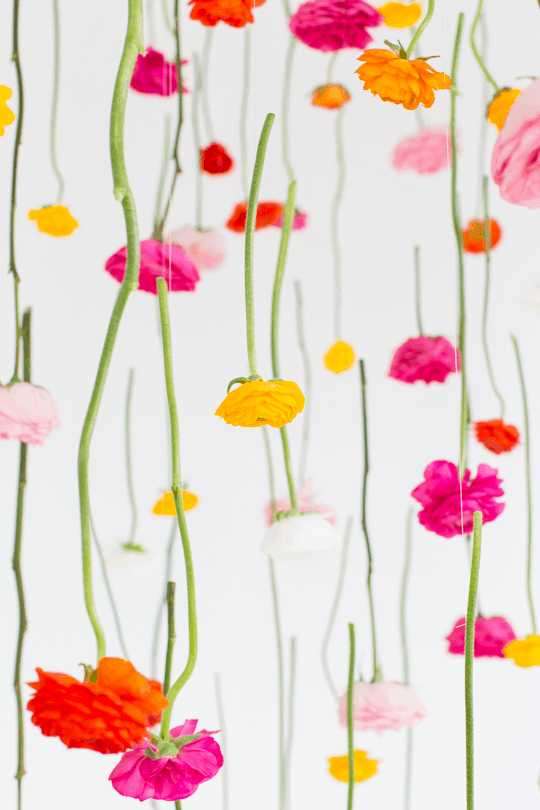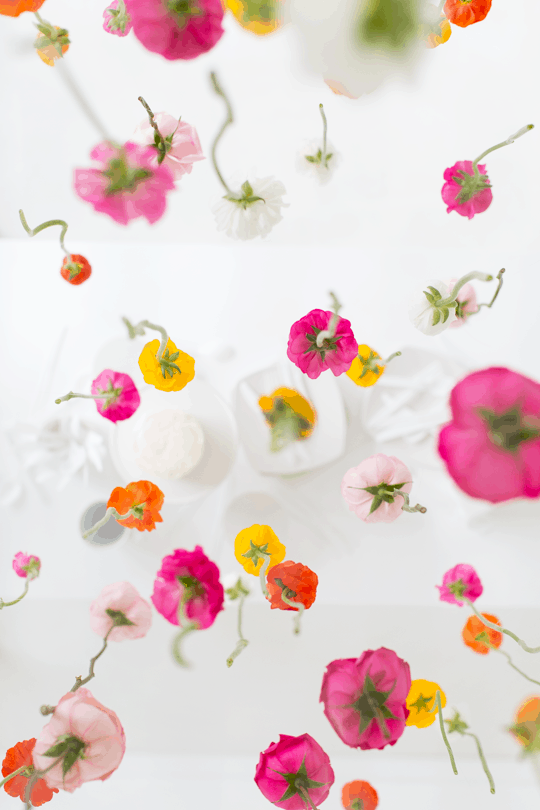 Flowers Used For The Party Decor
The overall look is stunning and I would absolutely make it again for an occasion.
However, you definitely need to find a good wholesale flower supply to make it remotely affordable. (Then again, my DIY budget is probably much smaller than most event budgets!)
We use Fifty Flowers because they have an awesome selection year round and you don't have to be licensed to buy from them in bulk.
I used the ranunculus and garden rose variety packs for this project.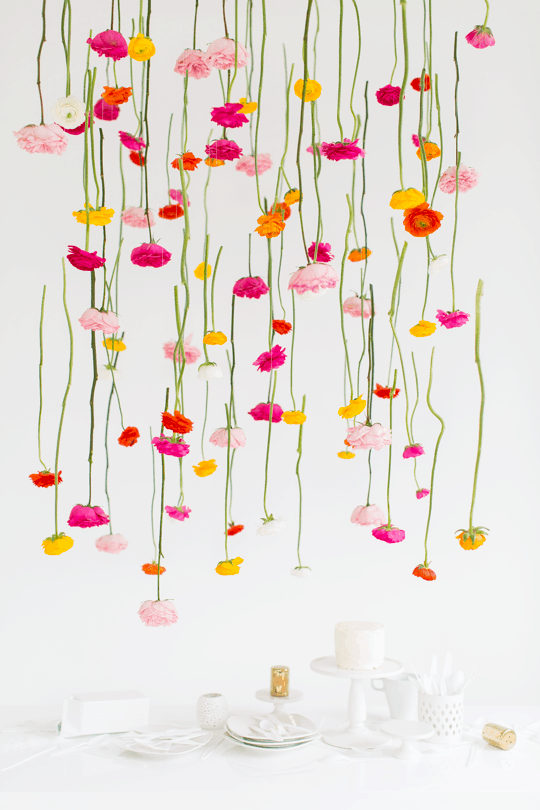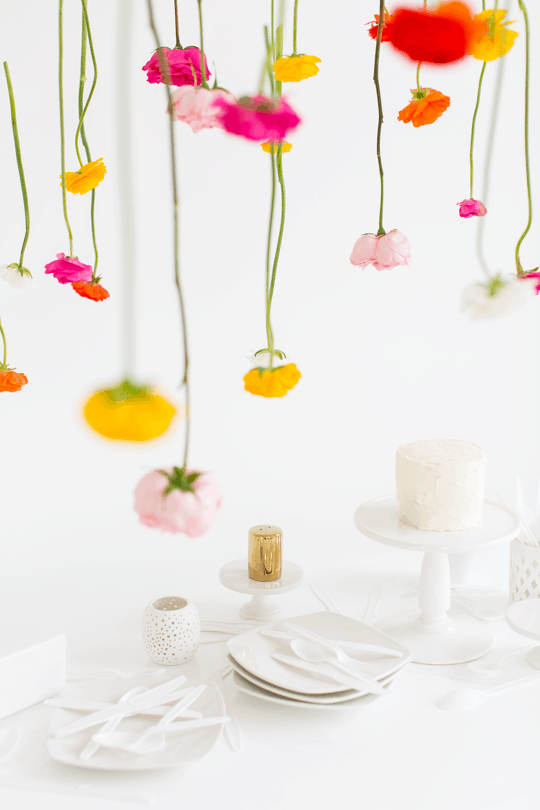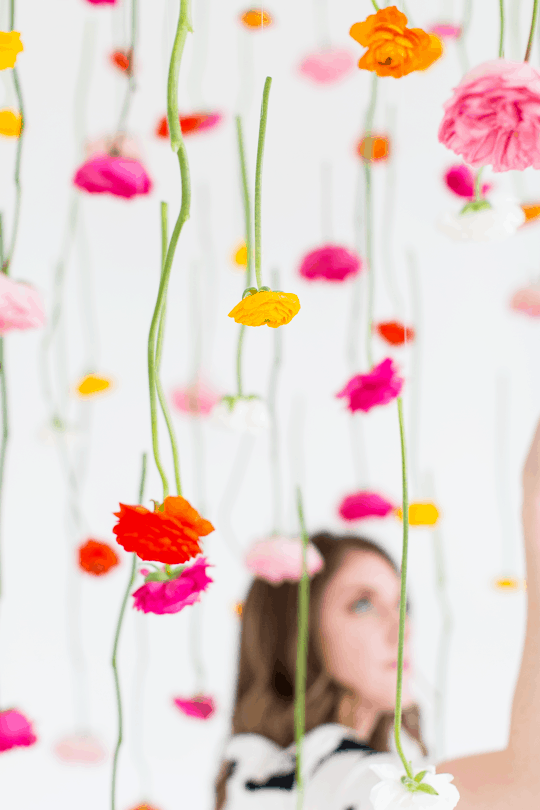 So what are the odds you're going to be going home to make one of these bad boys?! Yes, it's not exactly your average family dinner decor.
But it would definitely come in handy for a birthday party, engagement, wedding, or photo booth or dessert table backdrop, no?
More DIY Flower Party Decor Ideas