We're so excited to be sharing a new series of our favorite Amazon furniture finds!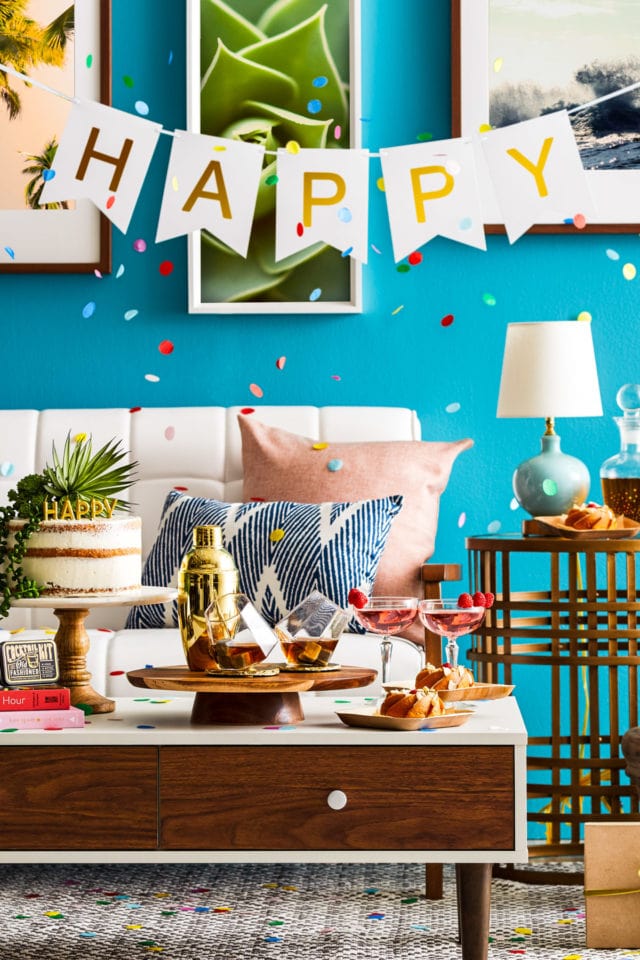 Turns out that Amazon Home is a pretty awesome source for cool home decor that's affordable and the double bonus with having Prime delivery too!
It's no surprise that we love Amazon. (Who doesn't??)
But what is surprising is their amazing inventory of furniture and home decor!
Amazon seems to have taken a cue from Target's success in the home furniture and decor items, and even launched their own exclusive home brands too.
Rivet features "the best in Mid-Century and Industrial Modern design to bring you beautiful, affordable pieces".
Their traditional-inspired brand, Stone & Beam was "designed to marry enduring, rustic style with practicality and the realities of everyday family life."
Sign us up for both, please!
We've scoured the website to bring you treasures found all over the Amazon home shop.
You can shop by room from our favorite bed frames, lamps, living room pieces and all the decor you can use in your office, home, and kitchen.
You can see plenty of our favorite Amazon pieces in our new house and entertaining ideas, too!
Raise your hand if you've never been more thankful for Amazon Prime!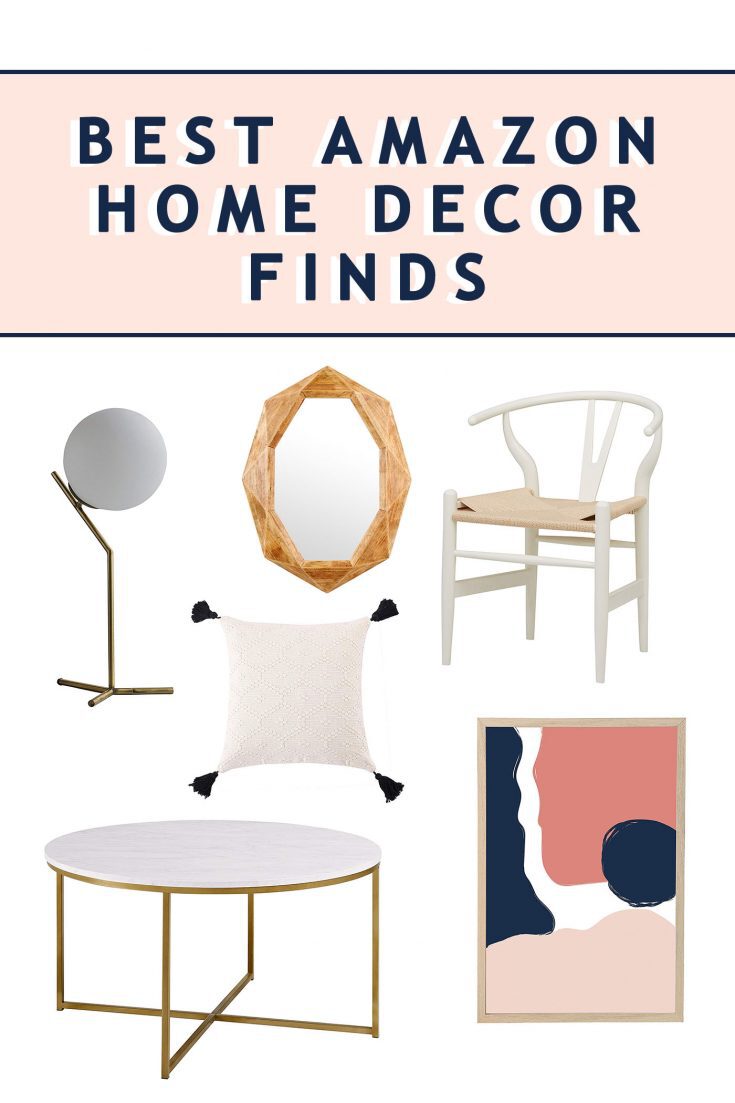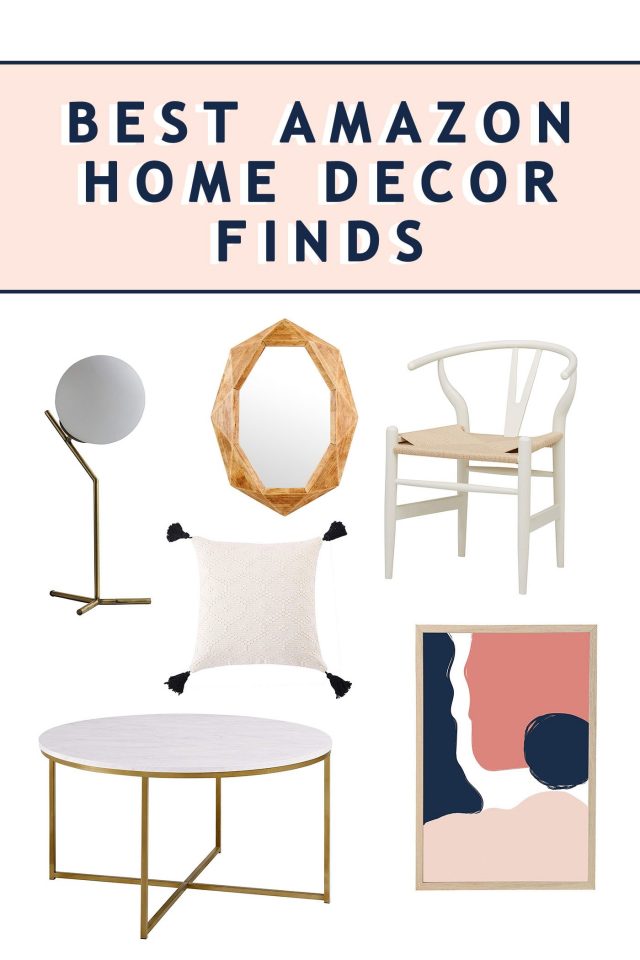 Amazon Home Decor | Our Favorite Amazon Furniture Finds!
1 — Wicker Ball Pendant Light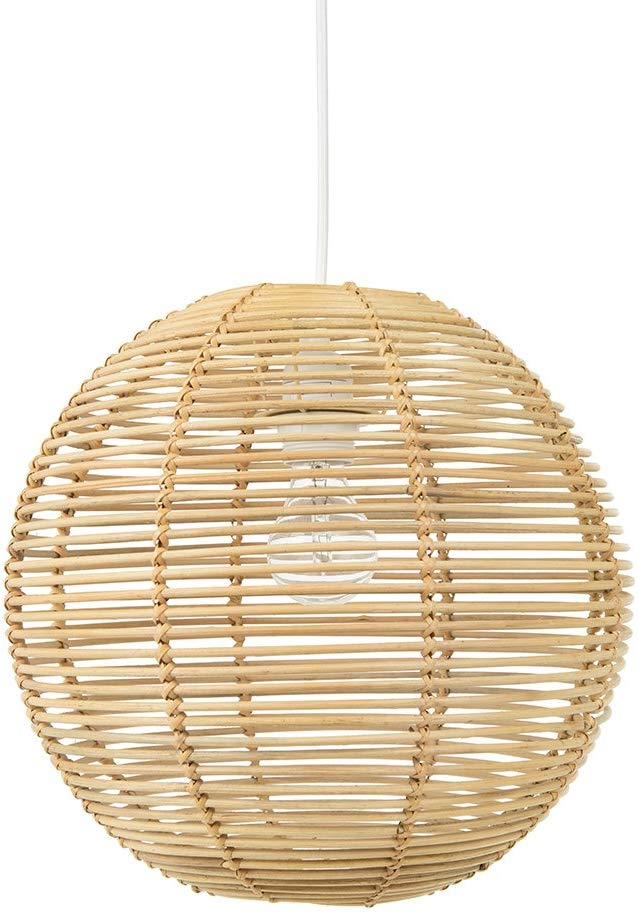 Since we know how popular the Cane Decor Trend is, here's a beautiful wicker ball pendant light that fits the bill. Also an excellent alternative if you don't want to make your own DIY basket light fixture!
2 — Gold Tapered Candle Holders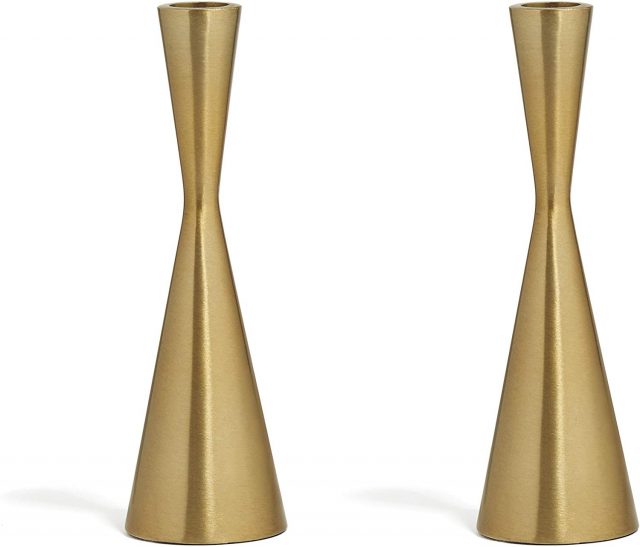 Mid-century meets glam in these modern hour glass tapered candle holders. According to the description, they fit standard sized candles. Perfect for holiday and year-round decor.
3 — Wishbone Dining Chair in White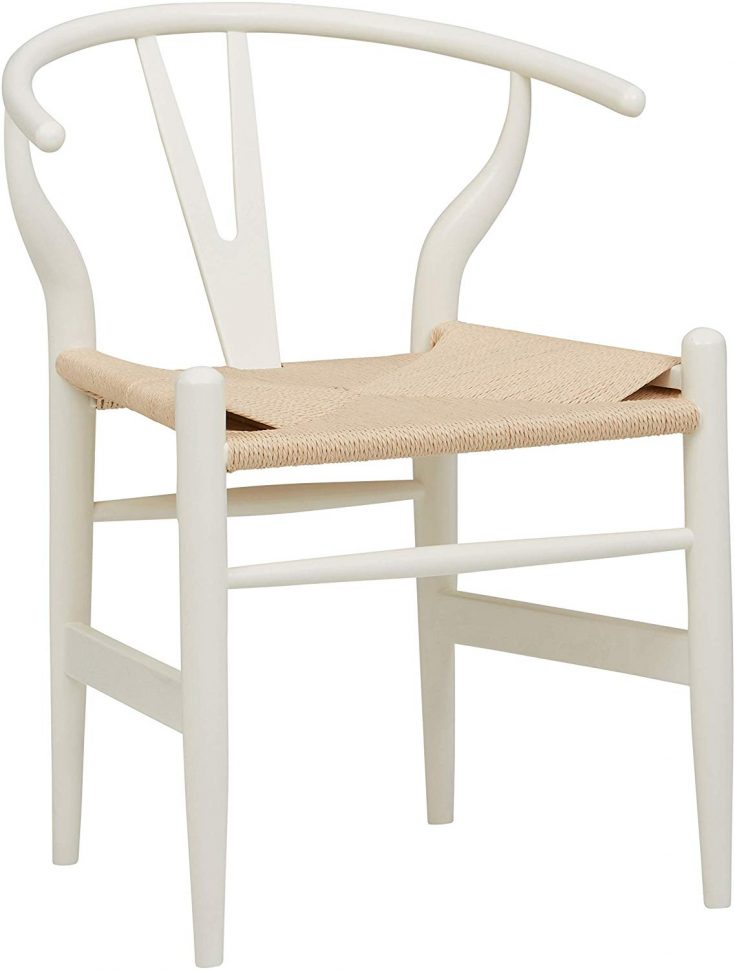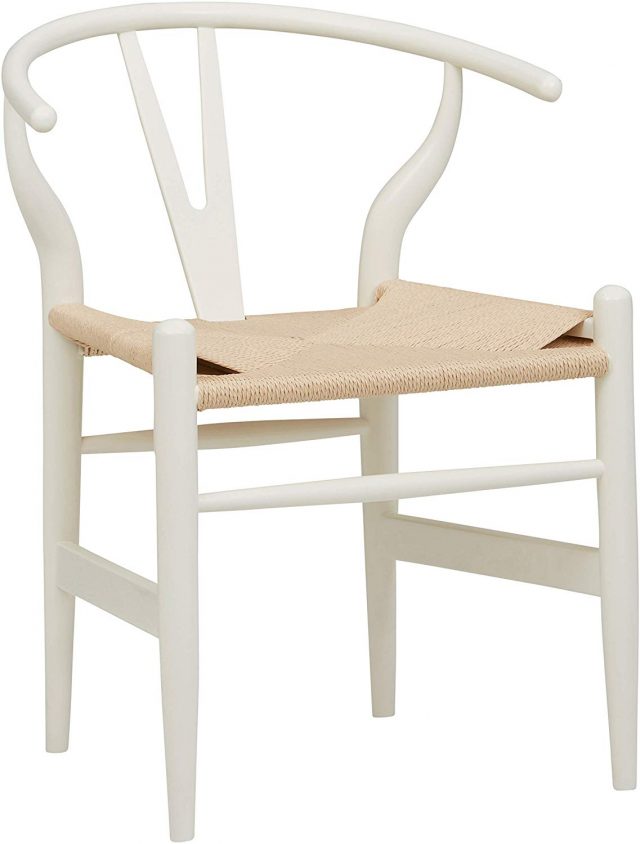 These popular wishbone chairs, made of wood and rattan, work well as a single chair at a desk, or as a set around a table. They also come in natural wood, as can be seen in Sugar & Cloth's dining room.
4 — Swiveling Wall Sconce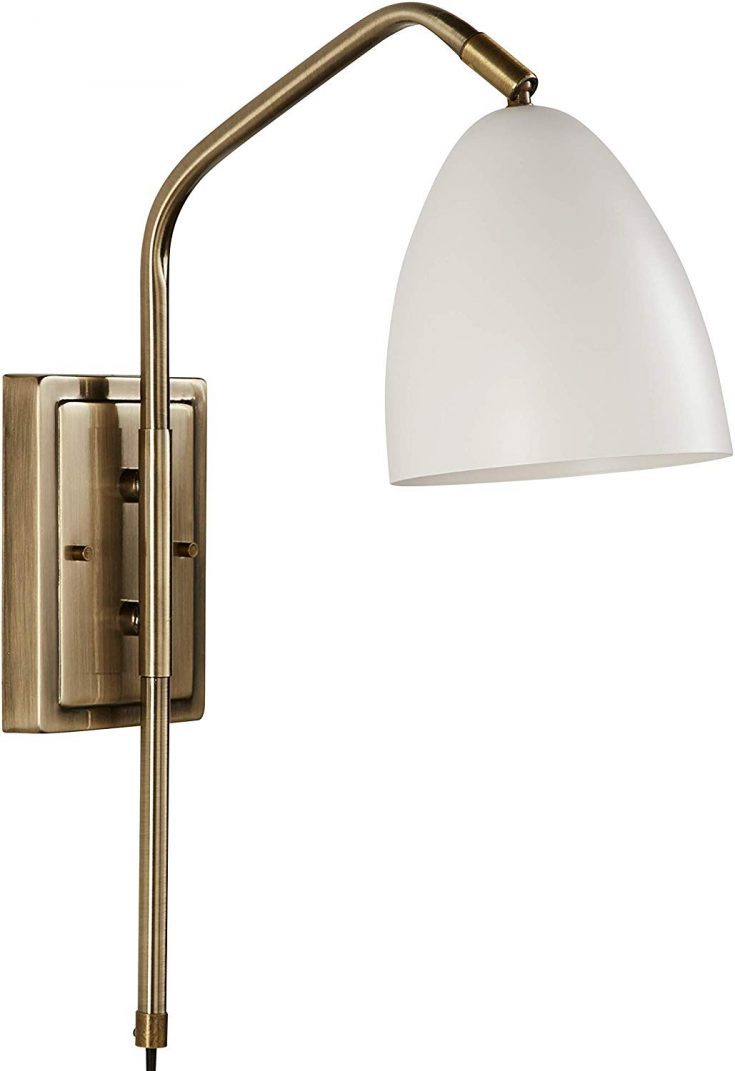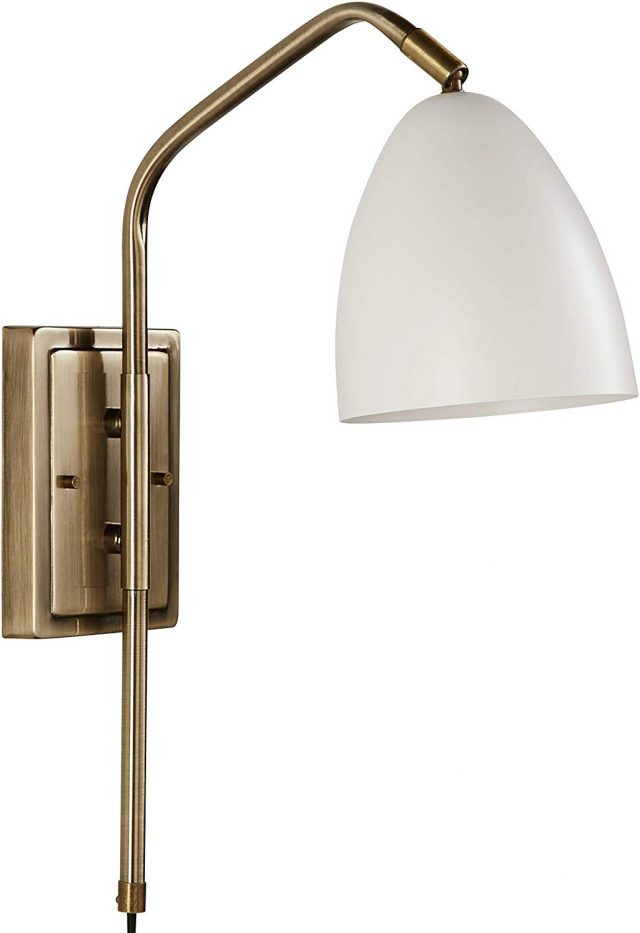 This modern wall sconce can update any room. The antique brass with the matte white shade is A+, and the swivel function is pretty neat, too.
5 — Tufted Leather Sofa in Cognac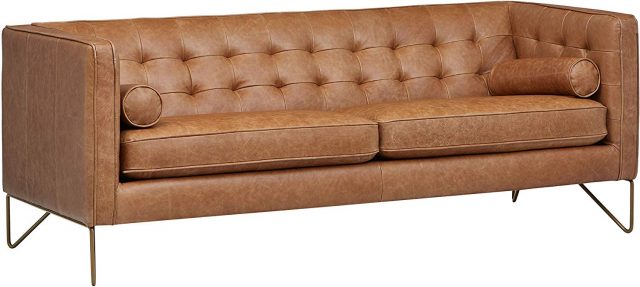 There's something so classic and cool about a worn brown leather sofa. We especially love this one with the triangle brass legs!
6 — Color Block Throw Pillow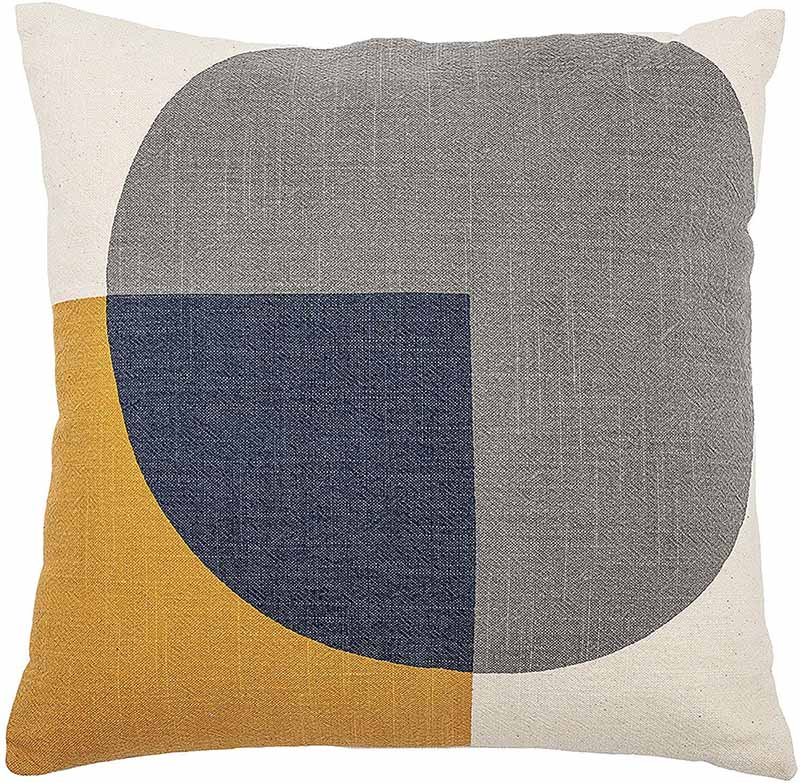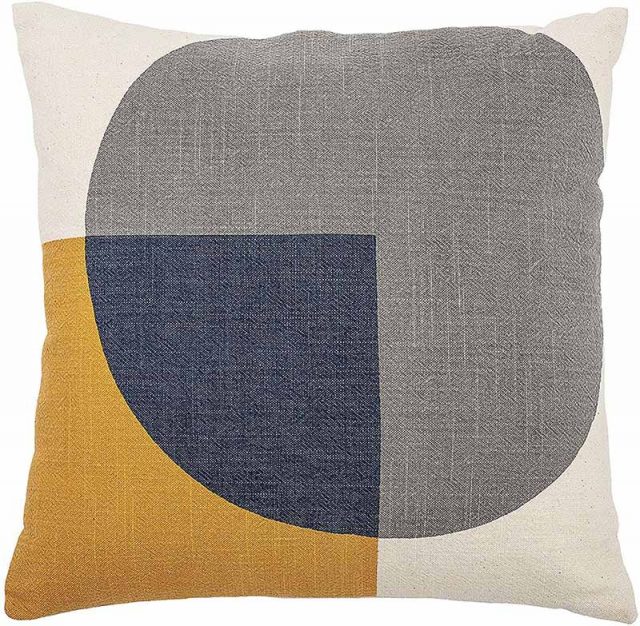 Color block throw pillow with overlapping muted colors, for a subtle pop of mustard, navy, and gray. We think this would go great on the brown leather sofa above…
Square Upholstered Pouf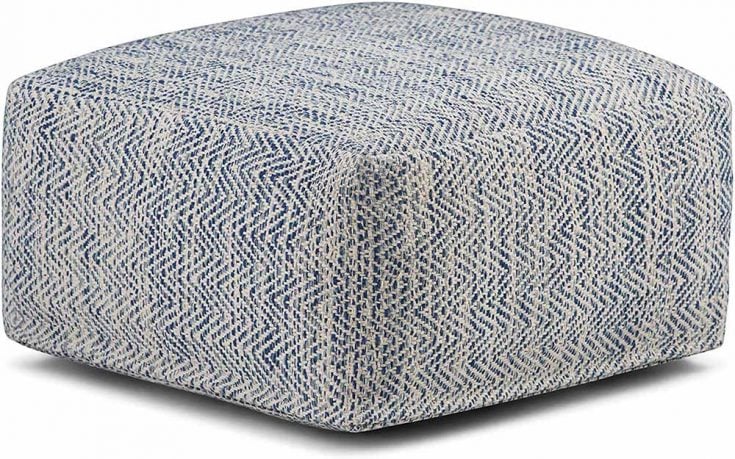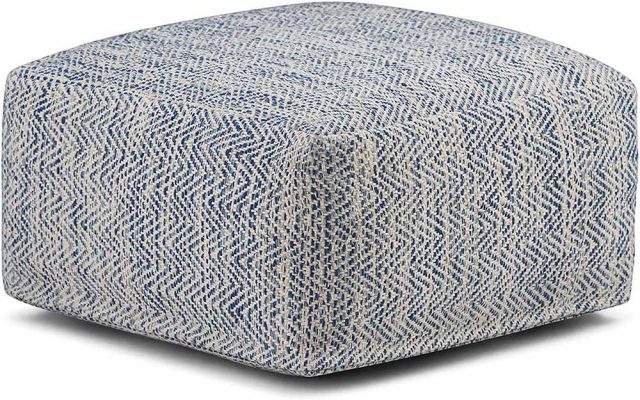 We came for the comfort, we stayed for the chevron pattern. Amazon furniture give us this pouf, covered in a denim blue mélange pattern. It's the perfect footrest, coffee table, or extra seat, depending on your needs.
7 — Bohemian Geometric Rug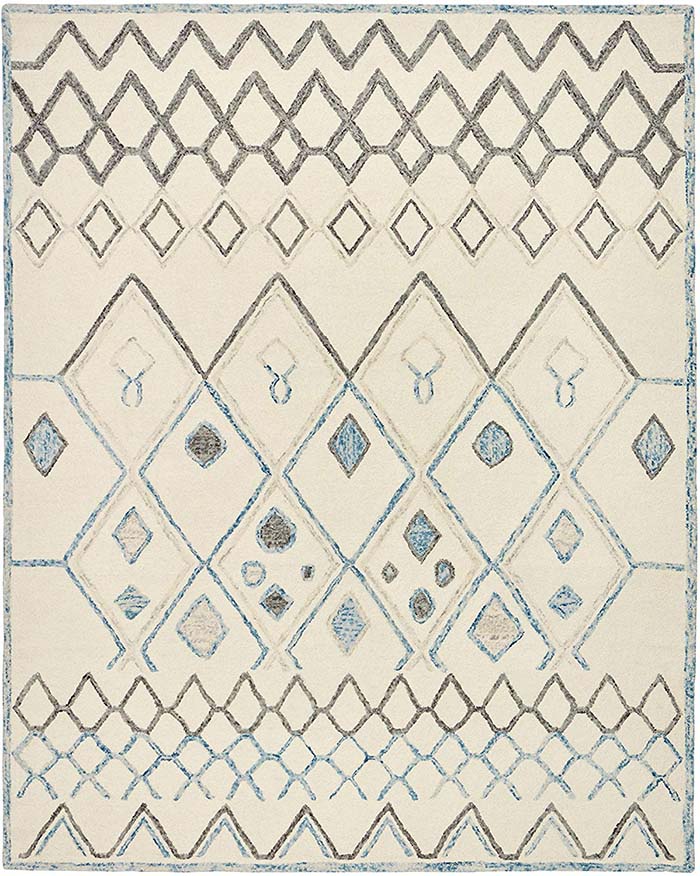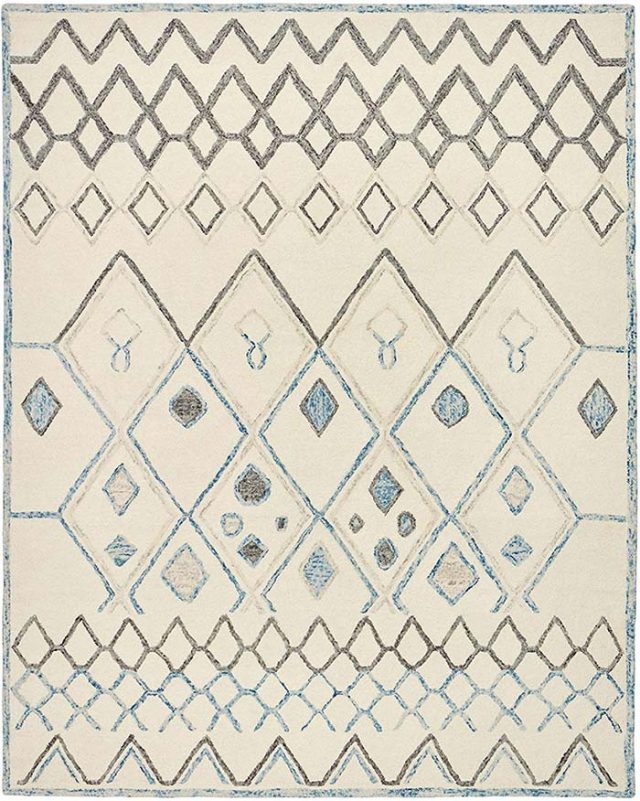 If we didn't know any better, we might say that this boho wool rug would go pretty well with the pouf, pillow, and sofa above! We see a nice living room coming together…
8 — Bloomingville Pendant Light

This gorgeous orange pendant light comes from Bloomingville, another one of Amazon's exclusive brands. The peachy terracotta shade is the perfect match for a natural decor palette.
9 — Fruit Bowl with Legs


This raised fruit bowl with legs is a great for your dining table or counter – with or without produce! Don't be fooled by the image, this bowl is actually round, measuring 13.5″ in diameter.
10 — Round Marble Tulip Dining Table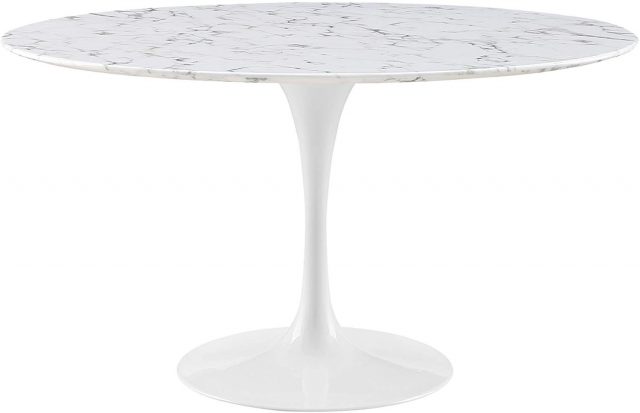 The tulip table is a mid-century staple piece that still holds. The marble top takes it up a notch, and this faux marble gives the same look at a fraction of the cost.
The base comes in white, black, gold, and rose gold, and the top comes in marble or white, and in varying sizes.
11 — Mid-Century Globe Sconce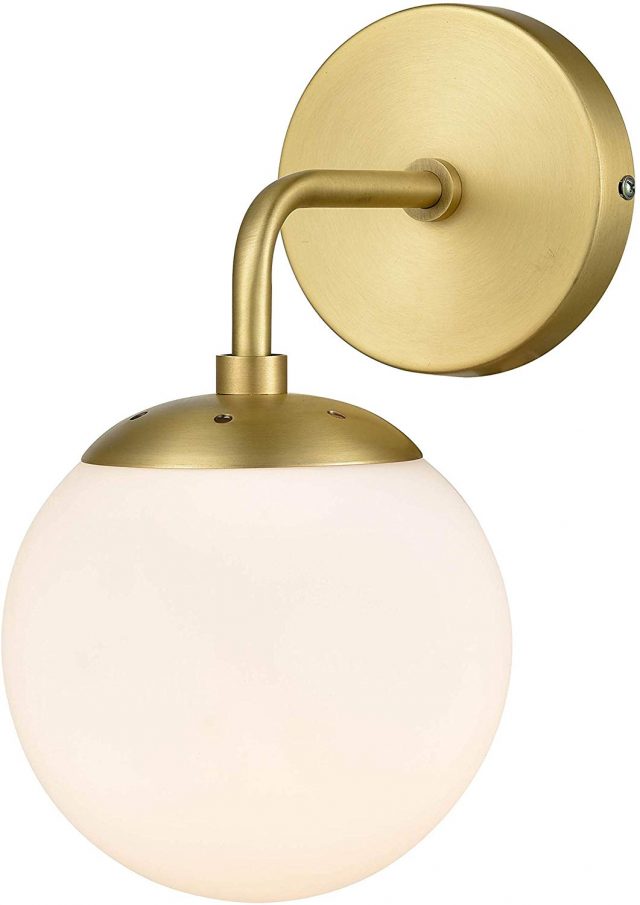 If you're considering affordable, retro-inspired sconces in your bathroom, this one's a winner. Other options include brushed brass with clear globe, black with clear, or black with white.
12 — Rose Velvet Chair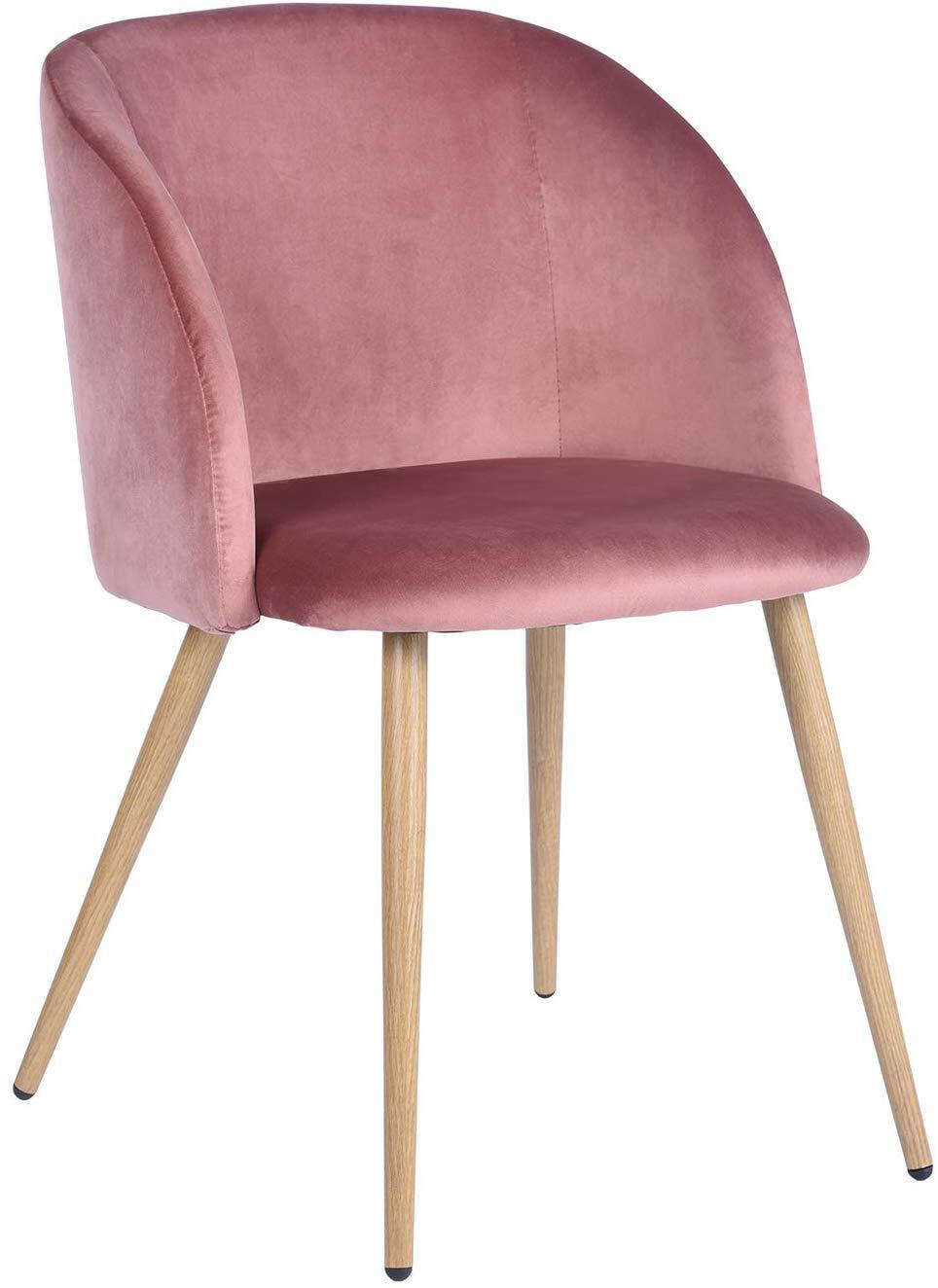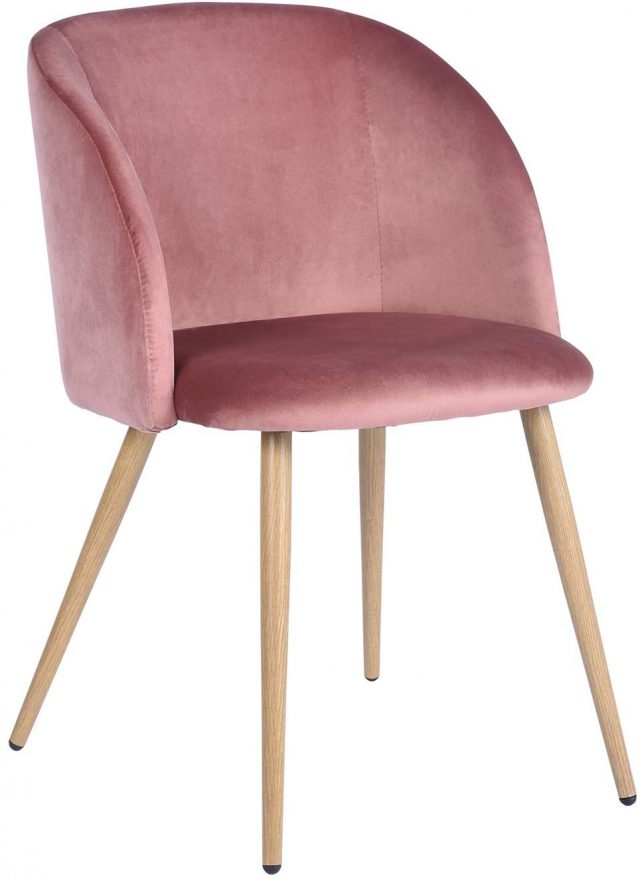 How pretty is this rose velvet chair? This would be a great accent chair in a bedroom or living room, but we love the idea of 2 (or more) around a table for a very feminine dining vignette. Très belle!
13 — Hand Painted Woven Baskets (Set of 2)

We know how handy baskets are as storage for all kinds of things, but who says organization doesn't have to be cute?! These hand painted woven baskets are just what we need to put our extra stuff in.
14 — Round Jute Rug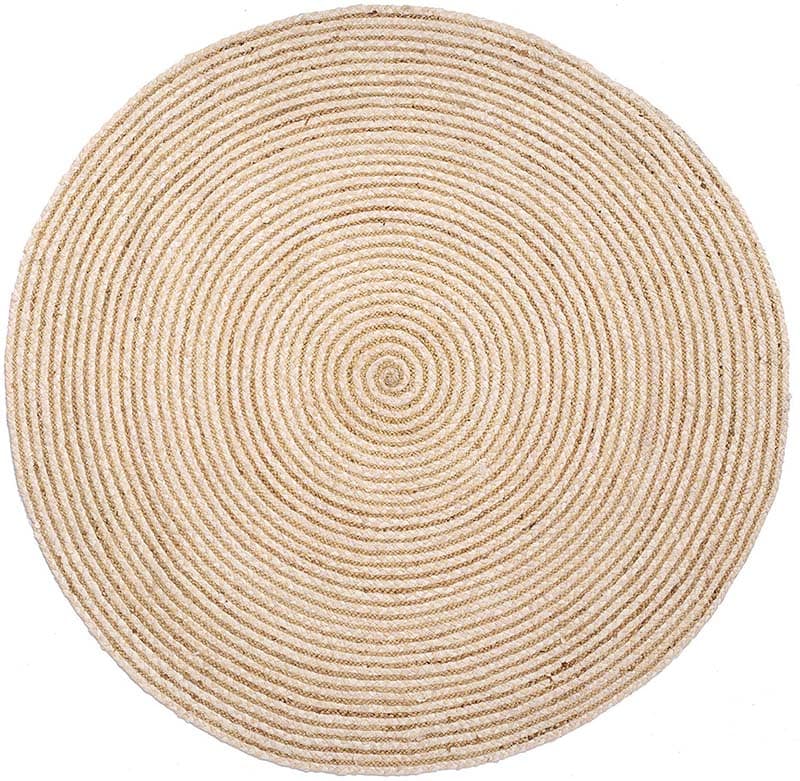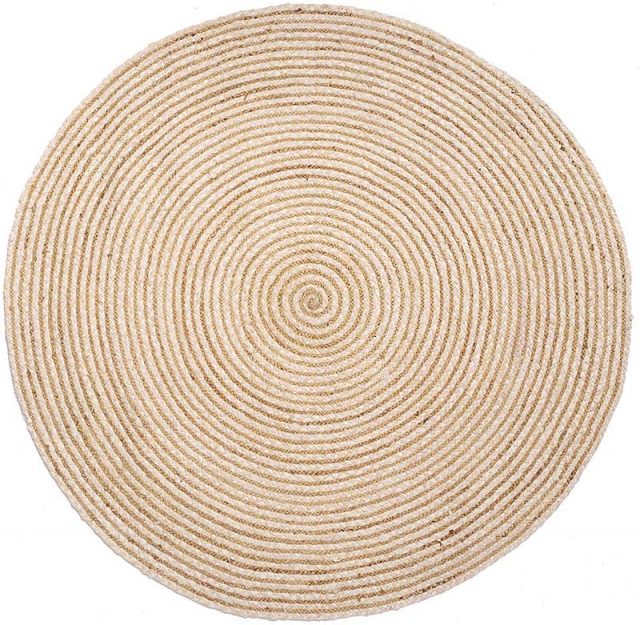 This jute and white cotton round area rug is a great neutral accent for any room. We love the idea of using it under a small round table in a dining nook, or even in a nursery! This rug is also spill resistant, as in, it's reversible!
15 — Pink Velvet Sofa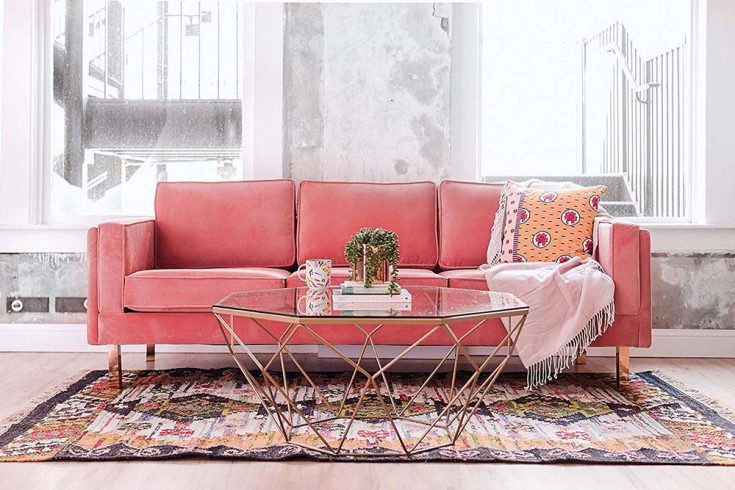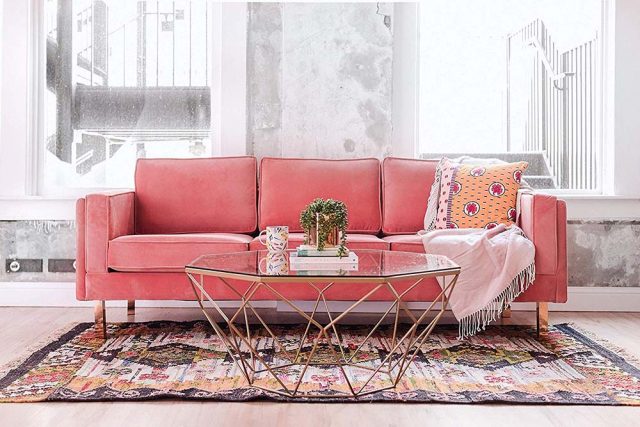 Who knew that you could buy a modern pink velvet sofa with rose gold legs for under a thousand dollars?! This one's a no brainer, if you ask us. Also available in emerald, navy, and gray velvet.
16 — Framed Abstract Art Print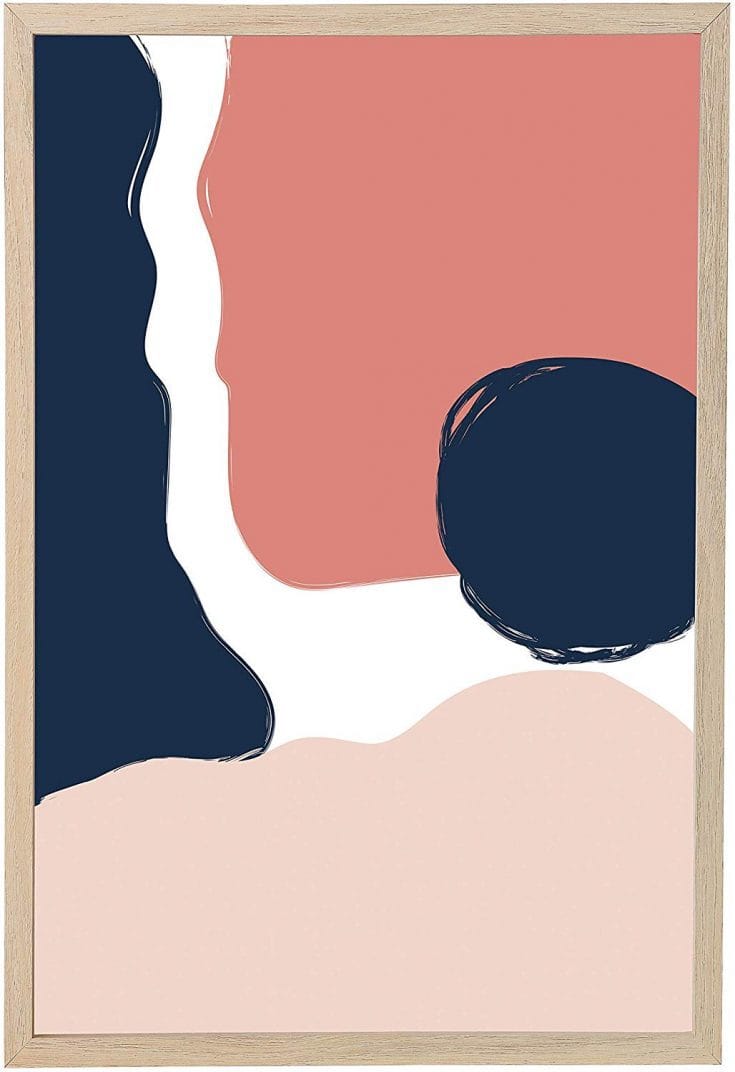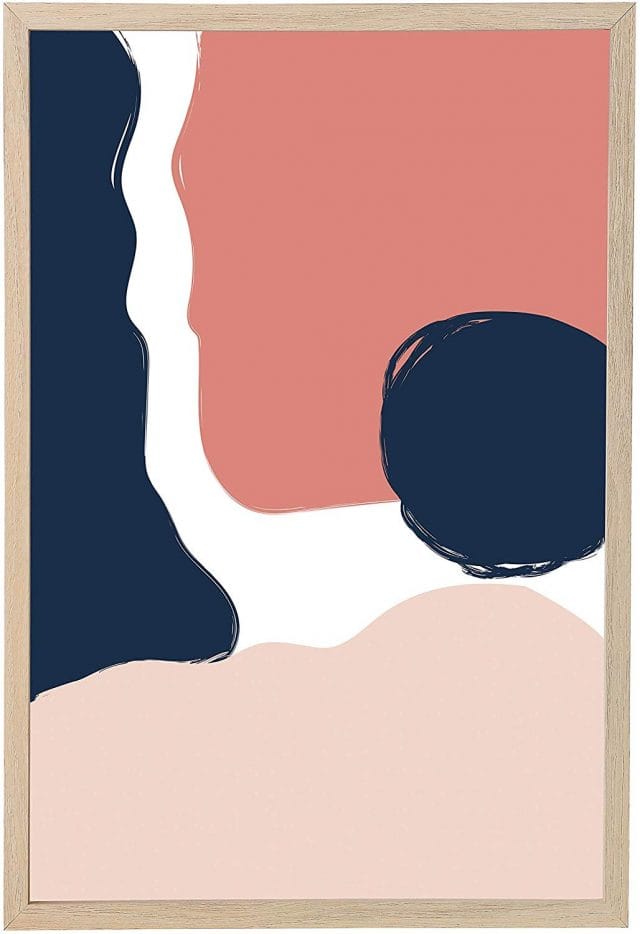 This 17.5″ x 25.5″ framed abstract art print is perfect to tie in any navy or pink in the room, or as the single pop of color in an otherwise neutral space. It's fun, modern, and quite inexpensive.
For more artwork we love, check out Wall Art for Under $200!
17 — Velvet and Rattan Dining Chairs (Set of 2)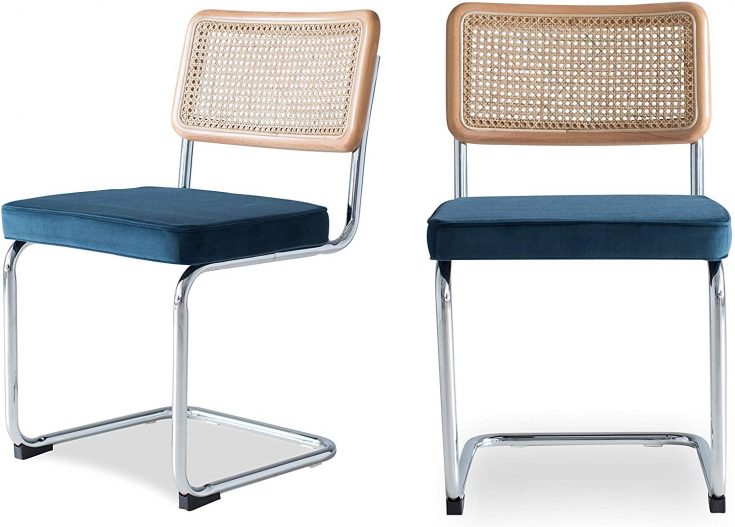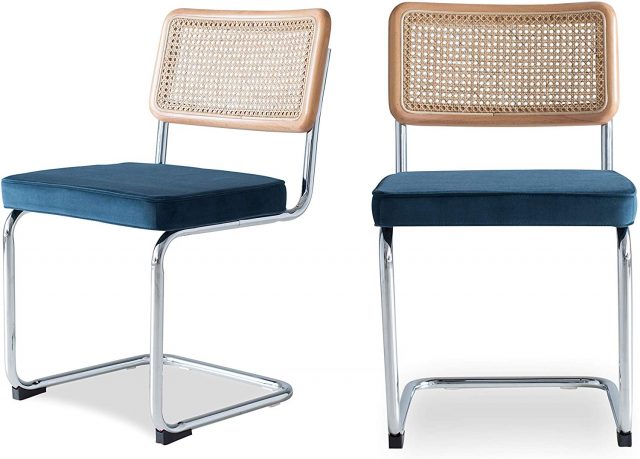 The velvet, rattan, and chrome is the dining chair combo we never knew we needed. We love the mix of materials and the sleek design that is actually comfortable. We'll take four, please!
18 — Josef Console Table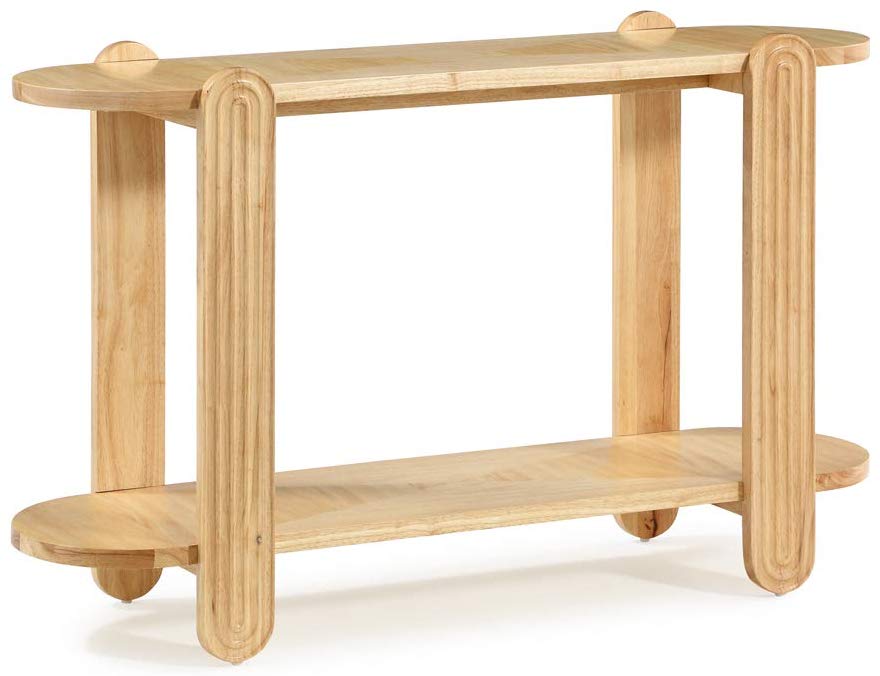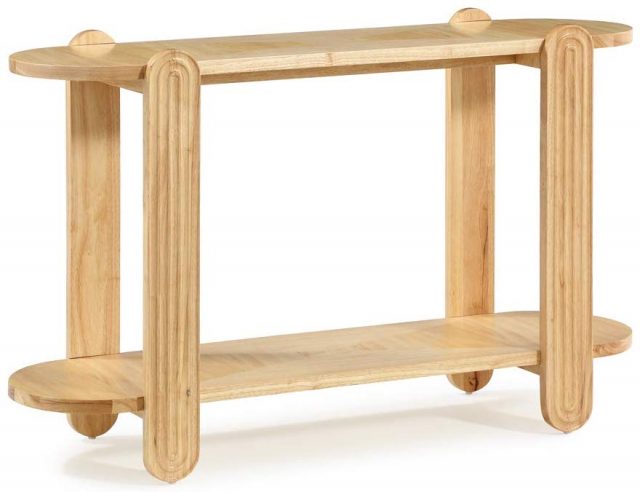 The Josef Console Table is by Jonathan Adler for his exclusive Amazon collection, Now House. Many of the pieces have Jonathan Adler's famous whimsical touch mixed with his bold and modern design. Be sure to check out the full collection!
19 — Frameless Leather Wall Clock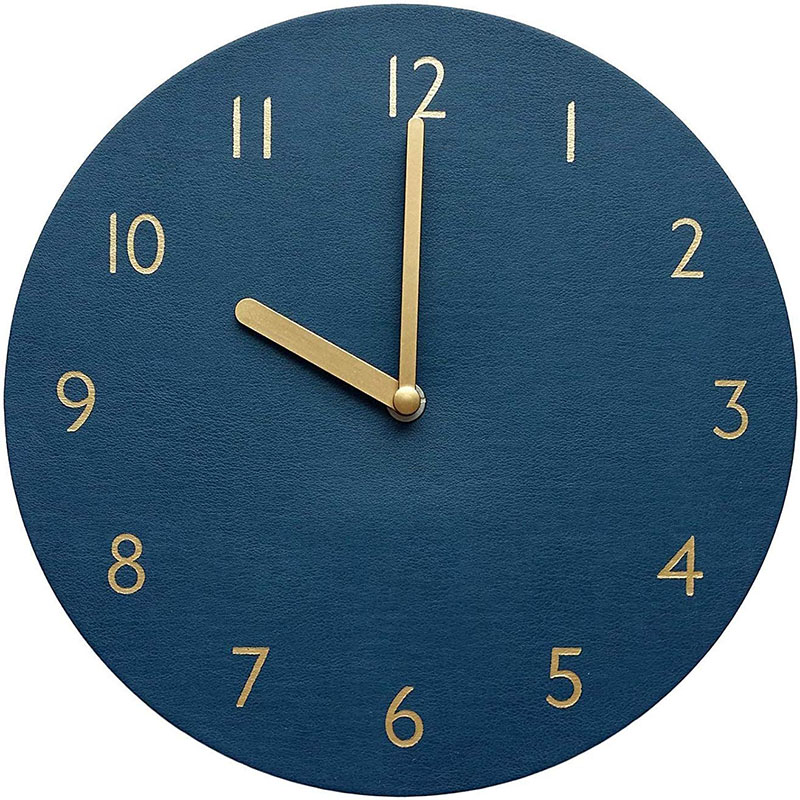 A clock that looks this nice, costs this little, and is silent? Yes, please! We like the idea of this non-ticking navy and gold leather clock in an office. It also comes in black, gray, brown, and orange.
20 — Palm Leaf Art Print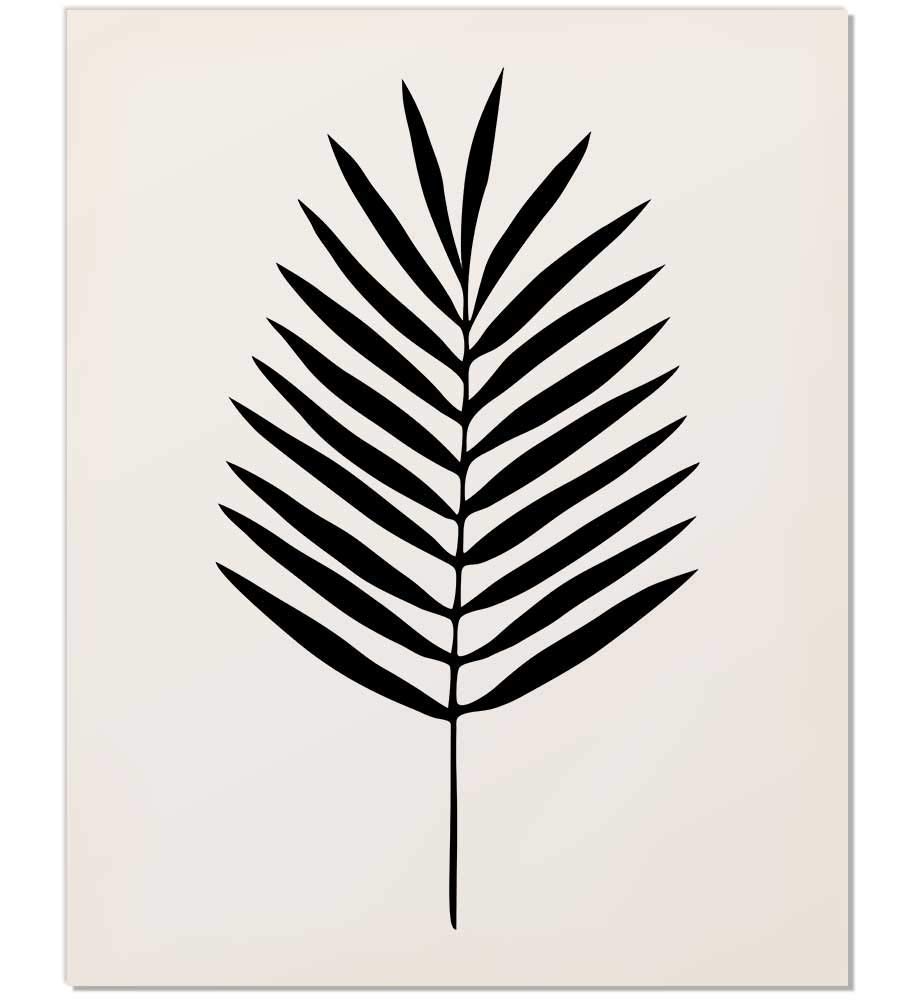 This palm leaf art print is so simple and timeless. At 8″ x 10″, it is small enough to add a hint of decor to any room in the house. Please note that a frame is not included.
21 — Octagonal Wood Framed Mirror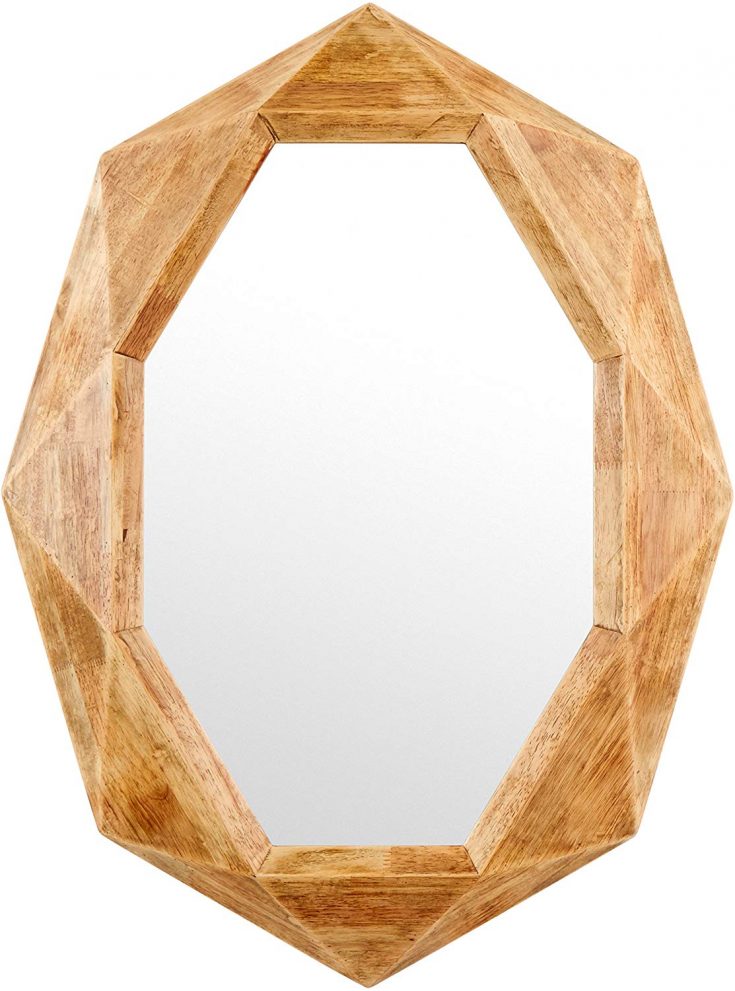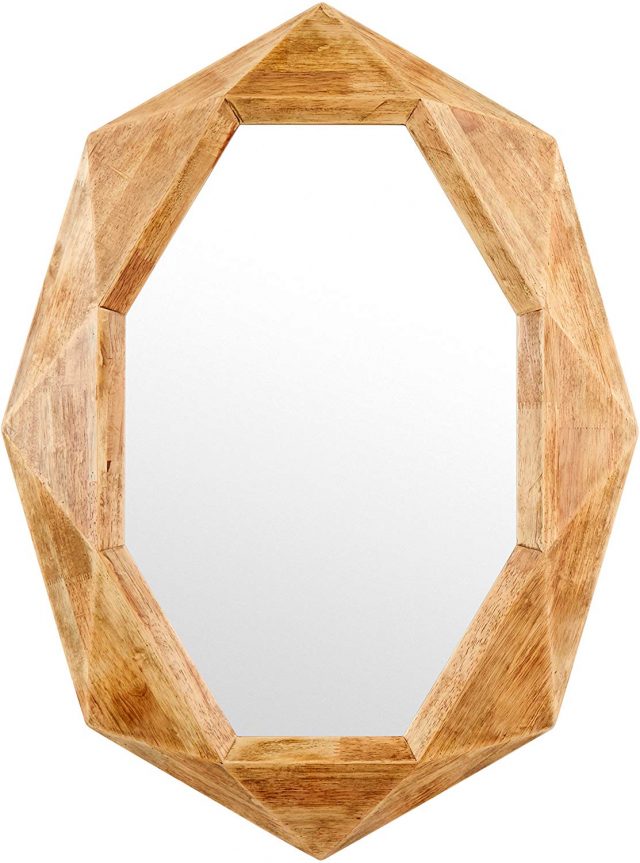 This octagonal wood framed wall mirror is super cool. The description warns against keeping it in areas where there is moisture, so it's not a great choice for a bathroom vanity mirror, but it would look great above a console table, or over a tall dresser.
22 — Colorful Contemporary Print on Canvas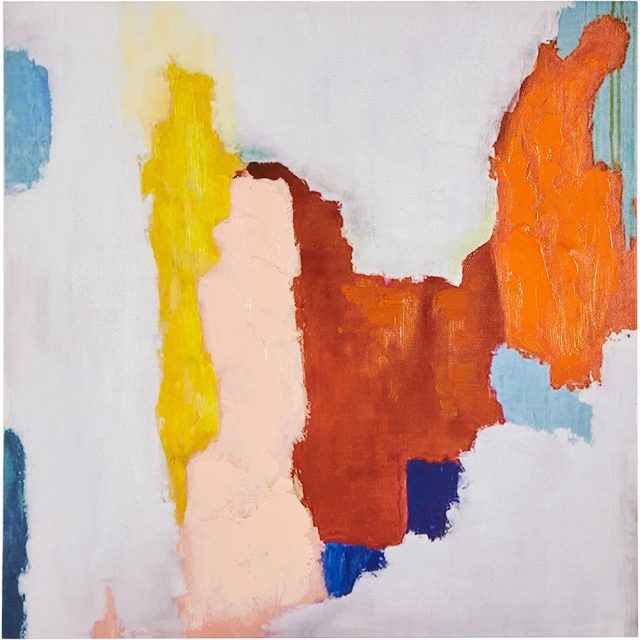 Make a statement with this colorful contemporary abstract print! There are two canvas sizes available, Medium: 30″ x 30″, and Large: 40″ x 40″.
23 –Rattan Tray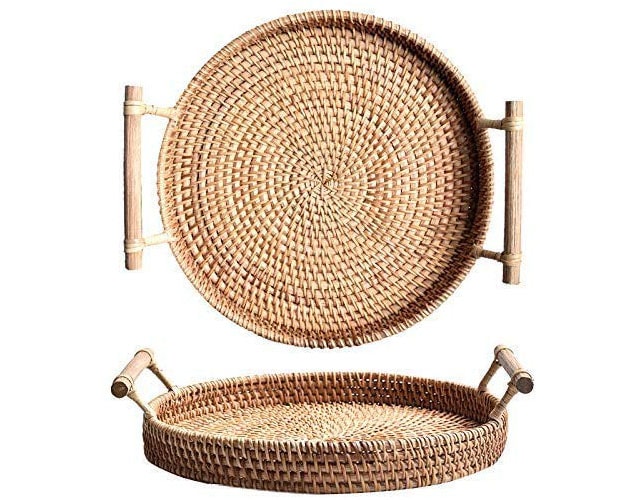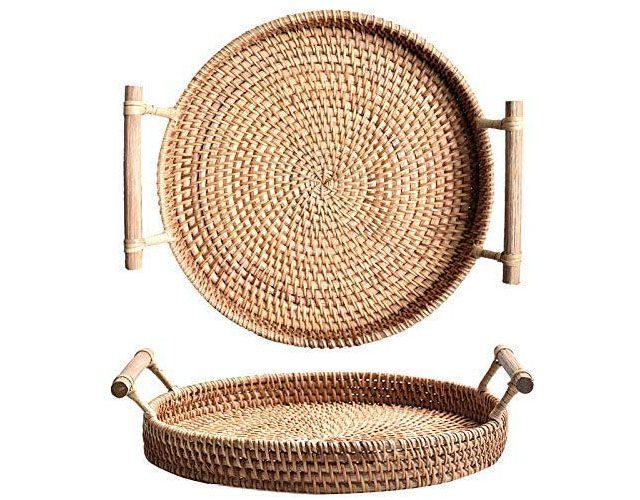 These cute rattan trays with handles come in two sizes and are the perfect accent on top of a coffee table or bar.
24 –Revolve Modern Sofa
A perfect example of Amazon's great furniture is this modern sofa with tapered wood legs. The Revolve collection includes this sofa, a sectional, a loveseat, and an armchair. The shape is classic, and the upholstery comes in linen or leather, and in multiple colors.
25 — Circle Throw Pillow with Stitch Detail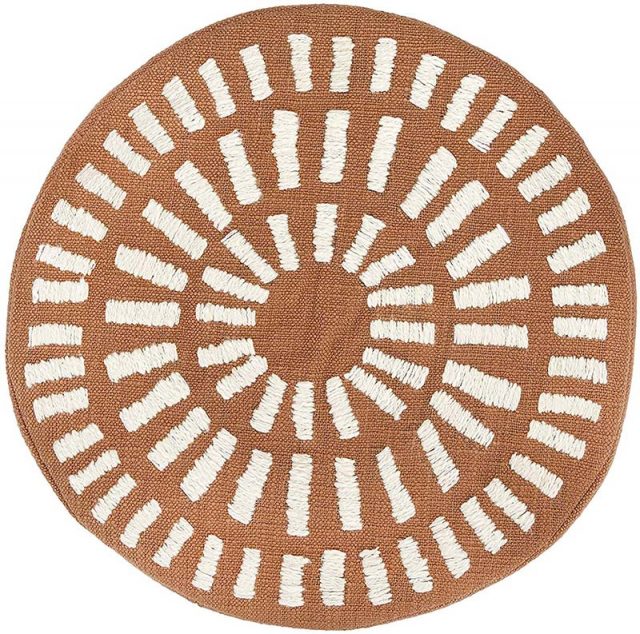 It's always fun to mix and match throw pillows on a sofa or bed. This circle throw pillow is a nice burn orange color, and we love the chunky stitch detail.
26 — Mid-Century Media Console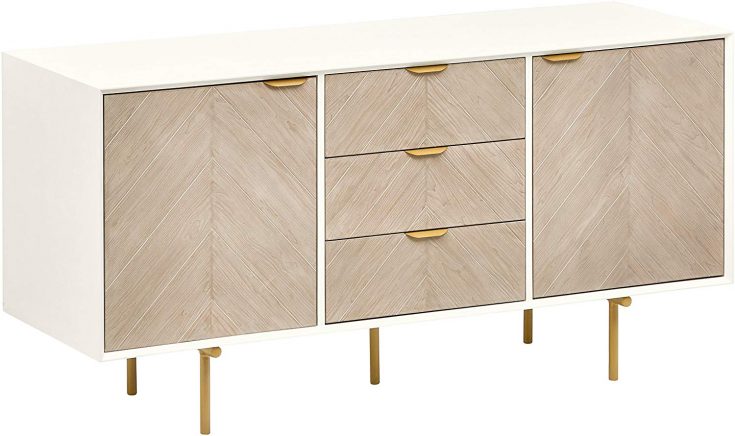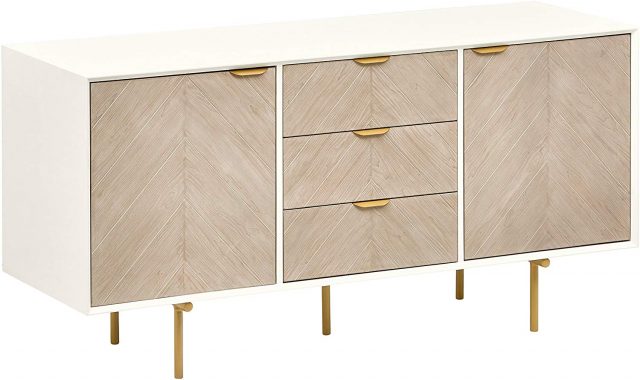 The brass handles and legs take this media console (or buffet) up a notch. This gorgeous piece of furniture is an Amazon exclusive, and we just love how they mixed the brass, the white, and the chevron wood cabinet fronts.
27 — Navy Velvet Armchair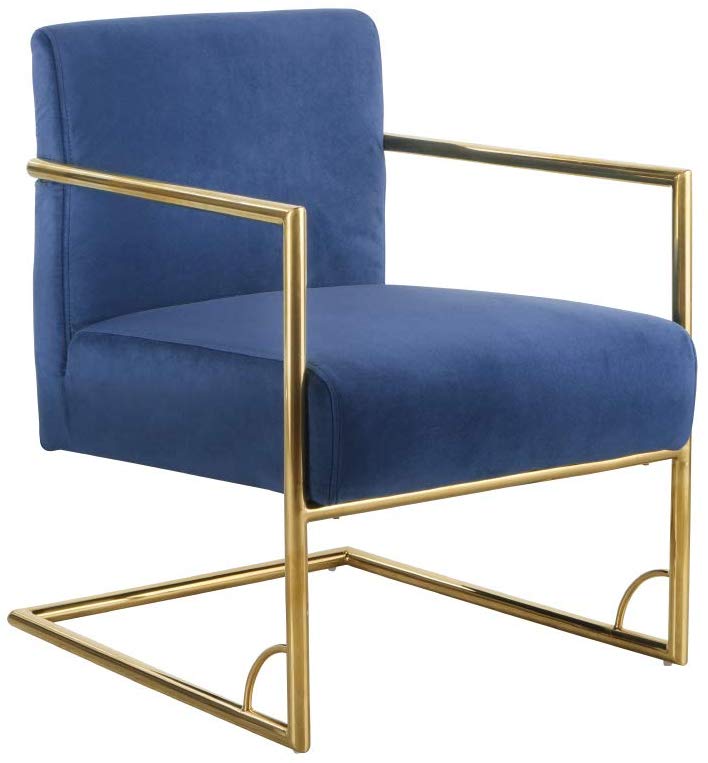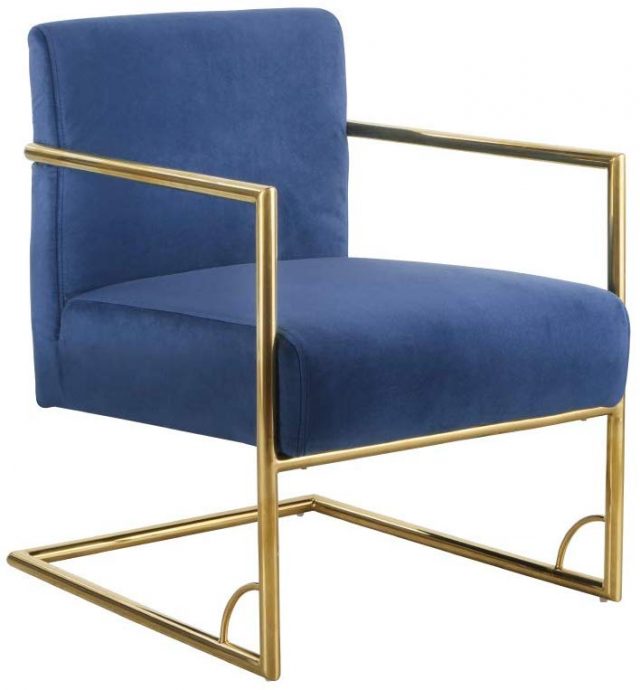 Navy and gold is such a good combo, and it works perfectly with this velvet armchair. This sleek and comfy accent chair is suitable for a living room, office, or even in a bedroom. Available in gray and mustard velvet, too.
28 — Maze Rug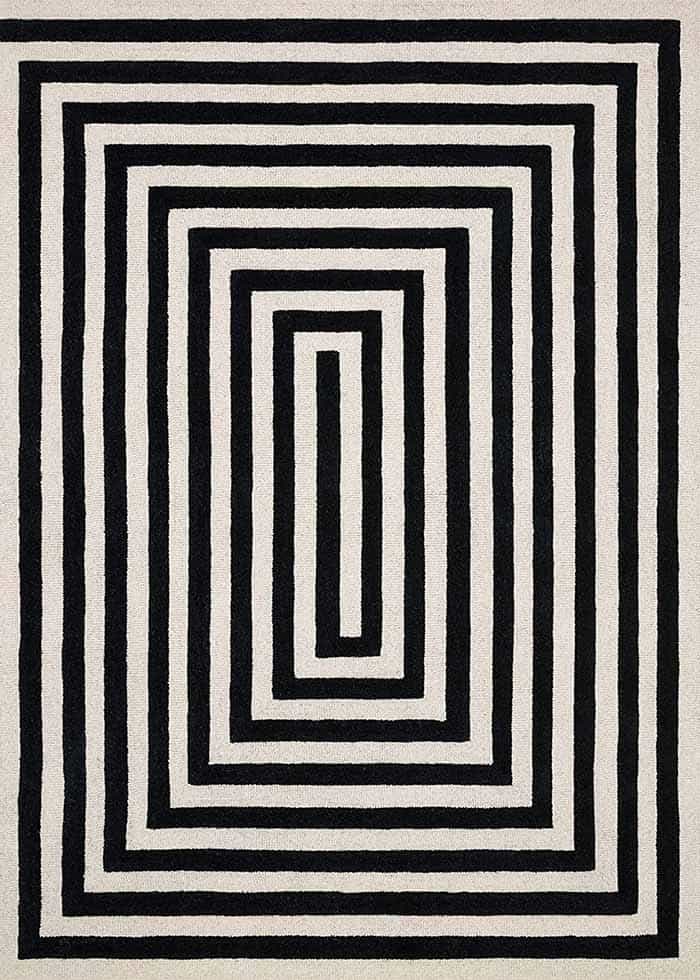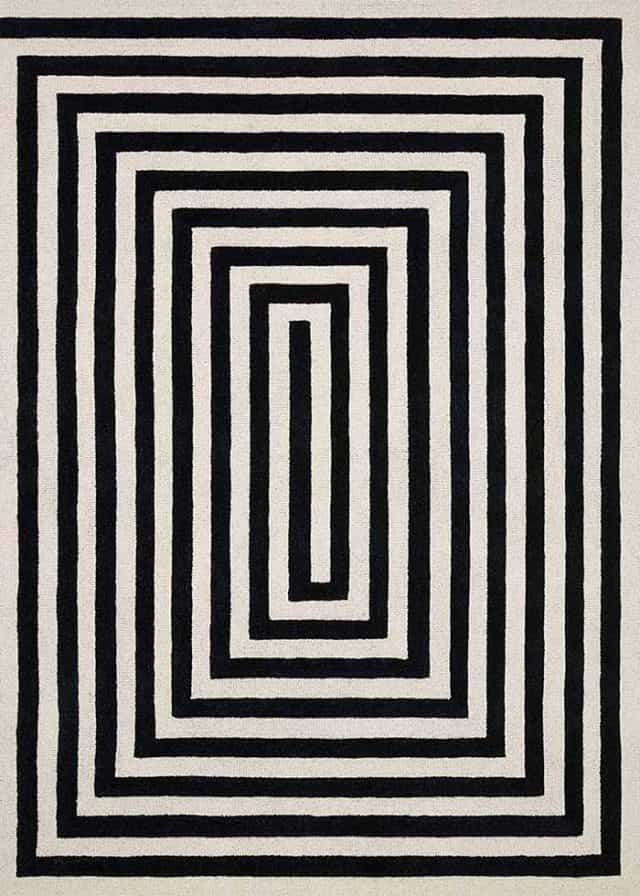 Another fun piece of home decor from Now House, this awesome black and ivory rug is actually in a large maze pattern! The 100% wool rug packs a boldly graphic punch in multiple sizes, from 2′ x 3′ to 9′ x 12′. Works well with solid colored furniture (like the chair above and the coffee table below, for example), ha!
29 — Marble and Gold Round Coffee Table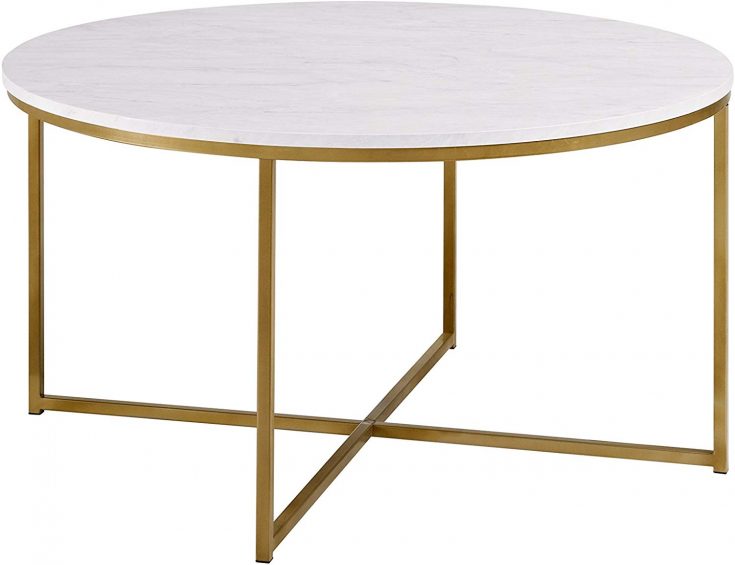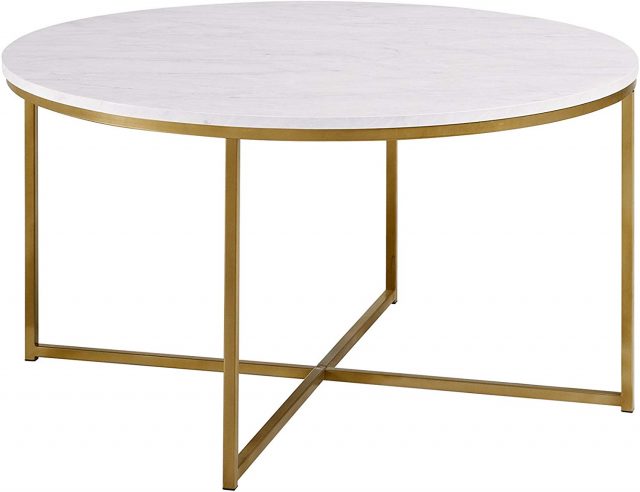 The round marble coffee table with the gold base is a really nice look with any colored sofa, and the price is just right! If marble isn't your thing, the top is also available in glass and walnut.
30 — Black and White Marble Coasters (Set of 4)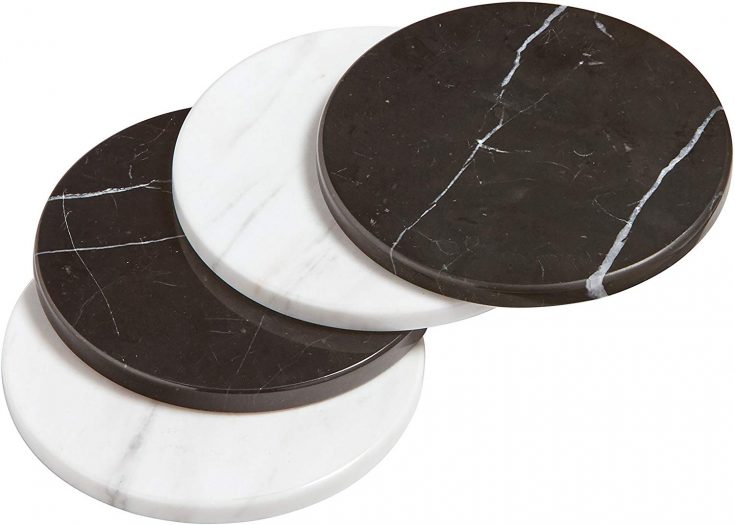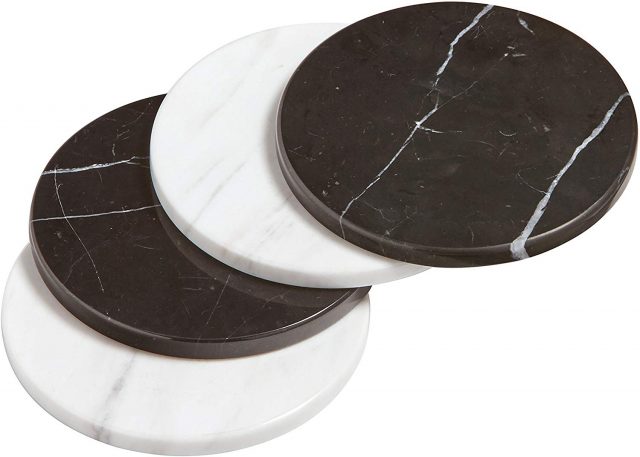 Yes, coasters are considered decor in our book, especially when they look this good! This set of four black and white marble coasters pairs great with the coffee table above, and the bar cart below! They also make a great "treat yo self" gift, and just saying…
31 — Glass and Gold Bar Cart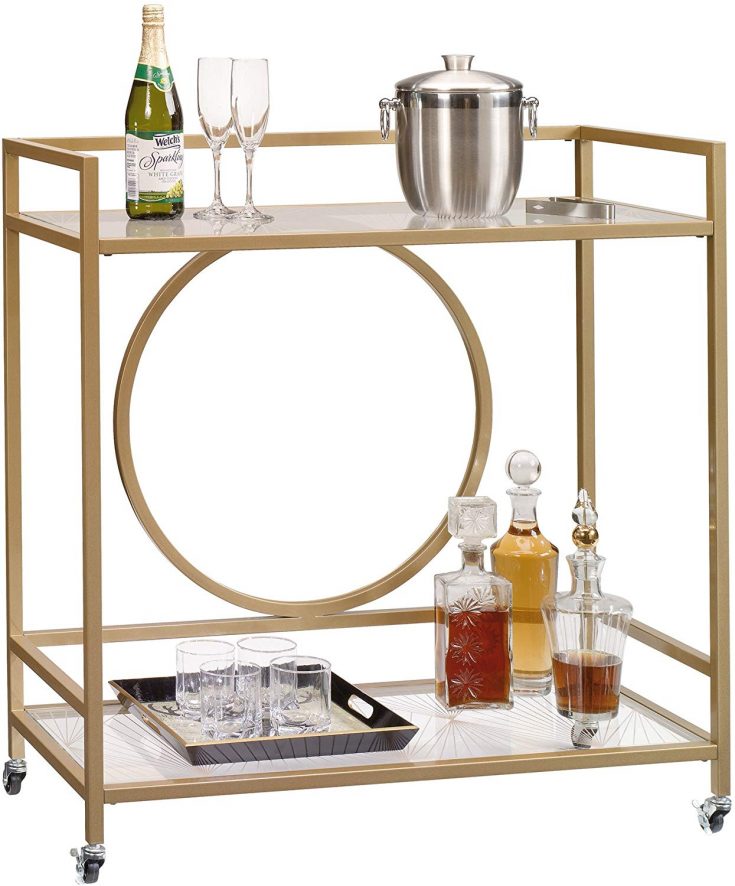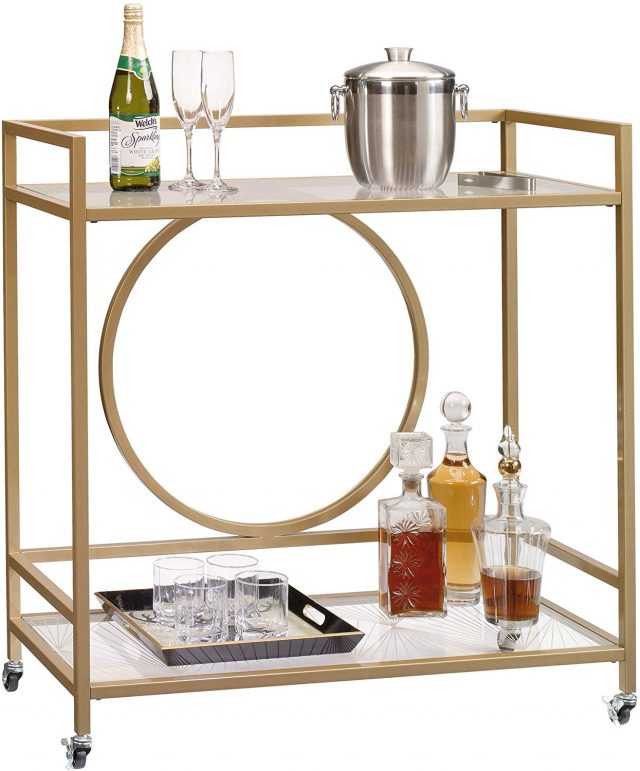 Bar carts are such a symbol of adulthood, right? We certainly did not care about displaying our cocktail tools and decanters when we were younger, but now it seems like the only way to store these items. So, what better bar cart than this gold and glass liquor cabinet on wheels?
32 — Leather Weave Accent Chair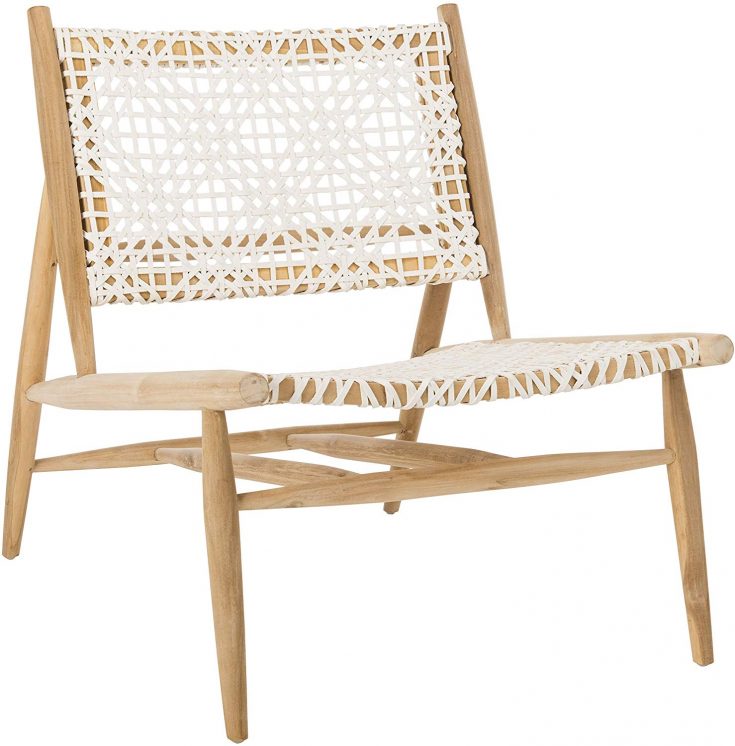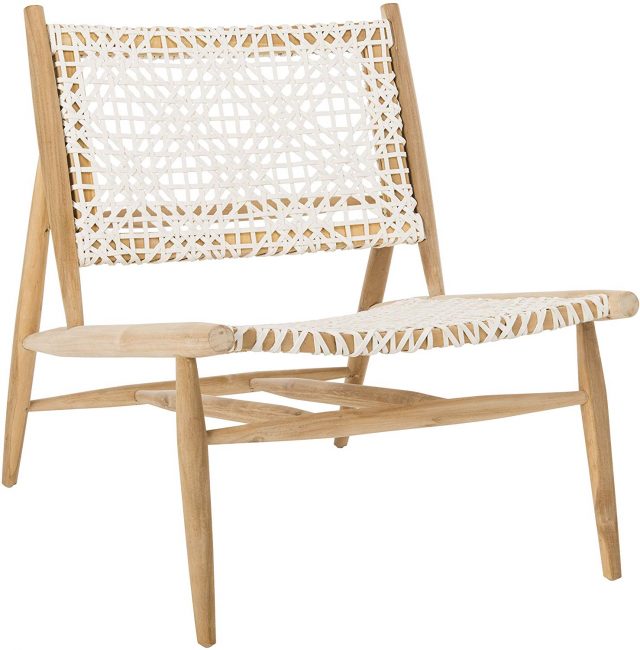 That's right, folks, the woven white material is leather! We love this accent chair from Safavieh so much, it's really just a question of one or two. Or, the bench option…
33 — Leather Loop Wall Hook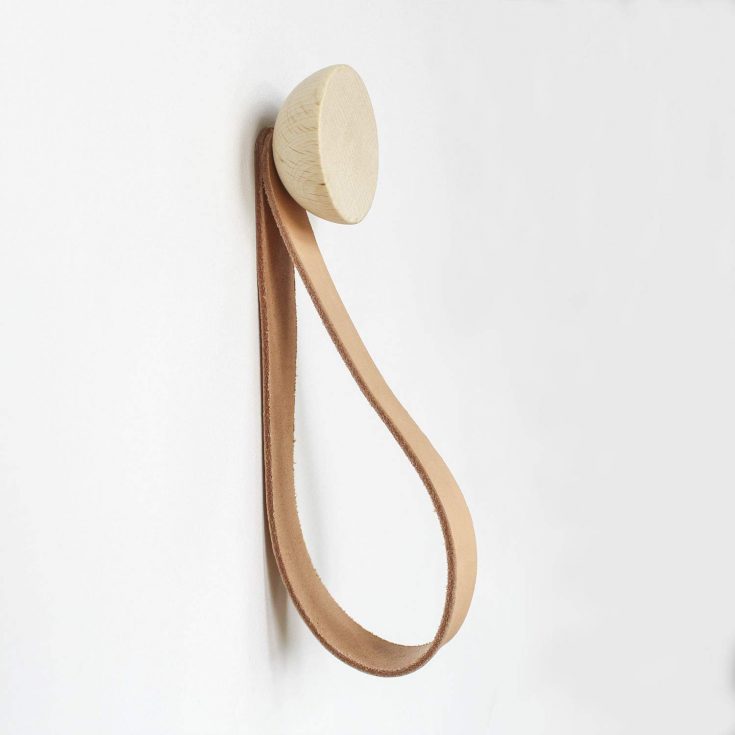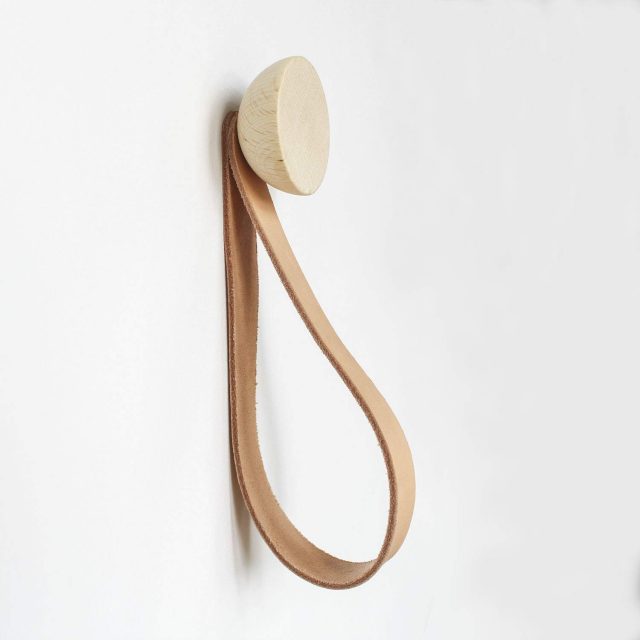 This leather loop wall hook is the epitome of simple Scandinavian design, which is why it had to be on our decor list. A few of these would be perfect in a mudroom for coats, hats, and umbrellas. These hooks are made to order, so allow 2-3 days of lead time.
34 — Light Blue Plastic Shell Chair with Wood Eiffel Legs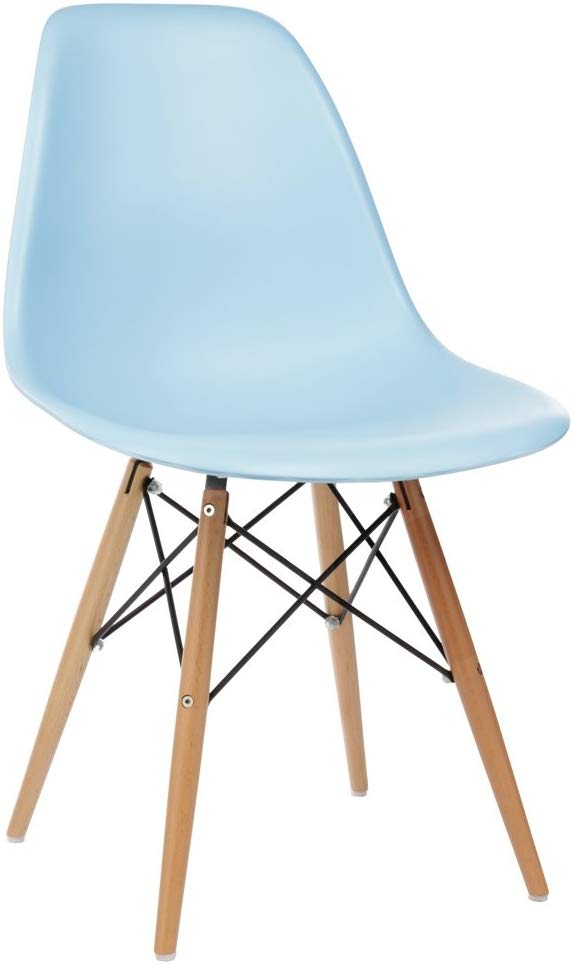 We've all seen the famous mid-century Eames shell chair before, and many companies have since created replicas. Amazon furniture section sells several of these replicas in pretty much every color, and at great prices compared to an original, which can run upwards of $500 for a used chair.
To see them styled in action, check out A Joyful and Modern Dining Room for Summer.
35 — Navy Lacquer Tray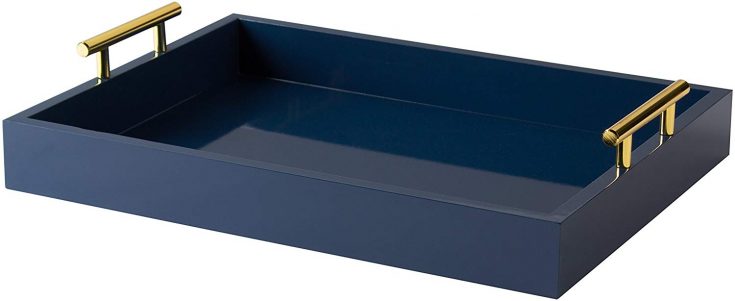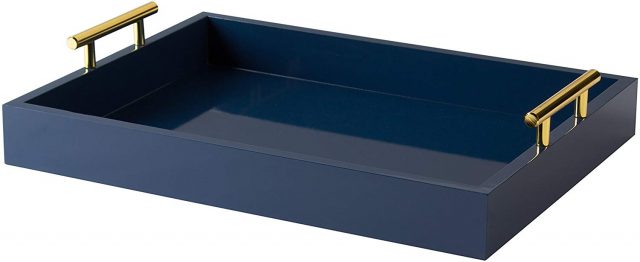 Even the smallest decor pieces can make a nice addition to a room, like this navy lacquer tray with gold handles, which also comes in several other colors. We'd pair it on top of the gold bar cart, the square poof, or in an office with the navy and gold leather wall clock.
36 — Braided Jute Runner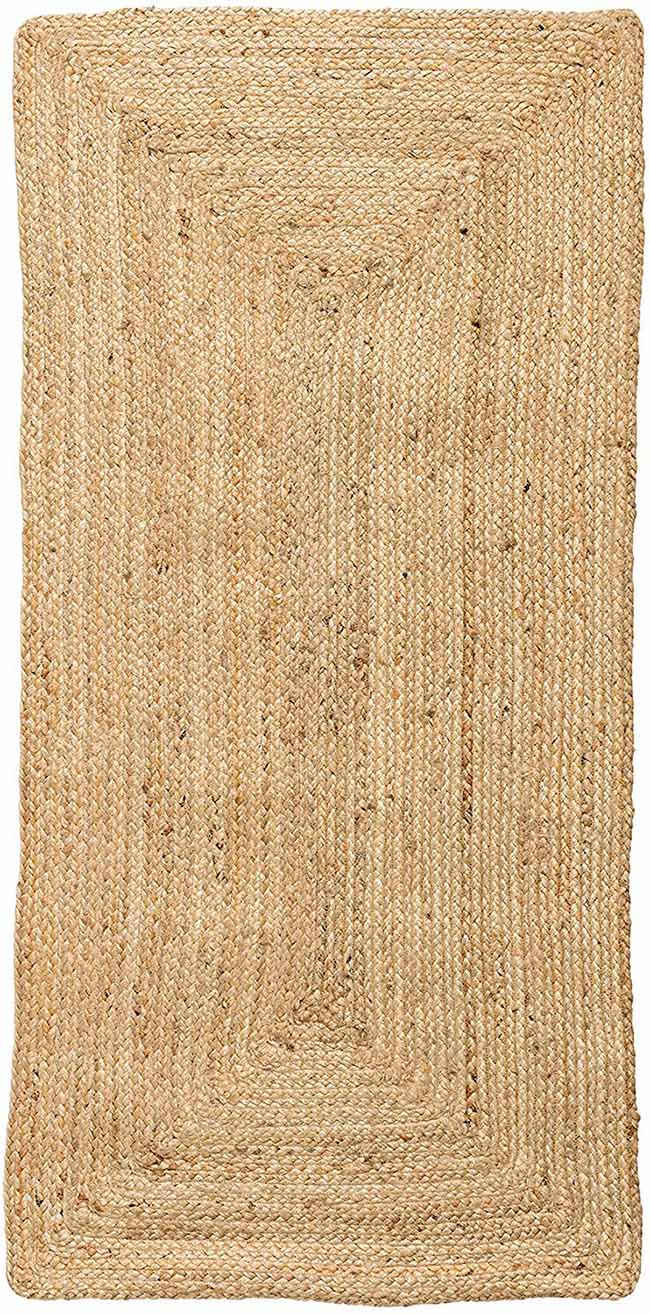 This small braided jute runner (roughly 2′ x 4′) would work great at the kitchen sink, or just inside your entry. For outside your door, check out 36 Modern Door Mats We're Loving.
37 — Marble and Gold Round Nesting Tables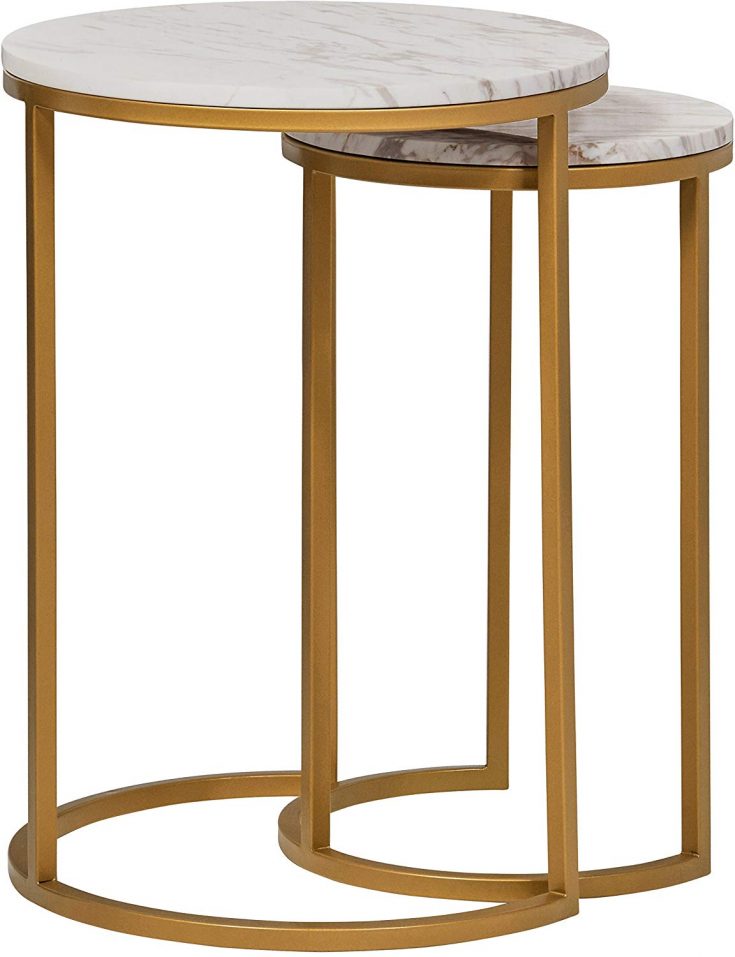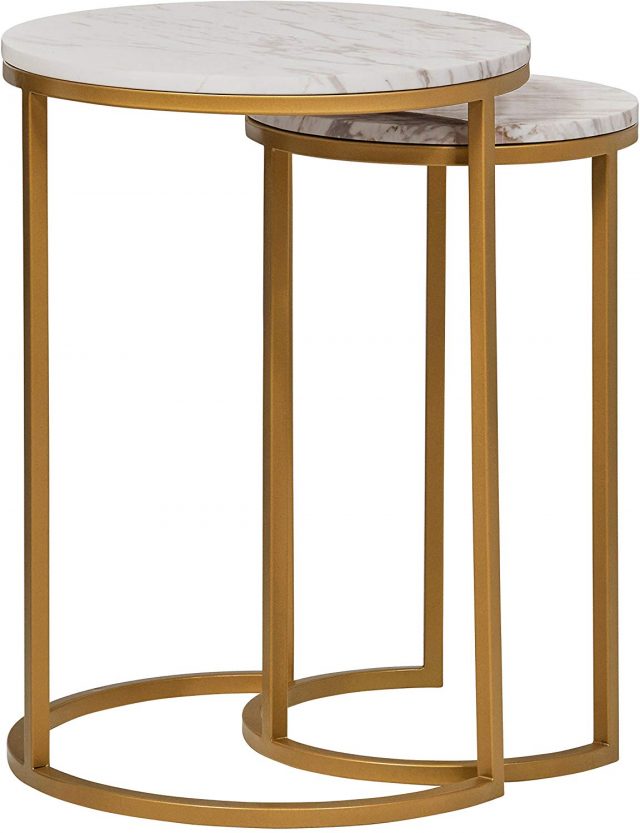 These marble and gold nesting tables are pegged Amazon's Choice, and it's no wonder why. They are the perfect size for small spaces, whether they're nested together, or on either side of a sofa or bed.
38 — Gridded Capsule Tray


This powder coated metal gridded capsule tray is larger than it looks. At 12″ x 20″, it is large enough to stack books or wine bottles on, or it could be a desk tray to organize paperwork.
39 — Bowery Wall Sconce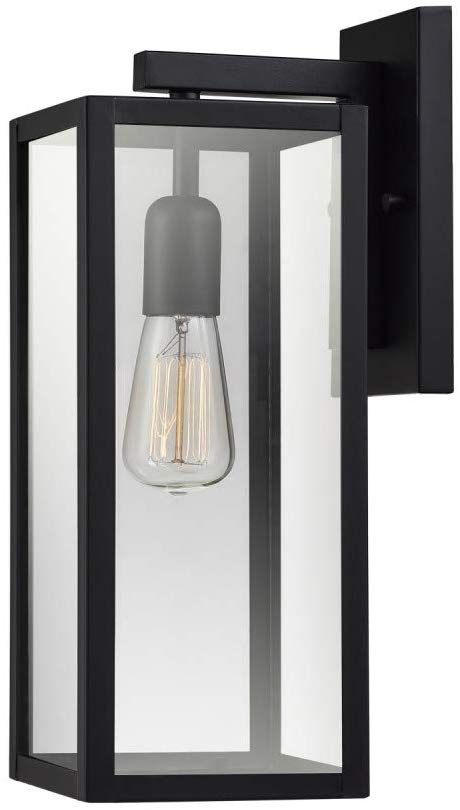 While the description says that this matte black Bowery wall sconce can be used indoor and outdoor, we think it's better suited for outdoor. The Edison bulb gives it an industrial modern flare, but this light could grace any architectural style.
40 — Vase with Gold Base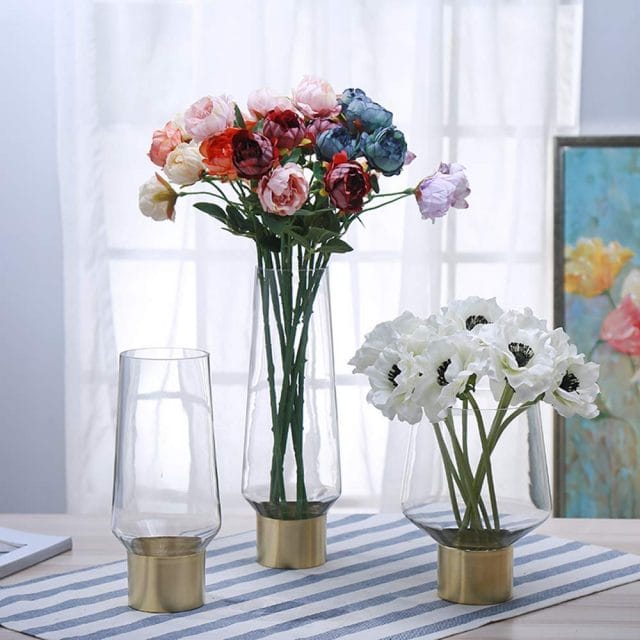 These vases are an Amazon decor score! They come in four varying sizes and add a beautiful touch of gold to any floral arrangement.
41 — Hexagonal Elm Dining Table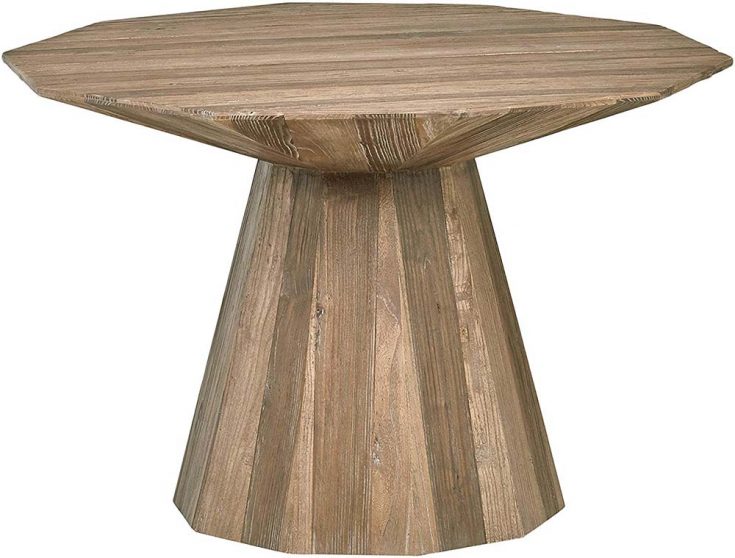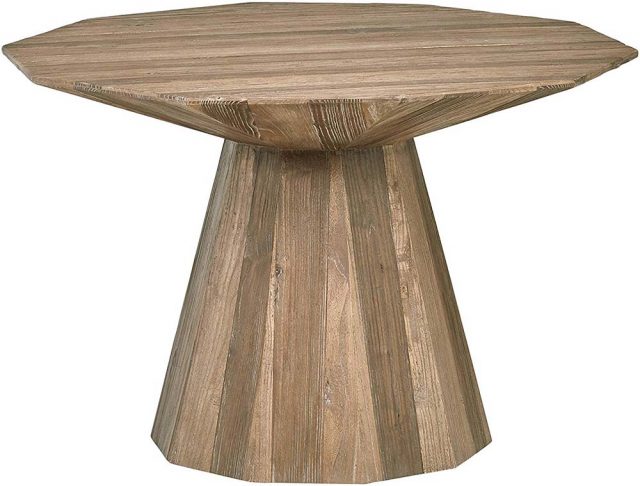 Two to four chairs would fit comfortably around this hexagonal elm wood dining table. The style of the faceted table blends rustic, modern, and global to suit the rest of your home.
42 — Glass Ball and Metal Table Lamp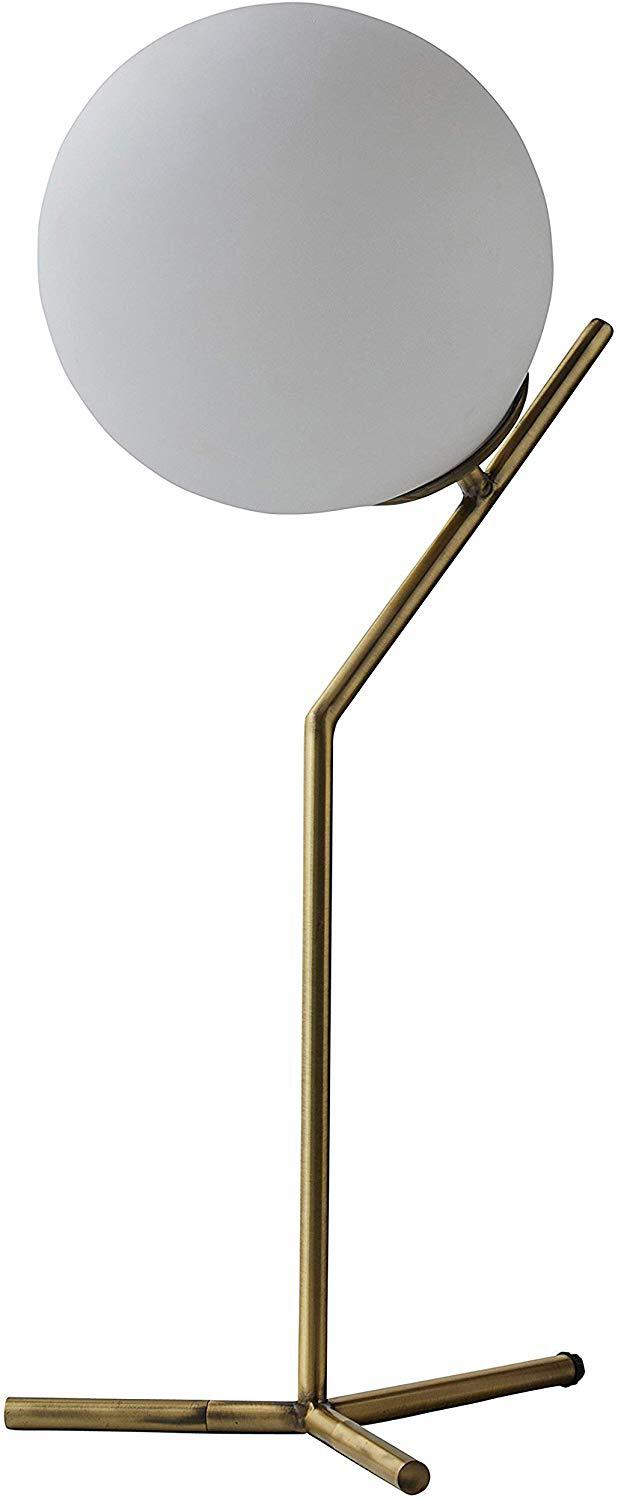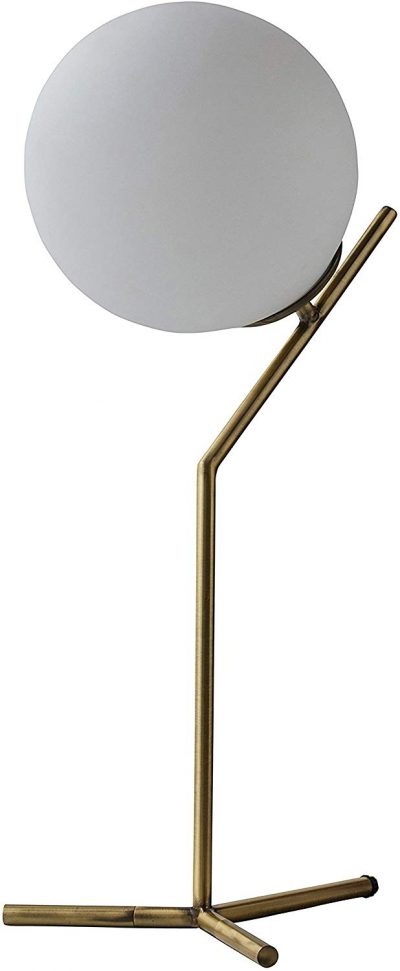 The glass ball shade looks like it's balancing on the angled metal, making it quite a striking piece of decor. The mid-century inspired table lamp would be effortlessly cool next to a sofa, on a desk, or on nightstands.
43 — Woven Felt Basket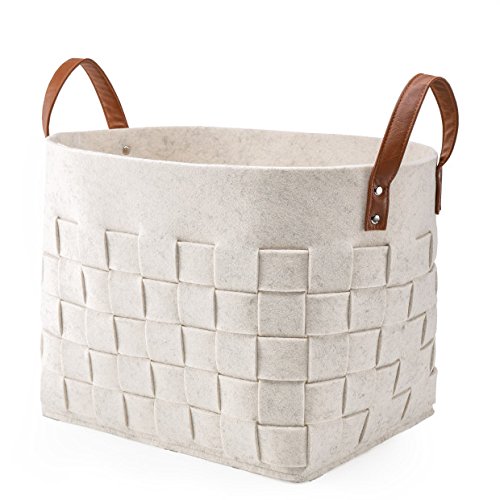 Meet the woven felt basket with the 5/5 star rating. According to one customer, the felt is, "thick and sturdy," which is perfect for storing your belongings on a closet shelf, under a bench, or next to the sofa.
44 — Faux Eucalyptus Branches (3 Stems)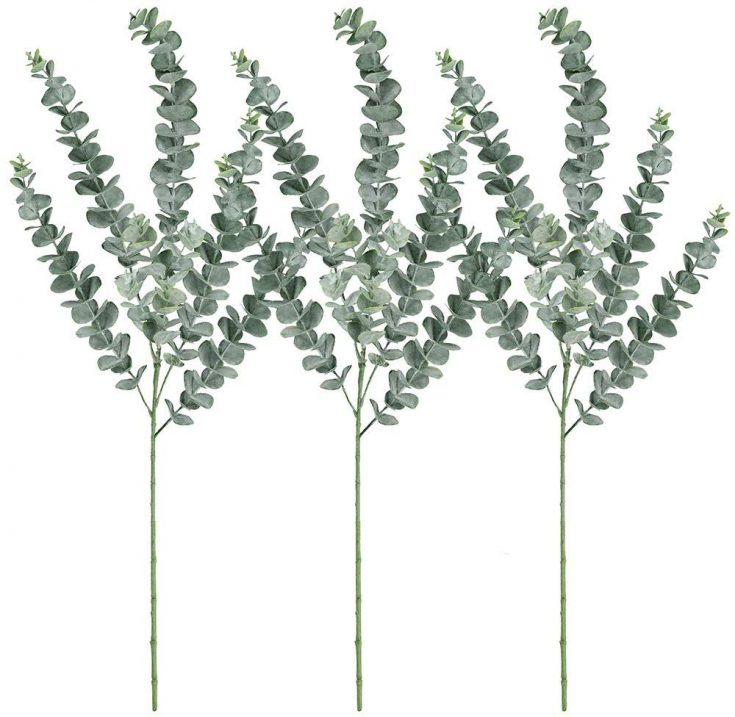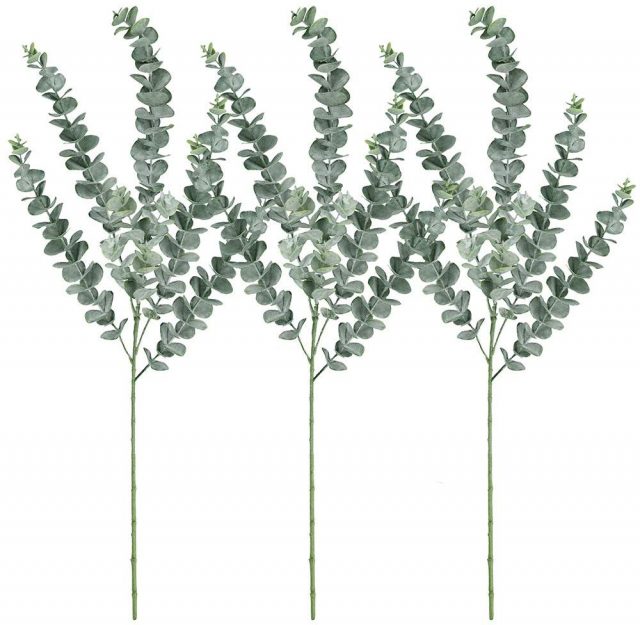 We prefer fresh eucalyptus for the scent, but these faux eucalyptus branches are perfect for ever-lasting room decor. We love the idea of these over real greenery for a guest bedroom – this way you can impress your guests even when they show up unannounced, ha!
Tip: these would pair well with the gold base vases above.
45 — Rustic Home Decor Modern Sconce Light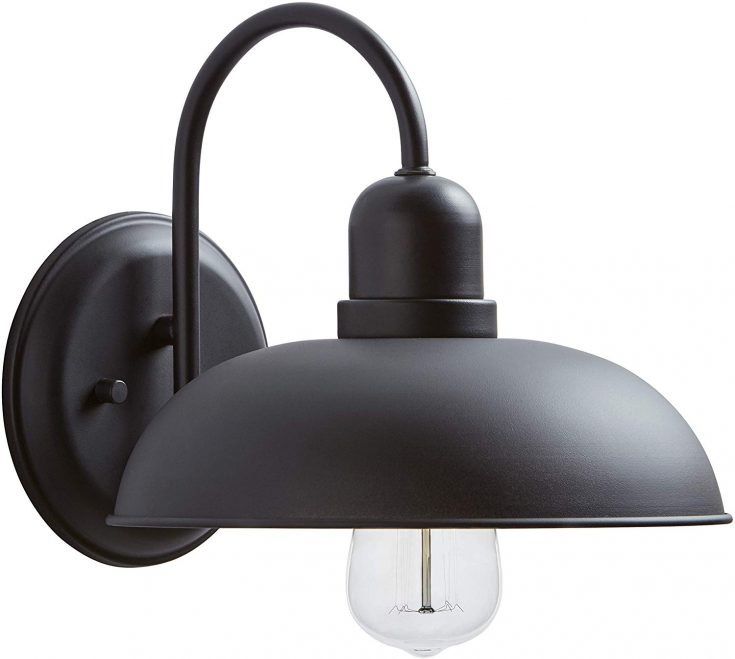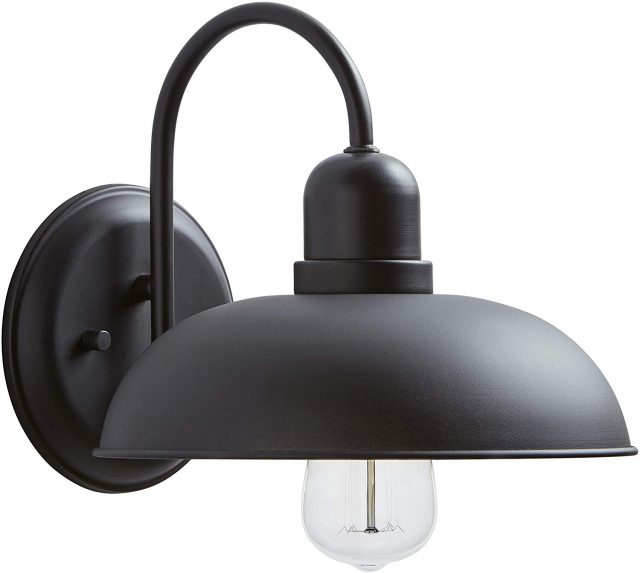 The industrial farmhouse design style is super popular, and we're totally into it, especially since it brings decor like this rustic modern sconce.
This light is manufacturer-approved for indoor and outdoor use. We'd probably put it outdoors, but we could see the Queen of farmhouse-chic (aka Joanna Gaines) making these work in a kitchen or bathroom vanity. What do you think?
46 — Wood and Gold Hexagonal Coffee Table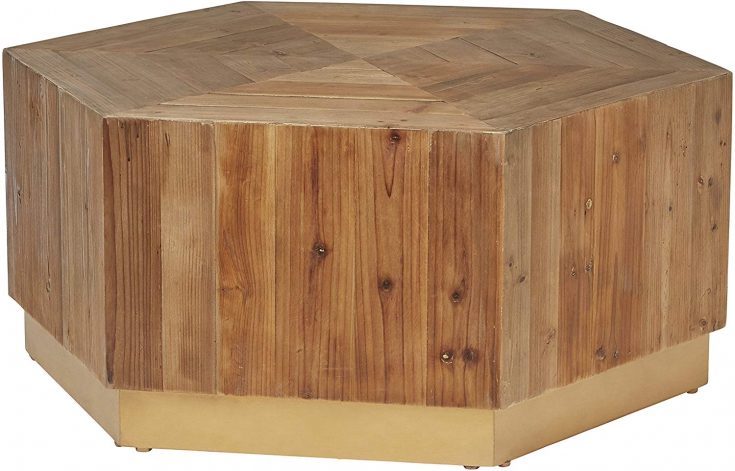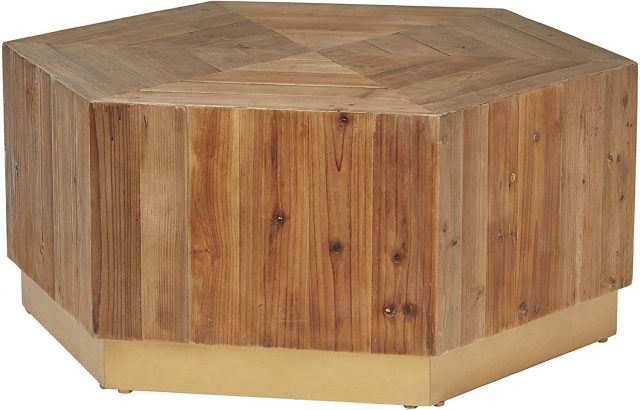 Amazon furniture, the coffee table edition. The top is reclaimed wood and the base is gold, making this a rustic home decor coffee table with a touch of glam! Apparently that's a thing…
One customer who purchased the coffee table noted that it's so sturdy, "you could probably dance on it." Noted!
47 — Boho Throw Pillow Case with Tassels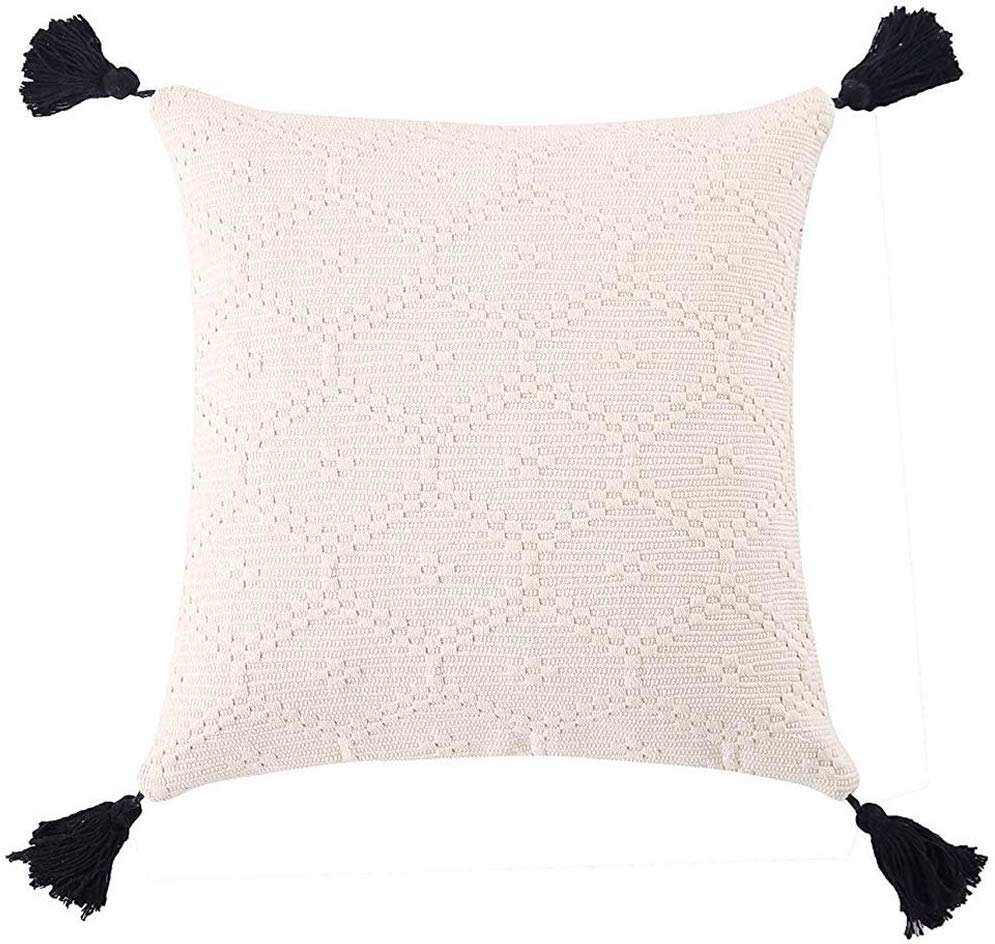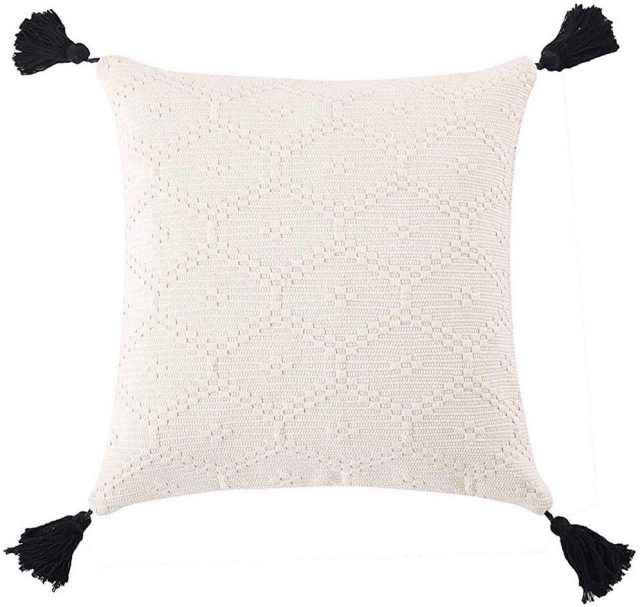 Decorative textured throw pillow case with black tassels. Note that this is the case only, pillow insert not included.
48 — Chunky Knit Blanket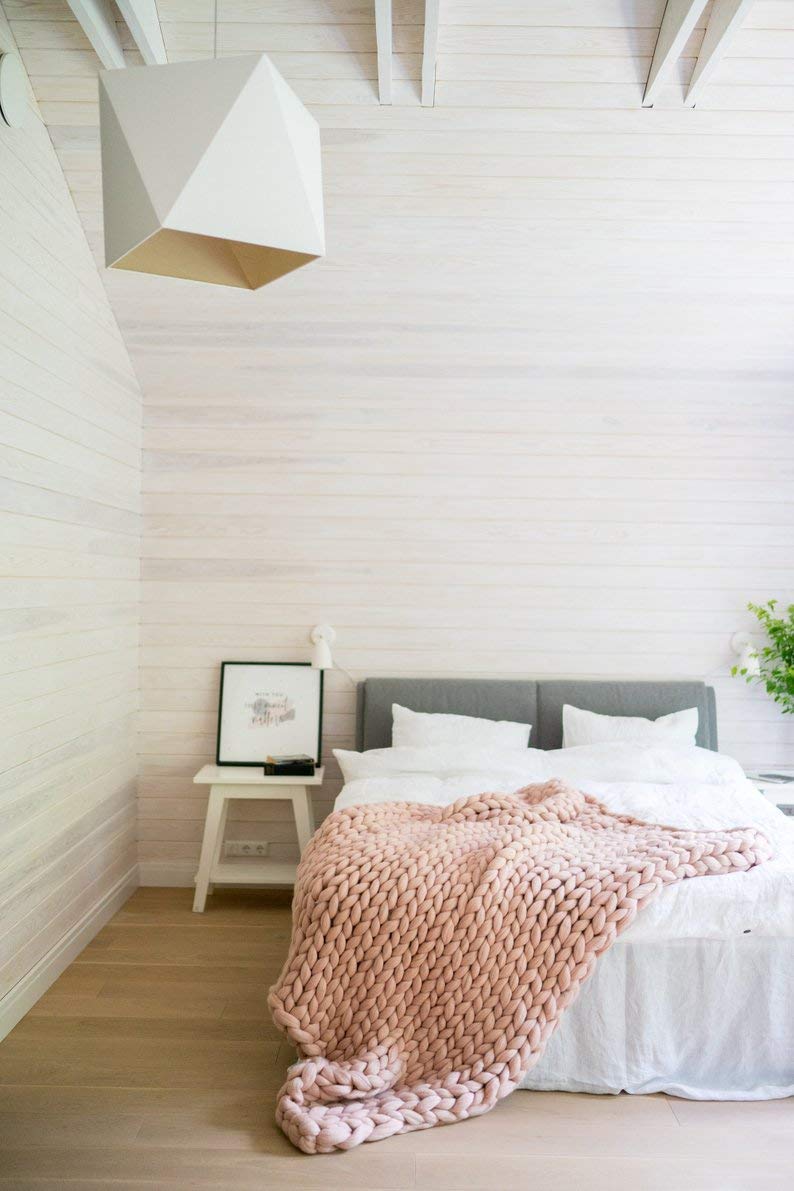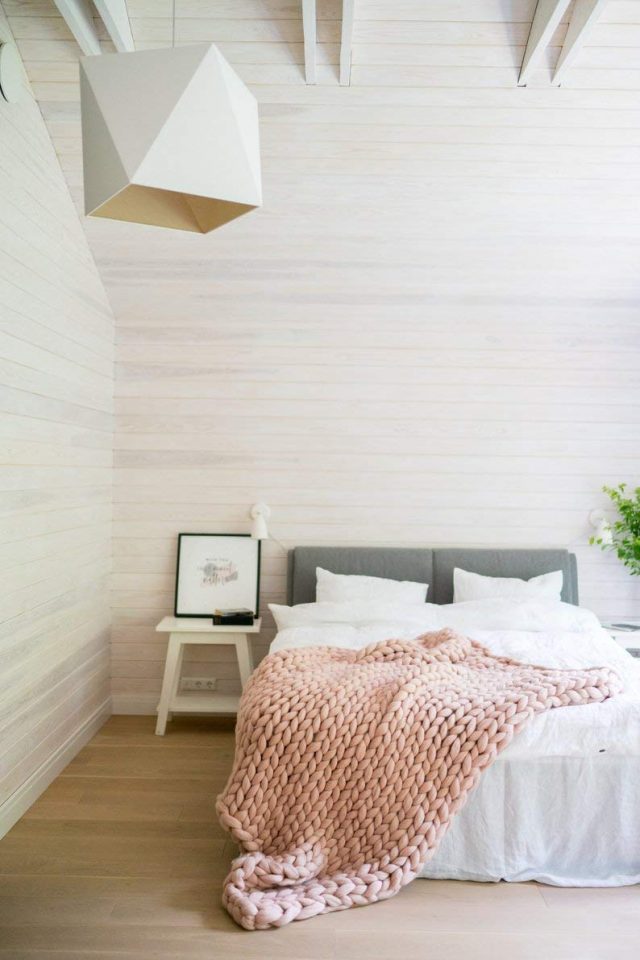 Nothing says cozy like a chunky knit blanket. Whether it's cold outside or you just want something to cuddle up with, this blanket provides maximum comfort. *This product comes in multiple colors and sizes and is the perfect, inexpensive Amazon home decor option.
49 — Amazon Home Decor Gold and Marble Curtain Rod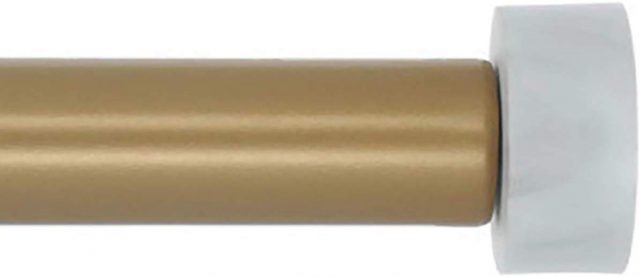 A great way to tie in gold accents around your house is with these beautiful gold curtain rods with marble end caps. They come in gold, gun metal, and black, and each has 3 expandable lengths.
50 — Gold Curtain Rings with Clips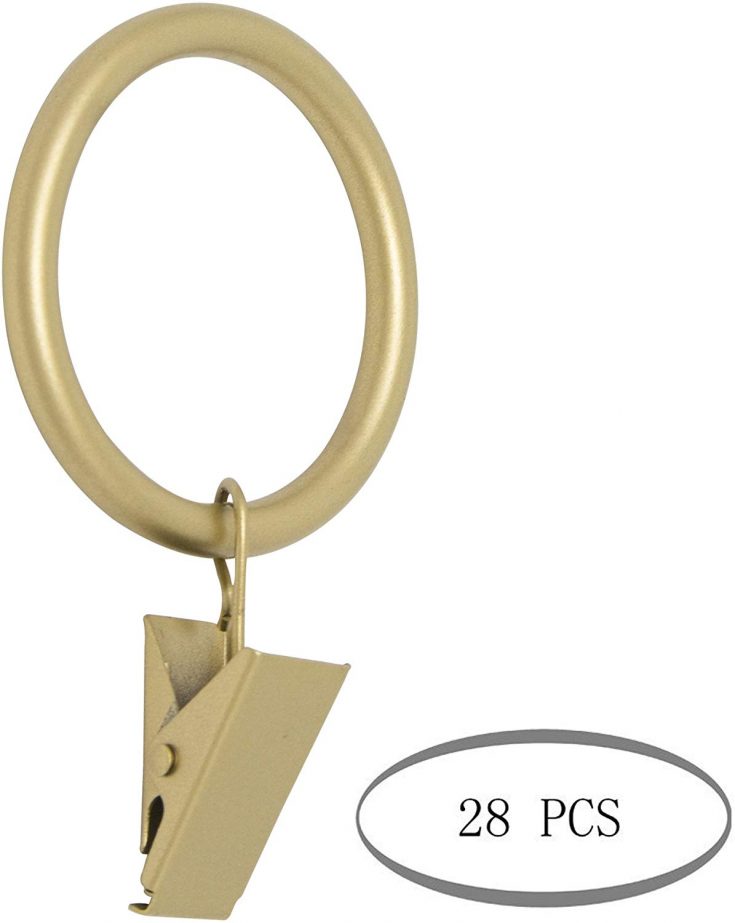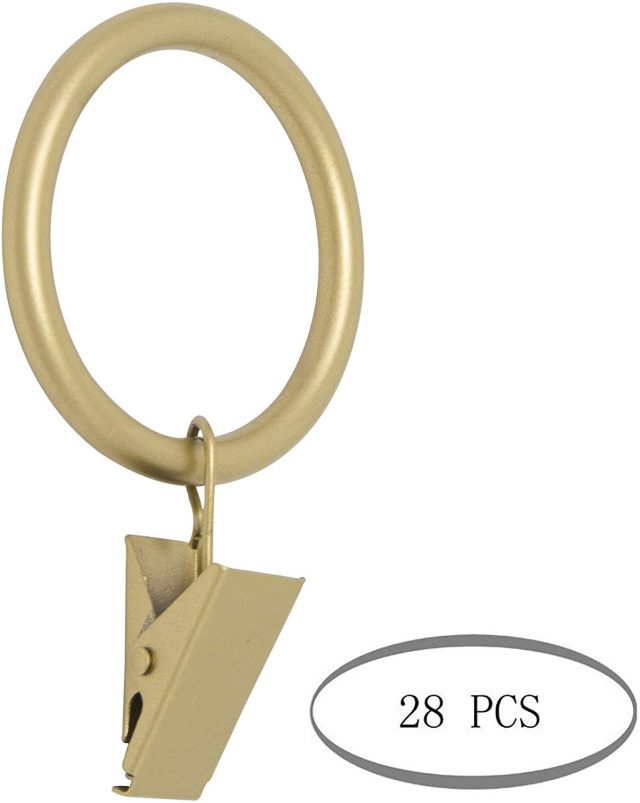 If you go with a gold curtain rod, you have to have the gold rings to match! We like these, which are available in packs of 14 or 18, and come in gold, silver, and black,
51 — Striped Cotton Runner with Tassels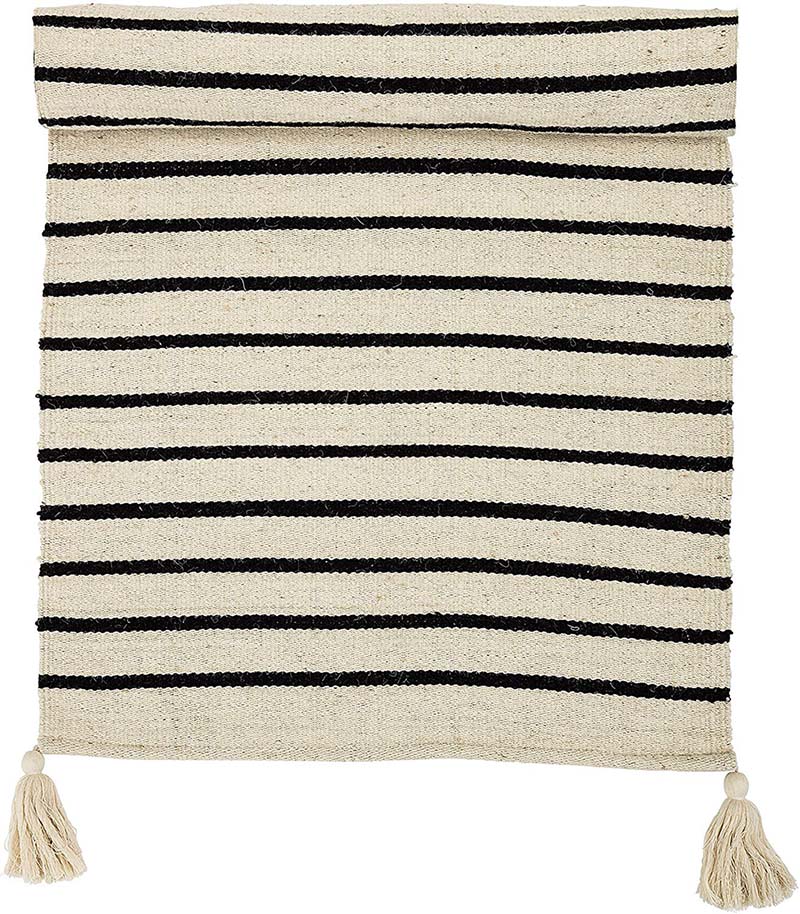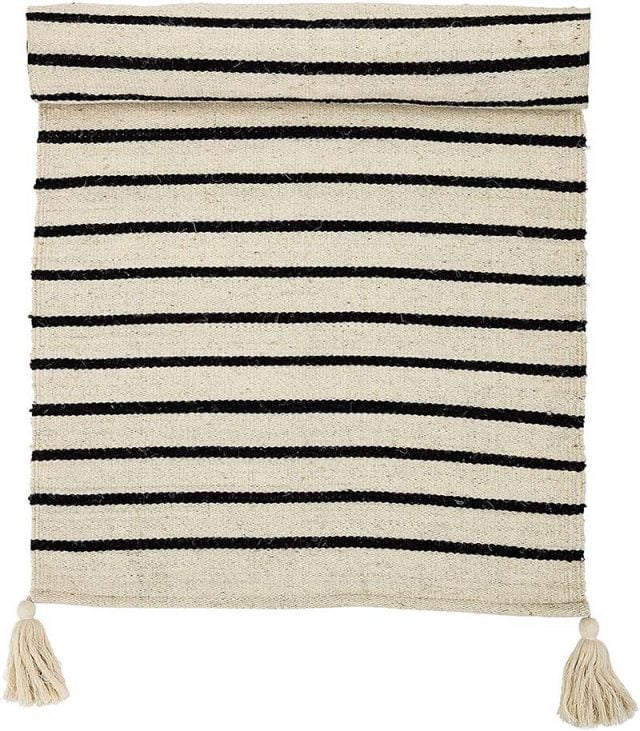 This cotton runner is long enough for an entry or a hallway, and the stripes and tassels give it a stylish look that goes well with other natural tones and decor.
52 — Industrial Modern Wood and Metal Coffee Table Amazon Home Decor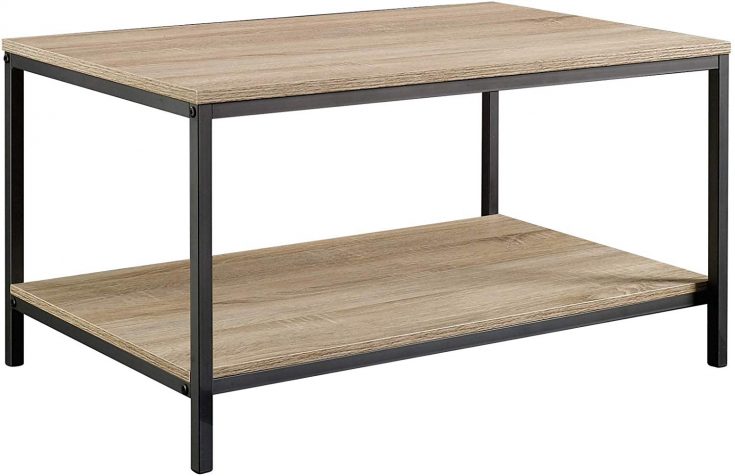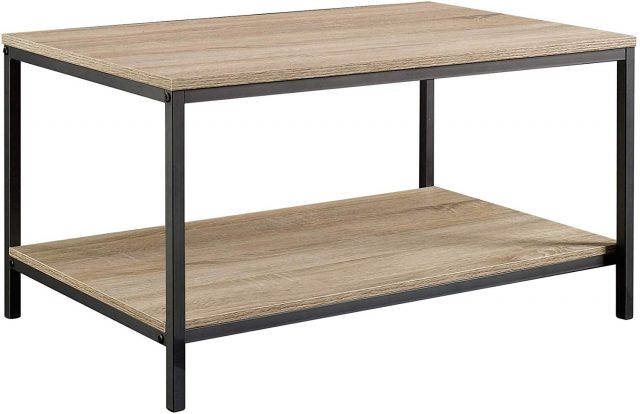 The natural wood tone mixed with the black metal makes this industrial modern coffee table cool and versatile. Plus, you won't believe how inexpensive it is! Hint: It's below $50.
53 — Mid-Century Rattan Media Console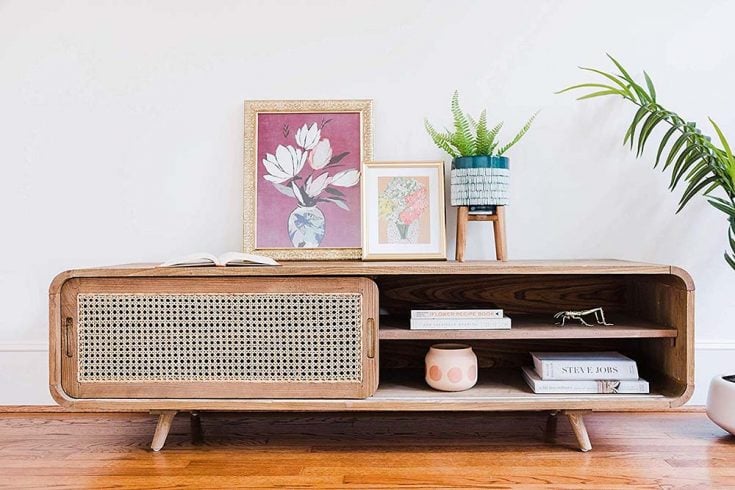 Watch out, Urban Outfitters, Amazon furniture is coming for you! We kid, we kid.
All you need with this is mid-century rattan media console is a cool record player, also available on Amazon!
54 — Textured Throw Blanket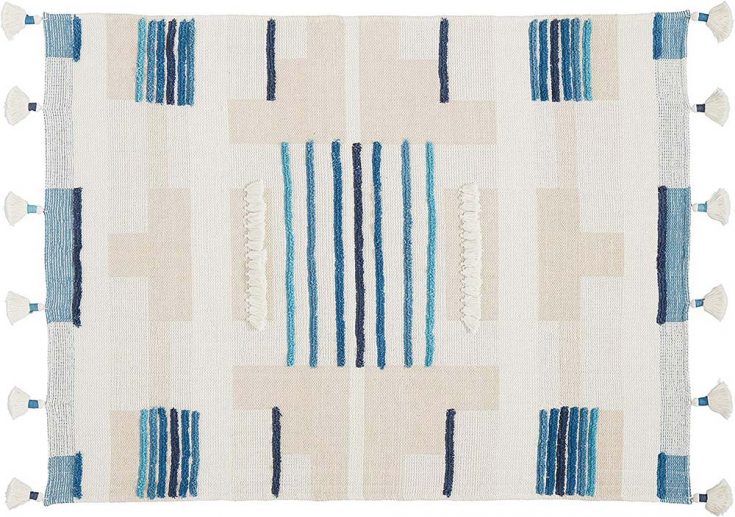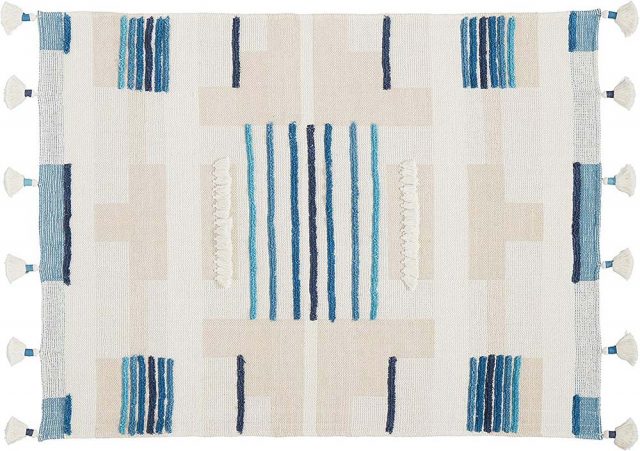 We love this blue and white textured throw blanket for next to the sofa or at the end of the bed. The colors are great, and it looks so comfy!
55 — Antique Brass Half Circle Amazon Sconces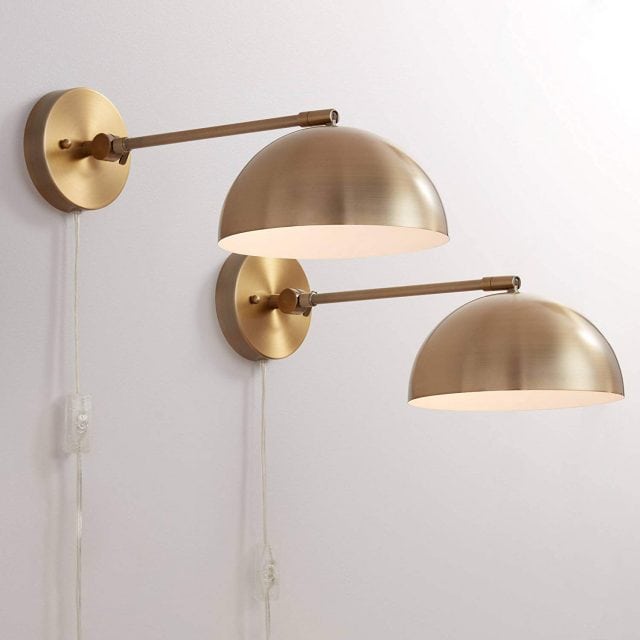 The shape, the smoothness of the antique brass, and the price, are all reasons we had to have these on our Amazon home list. These sconces are perfect over night stands, over a vanity, or anywhere, really…
56 — Framed Print: Face Line Drawing Amazon Wall Art
Line drawings make for fun and simple works of art, and this Picasso inspired face print is just that. This wall art could stand alone, or among other art on a gallery wall.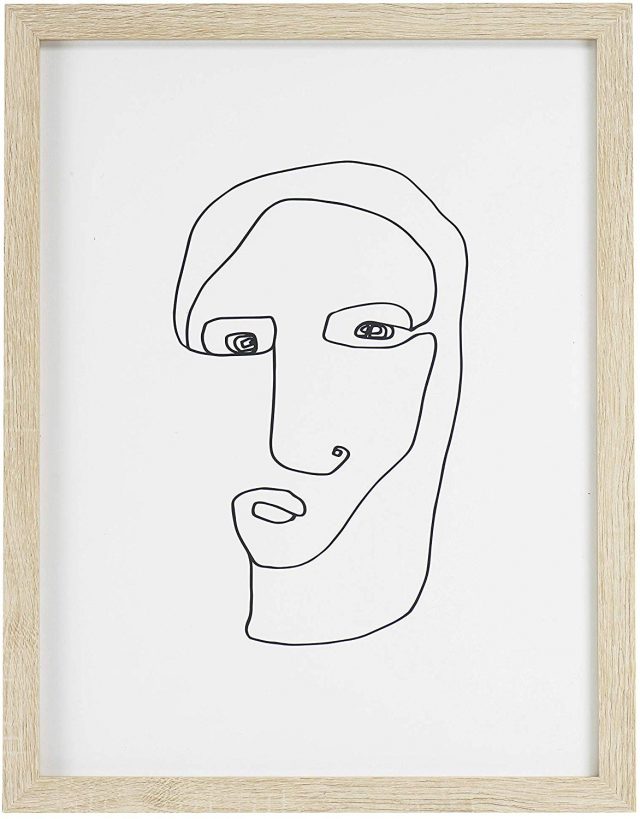 57 — Brushed Gold Bed Frame with Arched Headboard
Calling those who have king sized beds! This beautiful golden bed frame is only available in King, but it is surprisingly inexpensive – and comes with free assembly! Just another great piece of Amazon furniture.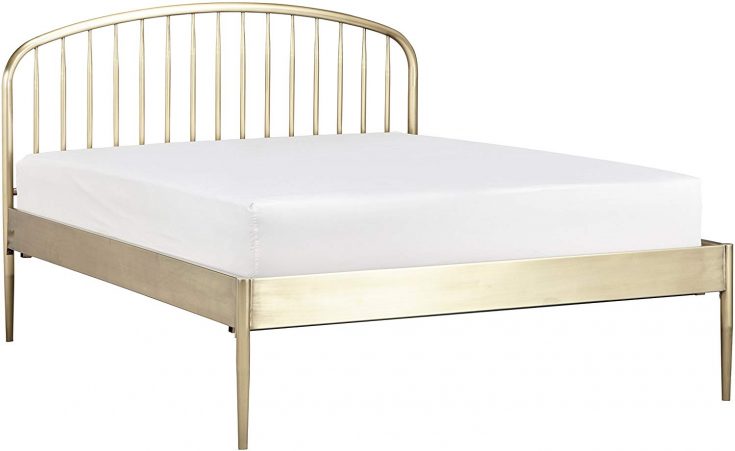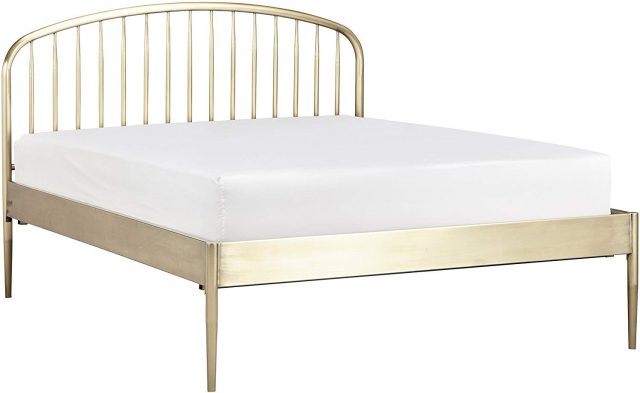 58 — Geometric Flatweave Blue Rug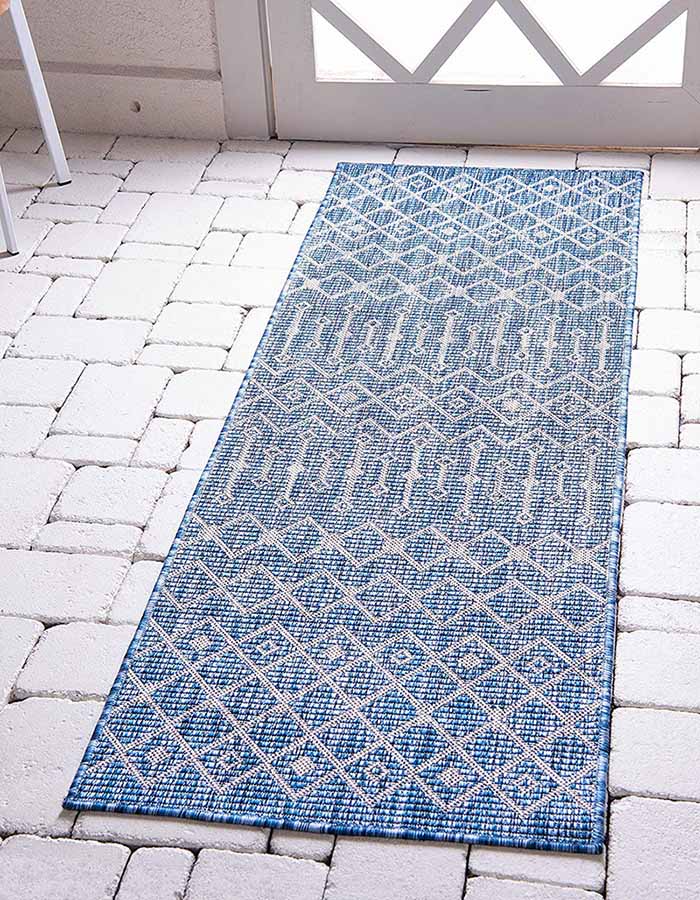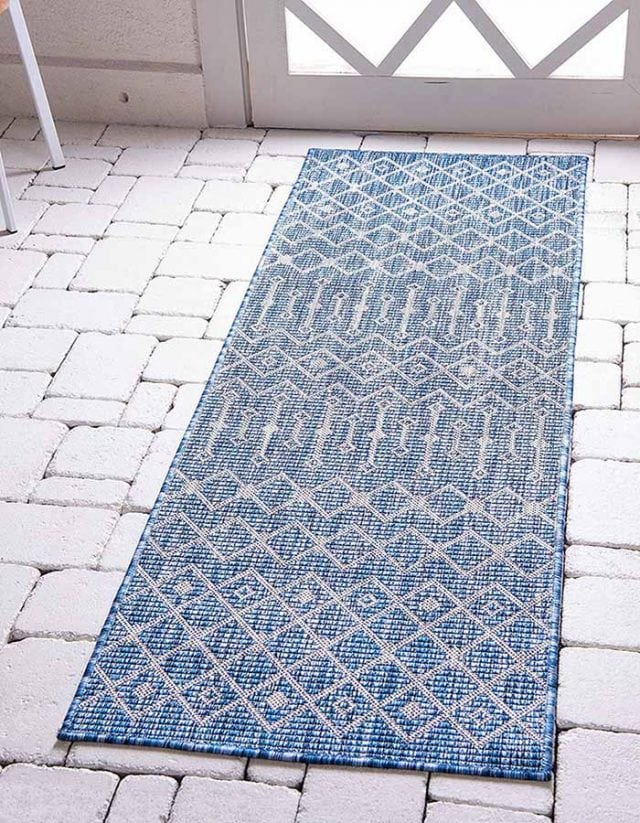 From the geometric pattern to the indigo blue color, we love this indoor/outdoor rug. The best part? It's available as a runner, and as a rectangle in multiple sizes from 2′ x 3′ to 10′ x 12′.
I hope you loved some of our favorite Amazon home decor finds! Be sure to check back as we update our new favorites regularly!
More Decor Favorites
For more of our favorite home decor picks, check out a few of our guides from the archives below —
Our Room Makeovers for Inspiration