Find the ideal housewarming gifts to warm their hearts and make their new house feel like a home sweet home.
Moving into a new home is an exciting milestone, and what better way to congratulate someone on their fresh start than with a thoughtful housewarming gift? Whether it's something practical to help them settle in or a decorative item to add personality to their space, the perfect present can make all the difference.
And the best housewarming gift is one that comes from the heart! And these selections are sure to be loved. Not only do they scream "congrats!", but they're also a great way to welcome new friends to the neighborhood. Plus, they also make for great hostess gifts.
We've rounded up our favorite tried and true unique gift ideas to help you put together a memorable "welcome home" gift for friends and loved ones.
Best Housewarming Gifts
1 — Wooden 7-in-1 Chess
This wooden 7-in-1 game set is both beautiful and useful. Not only will it serve as coffee table home decor, but it's also great for hosting guests.
2 — Cast Iron Skillet
No kitchen is complete without a cast iron skillet. And the American-made Lodge line is the go-to pan for generations of cooking. It is meant to sear, sauté, bake, broil, braise, fry or even cook a peach cobbler! It's also strong enough for the oven, stove, grill and campfire.
3 — Woven Storage Baskets
Collapsible storage baskets are the perfect and creative way to "wrap" your housewarming gifts. Gift this set on its own. Or add in a unique houseplant or new blankets for storage.
4 — Acrylic Vase
Elevate their home decor with a geometric acrylic flower vase, a stunning blend of modern design and natural beauty that adds a touch of elegance to any space.
5 — Cheese Board Set
You might've seen this cheese board set in our gifts for women gift guide, but it really is a crowd pleaser! You can even pair it with a bottle of wine and our DIY cheese knives for your favorite neighbor.
6 — Brightland Olive Oil Set
Upgrade their cooking basics with some Brighland Olive Oil. Featured as one of Oprah's favorite picks, the gourmet gift set features garlic, lemon, basil, and chili peppers infused oils.
7 — Personalized Home Ornament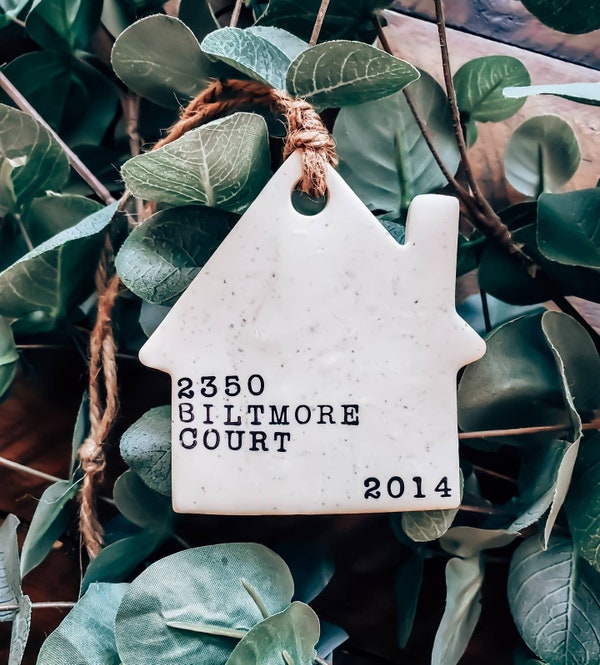 Gift your new homeowner with a personalized ornament to deck their new Christmas tree. Each ornament is hand stamped and personalized with the address and year of your choosing.
8 — Checkered Floral Bath Towel Set
There's nothing like sprucing up their new digs with some super soft and fun bath towels.
9 — Faux Fur Throw Blanket
When all else fails, blankets are always a good idea! We love this super soft knit blanket and it would make a great pairing with our DIY beaded blanket holder.
10 — Boy Smells Candle
If there's one thing everyone loves, it's a scented candle! The cult-favorite Boy Smells line features signature scents like Cedar Stack (featuring cedar, juniper berry and white musk) to Ash (featuring pink peppercorn, coconut and orange blossom).
11 — Mixology Bartender Kit with Wooden Stand
A vintage-inspired wooden crate cocktail kit is a super fun idea for your craft cocktail lovers. Bonus points if you combine it with our homemade bitter, infused gin, or a pitcher of our skinny margarita recipe!
12 — Custom Sign
A great gift idea for couples who may have recently purchased home is a custom address sign. It's more unique than traditional house numbers and is a great touch for curb appeal.
13 — New Home Tequila Board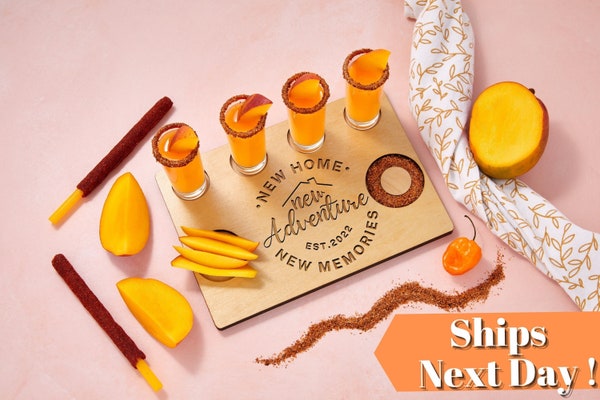 Their new space just got more fun with this handmade New Home tequila board. Made from birch plywood, there are slots for shot glasses, a salt ring and garnish holder.
14 — Bulb-of-the-Month Club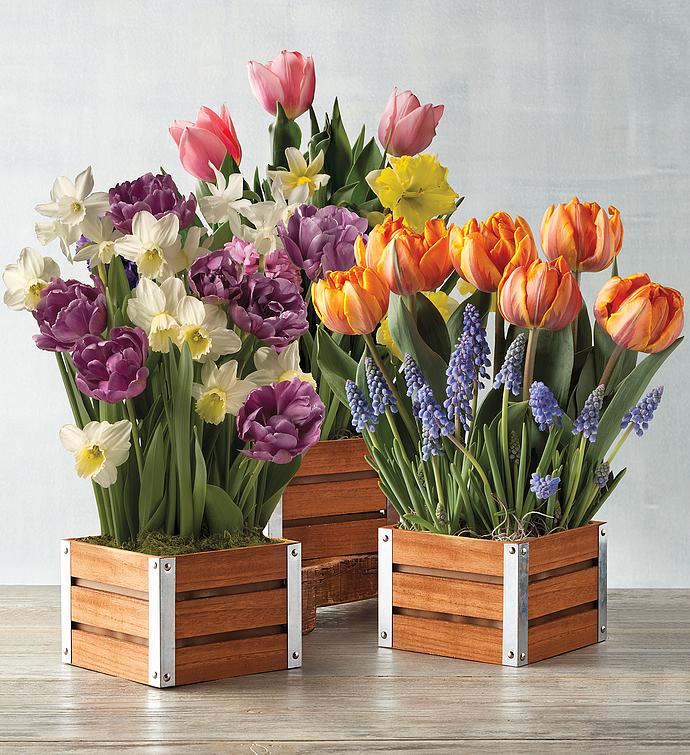 A bulb of the month club subscription is a unique gift for the person who has everything. If you're unsure about a subscription, you can follow our fabric-wrapped bouquet tutorial for gifting flowers in a pinch.
15 — Custom Home Illustration
A hand-painted custom home illustration is the perfect sentimental gift for new homeowners to frame and hang in their home sweet home. It's an ideal group family gift or even for someone nostalgic for a favorite childhood place.
Here's an ideal group family gift or even for someone nostalgic for a favorite childhood place.
16 — Rainbow Trivet Mats
Whether it's for a new apartment or new house, every home could use this fun rainbow trivet mats to protect the table and counters from scratches and burns.
17 — Woven Basket Garden Tool
Gardening gifts really don't get much cuter than this woven basket tool kit. Pair it with a unique house plant and you're all set!
18 — Customized Doormat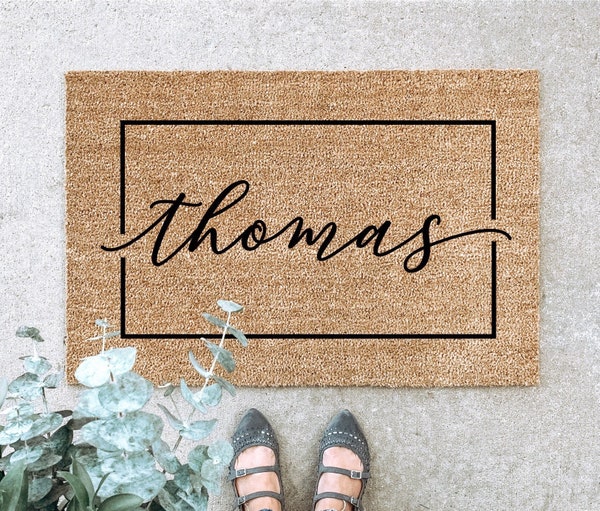 Looking for a unique wedding gift or housewarming gift? This customized doormat is hand-lettered and then sprayed with a waterproof and UV resistant spray for a long-lasting gift.
19 — Custom Return Address Stamp
Whether it's a newly married couple or a housewarming gift, a custom address stamp is always a well-used gift.
20 — Personalized Apron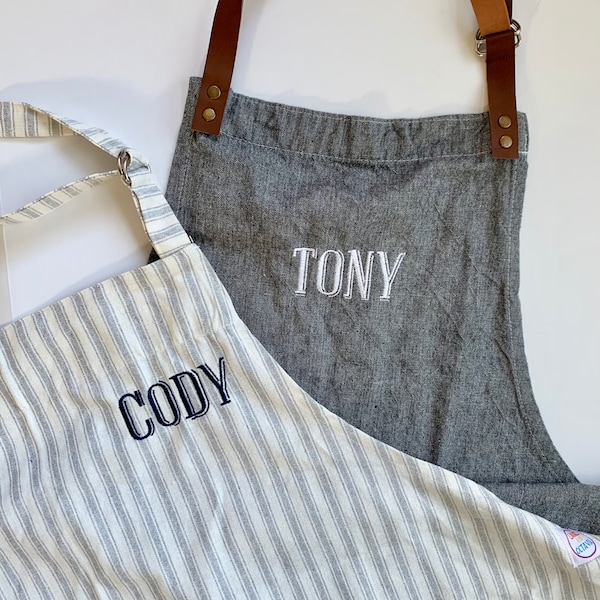 The chef in your life will love a personalized apron! Featuring a waist tie, adjustable buckles, front pockets to easily access their stainless steel kitchen tools, and a customized tag.
21 — Nespresso Machine
If you weren't the fan-favorite, you will be after gifting the new homeowner a Nespresso machine. It's quite literally the gift that keeps giving with daily coffee. Plus, we have an amazing whipped coffee recipe to boot!
22 — Personalized Cutting Board
The cooks in your life will love this personalized cutting board engraved on solid hickory. Though meant for cook prep, the board can also function as a charcuterie and cheese board. It's definitely an heirloom piece to pass down for generations!
23 — Cactus Measuring Spoons Set in Pot
The best housewarming gift ideas are functional yet can also serve as home decor, like this novelty cactus measuring spoons. The set includes 4 ceramic spoons that are stored and displayed in a pot.
24 — Canvas Bag Tool Kit
A canvas bag tool kit that's both beautiful and functional makes for the perfect new homeowners' gift. It's practical, useful, and great for small spaces.
25 — Popcorn Bowl with Kernel Sifter
Say goodbye to those unpopped popcorn kernels! Gift them with a colander-inspired popcorn bowl with a bottom sifter. The cool stoneware bowl is available in 2 color options.
26 —
Wood Doorbell Wind Chime
The unique wind chime will make an ideal addition to any home. Because it is magnetic, it can easily be installed on a wood door, refrigerator door, TV cabinet, closet, desk.
More Thoughtful Housewarming Gifts
Making something yourself is always personal and one of a kind. If you want to make something handmade yourself, check out some of our favorite gift ideas below —
Gift Guides & Unique Gift Ideas