Tired of the same old cash or gift card presents? Check out these creative money gift ideas that will add a personal touch to your next gifting occasion!
We typically try to avoid gifting cash or gift cards.Because we love going all out with our presents (especially our DIY gifts) and even our gift wrapping.
But let's be honest, giving cold hard cash can be very practical, especially if your recipient is saving up, impossible to shop for, or already has way too much stuff.
Don't you want to just hand cash or a gift card in a boring ole envelope? Here are fun and creative ways to give money for any special occasion!
Money Gift Ideas
1 — Money Gift Box
Pull on the card, and a flow of money comes out of the box! All you need is a tissue box and birthday, holiday, or any gift wrap that matches the occasion.
2 — Money Roll
This DIY is reminiscent of party poppers or English Christmas Crackers. Constructed from a toilet paper roll, it's also a fun way for someone to pull out their cash. If this cash present is for a birthday, you could even enclose dollar bills to pull out for every year of their age.
3 — Coke Cash Tree Gift
Give the gift of cash and a tasty beverage with this Coke cash tree. You can also sub out the soda for beer or hard seltzer. Or if you want to make it look like a Christmas tree, opt for lemon-lime soda cans. This money gift idea is perfect for a White Elephant exchange.
4 — Play "Dough" Money
We love this creative play (pun intended) on Play-Doh. This DIY (which honestly is more like an easy hack) also features free printable gift labels. Kids will get a kick out of this fun money gift idea.
5 — Gift Card Bouquet
Have a special someone in your life who loves flowers? (And who doesn't?!?)
Gift them with an oh-so-pretty DIY Fabric Wrapped bouquet that you can slip a gift card in or a card enclosed with cash.
6 — Chocolate Box of Money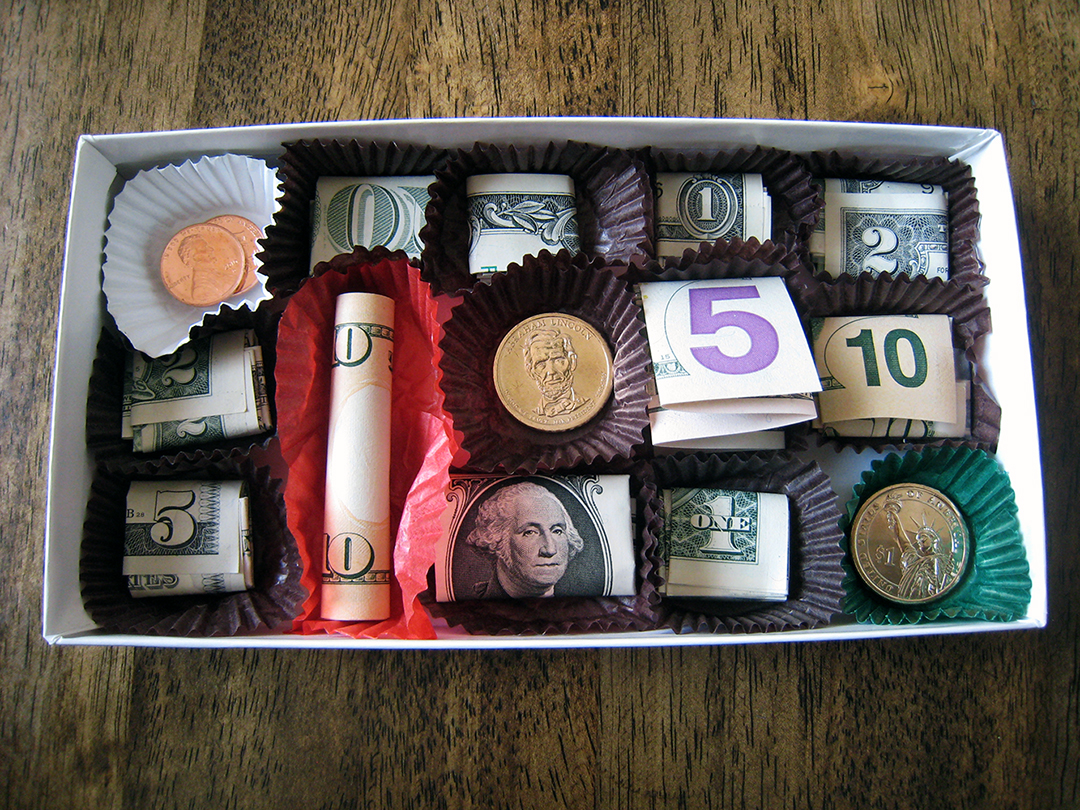 The only thing better than a box of chocolate is a chocolate box of money. A cute idea would also be to include some chocolate coins for additional sweetness with your cash gift.
7 — Tissue Box
If you find yourself scrambling for a gift, then grab a tissue box. An already open box even works best for this money idea.
8 — Paper Bag Pocket
Dress up a paper sack with some twine, ribbon, clips, stickers, and more, and you've now got yourself a thoughtful gift.
9 — Money Tree
There are only so many #1 teacher mugs that a teacher can have, so why not gift them a money tree?
And this creative idea is suited for not just teachers but anyone, especially someone who loves plants.
Use a decorative tree form, or an easy option would be to use a prefabricated tree with clips.
10 — Money Balloons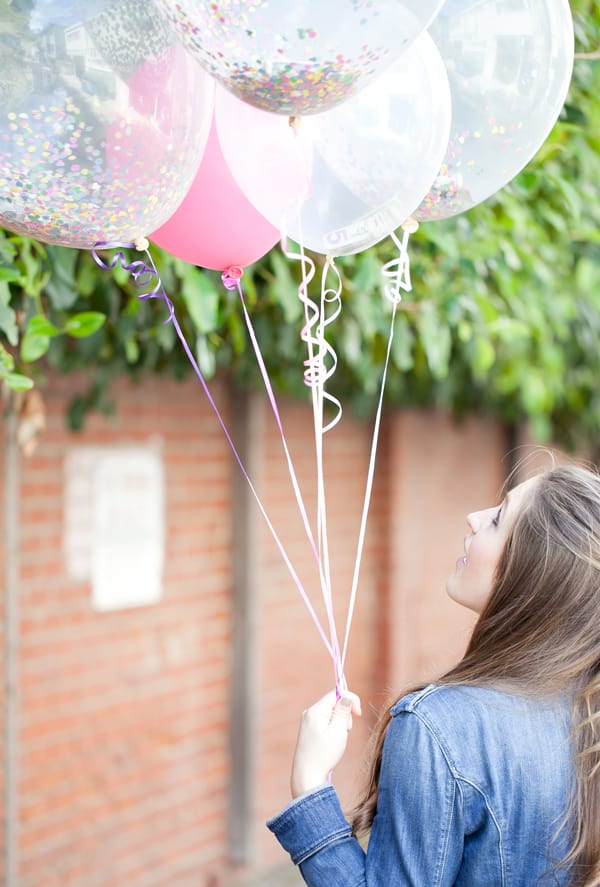 Roll up some bills and place them inside confetti balloons for your gift recipient to pop. Just make sure to hold on tight to those balloons!
11 — Light Bulb Cash Holder
This clever idea is perfect for college students or high school graduates who will need extra cash for books, food, and dorm room essentials.
12 — Money Confetti Popper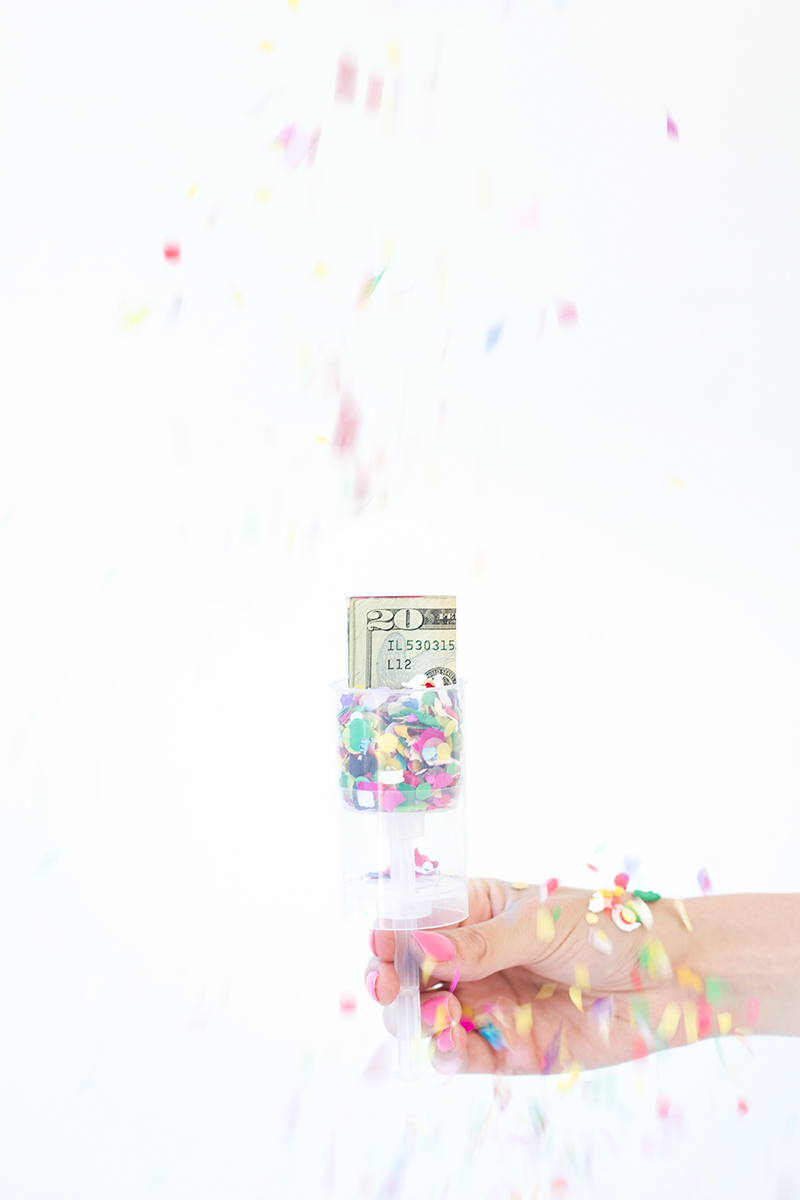 If it's one thing we love, it's confetti. And this confetti popper is perfect if your gift recipient is celebrating a special occasion.
13 — Money Wallet
If you're going to give cash, then it's only fitting that it's gifted in a wallet for safekeeping.
14 — Graduation Gift Money Jar
This money jar is so easy to recreate. All you need is a mason jar, yarn, a button construction paper, and other common craft supplies you probably already have at home.
It's the perfect gift for a high school graduate.
15 — Money Pizza
Here's another fun play on "dough" for the pizza-lovin' loved one in your life.
16 — "In an Emergency Break the Glass" Money Frame
This frame works with cash or a gift card. Just find a frame and print out the free graphic template.
17 — Money Topiary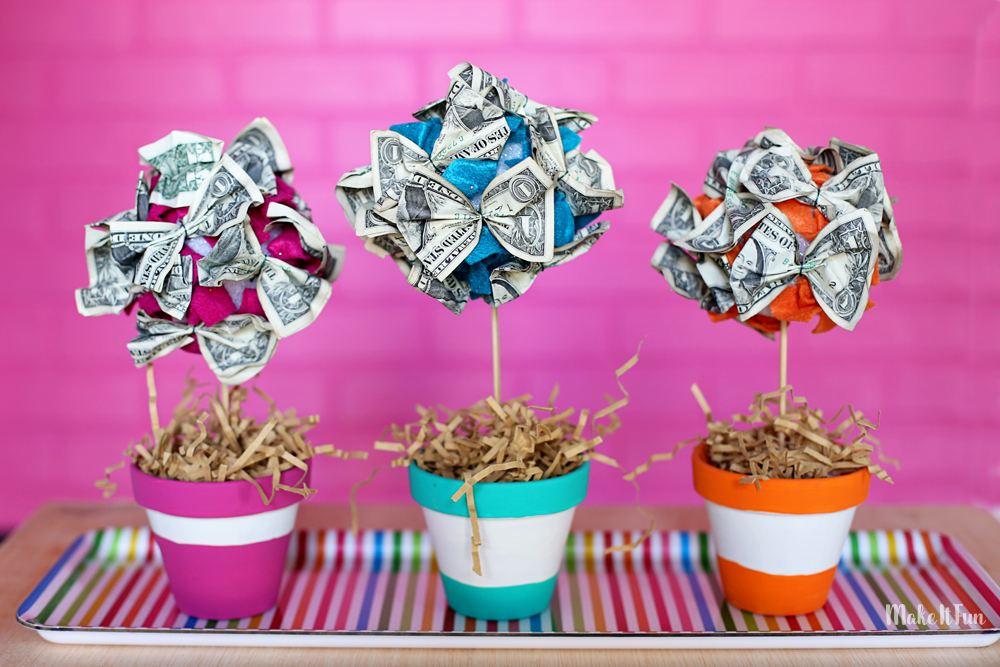 This topiary is proof that a monetary gift can still bring the wow factor as much as a physical gift.
And you don't need any fancy origami skills to achieve this look. You're seriously just pinching folded bills and wrapping them in a wire and then filling it up around a foam ball.
18 — Money Book
Here's another money gift idea from none other than the queen of crafting, Martha Stewart.
This DIY book is the ultimate present for any bookworm in your life.
19 — Money Cake Topper
Every special occasion calls for cake. Surprise your gift recipient with this festive topper that allows you to hide money, gift cards, and even a letter inside a cake.
20 — Piggy Bank Money Gift
A custom piggy bank will make gifting money more personal. This handmade bank is constructed from high-quality walnut and a laser engraved name of your choosing. So they'll get an actual present (with a bonus perk of money inside).
21 — Birthday Cash Holder
This birthday cash holder is a more unique money gift idea than enclosing cash or a check in a card.
22 — Printable Taco Gift Card Holder
Transform your gift-giving with a taco gift card holder, a charming and interactive way to present taco-themed delights for any occasion. Simply print out the free printable template for a fun way to give gift cards!
23 — Tea Bag Money Gift Holder
Surprise them with this cute money gift idea with this DIY tea bag holder. Your cash is cleverly hidden into a faux tea bag.
More Gift Ideas
Want to pair your money gift with a physical gift? Check out some of our favorite gift guides below —