White Elephant Gift Ideas — Everyone loves a funny white elephant gift, and thankfully the season of gift exchange ideas is upon us!
It's a tradition for us to throw an annual game night holiday party, and we've started adding a white elephant gift exchange to the mix! You know, instead of holiday beer pong… mostly kidding!
Before we get started with the funny gift ideas, here's how to a host a white elephant gift exchange…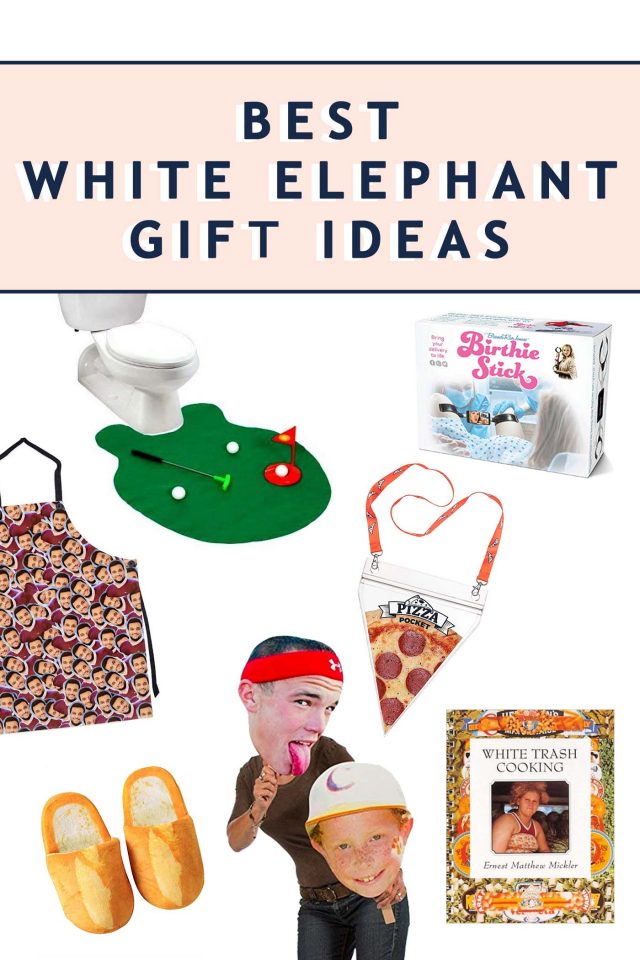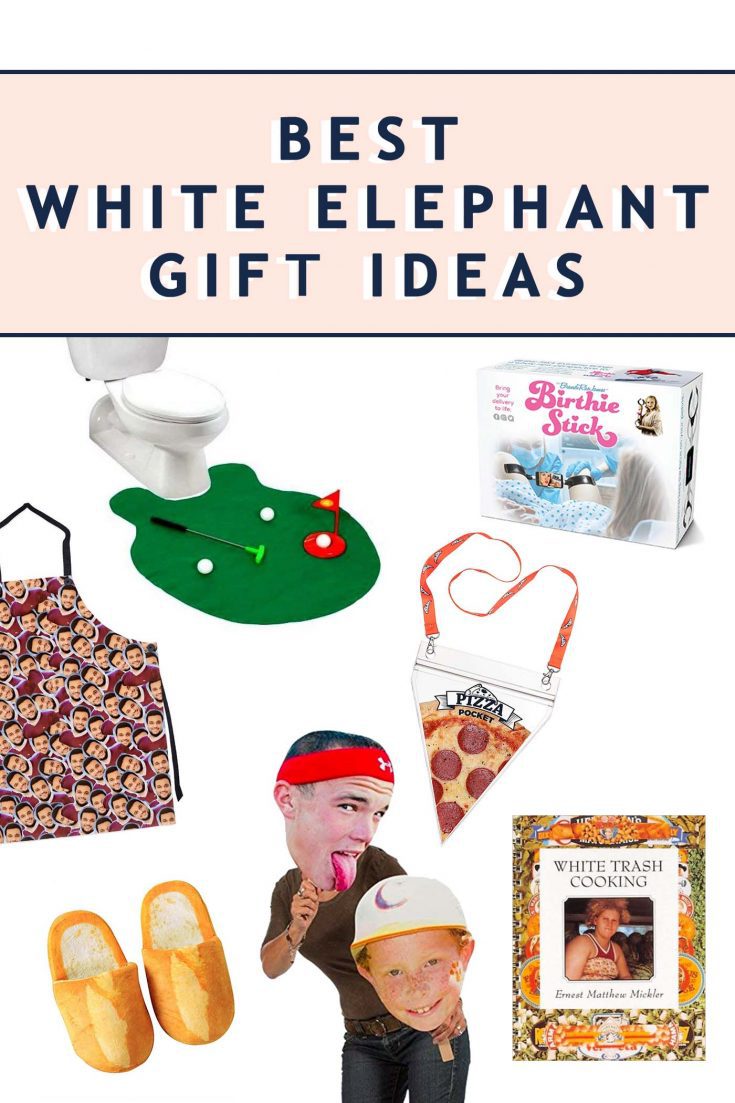 How to Host a White Elephant Gift Exchange
There's really no right or wrong way to play a white elephant gift game. You might have also heard it called "dirty santa game" or "yankee swap".
They're essentially all very similar gift exchange games, and the rules can be as strict or as loose as you want them to be! Guests can bring any type of gift — family-friendly gifts, regifted gifts, funny gifts, or even old items from home.
White Elephant Game Rules —
Everyone brings a wrapped gift and places it in the center of the room where everyone can see
Players draw a random number to know when it's their turn to pull a gift from the pile
The person who draws the number one will be the first to select a gift from the pile, then person number two will choose, and so on
Person number two and every one after can either choose a gift from the pile or choose to steal an already opened gift
Each gift can only be stolen 3 times. On the third steal, it's officially claimed and can't be in rotation any longer.
You can also only steal from a single person 3 times before they're exempt from being stolen from
The game continues until all the players have had a turn, the player that drew the number one now gets a chance to steal a gift back from someone else as long as the gift hasn't already been stolen 3 times.
Of course, there should always be an honorary white elephant gift trophy, too.
Best White Elephant Gifts | Funny White Elephant Gift Ideas
Tipsy Tubes Secret Flasks
Whoever receives this white elephant gift will be the life of the party next summer with these Tipsy Tube flasks!

Circular Saw Pizza Wheel
This circular saw pizza wheel is a hilarious and practical gift! We think anyone would trade their regular pie cutter for this version.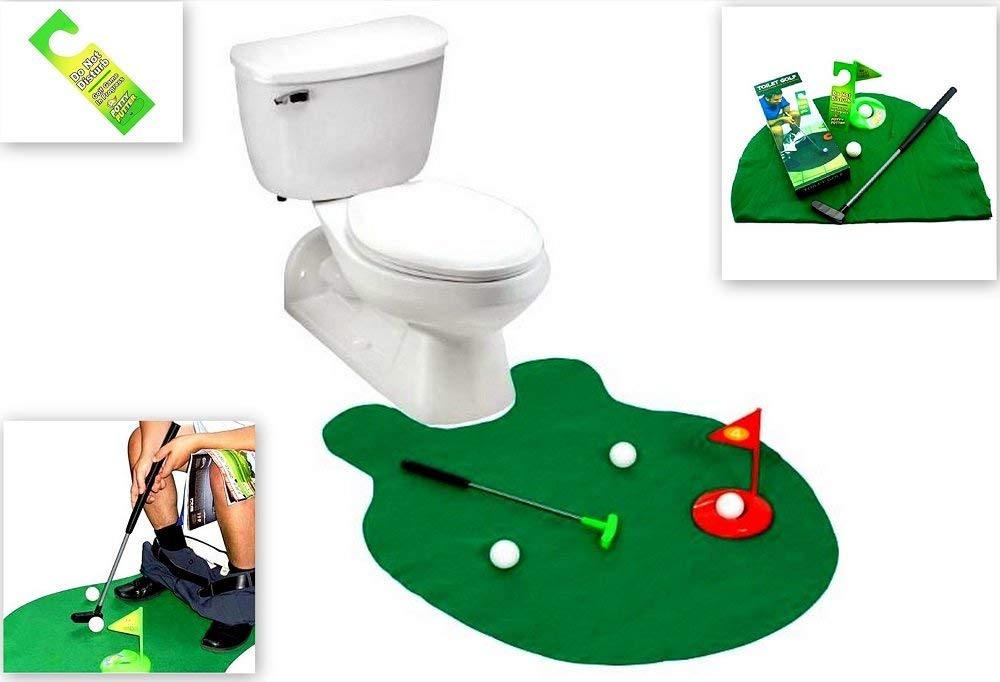 Toilet Golf Funny White Elephant Gifts
Also known as "potty putter," this game of mini golf is a great alternative to traditional toilet entertainment.
Holiday Spirits Calendar White Elephant Gift Box
It's the 12 days of booze! Customize each surprise with mini bottles of liquor or wine for this alcohol advent calendar.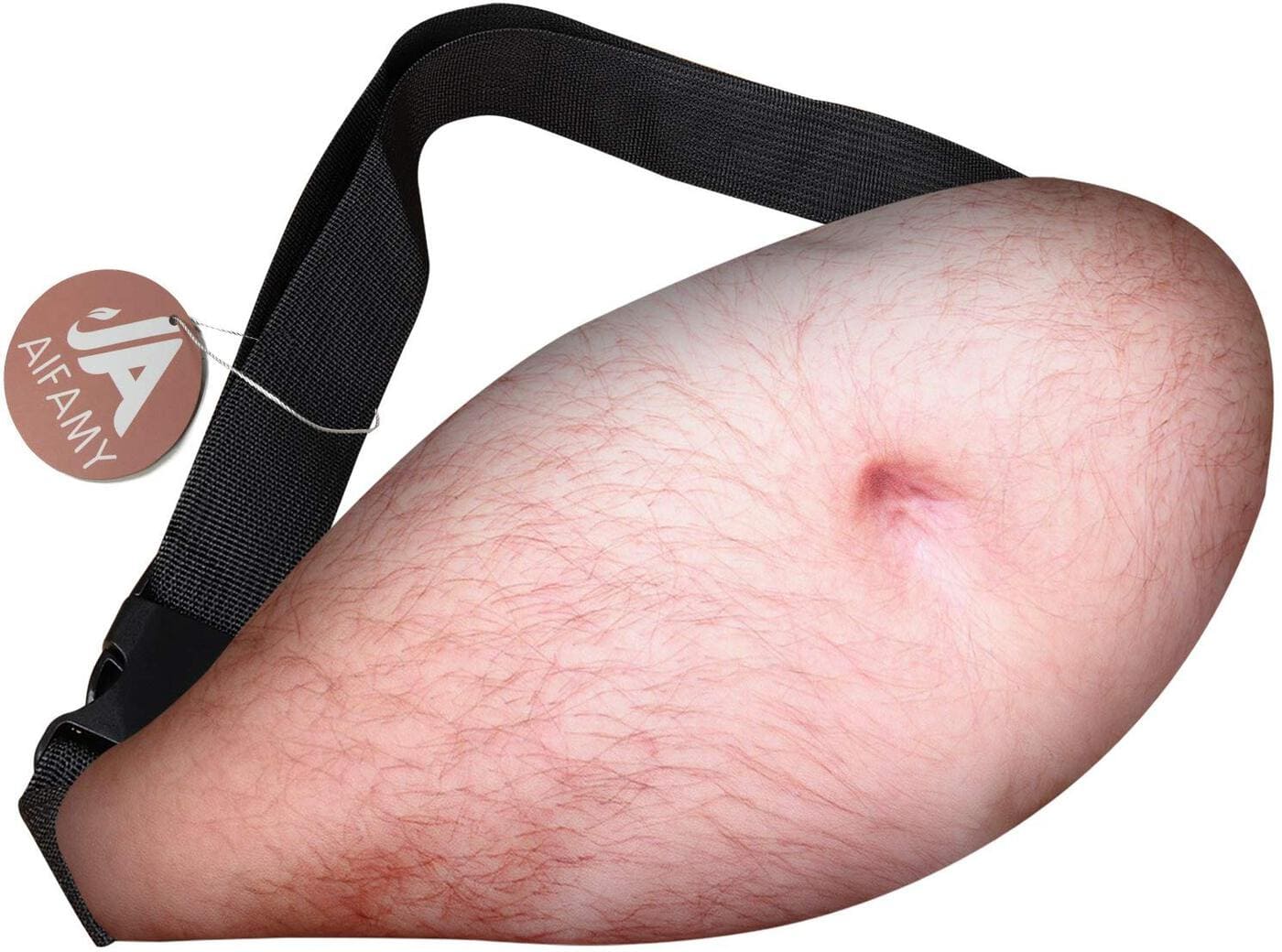 Beer Belly Fanny Pack
You can carry large items in this head-turning beer belly fanny pack. We think the receiver should have to try this on in front of the group!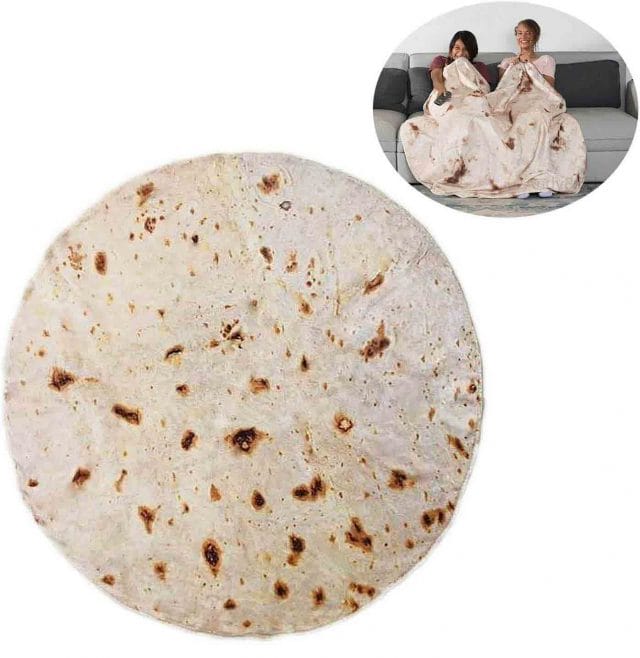 Burrito Blanket Funny White Elephant Gift
Who doesn't need a burrito blanket?! This is the perfect blanket to roll up on a cold day.
Mason Jar Zipper Bags
These mason jar zipper bags will grab attention at work or school, making them a great white elephant gift that anyone can use.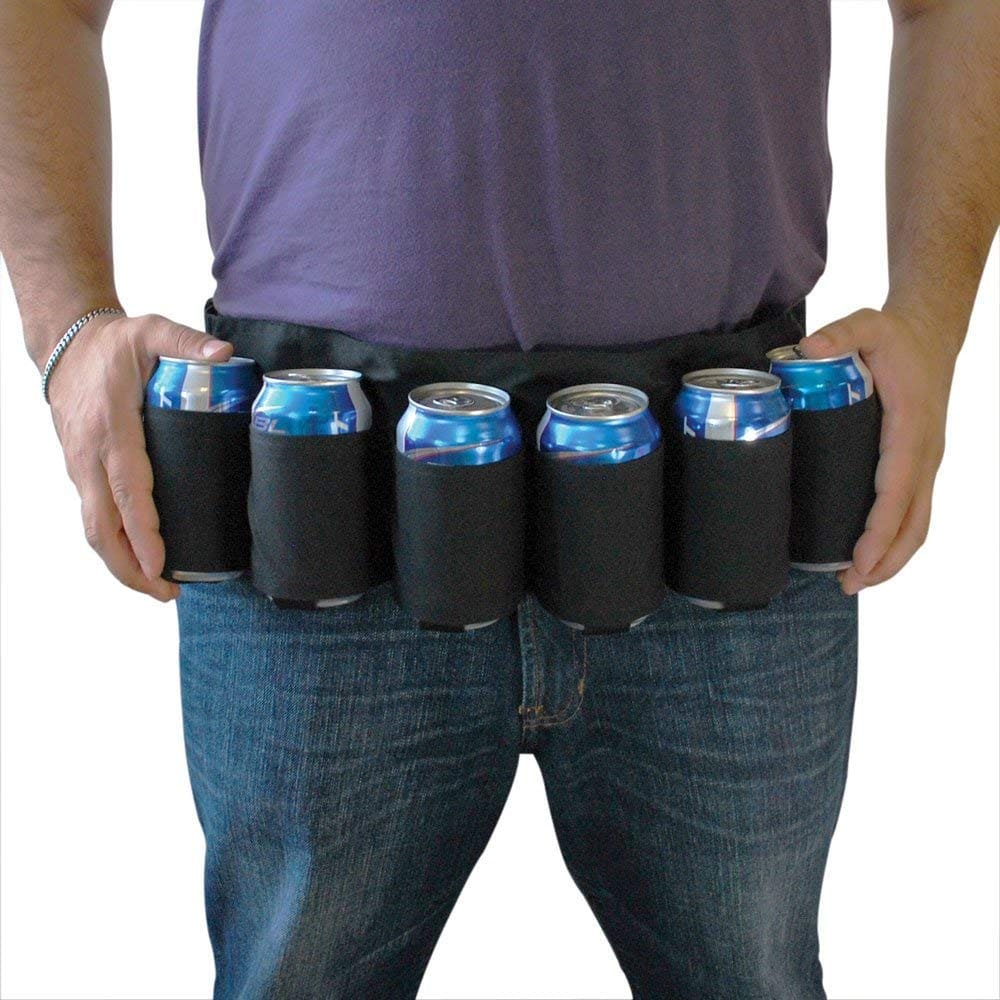 6 Pack Belt
Your gift recipient will be party-prepared with this 6 pack beer or soda belt. Also available in camo print!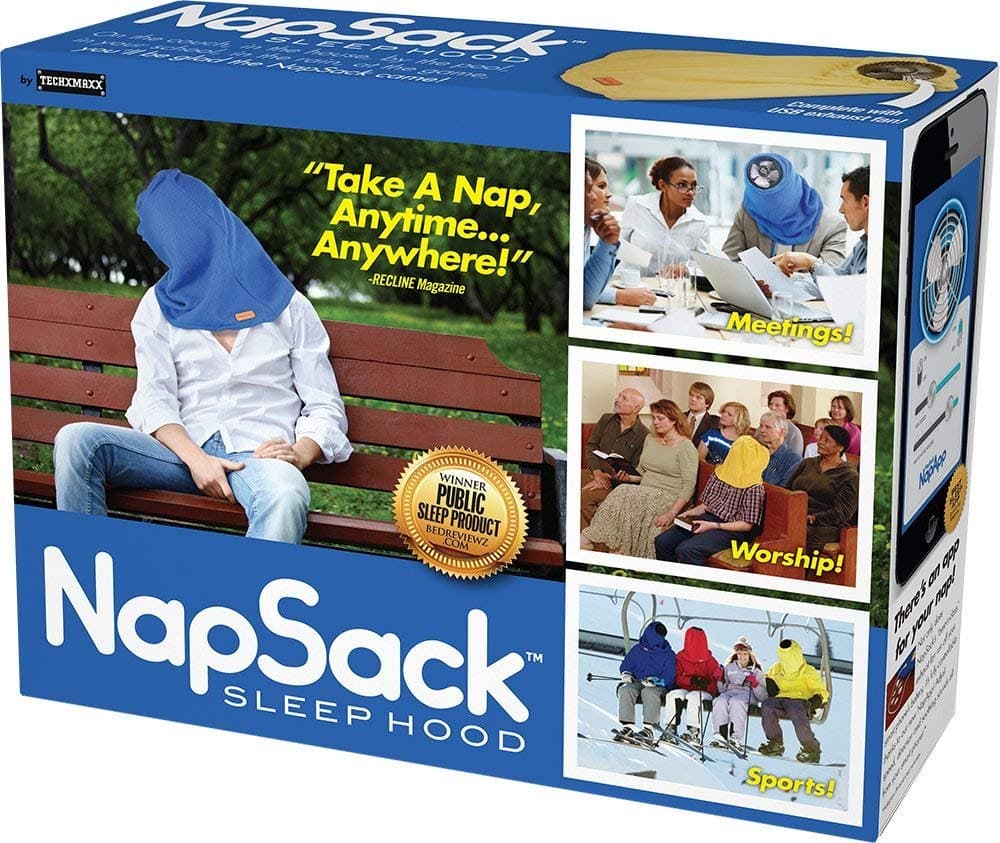 Nap Sack Funny White Elephant Gift Box
Prank your friends with this Nap Sack gift box to catch them off guard with another gift inside!
Customizable Cardboard Face Cutout
Just upload a photo of someone's face and Build A Head will create a cardboard face cutout of it. Make a giant replica of your boss's face for a work party, or 10 cutouts of Grandma and Grandpa's faces for everyone in the family to wear.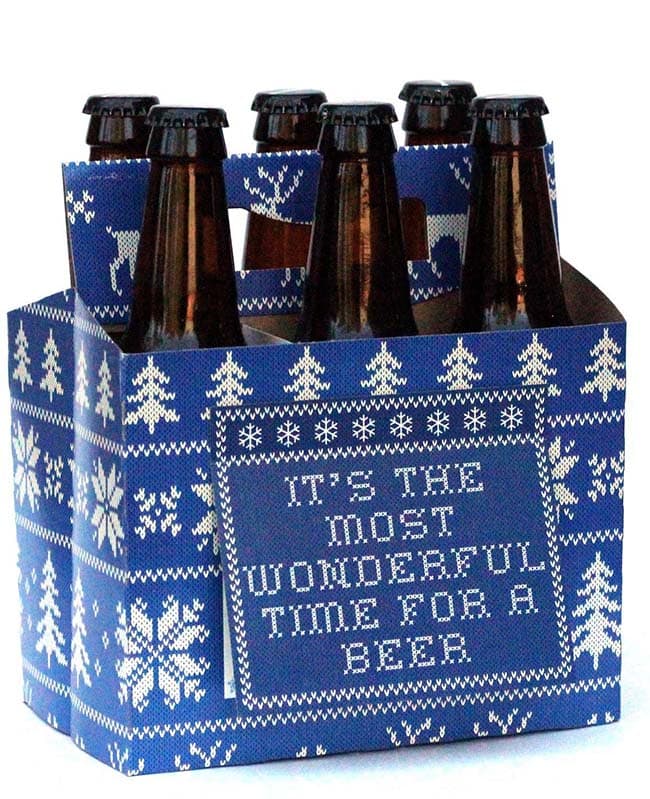 6 Pack Greeting Cards (set of 4)
Bringing a six-pack of beer to your white elephant party? Do it with one of these 6 pack greeting cards so you can share a funny note inside.
Birthie Stick White Elephant Gift Box
Get ready for the crowd to cringe in unison, and then laugh with relief! This Birthie Stick gag box is another great way to disguise your actual white elephant gift. Whew!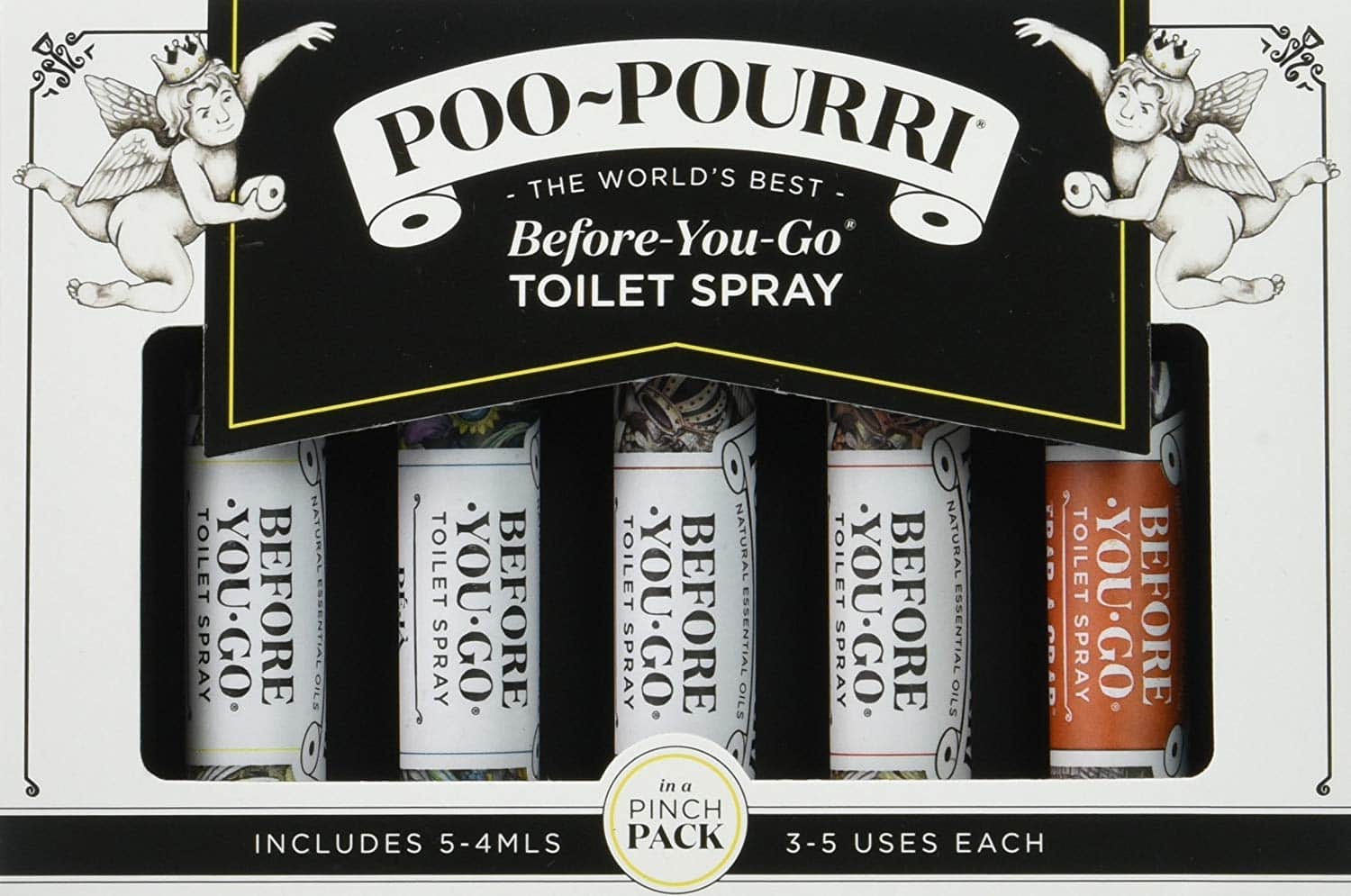 Poo Pourri Travel Set
Now it can smell like roses! You'll get to watch the recipient turn red when they uncover this set of bathroom odor eliminators, but if they've used this product before, don't be surprised if they sneak a quiet, "thank you." to you when no one's looking.
Novelty Pump Beverage Dispenser White Elephant Gift
The best white elephant gifts are the ones the whole party can enjoy – like this beverage tube that dispenses as you pump. We suggest pairing this with a bottle of booze, you know, for demonstration purposes.
Squatty Potty
If you haven't heard, the squatty potty is designed to keep your body at the optimal alignment when you use the restroom. This gift may be silly, but it might actually come in handy!
Raining Men Umbrella
Cheer everyone up with this Raining Men umbrella. Bonus points if you can get the party-goers to sing the tune!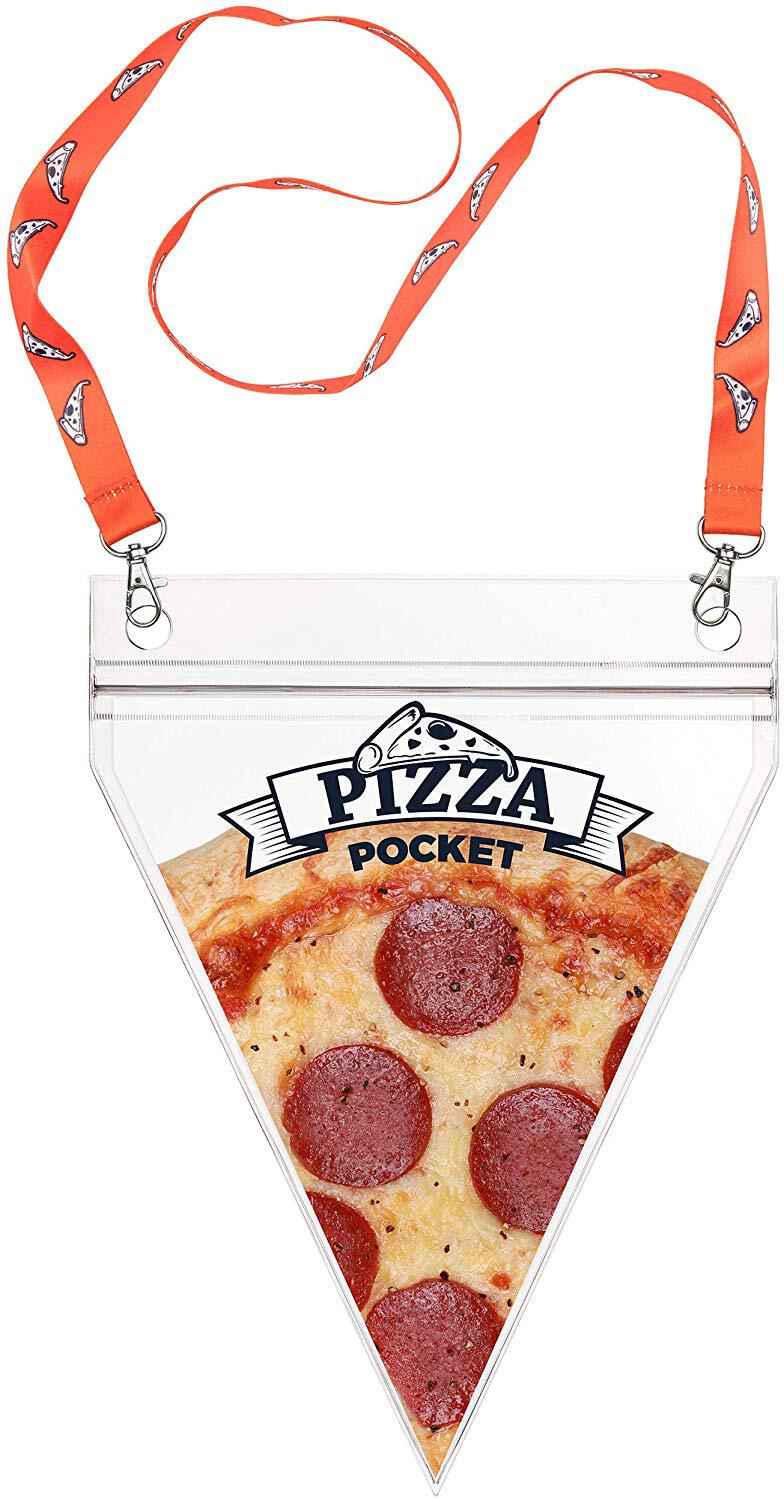 Pizza Pocket
Unfortunately, a pizza pocket is not exactly practical, but we can dream.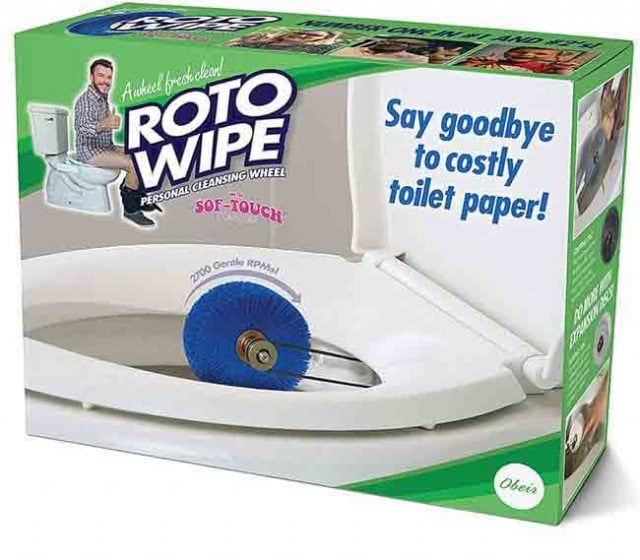 Roto Wipe White Elephant Gift Box
Thankfully, the Roto Wipe exists merely as a gag gift box. Everyone will be laughing before they realize that there is a different gift hidden inside.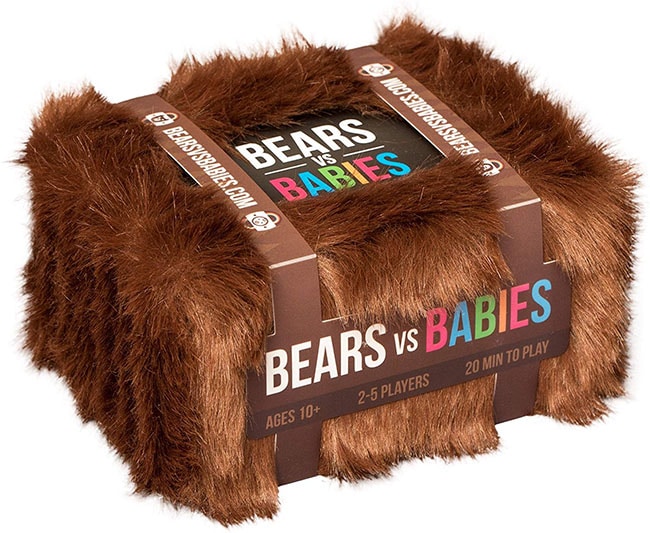 Bears vs Babies Card Game
We've never played Bears vs Babies, but the description notes that it works with 2-5 players and only takes 20 minutes, so if your white elephant party is small, why not go for a round after the gift exchange for some extra fun! The winner gets to steal a gift…
Wine Condoms
Practice safe drinking with these wine condom bottle stoppers! These latex bottle savers serve to protect your wine from spilling and spoiling.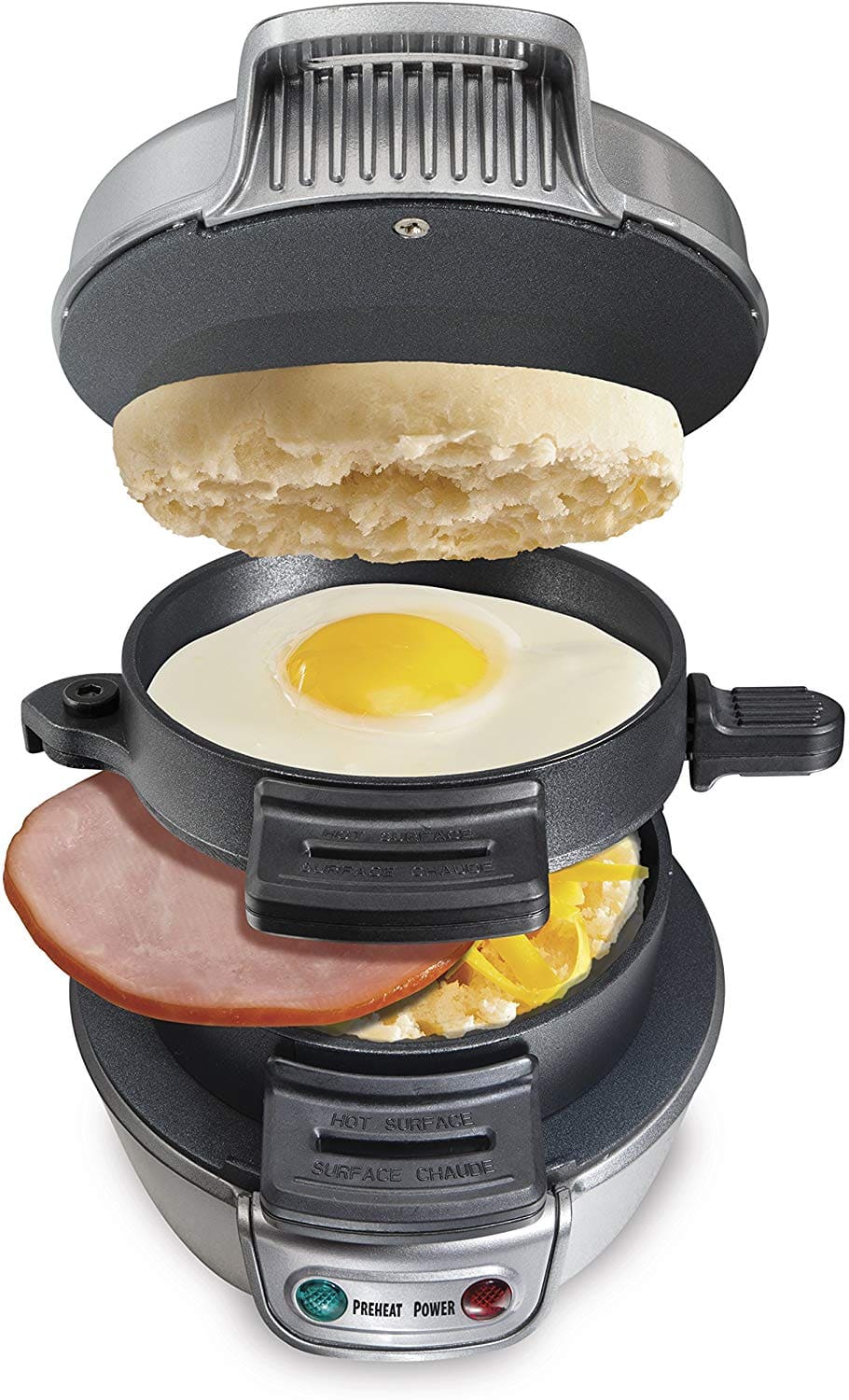 Breakfast Sandwich Maker
This breakfast sandwich maker will be a party hit and a morning favorite!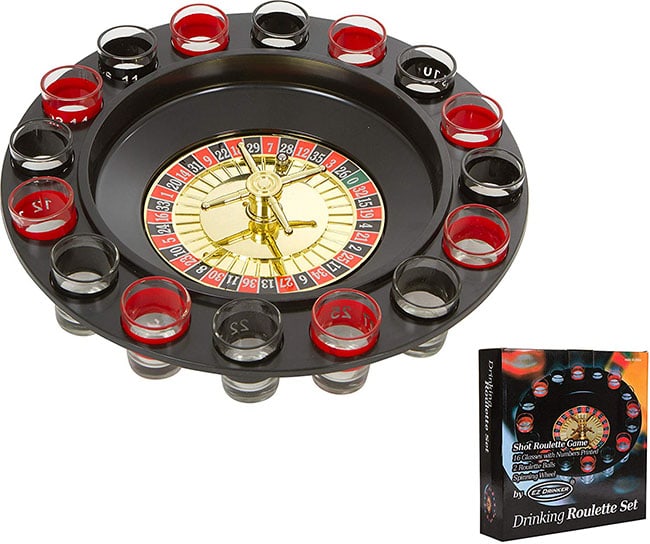 Shot Roulette
Another fun game to play during the white elephant shindig is shot roulette! If you're not a fan of straight liquor shot glasses (we aren't either) then try making mini old fashioned cocktails in them instead!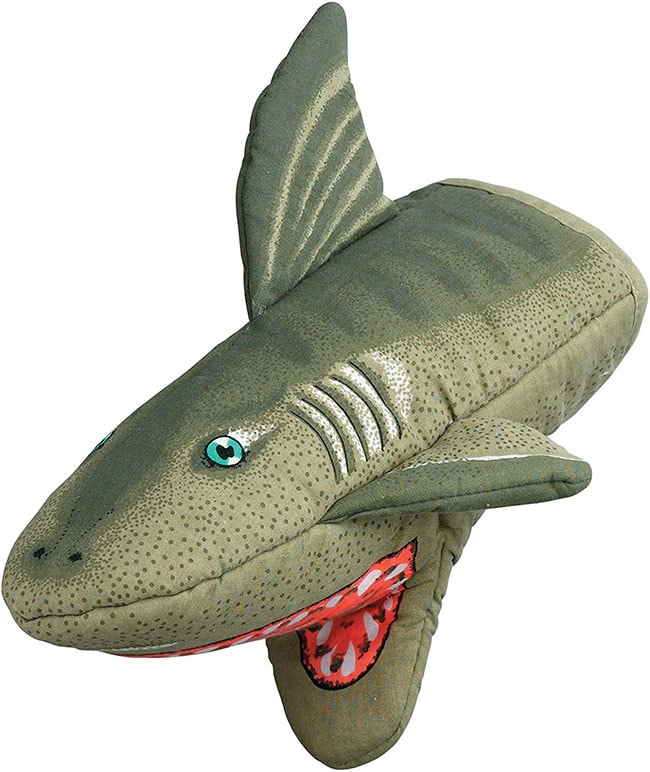 Shark Oven Mitt Funny White Elephant Gift
Nothing says cooking quite like a shark! It may be a quirky oven mitt, but it will surely get people talking.
Silicone Wine Glass Holder
We know a lot of people would be grateful to unwrap a silicone wine glass holder, so snag this bathtime bestie and head to the party!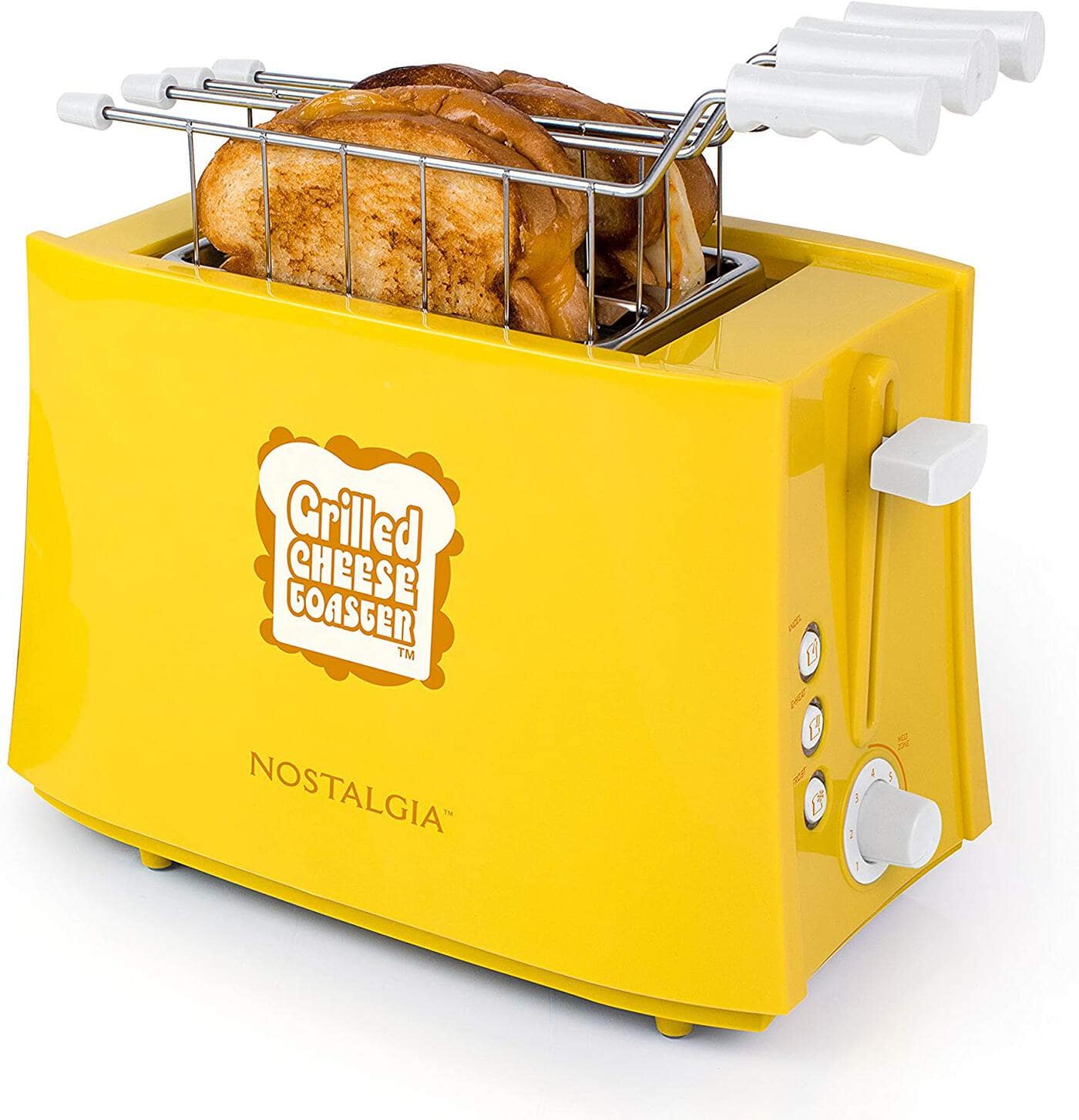 Grilled Cheese Toaster
A warm gooey grilled cheese is always a crowd-pleaser, so gift the toaster that will make a perfect grilled cheese every time.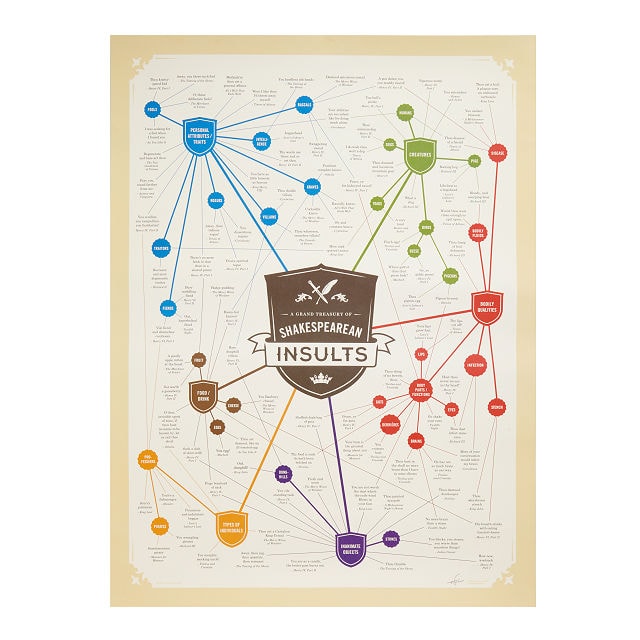 Shakespearean Insults Poster
Give the gift of having the last laugh. Your receiver will be able to roast their friends with any of these Shakespearean insults.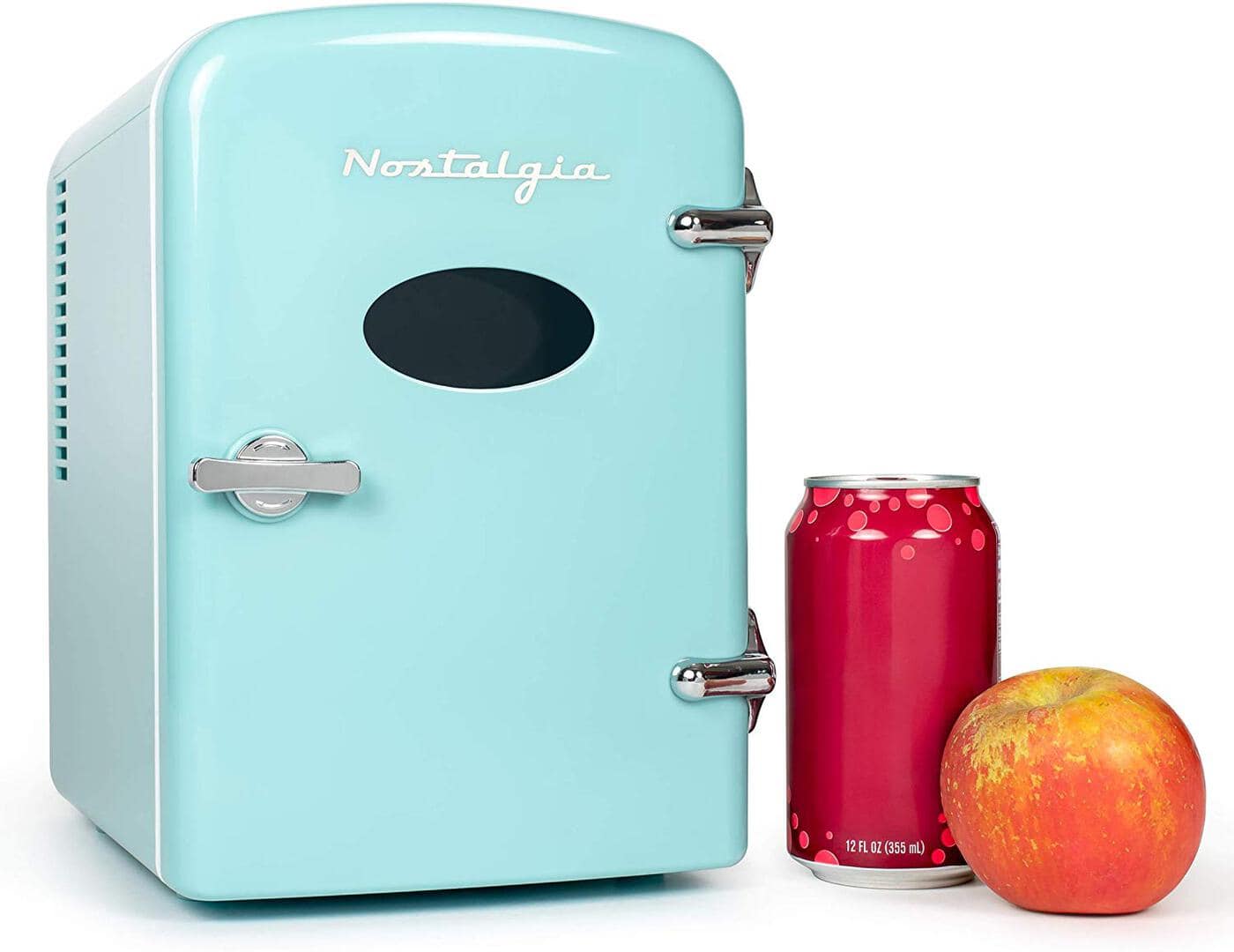 Retro Cooling and Heating Refrigerator
This mini mini-fridge fits six 12oz cans and can keep your snacks and drinks cold or warm. If that's not magical enough, it's adorably retro.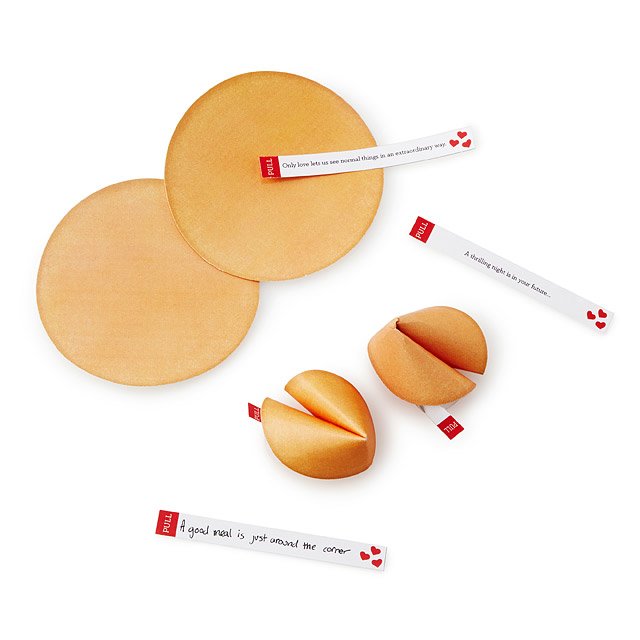 Printable Fortune Cookies
"Fortunes will be told at an upcoming party." This set of printable fortune cookies comes with four pre-written fortunes that, "range from romantic to racy," the rest are left blank for you to fill in with your own fortunes.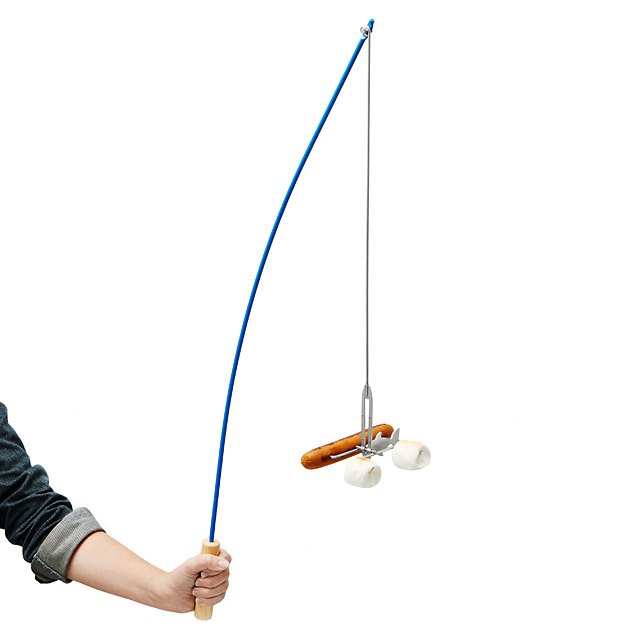 Fishing Pole Campfire Roaster
A lucky winner can receive this fishing pole campfire roaster to gather 'round a fire with friends and family.
Adult Award Ribbons
Congratulate your recipient an award ribbon for an everyday accomplishment. Hey, adulting is hard sometimes!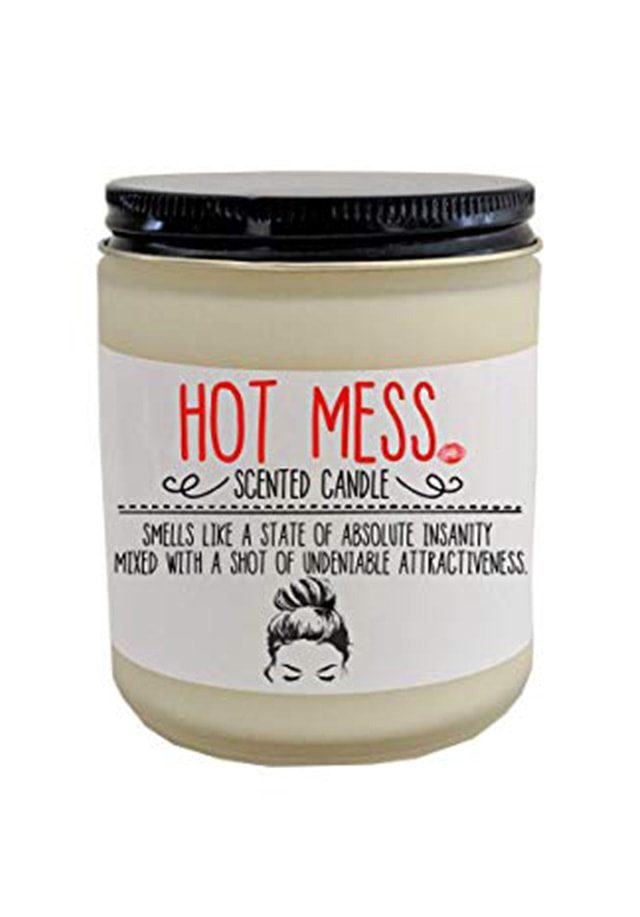 Hot Mess Scented Candle
Hashtag #relatable! Hopefully, the person who opens this hot mess candle thinks so.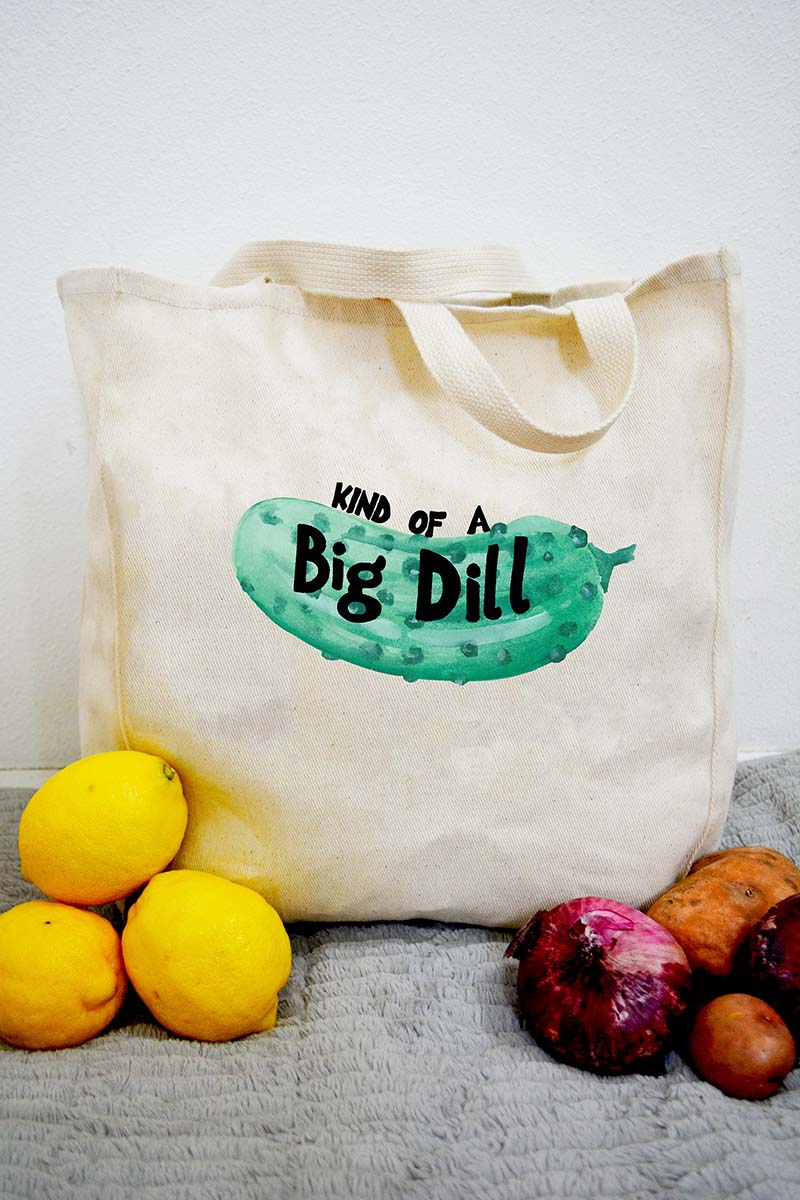 Kind of A Big Dill White Elephant Gift Bag
The tote is a gift in itself, but if you feel so inclined, this "kind of a big dill" tote makes a great gift bag too.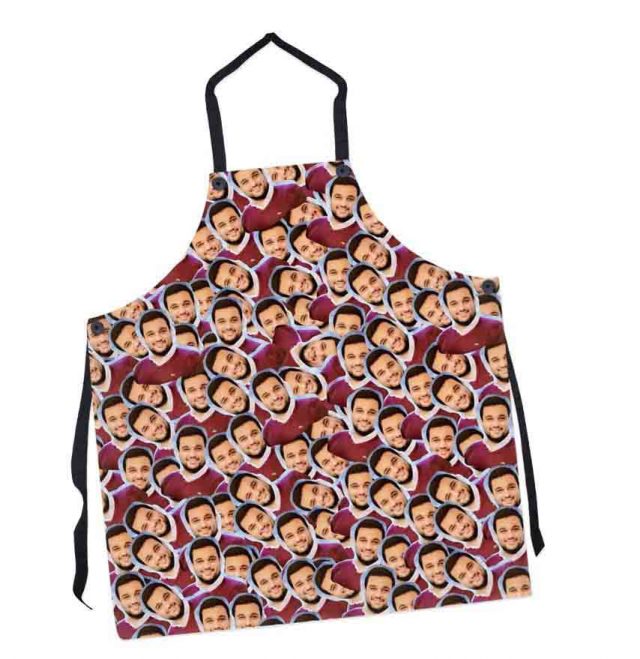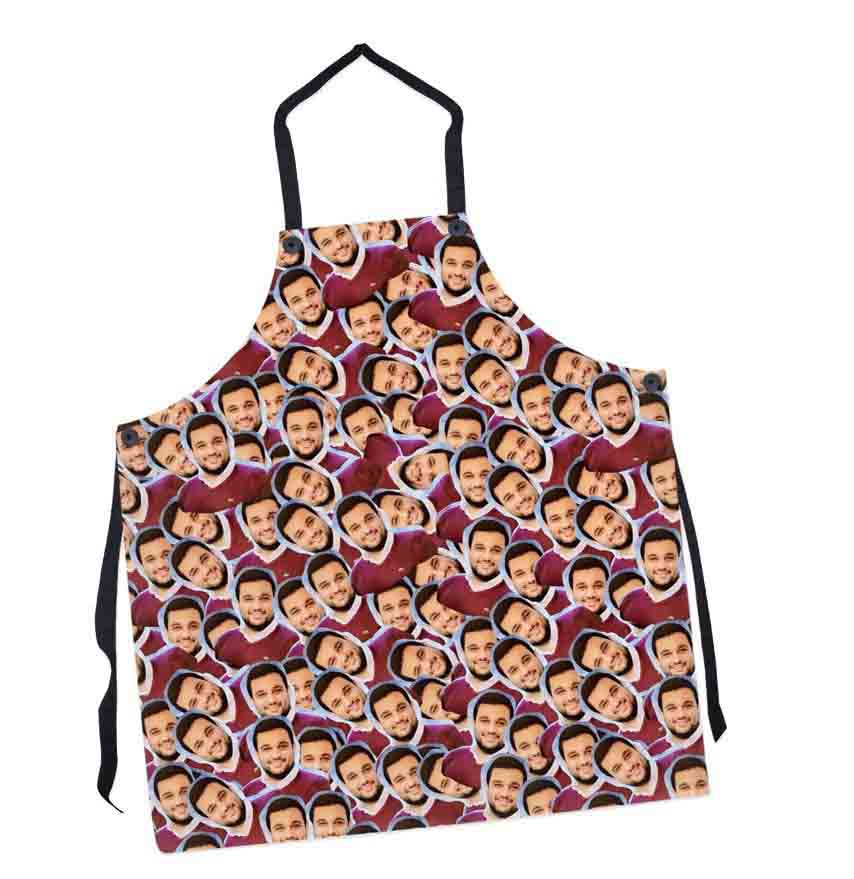 Selfie Apron
Surprise your friends with a silly custom selfie apron! Make it an apron featuring your face, celebrity crush, or pet!
Baguette Slippers White Elephant Gift
These baguette slippers will keep feet toasty and make everyone giggle. Hooray for warm feet and belly laughs!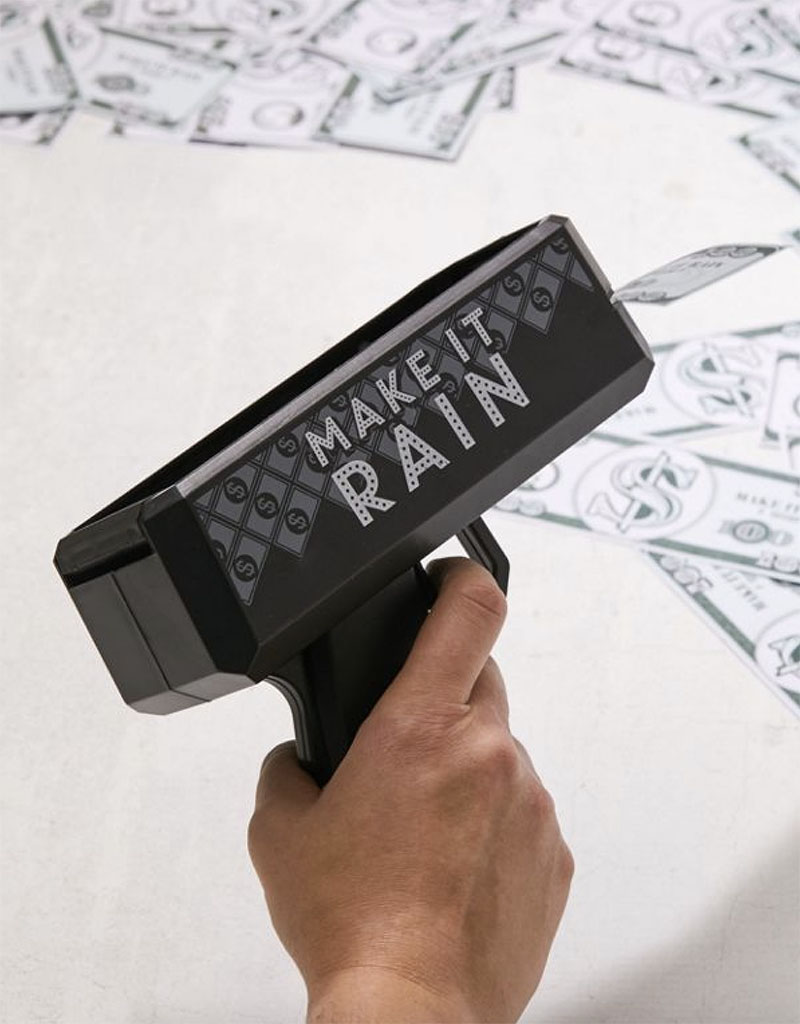 Cash Cannon
Bring the rain with this cash cannon. Pulling the trigger releases a rainstorm of fake dollar bills!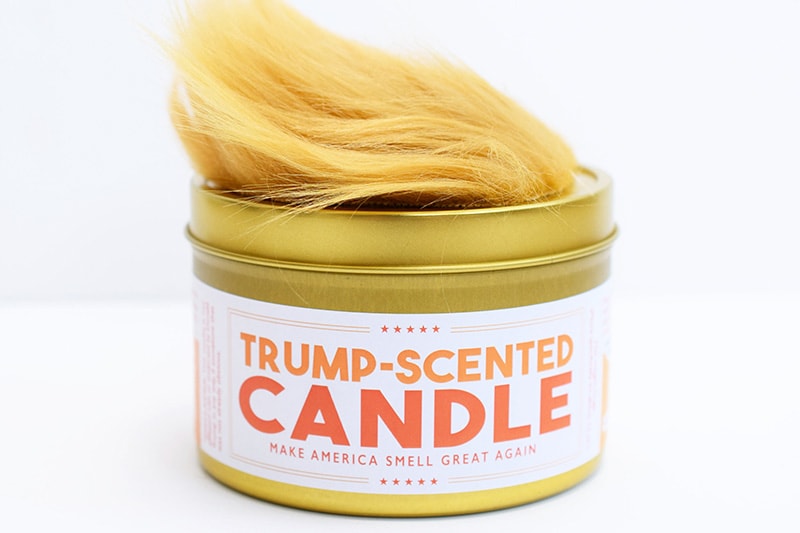 Trump Scented Candle White Elephant Gift Idea
"Make America Smell Great Again" with this hilarious Trump scented candle that will surely bring the lol's to the party!
White Trash Cooking by Ernest Matthew Mickler
We're not entirely sure what constitutes a white trash delicacy, but this cookbook by Ernest Matthew Milker is full of them.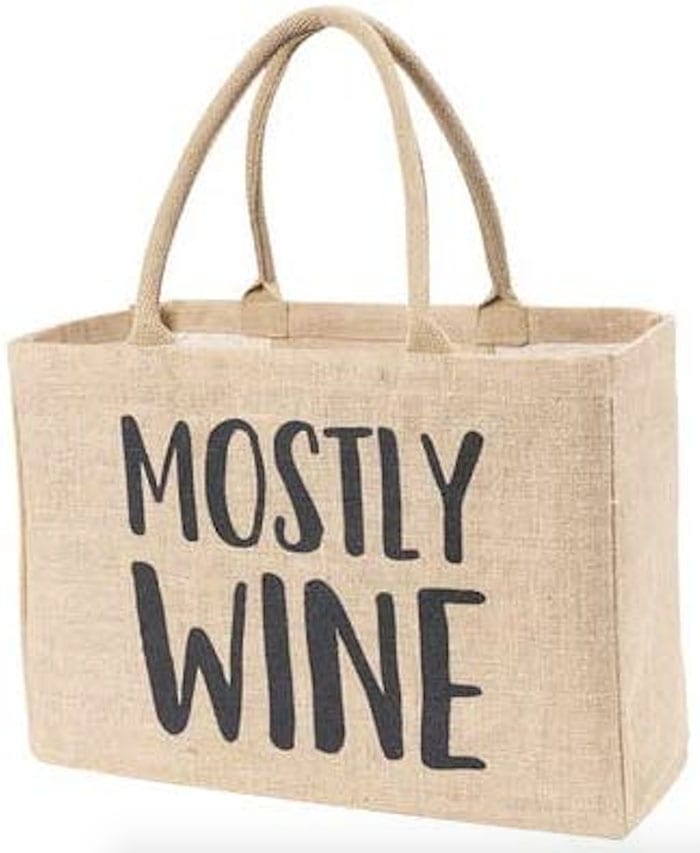 Mostly Wine Tote to House Your White Elephant Gift
Maybe it is, maybe it isn't? Fill this "Mostly Wine" tote bag with a few bottles of vino for a complete gift!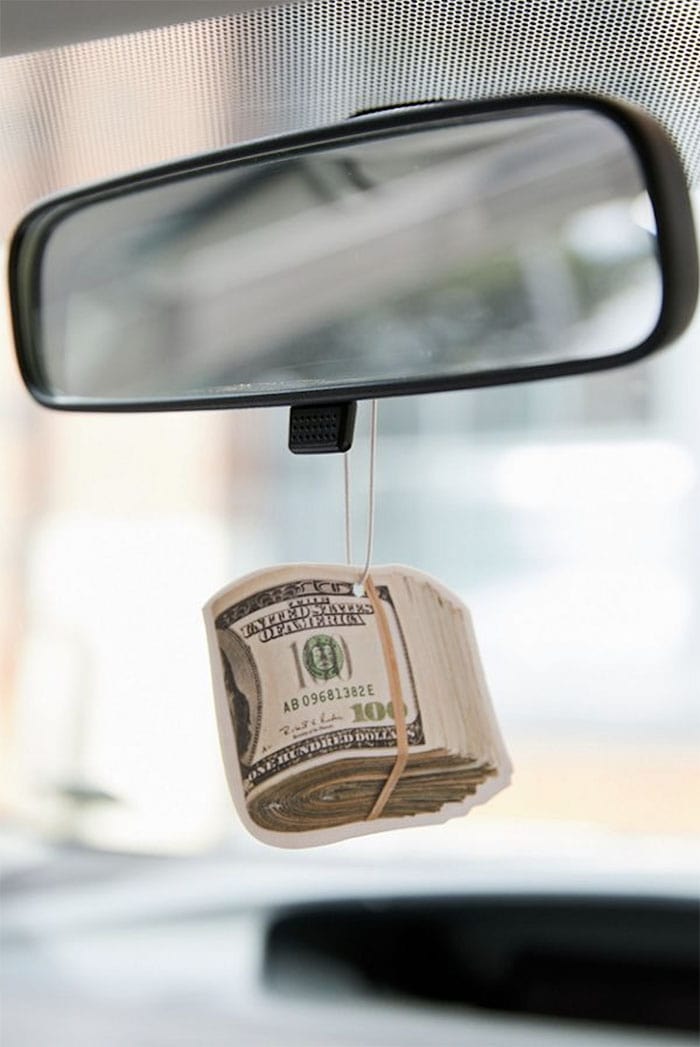 Cash Wad Air Freshener
Give them a wad of cash…air freshener. It's a small gift that will last far beyond the party when their car is smelling like sweet, sweet money.
I'm Sorry Balloon
Wrap the deflated balloon and have the recipient blow it up in front of everyone, without looking at the words. Everyone will get a kick out of it, and the joke will be on them!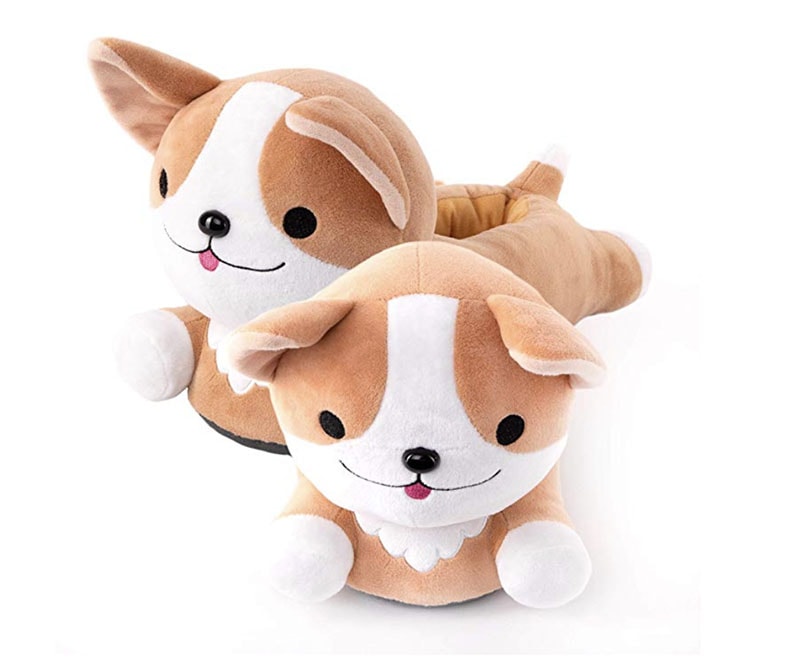 Heated Corgi Foot Warming Slippers
Yes, these are heated! These Corgi slippers can be warmed using the USB plugin. Also available in angry cat and unicorn whale designs, because, you know, unicorn whales.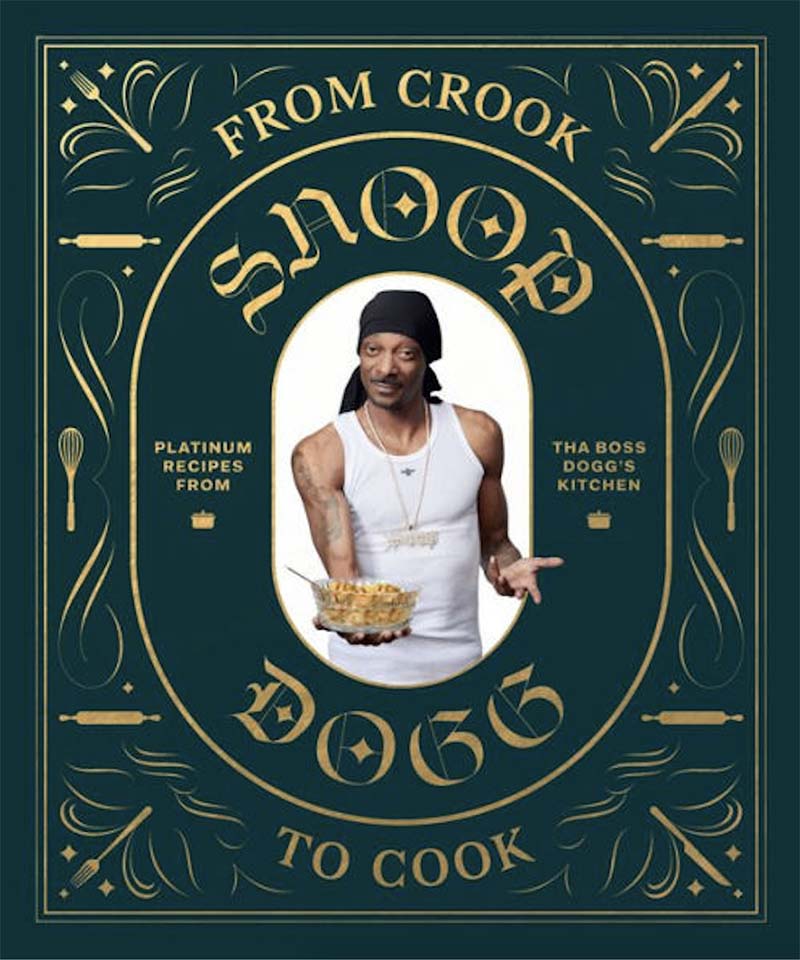 From Crook to Cook by Snoop Dogg
Snoop Dogg is not the first celebrity with a cookbook. There's something in there for everyone at the table from soul-food to his own take on classics.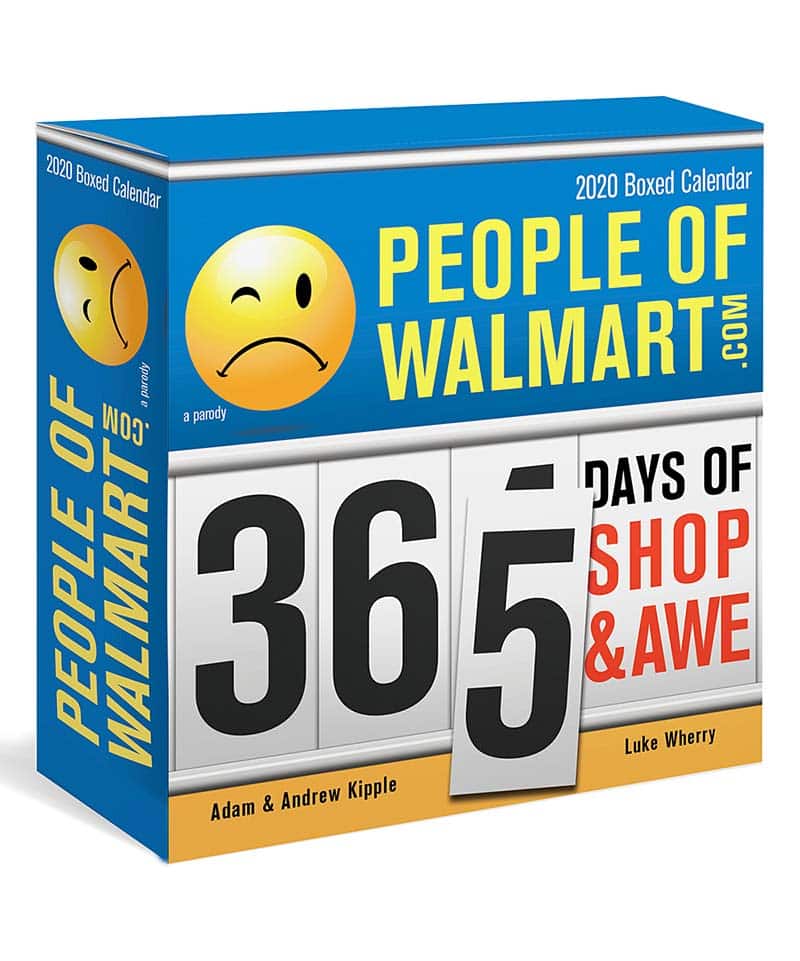 People of Walmart Boxed Calendar
People of Walmart is one of the funniest websites on the internet, so it makes perfect sense that the people behind it turned their concept into a calendar!
Funny White Elephant Gifts You Can't Find at the Store
Fast Food Meal White Elephant Gift
Surprise your friends with your favorite fast food meal, wrapped in a gift bag. The smell might be suspicious, but no one will expect to find a meal when they unwrap their gift!
Lotto Tickets
See if there's a lucky winner among your group with a few scratch-off lotto tickets as a gift.
Truth or Dare?
A beautifully boxed note card that simply reads, "Truth or Dare?" – the receiver will then have to answer and do the dare or spill the beans in front of everyone…
Bedazzled Beans
Speaking of beans, who doesn't need a bedazzled can of beans? All you need is a can of beans or veggies and a pack of these self-stick rhinestones.
Autographed Selfie Funny White Elephant Gift
Anyone at the party would be glad to have a framed, autograph selfie of you! It's a hilarious gift to give a friend, but an even funnier gift for someone you don't know very well. Who knows, maybe they'll think you're a rising star!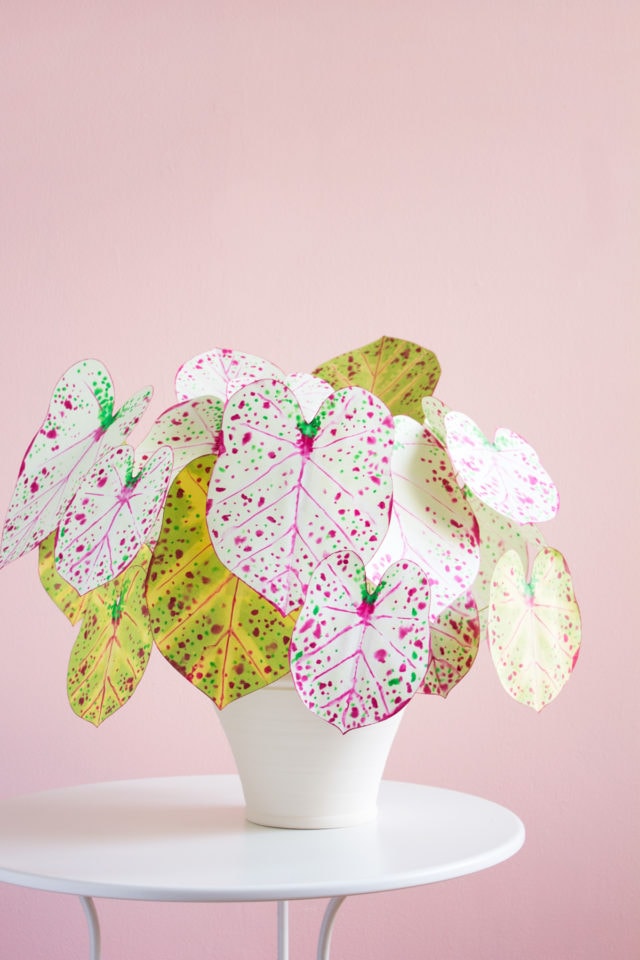 Decorated Christmas Plant
In the spirit of Christmas, why not gift a pre-decorated holiday house plant! We have 8 unique plant ideas that you can adorn with traditional or silly ornaments like mini flannel shirts or tacos!
Kissy Toilet Paper White Elephant Gift
Kiss my butt! A roll of toilet paper with lipstick kisses all over it.
Pot o' Treasure
Fill a cute plant pot with soil, bury a $5 bill (or other treasure) near the bottom. Make a small flag that says, "X marks the spot" with a piece of paper taped to a straw and stick it in the dirt. Everyone will be laughing as the recipient digs their hands into a pot of dirt to find the treasure!
Kitty Clock
It will always be kitty o'clock with this DIY kitty clock. All you need is a blank clock, a set of clock hands, and 12 adorable kitty stickers as the numbers.
DIY Mood Candles
Get a set of different colored candles like these, and on each jar write in permanent marker, "if this candle is burning __________." Fill in the blank with different moods, for example, "stay 10 feet away," or, "I'm feeling frisky."
Comment Calendar
Since New Years comes right after Christmas, it's the perfect time to gift a comment calendar. We found this hanging calendar with ink bleed resistance, so you can write funny messages for the gift receiver to read throughout the year. One June 5th let them know their butt looks good today! You get the idea…
Dirty Mouth Soap Popsicle White Elephant Gift
Give the gift parents will thank you for! To make these, all you need is a bar soap base and popsicle molds (sticks included). Food coloring is optional. Wrap in cellophane and add a tag or label that says Dirty Mouth Soap!
Gift Guides & Unique Gift Ideas