Presents for him can be tricky, so we put together a list of unique gifts for men to help take a little burden off of your shopping list!
Finding the perfect gift for him can much be easier said than done. Whether you're looking for a birthday gift for dad or the perfect gift for the guys in your life, they usually have everything they need.
This list is full of great Christmas presents for the men in your life, and it doubles as a resource for birthday gifts, anniversary gifts, and Valentine's gift ideas too!
Gifts for Men
1 — Personalized Apron
This durable personalized apron is the perfect chef's uniform, fitted with a custom foiled press leather name tag, split front pockets for easy access and an adjustable cooper bucker. Personalized gifts are always a hit since it makes they're one of a kind.
2 — Native Union Leather AirPod Case
A timeless and classic carry for his airpods, this genuine Italian leather is the perfect carrying case. Stylish and sophisticated it is a gift that only gets better with time as the leather patinas into a unique and lux leather gift he can take with him wherever he goes.
3 — UGG Slippers
These shearling and suede slippers are not just any old slippers! UGGs are famously comfortable and make a great gift for men.
4 — Portable Solar Charger
Gadget guys will love this solar powered charger pack. It charges any device and keeps him connected on all of his adventures.
4 — Under Armour Men's Tech Shirt
Whether he is going for a run or watching his favorite sport from the comfort of his couch, a casual shirt is a staple in any guy's wardrobe. This Under Armour Tech Shirt is made of quick drying fabric that is loose and cool.
5 — Temperature Controlled Travel Mug
Why have a regular travel mug when you can have a temperature controlled smart mug! It's an investment, but he'll have warm coffee for hours, plus they make a regular coffee mug version too.
6 — Apple AirTag
Have you ever misplaced your keys and thought, "I wish I could call them"? The Apple AirTag attaches to keys, wallet, phone, earbuds, or any other object to be able to find them with ease through the connected app.
​​7 — Portable Projector
Transform movie nights and presentations with the portable projector. Packed with advanced features and compact mobility, this projector delivers a big-screen experience in a small package, making it one of our favorite tech gifts.
8 — Nixon Watch
Effortlessly elevate his style with a super sleek Nixon watch.
9 — Wireless Drawing Tablet
He'll be able to draw and write on this cool wireless drawing tablet and then it easily transfers to his computer or phone.
10 — Colored Stainless Steel Yeti Tumbler
The Yeti tumbler with an on-the-go lid insulates hot and cold drinks.
11 — Sauvage by Dior
Every man should have at least one nice fragrance for special occasions, and we love the scent of Sauvage by Dior.
12 — Quip Toothbrush
Quip is a subscription box electric toothbrush and toothpaste service that automatically sends replacement heads and paste. The sleek designs are a big improvement over traditional electric toothbrushes.
13 — Smokeless Solo Stove Fire Pit
Enhance outdoor ambiance with the Solo Fire Pit. The Solo Stove line is renowned for its innovative design, featuring a double-wall construction that maximizes airflow, resulting in a more efficient and complete combustion of wood that is easy to maintain.
14 — Packing Cube Luggage Organizers
He'll be able to pack for his travels neatly with these luggage organizers.
15 — Wireless Charging Station Dock
All his tech gadgets stay charged, tangle free and clutter free with the wireless charging station dock.
16 — Personalized Dopp Kit
Personalize this water repellant dopp kit that showcases fresh prints from independent artists and a leather handle.
17 — Nespresso Coffee and Espresso Machine
If you don't have a single-cup coffee maker already, we recommend this Nespresso coffee and espresso maker.
18 — Your Own Drawing As Foil Art Print
Transform yours or his little one's line drawings into a timeless custom art piece. Simply upload your own photo and receive unlimited proofs (a rarity) from a dedicated Minted designer.
19 — Electronic Arcade Basketball Game
He can shoot hoops all day and practice his aim (without even leaving the house) with this mini tabletop basketball game.
20 — Retro Mini Fridge Gift for Him
Big enough for a six-pack of beer or water bottle needs, this is the perfect mini-fridge for his man cave.
21 — Bourbon Bucket List Scratch Off Poster
Allow him to explore and keep track of his bourbon connoisseurship with the bourbon bucket poster. This interactive poster not only serves as a decorative piece but also invites enthusiasts to savor and discover a curated selection of exceptional bourbons, making it an ideal and engaging gift for any whiskey lover.
22 — Away Carry On Luggage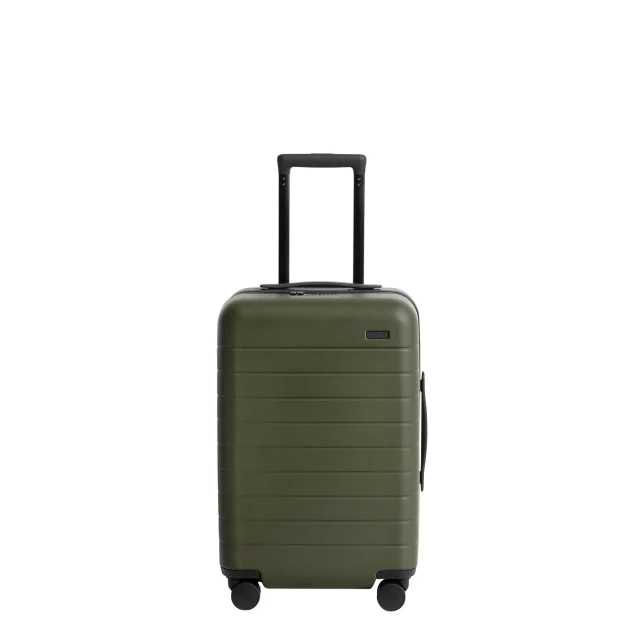 Gifting luggage like this most googled Away Carry-On that provides the perfect excuse to plan a getaway. We love that you can also personalize it.
23 — Wüsthof Knife Set
This knife set block from the renowned Wüsthof line features everything he'll need to host and whip up a meal.
24 — Yeti Insulated Tote
He'll be prepared for any adventure with this all-purpose waterproof and durable Yeti tote.
25 — Modern Bottle Opener
A sculptural art piece on its own, this solid brass modern bottler opener is the ideal housewarming gift or stocking stuffer.
26 — Herschel Wallet
Wallets are a commonly requested gift since they usually go through so much wear and tear so if he's up for a new one, grab this cool Herschel card wallet.
27 — Retro Wireless Wood Speaker
We love this retro wireless wood speaker with a mid-century inspired look. Its wood composition actually has benefits with a less than 5% harmonic distortion. It makes for one of the best gifts for him!
28 — Flip Frame Polaroid Display
Fill this flip frame with polaroids for a heartfelt Christmas gift, and leave a few pages blank for the memories to come!
29 — Jabra Wireless Earbuds
He'll be able to enjoy music, podcasts, audiobooks, and phone calls on the go (without worry) with a pair of wireless and waterproof, noise cancelling earbuds that are Apple and Android capatible.
30 — Cigar Holder Whiskey Glass
Gift him this old-fashion glass with built in cigar rest with a nice cigar or favorite liquor bottle.
31 — Leather Cable Carrier Organizer
This cable carrier keeps cables and adapters safely and neatly stored for travel and also serves as a great alternative to a messy stuffed drawer stuffed of cords. This stylish organizer is handcrafted from real genuine full grain Italian leather.
32 — Universal Socket Tool
Unleash versatility with the Universal Socket Tool, a must-have for every toolbox and a standout choice in the best gifts for men category. With its unique design that adjusts to any shape or size, this tool simplifies various tasks. Practical, thoughtful and useful gifts for men are the best way to go! This is also a perfect gift under $20 if you're looking for something unique but affordable.
33 — Box of Cookies
Everyone loves desserts so a box of David's cookies is fool-proof, plus you can ship them if you're not able to gift them in person!
34 — Woodford Reserve Bitters
Help him release his inner mixologist with this set of bitters from Wood Reserve.
35 — Amazon Gift Card
The gift that no one will complain about! Put any amount on an Amazon gift card and sit back while they use it to buy their own gifts. If you want to make it extra special, check out our favorite clever ways to wrap cash and gift cards here.
36 — Personalized Etched Whiskey Decanter
Elevate his whiskey experience with a personalized whiskey decanter, a standout in the best gifts for men. This sophisticated decanter not only adds a touch of custom elegance to his bar but also enhances the ritual of enjoying fine spirits, making it an exceptional and thoughtful gift for any whiskey enthusiast.
37 — Book Nook™ Reading Valet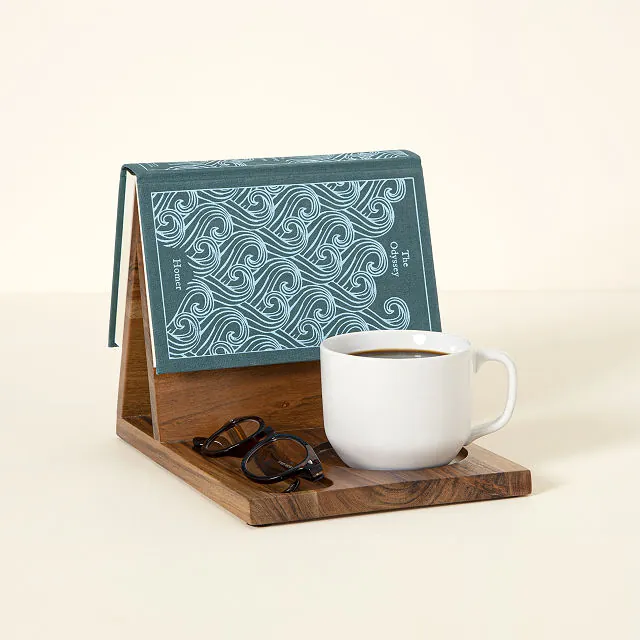 Gift him with a Book Nook™ Reading Valet. This clever and minimalist design allows him to rest his book (and hold its place when he returns), reading glasses, a beverage, and his phone.
38 — Brown Leather Backpack
He can tote his laptop or books around in a faux leather backpack that's sophisticated yet still casual for the stylish man.
39 — Bar Tools
The bar tools set includes a shaker, muddler, bar spoon, jigger, Hawthorne and Julep strainer, bottle pourers and recipe book. Plus you can pair them with our DIY leather drink tags for a personal touch.
40 — Best Air Fryer
An air fryer is ideal for fried food lovers looking for a healthier alternative. Food cooks faster and comes out crisper in the fryer than in a traditional oven.
41 — Toothpick Holder
This wooden toothpick holder is a much nicer alternative to loose toothpicks in his car console or pockets. Pair it with a poker card game or gourmet hot sauce and you're all set.
42 — Rechargeable LED Work Lights
Gift ideas that are practical always win a guy's attention. This pack of rechargeable LED Work Lights are perfect for your guy to keep in his car or tool kit for whenever he needs some extra light. Clip onto the hood of a car, grill or really anything to get the job done quickly. Comes in with 4 different light settings.
More Unique Gift Ideas for Men
Hopefully, this helps you find the perfect gift for the guys in your life! And in case you've missed our other gift guides, be sure to check them out too —