If you're searching for the perfect bourbon gifts, look no further! These 25 picks are sure to please any whiskey lover on your list.
Looking for a gift for the bourbon lover in your life?
The safe and predictable choice would be to gift them a bottle of their favorite bourbon for their home bar.
However, if you want something more sentimental and everlasting, then check out our picks of the best gifts for bourbon lovers.
From whiskey stones and whiskey barrels, we're showcasing 25 unique items for your bourbon drinker.
Best Bourbon Gifts
1 — Personalized Bourbon Barrel Flight with Glasses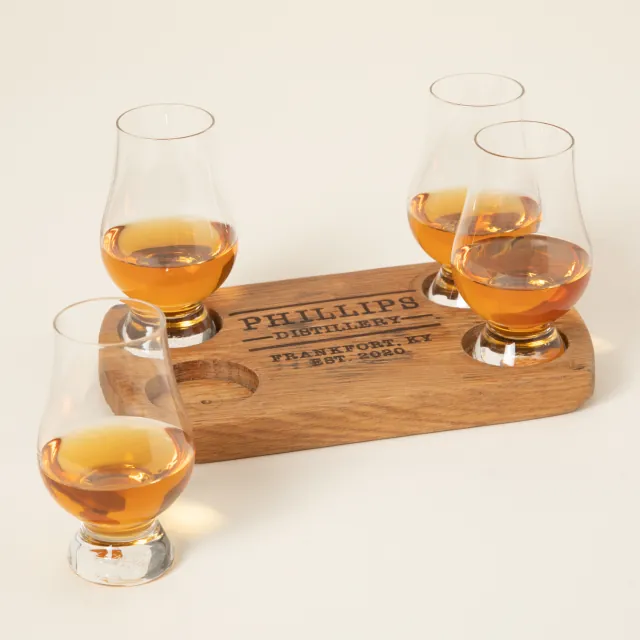 Handmade from a reclaimed bourbon barrel, this personalized bourbon flight includes four Glencairn glasses to sample whiskey or share with friends.
Personalize this gift with a custom name, location, and year of your choice.
2 — Personalized Bourbon Whiskey Barrel
Whiskey enthusiasts can perfect their bourbon with this personalized single barrel. There's even an option to add on a DIY kit.
3 — Custom Decanter Gift Set
Bourbon fans can drink their favorite spirits in style with this custom decanter set. Choose from 9 different design options.
4 — Whiskey Stones Gift Set
No one wants ice water diluting their spirits. Your gift recipient will be able to enjoy their bourbon on the rocks with elegant whiskey chilling stones.
5 — Funny Door Mat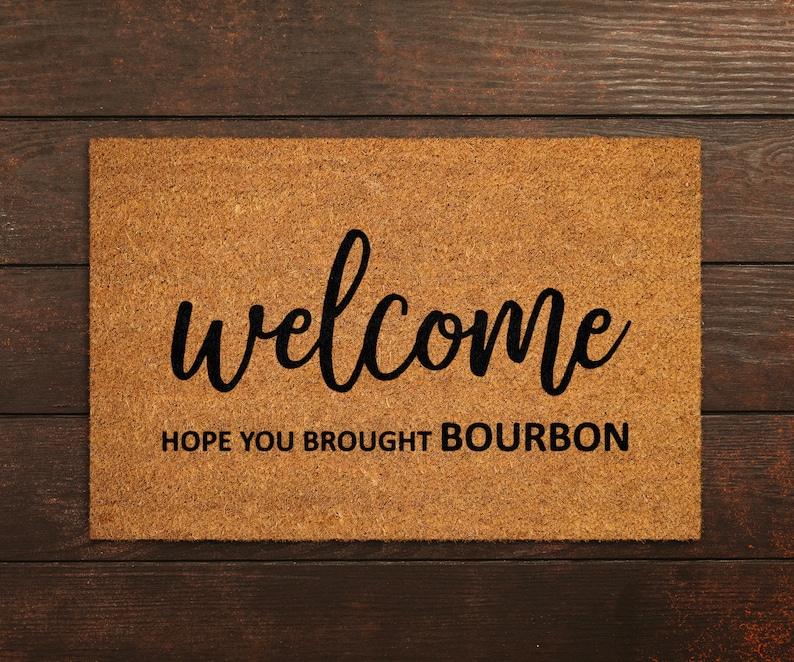 Looking for something bourbon related but not just for a bar? This bourbon door mat also makes for a great housewarming gift.
6 — Bourbon Scratch Off Poster
From Woodford Reserve Bourbon to Pappy Van Winkle, let them keep track of all the bottles that they've tried on a bourbon bucket list poster.
7 — The Bourbon Bible
The Bourbon Bible is the ultimate guide to the ultimate drink.
The book explores over 140 bourbons and the history of bourbon and includes 20 bourbon cocktails to try.
8 — The Big Book of Bourbon Cocktails
Beginners and advanced mixologists will love The Big Book of Bourbon Cocktails.
The recipe book features over 100 whiskey cocktails from different regions and times.
9 — Flaviar Whiskey Club Membership
Gift them a year's worth of spirits with this whiskey club membership.
There are over 1,500 spirit bottles to choose from for spirits beginners, spirits experts, and spirits social drinkers.
The membership includes a tasting box or bottle, virtual tasting sessions, and access to hard-to-get bottles.
10 — Sphere Ice Molds
Chill drinks quickly and keep them cold longer with Tovolo Sphere Ice Molds.
Your bourbon lover can use it to make an ice-shaped sphere to chill their drinks. Or it's the key tool to whipping up this stunning Ice Sphere Cocktail (that will surely be a dinner party hit).
11 — Whiskey Wedge Glass
On the rocks just got more unique.
This Corkcicle Whiskey Wedge Glass contains one double old-fashioned glass and is a fun, unique way to drink bourbon.
12 — Kentucky Bourbon Trail Whiskey Glasses
Designed by Kentucky distiller masters, these Libbey Signature Kentucky Bourbon Trail Whiskey Glasses were perfected so that drinkers could properly swirl, smell and taste their whiskey.
The set includes four tasting bourbon glasses.
13 — Bourbon Nosing Glass
Nosing glasses are specifically designed to allow drinkers to savor the aromas of their spirits in the best way possible.
We love how this bourbon nosing glass is glass-free and shatterproof, so you can take it anywhere.
Special technology prevents dilution and better temperature retention than your typical glass.
14 — Personalized Engraved Bourbon Rocks Glass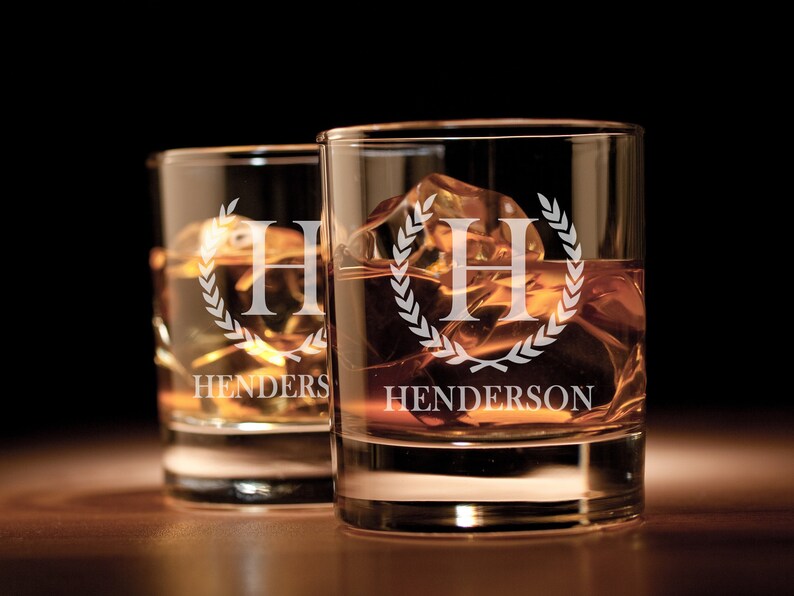 Custom gifts just make things more one of a kind.
And this engraved bourbon glass is definitely a personal gift that no one else will have in their bar.
15 — Oak Infusion Spirals
Anyone can now age and customize their own whiskey, beer, spirit, and liquor with Barrel Aged in a Bottle Oak Infusion Spirals.
The spirals will even greatly improve those lower-priced spirits!
16 — Bourbon Barrel Aged Maple Syrup
Breakfast just got a whole lot tastier with some Crown Maple Syrup.
The syrup is aged in Crown bourbon barrels to soak up all the oak flavors.
Drizzle it on pancakes, ice cream, fruit, and even in cocktails. It also makes for a delicious addition to vinaigrettes, marinades, jus, and broths.
17 — Bourbon Chocolates Gift Box
This decadent Woodford Reserve Bourbon Ball Gift Box is the perfect gift for chocolate lovers.
18 — Bourbon Bitters Dram Set
The limited edition bitters dram set includes orange, spiced cherry, sorghum, and sassafras, aromatic and chocolate flavors.
They can be added to cocktails, baked goods, or even to flavor your seltzer water.
19 — Collins Orange Twist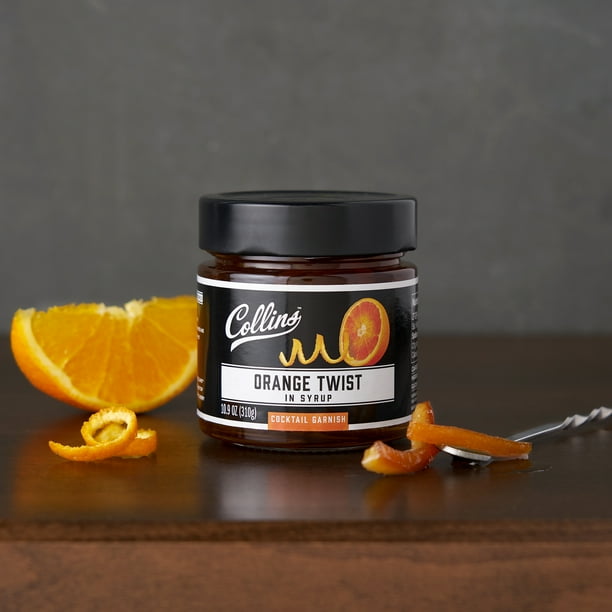 One of the most popular cocktail garnishes is an orange peel, especially if you're having an Old Fashioned. It adds the finishing touch of citrus to any drink.
So this Collins Orange Twist in Syrup makes for the perfect bourbon gift. Soaked in syrup for some candied sweetness, the orange twist can also be garnished on desserts.
20 — Hella Cocktail Co. Bitters Bar Set
Accent their favorite bourbon with the Hella Cocktail Co. Bitters Bar Set.
With orange, aromatic, citrus, smoked chili, and ginger, the possibilities are limitless on what can be concocted with these all-natural bitters.
21 — Bourbon Socks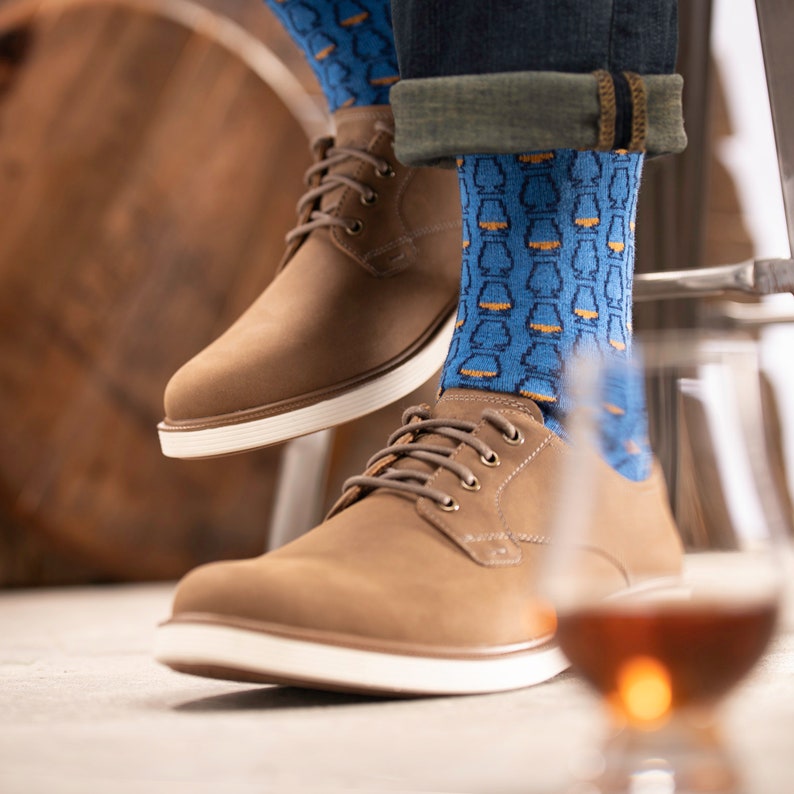 These cozy handmade bourbon socks are subtle and chic compared to your usual novelty socks.
They're unisex, and one size fits most for the great stocking stuffer or wedding party gift idea.
22 — Cocktail Smoking Kit
Besides turning a cocktail into a dramatic visual presentation, this whiskey infusion kit will add an extra smokey layer of aroma to any bourbon drink.
The kit includes a smoke infuser, a torch, cleaning brushes, filters, and six different flavor wood chips of apple, cherry, pecan, mesquite, hickory, and oak for any home bartender.
23 — Call Me Old Fashioned Shirt
Your bourbon lover who loves a good laugh will surely appreciate receiving this funny shirt.
24 — Liquor Infused Toothpicks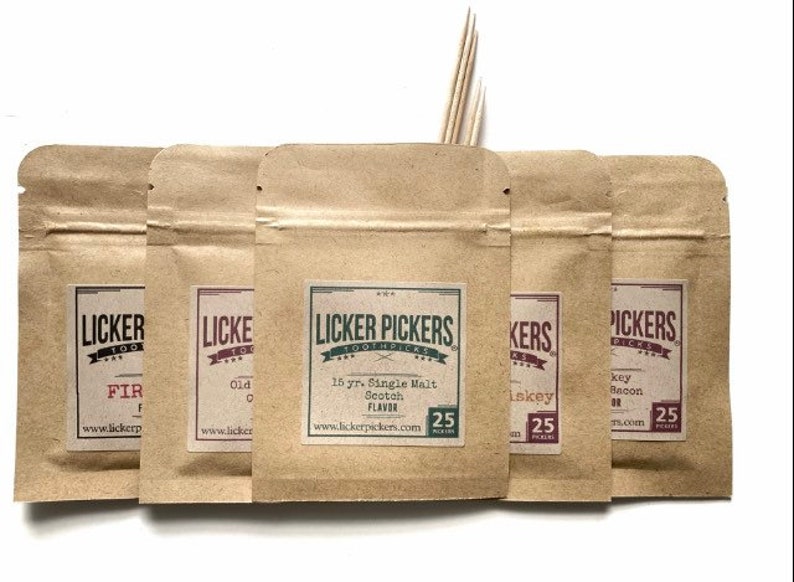 Made from all-natural birch wood, there are so many whiskey flavor options with these liquor infused toothpicks.
Choose from bourbon pecan, bourbon and bacon, Old Fashioned, and more.
25 — Gift an Experience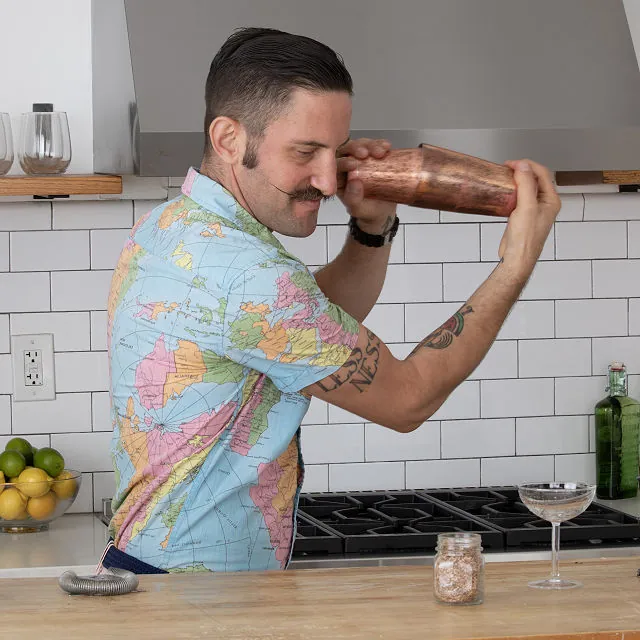 Gift a whiskey class with an expert mixologist.
This 90-minute online course will teach your bourbon lover the three classic methods for making whiskey cocktails and how to masterfully craft three recipes, the Old Fashioned, the Paper Plane, and the Sazerac.
Fun Whiskey Recipes to Try
And now that you've found the perfect gift, it'll need some creative wrapping
If you have also noticed, we too are whiskey fans and have created some fun whiskey recipes of our own.