Find the perfect present to surprise your dad on any occasion with this list of gift ideas from a devoted daughter.
There is something super special about the bond between a father and daughter. And every special dad deserves the perfect gift.
We've rounded up the best gift ideas for dad that he will truly cherish, whether it's for Father's Day, his birthday, Christmas or just because. There's something for dads who love to grill, work out or even the dads that need some R&R and more.
These are all tried and true and are sure to get his seal of approval, which will make you his most favorite daughter. So keep scrolling for the best gifts for dad from daughter.
Gifts for Dad from Daughter
Cool Tech Gifts for Dad
1 — Temperature Controlled Smart Mug
Keep dad well-caffeinated with the viral Ember smart mug. It's the perfect gift for a life well sipped. His beverage will stay at his desired temperature up to 80 minutes on a full charge.
2 — Bluetooth Earbuds
Maybe dad needs some noise cancellation or maybe he wants to listen to his favorite true crime podcast on his morning commute. These Jabra earbuds can do it all.
3 — Portable Charger for His Devices
Say goodby to messy wires because this portable solar charger is compatible with all wireless devices. It can be recharged via an adapter or solar power and functions as a flashlight. It also boasts multiple ports to simultaneously charge 6 devices at a time.
4 — Smart Soundbar
For the dad who loves the movies, bring the movies to him with this Bose Soundbar that will provide full immersion for all his favorite movies, TV shows and music.
You could even take it to the next level, and set up dad's new toy outside for an epic outdoor movie night with the family under the stars.
5 — Tile Sticker Tracker
Is your dad constantly losing things? Gift him with a Tile Sticker Tracker. An update from the original, you can now stick the tracker onto actual belongings like remotes, chargers, headphones, suitcases or glasses cases that you wish to locate.
Practical Gifts for Dad
6 — Cozy Slippers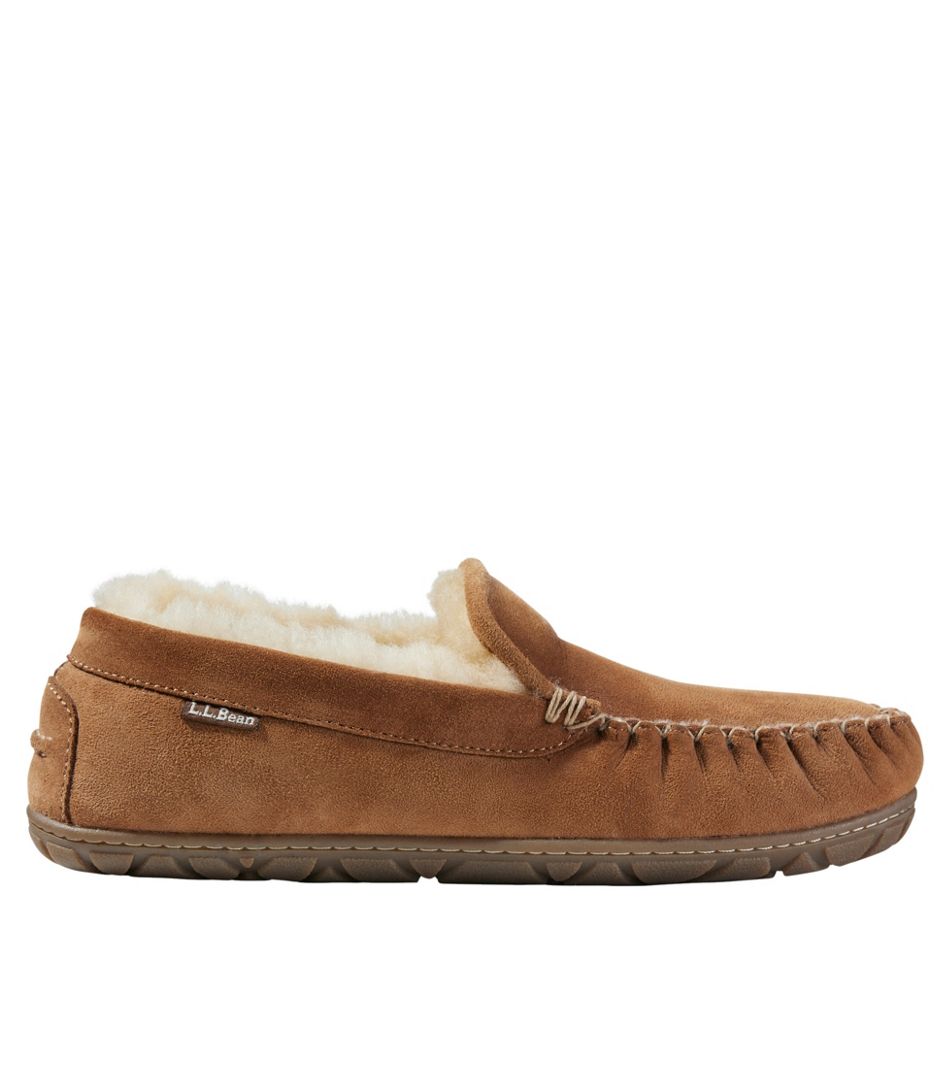 Nothing says cozy like a warm pair of LL Bean slippers. Thanks to the high quality rubber soles, they're perfect for indoors and outdoors.
7 — Foot Massager
While we are talking about cozy feet, a heated foot massager is always a great gift. After a workout or a long day at the office, dad can unwind while reading or watching the game or his favorite show.
8 — Slim Money Clip
This slim money clip features 3 card slots, 1 ID window and a clip that can easily hold 30 bills folded. Include a gift card to his favorite place for a unique money gift idea to gift him something extra.
9 — Alo Sweatpants
Every dad needs a pair of sweatpants, and these Alo Sweatpants are an elevated take on the classic sweats we all know and love.
10 — Multi Tool Pen
This mighty multi-tool pen may look like every ordinary pen, but don't be fooled.
Because besides being a writing tool, it also functions as a LED Light, stylus top, standard and Metric ruler, bubble level, bottle opener, and a flathead and Phillips screwdriver.
Creative DIY Gifts for Dad from Daughter
11 — Make Your Own Hot Sauce Kit
Bring the heat with a Make Your Own Hot Sauce Kit. Let Dad spice things up and create his own sauces to test out at the next family cookout.
12 — Whiskey Making Kit
Dad can create his favorite cocktails at home with this whiskey making kit that includes wood chips and botanicals. Then, Dad can use his homemade whiskey to make whiskey-based cocktails like our Water Moccasin Shot.
13 — Smoky Cocktails Class: Experience Gift
Gift dad the mixology skill of making tasty, touched by fire drinks with a Smoky Cocktails Class from Uncommon Goods.
Take the next step in your beverage evolution by learning to create hauntingly delicious smoky drinks in this live, online class taught by twirly-mustachioed Brooklyn bartender.
14 — DIY Decanter Tags
There's nothing like a handmade gift, and these DIY Decanter Tags can be customized for your dad's home bar. All you need is some polymer clay, letter cookie cutters, chains and your kitchen or a toaster oven.
15 — DIY Wooden Polaroid Gift Set
Preserve those memories by making him a DIY Wooden Polaroid Gift Set. It makes for a super sweet and sentimental dad daughter gift if you include photos of you two.
You can even add magnets to the back of the frames to display the set on the fridge.
Grill Gifts for Dad
16 — Grill Basket
For the ultimate pitmaster, this grill basket delivers the perfect grill every time. Meats, veggies, and even s'mores, this basket can grill multiple items at the same time.
And then, maybe you could even convince him to throw a BBQ party for you and your friends and show off his impressive grill skills.
17 — Dad BBQ Grill Press
Great titles were meant to be shared and that's exactly what this Dad BBQ grill press does. As one of our favorite gifts for dad from daughter, this press lets everyone know who the #1 Dad and Grill King is!
18 — Charcoal Smoker
For the dad who is ready to dive into smoking meats, this Dyna-Glo smoker is the perfect option. It's not too much of an investment and boasts 5K+ amazing reviews.
This vertical charcoal smoker has four adjustable cooking grates with plenty of room for all his wood smoked favorites.
Adventurous Gifts for Dad
19 — Multi Survival Tool
For the dad who does it all, this multi survival tool can be his best kept secret. Camping, hiking, picnics, fishing, climbing..this tool will cover it all.
It serves over 13 functionalities such as a hammer, hex wrench, wire cutters, nail claw, bottle opener, nail file, Phillips screwdriver, Flat screwdriver, blade, screwdriver storage, saw blade and more.
20 — Camping Stove
The BioLite Camping Stove is really the best of both worlds. Not only does it cook food but it also powers up small electrical devices making it a double win for dad.
21 — Wilderness Navigation Flask
The great outdoors is even greater when you adhere to a few simple rules: know your route, pack smart, and always be prepared for happy hour.
This 5-in-1 vessel is stocked with the essentials that dad needs to enjoy his favorite libations. It also works as a compass, flashlight, shot glass, bottle opener, flash and SOS light.
Golf Gifts for Dad from Daughter
22 — Golfer's Personal Organizer
This small but mighty golfer's personal organizer holds everything dad needs for a day on the greens. It comes packed with a suite of accessories, including a magnetic ball marker, divot tool, mini marker pen, and pocket line marker.
23 — Golf Ball Whiskey Chillers
Dad can top off a round of golf with a round of drinks with these golf ball whiskey chillers. It's sure to become a bar essential for your golf guy!
24 — Golf Trunk Organizer
No need for mulligan misfires. If dad's an avid golfer, chances are he keeps his gear in the car at all times. This golf trunk organizer is the perfect way to keep all his essential gear neat and organized.
Travel Gifts for Dad
25 — Sleep Headphones
On a plane or just needing to drown out the sounds of home, these sleep headphones are sure to be a win for your favorite guy. Comfortable and easy to sleep in, they block ambient noise without being painful to wear.
26 — Leather Hanging Toiletry Bag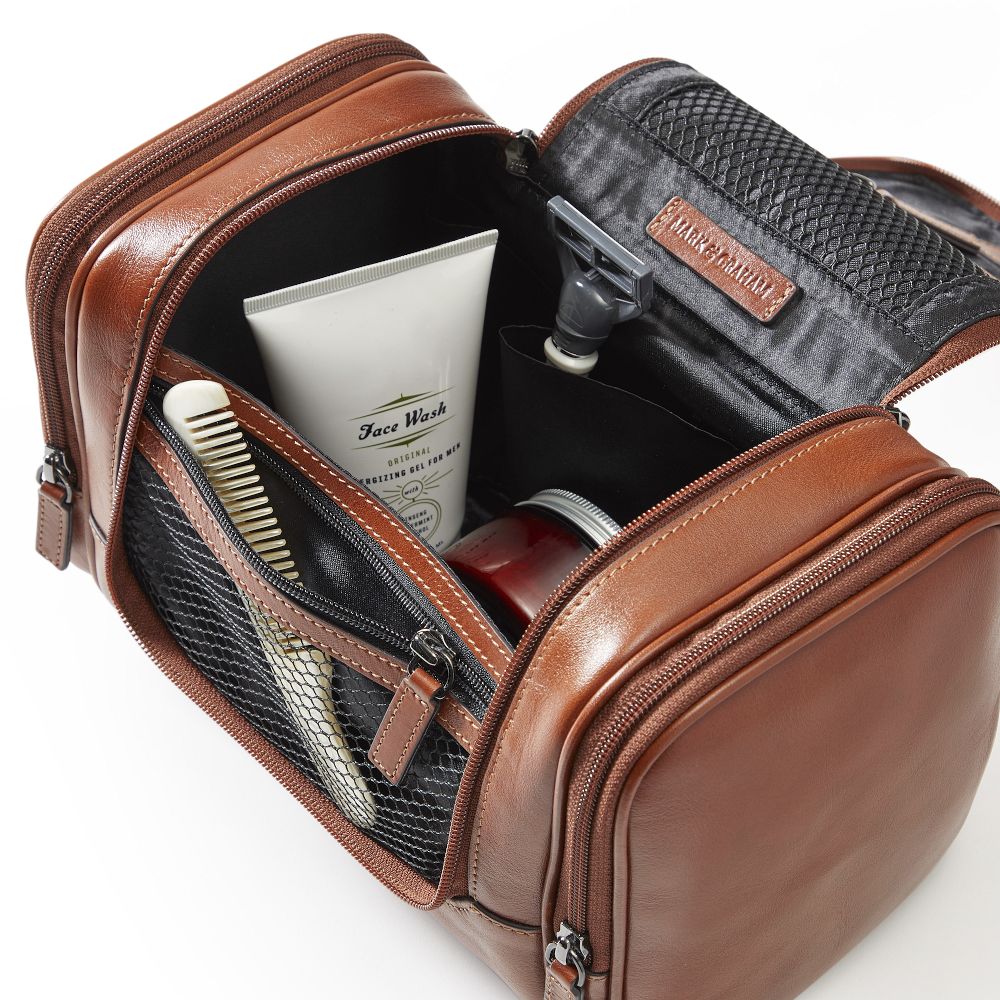 A classic bag for a classy dad. This hanging toiletry bag is designed to have easy access both on the road and at home. Personalize it for an extra special touch and so dad can always think of you while you're apart.
27 — Carry On Cocktail Kit
Nothing takes the edge off a long travel day like dad's favorite cocktail. This carry on cocktail kit gives dad the premium ingredients needed to prepare 3 cocktails. Opt for kits that allow you to make an Old Fashioned, Moscow Mule, Mojito and more.
28 — Carry On Suitcase
Allow dad to fly in style with the popular Away Carry-On. The lightweight suitcase is durable yet compact. The best feature is its interior compression system which will allow dad to pack as much as he can.
Personalized Gifts for Dad from Daughter
29 — Dad, I Wrote A Book About You
A unique dad deserves a unique gift, and this personalized book is just the ticket. The thoughtful prompts make it easy to put all your favorite things you love about your favorite guy in one place within all the pages.
Maybe include some tissues because this father daughter gift is sure to tug at dad's heart strings.
30 — Personalized Picture Keychain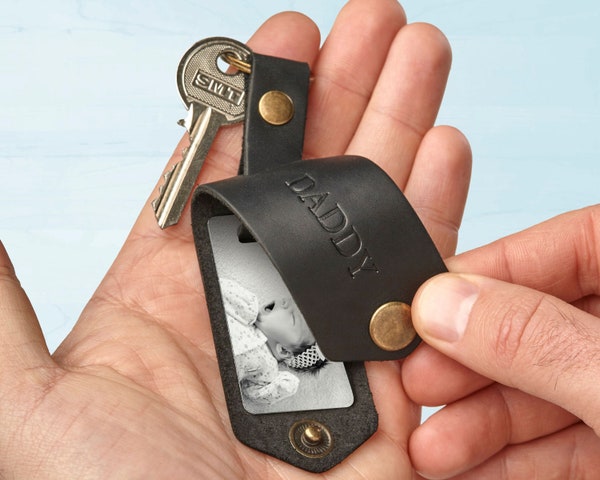 No matter how old daddy's little girl gets, he can take you with him wherever he goes with this personalized picture keychain from Etsy.
Customize it with your favorite photo of the two of you and a personalized note for him to keep with him when he is away from home.
31 — Personalized Song Plaque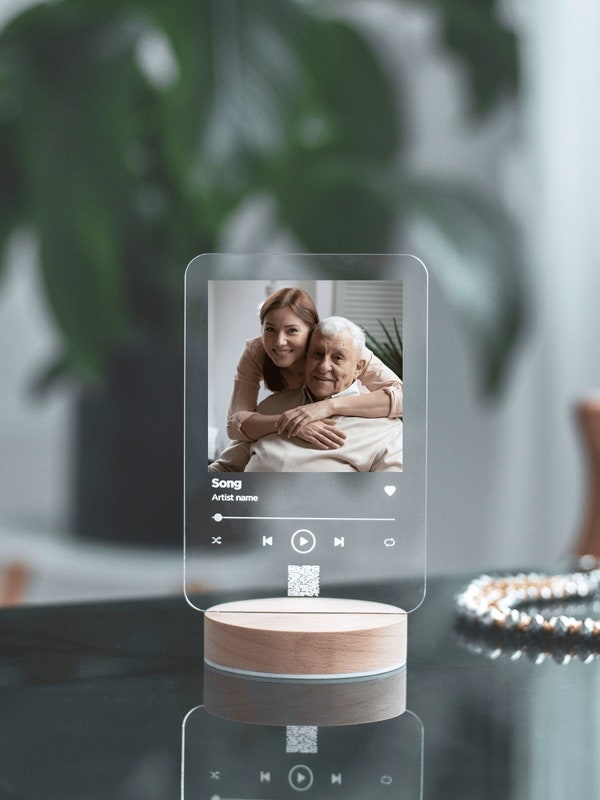 If you and your dad share a special song from childhood or even the first dance at your wedding, then this personalized song plaque is sure to bring tears to his eyes.
Personalize with a photo and the QR code on the plaque will play the song when scanned. He can keep in his office or on his nightstand and remember the special memory and think of you.
32 — Funny Dad Shirt
For the jokester dad with humor, gift him with a You Can't Scare Me, I Have Daughters shirt. You can customize it with any number of daughters.
33 — Customized Chronograph Watch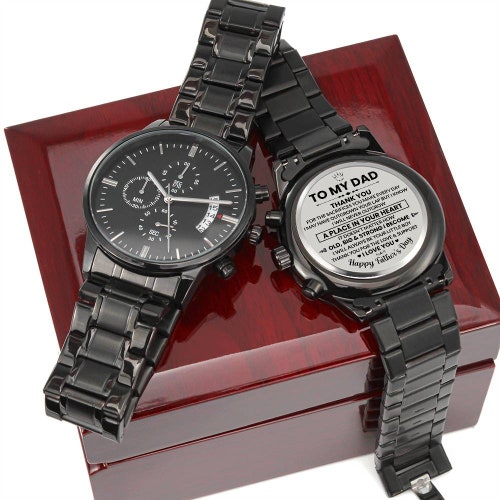 Made of high-quality stainless steel, this customized chronograph watch is a keepsake that allows you to engrave your name.
More Gift Ideas for Him
For more gift ideas for your father, check out a few more of our favorite roundups below —