Struggling to find the perfect gifts for that impossible man in your life? Look no further! We've got you covered with a list of 30 of the best gifts out there.
Whether it's a husband, boyfriend, dad, brother, or friend, why does it always seem so hard to shop for a man?
We all have that impossible guy in our life who tells us, "I don't need anything" or "I don't know."
Trust us; we know the struggle of finding the best gift for him.
So we've selected our favorite gift ideas for the impossible man because gift shopping should never be so hard!
30 Gifts for the Impossible Man
1 — Bottle Caddy
Goodbye gym bags because now your guy can carry everything they need (while staying hydrated) with this bottle caddy.
There are plenty of pockets, slots, and hooks for keys, credit cards, a phone, and even a pick-me-up snack.
2 — Cocktail Smoker Kit
Gift your mixologist with a cocktail smoker kit for smoke-infused spirits.
3 — Magnetic Wristband for Nails and Screws
When's he's DIY-ing or in the garage, he'll appreciate this trusty magnetic wristband that easily allows him to have screws and nails on hand.
4 — Portable Outdoor Pizza Oven
Up their pizza game with a pizza oven that will cook authentic stone-baked pizza in merely 60 seconds.
Slight and modern, it weighs only 26-pounds, making it portable and travel-friendly.
5 — Fun Sock Subscription
If he's impossible to sock for, just remember that everyone needs socks.
This sock subscription sends your gift recipient a fun sock every month.
And if they aren't feeling the design, they still can always swap it out for another.
6 — Smartphone Sanitizer
This handy smartphone sanitizer disinfects and charges a phone at the same time with
It may be a cool gift, but it's very useful too!
7 — Engraved Tape Measure
Personalized items like this engraved tape measure make for thoughtful gifts.
Choose your phrase, and then customize it with his name.
8 — Beer Chiller Sticks
Keep his beer icy cold with beer chiller sticks.
Since it's constructed from stainless steel, the sticks are food safe and can be used with any drink.
9 — Night Runner Shoe Lights
Your active run will appreciate these night runner shoe lights to see and be seen in the evening.
10 — Massage Gun
We own this deep tissue massage gun and can attest that it's amazing.
All the muscle soreness, stiffness, and kinks just all disappear with this massager that comes with 6 different heads.
11 — Wine Bottle Puzzle
This wine bottle puzzle is a creative gift wrapping idea that's interactive and fun.
Recipients will have to use their brains to unlock the bottle.
And because it's adjustable, it works for other bottle types too.
12 — Custom Engraved Leather Belt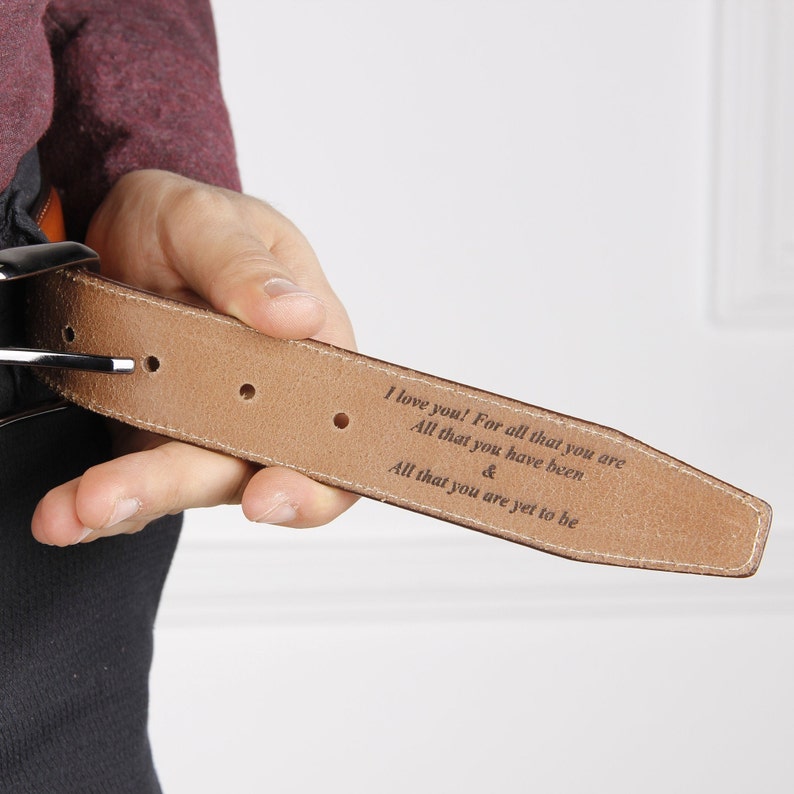 A unique gift idea and something he surely does not have, gift him with an engraved leather belt.
You can simply customize it with his name or include a personal message.
13 — Video Controller Thumb Grip
Gamers will appreciate these video controller thumb grips that keep their hands comfortable when they play.
14 — Portable Shower
After a day of hike and camping, nothing beats a portable shower.
We love that all its components come and fit inside an easy-to-carry dry bag.
This is also handy to have around to wash dishes outside or even rinse off sandy feet after a day at the beach.
15 — Personalized Military Box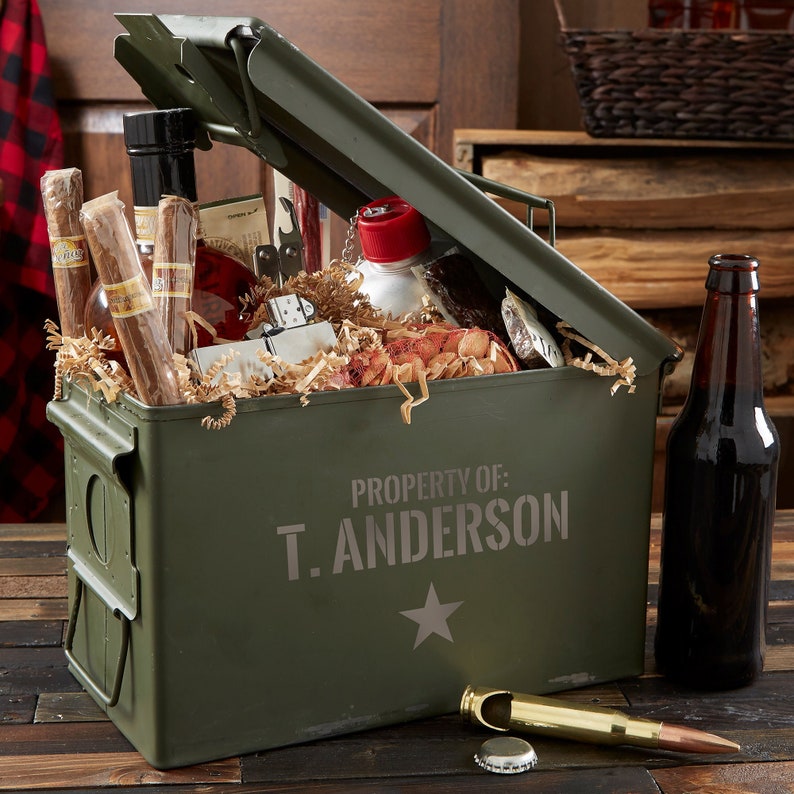 Instead of a gift basket, opt for a personalized military box.
Fill it up with his favorite things, and then he can later use it to store his favorite things.
16 — Survival Paracord Bracelet
If you have a minimalist man who is impossible to shop for, then he'll love this survival paracord bracelet.
All your survival essentials (a fire starter, compass, loud emergency whistle, Ferro rod striker, and 12 feet of military-grade paracord) are literally wrapped around your wrist.
How cool is that?
17 — Survival Kit Flashlight
Rounding up another cool survival gear is this survival kit flashlight.
This is another handy and lifesaving tool for your outdoor guy.
Within a LED flashlight are a cloth, candle, whistle, gear twists, mini sewing kit, can fishing line, compass, fire starters, matches, rope, and so much more!
18 — Unisex Waterproof Touch Screen Winter Gloves
Keep their hands warm in freezing weather with a pair of waterproof gloves that still give them the capability to use their touchscreen devices.
19 — Music Bluetooth Beanie
Let them listen to their music or even chat on the phone when they are on the go with a stylish bluetooth beanie.
One full charge allows for 10-12 hours of music play.
And the best part is that the beanie is completely machine washable too.
20 — Solo Smokeless Fire Pit
Complete their backyard with a smokeless fire pit.
This compact and portable fire pit allow you to enjoy the fire… without having the fire smell all over you.
21 — Whiskey Stone Bullet Gift Set
Chill their drink without watering it down with a whiskey stone bullet set featuring a "revolver" storage for your bourbon lover.
22 — Golf Trunk Organizer
This golf trunk organizer makes for a great gift for any golfer, especially when they could use some assistance in the tidying department.
The organizer features sturdy panels and compartments to store shoes, golf balls, gloves, socks, golf tees, towels, brushes, caps, and more.
23 — Man Cave Sign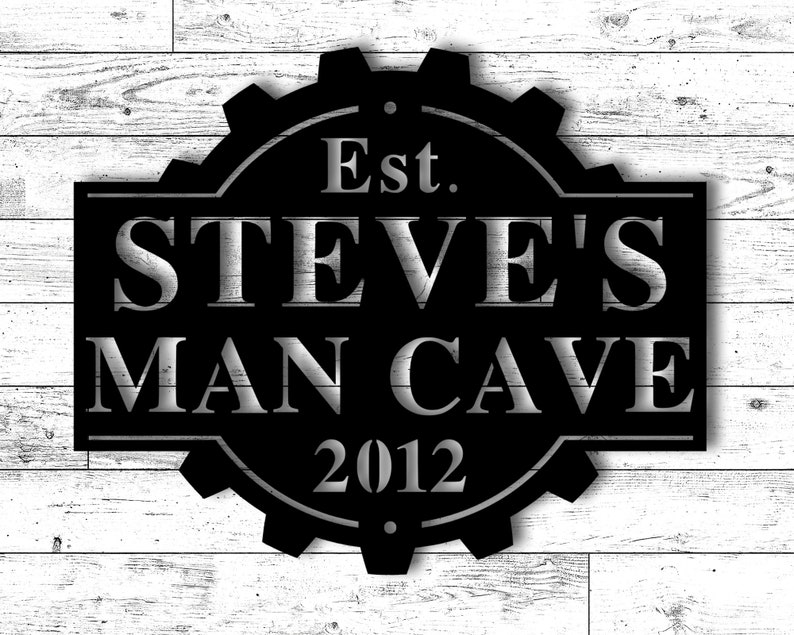 One of our favorite gifts for the impossible man idea is this personalized man cave sign that will look perfect hanging in his room, garage or workshop.
Laser cut and powdered coated, this unique metal sign is made to last.
24 — Retro Mixtape Flash Drive
Remember the good ole days of exchanging mix tapes?
This retro mixtape flash drive reinvents the iconic and nostalgic gift with a modern 21st-century touch.
Fill up the flash drive with your favorite tunes or even your sentiment photos.
25 — Sous Vide Cooker
Your guy will never worry about undercooking or overcooking their food again with this trusty sous vide.
It can cook chicken, fish, vegetables, eggs, beef, lamb, pork, and more while locking in all the flavor and moisture goodness.
Yes, nothing beats a steak on a grill. However, a steak cooked with sous vide and then seared, all while never leaving your house, is the best thing ever.
26 — Ultimate Grilling Spice Set
This packaged spice gift set includes 20 unique BBQ rubs and spices like Cajun BBQ, Southwest BBQ, Caribbean BBQ, Chili Onion, Jalapeño, Chili Salt, Cayenne, Jamaican Jerk, Black Cajun, Montreal and more. It's all the versatile rubs that he'll need to take his grill skills to the next level.
27 — Duffel Bag with Shoe Compartment
There are so many duffel options, but this Herschel Novel Bag takes the cake.
Perfect for the gym or a long weekend, there's a unique shoe compartment to keep the dirty shoes separated.
28 — Monogram Cord Organizer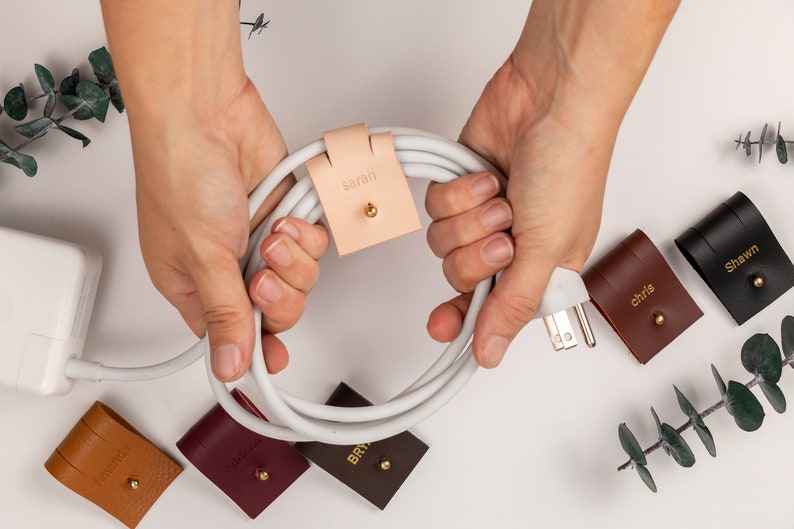 For your traveler or work-from-home man, gift him with a monogram cord organizer.
It's great for desk storage or keeping laptop cords tangle-free when traveling.
And the option to personalize it makes it more sentimental.
29 — Funny Shirt
If he's going to be difficult and make your shopping harder, this funny shirt says it all.
30 — Coffee Tasting Class
Gifting an experience like a coffee tasting class.
The 75-minute online class is hosted by professional roasters and comes with a kit of sample coffee bags and cups.
If coffee isn't his thing, there are also plenty of other classes to choose from, like how to make smoked cocktails, hot sauces, Caribbean soul food, and more.
More Gift Guides for Guys
For more ideas for gifts for the impossible man, check out more of our gift guides below —