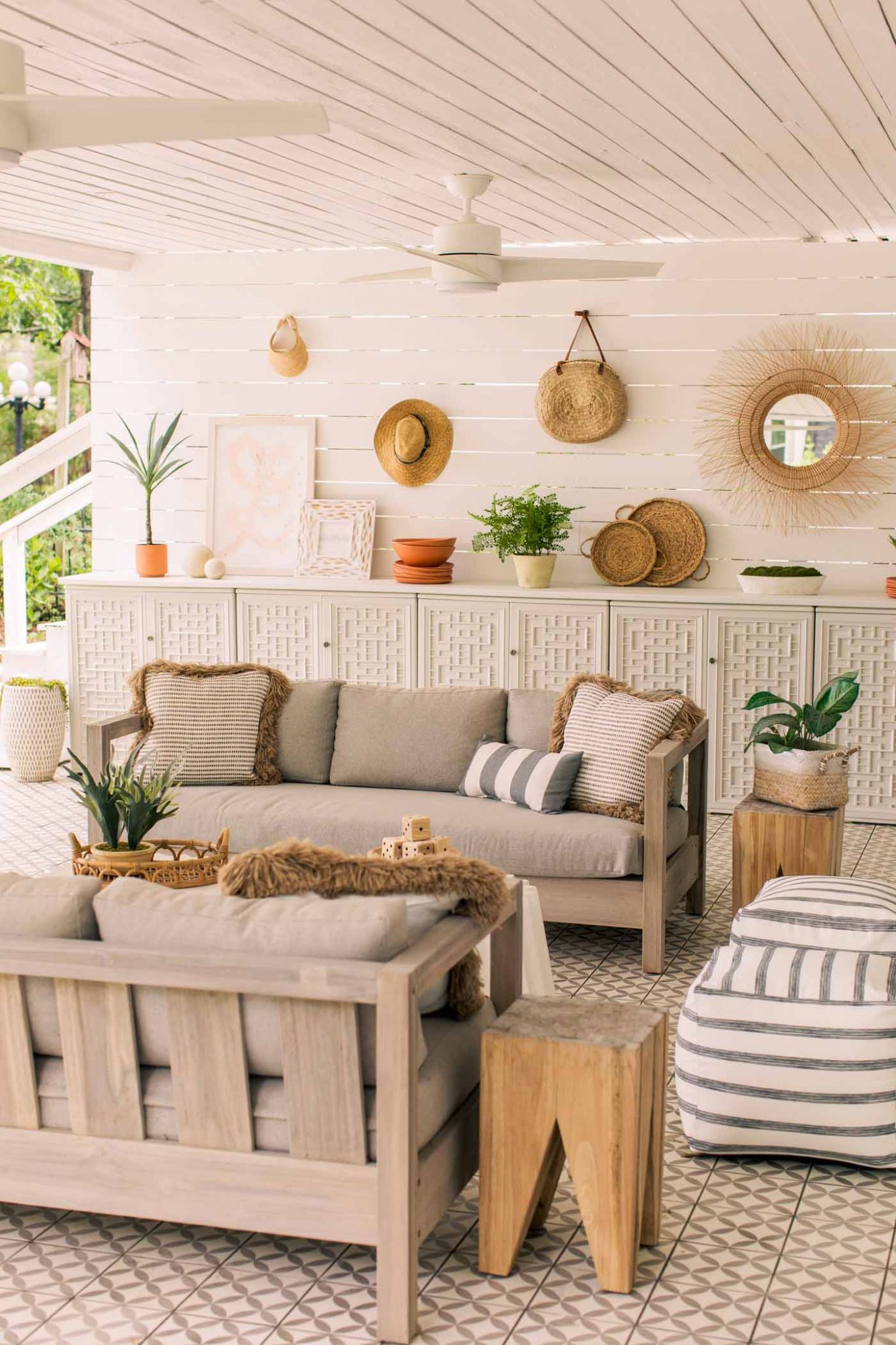 I think a group "hallelujah!" is in order here! Our backyard patio makeover has been ever-so-slowly in the making for over two years!
Honestly, we've had to piece meal renovations together as we're able to afford them. In some ways, it's made deciding what works for us easier. And in others, it means doing the same project four different times.
For instance, the shiplap patio wall is version number four, I think? Despite the marital strain from endless DIY projects, I'm excited to share the final reveal!
Since we get a lot of detailed questions on how-to's and renovations, we've decided to break this down into several blog posts.
The first will cover over all decor and before and afters. And then, we'll follow up with all of the FAQ's about our DIY Invisirail glass railings, then the geometric concrete Lili Tile tiles, and our upcoming DIY tank pool, and fire pit.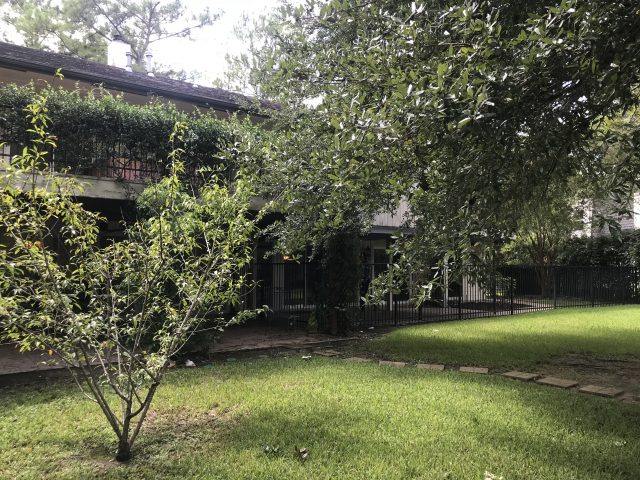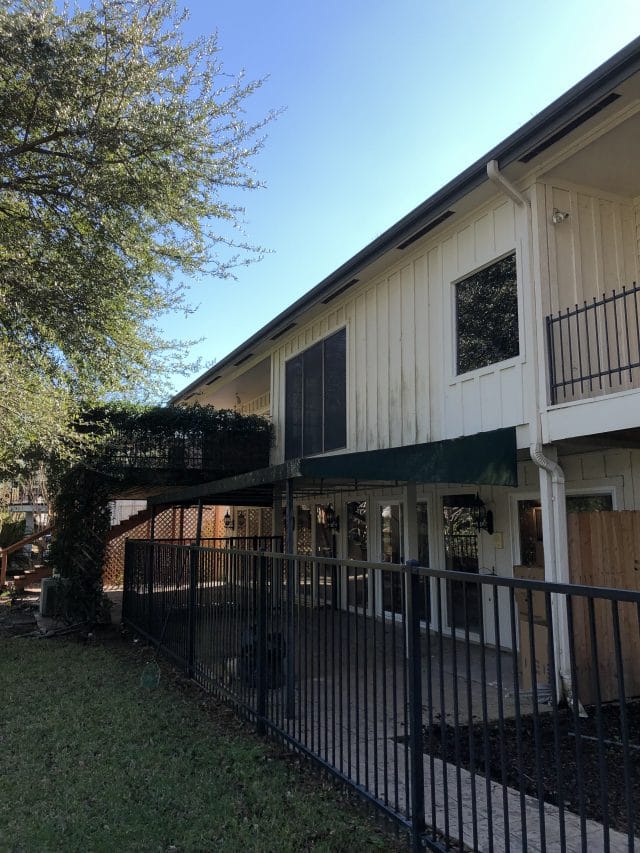 To refresh your memory, this is how the patio space looked when we bought the house…
It wasn't even possible to see the previous patio, let alone being a light filled space! The first thing we did was clear out the old brush and remove the iron fence.
We lived here the first year before finally picking out a new cement patio tile to refinish the old patio.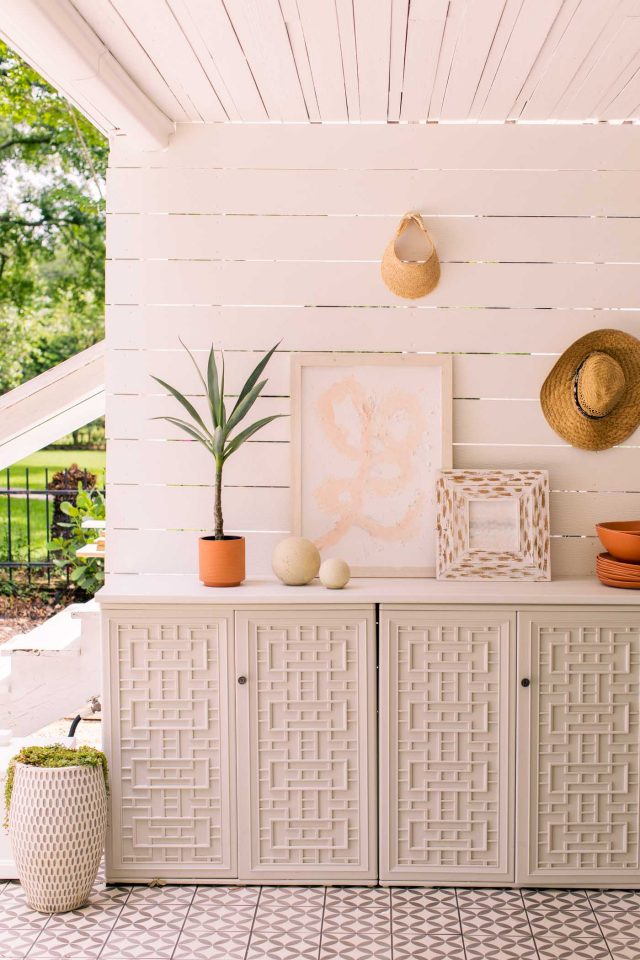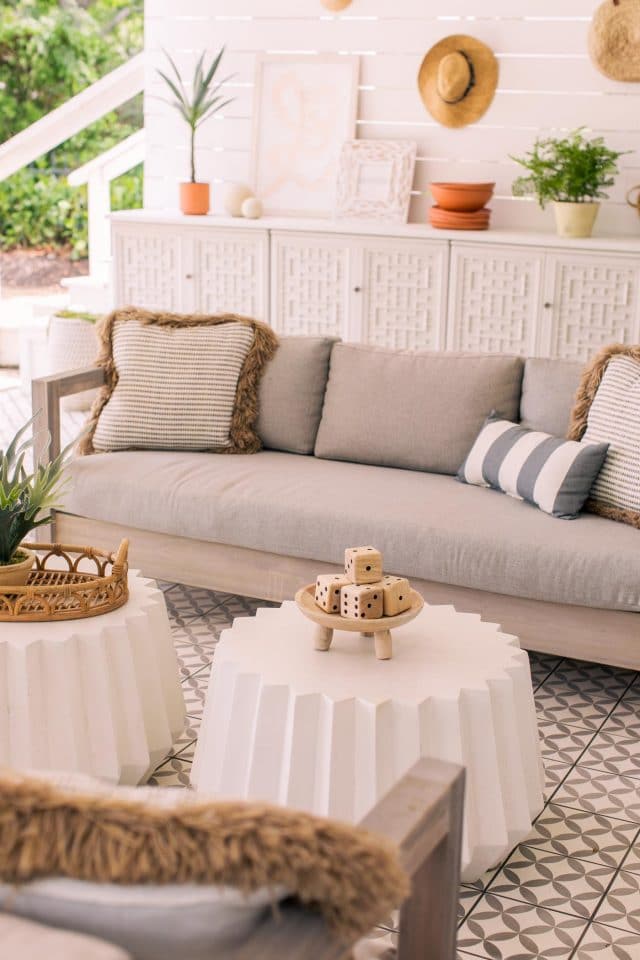 We also painted the entire exterior Behr Polar Bear White and created this PVC board wall as a clean privacy wall.
For decor, we originally shared our Article outdoor dining set up last summer in this how to make a battery-operated accent light post.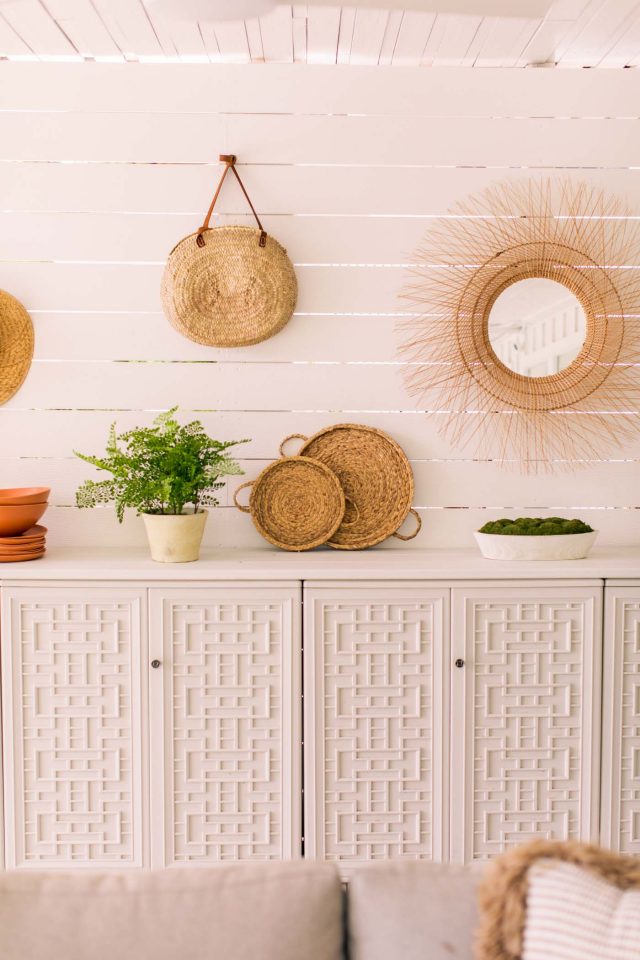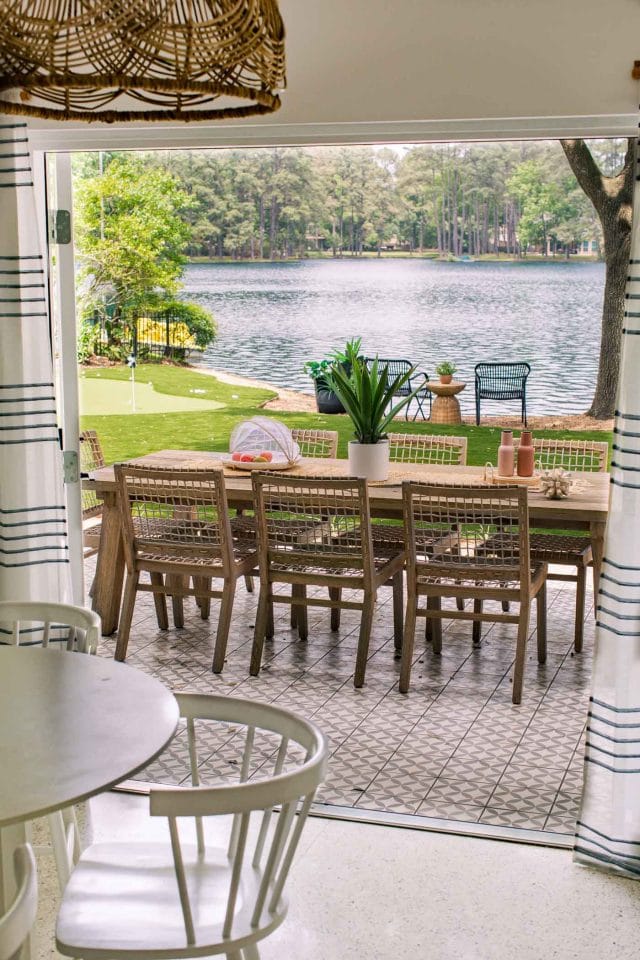 We've absolutely loved our outdoor table and wanted to create an extension of it with Arca outdoor sofas and Tana side tables from Article as well.
Let me just tell you that having free delivery on furniture (looking at you, Article!) is worth its weight in gold! These pieces are SOLID wood and built to last. So personal home delivery was amazing.
I really wanted the outdoor space to feel collected, so we foraged new and old items to create a woven hat and rattan decor wall.
The outdoor concrete coffee tables are a white geometric shape to mimic the Lili concrete tiles.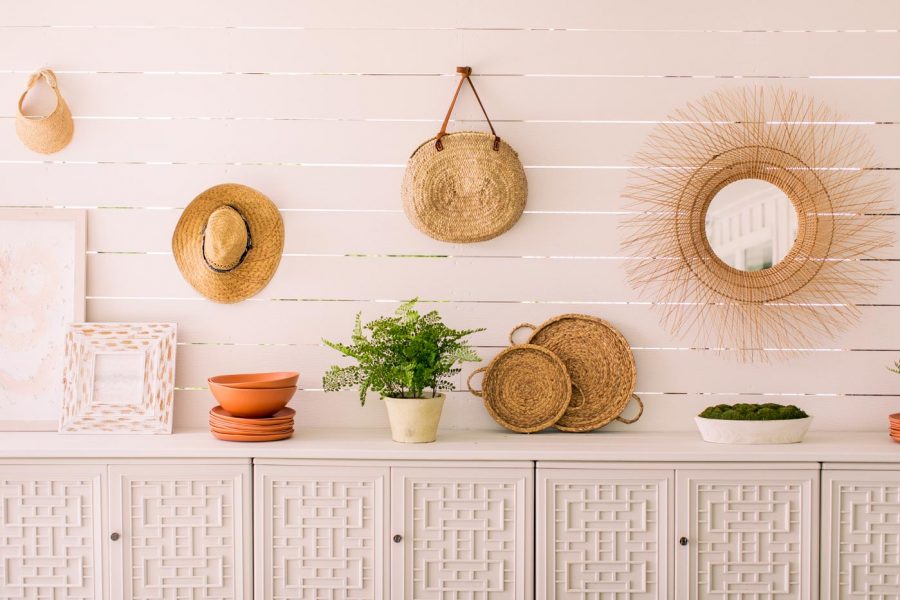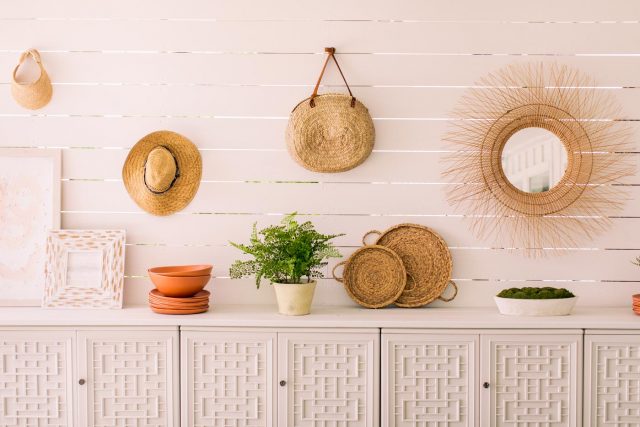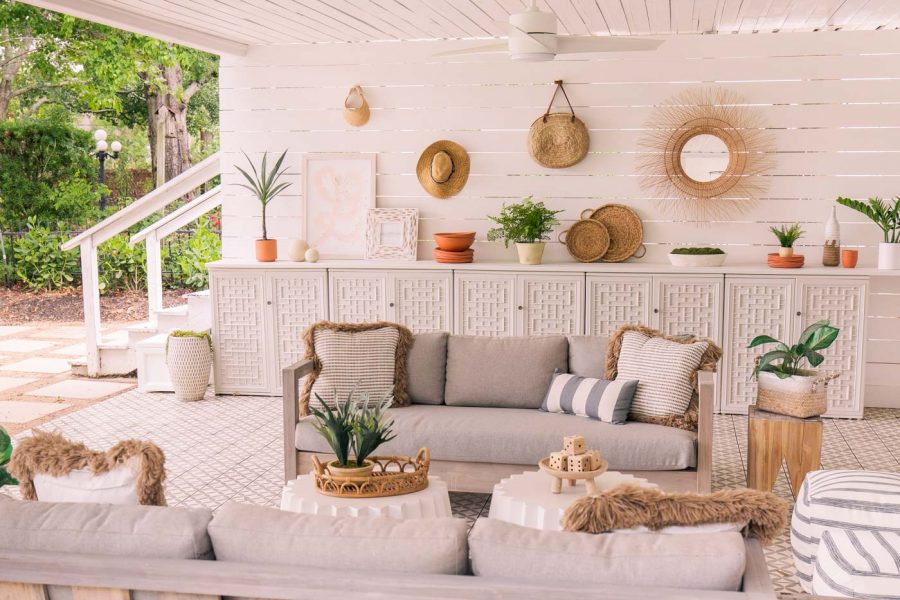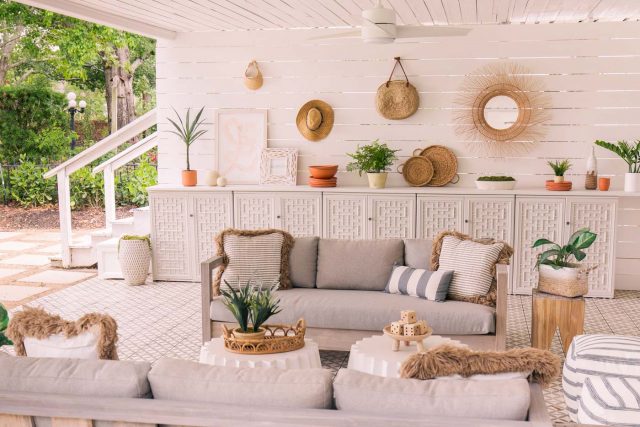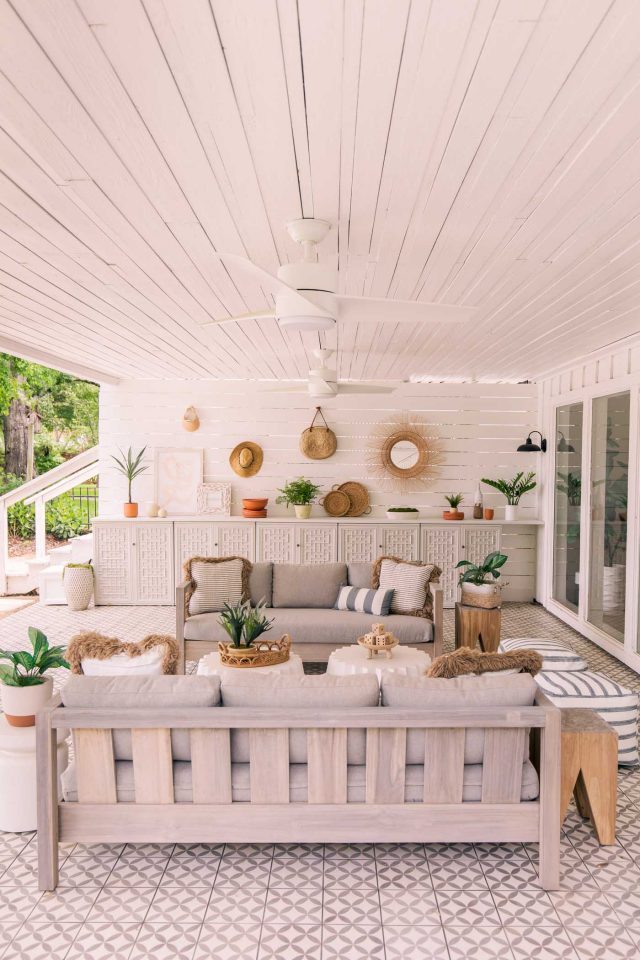 We also replaced the previous sliding glass doors with fiberglass french doors to have an indoor/outdoor feel to the kitchen.
Since we live on a lake, the outdoor Hunterfan ceiling fans were a must for keeping bugs and humid weather at bay too.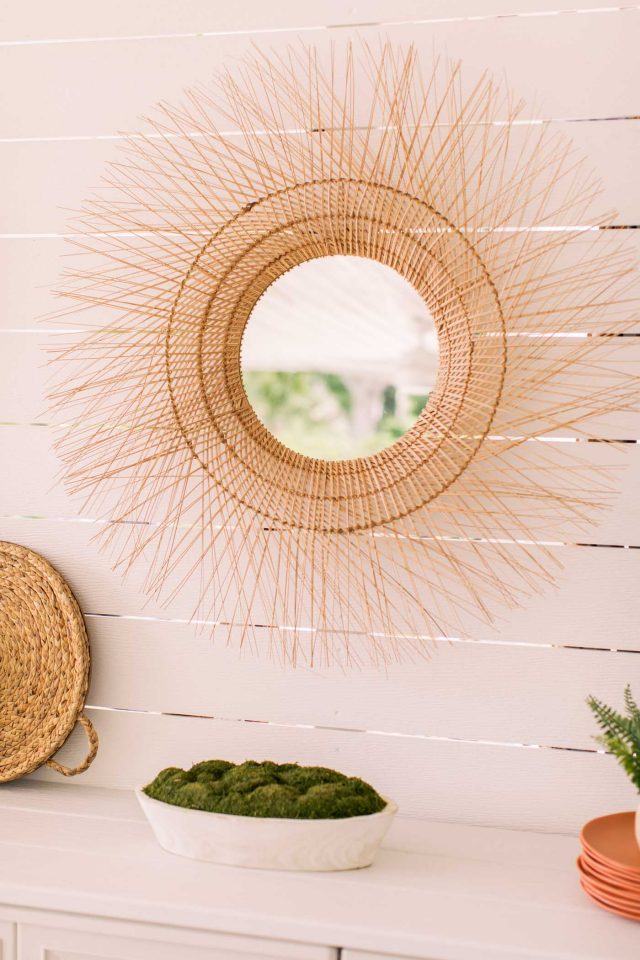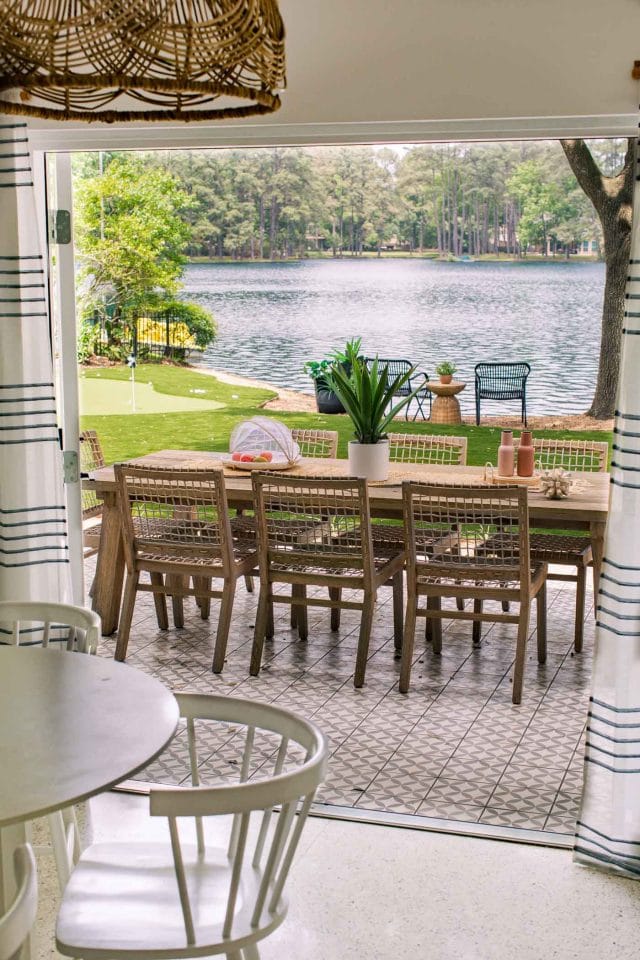 I'm absolutely in love with the view from our breakfast room to the lake now! Having the ability to entertain and bring the outdoors is exactly what this lakehouse needed!
White patio concrete coffee tables // Optics cement tile from Lili Tile // Glass deck railing from Invisirail // White outdoor Weathermax fans from Hunterfan // Tana teak wood stool from Article // Teaka dining chairs from Article // Teaka dining table from Article // Arca Driftwood gray sofas from Article // resin/plastic outdoor storage cabinets