Looking for plant stands that will showcase your plants quite nicely? Get inspired and read about plant stands, DIY plants, and DIY plant stands.
We're always looking for ways to spice up potted house plants, and if you can't tell, we love DIY projects too.
We've gathered our favorite DIY plant stand ideas. Whether you have big plants or small, living room or outdoors; "the world is your oyster".
With 20 different DIY plant stand ideas, you can choose from tiered plant stands to wooden, to mid-century.
We've got plenty of affordable and reclaimed options for you to easily give your green friends their new home.
When deciding which one – or more than one – you want to make, keep in mind your space, plant, and pot size, and of course your preferred style!
These can all be made in different heights and sizes so you can personalize your space to fit your favorite green friends. Even switch some of these up with a can of spray paint or your favorite wood stain!
Benefits Of A Repurposed Plant Stand
Making your own plant stands is a great way to save money while personalizing your space or garden.
Many of these DIY projects are open to customization to let your creative side shine.
Plus, DIY plant stands are also a great way to save money and reduce waste in the environment when using scrap wood and supplies you have around the house.
20 DIY Plant Stand Ideas
1 — DIY Acacia Wood Plant Stand
Our DIY acacia wood plant stand has the perfect balance of modern and West Elm inspired style all in 3 supply plant holder hack.
2 — DIY Mid Century Stand Planters
Try our DIY Mid century stand planters to make your indoor or outdoor plant friends even prettier.
3 — DIY Mini Patterned Side Table
Our DIY mini patterned side table is the perfect plant stand if you need your indoor plants to take up a little more vertical space.
4 — DIY Mid Century Side Table
Use our DIY mid century side table to house your large plants or even style with small plants.
5 — DIY Ikea Hack Side Table
Ikea hacks are our go-to. This Ikea hack side table is perfect indoor plant stand to add some color to your side table.
6 — Easy DIY Plant Stand
This modern farmhouse DIY wooden plant stand is stunning. The cross adds the perfect eye-catching touch to spice any house plant.
7 — How to Make a DIY Plant Stand With a Tomato Cage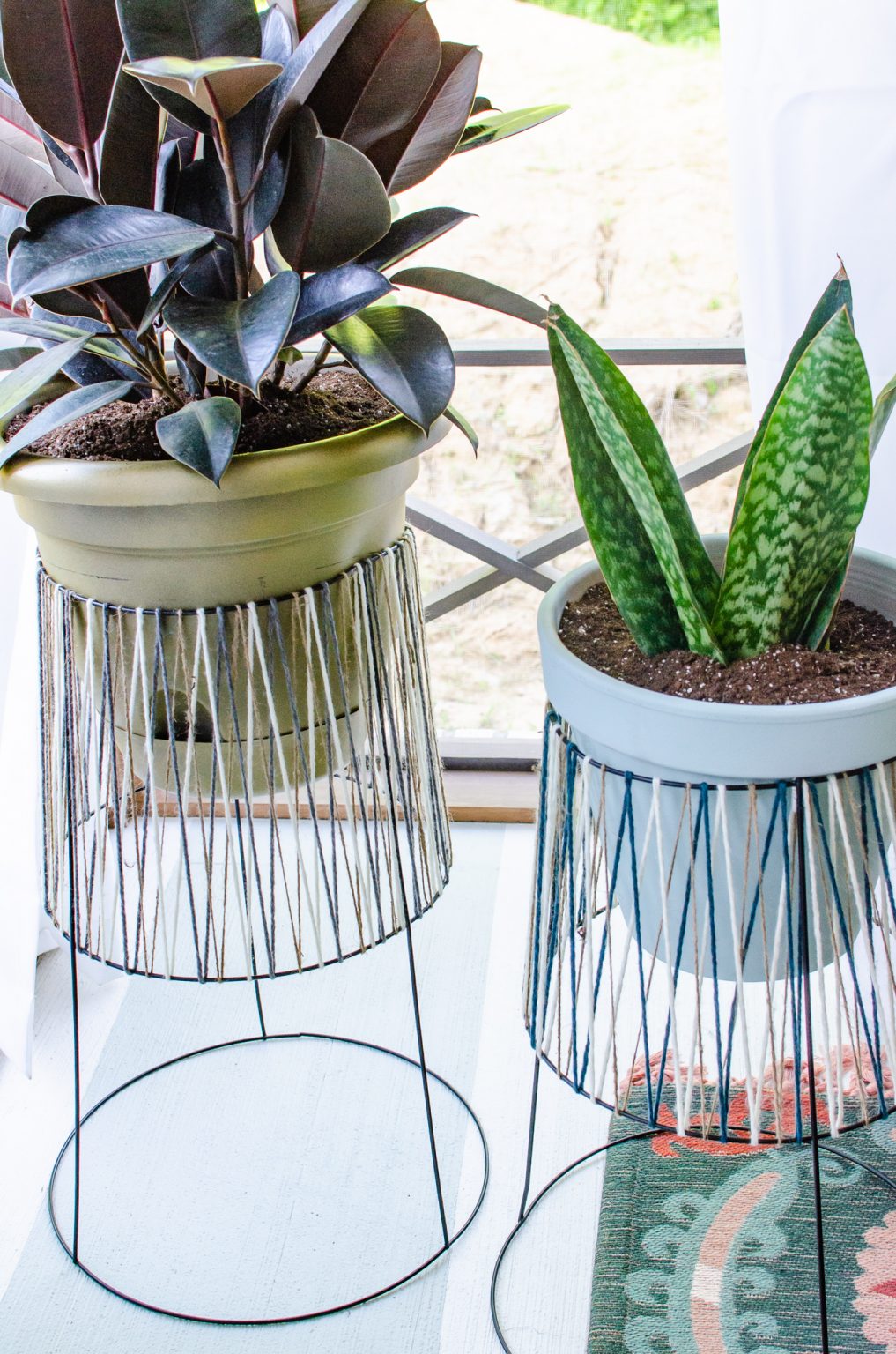 We love reusing materials to make something new and exciting. This DIY plant stand from a tomato cage is the perfect flip.
8 — DIY Plant Stand from Wood
This $7 DIY wood plant stand is the perfect customizable plant stand for your space. The top of it is even made from scrap wood from a tree – or you can buy it of course!
9 — Make a DIY Ladder Plant Stand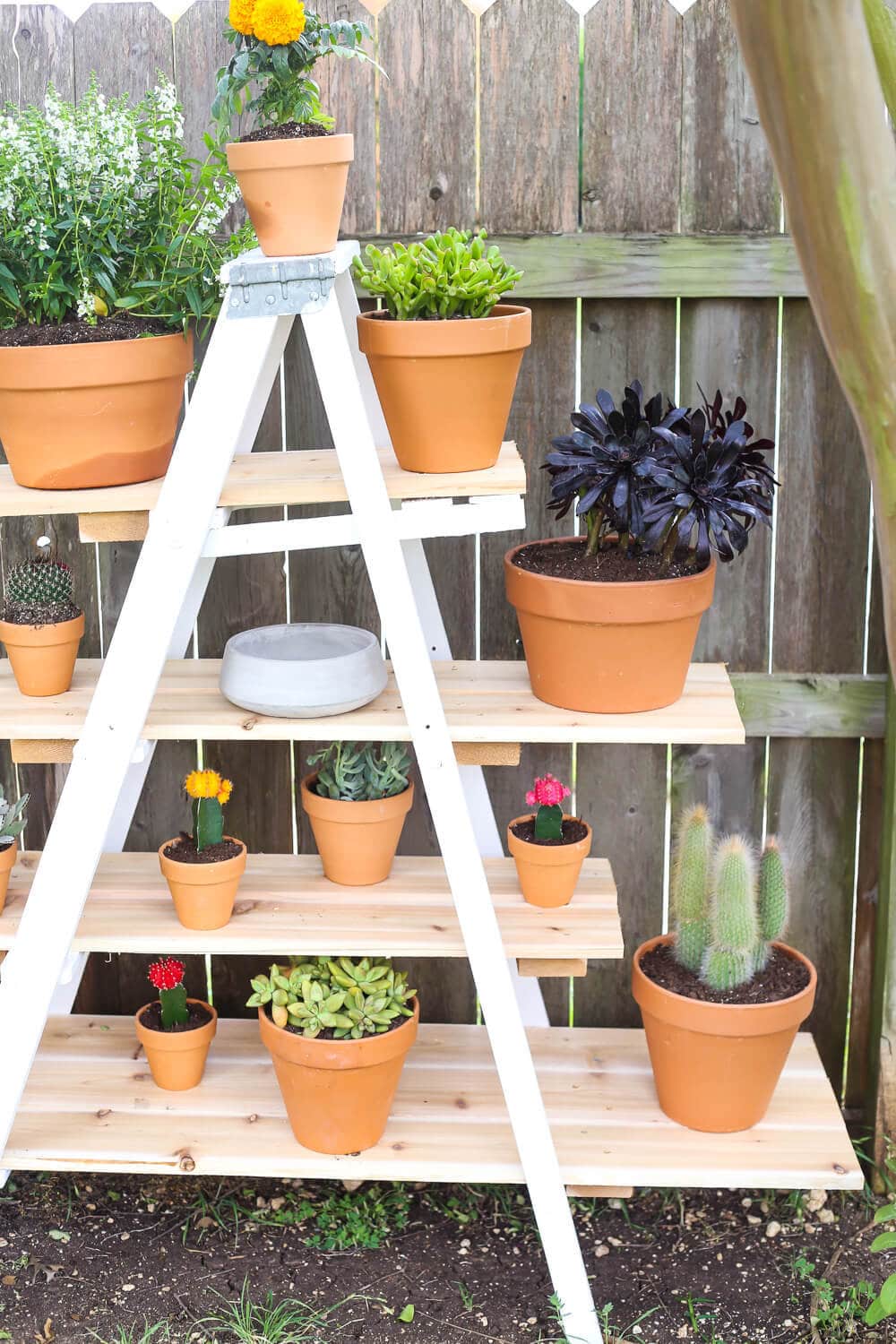 To stain or not to stain… This DIY ladder plant stand is such a statement both ways. You choose your favorite.
10 — Outdoor DIY Plant Stand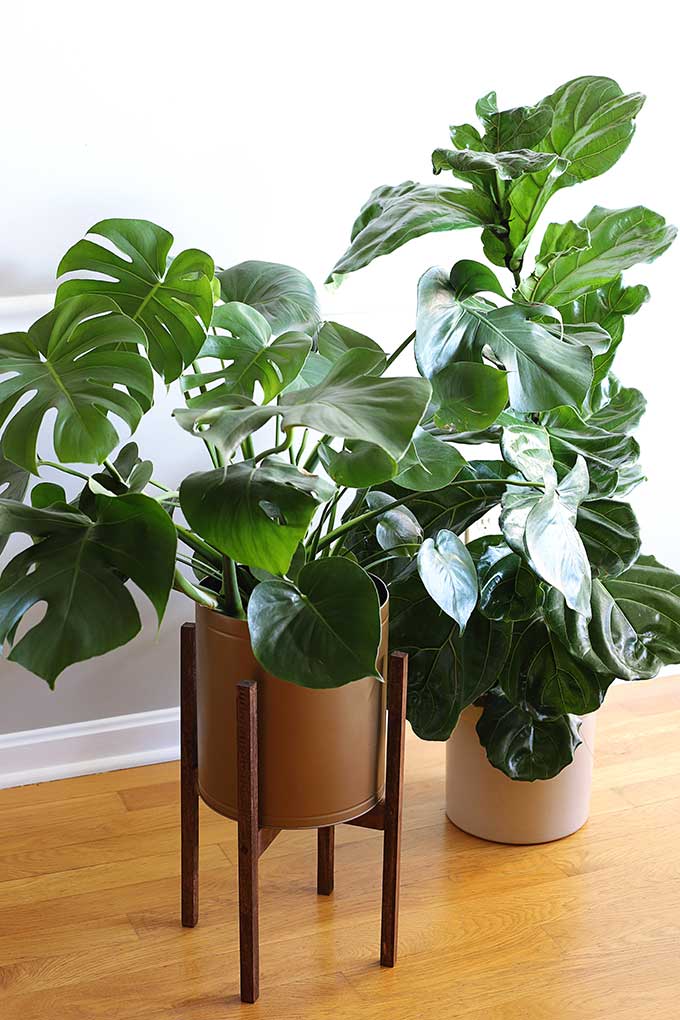 Use this DIY outdoor plant stand to brighten up your deck or back yard. Or switch indoor wood to migrate your green friend inside.
11 — Tiered Plant Stand
Add some dimension to your living room with this tiered plant stand. Finish in all white to create a modern plant stand depending on your style.
12 — Raised Planter Box
If you're needing to optimize floor space, then this raised planter box is perfect. Am I the only one picturing sneakers on the bottom near your door? Just me?
13 —Pallet Plant Stand
Upcycling wood is always fun! Use scrap wood – in this case a pallet – to create this unique yet simple pallet vertical garden.
14 — DIY 2×4 Plant Stand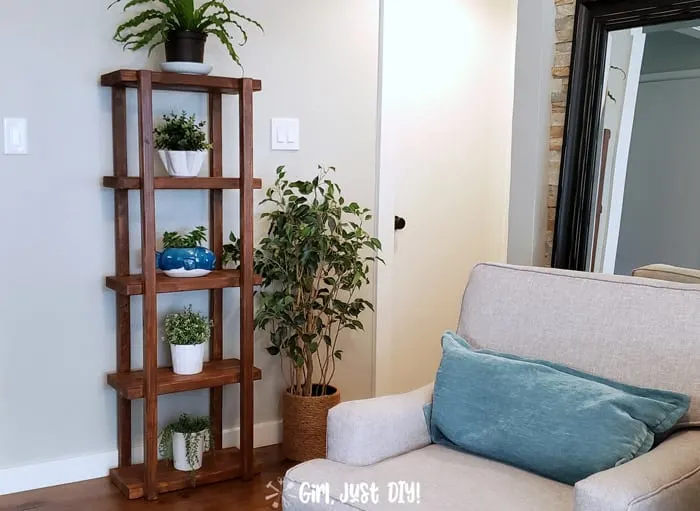 Maximize your floor space with this DIY 2×4 frame plant stand. Even move the shelving spaces to fit your taller green friends in!
15 — The Perfect DIY Plant Stand for Any Empty Corner
Have an empty corner or two? This simple plant stand is the perfect DIY to fill in any corner with style. Add a pop of color on the shelves to personalize brighten up your space.
16 — How to Make a Concrete Plant Stand
Looking for something cost effective but doesn't look like it? Well you made it. This raw edge concrete plant stand is a great modern plant stand option.
17 — DIY 3 Tiered Corner Plant Stand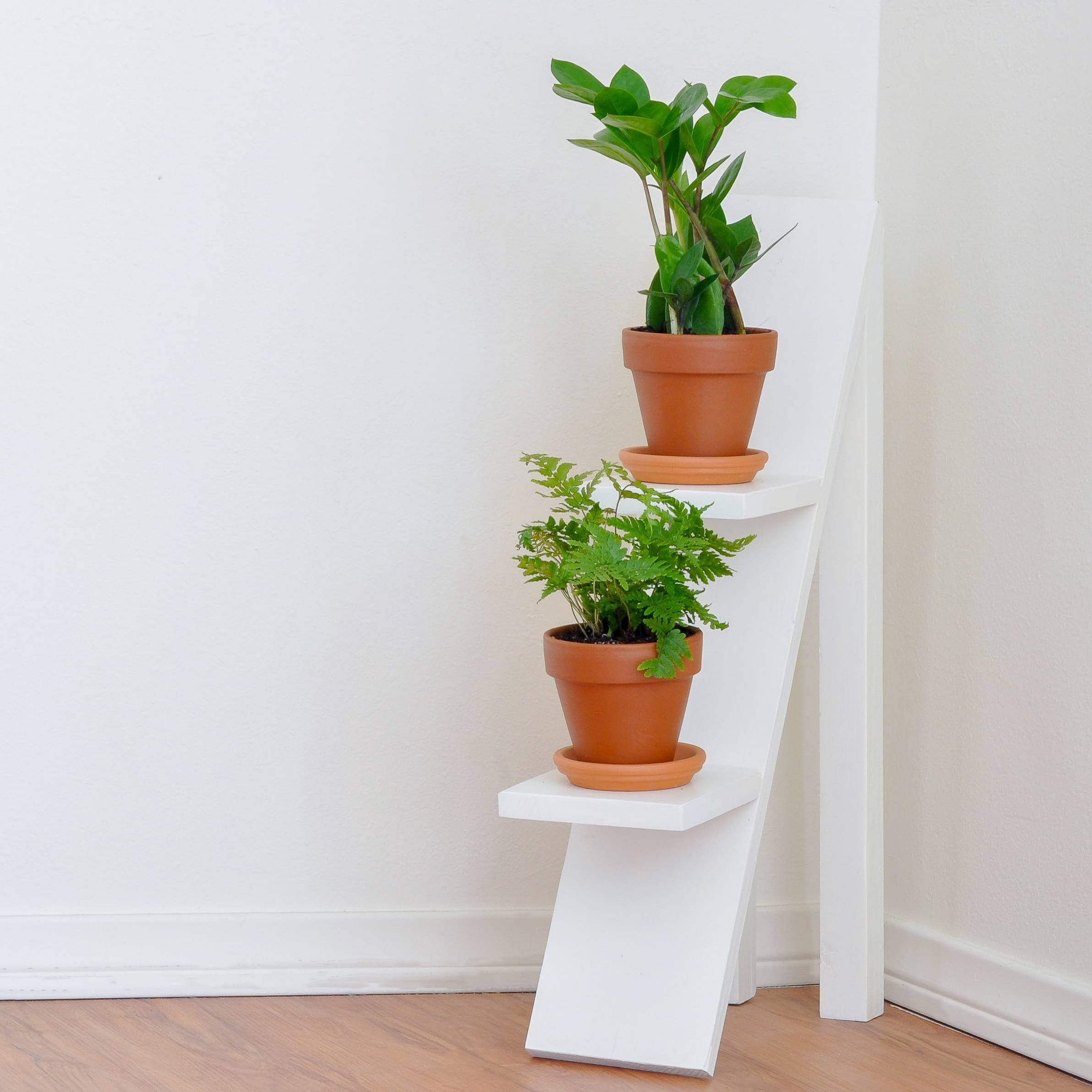 More empty corners? Try this 3 tiered corner plant stand to fill in your porch or even your living room.
18 — DIY Hanging Planter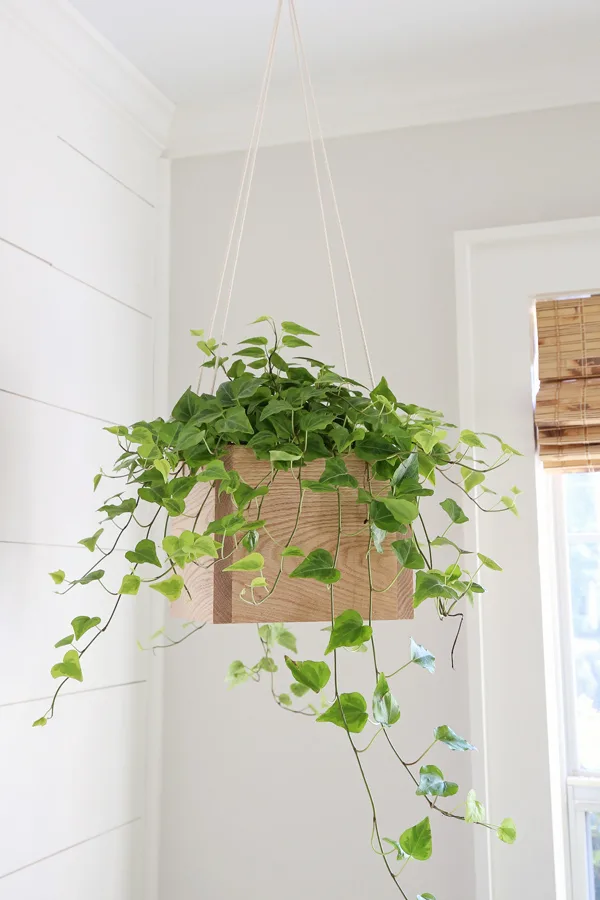 Use this DIY hanging planter to save floor space and take up a boring wall corner. Also, this is probably the simplest plant holder I've ever seen – I will be making it very soon!
19 — DIY Basket Plant Stand
This might be our favorite plant stand so far. Try this DIY basket plant stand to add some texture and disguise those boring black pots.
20 — DIY Plant Stands from Thrifted Bar Stools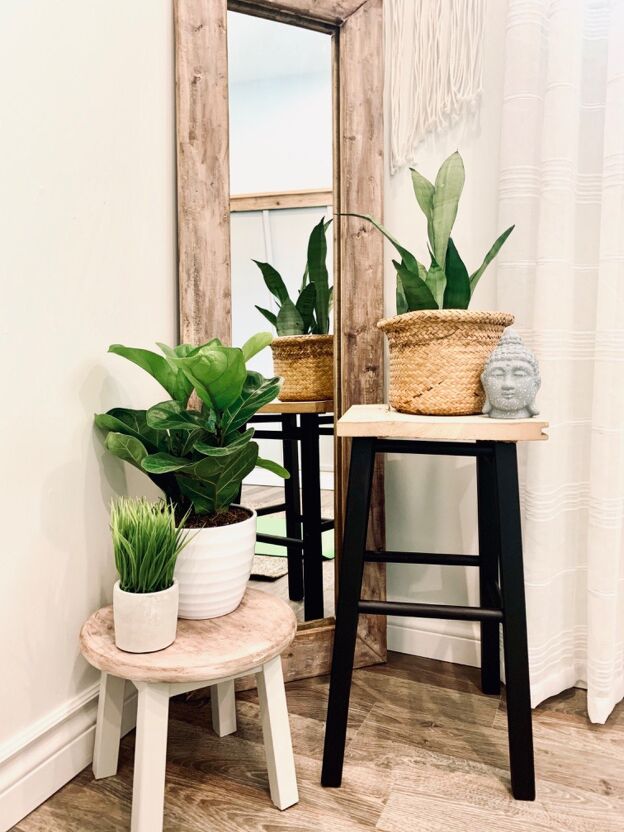 Thrifting seems to be such a trend these days. Turn any bar stool or step stool into a plant stand by refinishing them to your liking.
In case you need help with which plants to make part of your family or styling your current ones…
More Plants & Garden DIY's
Don't forget to share your DIY Plant Stand Ideas with us on Instagram using the hashtag #sugarandclothloves. We always love seeing all of your creations!