Celebrate the magic of the holidays in style with our handpicked selection of the best matching family Christmas pajamas for every member of your household (even your pets)!
The holiday season is a time for family, joy, and creating cherished memories. And what better way to celebrate the festive spirit than by donning matching Christmas pajamas?
Matching family pajamas have become a beloved tradition in many households, bringing together loved ones of all ages in cozy and coordinated sleepwear. Year after year, our families have always matched for the holidays, even when I was very pregnant with the girls!
We're here to help you navigate those potentially treacherous waters with the least amount of Google searching possible. Plus, all of these holiday pajamas are reasonably inexpensive options.
Because let's be real, this is basically like school shopping for the entire family in one sitting. And that can really break the bank if you're looking for something remotely unique.
The Best Family Christmas Pajamas
1 — Polar Bear Matching Pajamas
This graphic polar bear pajama set isn't too cheesy so it's subtle enough to wear year-round.
2 — Personalized Elf Matching Family Shirts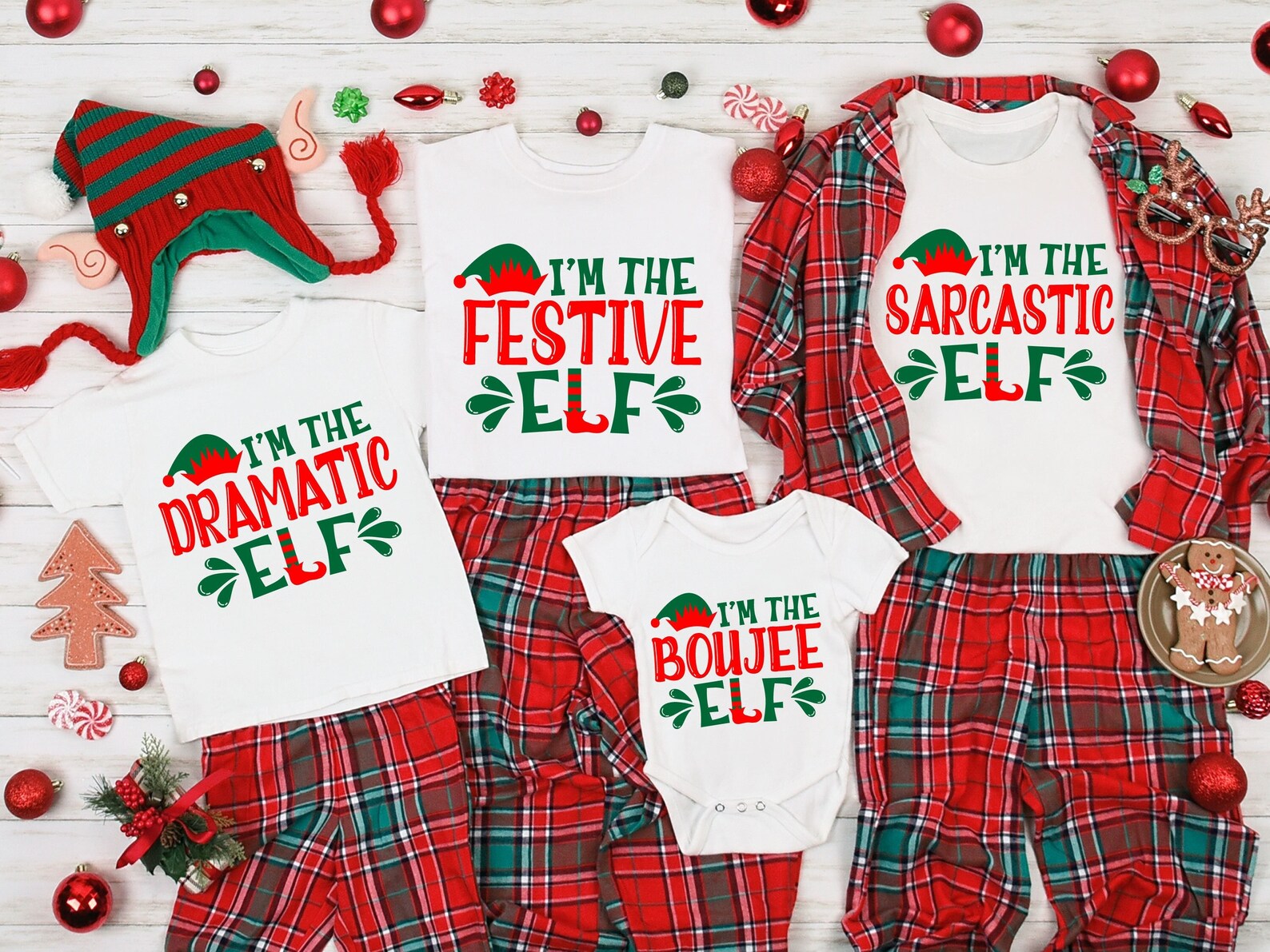 Personalize these elf family shirts with funny titles for each family member. You also get to pick over 13 different color options and sizes available in women, unisex, toddler and baby shirts and sweatshirts.
3 — Confetti Matching Mommy & Me Pajamas
Coordinate all year round with the family in these confetti pajamas. This sleepwear set is perfect for moms who may find other Christmas pajamas too "embarrassing" to sport.
4 — Gangsta Wrapper Matching Holiday Shirts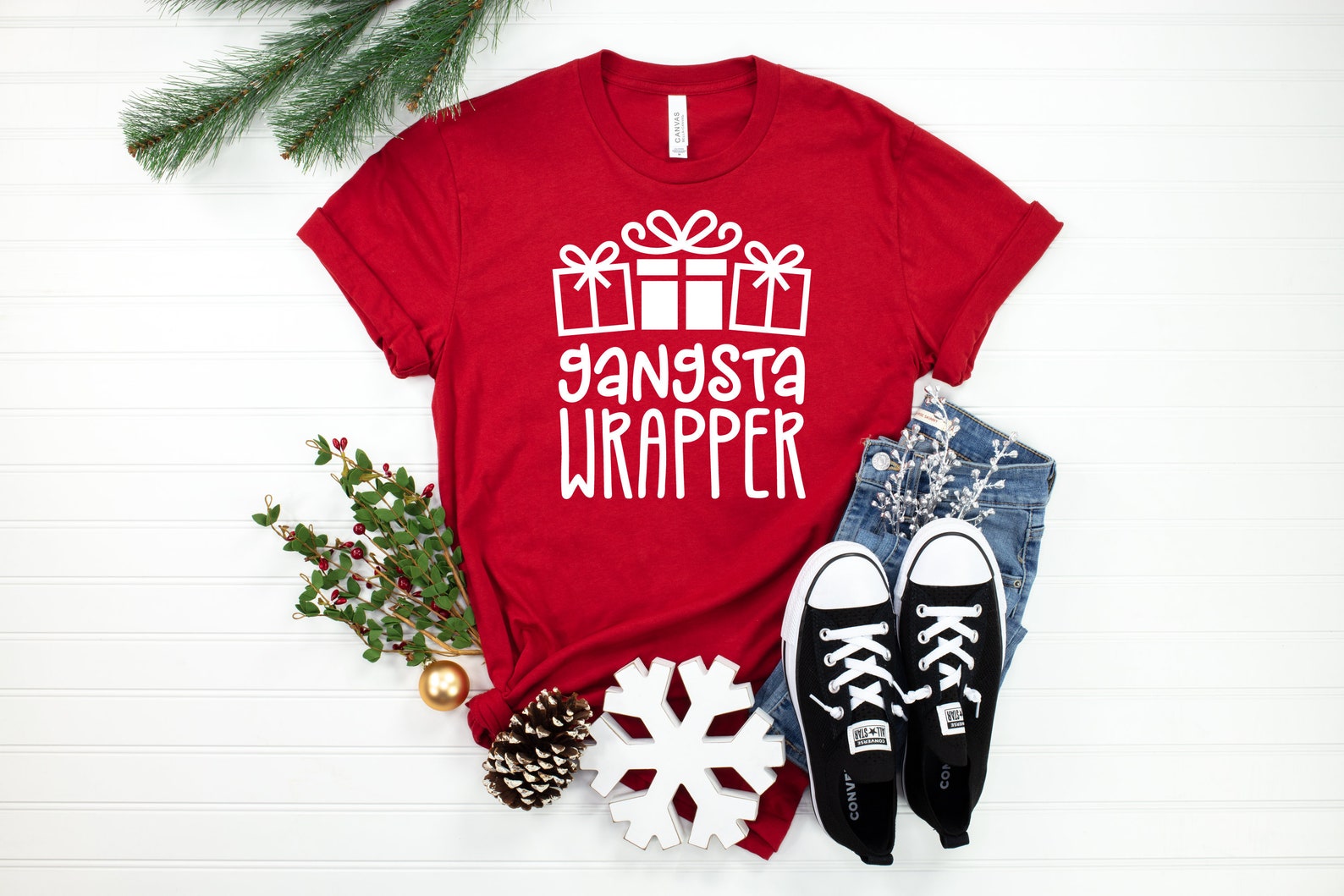 Have some fun with matching gangsta wrapper holiday shirts. These unisex tees are available in various sizes, 10 different color options, and you even get to choose your own text color.
5 — Classic Stripes Family Matching Pajamas
Stripes and a classic crew neckline detail these holiday family pajamas. The contrast banded sleeve and ankle cuffs also help insulate warmth without overheating.
6 — Silk Satin Family Pajama Sets
For something more elegant and regal, hurry and add these satin family pajamas into your shopping cart! Pockets and a notched button up collar adorn these stylish loungewear pieces.
7 — Holiday String Lights Pajamas Set for Every Family Member
Get everyone in the holiday spirit with matching festive holiday string lights pajamas. This two piece set is available in various sizes for men, women and kids.
8 — Grinch Matching Family Pajamas
Inspired by the beloved character from Dr. Seuss's "How the Grinch Stole Christmas," these Grinch family pajamas feature a coordinating design that spans across all family members.There's even an easy on and off zip up option for babies. Because when it comes to babies, you always want the quickest route for a diaper change.
9 — Santa Christmas Pajamas Sets
Outfit the whole family as jolly Saint Nick this year! This Santa set features a graphic top with Santa's buttons and belt and solid red full-length pants.
10 — Old Navy Family Christmas Pajamas
Old Navy is a great go-to shop if you're looking for gender neutral matching family pajamas. Plus, you can never go wrong with a buffalo plaid pattern!
11 — Letters to Santa Matching Family Jammies
Hand-drawn prints make up these oh so soft organic cotton letters to Santa family pajamas by Burt's Bees. If the matching prints are too much, solid henley tops are also available for the adults. You even have the option of a matching scarf for your pets!
12 — Candy Cane Striped Family Pajamas Set
Get a picture perfect matching look in these striped family pajamas. This cotton blend set is ideal for mid-winter warmth.
13 — Notched Pajamas
Featured designs of white polka dots and white pinstripes on these notched pajamas allow you to mix and match with the family. All button-up PJs feature white piping trim for a polished look. This jersey wide cut style also offers a more relaxed fit than your typical snug pajamas. Choose from burgundy stripes, navy stripes or navy polka dots.
14 — Night Pine Family Pajamas Set
Create family traditions in vintage inspired organic cotton Night Pine family pajamas. We love how this style allows for the adults to not be too "matchy" but still be able to coordinate with the whole family.
15 — Fleece Matching Christmas Pajamas Family and Dog (and Doll)
No one will be left out with this matching fleece family pajamas. There's even an option to purchase a matching set for your dog and your kids' dolls! There are also tons of styles to choose from if someone in the family prefers a nightgown or button-up.
16 — Buffalo Plaid Gender Neutral Flannel Set
Get these matching buffalo plaid holiday pajamas for the whole family. This bold all-over pattern covers cozy soft brushed flannel.
17 — Family Bear Matching Family Pajamas
Your bear pack with love these Family Bear Pajamas Set.
18 — Personalized Name Family PJs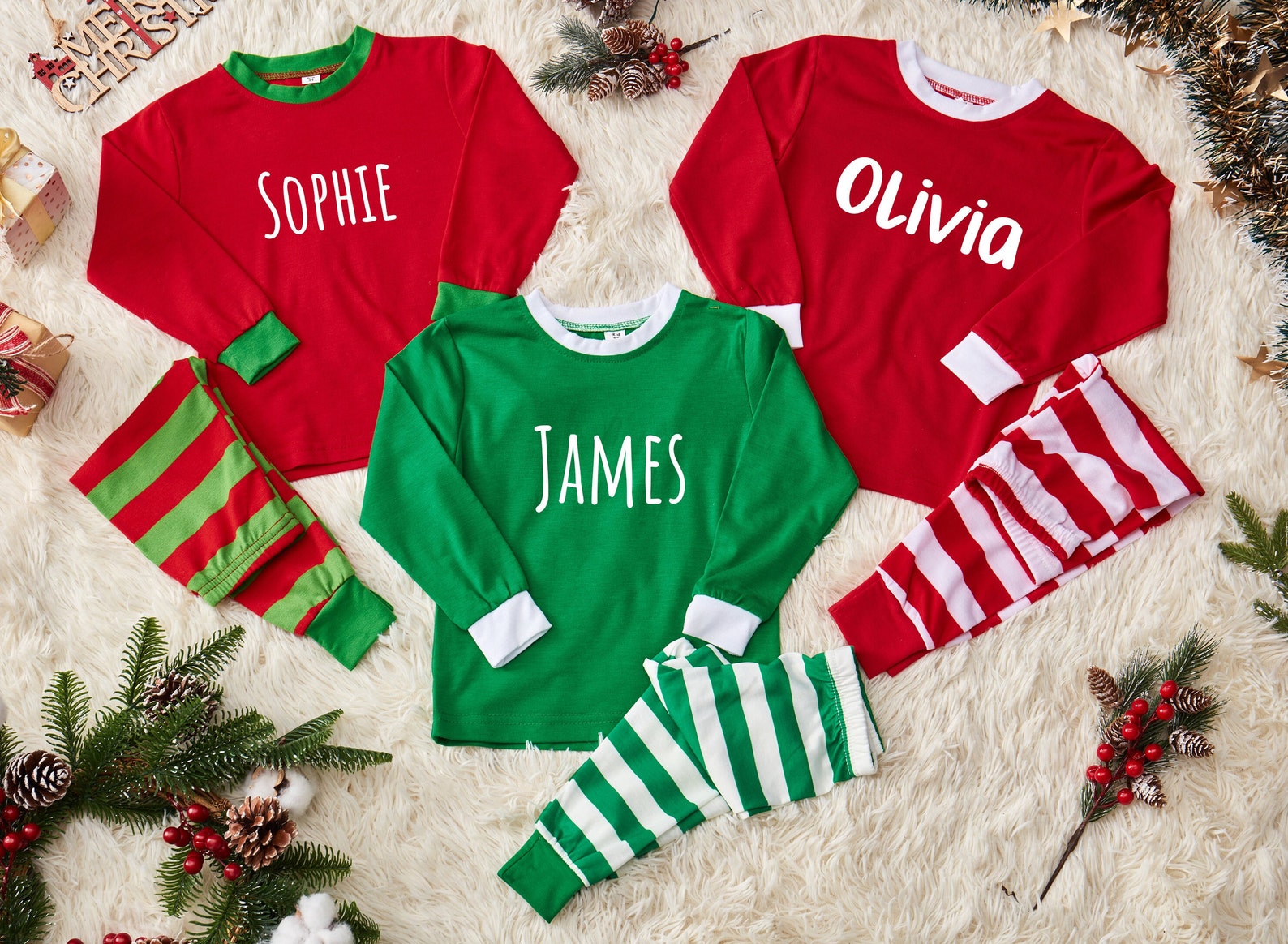 Wrap your loved ones in warmth and togetherness with some monogram family pajamas. This delightful set is not just sleepwear. It's a celebration of family bonds.
19 — Rainbow Hanukkah Matching Family Pajamas
Celebrate Hanukkah instead? You can still have your family matching tradition with these super soft organic cotton Hanukkah pajamas for the whole family (including your four legged furry members). This set is hypoallergenic, eczema-friendly and sensory-friendly with its scratch-free seams.
20 — Christmas Hat Patterned Family Pajamas Set
Nothing screams holiday pajamas like a Christmas hat motif. And these Christmas hat family pajamas actually aren't corny with its all-over modern red and green print. If you really have to don a Christmas hat, this is the one everyone would agree upon.
21 — Star Wars Festive Red Matching Family Pajamas
Darth Vader, C3PO, R2-D2, and more. They all join forces in these Star Wars festive red matching family pajamas. The matching pjs set (pets included) is crafted of super soft organic soft rib knit.
22 — Sweet Comfort Christmas Pajamas for Family
Getting comfortable never looked so sweet with these festive pajamas featuring gingerbread men, candy canes and more. The best thing about these matching family pjs is that they are comfortable with its relaxed fit. The adult styles feature buttoned henley necklines and straight leg bottoms.
23 — Star Wars Holiday Sets
Another great place for Star Wars matching pajama sets is Amazon Essentials. We love that you can still coordinate with the Star Wars theme, but you can still select your own fit and patterns to suit your style. So everyone can opt for a flannet set or snug-fit set and choose their own designs.
24 — Couples Matching Loungewear
Elevate your holiday comfort game with these couples matching pajamas, the perfect blend of festive flair and cozy relaxation. This set is designed for couples who love to coordinate in style!
Top Reasons for Getting Matching Family Pajamas
1 — Everyone looks forward to a picture-perfect holiday morning, and what better way to start the day than with a photo op of the entire family all wearing their cozy new matching pajamas?
2 — Have a New Year's resolution to bond more as a family by engaging in some quality activity together every single night as a group before bedtime? Getting matching pajamas might be just the thing you need!
3 — One size fits all, so there is really no reason not to buy matching family pajamas for everyone in your household – from the tiniest member up to those who are built like bears!
4 — For children, there is nothing more exciting than Christmas morning allowing them to open one package containing an entire outfit – including pants and long johns!
More Gift Guides
And because we're in the midst of holiday gift season, check out our gift guides below picks to help you with your shopping —
Looking for affordable yet thoughtful presents? Explore our curated list of top-notch gifts under $20…