Backyards aren't always on the top of the checklist for single homeowners or renters. At least, it wasn't for us! Who wants to spend their weekend outdoors mowing the lawn when you can instead enjoy Sunday Funday with cocktails?!?
Our old house was a townhome with a turf patio area, and the "backyard"  was just big enough for a grill and dining table —  which is plenty of outdoor space for two.
But then, a baby (in this case, Gwen) comes into the picture. A backyard is now a must-have for outdoor play… aka trying to tire your kid haha!
The American Academy of Pediatrics recommends that kids get at least 60 minutes of psychical activity every day so outdoor play is vital. Thankfully, the number of outdoor toys available are endless and our new house as a little bit (a lot!) more space!
Not gonna lie, a lot of the outdoor toys are just NOT cute at all. The last thing you want are piles of neon plastic cluttering your backyard. So we decided to feature a roundup of the best modern and pretty outdoor toys (that your kids will love too)!
Best of all, they'll get your kids off of the screens and outside this summer!..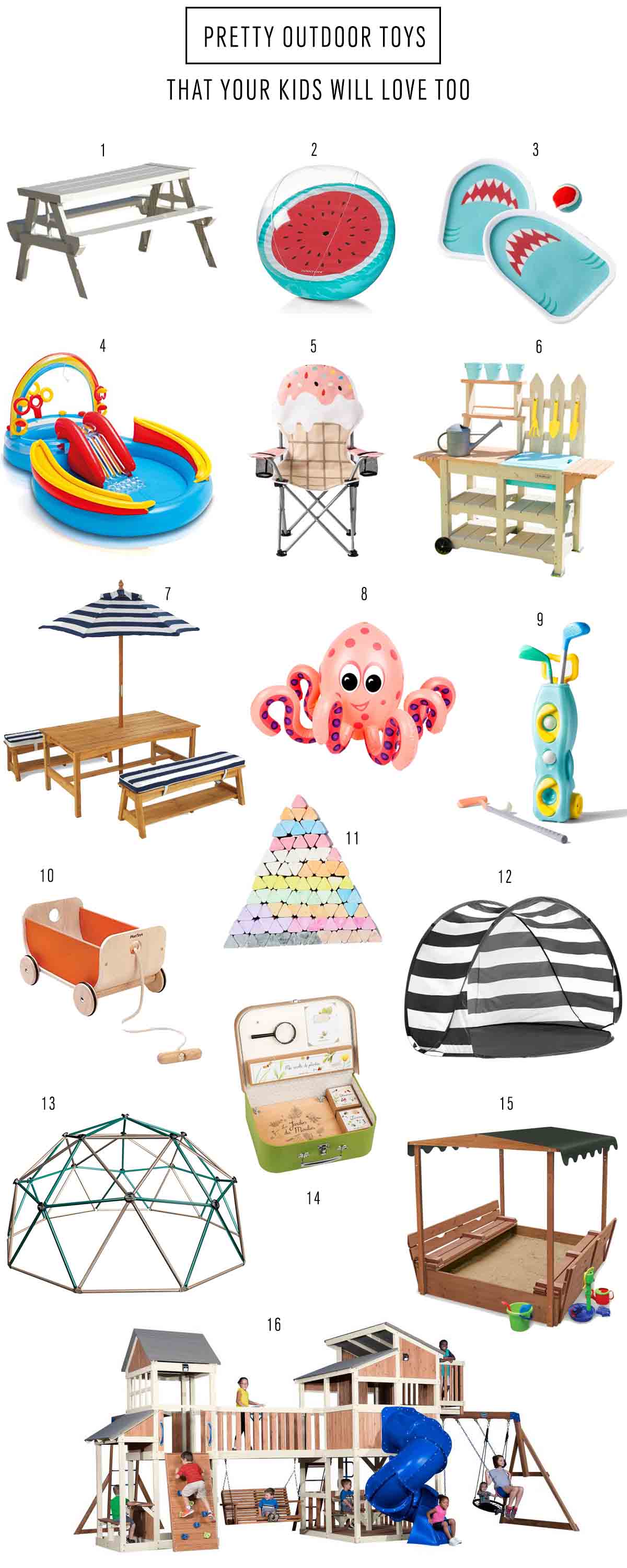 OUR FAVORITE PRETTY OUTDOOR TOYS
Kids Picnic Table – A foldable table to paint, enjoy messy snacks, or play board games.
Watermelon Beach Ball – For all-day play at the beach or pool.
Shark Toss Game Set – Thanks to Baby Shark, shark toys are not going away.
Rainbow Ring Play Center – Cool off with a water slide, wading pool, ring toss game and water sprayer.
Greenville Garden Station – Allows kids to explore the world of gardening.
Outdoor Table & Bench Set – The set includes navy and white cushions and a matching umbrella!
Octopus Yard Sprinkler – Create irresistible summertime fun with this inflatable octopus sprinkler.
Kids Golf Set – Your little one will love to hit the links — or just the backyard!
Wooden Wagon – Your kiddo can personalize their names on this wagon using chalk.
Jumbo Sidewalk Chalk – Draw anything you can imagine with these non-toxic triangle chalk.
Sun Shade Tent – A glam, water-resistant anti-UV lounger and tent.
Dome Climber Jungle Gym – Doesn't this bring back memories of elementary school recess?!?
Botanist Adventurer Valise – Encourage inquisitive minds explore nature and play make-believe.
Canopy Cedar Sandbox With Benches – Your kids and their friends are sure to have a lot of fun with this convertible cedar sandbox.
Skyline Retreat Swing Set –  Features dual towers, upper and lower forts, a tube slide, bench swing, and a web swing.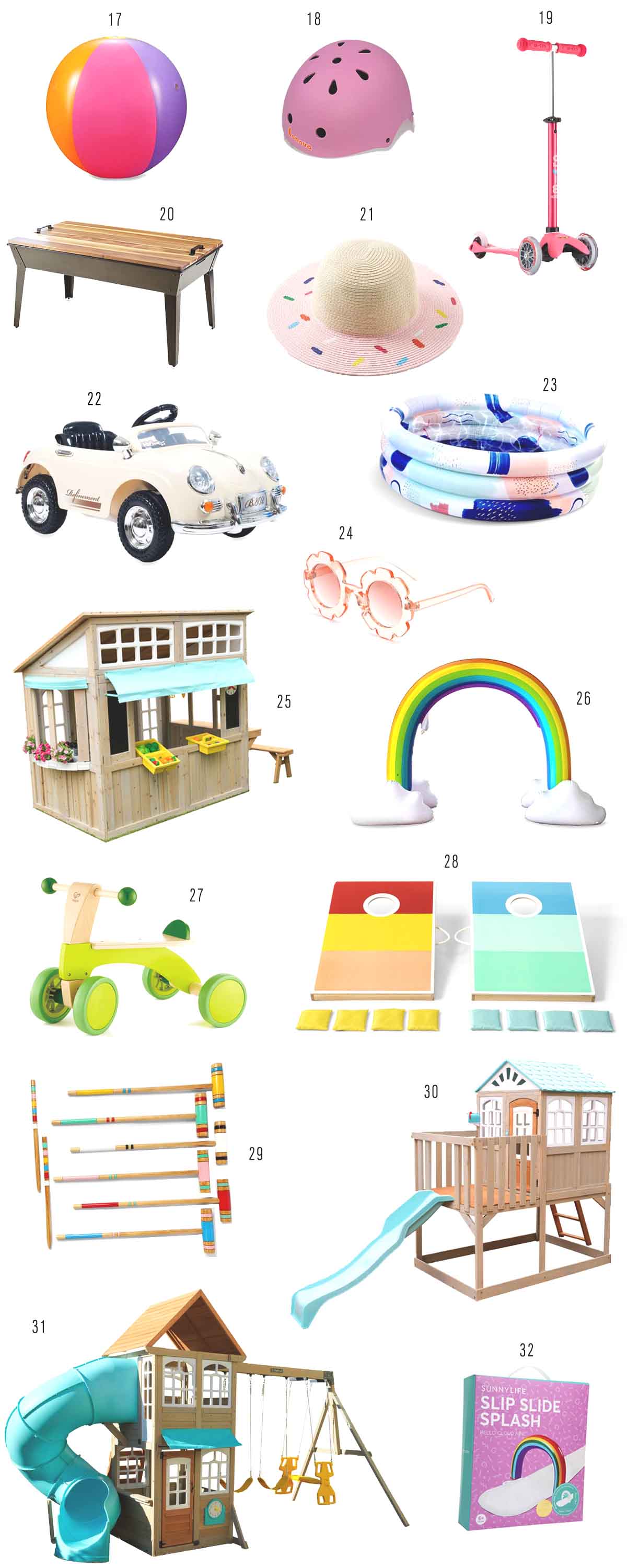 17. Helmet, Kneepad & Wristguard Set – Prevent those outdoor breaks and falls!
18. Water Sprinkler Beach Ball – Burn energy and cool off while running through the water streams.
19. Mini 3-in-1 Scooter – The scooter grows with your kid from age 1 to 5.
20. Sand & Water Table – Bring the beach and the surf to your own backyard!
21. Cupcake Sun Hat – Keep your little ones shaded in the sun.
22. Speedy Sportster Car – Let your kid take the wheel or control the car with the remote control.
23. Soak Up Some (Water)color Pool – A maintenance free pool for the kiddos.
24. Flower Sunglasses – Don't forget to protect those little eyes!
25. Meadow Lane Market Playhouse – Kids stay busy all day with the playhouse/garden shed.
26. Rainbow Outdoor Sprinkler – Because we have an addiction to rainbows!
27. Scoot Around Wood Bike – Perfect for kids beginning to test their mobility.
28. Bean Bag Toss Set – A fun game for when friends are over.
29. Lawn Sport Croquet Set – Includes croquet balls, mallets, goal posts and stakes.
30. Highline Retreat Playhouse – A unique combination of a playhouse and playset in one.
31. Montauk Wooden Swing & Playset – Create a backyard wonderland with this two-level clubhouse.
32. Rainbow Slip & Slide – Trust us, adults will love this too!