Here are the top best backyard outdoor toys for kids. These will keep your little ones entertained and happy on those warm summer days!
Backyards aren't always on the top of the checklist for single homeowners or renters. At least, it wasn't for us in the beginning. Who wants to spend their weekend outdoors mowing the lawn when you can instead enjoy Sunday Funday with martini?!?
Our first home was a townhouse with a turf patio area, and the "backyard" was just big enough for a grill and dining table — which is plenty of outdoor space for two.
But then, a baby (in this case, Gwen) comes into the picture. A backyard is now a must-have for outdoor play… and trying to tire your kid!
The American Academy of Pediatrics recommends that kids get at least 60 minutes of physical activity every day so outdoor play is vital. Thankfully, the number of outdoor toys available are endless and our new house has a little bit (a lot!) more space!
So we decided to feature a round up of the best outdoor toys to get your kids off of the screens and outside.
Best Outdoor Toys for Kids
1 — Kids Picnic and Activity Table
A 3-in-1 convertible kids picnic table with a detachable umbrella when you need shade. Your kids can sit and have picnic outside. And then, the table top is also removable and holds two activity bins that can hold water, sand or all their outdoor toys.
2 — Water Table
Keep the kids entertained (and cool) with a fun splash pond water table. With so many features like a waterfall and maze-like spinners, this outdoor toy also make for the perfect gift for siblings to share.
3 — Ride On Car with Ramp
This ride-on car will surely guarantee endless fun. The race car is made for on-track and off track riding. The ramp also features grooves for miniature toy car racing.
However, the best feature is that this toy can be folded up into the base for compact storage and transportation. So it won't just be sitting out in the sun and rain.
4 — Rainbow Inflatable Pool
Cool off in a rainbow ring play center that includes a water slide, wading kiddie pool, ring toss game and water sprayer. It'll be like having your own mini water park in your own backyard!
5 — Fubbles No Spill Bubbles
Bubbles that never spill?!? You'll avoid lots of tears with this innovative Fubbles Bubbles Bucket. No matter how much it tips over, the bubbles will never spill out. It also features a handle and 3 bubble wands.
6 — Mud Kitchen
Allow some outdoor pretend play with sand and water and cooking time with a mud kitchen. Constructed out of 100% cedar wood, this outdoor toy was built to last.
7 — Outdoor Easel
Your budding artist can paint and make a mess on an outdoor easel. The oversized art set includes four paints, four shaped sponges, a paintbrush, and built-in tray. The best part? Simply, spray it down with a garden hose to start the next painting.
8 — Jumbo Connect All Four Game Set
Take the classic game outside with the jumbo connect all four game set. Not only is it entertaining, but the game promotes hand eye coordination, motor skills and brain boosting. It's one of the best yard games that even adults can enjoy!
9 — Kids Golf Set
Your little one will love to hit the links — or just the backyard with this kids golf set. It's an outdoor game that they can enjoy alone or with others.
10 — Toy Wagon
This pull along play toy wagon is the perfect transportation for all their prized possessions.
11 — Sidewalk Chalk
Draw anything you can imagine with these non-toxic jumbo sidewalk chalk. They're specially formulated to minimize chalk dust.
12 — Toy Rocket Launcher
Kids will have a blast with this toy rocket launcher that can soar up to 100 feet. Bonus, it's a toy that doesn't require batteries. It's the perfect gift for girls, gift for boys and even a gift for siblings.
13 — Dome Climber Jungle Gym
Doesn't this geometric dome climber bring back memories of elementary school recess?!? Kids can climb, swing and hang off their very own jungle gym.
14 — Non Slip Splash Pad
Another fun way to cool off is with this non slip splash pad that's even designed for your dogs to enjoy.
15 — Sandbox with Canopy and Benches
Your kids and their friends are sure to have a lot of fun with this convertible cedar sandbox. There are many sandboxes out in the market, but at least this one is pretty and not an eyesore.
Its bottomless construction also allows for easier drainage to prevent water from puddling inside the sandbox.
16 — Saucer Tree Swing
Unlike individual swings, we love that the saucer tree swing allows for multiple kids to swing together.
17 — Micro Kickboard Scooter
Ride away with the award winning Micro Kickboard Scooter that features an adjustable handle bar and neon flashing wheels. Its 3-wheel structure allows kids to easily master balancing.
18 — Outdoor Tree Climbing Holds
Your little Ninja Warrior will love these outdoor tree climbing holds that encourage children to be active, exercise strength, balance, agility, flexibility and enhance their confidence.
19 — Playground Swing Set and Slide
This playground swing set and slide checks all the boxes. It includes a climbing wall, 2 sling swings, a ring trapeze bar, wave slide, and a play deck with wood roof.
20 — Outdoor Trampoline
Jumping around on an outdoor trampoline will surely burn off a lot of their energy.
21 — Corn Hole Game Set
Adults and kids can play with this corn hole game set that makes for a great yard game.
22 — Game Toss Paddle
This game toss paddle teaches kids how to catch and throw and improve their hand eye coordination. It also comes with a portable case.
23 — Bubble Lawn Mower
Encourage pretend play with a bubble lawn mower that makes realistic sounds.
24 — T-Ball Set
This adjustable t-ball set is a great start to teaching your kids to play baseball, softball or wiffle ball.
25 — Little Gardening Set
Gift your littler gardener with their very own gardening set. The set includes a bright canvas tote, large watering can, gardening gloves, rake, shovel and fork.
26 — Rainbow Outdoor Sprinkler
Splash around under a rainbow outdoor sprinkler. This gigantic water toy will get them running around all day.
27 — Scoot Around Bike
The Scoot Around Wood Bike is perfect for kids beginning to test their mobility. The push bike will develop their muscles and prep them for the next phase of bicycling.
28 — Bunch O Balloons
We're pretty sure a parent had to have invented the Bunch O Balloons because we personally know first hand how tiring it can be to fill up water balloons the traditional way. With Bunch O Balloons, they fill up and tie up themselves in merely 60 seconds.
29 — Wiggle Car Ride Toy
Keep your kids active with the Wiggle Car Ride that requires no gears, batteries, or pedals for a smooth and quiet trek. They just need to twist, wiggle and go so even toddlers can enjoy it.
30 — Kids RainBow Kite
Take this rainbow kite to the beach, park or yard. It is pre-build and ready to go and can fly along with the smallest wind.
31 — Critter Cage Bug Catcher
Allow them to explore nature's creatures with a critter cage bug catcher that includes an activity and bug identifying guide. Your kids will be learning and having fun at the same time.
32 — Ride On
Excavator Digger
Take your sandbox to the next level with this cool ride on excavator digger. The crane fully extends so they can dig and dump.
33 — Kids Basketball Hoop
This portable kids basketball hoop is easy to install and assemble and comes with all the needed accessories for a game of ball. It's suitable for ages 3-8.
34 — Ball Pit
We originally purchased this pretty professional grade ball pit for the girls DIY Frozen Birthday party. It's a great outdoor toy for toddlers to keep them entertained and contained.
35 — Wooden Outdoor Playhouse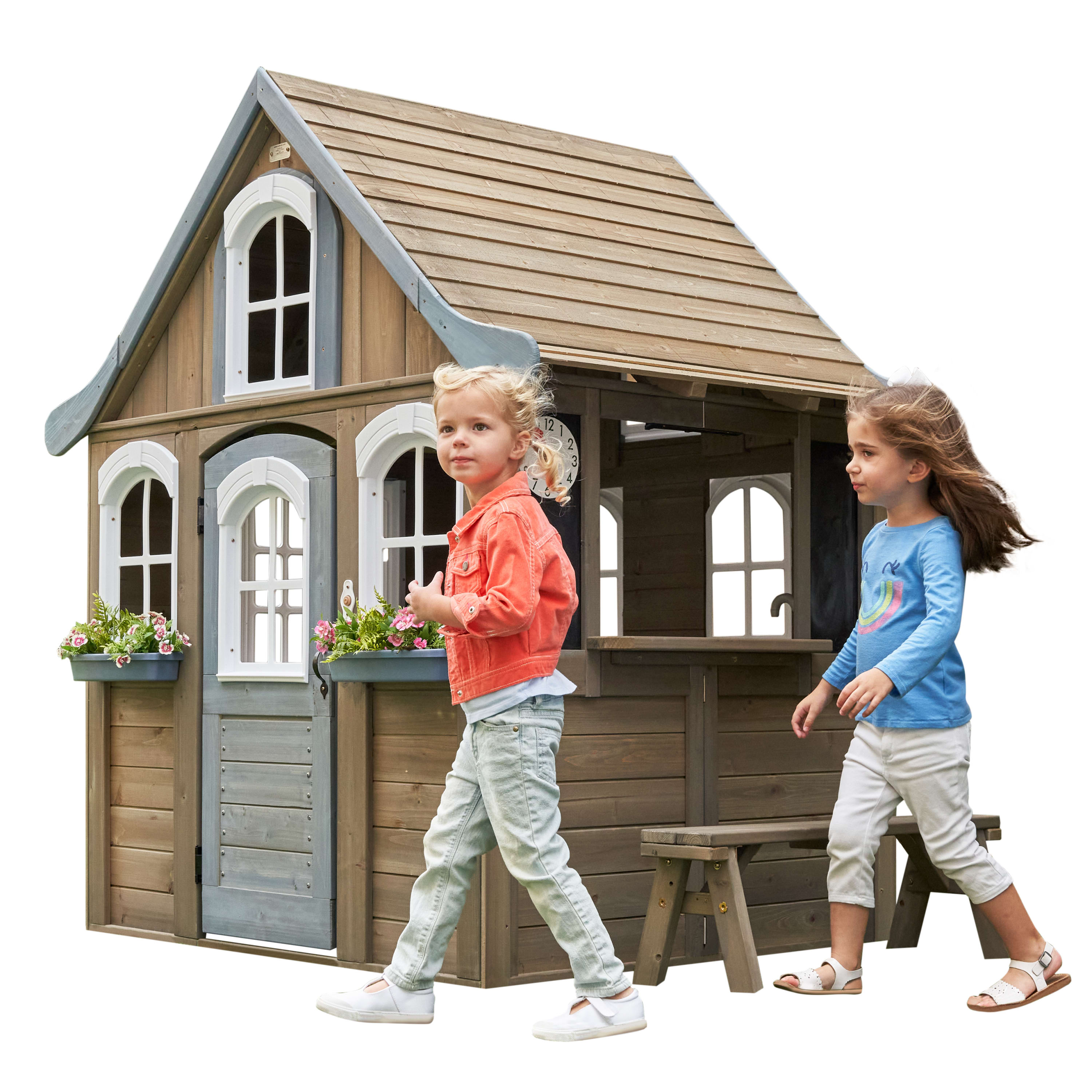 Does this outdoor playhouse look familiar? We personally owned this and turned it into a Christmas cottage for the girls.
The kids love the working doorbell and chalkboard walls. Instead is a play kitchen for pretend cooking and serving through the counter cafe.
36 — Pogo Jumper Stick
Hours of bouncing fun will be had with this foam pogo stick. Each jump makes a squeaky fun sound. Choose from over 17 different color options.
37 — Reusable Water Balloons
Don't like all the wasteful trash that comes with balloon fights? These reusable water balloons are recyclable and self-sealing fill yet break up easily for never-ending environmental friendly playtime.
38 — Binoculars
Spark your child's sense of adventure and exploration with these exciting kid binoculars, providing endless opportunities to discover the world around them through a lens of curiosity and wonder.
39 — Hanging Seat Hammock
This comfortable kid's hanging seat hammock offers a thrilling yet safe hideout spot for children to swing, relax, and enjoy the great outdoors. We love that it could also be hung indoors in the bedroom or the kids' playroom.
40 —
Jungle JumpaRoo
It's a trampoline, bounce house, play set, and jungle gym. It's a Jungle JumpaRoo! This outdoor toy will surely allow your kids to burn some energy. Even though it's rust-resistant and weather resistant and can sit outside in your yard, we love that it's lightweight enough to bring inside.
More Gift Ideas for Kids