Our top picks for the 25 best gifts for siblings to share together (and not fight over).
Looking for gifts for siblings to share? Or just trying to avoid having to purchase multiple individual gifts?
We rounded up a list of the best group gifts that the whole family can enjoy together.
These gifts will have siblings playing peacefully with one another, instead of pestering their parents about whose turn it is or how long someone is hogging an item.
So kids will love this gift ideas. But the parents will even more! Plus, there's something for all ages (for even older siblings).
How to Buy Gifts that are Easy to Share
There are 6 stages of play. Unoccupied play, solitary play, spectator play, parallel play, associate play, and the final stage — cooperative play.
This cooperative play stage occurs around ages 4 and older. At this stage, children start wanting to play and interact with each other while engaging in the same activity.
It's a vital stage because it's not merely just purely play but sets kids up for adulthood when they have to learn to function as a team.
The best gifts for siblings to share are the ones that encourage them to play together. Gifts that invite siblings to work and create together are ideal.
Toys that can only be used one at a time make it hard for kids play together. So gifts with many parts and pieces are perfect so that each kid has a role.
Check out our favorites below. We made sure to pick a range of gender-neutral items for different age groups. And once you found the one, forgo the generic gift box and opt for some creative gift wrapping ideas instead!
Gifts for Siblings
1 — LEGO® Architecture Great Pyramid of Giza
Nothing encourages cooperative play as much as LEGO. This stunning LEGO® Great Pyramid of Giza definitely calls for a team effort and will keep all family members busy.
The details on this Great Pyramid of Giza are WILD. So it obviously deserves a conversation spot on the coffee table.
2 — Walkie Talkie
This indoor and outdoor walkie talkie boasts a long range capacity of 16 miles. The best feature is that it's drop protected (a major perk for kids) and has rechargeable capabilities.
3 — Trampoline
Kids and adults can burn their energy (while exercising without even realizing it) on a fun outdoor trampoline.
4 — Magna Tiles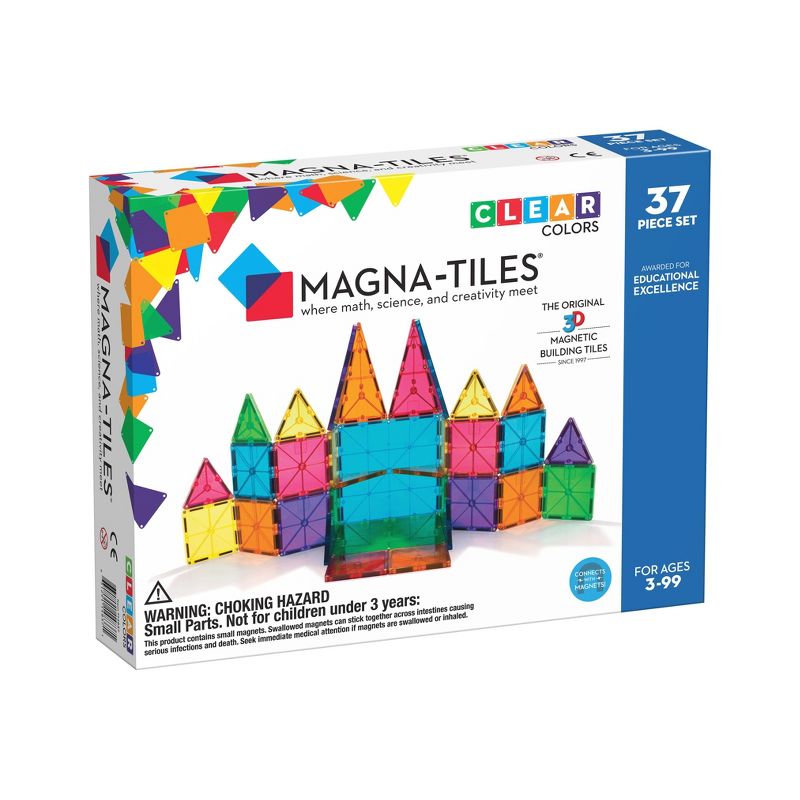 Spend hours together creating different shapes and forms with the popular magnetic Magna-Tiles.
5 — LEGO® Icons Vespa 125
Tell us this doesn't legitimately look like a real mini Vespa?! Just casually the cutest LEGO scooter ever. Vehicle lovers will have fun putting together this LEGO® Icons Vespa 125. We love the little details with the helmet, basket and flower bouquet set.
6 — Round Table Puzzle
The traditional rectangle puzzle doesn't give everyone the best view. However, a round table puzzle allows each person to be able to see both the top and bottom.
7 — Fort Building Kit
Spark their imagination with a fort building kit that can be played with inside or outside. From a castle, tunnels, space ship and more, the possibilities of what can be constructed are endless.
8 — Kinetic Sand
For rainy days, kinetic sand makes for a great gift when they're stuck inside but just wanna play outside. The best part of kinetic sand is that it feels and looks just like sand, but it sticks together. So clean up is a breeze.
9 — Rock Climbing Kit
The hand and foot grips in this rock climbing kit are easy enough for toddlers to climb, but also strong enough to hold teens and adults.
10 — LEGO® Ideas Vincent van Gogh – The Starry Night
A LEGO® Ideas Vincent van Gogh – The Starry Night scene that you can build AND hang to showcase? Yes, please!
11 — Water Table
Gift them with a mini water park right in their backyard with a fun water table that has more than enough accessories to share.
12 — Board Game
Pop some homemade popcorn because there's nothing as classic for game night as Monopoly. It's a 6 player game for not only siblings to play but also their friends.
For younger kids, purchase the Monopoly Junior.
13 — Play Kitchen
A play kitchen encourages imaginative pretend play for language development. This eco-friendly kitchen even features real lights and sounds and kitchen accessories.
It's a present that a big brother and sister can enjoy with their baby sibling too. Plus, play kitchens are something frequently mentioned as sought-after piece when looking for kids' playroom ideas.
14 —
Kids Foldable Teepee Play
Transport them to a world of imagination and adventure with this foldable tepee tent. The tent features 2 pockets inside to put books or toys in, wooden poles, a carry case, twinkle star lights and a pretend camp fire.
15 — LEGO® Icons Bonsai Tree
Nothing says "green thumb" like a weekend project LEGO® Icons Bonsai Tree to put together.
15 — Jumbo Connect Four
All ages will enjoy this Jumbo Connect Four includes a travel carrying case to take along camping, to a picnic or tailgate. It makes for a great yard game for all ages
16 — Arts & Crafts Kit
Budding artists will love this Arts & Crafts Vault that includes over 1,000 supplies of pompoms, google eyes, beads, buttons, feathers and more.
17 — Giant Coloring Poster for Adults and Kids
Siblings can color together on a giant coloring poster.
If you're looking for a holiday gift, the poster makes for a great stocking stuffer for one sibling and then just include markers in the other sibling's.
18 — Do You Really Know Your Family? Game
There's questions to test how well you know each other and challenges to dare one another in this entertaining Do You Really Know Your Family? Game.
19 — Air Dry Clay Gift Set
The wonderful thing about air dry clay is that a kiln or oven isn't required. It's super soft to mold, and all it needs is air to set. Plus, there are so many different air dry clay projects to create.
A free interactive app for the Hey Clay set provides easy step by step tutorials and animations or the siblings can just sculpt their own creations.
20 — Butterfly Growing Kit
Over the course of 5 weeks, watch caterpillars transform with this engaging butterfly growing kit.
21 — Laser Tag
Parenting tip: Any gift that keeps their hands off of each other is a bonus.
No vest is required to play with this action packed laser tag set. They light up and vibrate and can shoot as far as 130 feet.
22 — Marble Run
Unleash their creativity and problem-solving skills with this captivating kid's marble run, where gravity-defying twists, turns, and obstacles inspire endless hours of thrilling marble maze construction and exploration.
23 — Rock Painting
There's 2 paintbrushes enclosed inside this rock painting kit to paint a rock, decorate a rock and hide a rock. There are even template stickers for beginner painters.
24 — Arcade Table
A game room isn't complete until there's a foosball table. Go big or go small with a more compact portable version.
25 — Experience
For siblings who may already have too much stuff, gift them with an experience to share. Send them a movie theatre gift card to watch the latest flick together.
Or gift them a cooking class to take together, a trampoline park pass, a chance to venture around an escape room or even a gift card for admission to the zoo or a museum.
More Gift Guides
Whether you're looking for a Christmas gift, birthday gift or just because gift, check more of our gift guides —