Whether you're looking for a DIY gift idea or just a fun project to keep you busy, these clever air dry clay projects are perfect for you.
If you couldn't tell already, we love air dry clay. It's affordable and easy to work with, which is what we are totally all about.
And the biggest perk of air dry clay projects? It does not require a heat source. No kiln, no toaster oven, nada, so it's the ideal material for all ages to handle!
There are also so many things that you can create with this versatile clay. Plant pots, mobiles, candle holders, and jewelry — the possibilities are endless.
What is Air Dry Clay?
Air dry clay is a popular alternative to traditional clay because it's just as malleable but dries and hardens naturally.
Air dry clay is not to be confused with polymer clay. Both are similar. However, polymer clay needs heat to set, whereas air dry clay sets with air.
Most air dry clay hardens within a day at room temperature.
It's super simple to manipulate into any shape and form, so it's perfect for beginners.
Keep in mind that air dry clay is not waterproof or food safe. Therefore, it's best for home decor or fashion craft projects.
Check out our favorite easy air dry clay projects below that make for great gift ideas or easy weekend activities!
Things to Make with Air Dry Clay
Planters, Bowls, and Containers
1 — Textured Succulent Planters
House your plants in these DIY Mini Succulent Planters. All you need is a pen to achieve this whimsical pattern.
2 — Painted Mosaic Pinch Pots
House your most precious treasures in these whimsical air dry clay pinch pots. The beauty of these trinket holders are that they aren't meant to look or be shaped perfect. So this makes for an ideal craft for kids.
3 — Pineapple Planter
Plant enthusiasts will love this DIY Succulent Pineapple Planter.
If you're throwing a tropical-themed party, this air dry clay project makes for a great party favor. You can also style it with a DIY Floral Pineapple Centerpiece.
4 — Clay Salt Spoons
What makes this air dry clay project so easy is that you're using existing spoons as a mold for your clay salt spoons. Then, paint the measurement on the handle to label each one.
5 — Hanging Clay Planters
Gift your plant-loving friends with a DIY Hanging Clay Planter.
6 — Clay and Rope Pot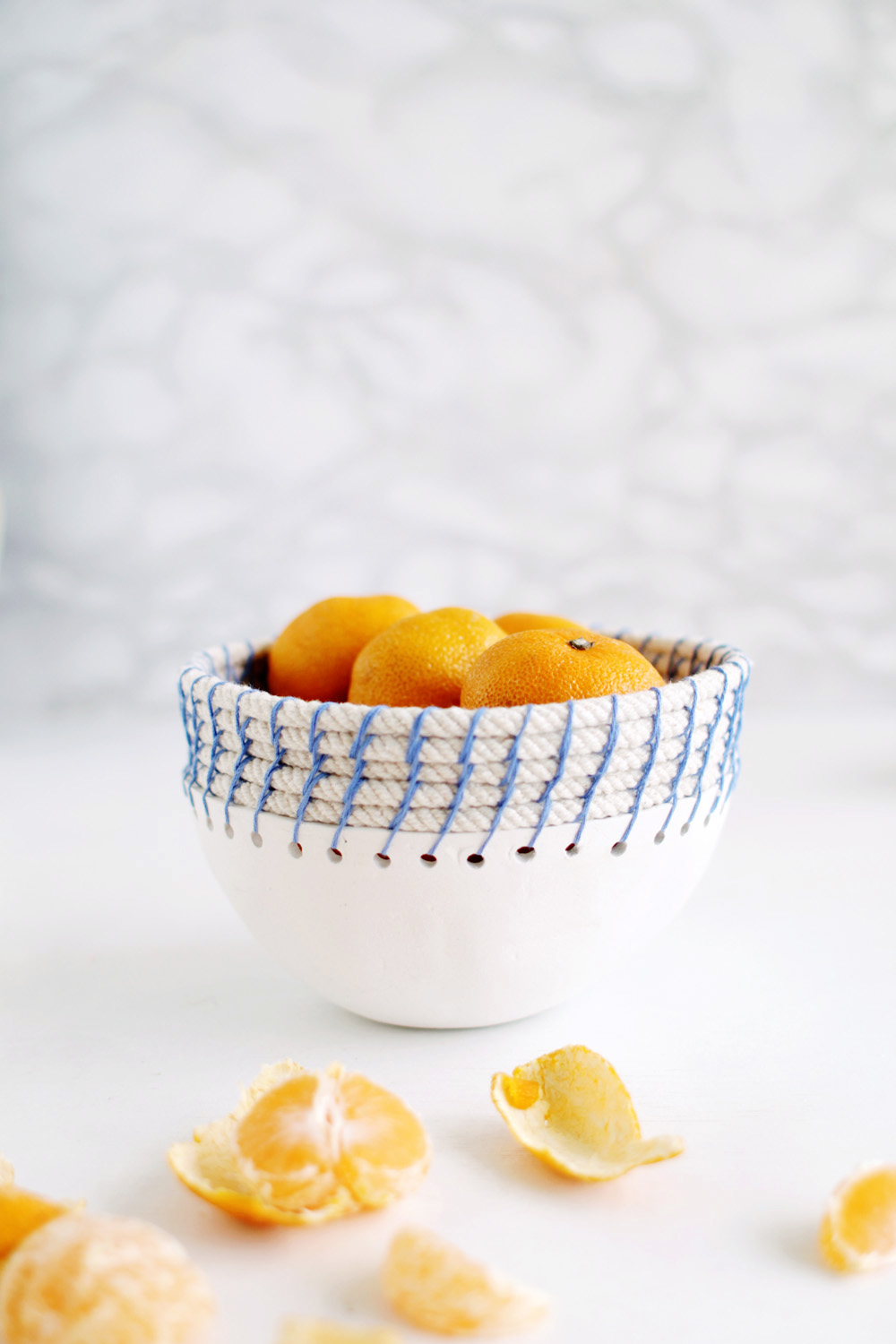 We love how this DIY Clay and Rope Pot features different mediums and textiles of clay, rope, and thread.
7 — Pinch Pots
Place an air plant or small jewelry in these cute DIY Pinch Pots. You can easily make them in 10 minutes, and they're even colored with just permanent markers.
8 — Stamped Bowl
This DIY Stamped Bowl is a project for kids and adults. You simply just need a stamp pad and ink to create a pattern throughout your air dry clay.
9 — Clay Leaf Bowls
While on a nature walk, gather leaves of your choice to use them to make elegant Clay Leaf Bowls.
10 — DIY Cat Trinket Dish
Keep all your pretty little things on this DIY Cat Trinket Dish.
11 — Lacy Clay Containers
Have a lace pattern that you love? This DIY Lacy Clay Containers tutorial shows you how easily you can imprint a lace design onto air dry clay.
12 — DIY Clay Decanter
Your bar cart will never look prettier with a DIY Clay Decanter. All you need is an empty liquor bottle, air dry clay, cutters, and acrylic paint to recreate this beauty.
Things to Make with Air Dry Clay: Decor and Holders
13 — Clay Rainbow Decoration
There are many types of clay. There's even terracotta air hardening clay that mimics the traditional terracotta clay.
These Terracotta Clay Rainbow were originally made as DIY ornaments for the Christmas tree, but they also make for cute custom gift tags.
And can you guess how they were colored? With nail polish!
14 — Clay Mushroom Decoration
These Clay Mushrooms are another great DIY Christmas decoration idea. And did you know that mushrooms are considered a symbol of good luck?
15 — Yarn & Clay Wall Hanging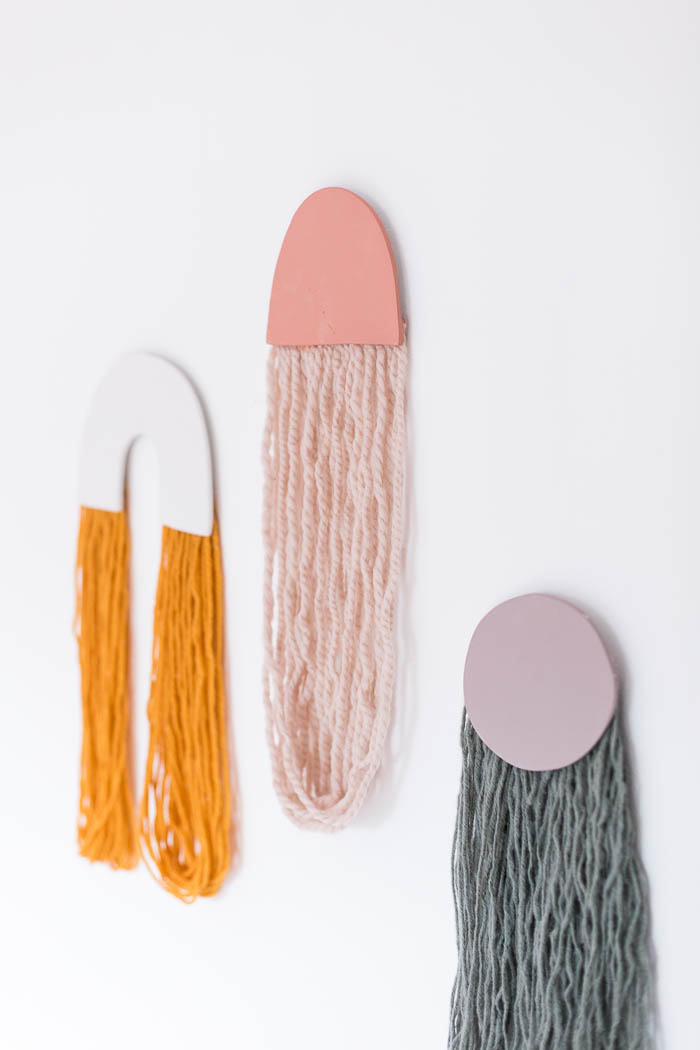 There are so many fun shapes that you can roll out and create to make a DIY Yarn Art Wall Hanging.
Finish the fringe theme in your home with a DIY Fringed Mirror Wall Hang and DIY Fringe Throw Pillow.
16 — DIY Brushstroke Coasters
Keep your tabletop safe with these beautiful DIY Brushstroke Coasters. Make a set, tie a bow and gift them as a unique housewarming gift idea.
17 — Rainbow Photo Holder
Display those special memories in this whimsical DIY Clay Rainbow Photo Holder. Though this project utilizes oven-bake clay, you can easily turn this into an air dry clay craft. Just skip the oven.
18 — Speckled Clay Arch Photo/Card Holder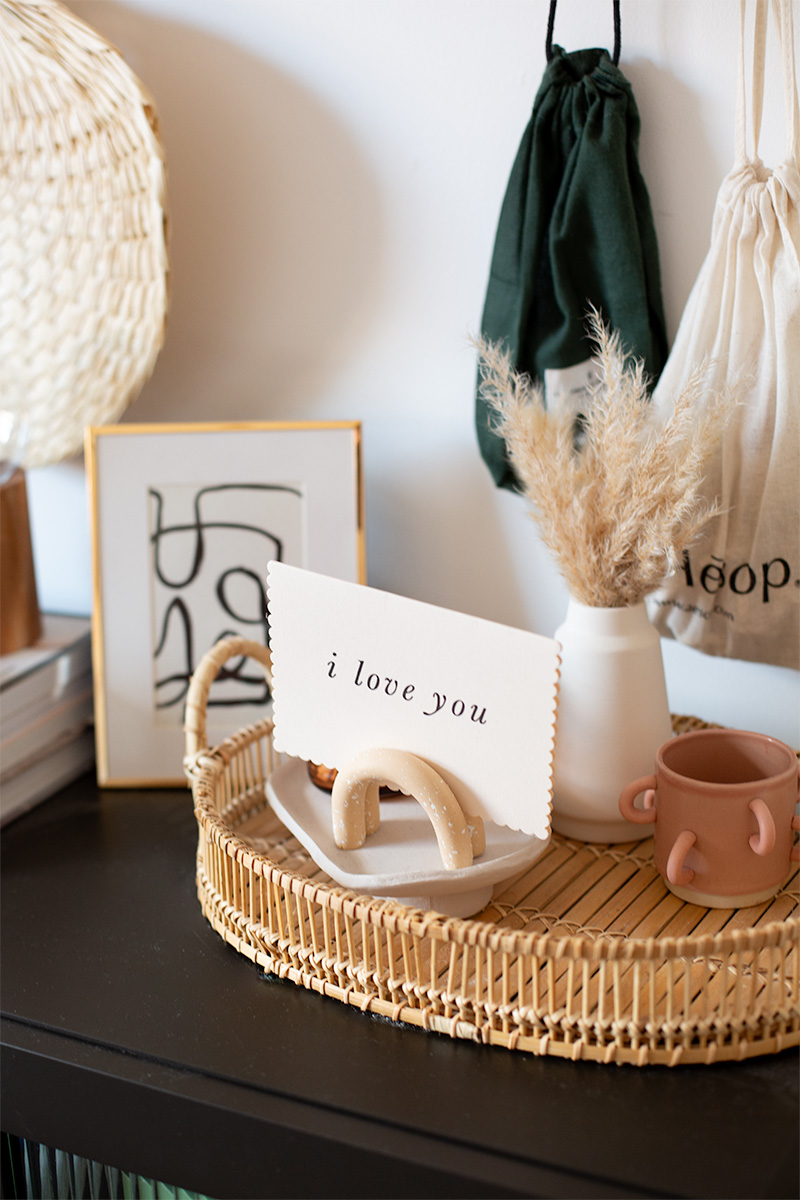 This DIY Speckled Clay Arch functions as a photo holder, card holder, or art decor.
This speckled piece was actually a project constructed with leftover air clay. We love that it could also serve as a table place card holder or even a business card holder.
19 — Cactus Ring Holder
You don't need crazy sculpting skills to make a DIY Cactus Ring Holder. This prickly air dry clay idea cleverly holds your rings.
20 — DIY Napkin Rings
This DIY Napkin Rings tutorial is another project that uses leaves to achieve its look.
21 — Moon Phase Wall Mobile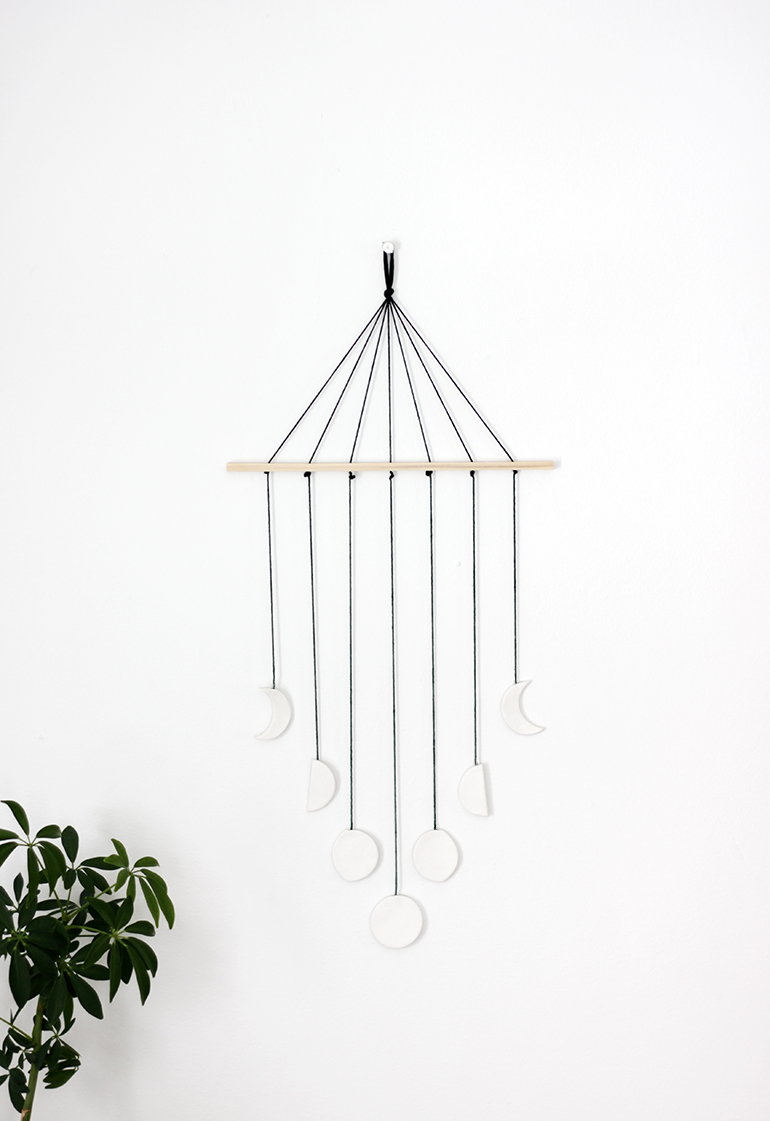 Hang this DIY Moon Phase Wall Mobile on the wall or from the ceiling.
22 — Clay Candle Holders
The base of these DIY Clay Candle Holders is constructed from air dry clay, while copper pipes hold the candle in place.
Who would've thought that you could turn clay into a DIY candle holder idea?
23 — Clay Pendant Lamp
Lighting is typically an expensive furniture and fixture purchase. But this DIY Clay Pendant Lamp doesn't even come close to breaking the bank.
To achieve its unique shape, an orange mini cone is used.
Things to Make with Air Dry Clay: Accessories and Keychains
24 — Faux Stone Bracelet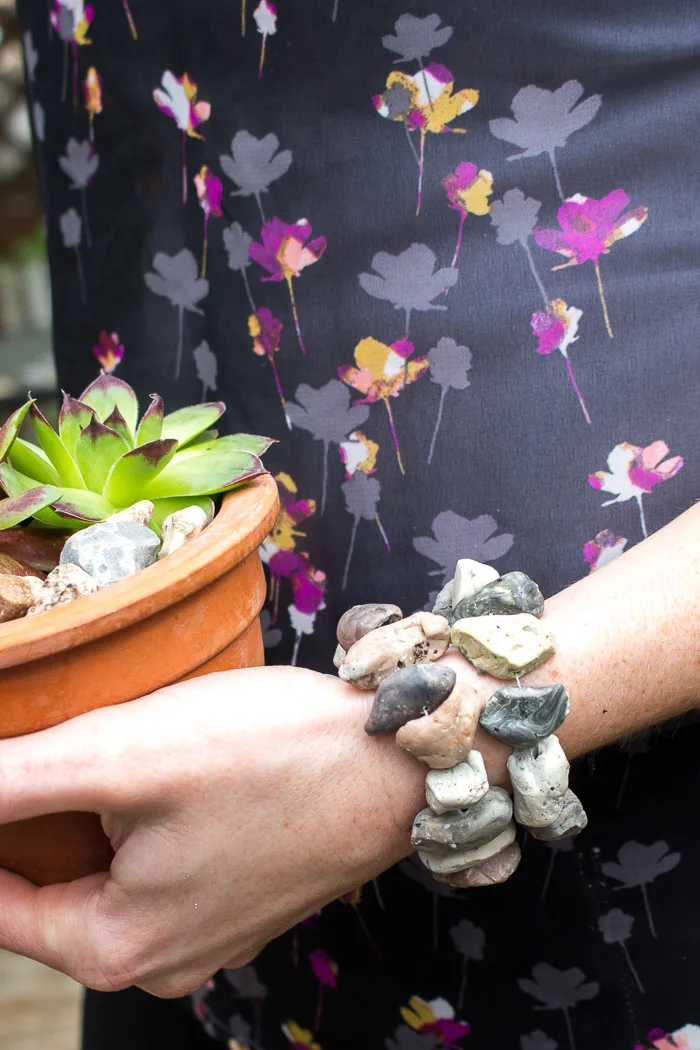 You may be wondering why this DIY Beach Pebble Bracelet doesn't just use stones. Real stones are actually difficult to drill.
But you can easily use air dry clay to copy this look for a boho-inspired jewelry piece.
25 — Essential Oil Necklace and Keychain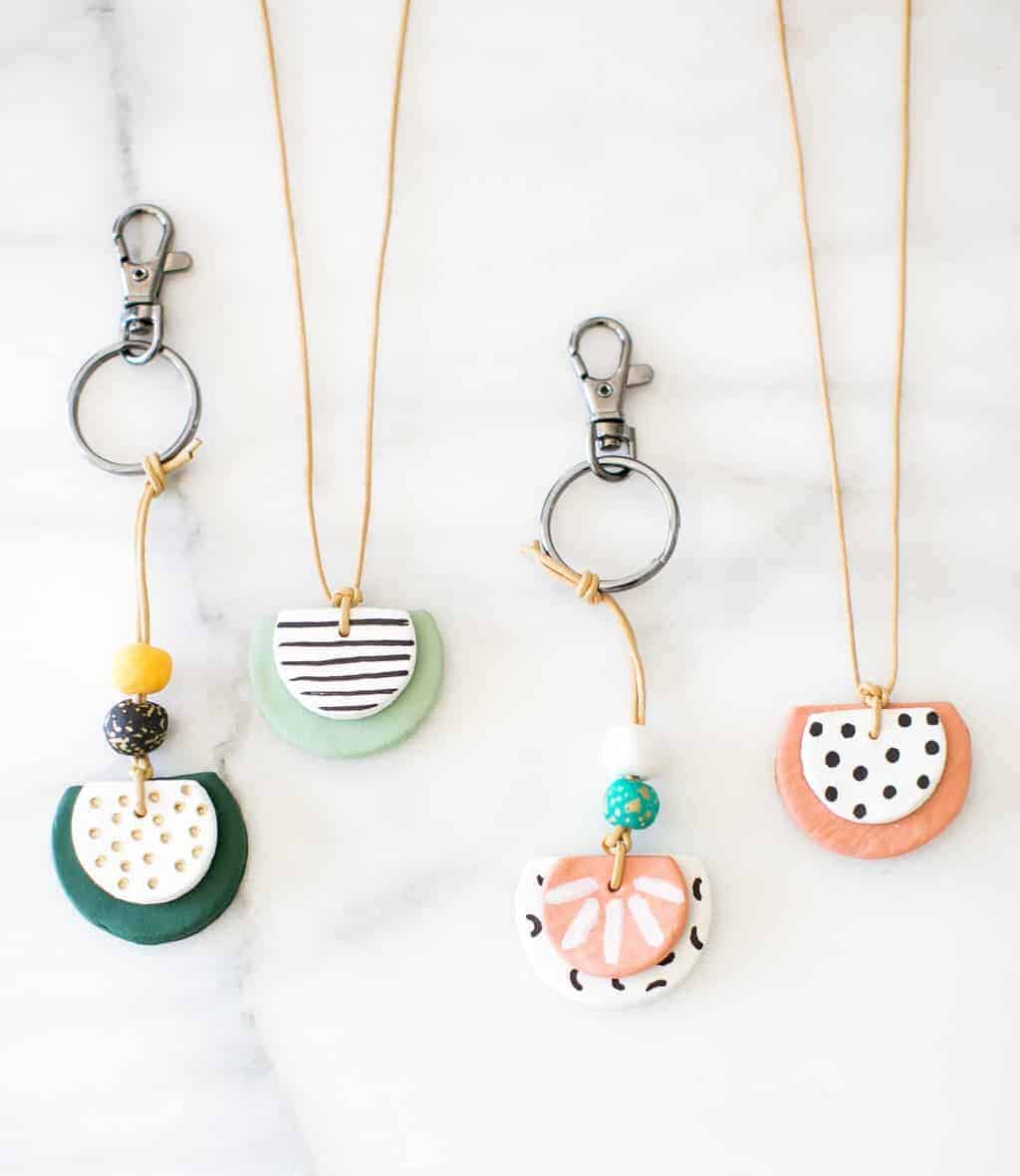 Besides it smelling so good, there are many health benefits with essential oils. So this DIY Essential Oil Necklace and Keychain is not only an accessory but also works as a diffuser to wear and carry around.
And if you have any leftover oils after this project, try your hand at a DIY essential oil candle or homemade reed diffuser.
26 — Feather Earrings
Doll up your ears with a pair of DIY Feather Earrings. This easy clay idea for adults (and older kids) is surprisingly lightweight for your ears.
27 — Terracotta Earrings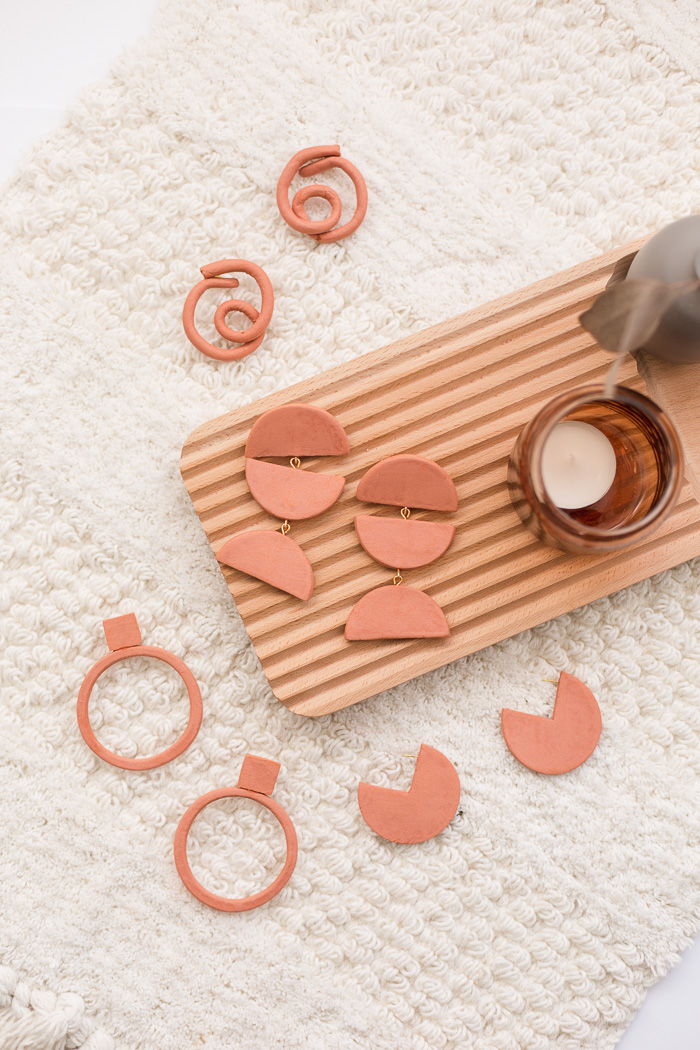 From coiled studs, hoops, statement earrings, and long dangles, this DIY Terracotta Earrings tutorial shows you four different ways to make clay earrings depending on your style.
28 — Geometric Clay Earrings
Pick out any shape to make your own custom DIY Geometric Clay Earrings. After this, you'll never want to buy store-bought jewelry again when it's so easy to make at home.
More Easy DIYs
DIY Polymer Clay Projects