Looking for the perfect bow holder? Here are 11 pretty and creative bow holder DIY ideas that will help keep your bows organized.
If you're sick of bows sliding all around the place, try out one of these DIY ideas for bow holders! We gathered 11 of our favorite bow holder DIYs for you to choose from. From shelves to macrame cords and even a hot air balloon, we have the perfect bow organizer for you.
Matching a bow to the outfit of the day should not be a hassle. Organizing your little ones' bows will allow your mornings to go smoother. So say goodbye to messy hair drawers.
Pick one of these easy DIYs to create and store your little one's hair accessories. They make for functional yet pretty decor ideas for little girls' bedrooms and even for the bathroom or entryway. You can even customize many of these to match your style!
11 Inspiring Bow Holder DIY Ideas
1 — Simple Hair Bow Holder
No more digging in the bathroom drawers. In six easy steps, you can display all your little one's hair bows and clips on this Simple Hair Bow Holder. It will make those accessories so much easier to find.
2 — Wreath Hair Bow Organizer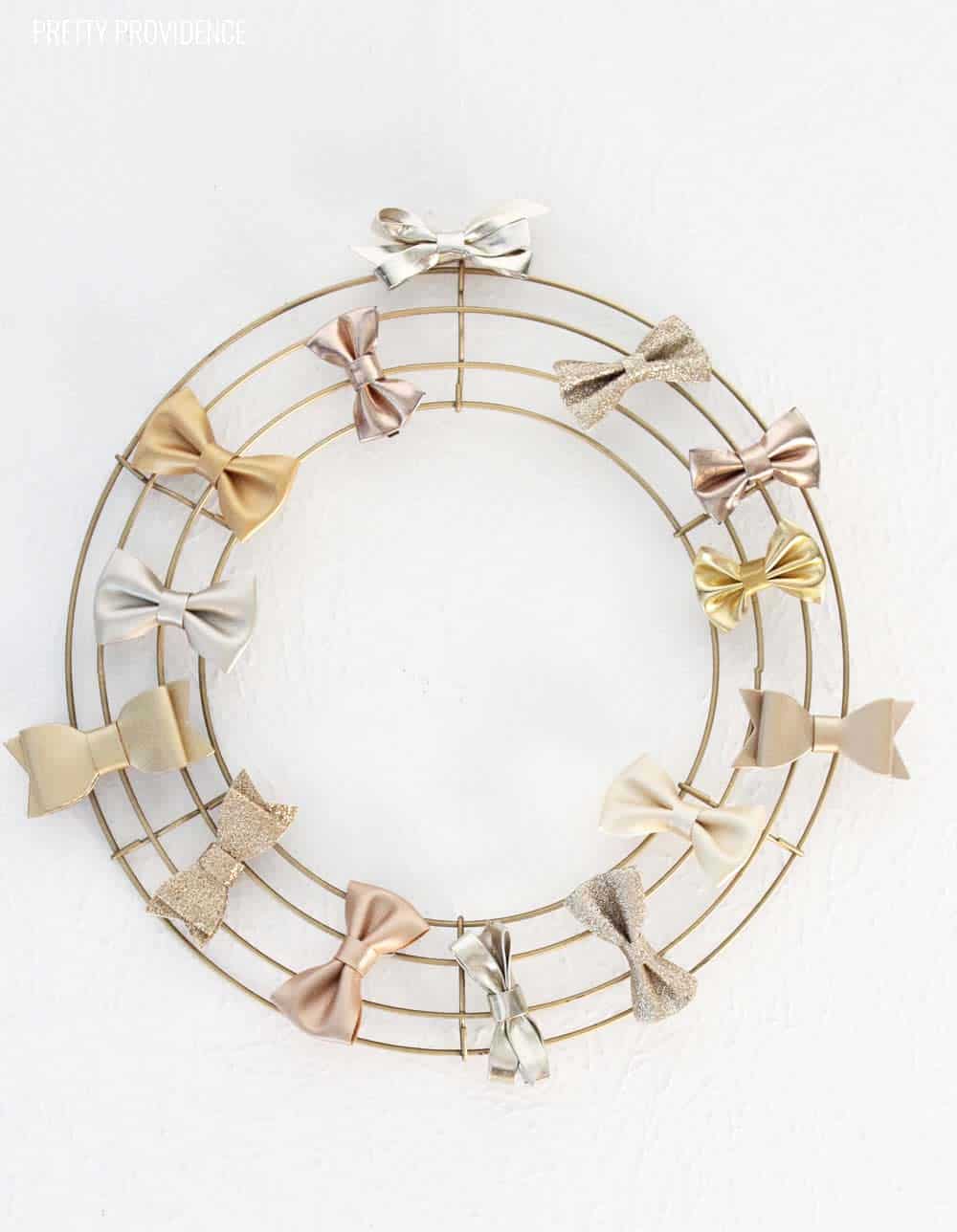 Repurpose your old wreath forms with only a can of spray paint. Clip all your favorite bows on it and simply hang it for a Wreath Hair Bow Organizer. It is wall decor and storage in one! (You can actually use our holiday DIY Geometric Wreath to make this DIY hair bow holder idea.)
3 — DIY Headband Holder
You know we always love a good Ikea hack. So grab a small shelf and some hooks, and you have yourself a DIY Headband Holder. Even add some ribbon to store your go-to bows and clips.
4 — DIY Macrame Bow Organizer
Whether it is for dog bows or baby bows, this DIY Macrame Bow Organizer is the perfect way to keep all your accessories in the same place!
5 — Adorable DIY Hair Bow Holder
In only five minutes, you can make the most adorable DIY Hair Bow Holder. All you need is some ribbon and a stapler!
6 — Hot Air Balloon Bow Holder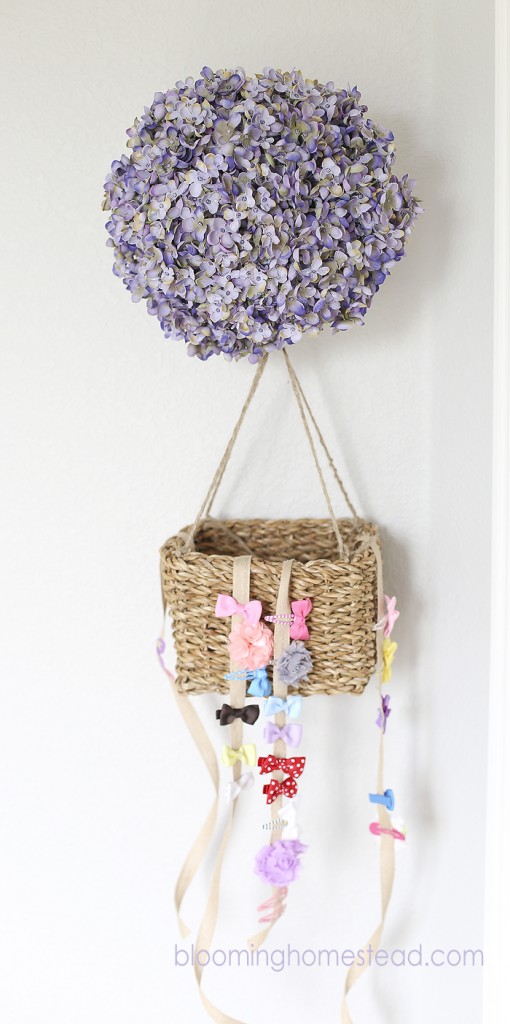 This Hot Air Balloon Bow Holder is a unique alternative to a classic bow holder. It even doubles as fun decor for your girl's room.
7 — Hair Bow Hanger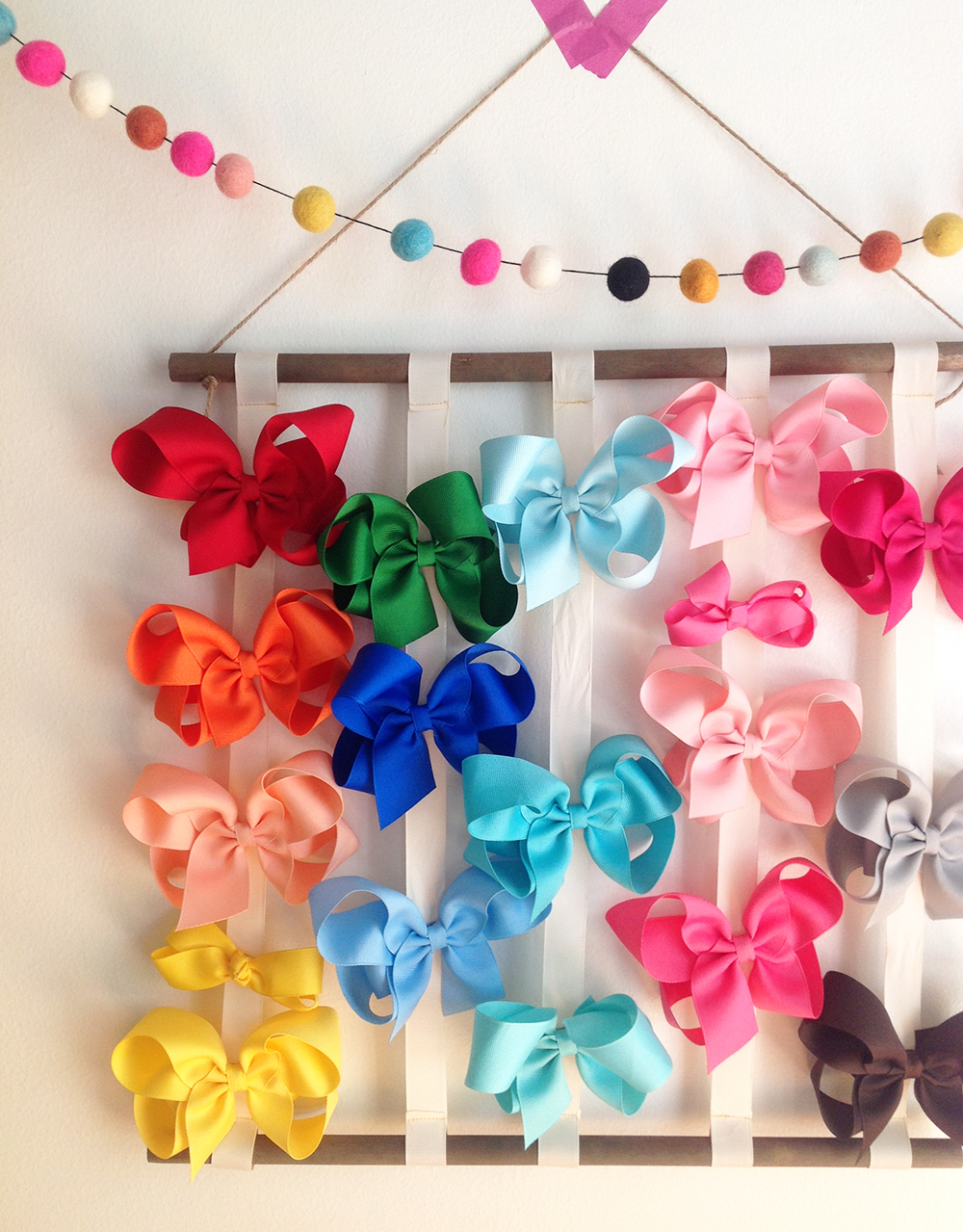 This DIY Bow Hanger will be easy on your wallet and is very easy to make. You could even give it as a shower gift for a bestie.
8 — Chicken Wire Bow Holder
Grab an old picture frame and store your favorite bows or even jewelry on this Chicken Wire Bow Holder. You'll be surprised by how many amazing things can be done with chicken wire. We even transformed one into this one-of-a-kind DIY Paper Wall Art.
9 — Hair Accessory Holder
Transform a few curtain rods into a simple low profile DIY Hair Accessory Holder for your little one's bows and headbands.
10 — Headband Bow Storage
We all know how many headband bows babies go through. Keep them all organized with this easy hook DIY Headband Bow Storage.
11 — Rainbow Unicorn Bow Holder
This Rainbow Unicorn Bow Holder will surely be a hit because what little girl doesn't love rainbows and unicorns? You can cut this by hand, but a Circuit easily makes this in no time.
If you don't own this cutting machine and love DIYs, then we highly recommend investing in one. You can make so many things like DIY Wooden Art, Faux Leather Placemats, DIY Coasters, and more.
More Ways to Stay Organized
If you are looking for more organizational ideas, check these out —