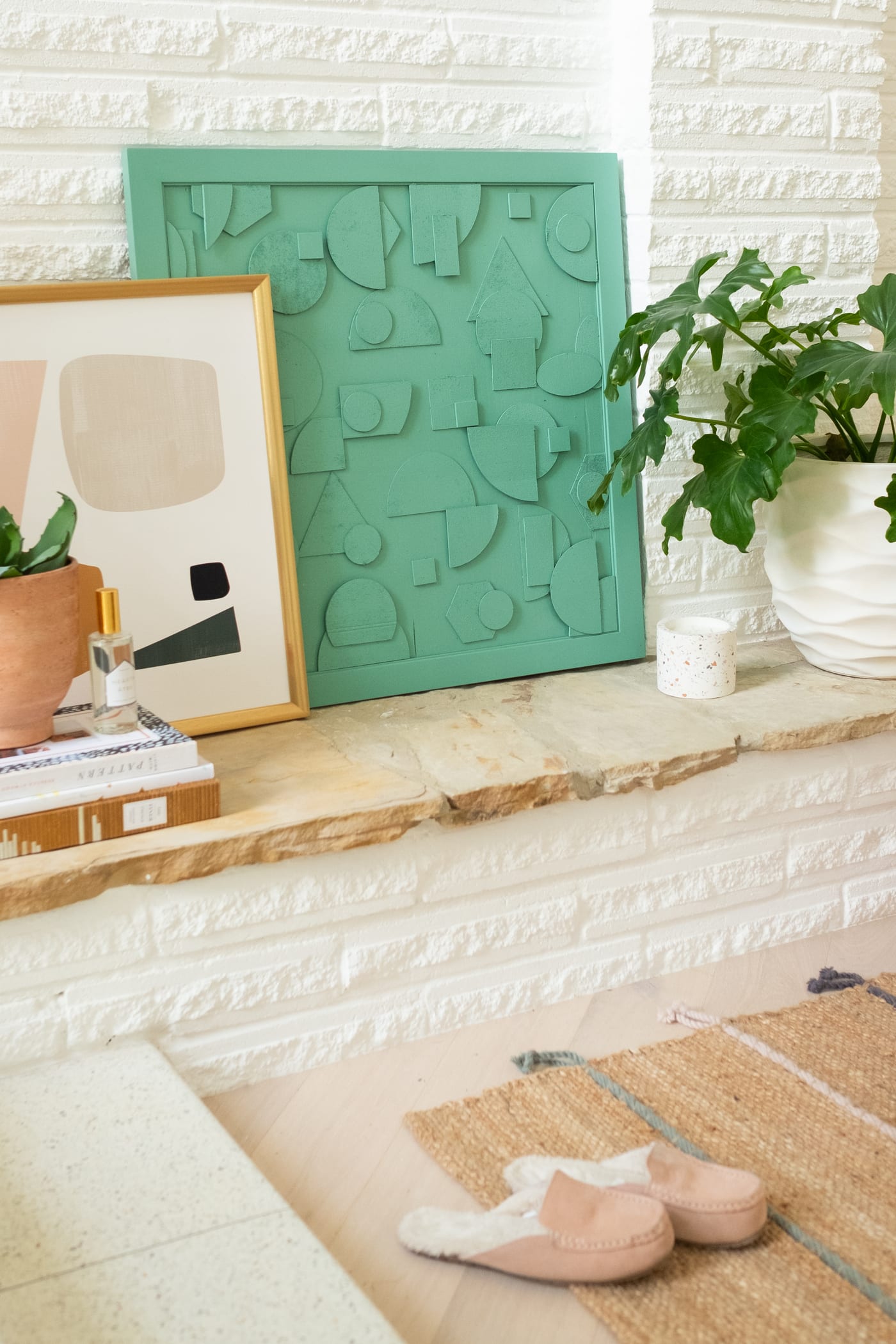 I am OH so excited to be getting my DIY feet wet after the craziness of our recent move! Naturally, I'm focusing on getting the house ready, so this DIY wooden artwork has the perfect new home. Plus, I'm sharing how to cut wood into shapes easily because no one needs a 36-hour long artwork project after moving!
You only need a few simple materials to make this home decor DIY, and one of them happens to be my favorite crafting tool. That's right folks, I dusted off my old (just kidding, it's brand new because they came out with a mint green version, so duh) Cricut Maker. This baby is a crafters DREAM!!!
I have a few more DIY ideas up my sleeve for this guy in just a few weeks, but more on that later…

DIY WOODEN ARTWORK | HOW TO CUT WOOD INTO SHAPES EASILY
I originally came up with this idea after stumbling across this artwork. The problem was that it wasn't the size that I needed and it was also VERY pricey.
All of the shapes were pretty simple and easy to find pre-uploaded in Cricut Design Space, so all I had to do was create the framework for mounting the artwork and cutting out the shapes themselves with the Cricut Maker.
There are two types of wood that the Cricut Maker can cut: Bass and balsa wood. Both are relatively soft woods so they can glide through the machine easily with intricate cuts using the knife blade even though they're plenty thick enough for substantial projects.
Cricut Maker
Cricut knife blade
Balsa wood sheets
Wooden picture frame 24×24 (or size of your choice)
Piece of scrap wood to fit your frame (or you can use the chipboard backing from the picture frame)
Glue gun
Spray paint in the color of your choice
How To Cut Wood Easily with the Cricut Maker
1 — Connect your computer to your Cricut Maker and change the blade if necessary by unlatching side B cutter and replace it with the knife blade.
2 — Select which shapes you want to cut from the Design Space options. We used circles, rectangles, triangles, squares, half circles, hexagons, and ovals. (more tips for shapes below in the tips section!). After you have all desired shapes click the "make it" tab in top right corner.
3 — You can follow a step by step guide for cutting shapes from Design Space right here. Our pro-tip: Reinforcing the wood with painter's tape onto the Cricut mat is helpful. If your wood pieces are smaller than the mat you can move the shapes around to fit on your remaining material.
4 — When it comes to cutting wood on your Cricut, its really important to make sure have the right materials and depth of cut selected. In this case, we used all balsa wood since we were able to buy it in bulk at the craft store so we selected balsa wood for cutting.
5 — Tape down your wood securely to the mat and make sure your shapes on the design board line up with the size of your material selected in Design Space. You can now load your mat into the machine by lining it up and pressing the flashing double-sided arrow (if your mat is misaligned press the unload/load button and try again).
6 — You may now press the flashing Cricut logo button on your machine and your wood cut will begin, once complete unload the mat and separate your shapes from the wood sheet.
7 — Repeat this process until you have your desired amount of shape variations for your final wooden artwork.
8 — For creating the wooden canvas that your shapes will be applied to, you can either use a simple wooden frame with the chipboard backing of the frame glued in place or you can glue a piece of scrap wood to the back of a wooden frame for a heftier finished product.
9 — You can now lay them out on your board and rearrange them to your liking. To give your artwork more dimension, you can glue additional wooden squares behind some of your shapes to give them different heights.
10 — Once you have your shapes laid out on your wooden canvas, hot glue them into place and let dry. and
11 — Now spray paint the final glued product with the color of your choice and let dry.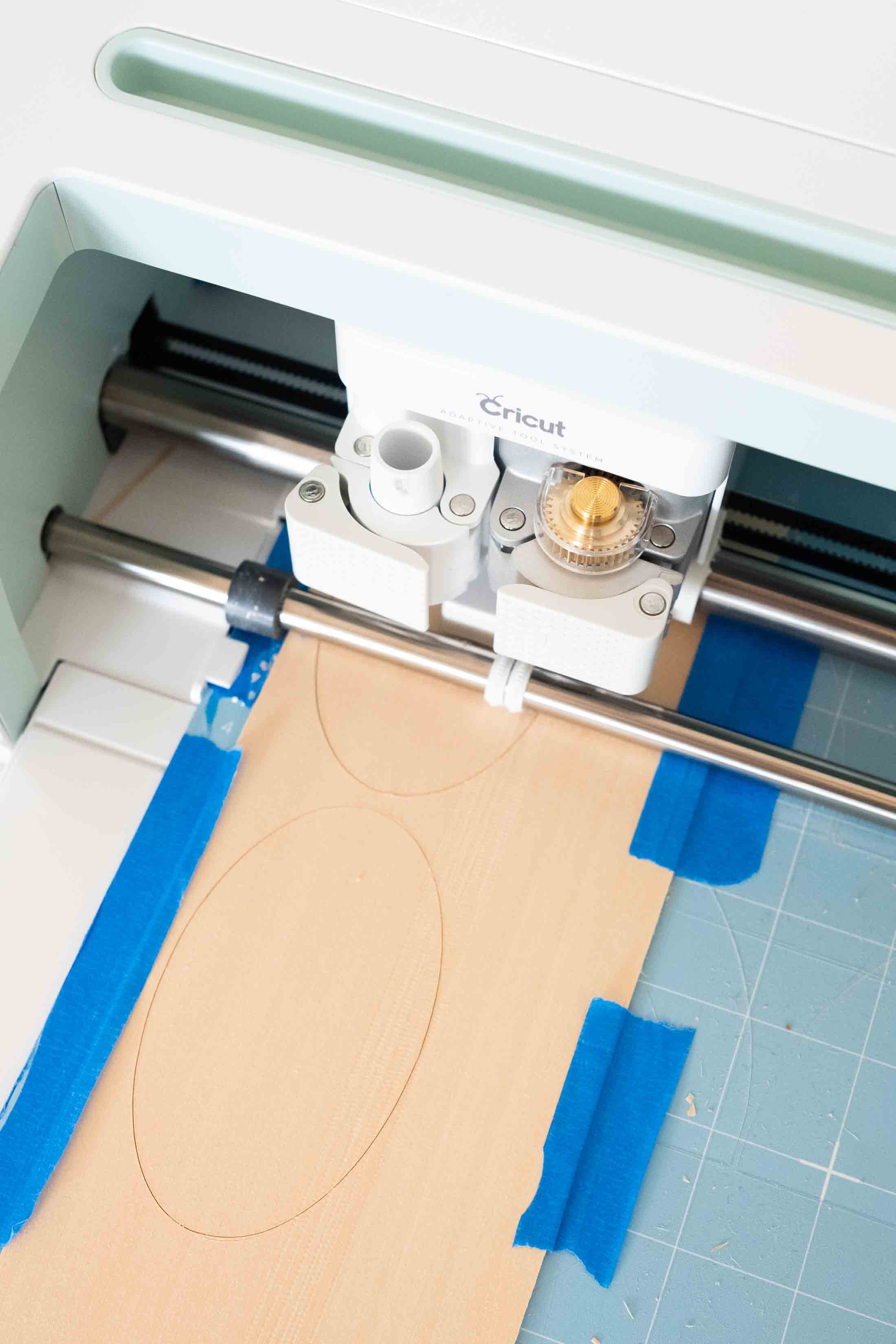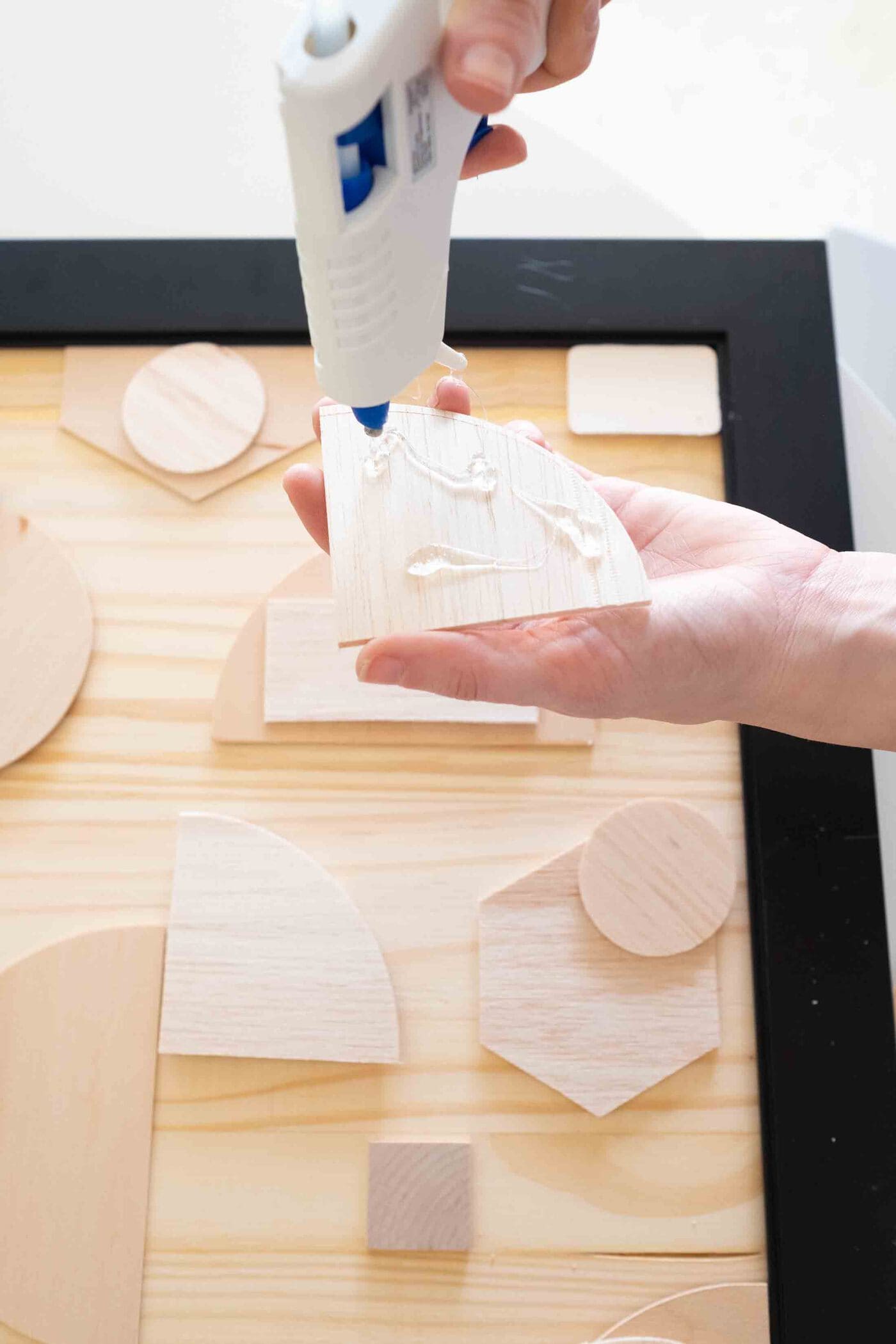 You're now ready to display your custom DIY wooden artwork!
I'm really loving all things jade green lately, so I chose to spray paint the whole project a monochrome color of green. That said, you could easily paint certain shapes different colors for a colorful color block version of this DIY, too!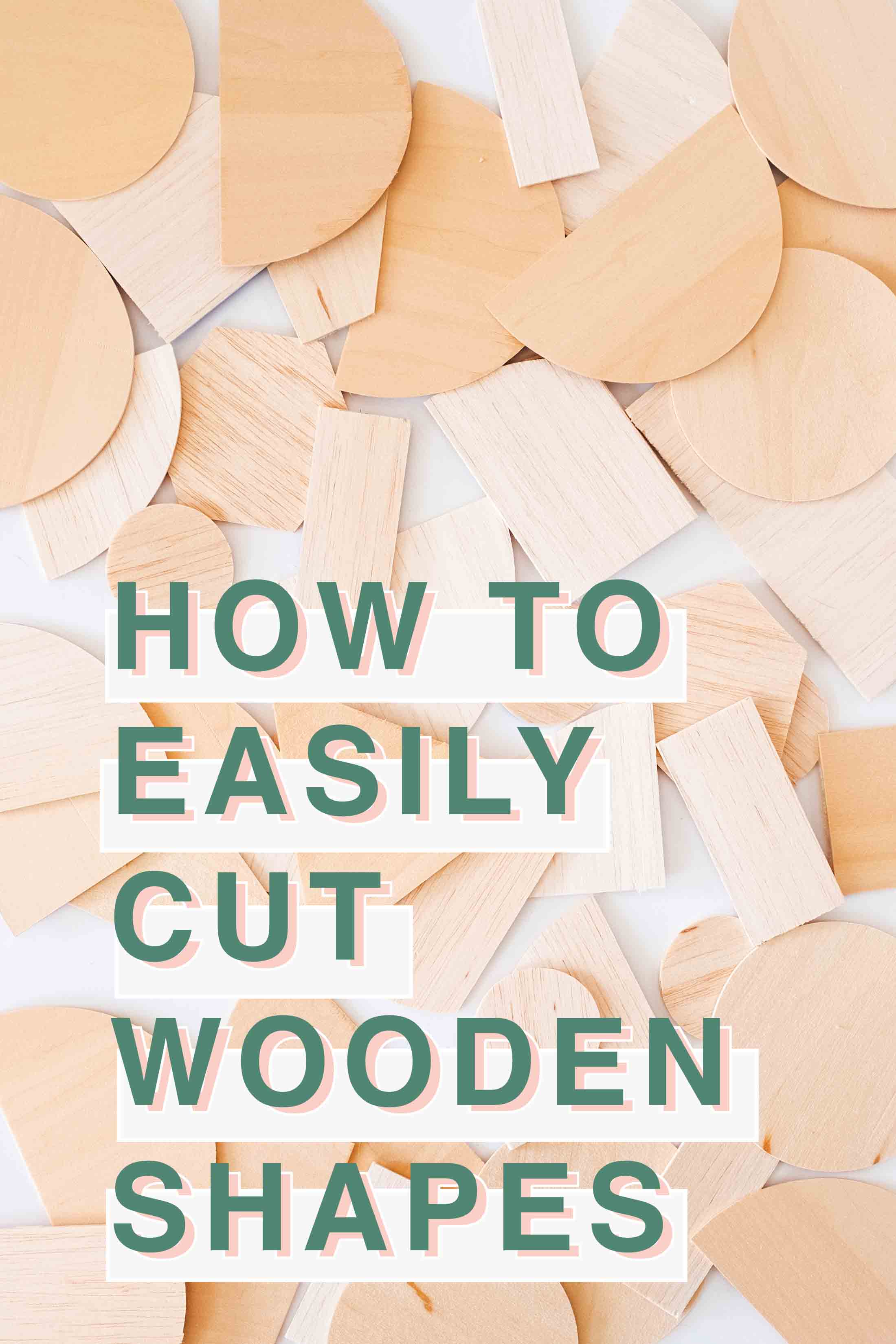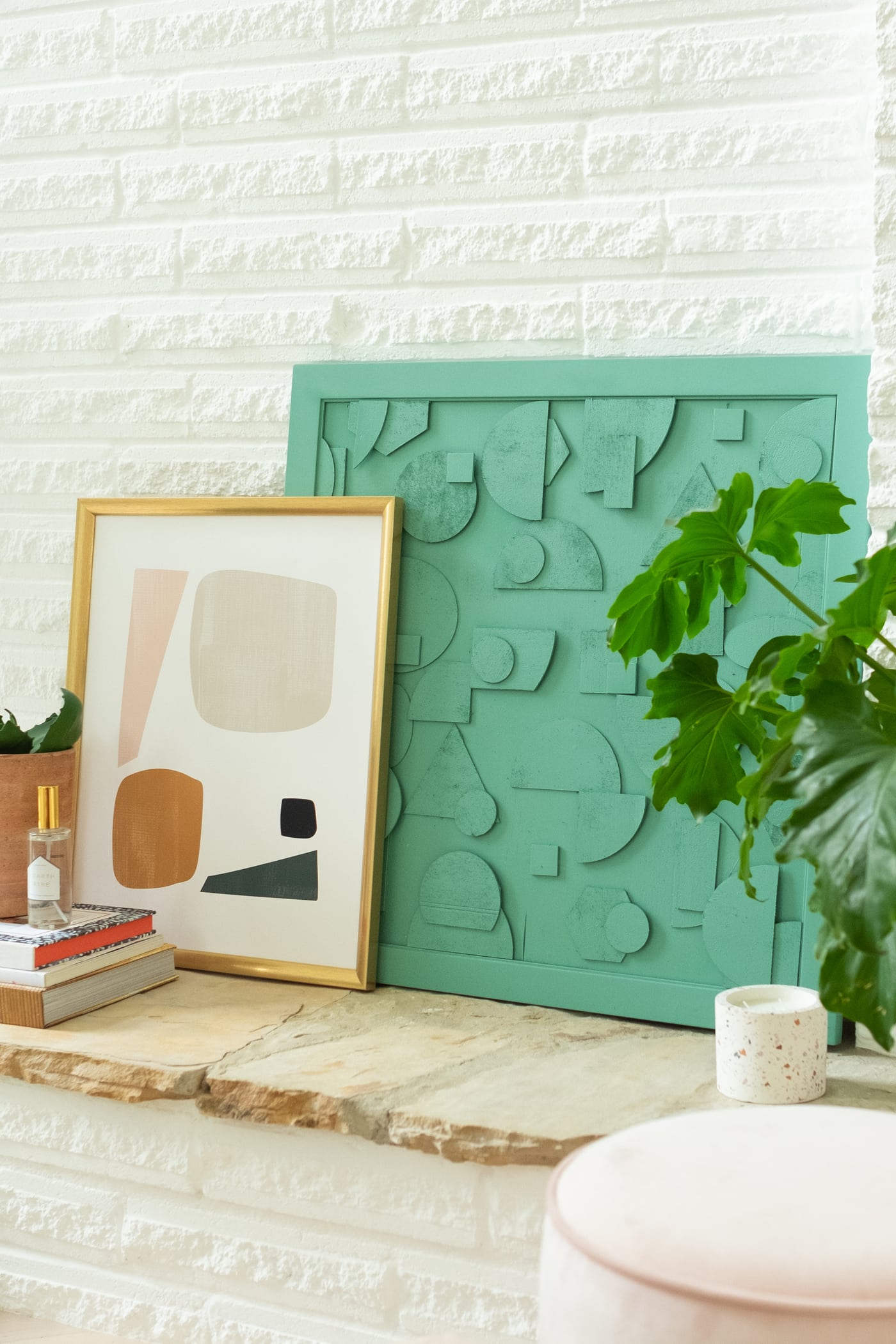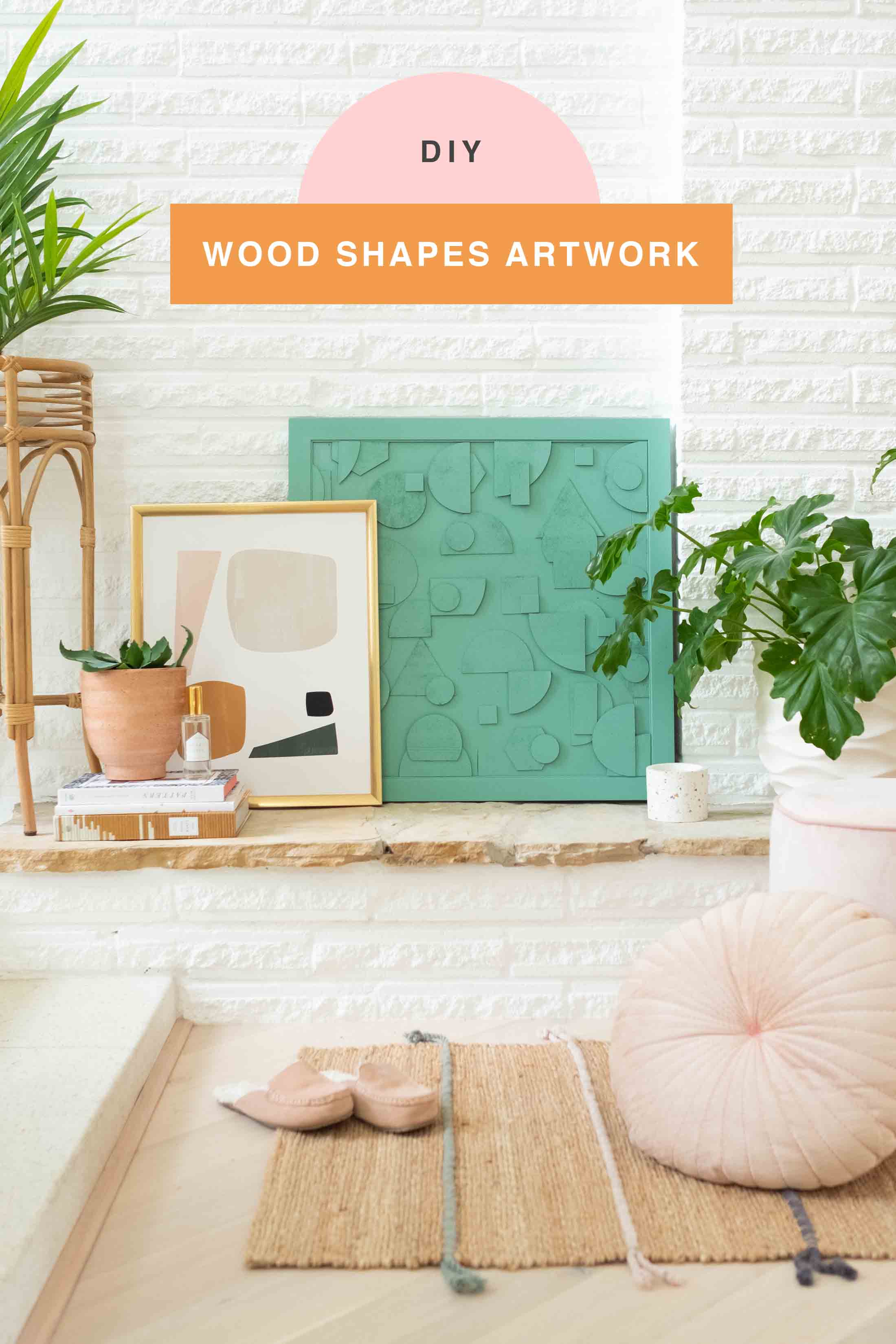 TIPS FOR HOW TO CUT WOOD SHAPES EASILY
If you would like half circles or rectangles overlap shapes, highlight the entire shape in Design Space and click the "slice" tab, then separate all the remaining shapes and delete the unwanted pieces left over.
Be sure to tape your bass or balsa wood sheets to the cutting mat to make sure they stay in place.
To give your artwork more dimension, you can glue additional wooden squares behind some of your shapes to give them different heights.
The Cricut machine is programmed to go over the shape a certain number of times until your material is thoroughly cut. We found that the programmed number of cuts for basswood and balsa wood were too high and we often stopped it early. Instead of letting it run the full length, we watched closely and when the shapes seemed to move or be pushed by the blade, we pressed the paused button and then unloaded the mat. If it asks you if you would like to cancel cut, you can click "yes" and your project will still be there.
If your material loosens from the tape and starts to move when the blade is cutting, immediately stop the cut and cancel it, we do not recommend trying to redo the cut on the same wood sheet, simply get a new sheet and tape it a little firmer this time.
This post is sponsored by Cricut. Sugar & Cloth has chosen to donate 5% of all sponsored campaigns to charity, which you can read more about right here.