DIY Canvas Print Wall Art — Customize your walls with your own photos using printable canvas paper for this DIY canvas print wall art tutorial for spring!
If you're like me and you're making it a New Year's goal to finally print out some of those pictures you've been hoarding on your phone for the past year, then this DIY Canvas Print Wall Art has your name written all over it.
I, Erin recently discovered an amazing little thing called printable canvas.
It allows you to print photos onto textured canvas using your home printer and stretch them onto wood frames for gallery-wrapped-style wall art.
Pretty cool, huh? Read on for the how-to on turning those iPhone snaps into canvas art!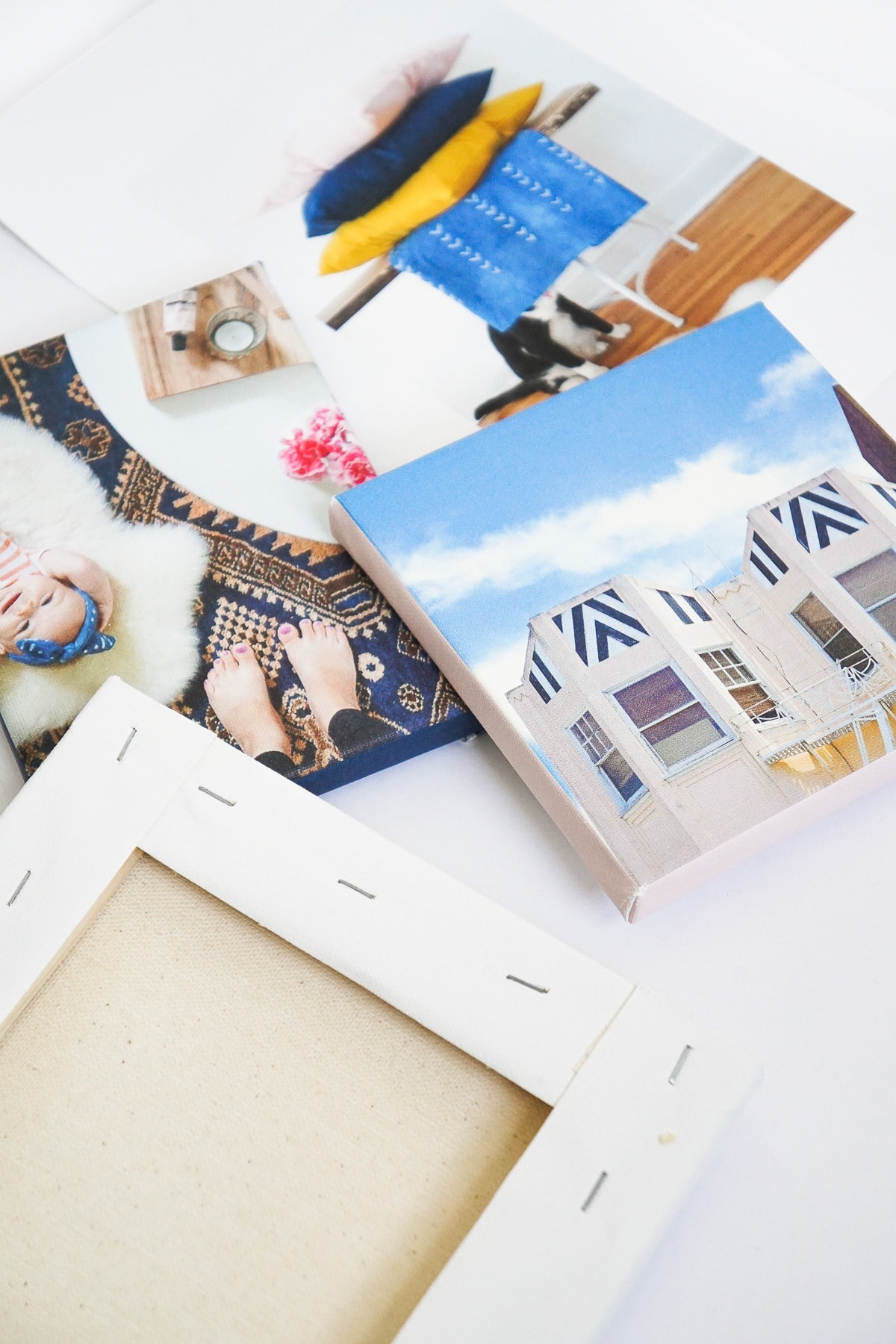 Materials Needed To Make A DIY Canvas Print Wall Art
Mini Art Canvases — Size 5"x 7" and 5"x 5" / Available at any craft or art store.

Powerpoint

Inkjet printer

Scissors

Pliers
Notes: For this project, I'm working with 5"x 7" and 5"x 5" canvas frames. The sizing was limited by my printer which prints a maximum size of 8.5"x 11".
If your printer can handle larger formats, consider using 11"x 17" printable canvas for additional size options.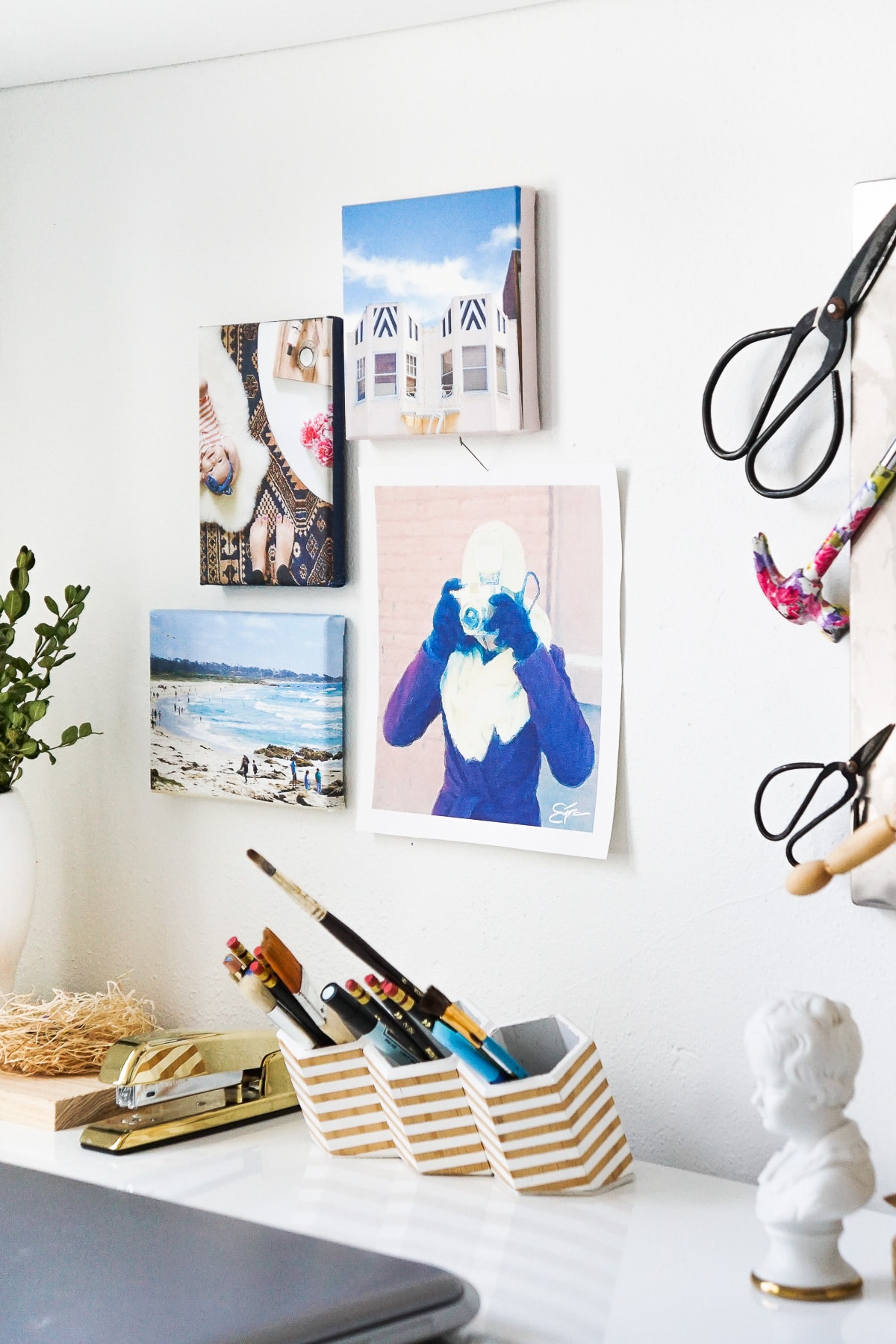 How To Make A DIY Canvas Print Wall Art
1 — Open up a blank document in Powerpoint and insert your picture or artwork. Center the photo on the slide.
(I'm using Powerpoint, as it's a program many may be familiar with, but you can also use Adobe Illustrator or any layout editing software as well.)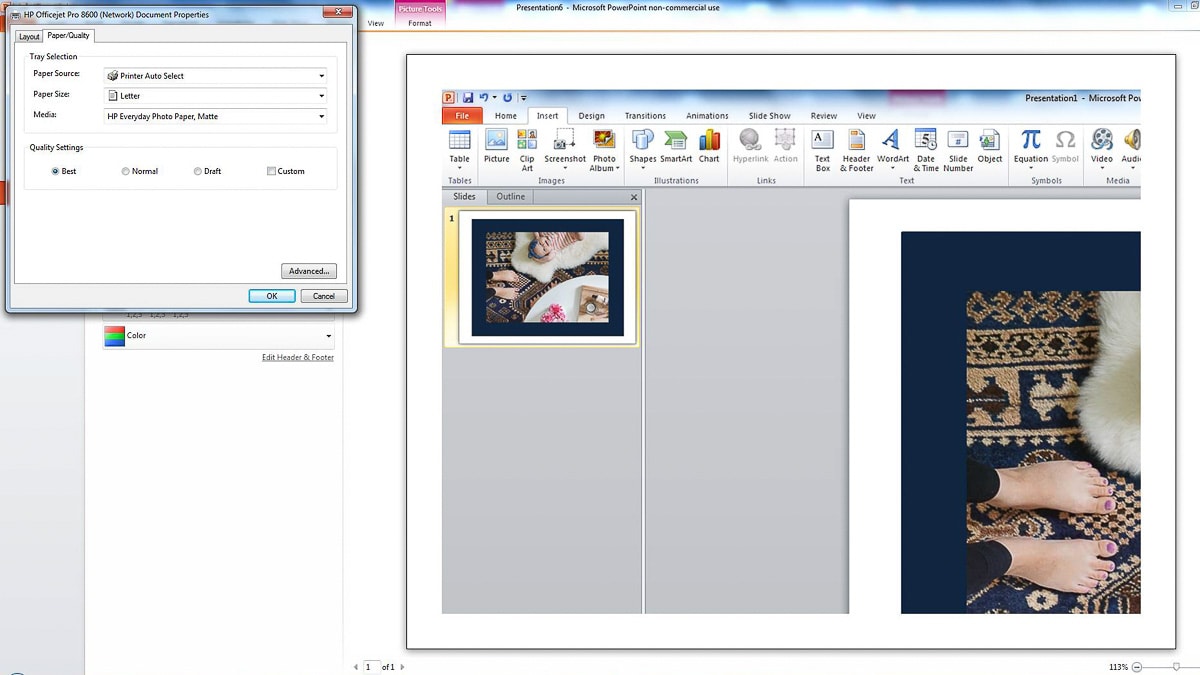 2 — Then, pick the 'rectangle shape' from the top tool bar and draw a rectangle roughly 2-3 inches larger than your photo. Just eyeball it.
Right click on the rectangle shape and choose 'Send to Back' in order to send it behind your photo.
Then, right click on the rectangle shape again and choose a color fill similar to the general color of your photo.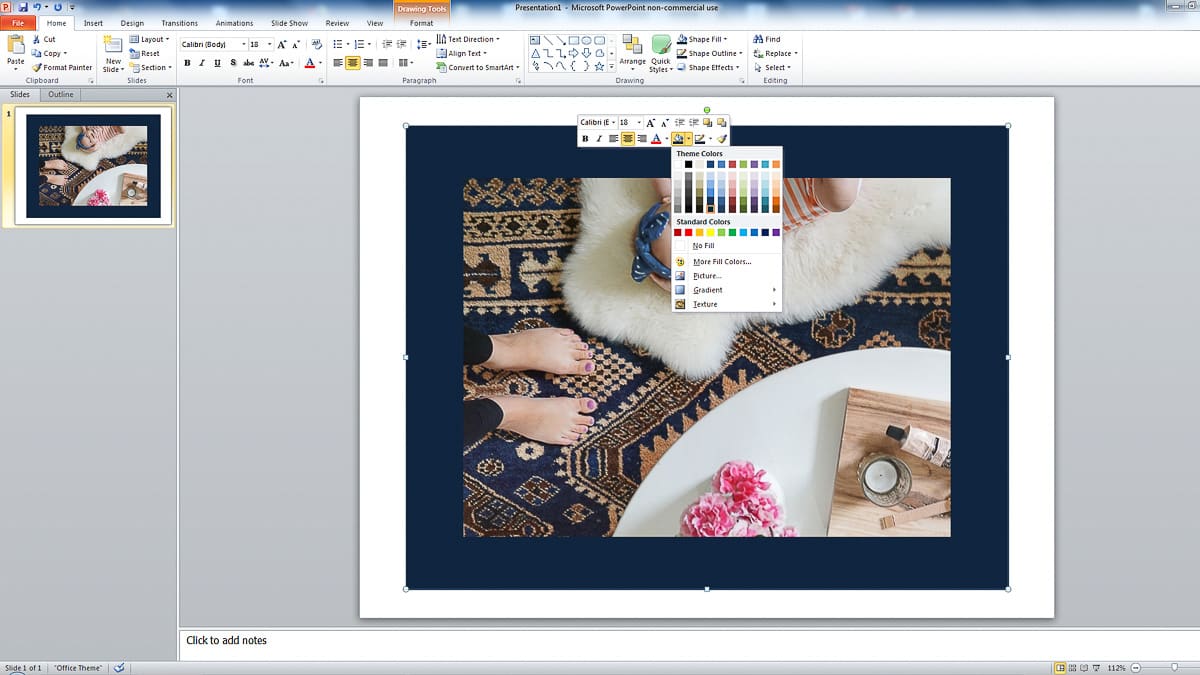 3 — At this point, do a test print on standard paper to confirm color and sizing look good.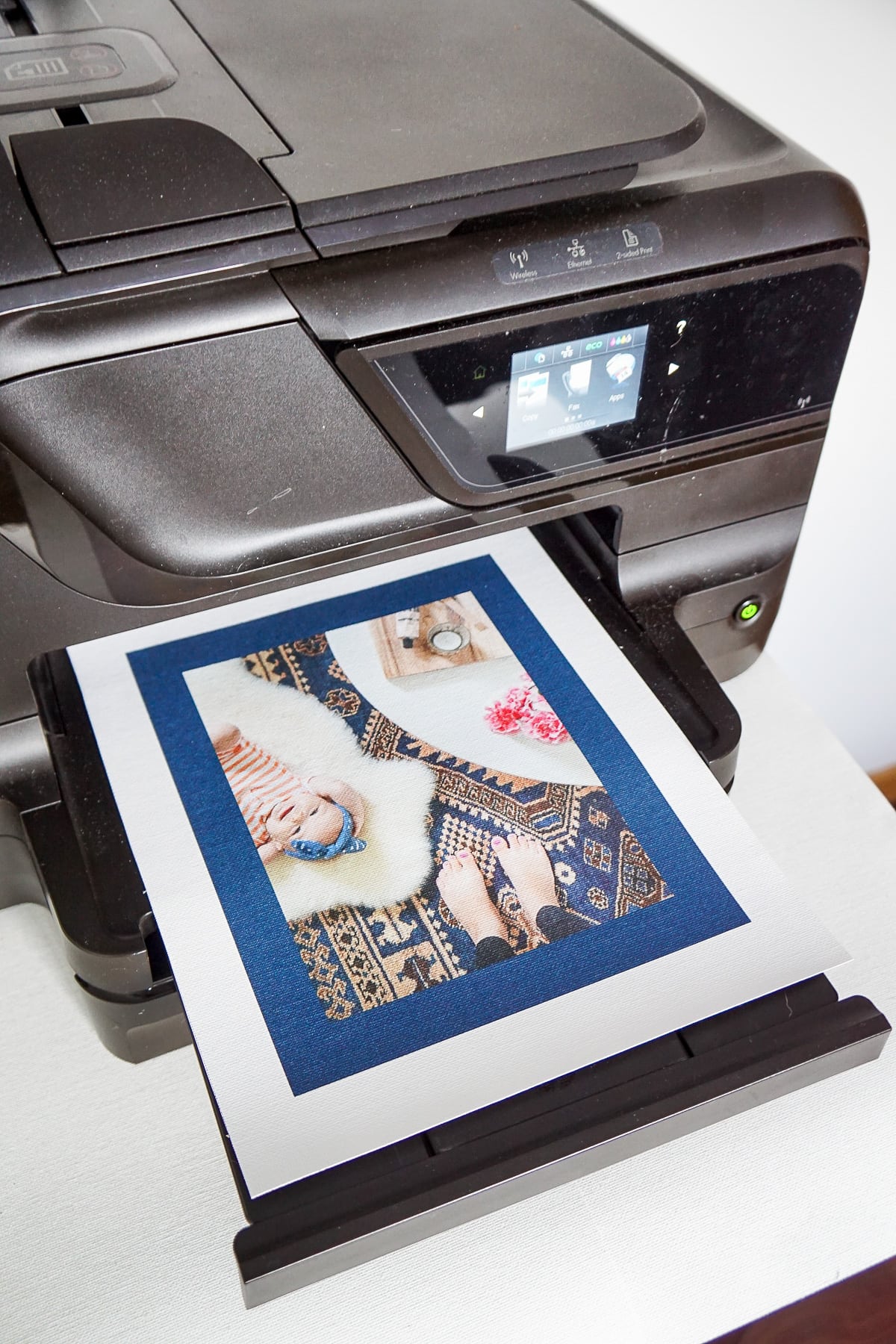 4 — Next, select print settings to optimize printing on the canvas. Go to 'File' –> 'Print' –> 'Printer Properties'. Choose the following settings and hit 'Print':
— Print Quality: 'Best'
— Paper Type: 'Matte Photo Paper.'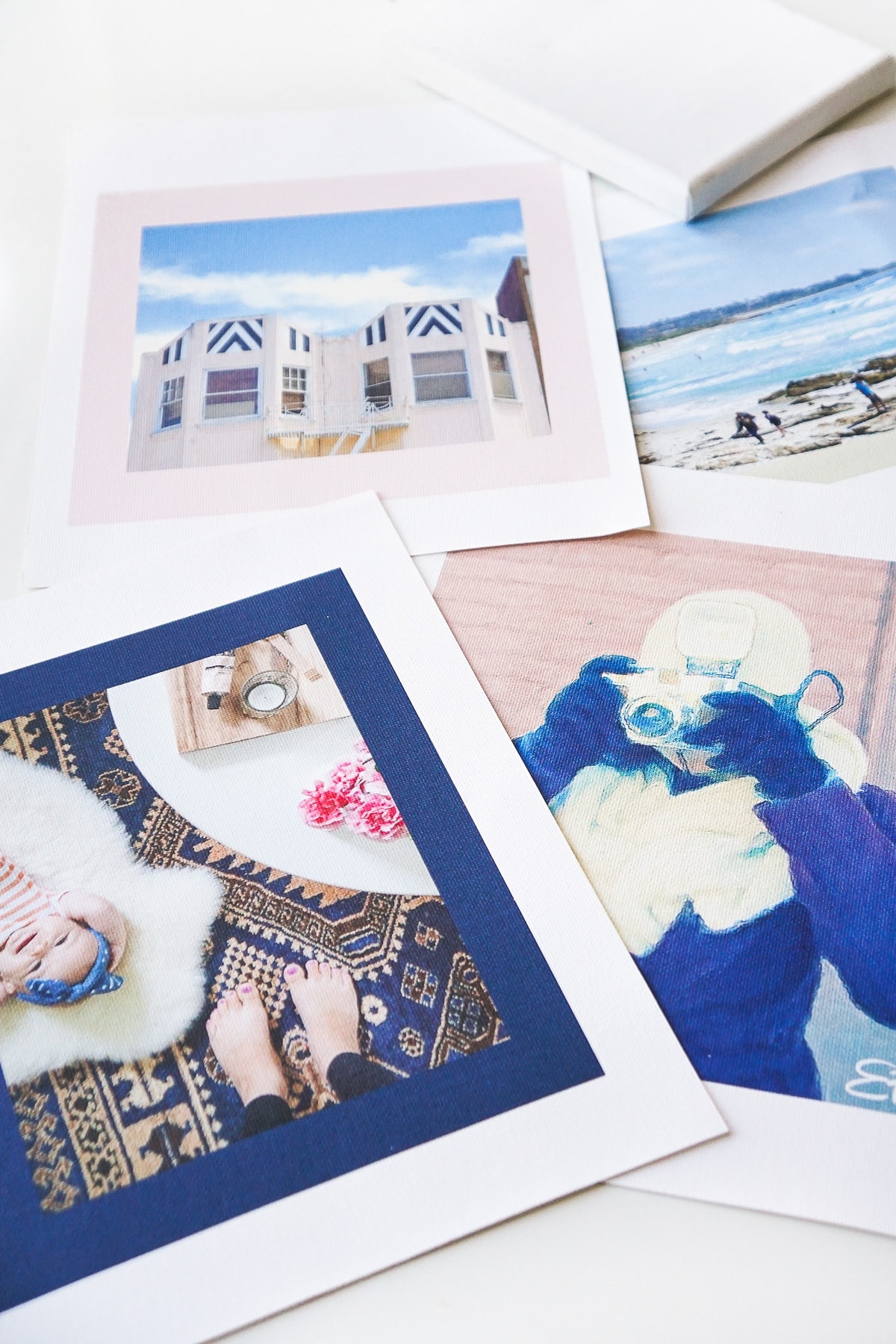 5 — Once your canvas is printed, seal it with a spray coat of UV protective varnish to protect the ink.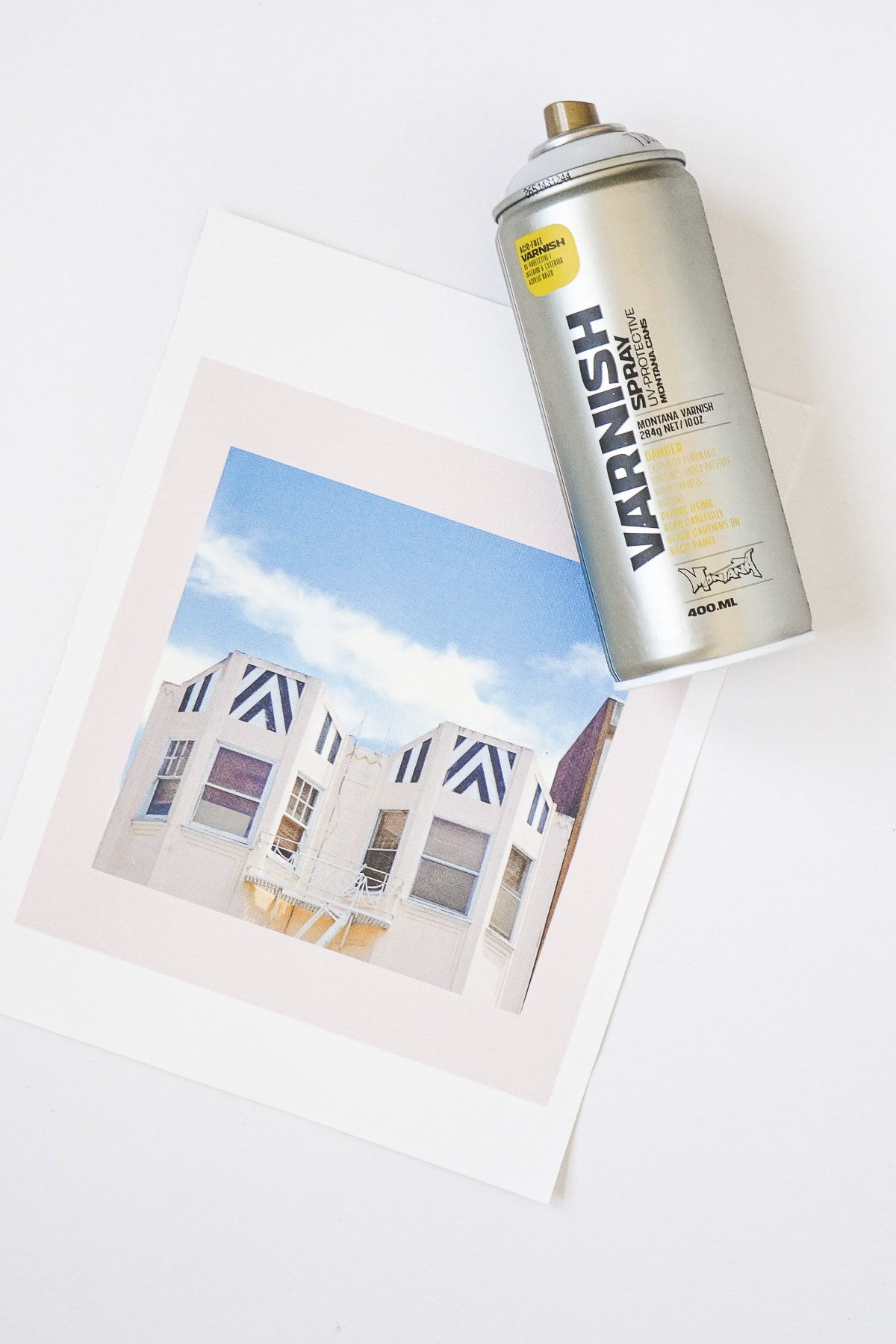 6 — Use a pliers to pull off the staples/blank canvas that came on the blank art canvases. This step is optional, but I found I got a tighter wrap by removing the blank canvas.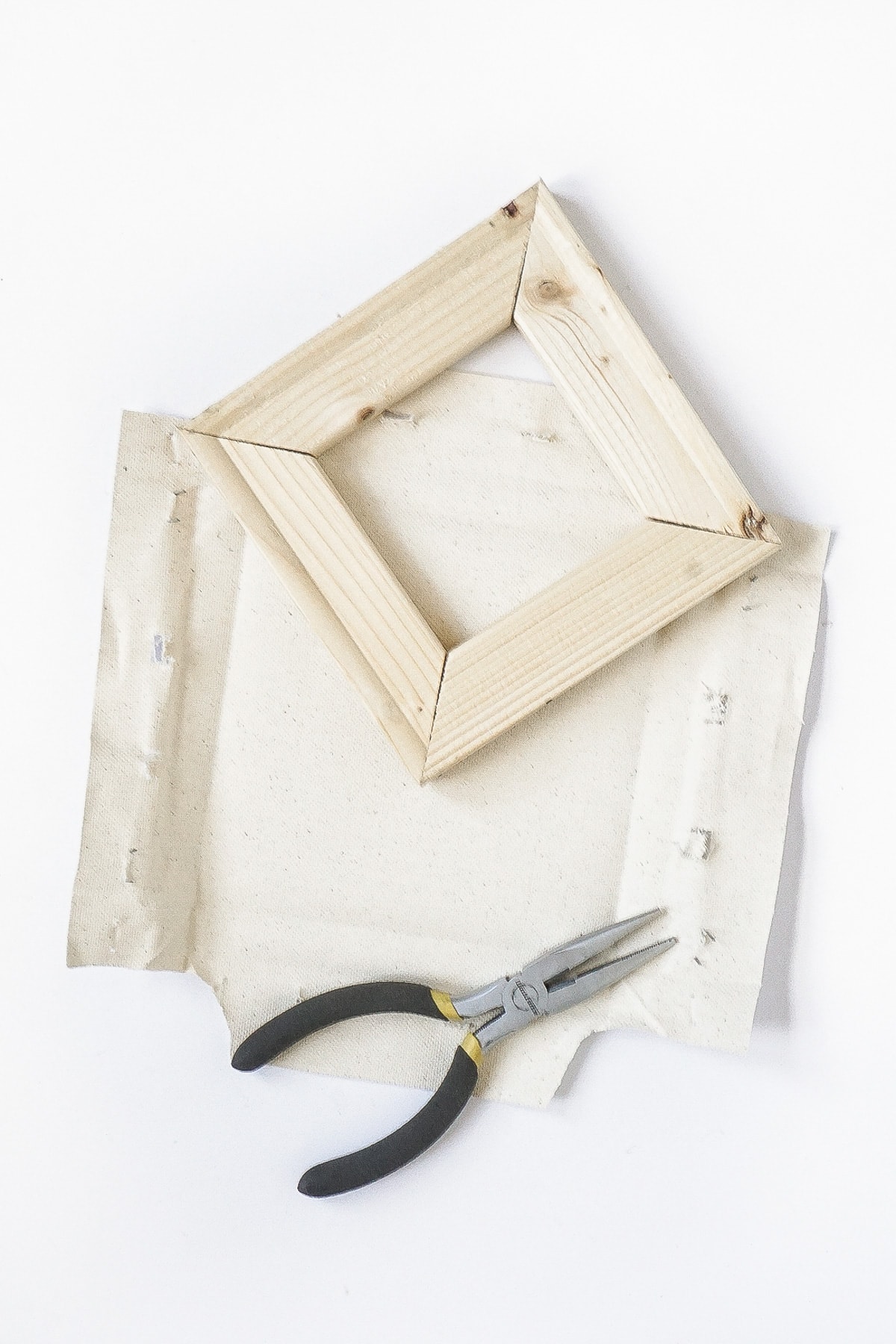 7 — Lay your printed canvas face down, and center the wood frame on the canvas. Check the canvas edges to confirm correct placement.
Beginning with one of the longer edges, fold the canvas around the wood frame and staple towards the middle of the frame.
Then, fold the opposite edge around the other side of the frame pulling and stretching the canvas as tight as you can.
Staple the canvas into place. Professionals use a canvas pliers to stretch larger canvases. However, for this size canvas, using your hands work just fine.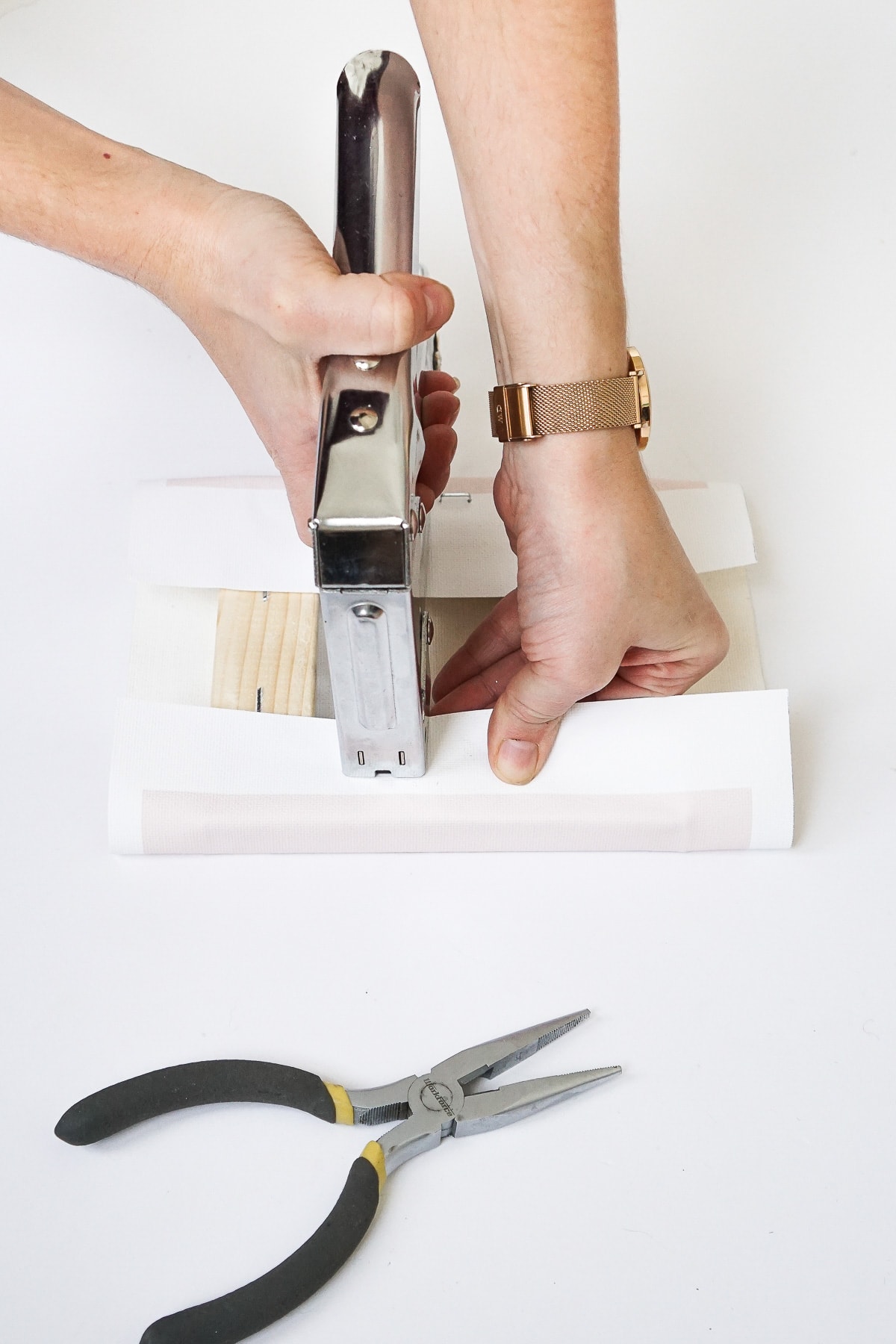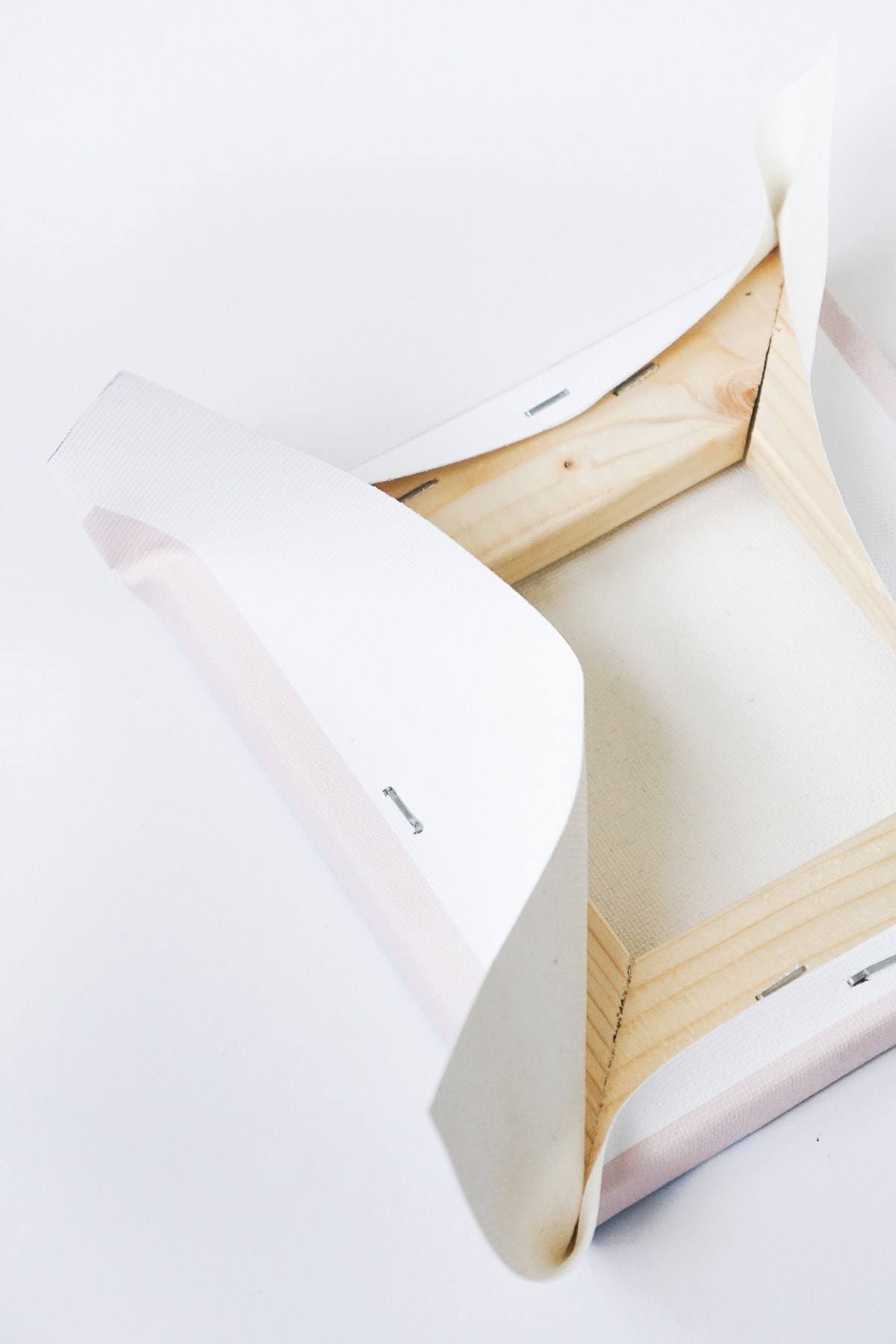 8 — At this point, trim off excess canvas material at each corner at a 45 degree angle to help make the corners easier to wrap.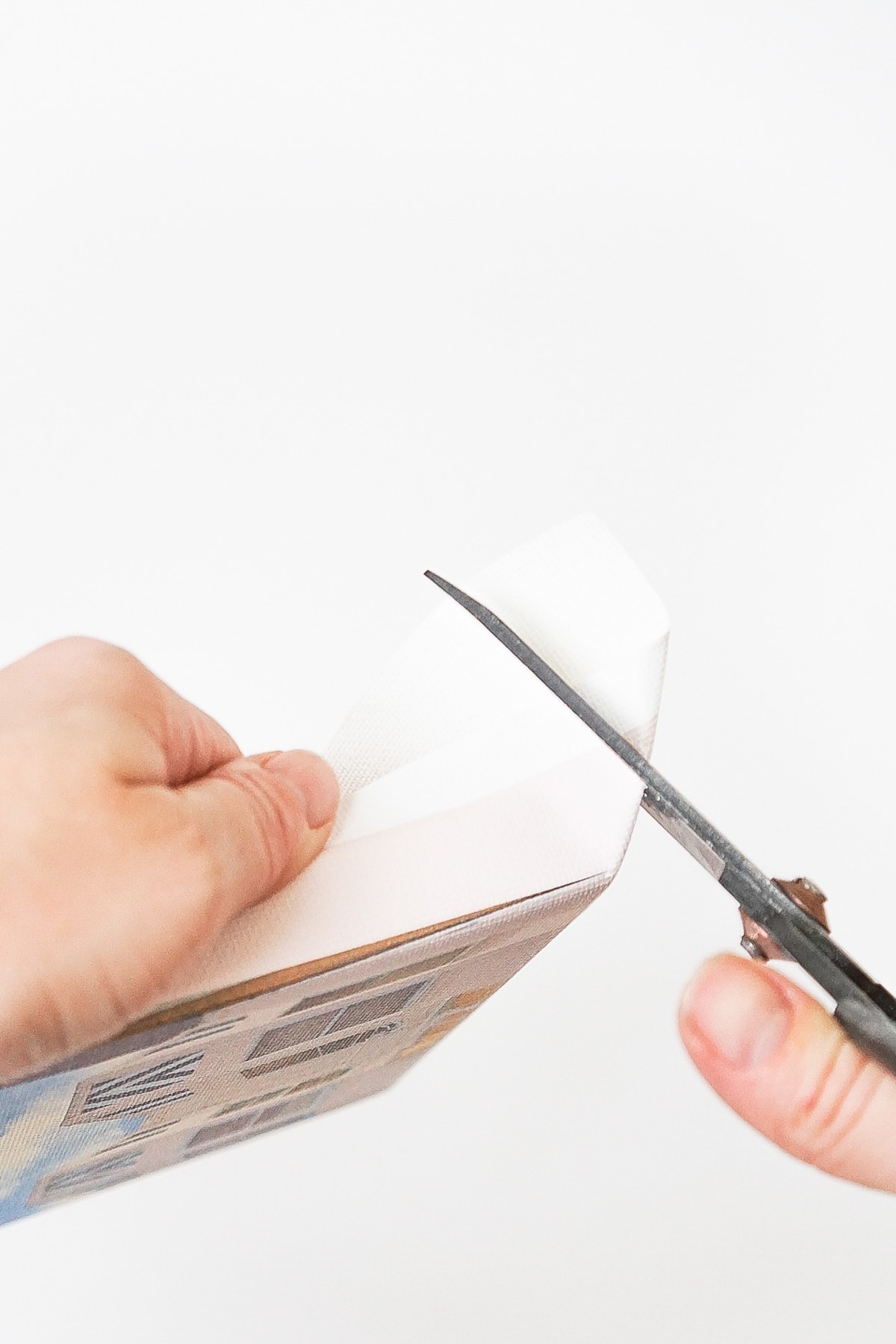 9 — Wrap the first corner by taking hold of the loose canvas corner and pushing the corner in toward the center of the frame.
The goal is to make a small fold from the center of the canvas corner down to the corner of the wood frame.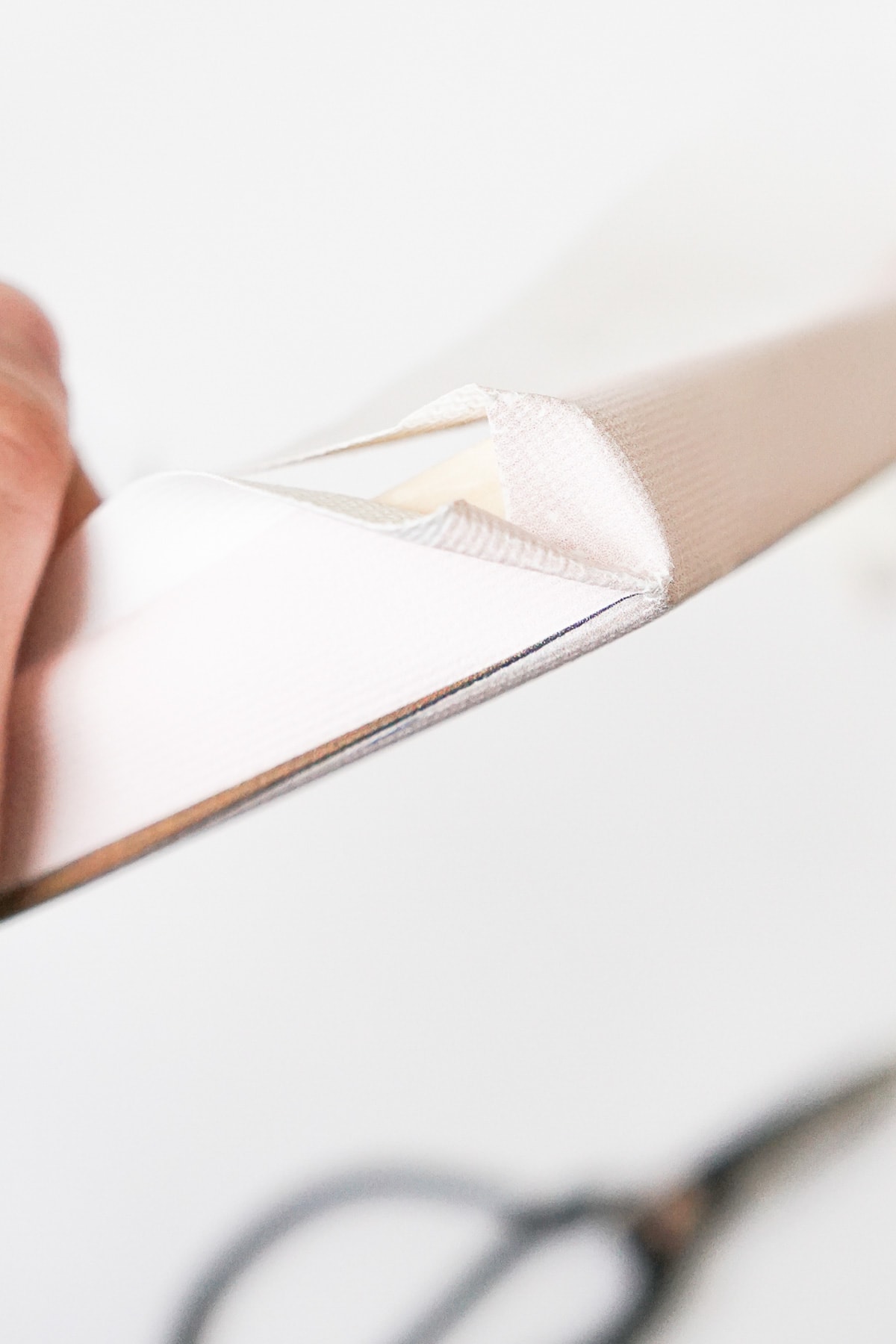 10. Then fold the loose canvas flap onto the frame so the folded edge is parallel with the corner. Secure flap with a staple.
Repeat steps 6 & 7 to wrap remaining 3 corners.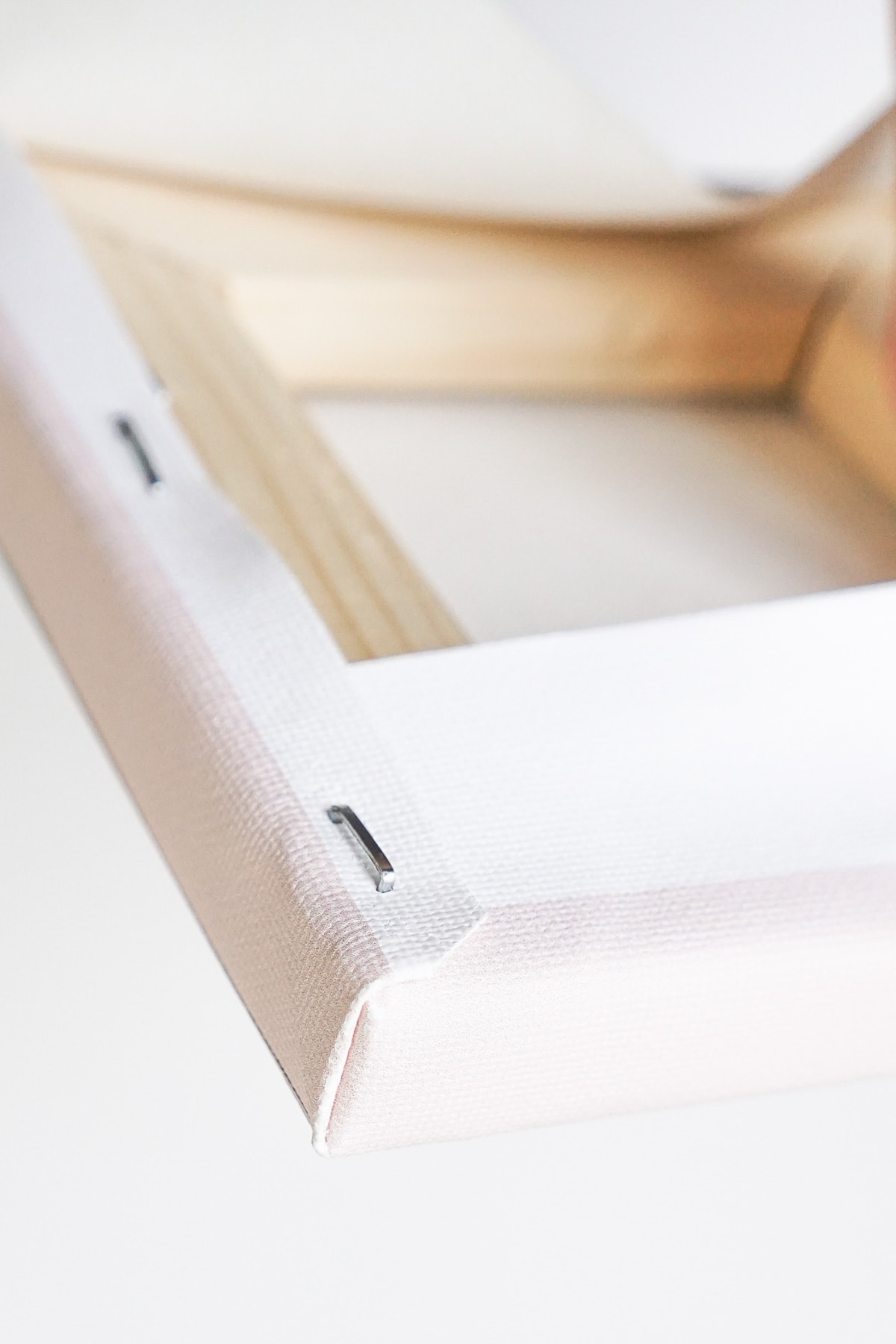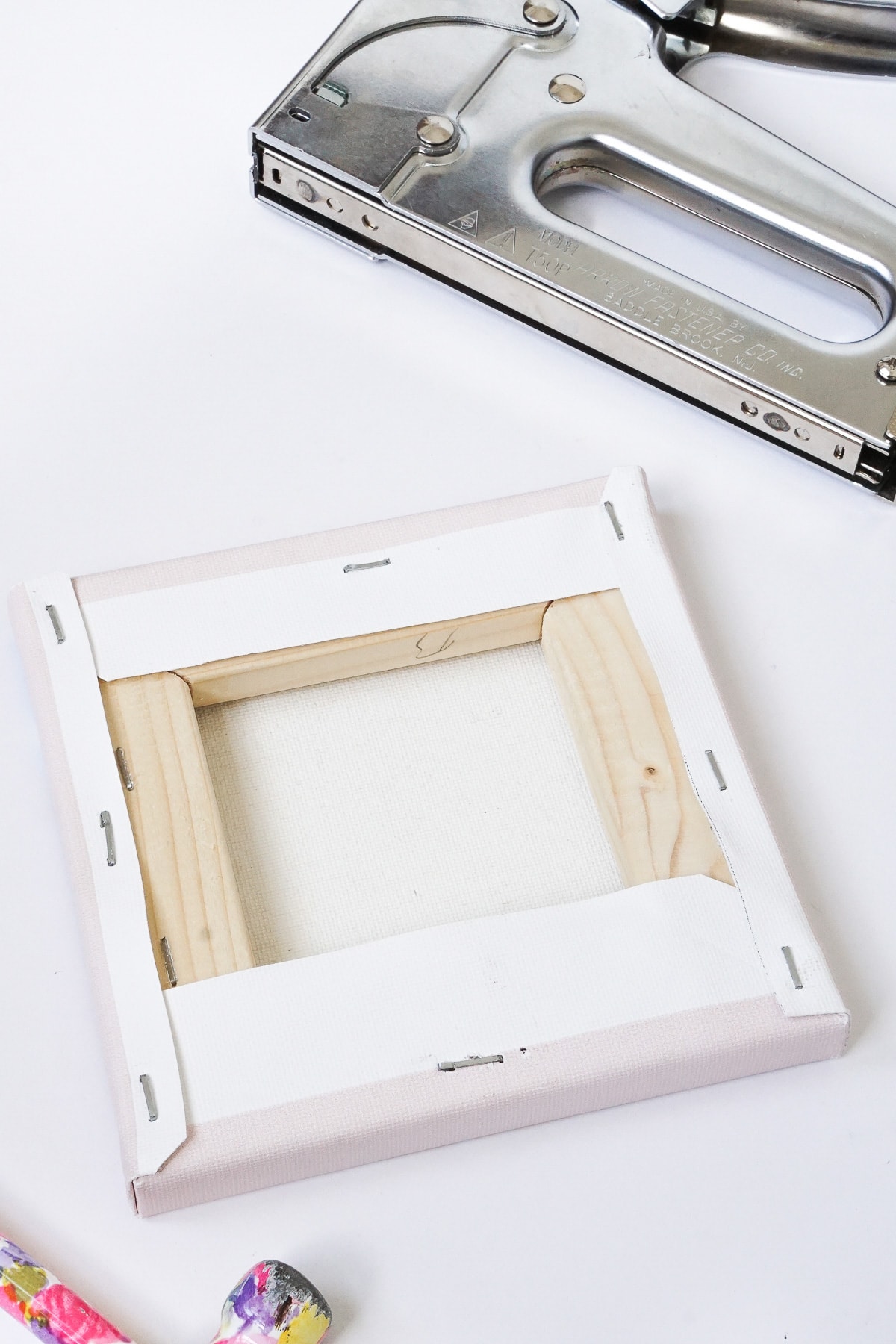 Is printing out photos one of your resolutions, as well? I'd love to hear what your top goals are for this year. Leave them in the comments below!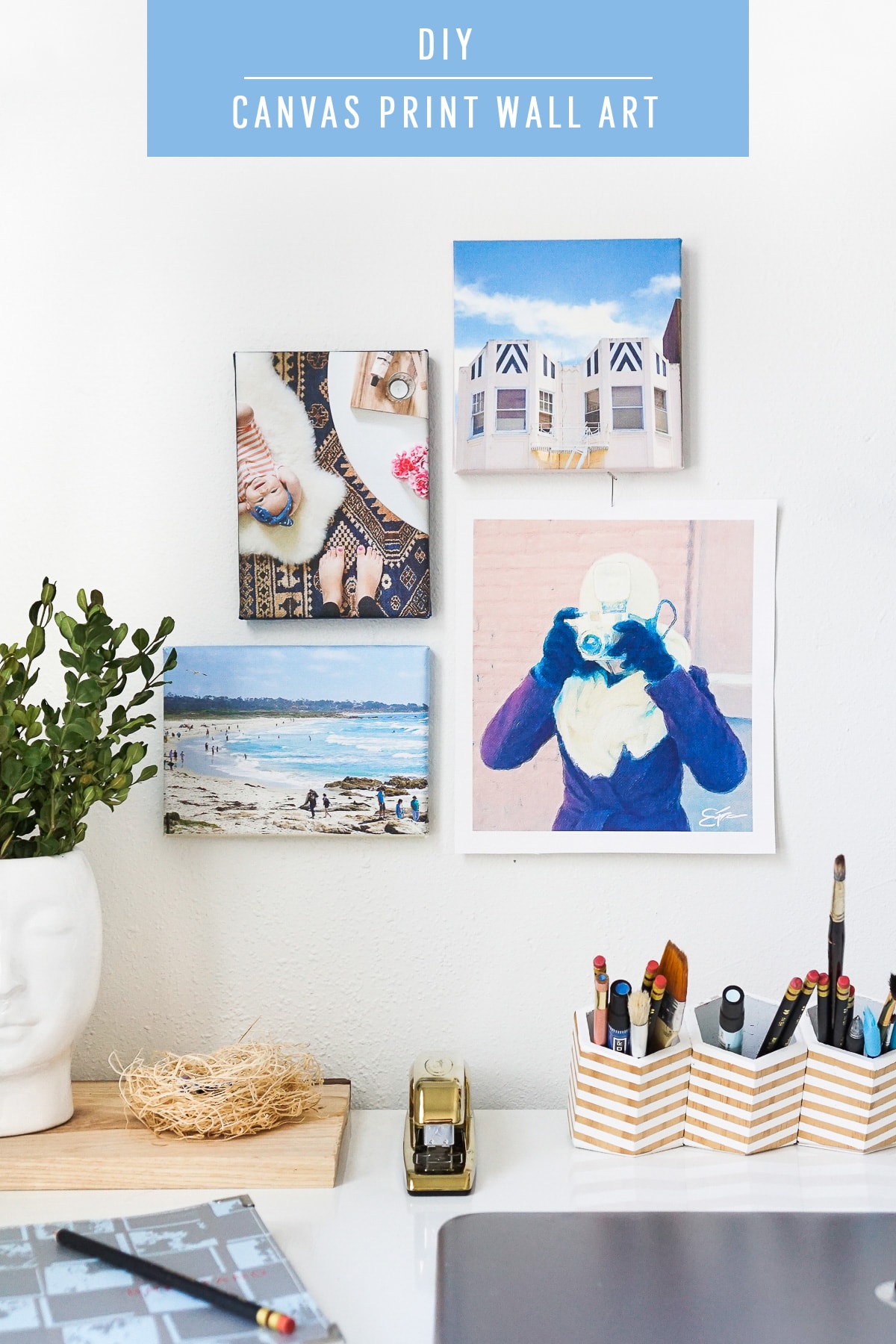 Erin Francois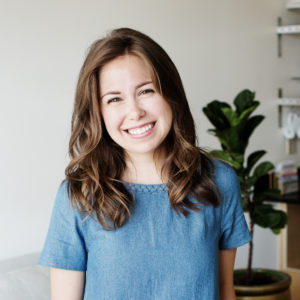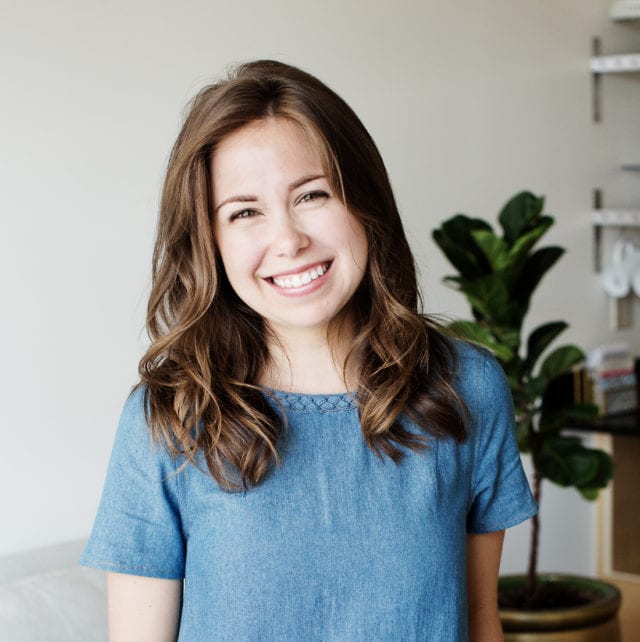 As a diy-er to the very core, Erin calls upon her interior design background to create pieces for the home that work to add beauty, function and a loaded dose of handmade soul to our everyday.