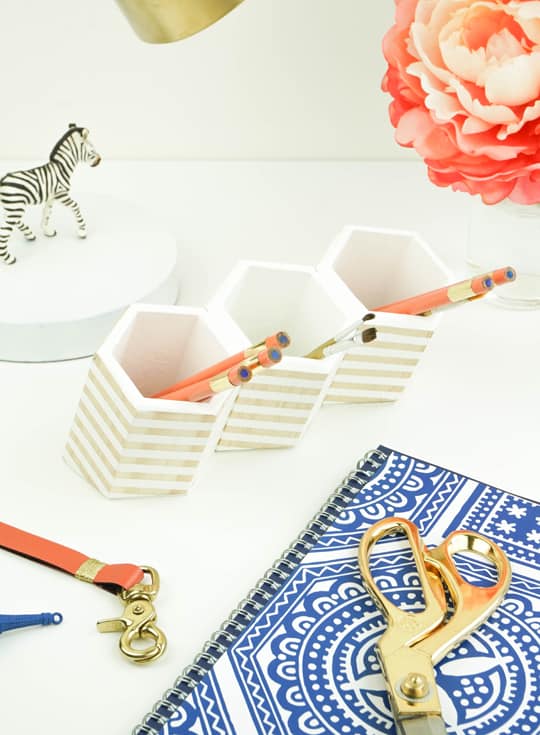 Hello! Erin here with a DIY project perfect for back-to-school. The start of a new academic year is synonymous (in my mind anyway!) with new school supplies. Stocking up on the materials called for by each syllabi, pretty pens, pencils, and of course, every cute pouch and organizer, which makes perfect timing for this hexagonal DIY desktop organizer.
This modern desk organizer has tons of room for supplies and an angled opening that lends a sculptural element to any desktop! Besides, if you share my love for supplies, why not create a pretty way to keep your desk organized and the cute things on display all at the same time?!…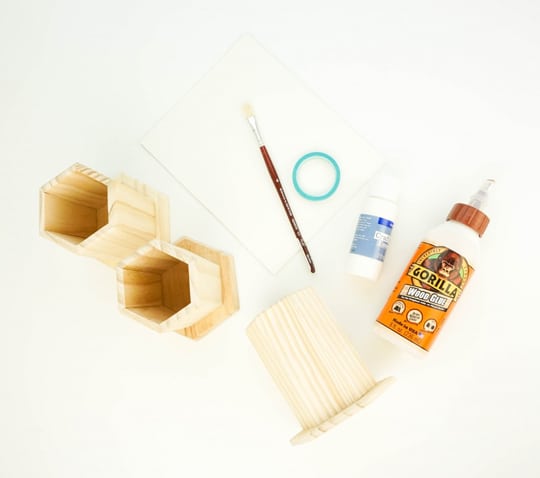 Materials:
Mitre saw or hand saw
White acrylic paint
Wood glue
Heavy card stock or chip board
Basic crafting materials: ruler, pencil, scissors & paint brush

Begin by drawing a diagonal line with a ruler on the side facets of each cup, towards the base. I chose to draw the diagonal at a 22.5 degree angle. Set your mitre saw to the angle drawn on the cups. In my case I set the saw to 22.5 degrees. Saw along the angled pencil line, cutting off the base of each cup.

Tape 1/4″ horizontal stripes around each cup with patterning tape. Start at the mouth of the cup and work your way down to the bottom. Press tape down firmly to prevent paint from seeping underneath. Do your best to line up the stripes from cup to cup. Paint the outside of the cup, the rim of the cup and as well as the inside with acrylic paint. Allow to dry and apply another coat.

Trace around the bottom of the angled cup onto the underside of the card stock. Repeat twice more. Cut out the 3 hexagons. These will serve as the bottom of the cups.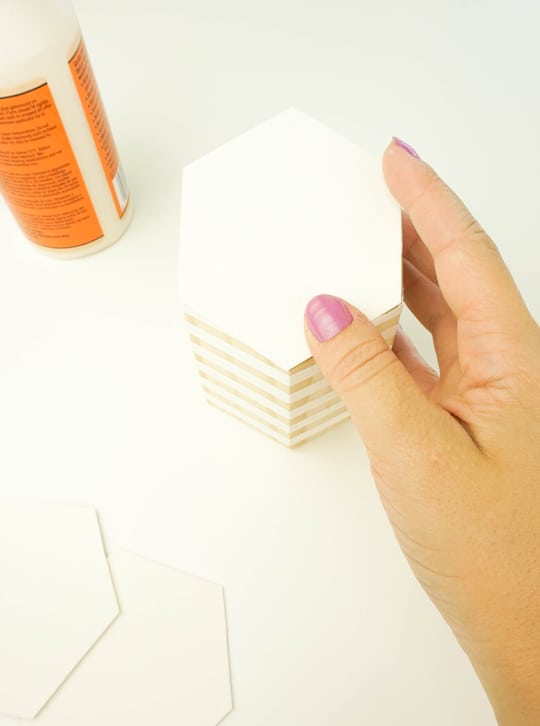 Turn cups upside down and attach the card stock hexagons to bottom of each cup with wood glue.
Then attach the 3 cups together, side-by-side with wood glue. Allow to dry and fill with your favorite supplies!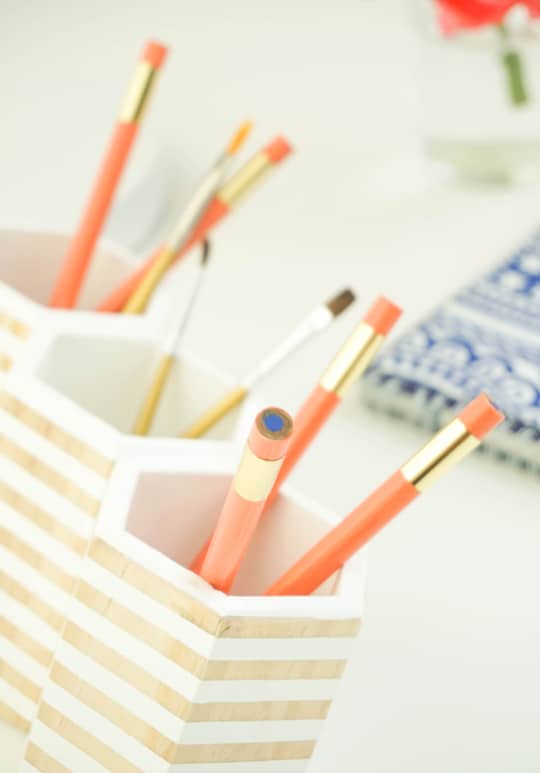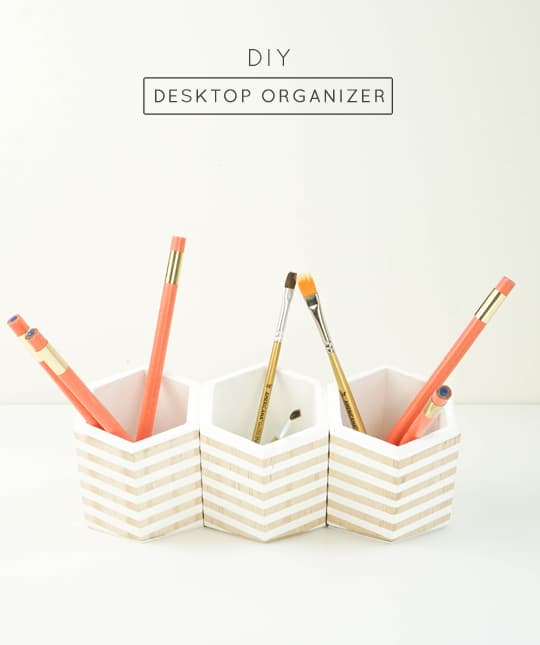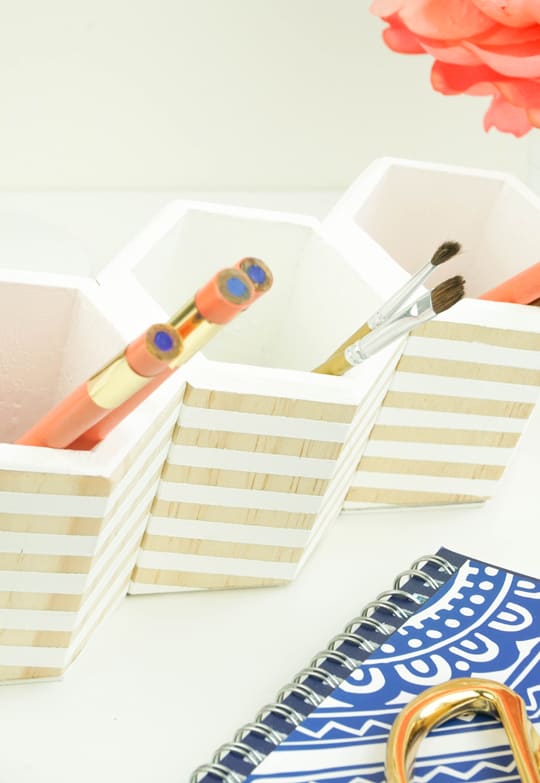 The end result is a modern desk organizer perfect for corralling supplies and keeping your study space uncluttered and tidy throughout the school year!
Erin Francois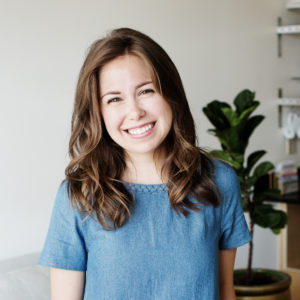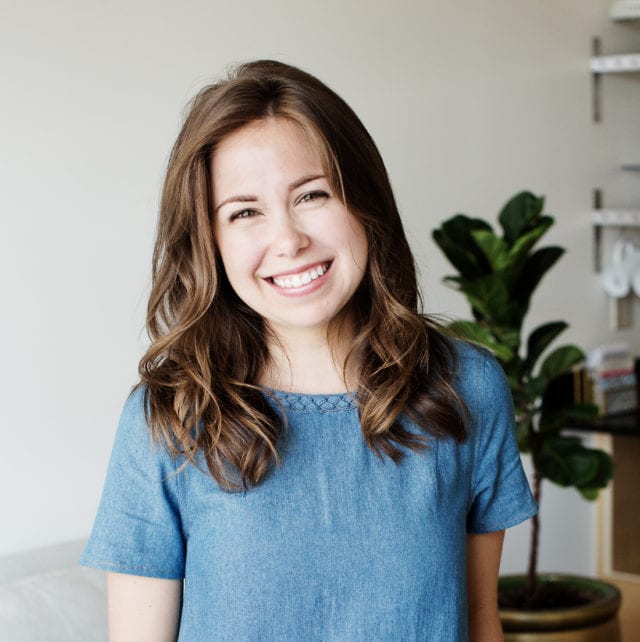 As a diy-er to the very core, Erin calls upon her interior design background to create pieces for the home that work to add beauty, function and a loaded dose of handmade soul to our everyday.