Looking for a way to give your home a quick makeover? Whether you're an artist or not, anyone can paint their wall. Check out these simple wall painting design ideas and get inspired!
We rounded up 11 of our favorite simple wall painting design ideas that we just could not keep to ourselves! Every space can use a little extra pop of color, and what better way to do that than with a little bit of paint!
From interior color block arches to exterior brick makeovers, we have the perfect simple wall painting ideas for you!
There are less intricate than our favorite DIY handmade wall painting ideas that are meant as accent wall designs.These ideas can be applied in multiple ways without feeling busy with your wall hangings and decor.
And stay tuned until the end because we included our favorite makeovers to spark some inspiration!
Simple Wall Painting Design Ideas
1 — Use a color block design to for addition colors.
We have a very common design theme with our personal renovations, and that's pastel and color block. Most of the time, we combine both. Pastels are perfect if you want something different yet subtle.
So here is a feature on pastel color block walls interpreted six different ways in 6 different rooms. And if pastel just isn't your thing, you can always customize the colors.
2 — Choose the optimal white paint for traditional white walls.
Never underestimate the power of a white wall. It's clean and is an easy way to brighten up any space.
However, there's no such thing as just white. There's warm white, cool white, bright white, soft white, etc., and don't get us started on the different shades.
If you're opting for a white wall, here's how to choose the perfect white wall paint.
And if you have little ones, don't let that deter you from choosing white because Magic Erasers are going to be your new best friend.
3 — Don't be afraid to paint on brick.
One of the easiest ways to modernize brick is to use limewash paint. It's eco-friendly, never cracks, and leaves a luxurious finish.
We completely transformed the exterior of a brick home, and you can easily apply the same method to an interior brick wall or even a fireplace.
4 — Go for a gradient ombré effect.
We are drooling over this rich ombré wall design tutorial. It's subtle, and it's one of those DIY wall paint ideas that can allow for mistakes.
You can be slightly imperfect because ombre is so forgiving when it comes to the gradient design.
Start with your darkest shade and use rollers from there with your two other lighter shades. Finish off the look with a DIY ombre side table and DIY ombre pillow.
5 — Incorporate different materials.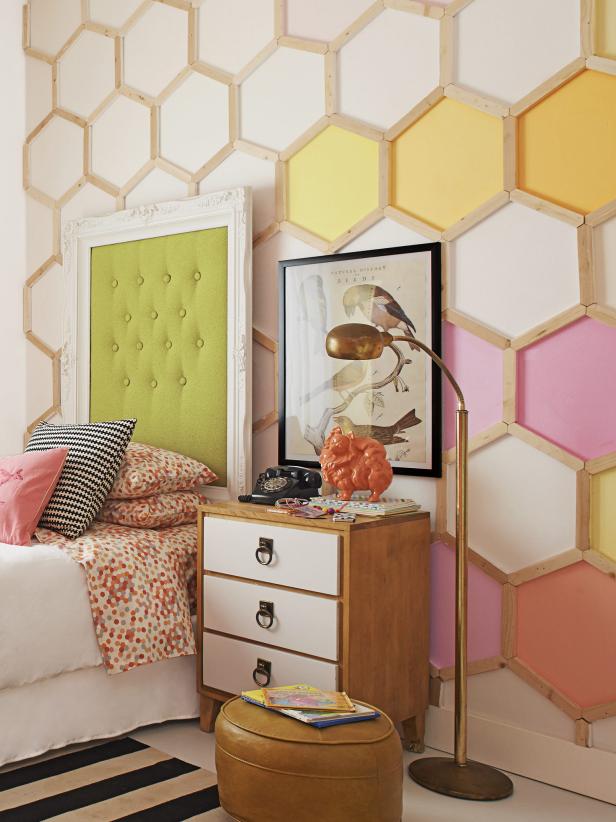 A DIY should always be easy, and this honeycomb wall is just that. Wood boards add uniqueness to the honeycomb design. Plus, you don't have to paint each shape.
6 — Add or paint over paneling.
If you want to stick with one paint color but still want a way to spice up your living room, then this DIY geometric paneling is the answer.
If your home already has paneling, you can easily achieve a similar look by just painting over the panels as we did with our office design makeover.
7 — Faux Denim Wall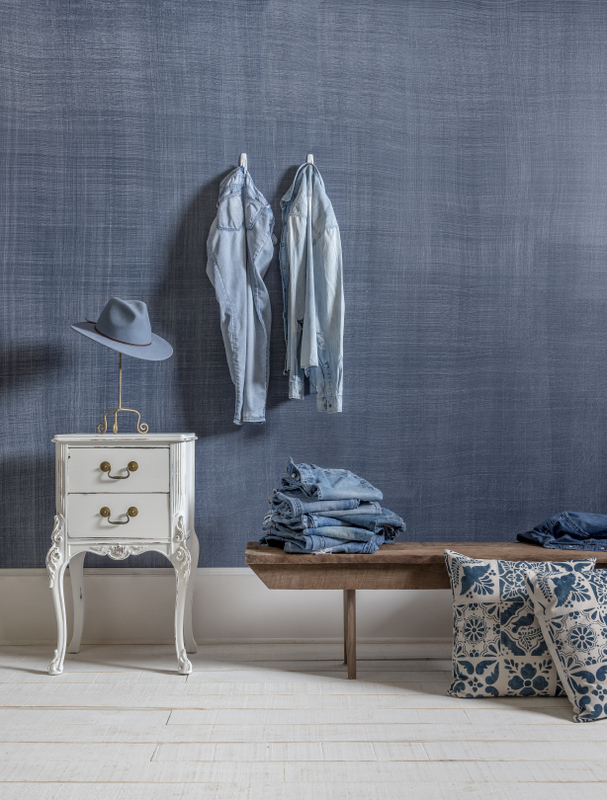 This faux denim wall looks like wallpaper, but this textured look is actually achieved with fusion mineral paint! Mineral paint is similar to chalk paint. However, it is colored with natural mineral pigments and is waterproof.
8 — Paint a mural.
If you remember the artwork that we had in our open concept living room, then you know we are all over this DIY terrazzo wall mural.
It's like painting the walls with art. And the great thing is that you can create your own shapes. For more terrazzo inspiration, check out more of our favorite handmade wall painting ideas.
9 –- Paint a vertical divider to highlight an area.
10 — Paint your ceiling.
When we think of painting walls, it's probably the four sides that first come to mind. However, simply painting the ceiling can be a dramatic change.
This guest bedroom makeover features a pretty pink ceiling. We wanted to incorporate color but still keep most of the walls white because we knew we wanted lots of colorful patterned decor.
11 — Split the room in a half diagonal.
We love this unique take to a two tone split walls. Typically, you'll find a horizontal split dividing two colors. Get creative with a half diagonal design.
More Home Makeover Inspiration Ideas
For more home makeover inspiration, check out some of our favorites in the archives —
Easy Wall Art Projects to Try at Home