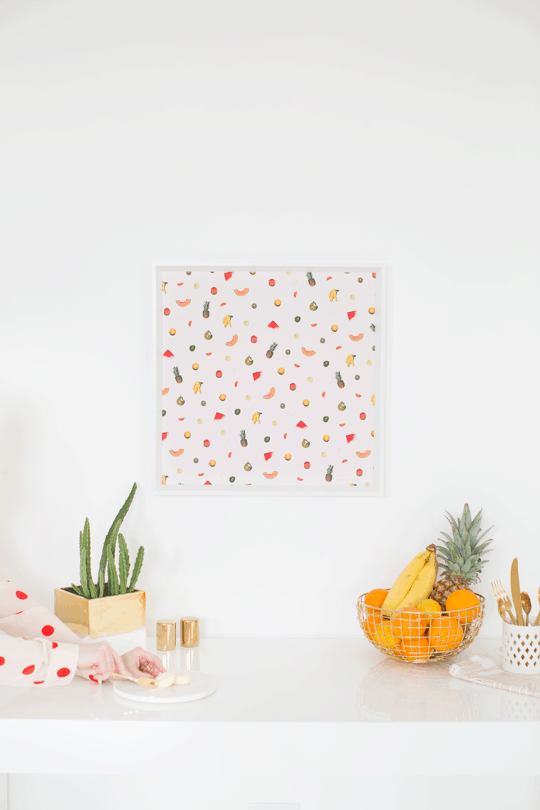 As we're adding the last few touches to the new studio, I knew I wanted to add a simple pop of color on the wall near the kitchenette area. It was a little too plain to leave it empty, but I wanted to keep it simple since the kitchen shelves already have so much going on with them. To create a little nod to kitchen ingredients and staying on trend with the busy patterns and colors that are popping up everywhere, I made this DIY printable fruit wall art.
I was able to create really fun and quirky fruit photos by scanning them with our new Sprout, which would have been nearly impossible (or super, super time consuming!) without it. Since I know not everyone has access to a Sprout we've created several different sized downloads for you to save and print to have one of your own!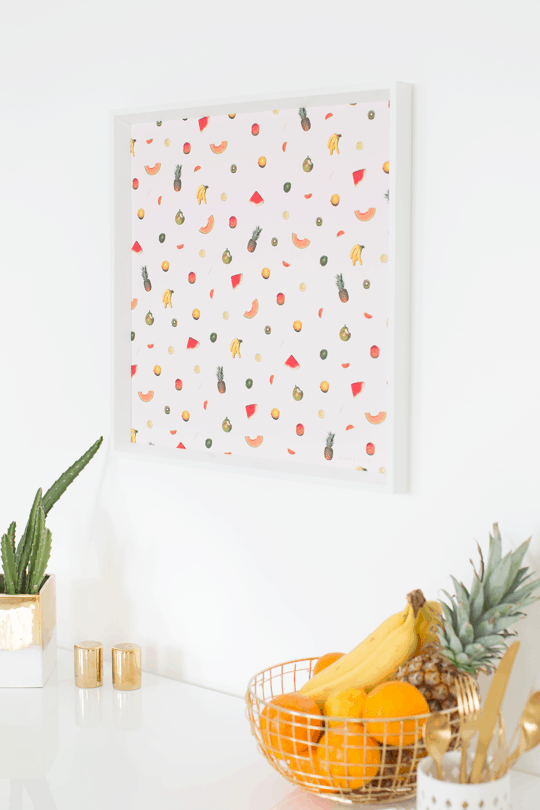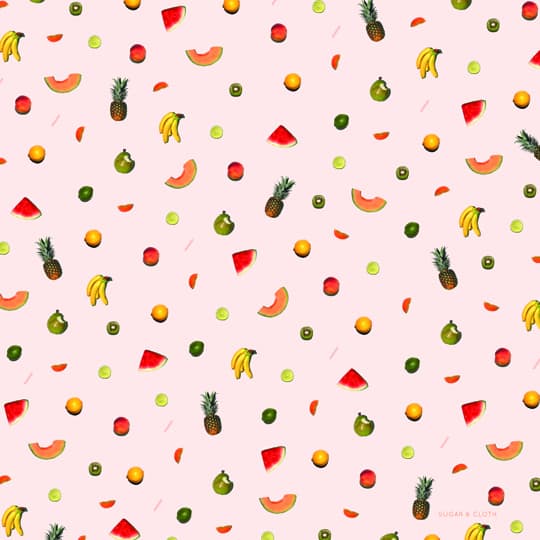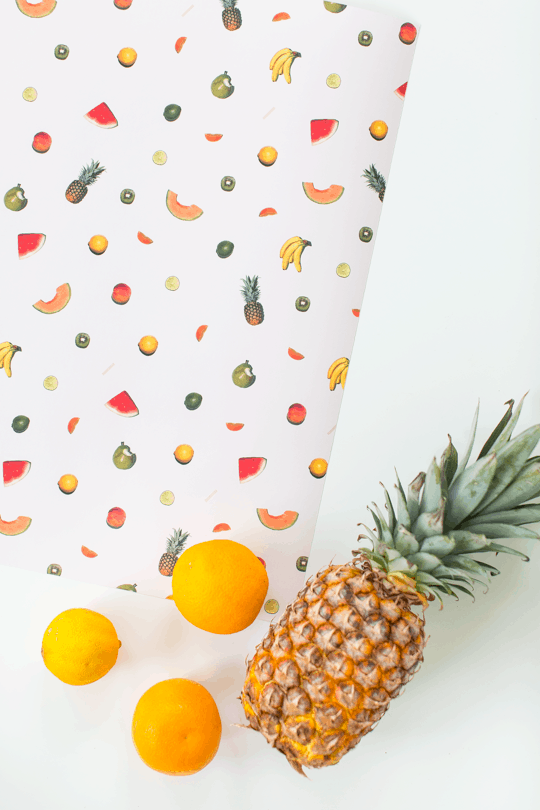 To create the wall art, you literally just have to save and print the artwork from the link below and trim to the size of your frame, easy peasy! If you want to create a pattern of your own, here's how I made mine–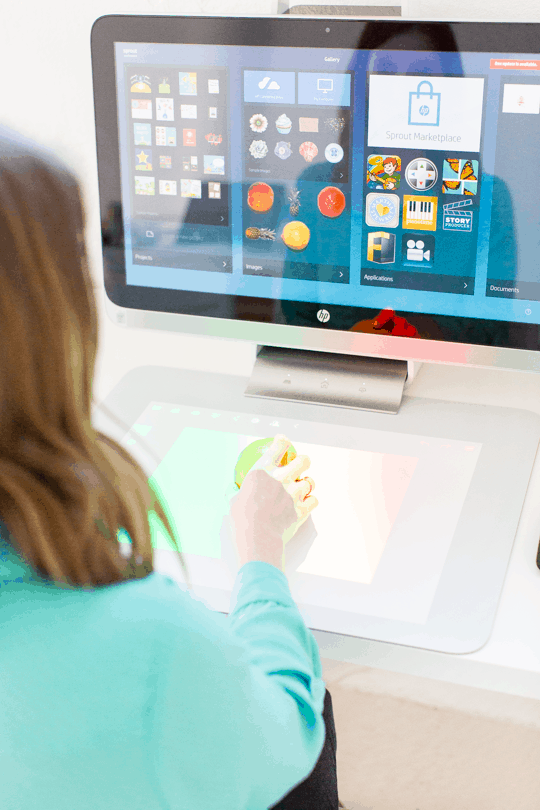 The HP Sprout actually has a built in scanner, projector, and 3D camera (among many other things!), and the image quality for scanning is legit! To create the individual fruit images, I laid them on the touch pad and scanned each one. Of course I had to take it a step further by eating some of the fruit for variation, but you know…
The computer automatically cuts out the image to be on a transparent background, so from there I just created a new project on a pale pink background and drag and dropped fruit into place to create a giant fruit pattern. It was a tiny bit time consuming because I got a little carried away with how detailed the pattern was, but hey, I had fruit to keep me company.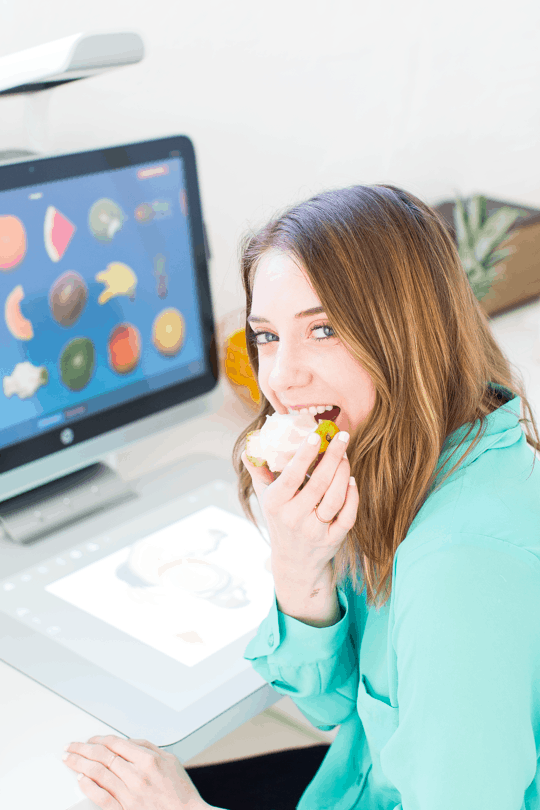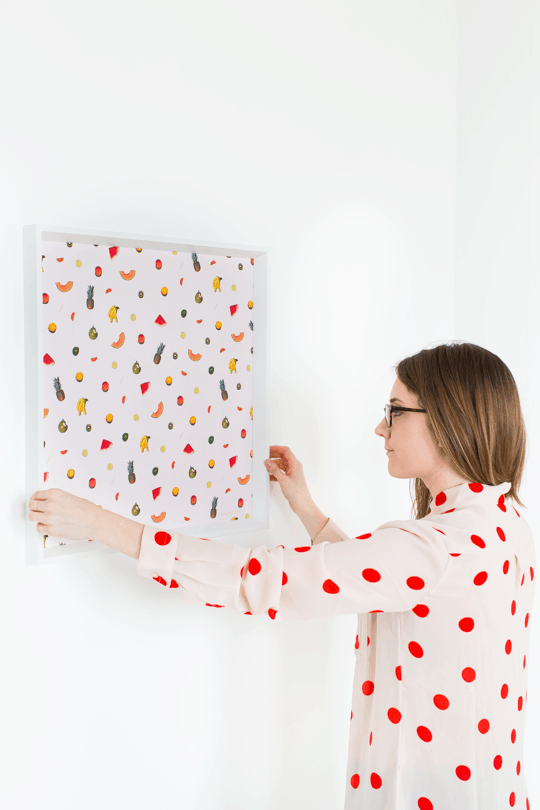 I couldn't resist including my awesome new polka dot shirt in the action whilst hanging my print, how cute is this thing?! This just solidifies that it literally goes with everything. Including your home decor? Ughm..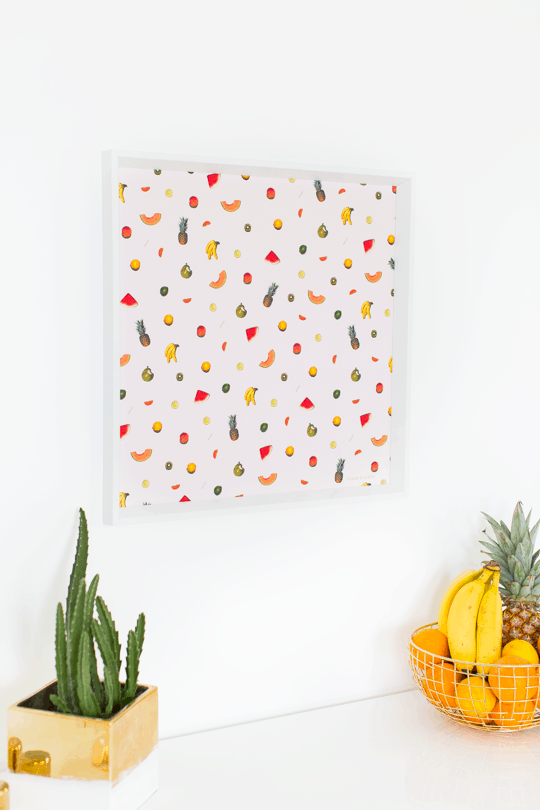 Is this fruit print too while and crazy for your home decor, or is it something you're willing to roll with?! Be sure to let us know if you have any trouble with the downloads, and be sure to tag your prints with #mysugarandcloth so we can see them online too!
© Sugar & Cloth – Artwork is for personal use only, not for commercial or retail purposes.
This post is made possible by HP. Thanks for supporting the brands we love that keep fresh content coming to you on the daily!