We've put together a list of dirty Santa gifts that will help make your next holiday party merry, bright, and full of good fun.
'Tis the season for Christmas parties, festive cocktails, gingerbread decorating, and gift exchanges. While White Elephant gifts are more common, we actually prefer the Dirty Santa gift exchange.
They're both similar in that they're both competitive games where participants bring a wrapped gift. But a slight difference is why we prefer one over the other!
What is the Difference Between a White Elephant Gift Exchange and Dirty Santa Gift Exchange?
White Elephant gifts are typically funny gag gifts consisting of silly novelty items that you'd probably never buy yourself. Dirty Santa gifts are useful unique gifts.
Typically, the game is themed, and many times it can have a fun Christmas theme. If so, recipients bring a fun gift that is still functional. Before we delve into our favorite dirty Santa gift ideas, here's how to play.
Dirty Santa Game Rules
The rules of the Dirty Santa game or the same as the White Elephant. So yes, stealing is still involved.
1 — First, all the wrapped gifts are placed under the Christmas tree, fireplace, or the menorah.
2 — Each player draws a random number that will determine their order of turns.
3 — Player #1 gets to choose the first gift, unwrap it and reveal it to the crowd.
4 — Then, each person takes their turn. They can decide to pick a gift from the pile OR steal an unwrapped open present. The number of steals allowed can be determined before the game starts. Typically, 3 is the max.
5 — Once everyone has a gift, it's back to player #1, who never had a chance to steal. He/she/they can keep their gift or take anyones. So it's ideal to always draw #1.
Now that you are familiar with the game, are you ready to start shopping for that coveted popular gift that everyone will want to steal? Here's our list of the best dirty Santa gifts to bring to your holiday party…
Best Dirty Santa Gifts for Adults
1 — Smart Water Bottle that Reminds You to Stay Hydrated
There is a huge market for water bottles. But have you seen one that reminds you when to drink up? This 3-in-1 smart water bottle glows every hour (which is the suggested frequency for you to hydrate). It also features a built-in 360° wireless Bluetooth speaker with lights that sync to the music.
2 — Apple AirTag
Your friends or family can track their belongings anywhere in the world with an Apple AirTag. It can be attached to keys, wallets, bags, placed in a suitcase, or even secured to your child.
3 — Mix & Match Cocktail Mixers
This mix & match cocktail mixers box set makes it easy for anyone to enjoy their favorite cocktail at home. The 20 flavors include Peach Smash, Cranberry Cosmo, Blood Orange Margarita, Mojito, and more.
4 — Wireless Karaoke Machine
The holiday season wouldn't be complete without a singing session. This portable wireless karaoke machine allows everyone to sing anywhere and everywhere… which could be a good thing or a bad thing depending on the current alcohol intake.
5 — Strawberry Vase
This vintage-inspired ceramic strawberry vase is the cutest home decor everyone will wanna steal. Besides holding flowers, it also makes for a great desk organizer for pens and pencils or even as an artwork centerpiece.
6 — Smart Reusable Notebook
Jot notes, check off to-do's, or pencil in dates into this smart reusable notebook.
Everything then gets beamed to cloud storage via an iOS or Android app.
It's the perfect gift to keep anyone organized.
7 — Avocado Microwavable Heating Pad
This therapeutic avocado heating pad makes for the perfect companion to help calm and comfort aches, pains, menstrual cramps, stress, and anxiety.
8 — Sandwich Maker
Cook a breakfast, lunch, or dinner sandwich in minutes with a nifty sandwich maker.
There are multiple layered compartments to cook different ingredients.
9 — Vintage Cocktail Glasses
These handcrafted cocktail glasses make for an elegant addition to anyone's home bar.
The set includes four highball glasses for those tall cocktails.
10 — Lap Desk
The home office lap desk makes WFH life a lot more comfy and convenient.
A built-in device ledge keeps electronics or a notepad from slipping.
There's also a mouse pad with a phone slot so that it's always nearby but not in the way.
11 — Pocket Hand Warmer
For someone who spends a lot of time outdoors, this pocket hand warmer will keep them from getting chilly.
Though it's compact and palm-sized, it produces massive heat for 4-8 hours.
12 — Oven Mitt
Keep their hands from burning with a quilted oven mitt.
Known for their fun prints, BAGGU currently has this cotton mitt available in mushroom, trippy swirl, flowerbed, and happy print.
We also love that there is a hanging loop and that it's machine washable.
13 — Satin Pillowcase
A satin pillowcase allows sleepers to wake up with frizz-free hair.
And because it's so silky and smooth, this reduces the friction that can cause lines and wrinkles.
14 — Cactus Coaster Set
This cactus coaster set comes with six coasters and a storage flower pot to make your own DIY succulent.
15 — Silicone Microwave Popcorn Popper
Uniquely designed to spread the heat evenly, this microwave popcorn popper ensures that there is never a kernel left unpopped.
16 — Mug Warmer
Beverages will never go cold with this mug warmer.
17 — Amazon Gift Card
We don't think anyone has ever said that they can't find anything on Amazon.
There will surely be something that you need or want on the site, so what's better than gifting an Amazon gift card?
Funny Dirty Santa Gifts
1 — Lightsaber Chopsticks
May the force be with you while dining with these LED lightsaber chopsticks.
They make for a fun holiday gift, even if the recipient isn't a die-hard Star Wars fan.
2 — Building Block Coffee Mug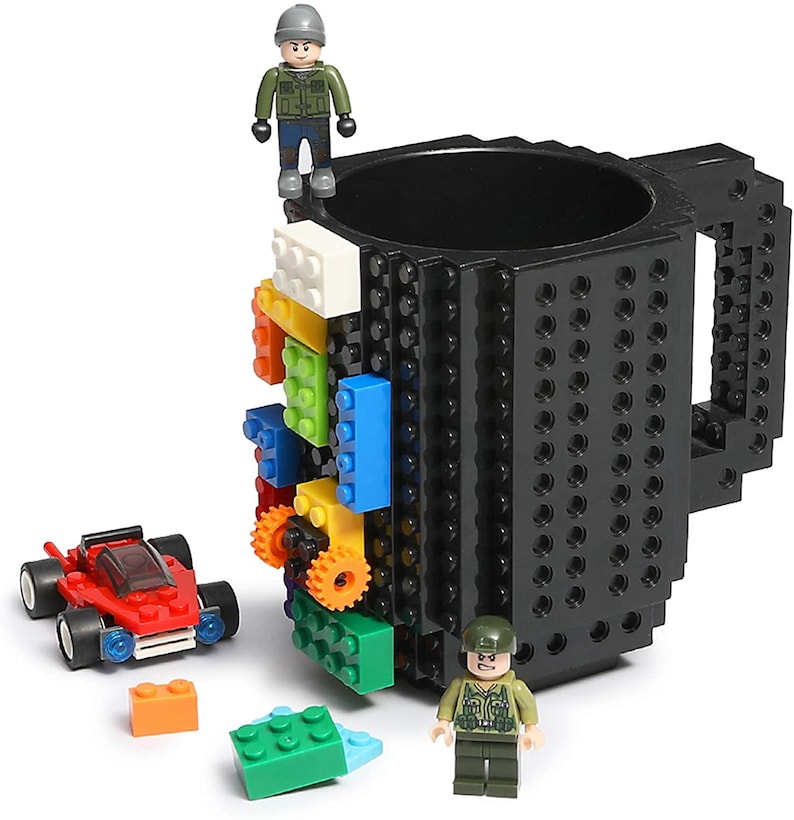 The morning just got better with the DIY building block coffee mug.
3 — Funny Boxers
Comfy and cozy, cheeky sayings and puns adorn these funny boxers.
4 — Corgi Cute Butt Throw Pillow
The bedroom, the living room, the playroom, the game room — there's always a pillow in every room of the house.
So this corgi butt pillow makes for a humorous yet useful gift.
5 — Put a Pickle In It Wine Stopper
This pickle wine stopper comes to the rescue to preserve any unfinished wine.
6 — Sushi Socks
We love how these unisex sushi socks are packaged as your typical grocery store sushi.
The set also includes fabric soy sauce bottles, wasabi, and ginger.
7 — Cat Hand Towel
Keep those hands dry with a realistic-looking cat hand towel that features snap buttons that prevent it from slipping off.
8 — Mop Slippers
Everyone will get a laugh out of these one-size-fits-most mopping slippers.
They may look goofy, but wouldn't life be so much easier if you were already cleaning the house by simply just walking?!?
9 — Burritos Blanket
Taco lovers will wanna steal this burrito blanket that can be used as a sofa blanket, travel blanket, camping blanket, bed blanket, or even picnic blanket.
10 — Bob Ross Chia Pet
The classic Bob Ross Chia Pet is the perfect gift for any age.
It's easy to maintain and can be used over and over again.
Dirty Santa Gifts Under $15
1 — Mini Waffle Maker
This mini waffle maker can not only make the favorite breakfast classics, but it can also cook up waffled hash browns, cookies, and even biscuit pizzas.
2 — Toilet Seat Night Light
This motion sensor toilet seat night light is the weird and random gift that no one knew they needed late at night until now.
3 — Animal Wrist Support
This cute wrist support keeps your hands in a comfortable neutral position when you're working long hours on the computer.
4 — Essential Skincare Travel Gift Set
Everyone can nourish their skin in the winter, and the Burts Bee travel set does just that with its cleansing cream, hand salve, honey body lotion, coconut foot cream, and lip balm.
5 — Snowflake Multitool
Inspector Gadget would go crazy over this compact snowflake multitool that functions as a hex wrench, screwdriver, bottle opener, or even a fidget toy.
6 — Sassy Mug Candle
Create a calm and relaxing ambiance to any room with a sassy mug candle.
7 — Gourmet Spicy Honey
This spicy honey will add a serious kick to everything from your charcuterie board, pizza, biscuits, fruit, cocktails, and more.
8 — Fish Magic Soap
This stainless steel soap removes the smell of garlic, onions, and fish from your hands.
Real soap can't do that, so this really must be magic.
9 — Shot Spinner Game
The Shot Spinner Game is like Spin the Bottle, except for shots and not kisses.
More Gift Ideas
Holiday Entertaining Ideas