Sometimes I get crazy ideas of projects I want to do but they're almost impossible to make based on time (or extreme details I usually don't have the patience for), like this DIY retro gingerbread camper and recipe that I've had stuck in my head since last Christmas! Luckily, our friend Monica is literally a detail oriented genius (we're totally friending up!), and has swooped in to help save the day with this DIY!
If I had tried to make this camper on my own, it would have looked like a glorified cardboard box, because Lord knows I'm not one to figure out how to bend gingerbread for curved edges, or edible windows you can still see through. Alas, her expertise has us covered, and we're sharing all of the how-to details and templates!
Seriously, talk about winning the coolest gingerbread creation on the block…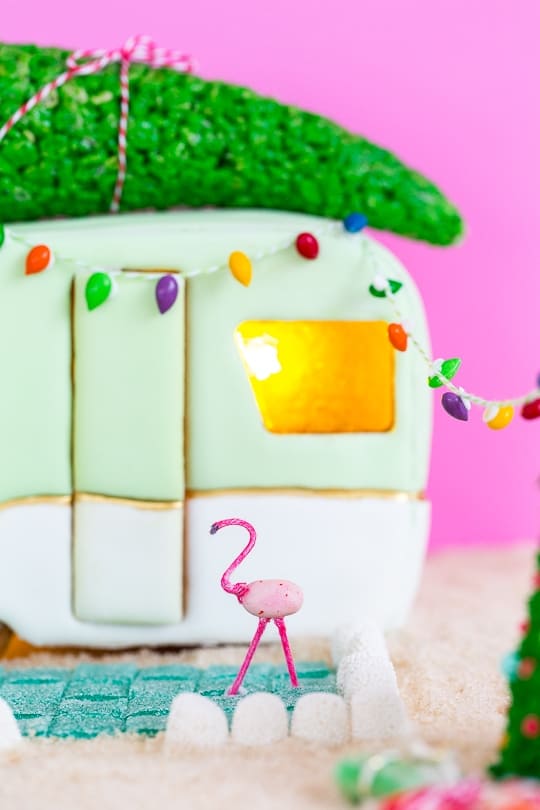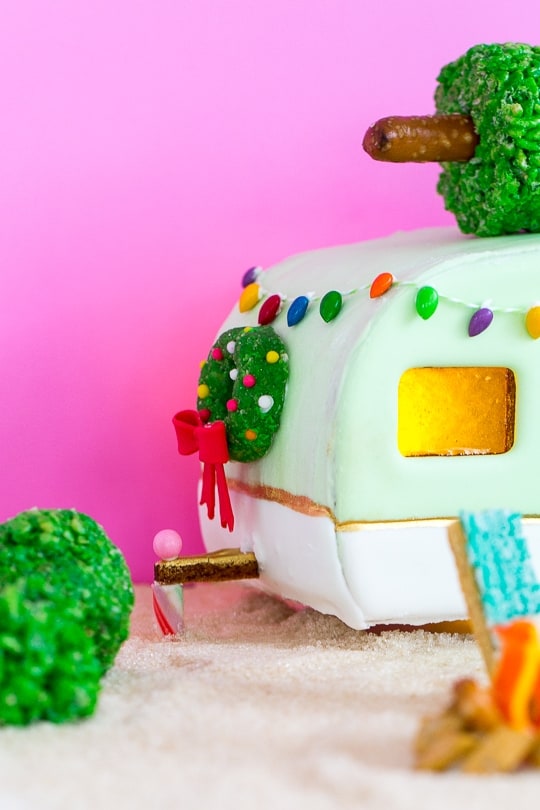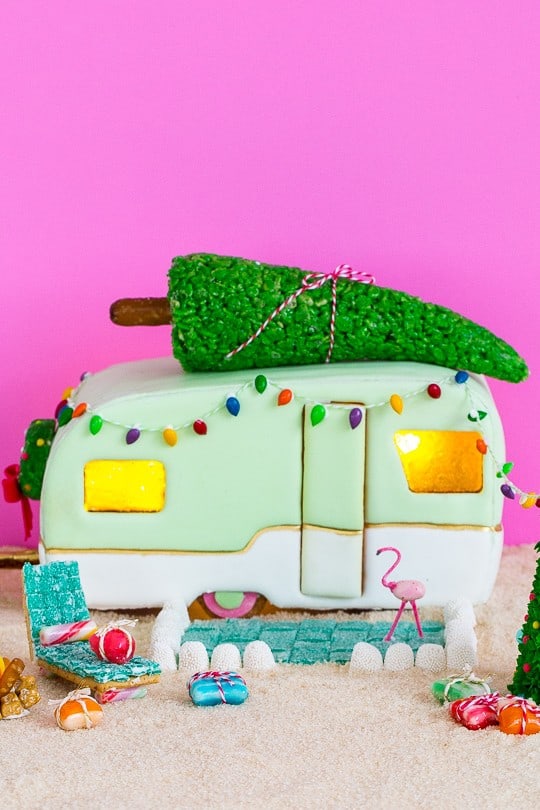 Construction grade gingerbread recipe:
1/2 cup Honey
1.5 cups granulated Sugar
3 Eggs
5 cups all-purpose Flour + more for flouring surface
1.5 teaspoon Cinnamon
1.5 teaspoon ground Cloves
1.5 teaspoons nutmeg
1 tablespoons ground Ginger
Cream eggs and sugar together in a stand mixer, then add Honey and spices. Mix in flour, 1 cup at a time until mixed. Dough will be stiff. Use dough hook until dough comes together to form a ball.
Wrap in plastic wrap and chill for one hour.
Lightly wipe down the counter with a wet paper towel and place a large piece of foil on top (the water helps it stay put). Flour surface and roll your gingerbread to 1/8" thick on foil. Place template on gingerbread and cut with pizza cutter. Be sure to cut out all windows and doors! Transfer foil to baking sheet and bake at 325 for 15 – 20 minutes for side pieces (until golden brown). 8-9 minutes for edge piece that you will curve (just starting to darken). Bake side pieces first and let them cool. For edge piece, work quickly while piece is still warm and bend around cooled side piece to form curve.
Let all pieces cool before sticking with royal icing. Let royal icing harden for 4-5 hours before decorating.
Download & print the retro camper template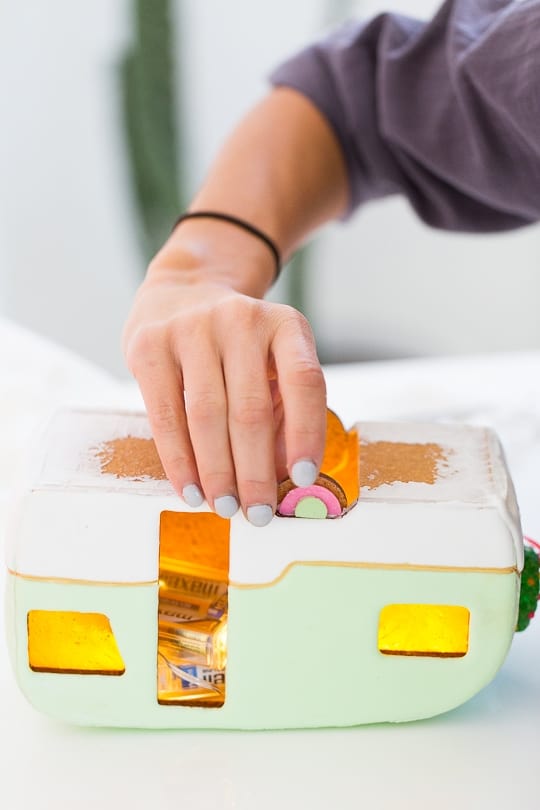 To Make "Windows":
Crushed butterscotch hard candy
Cut out windows and doors before baking gingerbread dough.
Once cooled, place the pieces needing "glass" on foil on a baking sheet. Fill with crushed butterscotch candy and bake at 350 degrees for about 5 minutes, until candy has melted. Let cool thoroughly, overnight is best, before removing from baking sheet/foil. 
Thick Royal Icing Recipe:
3 tablespoons meringue powder4
cups powdered sugar
6 tablespoons water
Mix all ingredients together and then store in an air-tight container. Makes 3 cups of icing. Use to bond sides of your gingerbread house.
Edible Decor Elements
Rug and fence– green sour belts and champagne bubble jelly beans
Tree– waffle ice cream cone covered in green royal icing, and sprinkle bulbs
Tree on top– green rice krispy treat with a pretzel rod trunk and twine wrapped around
Presents– old fashioned candy mix wrapped in twine
Wreath– green rice krispy treat with sprinkles and a red fondant bow
Wheels– gingerbread cookie circles, pink melting chocolates, and jumbo confetti circles
Flamingo– pink jelly bean and white floral stems with pink food marker
Toe hitch– gingerbread V with striped candy cane and pink sprinkle
Fire– candy rocks, pretzel sticks, and orange and yellow ribbon candy
String lights– lime green twine and candied sunflower seeds glued on with royal icing
Lawn chair– woven sour belts, graham crackers, and candy cane feet help together with royal icing
Sand– a mixture of brown sugar and course organic sugar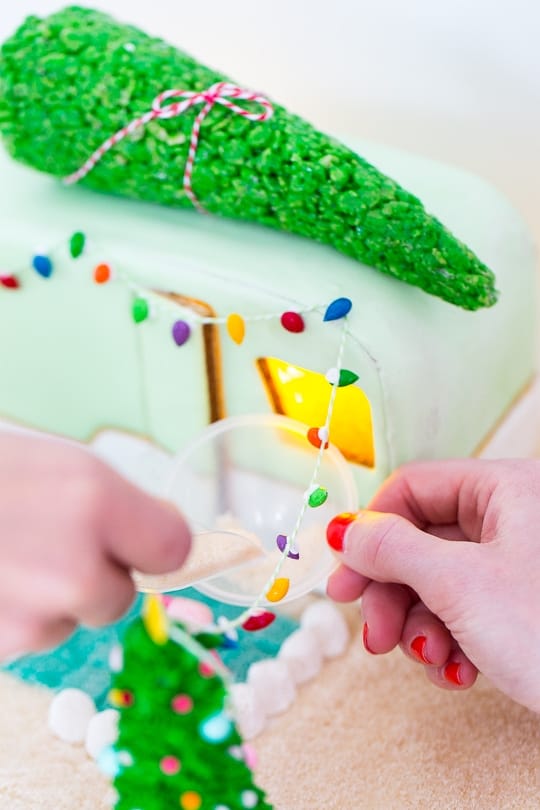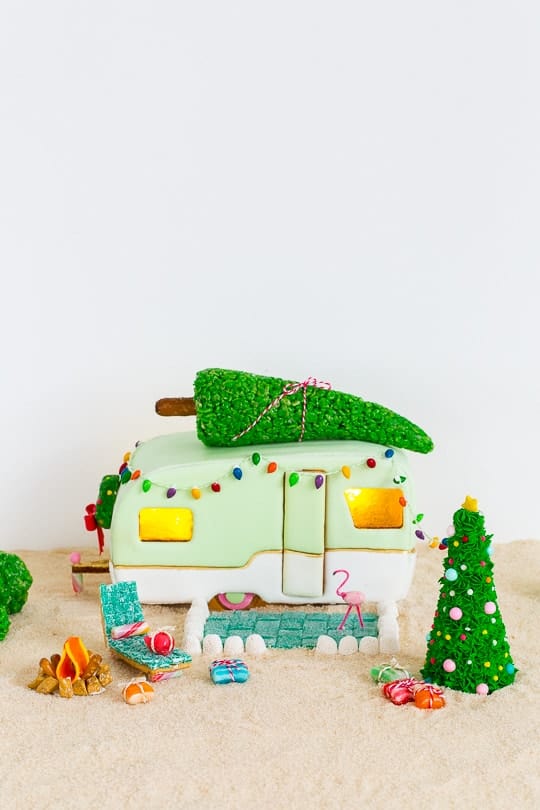 To put your creations together, you can adhere them all to foamboard or a sheet of thin, sturdy wood with royal icing. We actually even ended up displaying ours in a white lacquer tray for our Christmas party so that we could contain the sand easily!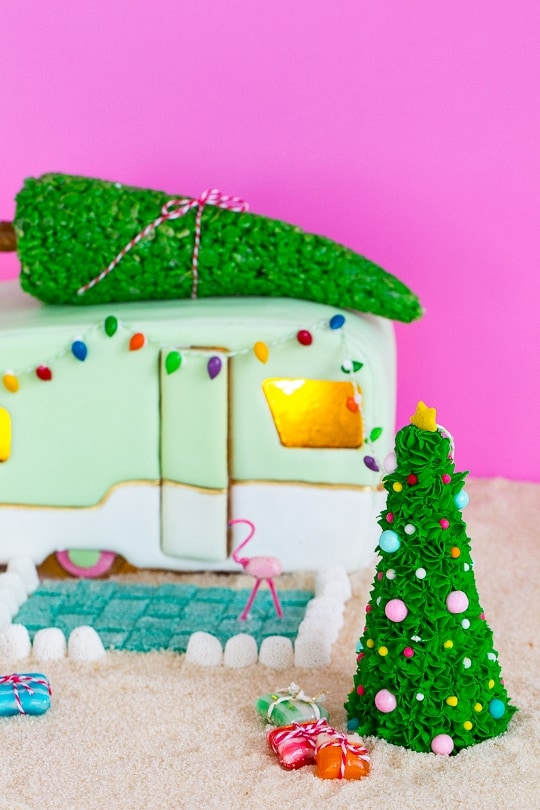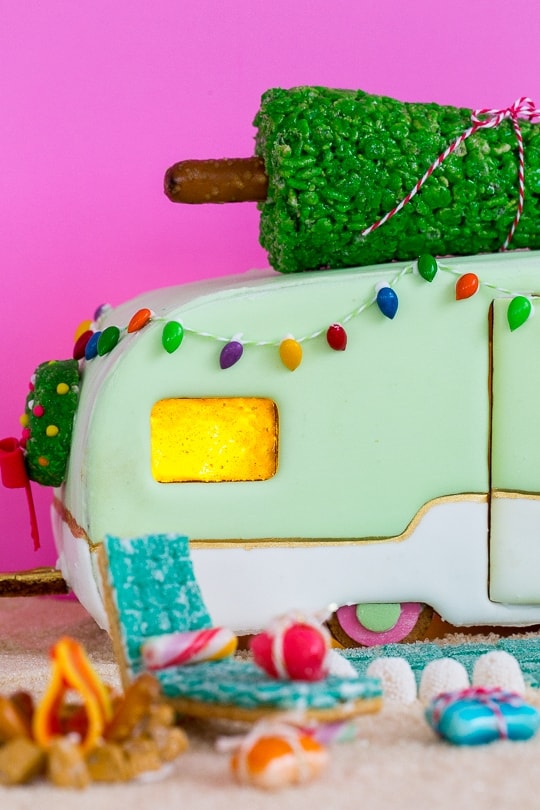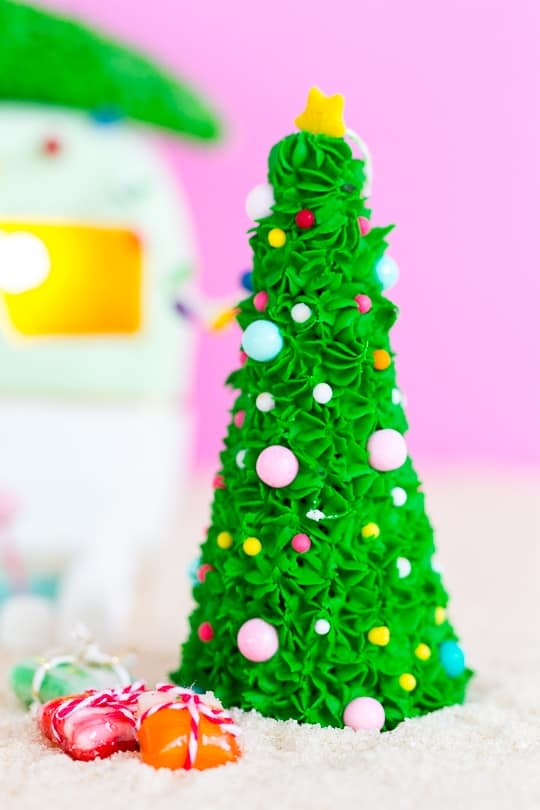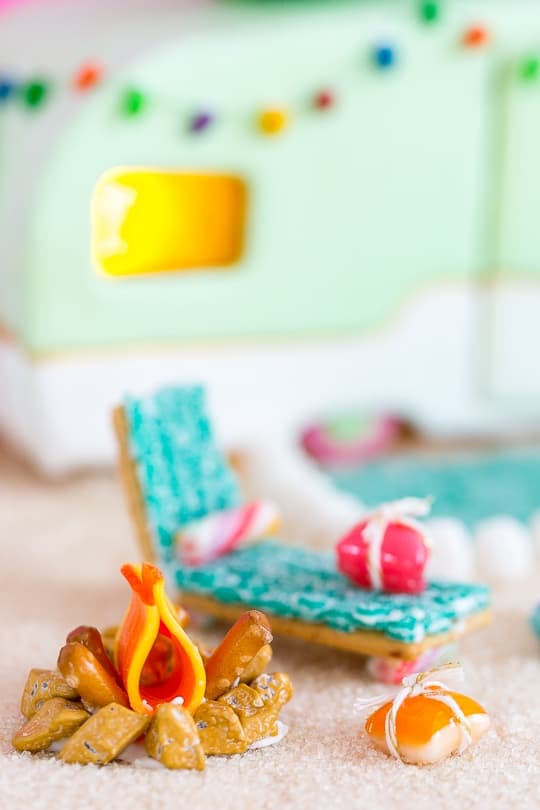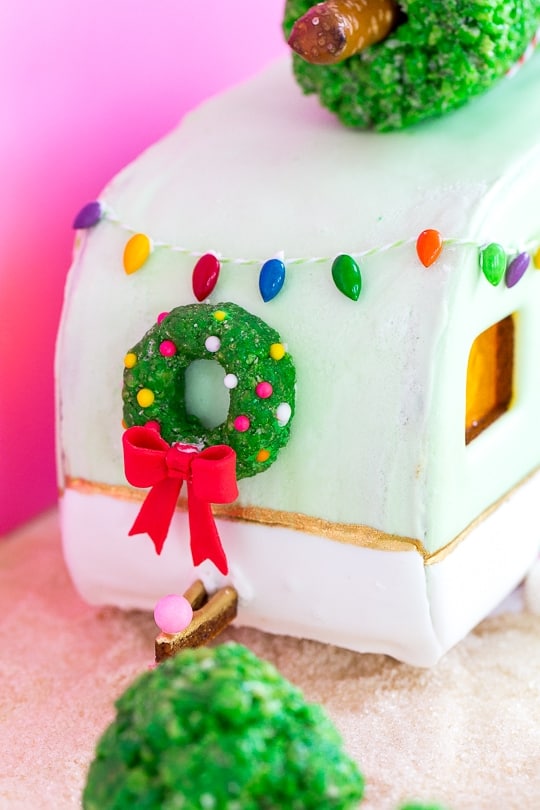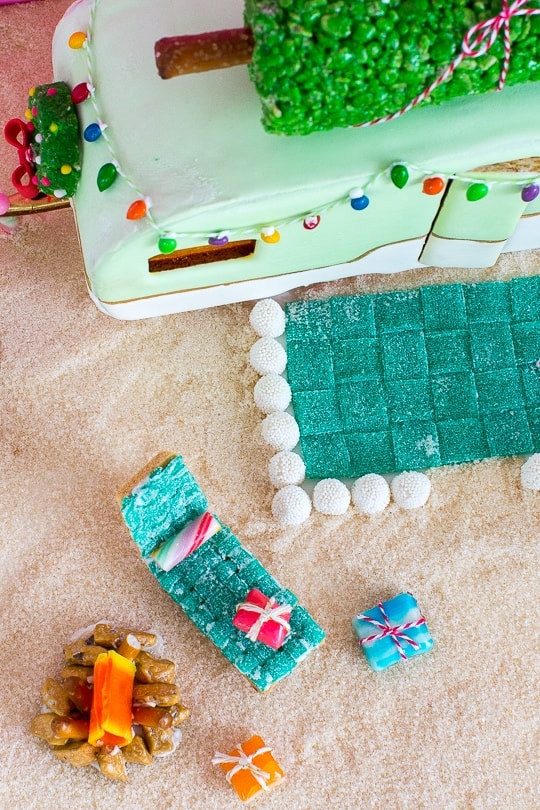 I realize this is quite the undertaking, but at least you can bask in the ridiculousness/awesomeness of ours even if your desire to spend 20+ hours on your own version isn't there, right? What's the craziest gingerbread project you've ever made?
We have one more crazy one up our sleeve with Monica coming to you next week, so be on the look out!