Tired of your dreary old fireplace? Check out these 16 amazing fireplace makeover ideas for some inspiration to give your room a fresh new look!
A fireplace is the one feature that you will find in most homes. Traditionally, they were used purely for functional purposes. Over time, they've become a design focal point.
We love a good fireplace for that cozy ambiance touch. It's a great spot to gather around. But it's not so great when it becomes an eyesore. Have you been wanting to do something with your outdated fireplace, but the idea of even messing with masonry just sounds daunting?
You'll be surprised how easy it can be to upgrade your fireplace. Even something as simple as painting brick can completely transform the room.
So get inspired by these budget-friendly 18 fireplace makeover ideas. Most include DIY tutorials with different design ideas for different interior design styles.
16 Fireplace Makeover Ideas
1 — Transitional Living Room Fireplace
If modern and minimal isn't your taste, but traditional is too warm and heavy, then the transitional interior design is your style. It is the merging of contemporary and traditional. It's still light and airy with a balance of curvy lines and clean lines.
We created clean lines by removing the old molding from a traditional fireplace. Then, we replaced it with painted wood for a DIY shiplap and a new statement tile over the marble tile for a new transitional fireplace.
2 — Lakeside Modern Living Room Fireplace
For our lakeside renovation, we felt like the existing fireplace was a design afterthought despite being the room's centerpiece.
We didn't want the fireplace to be the main focus of our living space. So we designed a streamlined mantle built from the ground up.
We built up a tile hearth so that it wasn't flush with the wood flooring to differentiate the fireplace. The combed hexagon tile was just neutral enough while making a big visual impact.
3 — Fireplace Makeover with Sticker Tiles
Don't want to be knee-deep in a huge construction project, but you can't just tile over your existing fireplace Then, you'll love this budget-friendly DIY fireplace with sticker tiles. In less than 2 hours, an old fireplace was completely transformed simply with stickers.
4 — Mantel Makeover
Ah, the classic 1990's red brick fireplace. Is there one in your home? You know, the one with the iconic white columns with tan tiles. This mantel makeover is now a beautiful fireplace with a more modern look.
5 — Coastal Family Room and Fireplace Makeover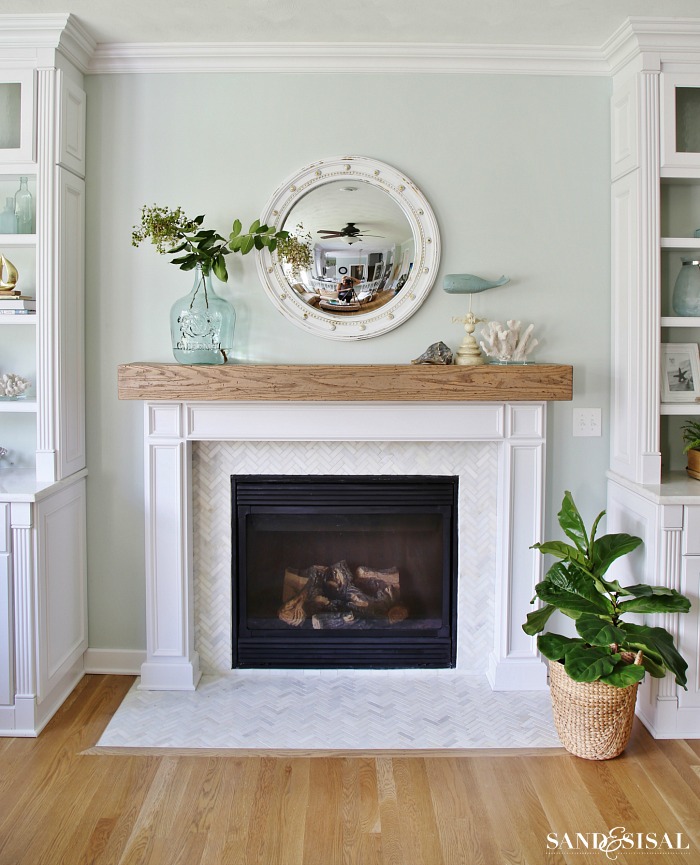 The only professional assistance needed for this coastal fireplace makeover was for a contractor to lower the gas line. Other than that, this home improvement project was done by the owners themselves. They even dismantled the 6-foot whitewash brick surround and hearth themselves.
A step-by-step tutorial guides you on how to build the DIY wood beam mantel and how to install the marble herringbone fireplace surround. So that means you can too!
6 — DIY Fireplace Mantel and Hearth Makeover
We cannot believe that this cozy cottage makeover only costs $150. And there were many processes to this amazing transformation too!
To get to this final finished look, the glossy orange exposed brick was painted, and a larger, deeper mantel was built. A new wood hearth frame was added, along with new hearth tiles, crown molding, and a re-trimmed baseboard.
And if your home currently has a non-functioning fireplace like this one, check out the tutorial on how to paint a firebox.
7 — Concrete Makeover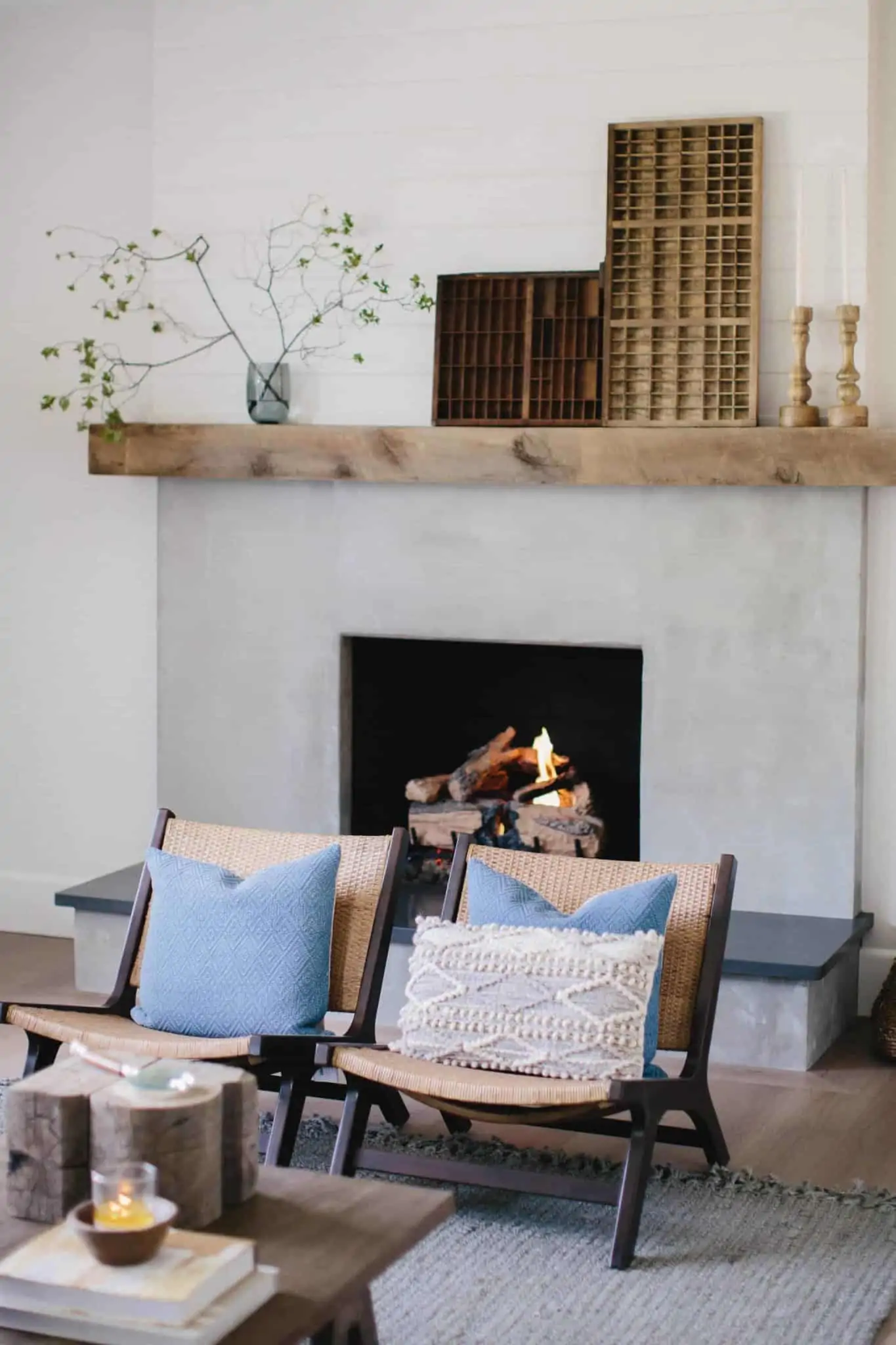 If you don't want to completely dismantle the brick, an easy option would be to smear the brick with cement for a finished concrete fireplace.
The owners didn't want a completely contemporary look, so they used an old fence post to create a floating mantel.
8 — 70's Brick Fireplace Makeover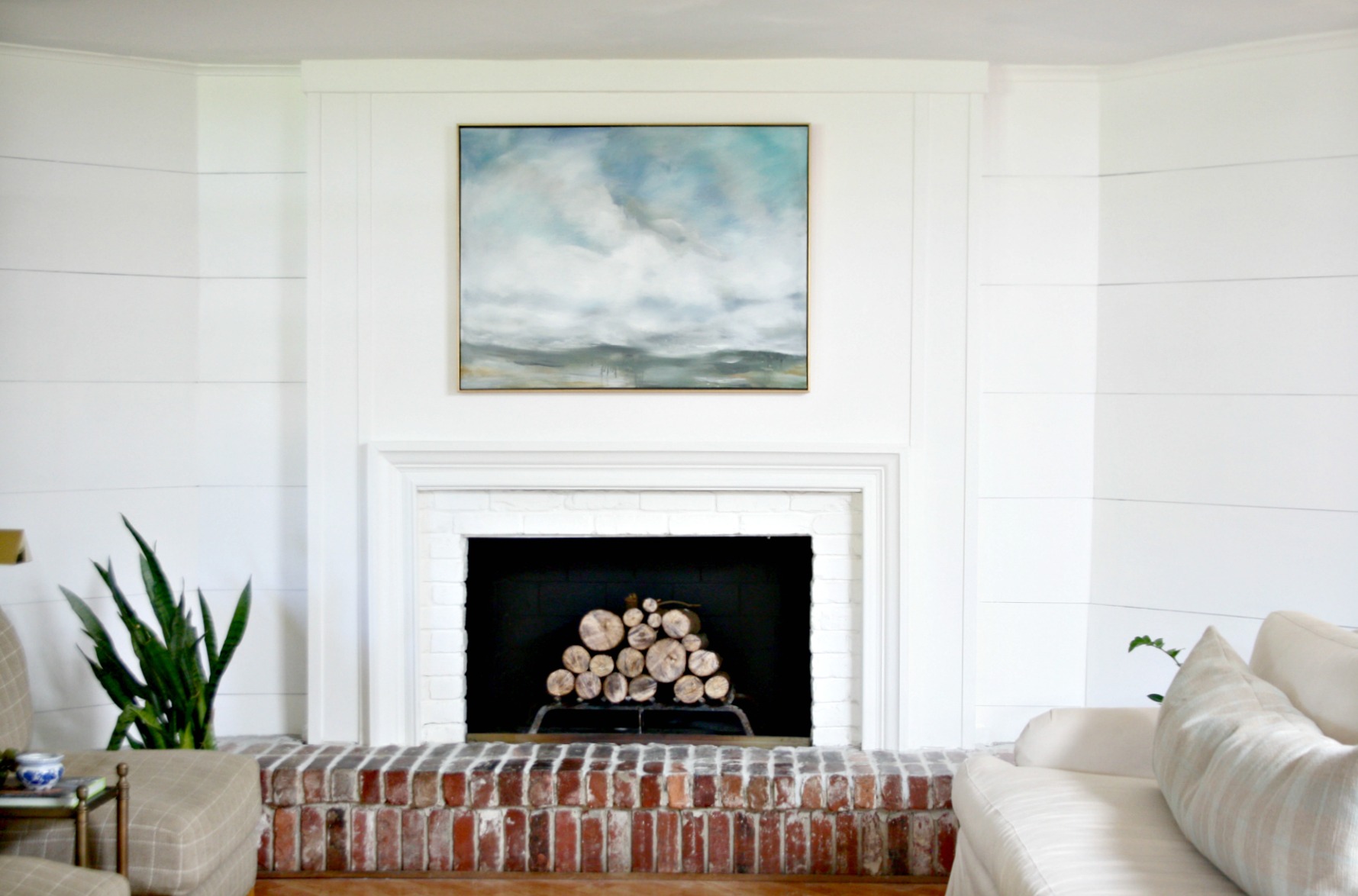 Besides a brick fireplace, many older homes even have matching brick walls. Here's how to reface a brick fireplace and its adjacent wall if you have a 70's style home that you are looking to modernize.
9 — Stone Fireplace
Like brick, you can also easily paint over stone, and here's how. This original fireplace was grey, which seemed to suck up a lot of the room's natural light, so painting it white made it feel more neutral.
10 — Modern and Clean Lines
An awkward corner nook is now completely transformed with this stunning fireplace makeover. We love the idea of nixing the traditional top mantel for a more streamlined built-in bottom shelf to fit the home's modern interior.
11 — Awkward Corner Fireplace Makeover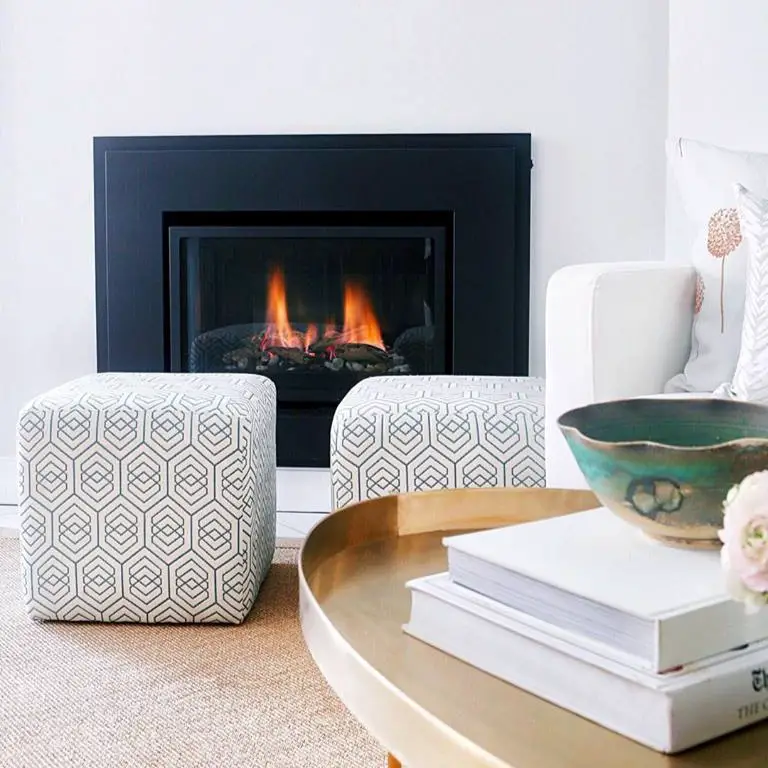 Here's another great DIY corner makeover to showcase the dramatic change a cosmetic update can make. It's hard to imagine that this corner once held a large brick fireplace, mantel, and seating. But with some demo and Venetian plaster, it's now so stylish and modern.
12 — DIY Rustic Fireplace Mantel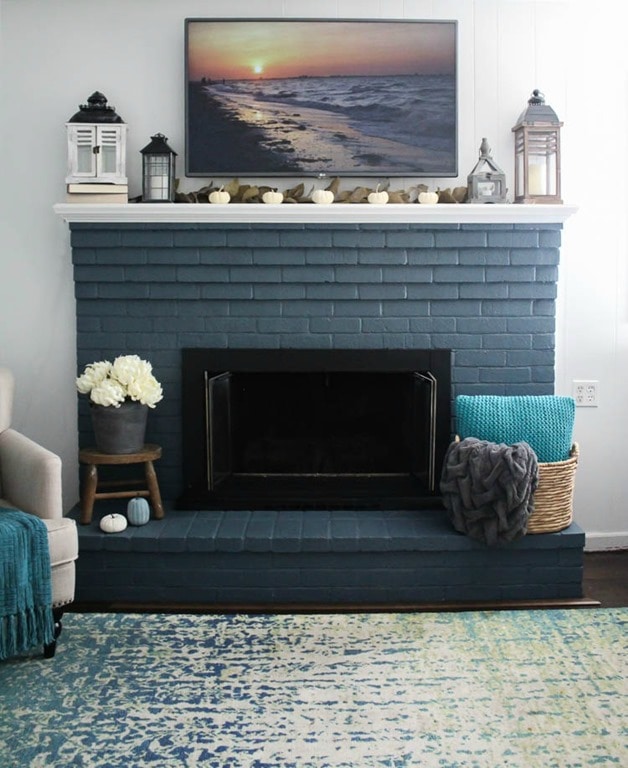 This big rustic DIY mantel draws attention away from the large bulky fireplace. A huge reclaimed wood that size can easily run over $200. Or, with basic lumber (that only costs $25)and supplies, you can easily replicate the rustic style.
13 — Peel and Stick Stone Fireplace Surround
The surround is the fireplace face that surrounds the opening. Typically, it is covered in tile. And updating that area is a quick way to refresh your fireplace.
This peel and stick makeover utilizes peel and sticks tiles to cover up the existing sound. These tiles are actually real thinly sliced stone with an adhesive backing. So you still get the depth and texture of real stone.
14 — Accent Wall Feature
With eyes already drawn to the fireplace, it's the perfect spot for a painted accent wall. You can apply the same concept with some quirky wallpaper.
15 — Colorful Fireplace Idea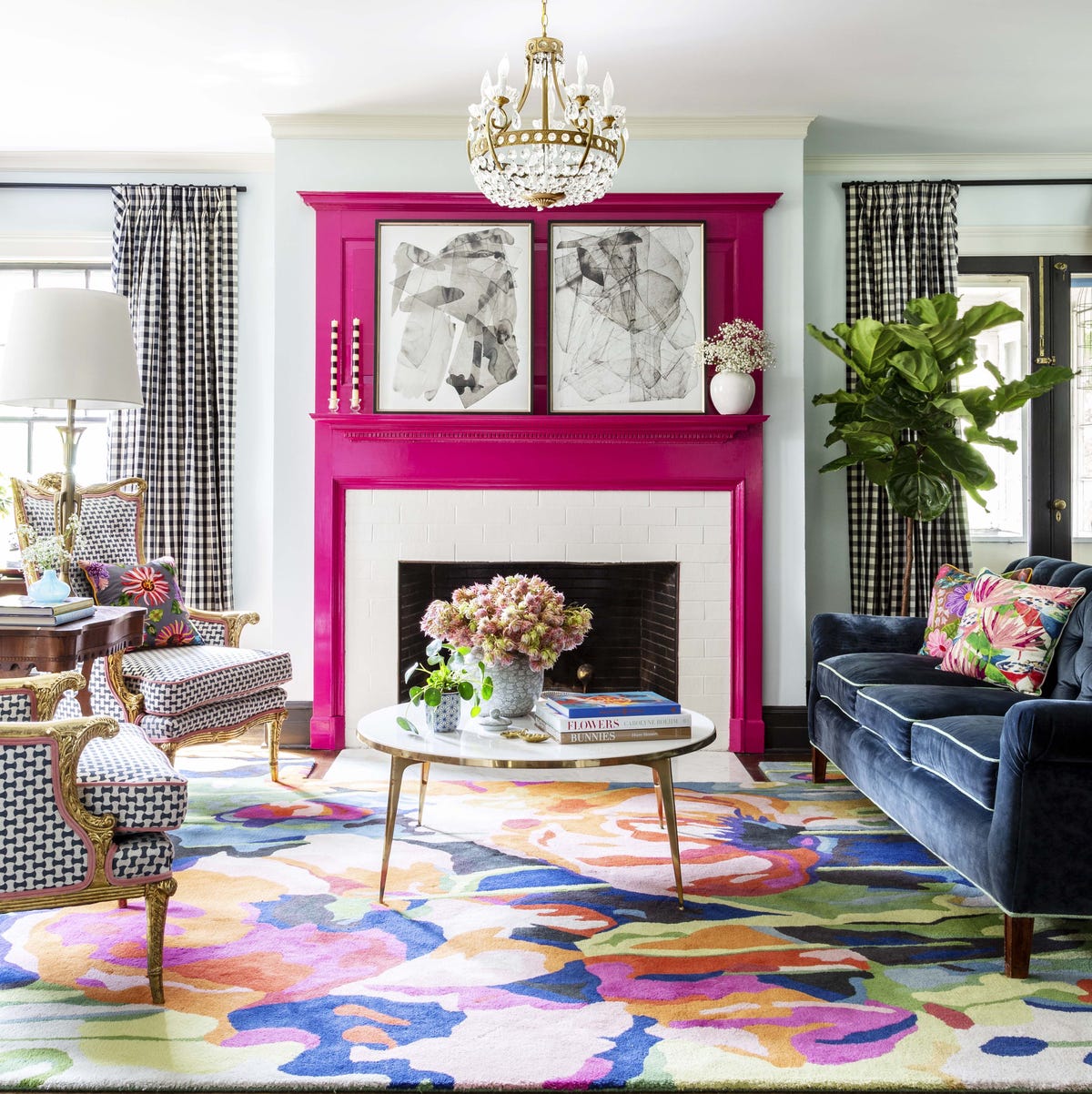 There's nothing like going big, like a bold pop of color. And if you do make the jump, we guarantee you that "boring" would be the last word to describe the makeover. A pop of pink on the wooden mantel completely modernizes this 1900-era home. If you really don't want to take the leap yet, you can simply just paint the interior of the fireplace box.
16 — New Fireplace Install
Is your home lacking a fireplace, but you would still love to have one? We were in the same boat with our first townhome. However, we were already renovating the living room and took the opportunity to create a new fireplace feature.
We installed an electric fireplace. It was pricey but well worth it when you consider how dramatic the living room changed. Then, we constructed our wood mantel with cheap wooden frames, a staple gun, and spray paint.
The modern shiplap breaks up the high white walls and only costs $250 to DIY. The living room now has a cozier, less stark ambiance.
More Home Makeover Ideas