DIY Mid Century Wall Clock — If you're looking for a statement piece for your home decor, this DIY mid century wall clock is it!
Well ,we're finally back to our regularly scheduled programming after last week's blog birthday madness. And I'm really excited about this DIY!
I've been on the hunt for the perfect retro clock for my living room (which we're doing a room makeover we're sharing soon)!
But I wanted to make it a bit bigger than the rest, so this one is jumbo sized my friends!
Needless to say, this not-so-little DIY Mi Century Wall clock is the perfect statement decor piece!
Surprisingly it's actually pretty simple to make, and will cost you a lot less than most home decor stores to create…
Tools & Materials Needed To Make A DIY Mid Century Wall Clock
Foam brush for stain
12 Dowel caps
Drill, screws, and drill bit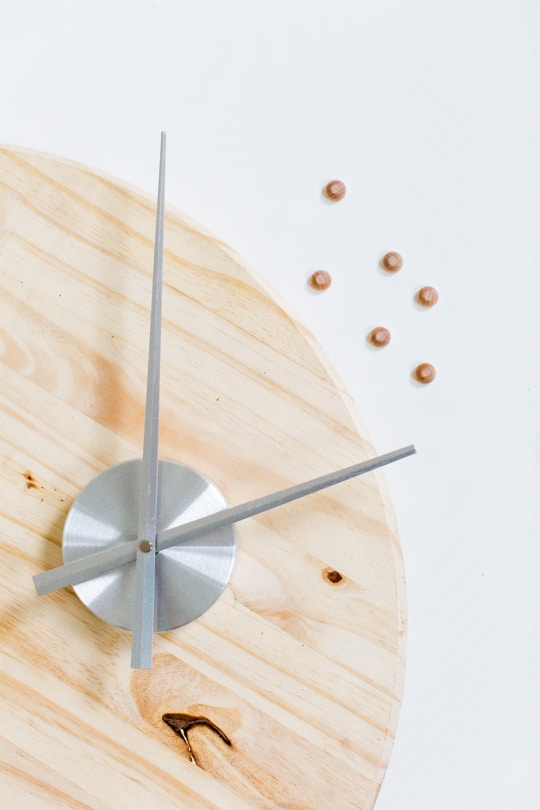 How To Make A DIY Mid Century Wall Clock
First off you're going to stain the wood round the color of your choice and let it dry completely.
While that's drying, go ahead and spray paint the clock movement and wooden dowel caps with the metallic gold and let dry.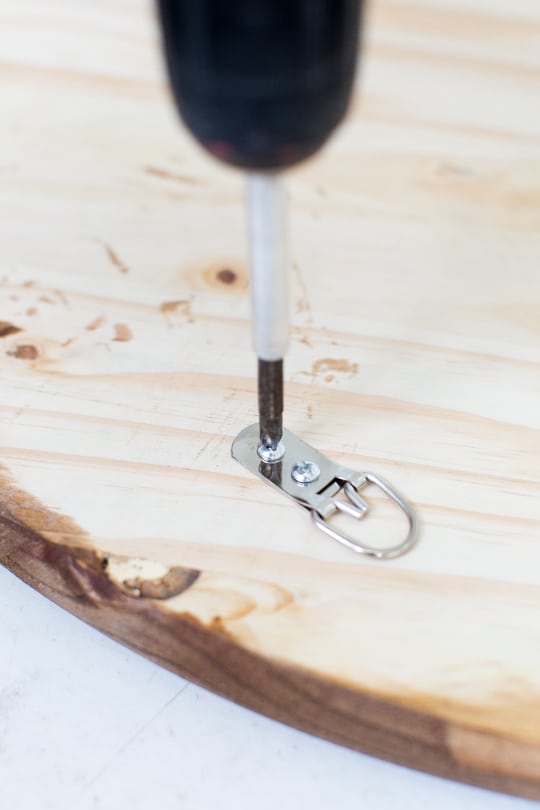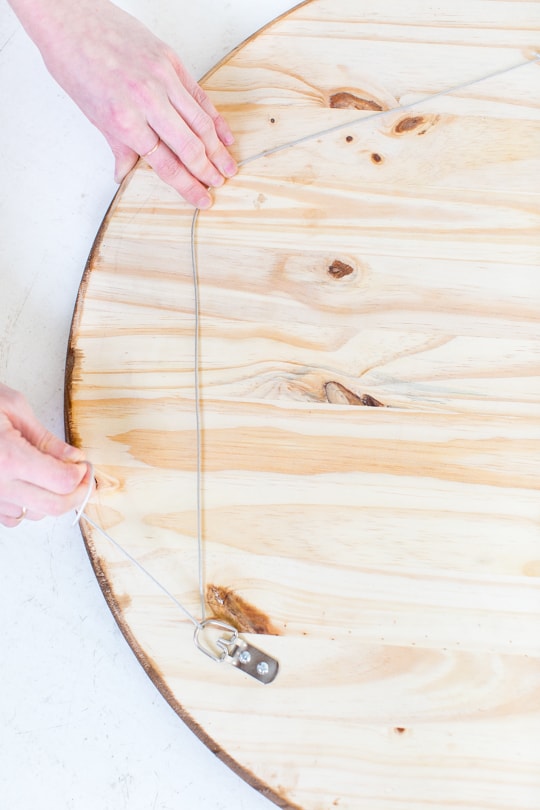 In order to not scratch the mechanisms, you're going to go ahead and attach the d-ring picture hangers to the back of the board with a drill.
Then, string the picture wire between the two so that the clock is ready to hang once the front is assembled.
Now flip the board over and we're going to assemble the front face of the clock.
The clock movement we used will just rest on the face of it.
So measure out the exact center of your wood round and drill a screw about 1/2 inch below that so that once the mechanism is hanging it will be in the middle.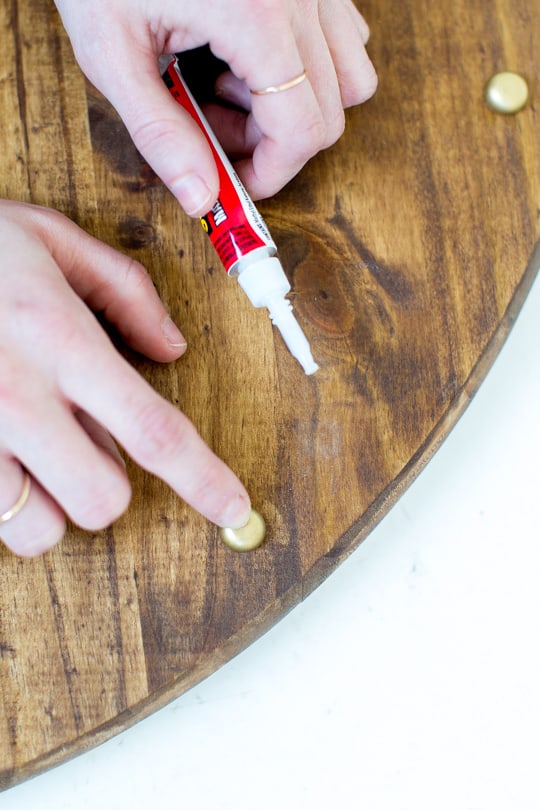 Now all you have to do is glue the wooden dowel caps in place to represent the hours and you're all set!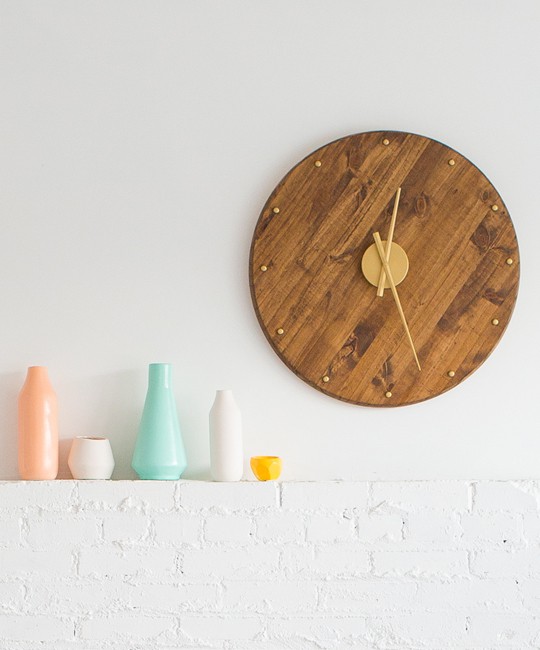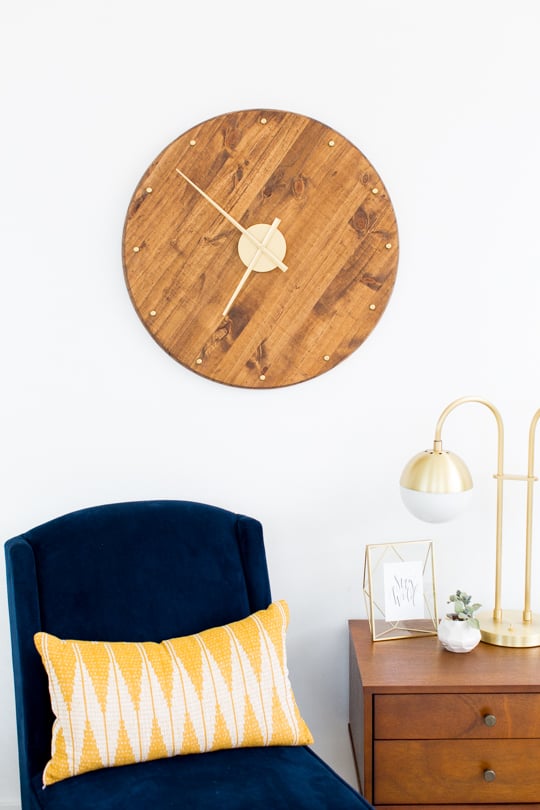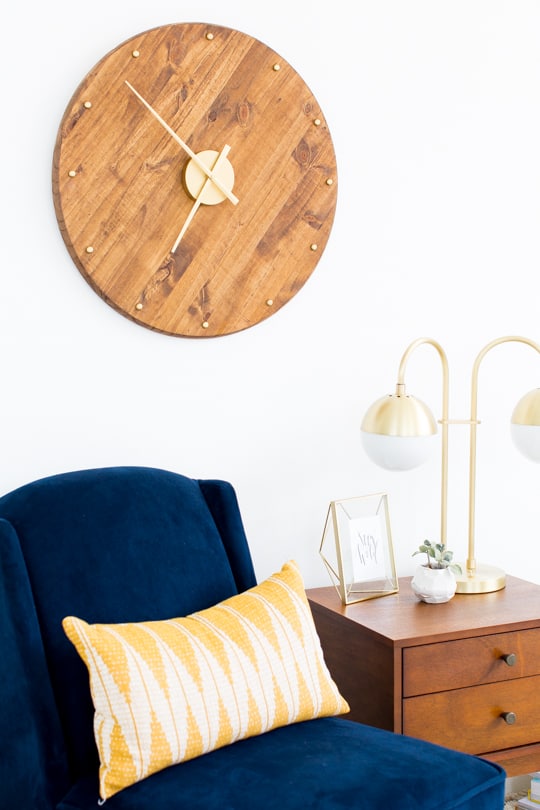 Living Room Furniture Sources
I also feel inclined to admit that I literally never use actual clocks or watches to tell time (blame Apple for my iPhone), but they make the cutest statements pieces don't you think?!
I really love the idea of skipping the gold dots and just doing the metallic movement and wood round for an even simpler DIY version!