DIY Mid Century Daybed — We're giving you the full scoop on our DIY Mid Century Daybed and tour of our guest bedroom!
I've been wanting to fix up the guest room for forever. I actually used to use it as my craft room once upon a time before moving to the first Sugar & Cloth studio.
I cringe at what this room used to look like! And it's basically just been the place where random things go to live until they find a real home.
I also felt really bad when my Dad was here for almost an entire month trying to help us renovate the new studio space and was sleeping in this room with just a blow up mattress. (Yikes!)
So clearly this DIY Mid Century Day Bed and guest room tour was long past due! I really love the way it has turned out.Finding a few key pieces (thanks to my All Modern addiction!) helped make the space much more interesting.
This room also leads to the back patio so a daybed DIY was perfect for making it feel like a universal space as opposed to walking straight through a bedroom.
And it's still small enough to not overwhelm the room since it's barely a 10ft wide space!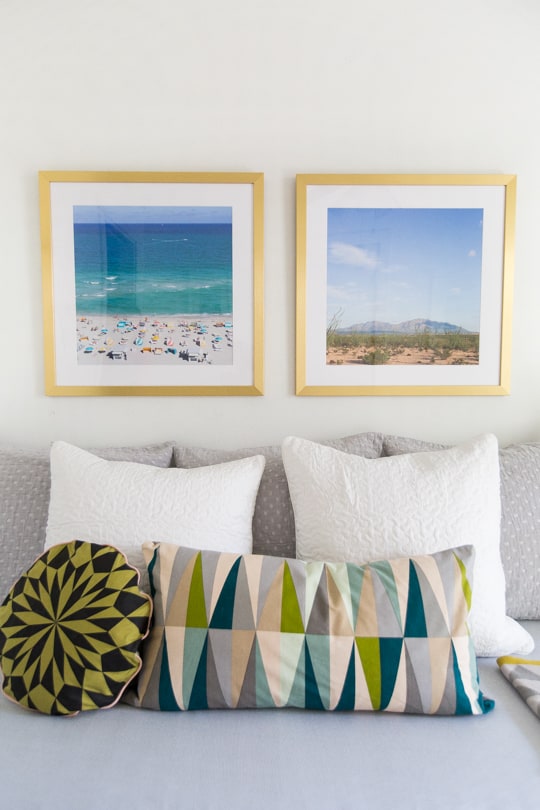 Materials and Tools Needed To Make A DIY Mid Century Daybed
Set of four 5 1/2″ Waddell table legs
Set of four sofa or table leg mounting plates
Ikea Sultan twin size grey foundation and mattress — We used the Ikea Sultan Foundation in Grey Twin. The Ikea Espevar Slatted Mattress Base in Twin is also similar. Whichever foundation you use, just be sure that the bottom allows you to attach legs.
Drill and screws for mounting plates
Wood stain in Walnut — Or any color of your choice
Foam brush — For applying the wood stain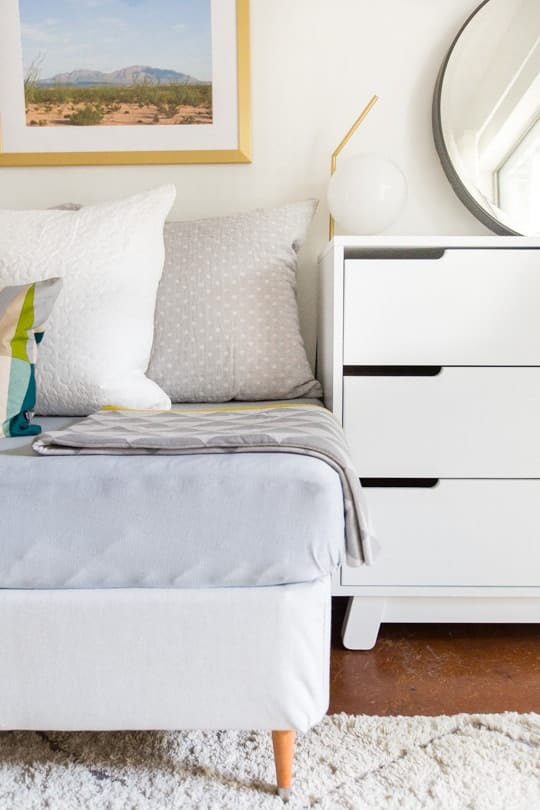 Ikea Hack | How To Make A DIY Mid Century Daybed
First things first, you'll want to stain the unfinished wooden legs in the walnut color first, and let them dry completely.
While those are drying, screw the metal mounting plates to each of the four corner of the twin bed foundation.
The foundation actually is made of a wooden bottom and grey fabric cover, so it makes it really simple to attach legs to.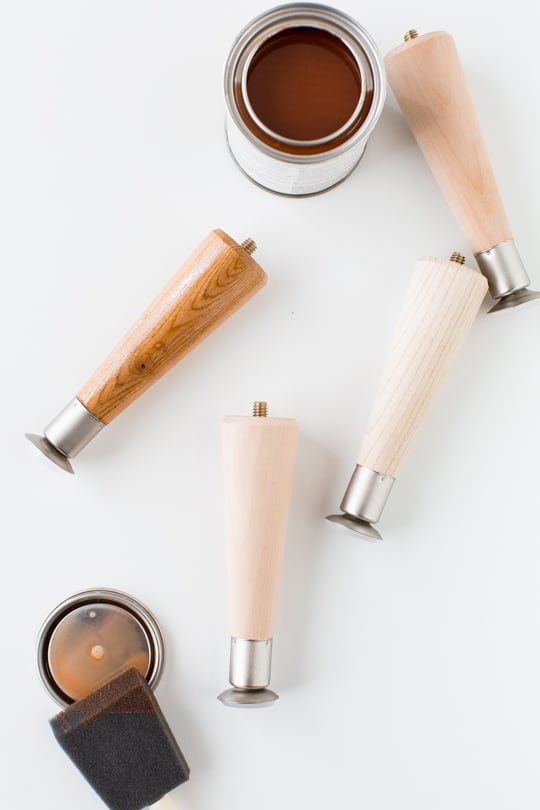 When the stain is dry, twist each leg into the mounting plate on all four corners, and flip it right side up, stacking the mattress on top.
Easy as that!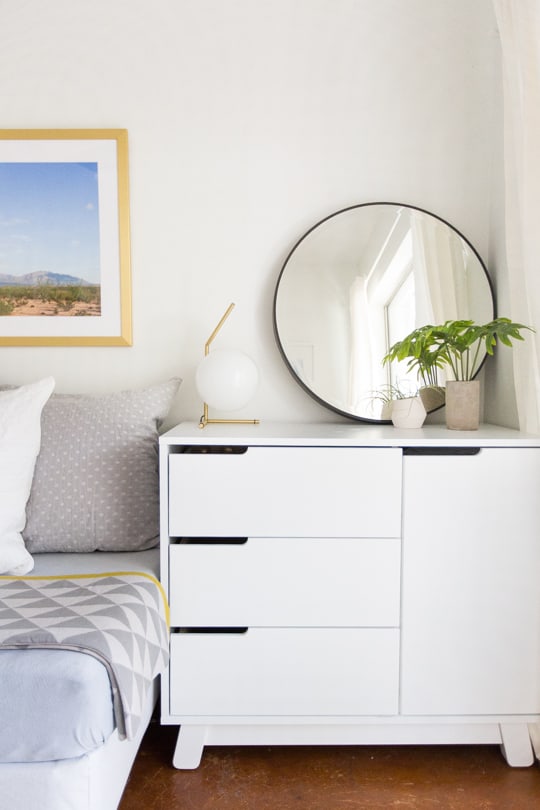 Guest Room Decor
For the top sheet, I used a dark grey pinstripe jersey sheet set from Target, and a Ferm living geometric throw, dotted grey Euro shams and pillows, geometric Ferm living lumbar pillow, and Ferm living star round cushion from AllModern for the rest of the bed setting.
I also wanted to make sure getting ready was an easy task for guests. So I picked out a simple mirror for the top of the dresser (which I have extra blankets, towels, shampoo, and a trinket tray to keep on hand).
I'm terrible at remembering to water house plants, especially ones tucked away in a spare room so I opted for air plants in these hanging vessels instead.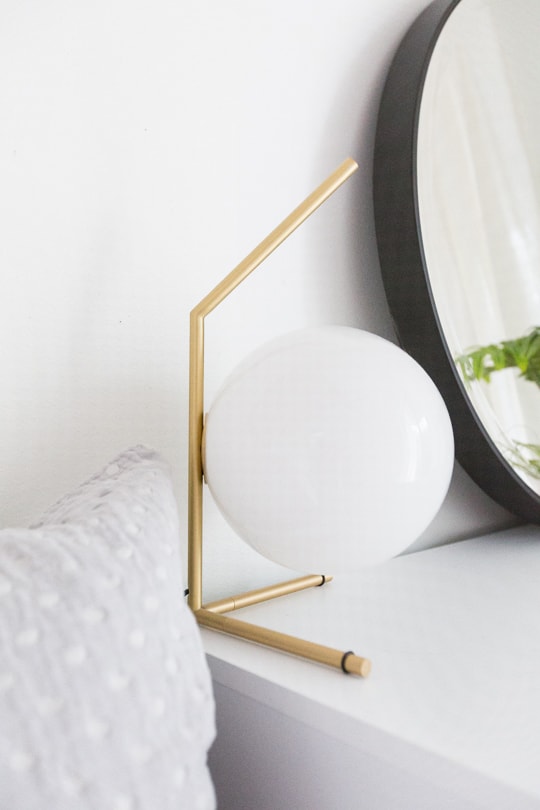 I know I mentioned it on Instagram already, but I'm still super obsessed with this crazy Flos lamp from AllModern! How freaking cool is this thing?
It's also super bright which is perfect for letting guests avoid the funky overhead fan light.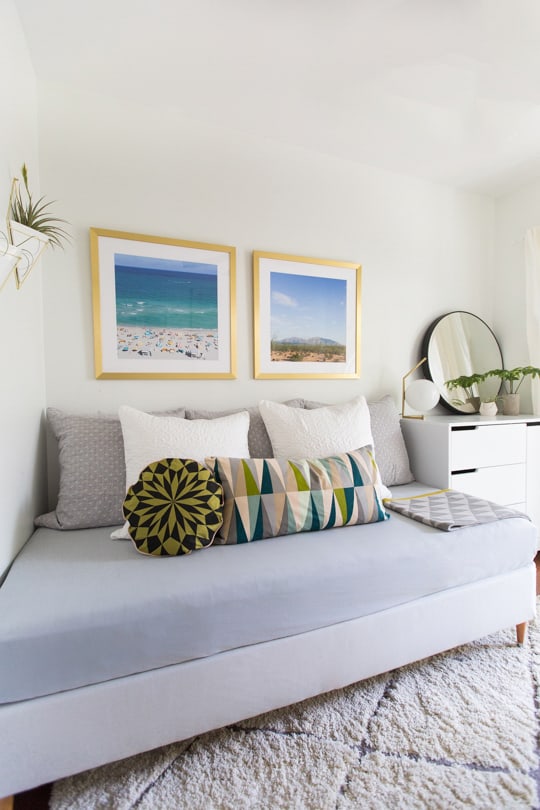 Guest Room Sources
White Euro shams from Ikea