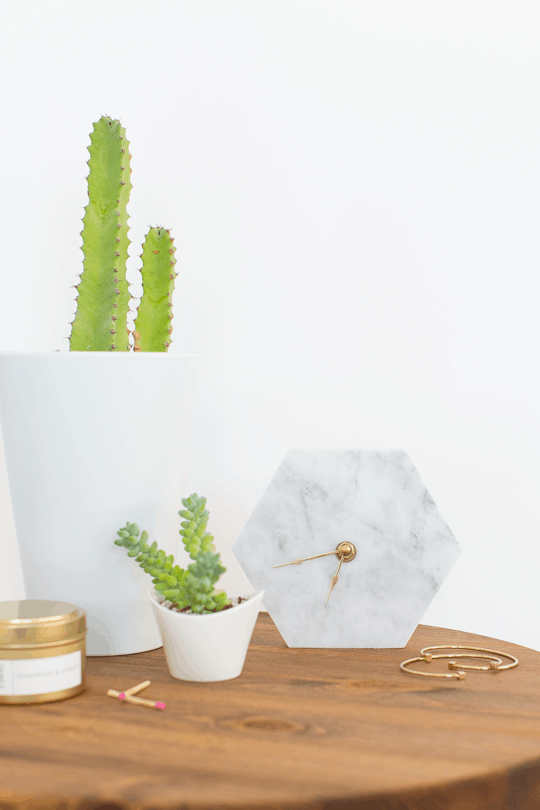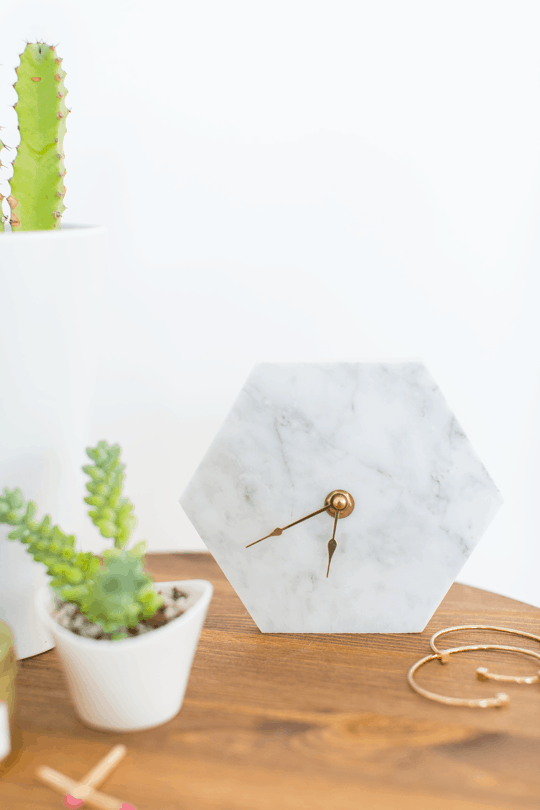 I personally love the #shelfie concept much more than the #selfie trend, so to support the movement, I'm sharing this DIY mini hexagon marble wall clock for more photogenic shelfies across the world. I know, I know, you can thank me later. In the meantime. let me just apologize to you for the incessant use of marble tiles in every other DIY lately. I have a slight addiction.
But seriously, they really do look good on just about everything: Shelves, desks, countertops, and even the dinner table. They're basically your new best decor friend…
Materials:
Drill & regular drill bit
5/16 ceramic drill bit
Painter's tape
Water squirt bottle
Paper towel
Super Glue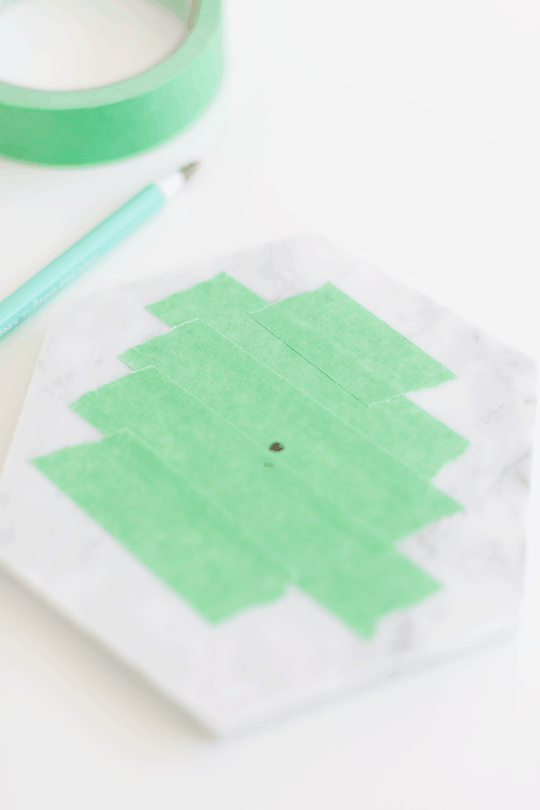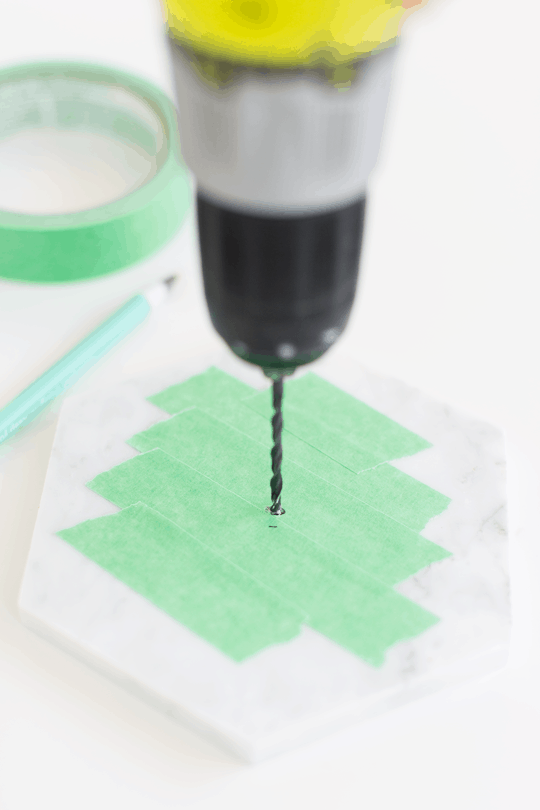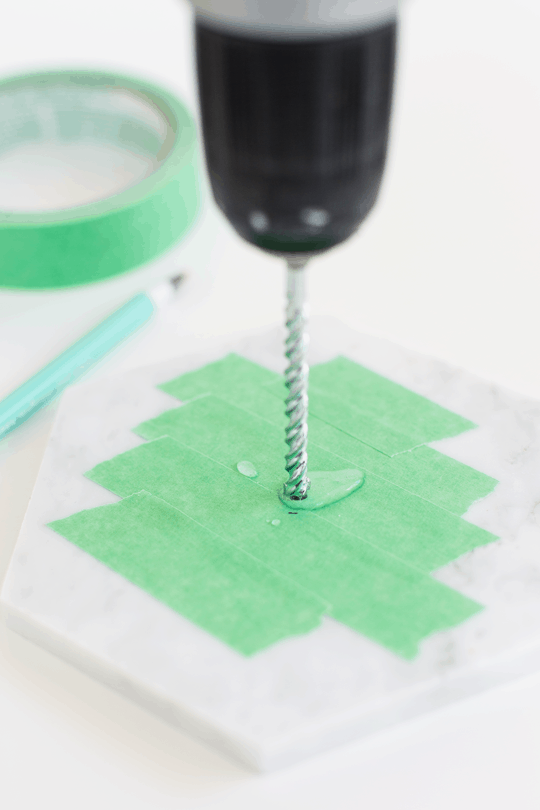 First you'll need to drill a hole into the very center of the tile. To do this, use painter's tape to tape across the surface of the tile for added strength so the marble doesn't chip or break. Next, start a groove with a drill and regular drill bit just until you can see ceramic dust, then switch to a ceramic drill bit and spritz the hole with water to help drill through without causing tension. It may become a bit messy, but you can use a paper towel to dab away excess water.
Once the hole is drilled all the way through, remove the tape and wipe the surface clean. Insert the battery part of the clock mechanism through the hole to make sure it fits. If so, use a dab of super glue evenly across the battery backing (being sure to avoid the hand shaft so that it will still rotate the hands as necessary), and then insert the movement through the hole and hold in place until the battery is well adhered to the back of the marble.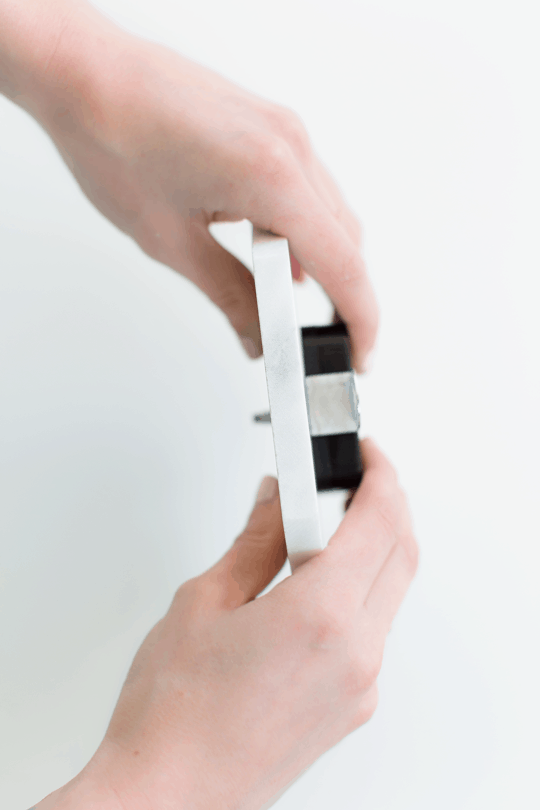 This is necessary because the marble is too thick for the hex nut to clip onto from the front side, so it needs to be held in place on it's own. Next, insert the washer over the shaft and then the hex nut, both of which can be glued to adhere to place.
Lastly, you'll attach the hands as instructed for your mechanism, and you're all set!
The tile is wide enough to stand up on its own, but it can also be hung from the opening on the back of the mechanism, or stacked/lean in place for styling.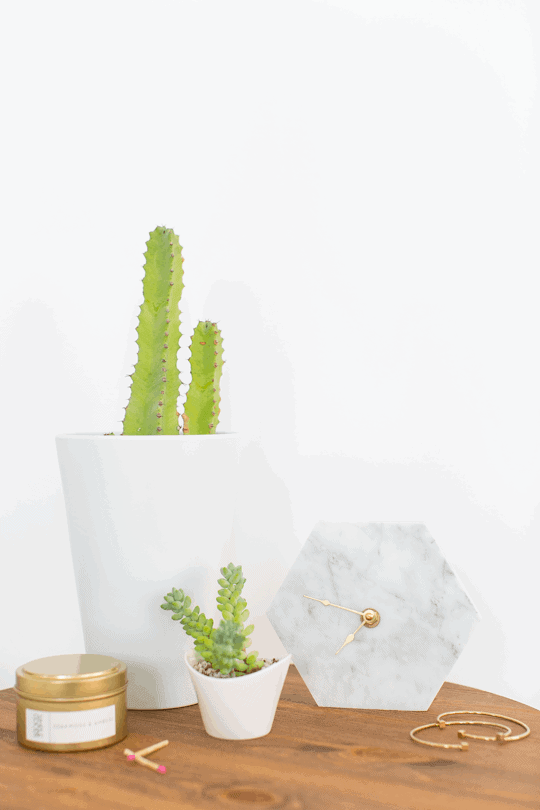 Speaking of time, we're actually just getting settled here in Florida visiting family and have no intention of racing the clock for the next few days! Can I get an amen?!
Be sure to follow along with all of the daily behind the scenes happenings over on Instagram, and share your S+C projects for us to see with #mysugarandcloth!