Get some inspiration and ideas from these 37 amazing and simple scrap wood projects that are perfect for your next DIY.
If you have some wood lying around the house and love being crafty, then here is the ultimate list of simple scrap wood projects for beginners and experts.
Regardless of your level in woodworking, these 37 scrap wood projects will take your home to the next level and have everyone asking where you bought it.
Scrap Wood Projects: Home Decor
1 — DIY Wooden Artwork
The Cricut Maker can do so many amazing things, including cutting wood. This DIY Wooden Artwork utilizes a piece of small scrap wood to form the backing and balsa wood sheets to create the wooden shapes.
2 — Minimalist Flower Hang
Bring a touch of bohemian flair indoors or out! These DIY Minimalist Flower Hang Vases are made merely with gold hoops, wooden shapes (which you can cut out from pieces of scrap wood), and rubber bands.
3 — Wooden Birthday Cake Decor
This DIY Wooden Birthday Cake is a great long-time staple centerpiece for birthday parties or provides an evening ambiance at any party.
It's a painted wood birthday cake, but also functions as a festive DIY candle holder. Simply, cut leftover wood from one of your previous woodworking projects the same size.
Then, paint the boards and drill holes for your candles.
4 — Skyline Wall Art
Love skylines and great views? Make this abstract skyline wall art for your home or any friend who can't get enough of those city views and skyscrapers.
5 — Scrap Plywood Candle Holders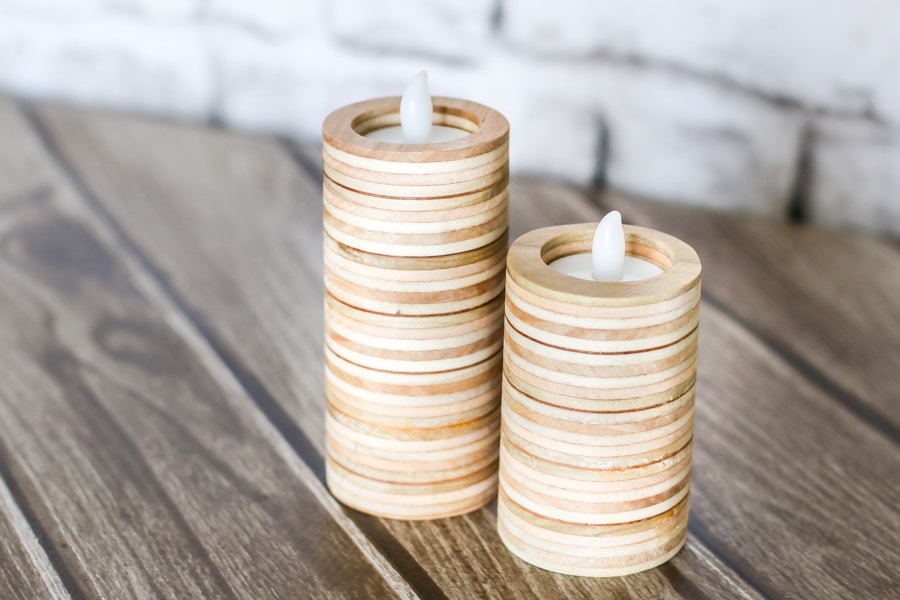 Candle holders are fun to make and great to have around because there are so many ways to display them.
What makes these scrap plywood candle holders different from the rest is their beautiful wooden design. While this isn't easy for beginner woodworkers, it's definitely worth the learning curve.
6 — Scrap Wood Art
Keep your scrap wood looking scrappy but artistic with this scrap wood art design. It's a weekend project that will liven up any wall in the house.
7 — DIY Scrap Wood House Shelf
A fan of those little street libraries and want to make one for your home?
This DIY scrap wood house shelf is the perfect way to keep those books in an easy-to-reach place while also looking incredibly stylish.
You could revamp this a little bit and make it into a birdhouse or an outdoor library, as well, with some creativity and adjustments.
8 — DIY Wooden Star Decor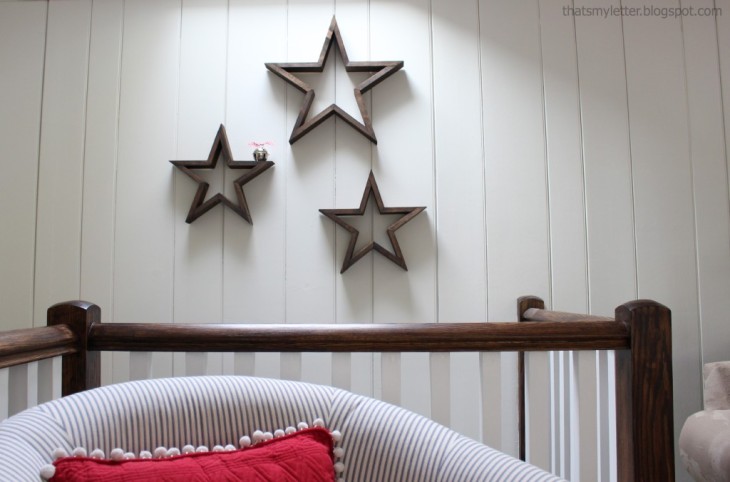 Become the star of your own show with this DIY wooden star decor. Put lights behind it for extra attention to your great craftsmanship.
9 — DIY Wooden Box Centerpiece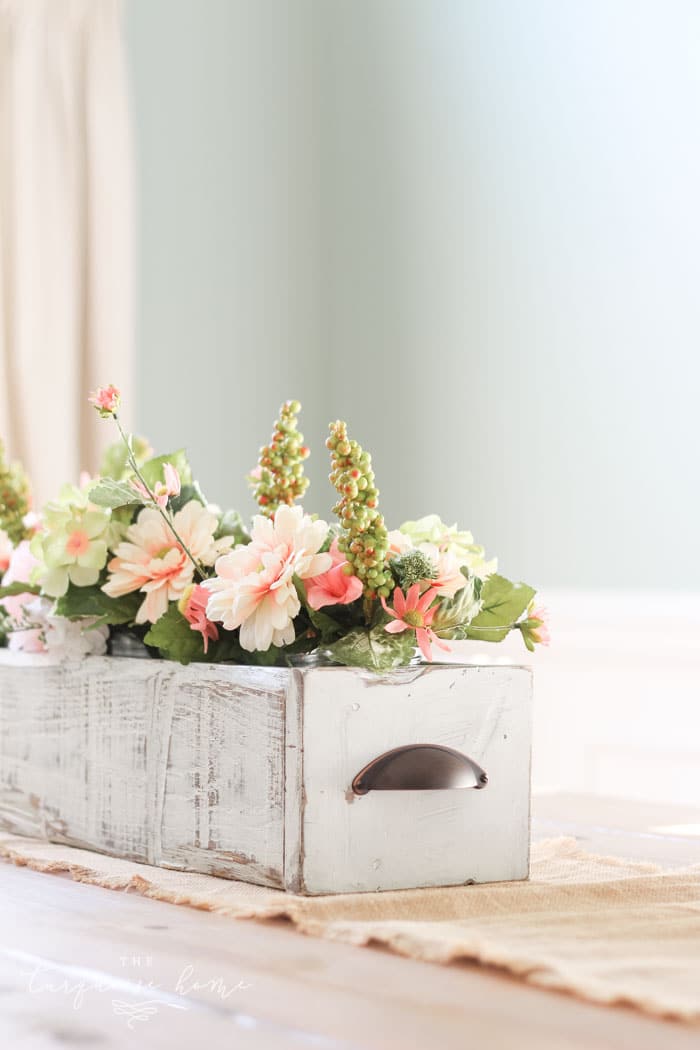 Make a simple floral centerpiece this year with this DIY wooden box centerpiece walkthrough. It's great for all seasons, and you can style the outside and flowers as you wish, depending on the season.
10 — Scrap Wood Picture Frame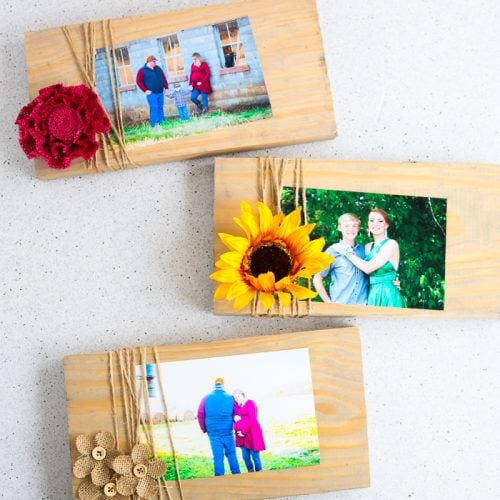 Want to spruce up a blank wall and have pictures to put on display? Make these scrap wood picture frames to keep your wall stylish and your pictures on display.
11 — DIY Scrap Wood Houses
Decorate your home with these DIY scrap wood houses that use old wood for a modern minimal flair.
12 — Wooden Photo Display
This beautiful and simple DIY Wooden Photo Display idea is perfect for showing off your favorite memories!
You can use leftover wood pieces, and they don't necessary have to be perfectly squared. Abstract shapes work just as great.
Scrap Wood Projects: Kitchen
1 — DIY Serving Tray with a Bowl Rest
This DIY serving tray with a bowl rest is perfect for any situation where you need a dipping sauce.
It's easy to make, easy to clean, and perfect to use. Want more serving tray ideas? Try these DIY Mini Wooden Serving Boards.
2 — DIY Vegetable Storage Bin
If you have kitchen space, take a grab at these DIY vegetable storage bins.
They're great for fruits and vegetables that don't need refrigeration and keep your kitchen or pantry area looking wholesome and organized.
3 — DIY Bottle Opener
This DIY bottle opener is perfect for any man cave, sheltered outdoor area, or kitchen for a home of beer drinkers. It's easy to keep the tops and collect them for other DIY projects, too, thanks to the basket below.
4 — DIY Painted Napkin Holder
Get ready to go retro with these DIY-painted napkin holders. They upcycle your ugliest wood (since it's painted over) and keep your napkins organized.
5 — Wooden Utensil Holder
This utensil holder is perfect for cabins and homes that base their decor on older wood. It's a great way to keep your utensils sorted while also freeing up an extra drawer in the kitchen.
6 — DIY Wood Slice Cutting Board
Cutaway and get ready to be rustic! This DIY wood slice cutting board will make you feel like you're in the mountains.
7 — DIY Cookbook Stand
Tired of your cookbook switching pages on its own or getting covered in food? This DIY cookbook stand will keep that from happening.
8 — DIY Wood & Marble Cutting Board
Get ready to step into an expensive-looking but easy-to-do project with this DIY wood and marble cutting board. It could make the perfect gift for any cook too!
9 — DIY Wooden Spice Rack
This cute spice rack will make your friends wonder where you bought it. It's cute, simplistic, and can fit a lot of spices in it. Tip: Make a bigger version for a DIY wooden wine rack.
Scrap Wood Projects: Around the Home
1 — DIY Laptop Stand for Desk
Sometimes you just need to take a stand, and this DIY laptop stand for desk helps you do just that.
It's easy to put together in an afternoon and incredibly useful, whether at home or the office. Looking for more office decoration inspiration? Look no further than here.
2 — DIY Ikea Hack Distressed Wooden Shelves
Looking for a weekend project that actually gets finished?
These DIY Ikea hack distressed wooden shelves are a great way to use your weekend wisely and add extra vertical space to your home.
3 — DIY Footrest Under Desk
Always rest your feet on something? Make a DIY footrest under desk tool to keep your feet elevated and your walls and chairs clean.
4 — Scrap Wood Lap Desk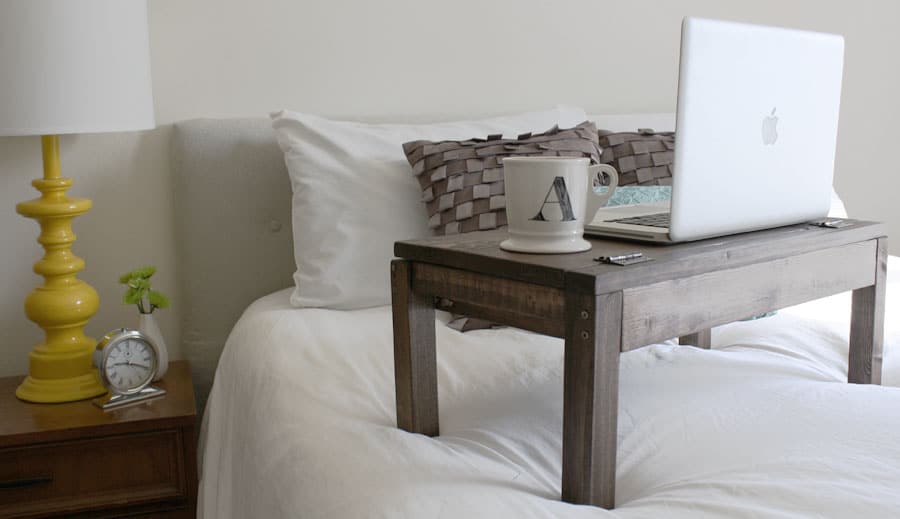 A lap desk is a great way to stay in bed and work while you're sick or simply don't feel like eating at the breakfast table today. This scrap wood lap desk is classy, recyclable, and fairly easy to put together (with a little bit of patience).
5 — Scrap Wood Vase
Vases are great to have around the house and bring out your decor. This vase takes the usual and throws it out the window.
It's stylish and easy to put together but not your typical wooden vase making it a great addition to your flower collection if you're looking to branch out.
6 — DIY Rustic Mod Tablet Holder
There is nothing worse than a tablet falling on your face when reading or slipping from the countertop while you cook. This DIY rustic mod tablet holder keeps your tablet stable while you do you.
Looking to cover your tablet to keep it even safer? Try this DIY kindle or tablet cover.
7 — DIY Wood Plant Stand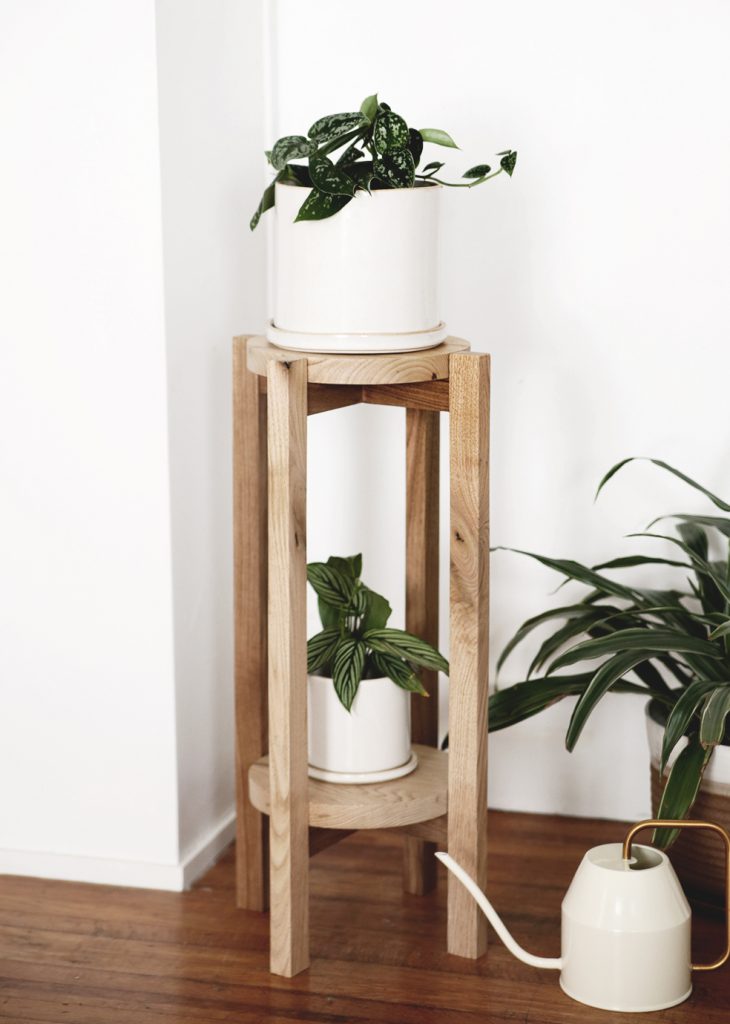 This DIY wood plant stand is perfect if you have scrap wood of different colors, heights, and sizes because you get to customize how it looks while keeping it in line with your home decor.
8 — DIY Wall Mounted Coat Rack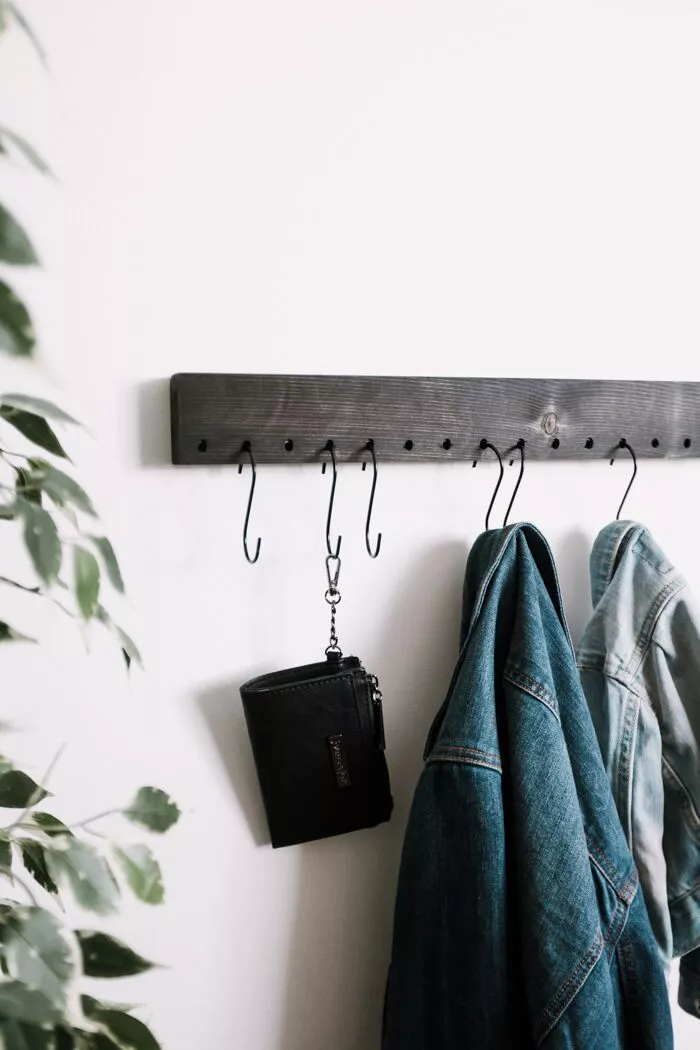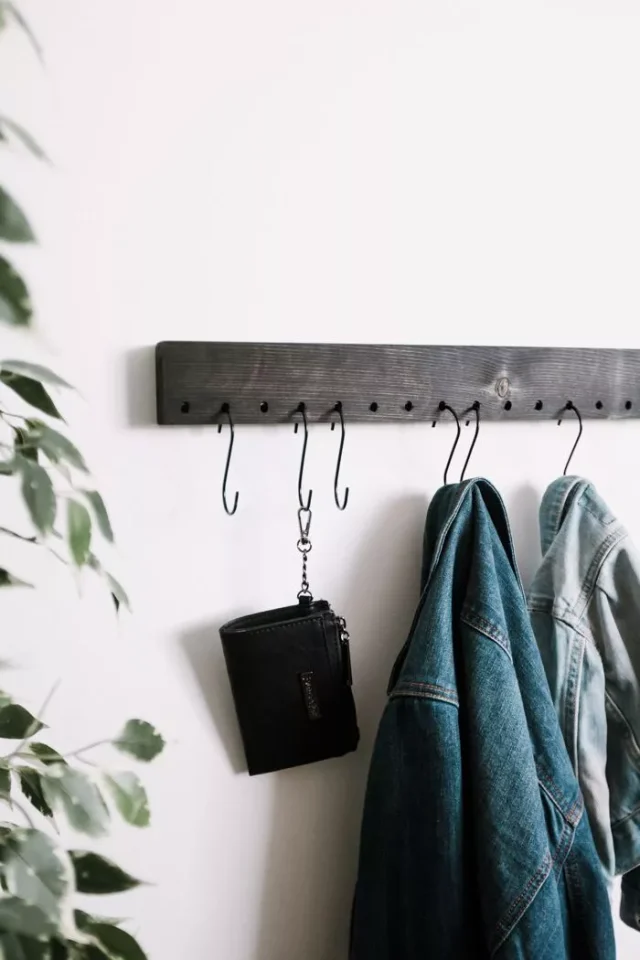 9 — DIY Plywood Arch Mirror
Mirrors are a great way to spice up a room, from vanity mirrors to hanging mirrors to simple decor mirrors.
This DIY plywood arch mirror takes the cake when it comes to simplicity, being easy to do, and being customizable to the scrap wood you have available.
(For example, if your scrap wood is square, make the mirror square.)
10 — DIY Modern Pencil Holder
This is a great beginner's project. Made from plexiglass and stained wood, this project keeps your modern aesthetic in check while also organizing your pencils and pens.
11 — Reclaimed Wood Folding Table
Need a folding desk in your small city apartment? Or addition tables for a party?
This DIY Reclaimed Wood Folding Table takes a piece of wood, and then distressed tile for a rustic farmhouse look. It's way more stylish looking then your typically plastic folding tables.
Scrap Wood Projects: Outdoors
1 — Succulent Wall Planter
This easy tutorial will show you how to make an outdoor succulent wall planter or vertical garden in just a few simple steps.
The original concept uses a pre-made outdoor wooden handrail. However, you can easily construct your own ladder.
Then, drill in plant hooks into the ladder, and drill a hole into the planter. Lastly, hang the planter from the hook and you've got yourself one of the easiest wood project ideas
Create some faux grass stepping stones to match!
2 — Rustic Wooden Caddy
Caddys are incredibly useful, and being able to make your own is a win-win!
This rustic wooden caddy is customizable with different wood stains and paint but will work great in your garden to stylishly hold tools or a front porch full of flowers.
3 — Wooden Doormat
Tracking mud and outside pollutants into the house is never a good thing, and a lot of door mats don't actually help keep your house clean.
Unlike most, this wooden doormat keeps the house cleaner and upcycles any old wood you have lying around.
4 — DIY Outdoor Vertical Garden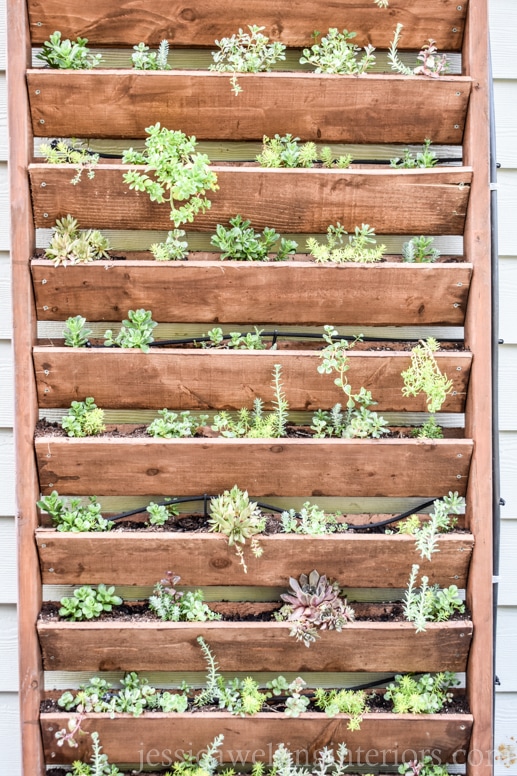 Love vertical gardens?
This DIY outdoor vertical garden is a great way to use up scrap wood while also creating a decorative place for your flowers, herbs, or succulents.
5 — DIY Wooden Yard Dice
Using 4″×4″ posts (or any scrap blocks/posts you have on hand), make these DIY wooden yard dice so you can soak up the sun while playing games in the yard all summer long.
More Wood DIY Project Ideas