DIY Reclaimed Wood Folding Table — This DIY Reclaimed Wood Folding Table is definitely the answer to your cute extra seating options!

In case, you've never done an intense four hour Google search for "cute folding tables", they practically don't exist unless you're spending big big bucks.
With the holidays, workshops, and all of the photoshoots going on at the studio all of the time, I was in serious need of a cool folding table that we could still tuck away when we didn't need it.
Since all we do around here is DIY anyway, it only stood to reason that we make our own. So we came up with this DIY Reclaimed Wood Folding Table using distressed white Stikwood.

We've done so many projects with Stikwood, like creating a DIY Wooden Headboard or DIY statement wall.
I really love the way it came out and the not-so-coincidental fact that it makes one heck of a sweet background for photos.
I mean, has a cake ever looked so good or what?!



How To Make A DIY Reclaimed Wood Folding Table
Before applying the adhesive Stikwood, you'll obviously need a table to adhere it to (which luckily is the easiest part).
All you have to do is screw the folding table legs to the bottom of the 3/4 inch plywood on either side of the table and fold them out.
Because I wanted the legs to blend with the chairs and white studio, we spray painted the legs and bottom of the table white.
And then, let the legs dry.

Once that's complete, applying the Stikwood to the top. Start with the trim around the edges first.
Rather than making 45 degree cuts to fit the wood trim around the corners, we decided to do 90 degree cut outs for a more modern look.

To do so, you'll measure and mark where the trim overlaps in the corners and use a Dremel or rotary tool to cut out a small 1″ square for the second piece of trim to rest in.
You'll do this all the way around the table for every edge.
Once you have the trim in place, lay the pieces of Stikwood onto the table (not peeling back the adhesive just yet) to see what layout you like best, being sure to alternate lengths for a mismatched placement of each board.
When you have them place at your desired location, measure and mark where to cut each board to fit within the border of the trim all the way around.
Start with one row, working your way across to the other side of the table, and making sure to place each piece of wood where it will go before peeling the adhesive back to make sure it fits properly.
If not, make any necessary adjustments before adhering.
Once the Stikwood goes down, there's no peeling it back off in one piece!


When everything fits into place properly, start from one side again and peel each adhesive backing off and then press it back down into place firmly.
You can sand down any rough cut edges or corners for a smooth surface, and touch up any exposure raw wood with a bit of black and white paint, dry brushed on to match the rest of the distressed white color.
It's important that the Stikwood be coated with matte polyurethane in order to be resistant to liquids and heavy use over time.
If you didn't purchase the Stikwood that was already coated with polyurethane before shipping, you can DIY that at home after you've assembled the DIY Reclaimed Wood Folding Table.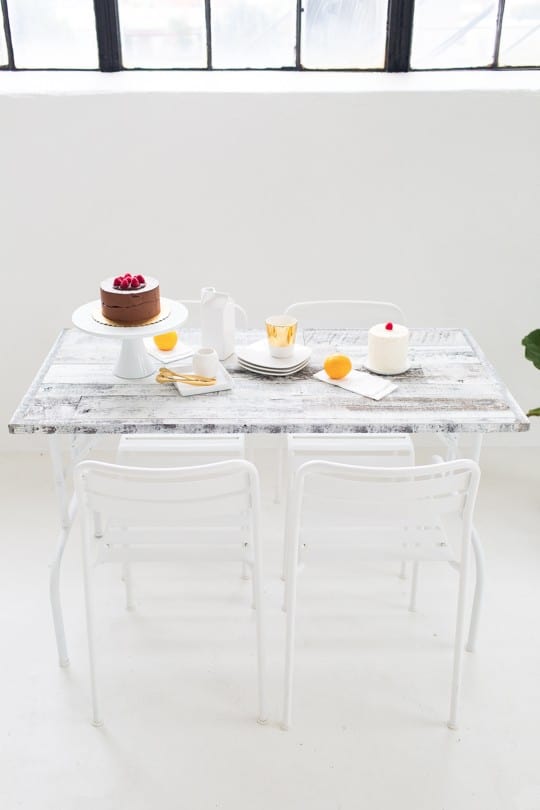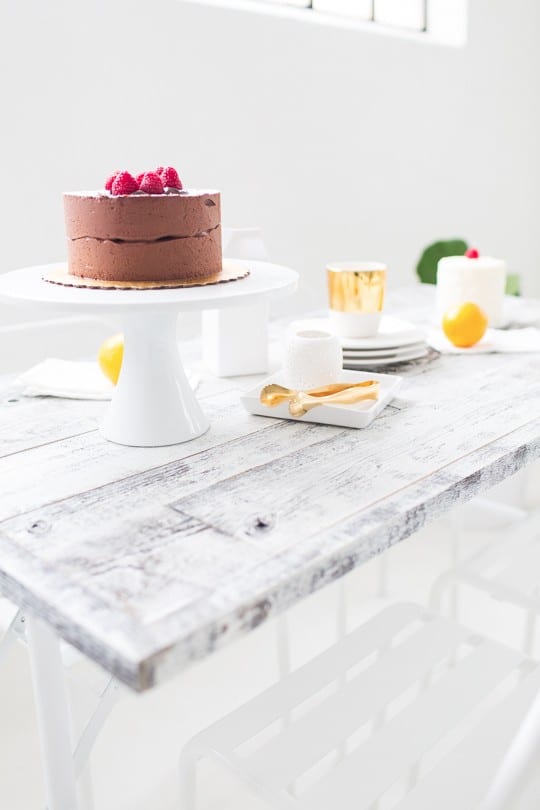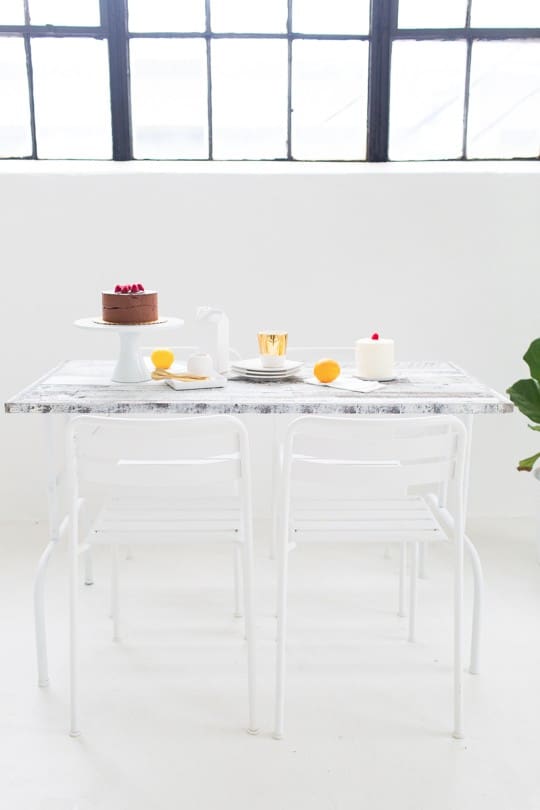 More Easy DIY Table Ideas