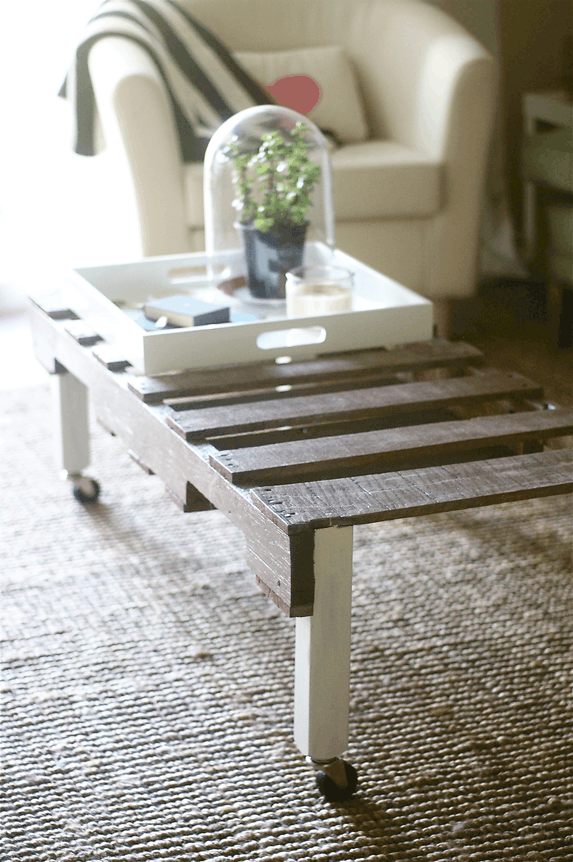 Is it just me or is there something wrong with the fact that you can buy a sofa for the equivalent price as some coffee tables? Maybe it's my student/newlywed budget talking, but I think that's a little insane. I mean, it's a table… that most people accidentally decorate with water rings and spilled milk. My solution to this: pallets. Conveniently enough, there happens to be a guy that lives in my apartment complex that uses pallets for transporting grass, and also for selling at a whopping $3 a pop. To no surprise, my friend Erin and I have been schemeing up ideas for all of the (almost) free furniture we can make ever since. First up, a coffee table that won't cost me my wedding ring–

Fine & course sandpaper
Stairwell posts or legs of your choice, cut to desired height
Stain
Drill & bit
Casters
Wood glue
Hammer & long nails
Spray polyurethane

Sand your pallet with course sandpaper first, and then move onto the fine paper. I made sure to round the edges in case someone bumped into them, but I left the rest somewhat rough so that it wouldn't look too perfect. Next, experiment with with stains to get the look you're going for. I started with an american walnut (above photo) and ended up using a washed grey over top of it to make it look more worn (end result). I also ended up painting the legs white instead of leaving them stained because it meshed better with the rest of our furniture since it's mostly white.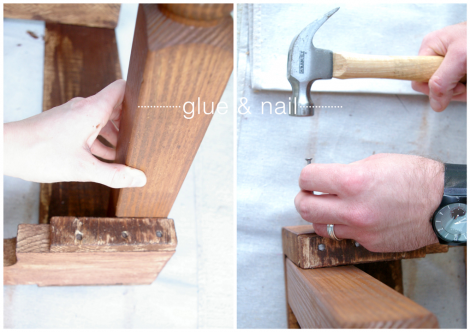 Use a dab of wood glue on the bottom of the legs where they meet the pallet, and hammer the long nails into each side for extra security.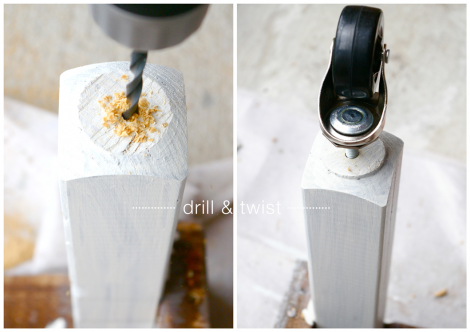 Once everything is dry, using a drill bit that is big enough to allow your caster to twist into place, drill a hole in the bottom of the legs; twist the casters into place. Lastly, to give the wood protection against the spilled milk, spray a few coats of polyuerethane over the wood, and you're finished! In case you're curious as what I started out with, here's my lovely Instagram before photo. Oh yes, I sawed that puppy down to size myself, who's impressed? The FedEx guy was… or at least that's what he said as he was staring at my saw-dust covered self while walking by (true story).