Kids Playroom Inspiration — Our kids playroom before and after is full of easy ideas, playroom storage hacks, and a DIY kids table!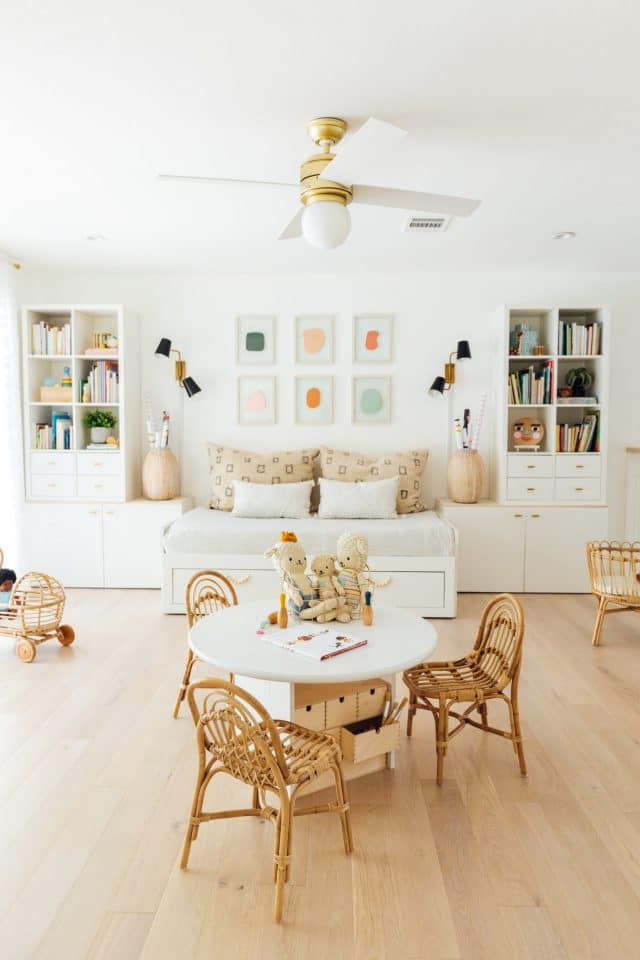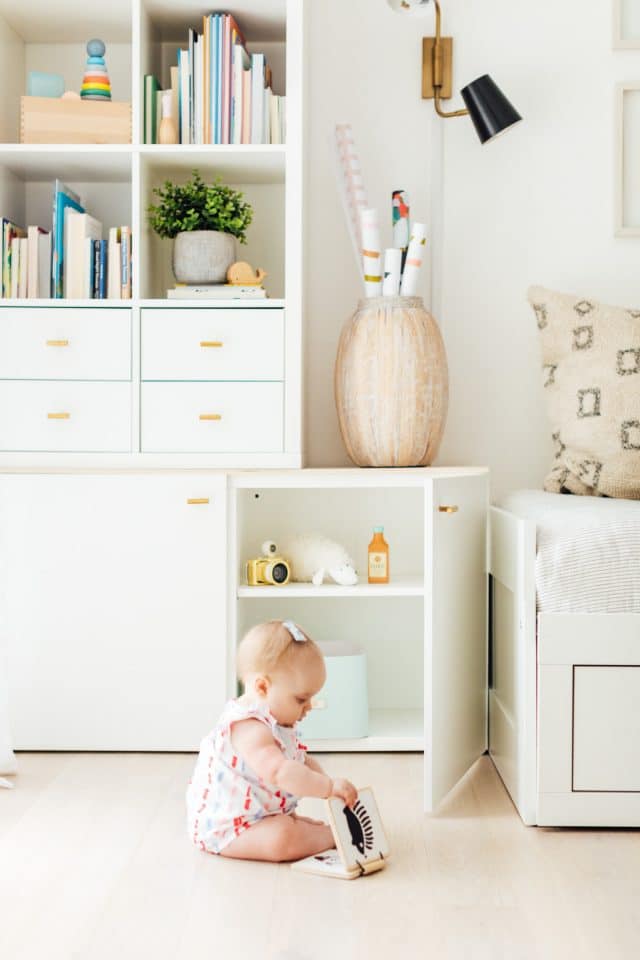 When we moved into our new house, we weren't sure what we wanted to do with this balcony. It overlooks our living room and was just pretty dingey overall.
We shared out wet bar makeover that hides in the corner of this room a few months ago, but it's taken me time to get the playroom designed!
I also wanted to create a modern playroom that was functional and affordable. I've always loved the cozy reading nook and window seat feel, so my goal was to recreate that here.
Rather than spending a lot of money on built-in furniture or cabinets, we created faux built-in storage!
Since we won't always be in this baby and toddler stage of life, this made the most sense for us. Plus, it's much more affordable!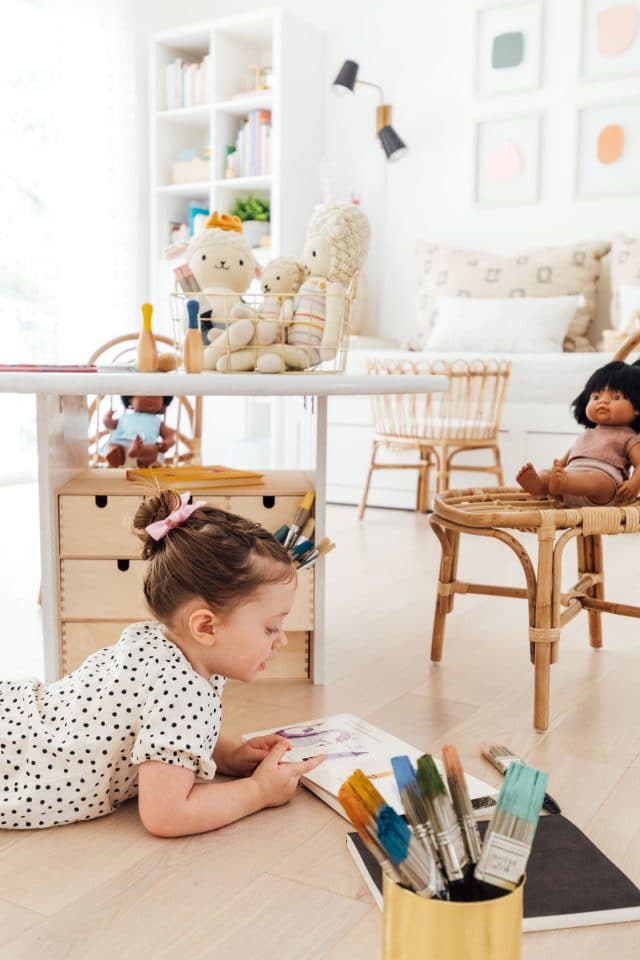 Playroom Renovation & Sources
Though the fun stuff is all in the details, our contractor did the heavy lifting on the original before and after!
Genesis CP ripped out all of the old carpet and replaced it with Stuga Studio Elberberry wood flooring. They also replaced the stair railing with the new mismatched balusters.
We also replaced the old fan with this gold and white fan that I absolutely love!
Kids Playroom Storage Ideas
If you saw our toddler girl's bedroom makeover, then you know I'm all for making over affordable kids furniture pieces.
This time around, I wanted to create plenty of storage to hide dolls, Star Wars, and their favorite DIY Flamingo ring toss yard game. We also needed a cozy space to read books and lean back while we watched the kids.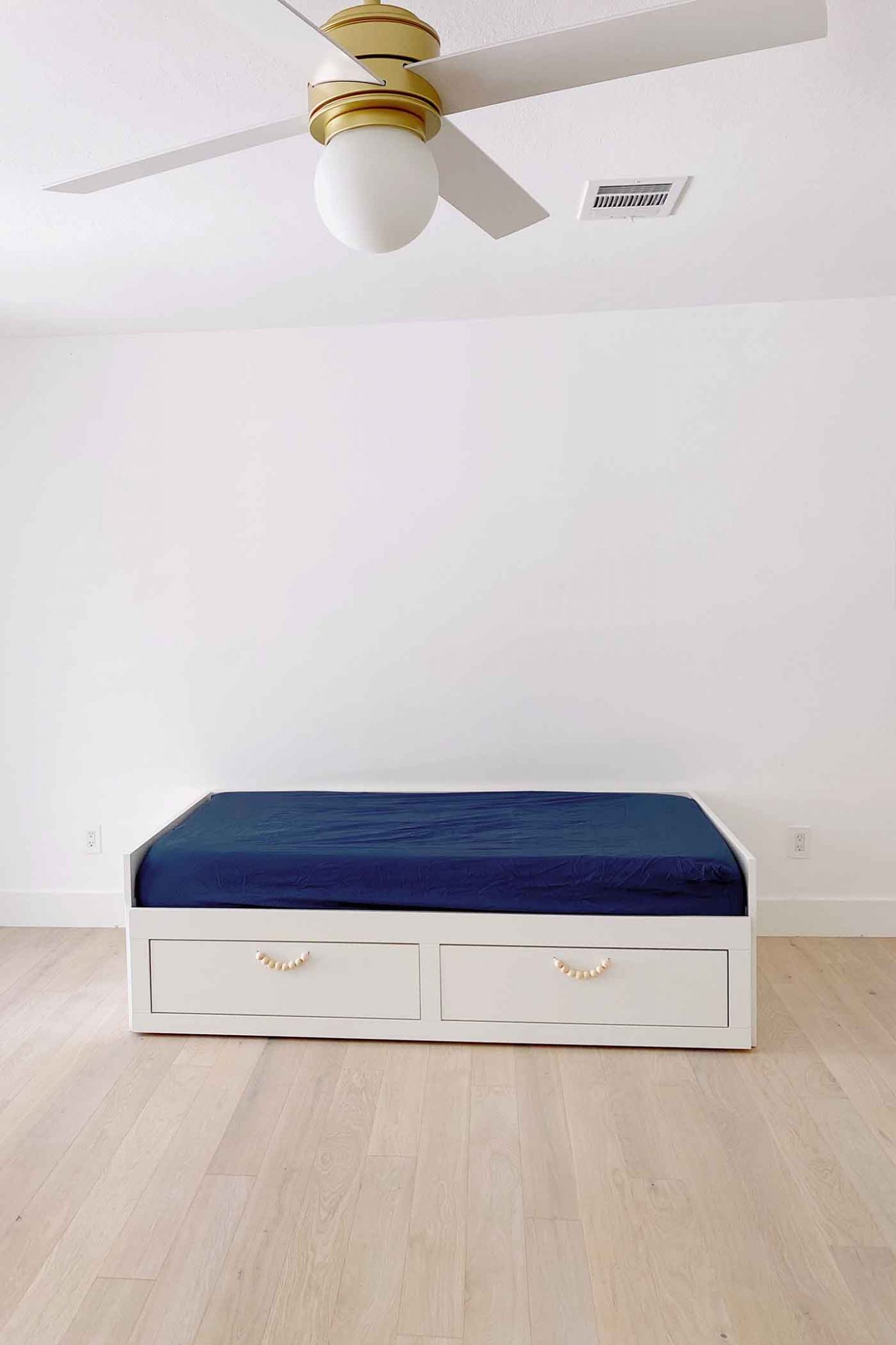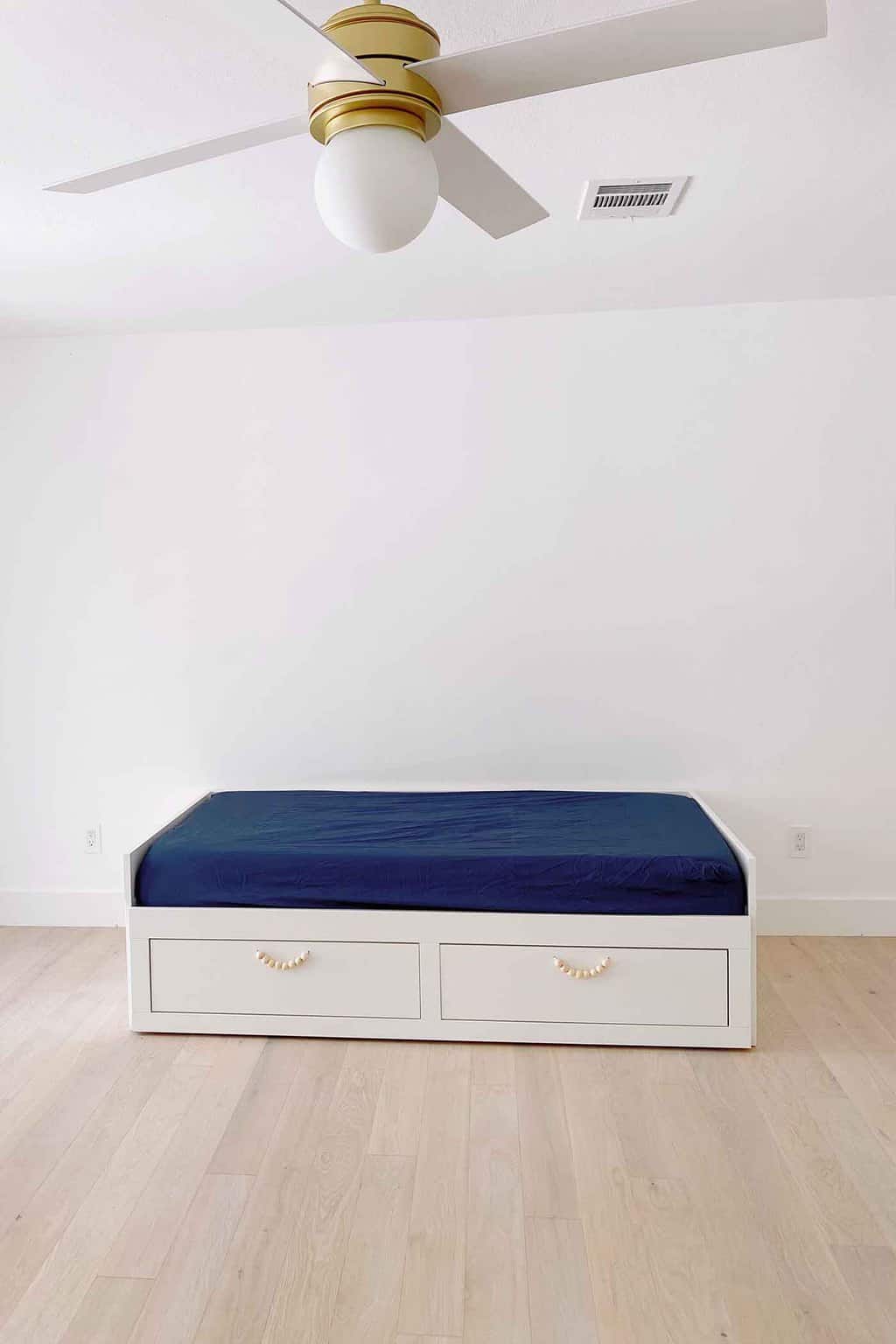 To make this come together I used several different pieces to create an IKEA hack built-in.
The IKEA Brimnes daybed was the starting point. Then, we assembled two of the 47-inch Besta cabinets on either side of the daybed.
The storage that's stacked is the Kallax with drawer inserts for the bottom row on both. This is where we store stickers, paper, and other smaller things!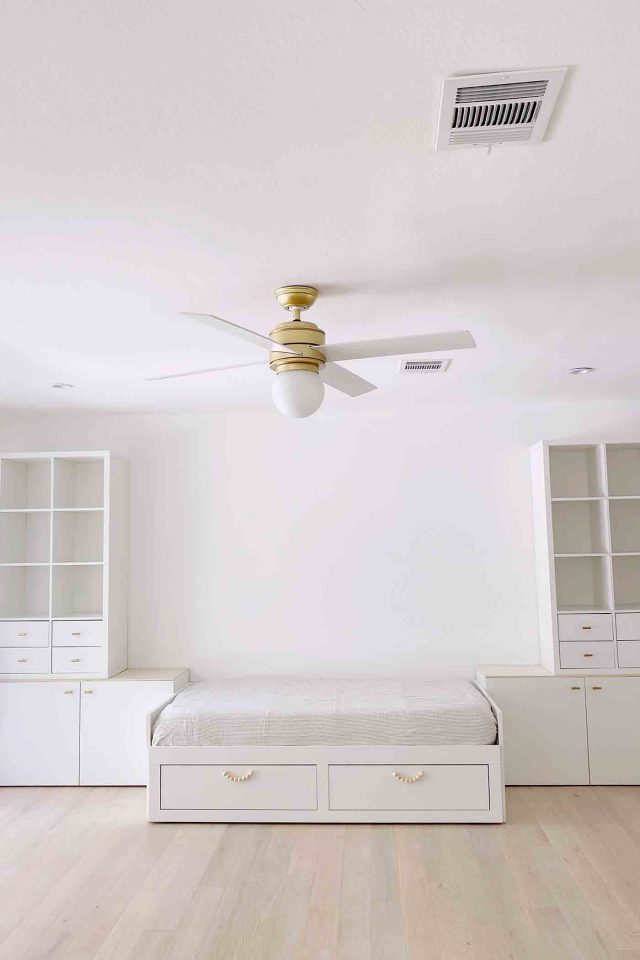 I used inexpensive gold handles for the Kallax drawers and Besta cabinets to make them feel more custom.
Rather than using the handles that come with the daybed, I decided to make my own. Since we have little crawlers, I wanted to have handles that were more kid-friendly.
Instead, I used thick string, large wooden beads, and scissors to make my own wooden bead drawer pulls. It's a bonus that they double as little toys!
Ellie & Becks Co. has the absolute cutest rattan doll and playroom furniture and inclusive dolls. I actually built the height of the DIY kids table to fit perfectly with these rattan kids chairs.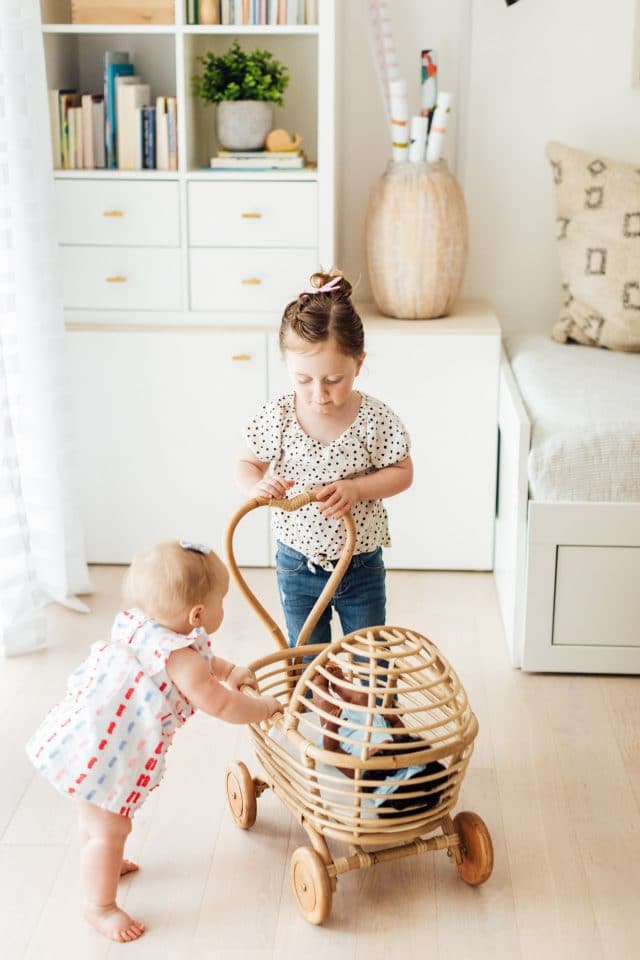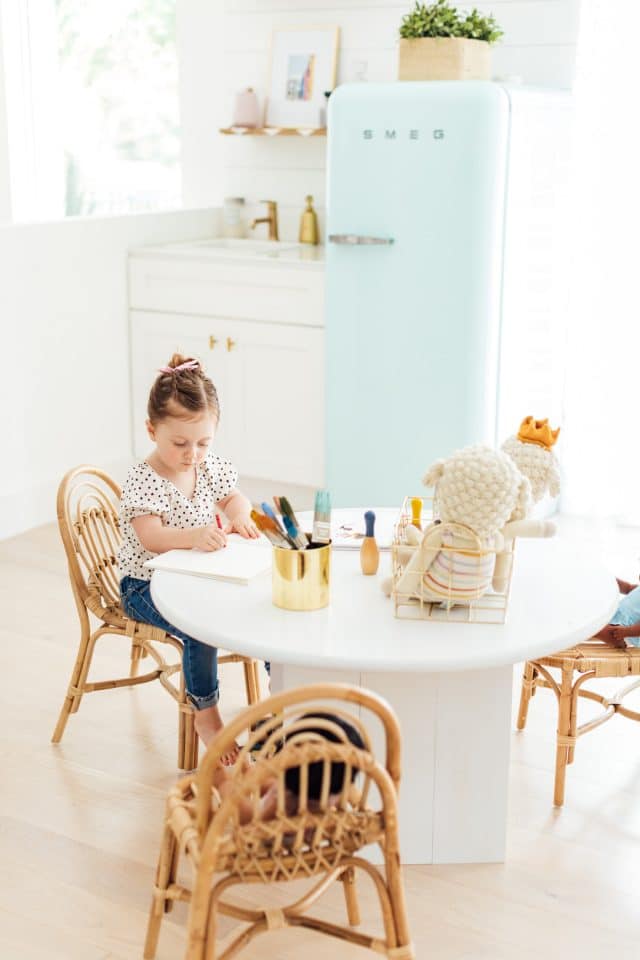 Kids Craft Table
My biggest undertaking in this room was the DIY craft table. It's kind of shocking how expensive kids furniture can be, and I really wanted something more unique to our style.
The playroom is a pretty large, open space so we needed a play table that really fit the size of the room.
Our DIY kids play table also doubles as simple toy storage for craft supplies and little things. You can easily customize it to whatever color or size you need for your playroom as well, plus it's super budget-friendly.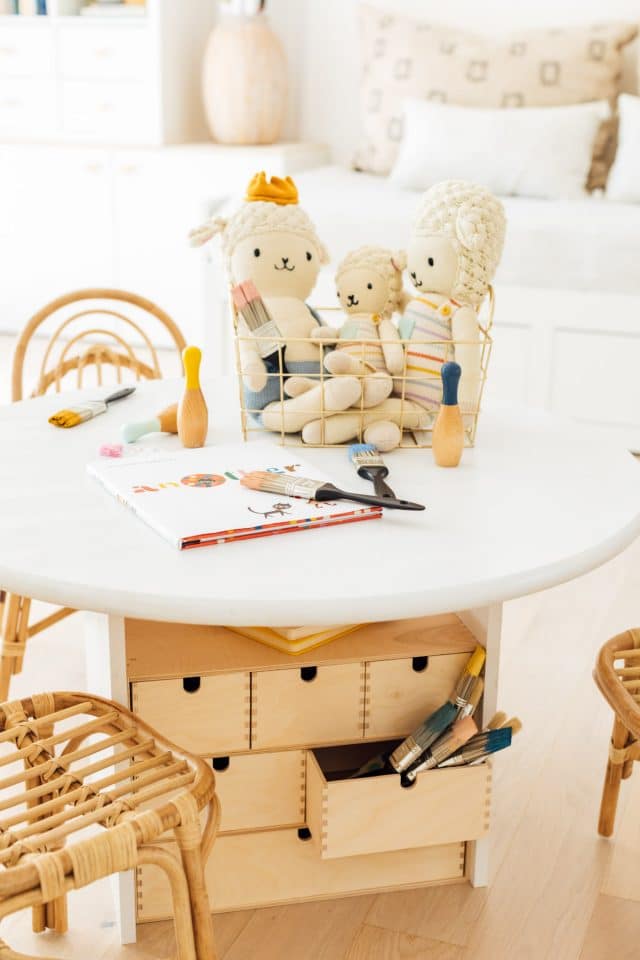 Kids Playroom Ideas
I love having interactive elements in a kids room like a chalkboard wall or magnet wall. Since you can see our play area from the living room I wanted to keep the design more neutral on the walls.
For the artwork, I simply cut out shapes from colored construction paper and put them in frames for easy and cheap wall art. You can also use temporary wall decals as another great option with a similar look!
Rather than having lamps that could be knocked over, I chose black wall sconces to create more of a gender-neutral feel.
Any time I have wall-mounted lighting I like to add these inexpensive wall cord covers too.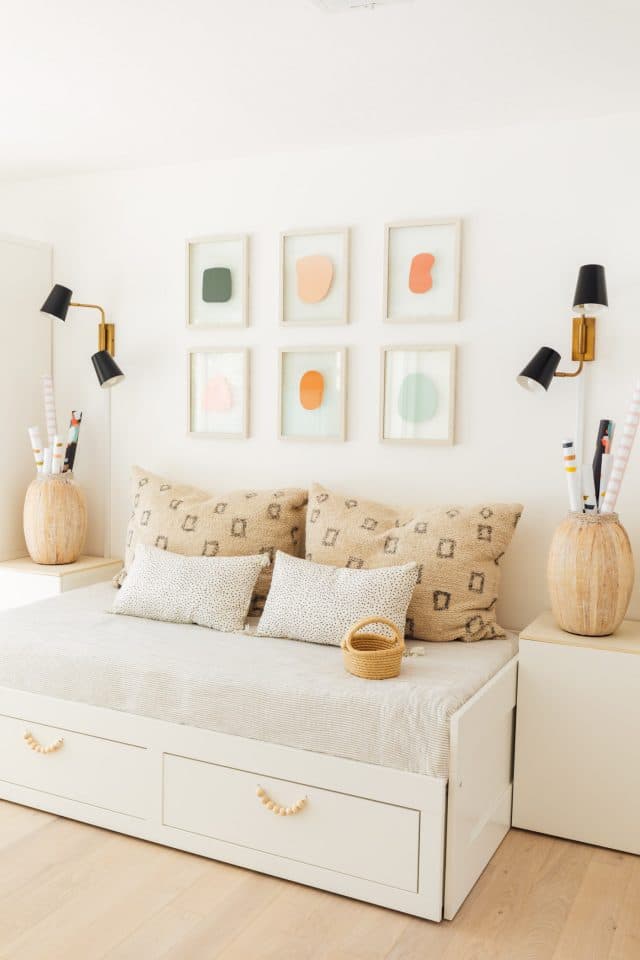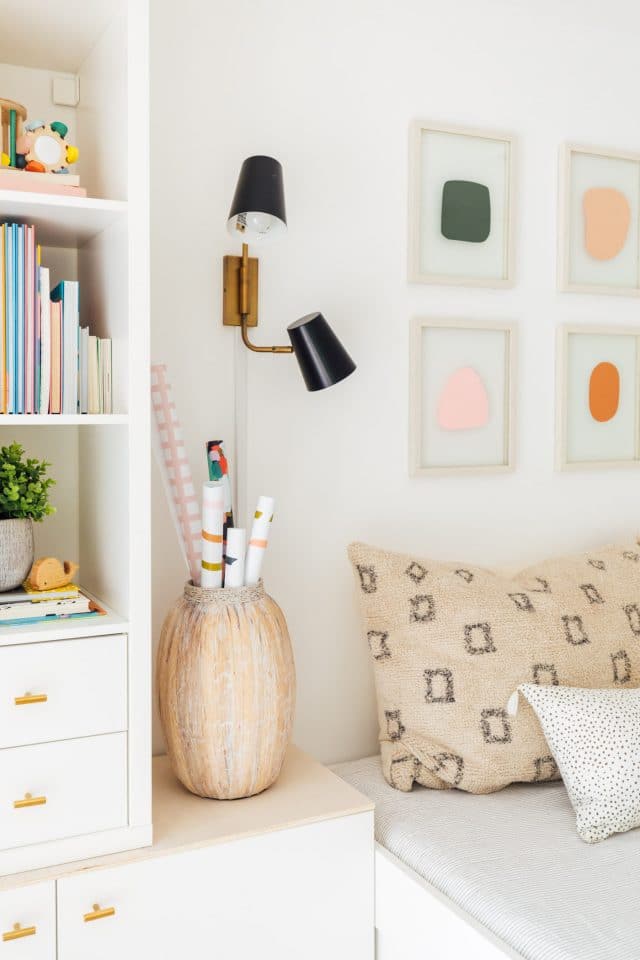 I filled the vases on either side of the daybed with rolls of craft paper for another unique playroom idea. Not only does it double as pretty decor, but it's also easy for the kids to grab and use on their own.
I thought about doing a large rug, playmat, or a custom shape with carpet tiles in the center of the room, but decided against it.
While not as soft and cozy without those options, it's a heck of a lot easier to keep clean!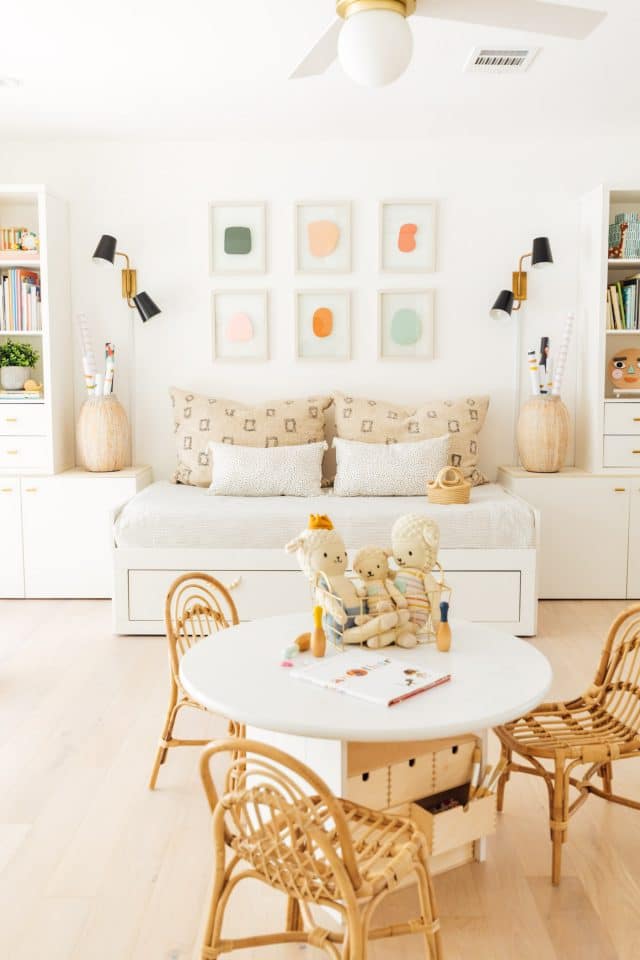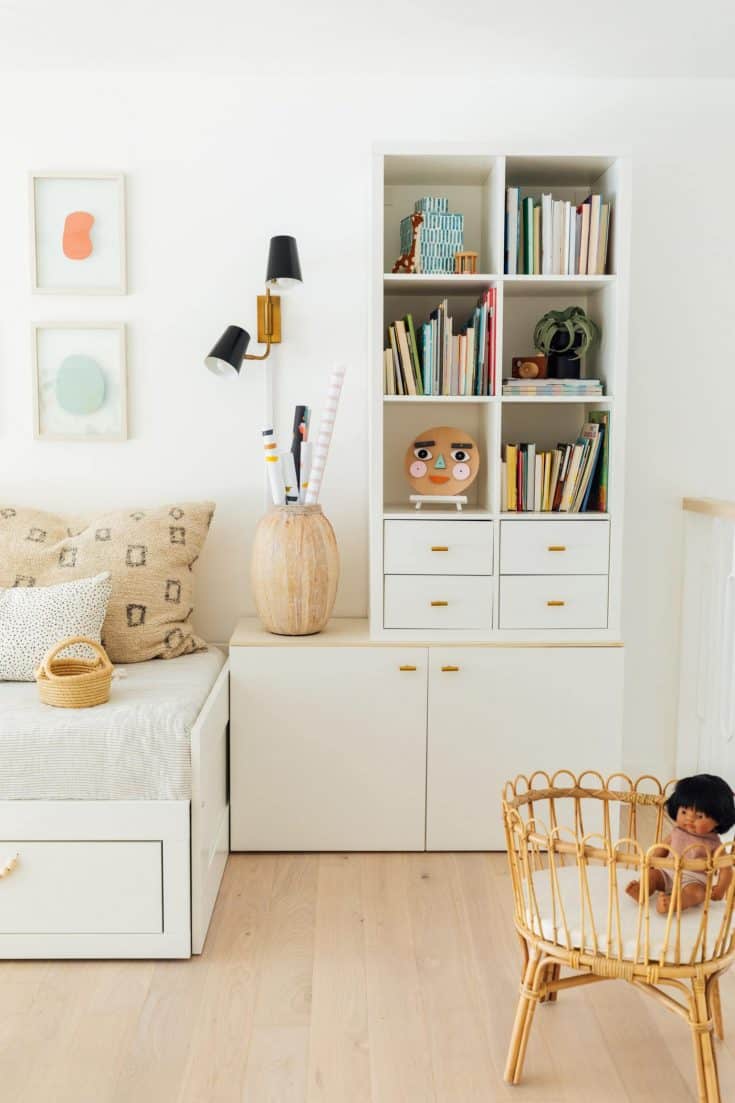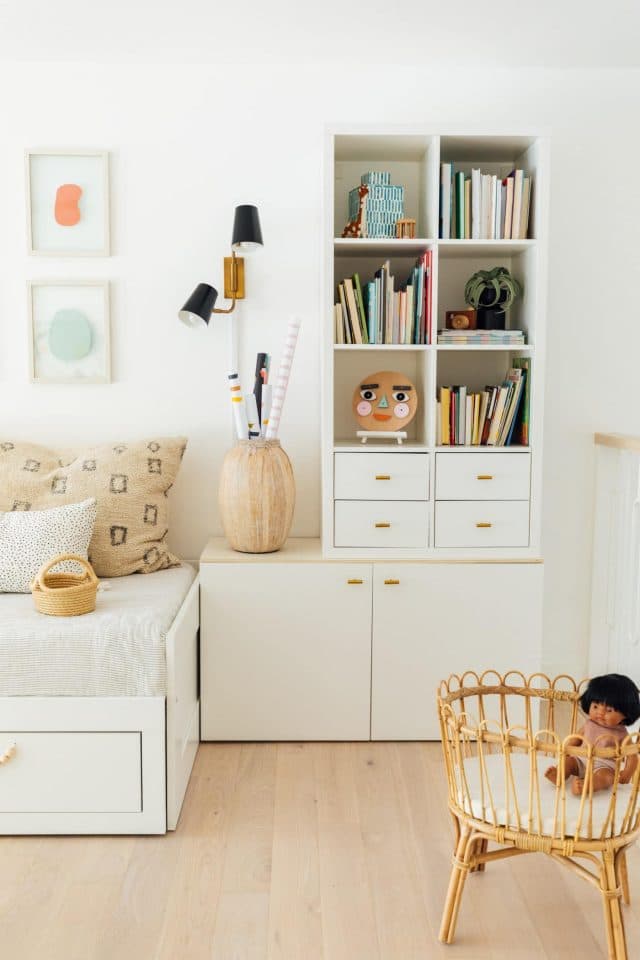 I absolutely love the way this play space came together, don't you?! It truly is a room designed for the whole family.
Kids will love the easy access to their toy storage, the adults love the neutral design, and everyone can cozy up on the daybed! It's a win, win!
For more interior design inspiration or ideas you can DIY for your kids, here are a few of my favorite posts from the archives —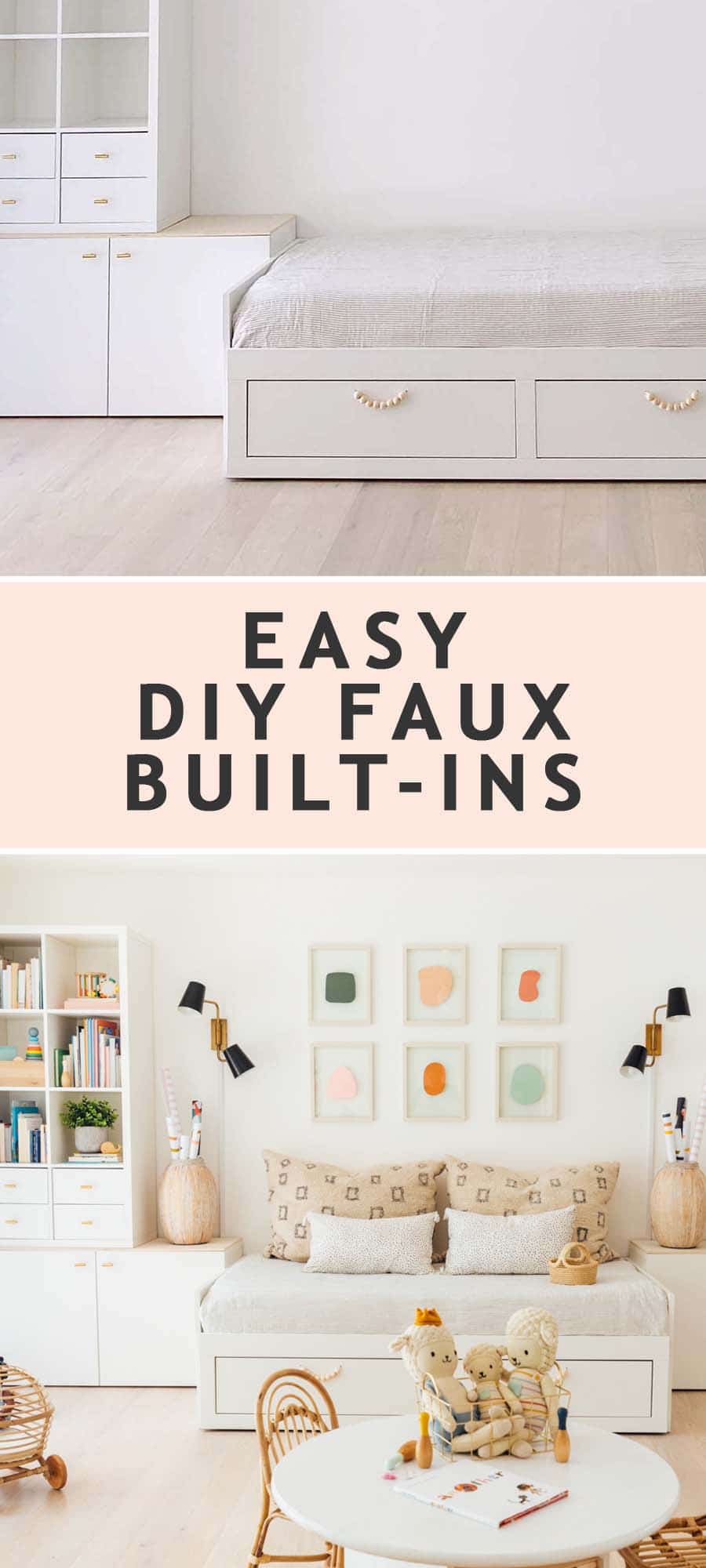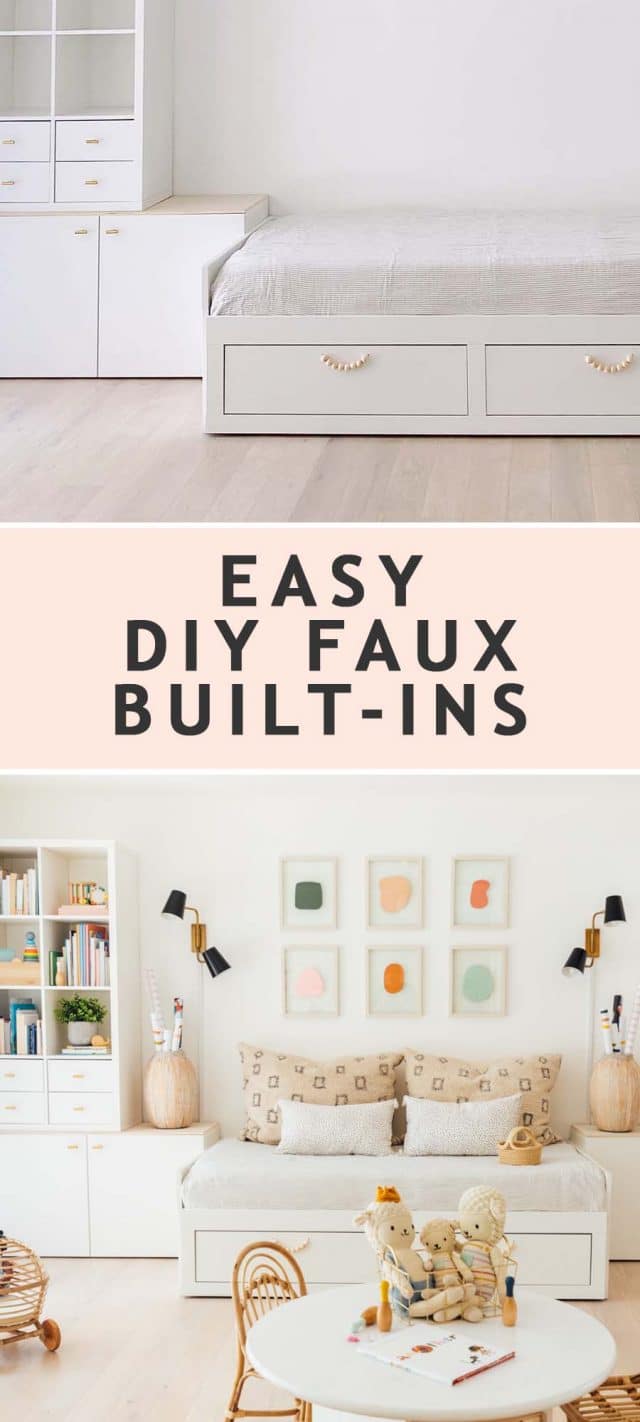 Don't forget to share your home decor projects with us on Instagram using the hashtag #sugarandclothloves. We always love seeing all of your creations! Looking for more interior design inspiration? You can find them all of our home decor tutorials and ideas right here!