Before we get into the details of this party scavenger hunt game let me give you a little background story…
My new favorite word to use when it comes to parenting is "deflect". When Gwen is about to scream her head off because I won't let her empty all of our media console cabinets onto the floor, boom, deflect!
Which then means I bust out a random household object… like a spatula… that she likes far better than her 100 baby toys in plain sight.
Where I'm going with all of this is that my mind now thinks in distraction mode, and the holidays are no different. Needless to say, I'm VERY excited about the days when Gwen can actually enjoy things like my holiday scavenger hunt idea using the new FUJIFILM instax SQUARE® SQ6 instant camera over a random Tupperware lid.
Until then, I'm happy to help you stockpile ideas for your kiddos rainy day activities. While it just so happens that I came up with this during the holidays, I also uploaded a blank printable scavenger hunt card below so that you can repurpose it any time of year too. Here's how…
PRINTABLE SCAVENGER HUNT PARTY GAME | HOW TO PLAY
The beauty of this game is that it's not only fun for the kiddos, but you can also use the blank card to make it as easy or as hard as you want it to be.
For instance, if you're having groups of adult or older kids play, you can fill in the blanks with something like "find a Santa with no beard" or "a half-eaten taco" and they have to go around town to get a holiday Santa to take his beard off. Clearly, I've done this a few times in youth group days, haha!
For the little kids, you can use the simple items that are already on the printable lists below and it keeps them plenty busy during a holiday party.
The fun part is that you'll have a whole slew of square instant photos left over to remember the chaos by! It's a fun keepsake and tradition to make.
How To Play:
Each child or team gets a scavenger hunt card and a FUJIFILM instax SQUARE® SQ6 instant camera to document their finds
Set a time limit so that at the end, whoever has the most accurate finds wins the game. For the smaller kids, the length of the party will do. For the harder games with adults, a few hours timeframe to meet back at the meeting point is best.
Everyone will present their photos to calculate who got the most to win a prize.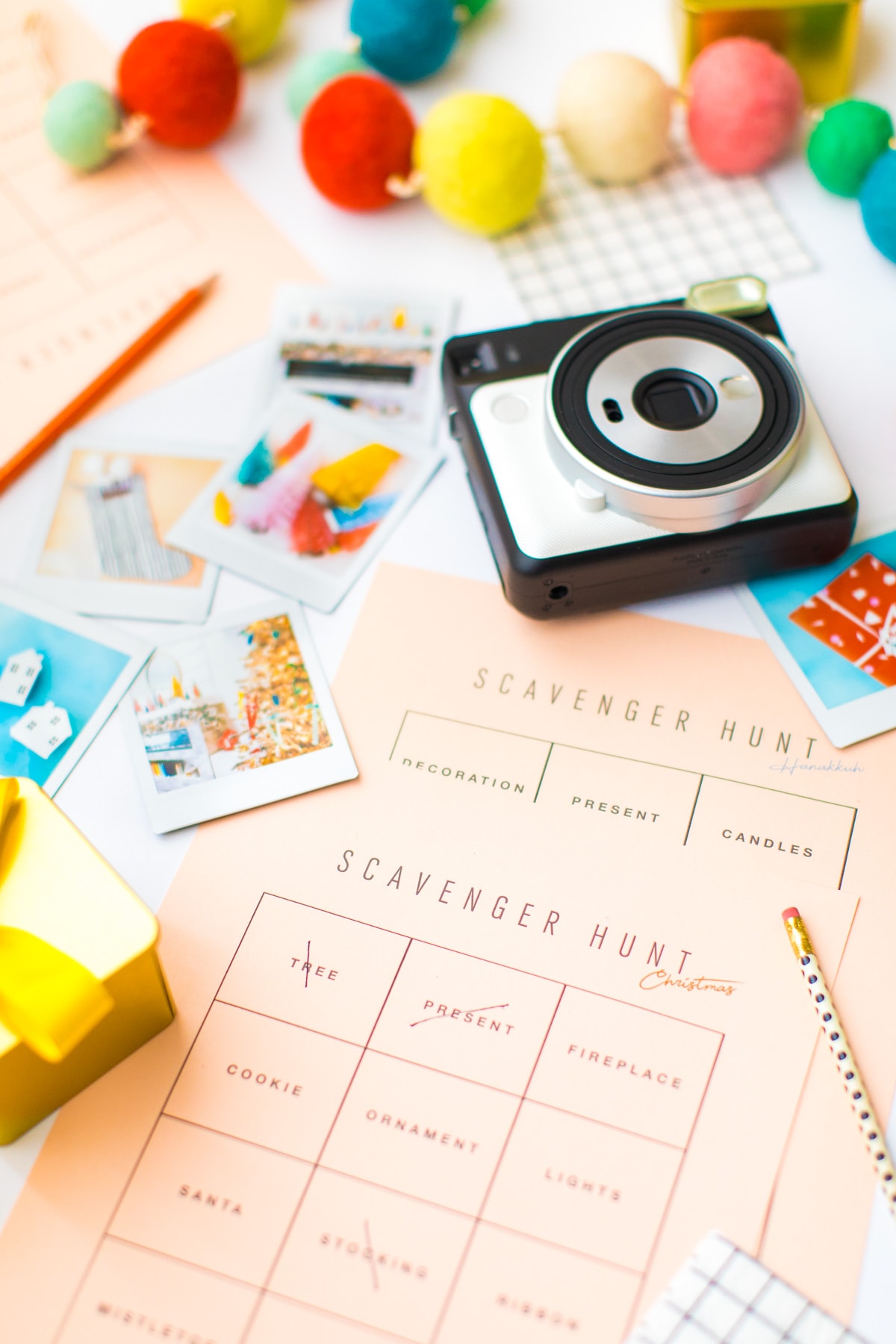 Thank you to FUJIFILM for partnering with us on this post! Sugar & Cloth has chosen to donate 5% of all sponsored campaigns to charity, which you can read more about right here.