Looking for budget-friendly furniture makeovers? Check out these game-changing Ikea Kallax hacks that will breathe new life into your old pieces.
Ikea Kallax hacks have become a popular trend among DIY enthusiasts and interior design enthusiasts alike.
Like the Besta drawer and Malm dresser, the versatile and affordable Kallax shelving unit from Ikea has proven to be a blank canvas for creative individuals looking to personalize and transform their living spaces.
From transforming it into a stylish bar cart to creating an organized entryway, the possibilities are endless with these innovative hacks.
Here are some of the most ingenious ways people have hacked their Ikea Kallax units, providing you with inspiration and ideas to make the most out of this beloved piece of furniture. But first…
What is the Kallax?
The IKEA Kallax is a versatile shelving unit that has become a popular choice for organizing and storing items in homes and offices. It features a grid-style design with square or rectangular compartments, providing a clean and modern look.
The Kallax is known for its durability, modularity, and adaptability, making it a favorite for various purposes like book storage, room dividers, TV stands, and more. Its simplicity and affordability have made it a staple in many households seeking functional and stylish storage solutions.
Ways to Hack the Ikea Kallax Shelf
1 — Create faux built-in cabinets.
For our kids' playroom, we obviously were going to need lots and lots of storage. Plus, the space was located in our upstairs loft that technically wasn't a closed room so we did not have a closet.
So with various Ikea furniture pieces, we faked the look of wall-to-wall built-in cabinets. Besta cabinets served as the base and then we stacked 2 Ikea Kallax shelves on each side. Because they are used as top shelving, don't forget to always anchor your shelves to the wall.
2 — Transform the Kallax into a mobile bar cart.
By simply screwing in caster wheels and handle pulls, you can turn the unit into a modern DIY bar cart that can be rolled from the kitchen to the living room and out to your backyard!
3 — Change out the door knobs.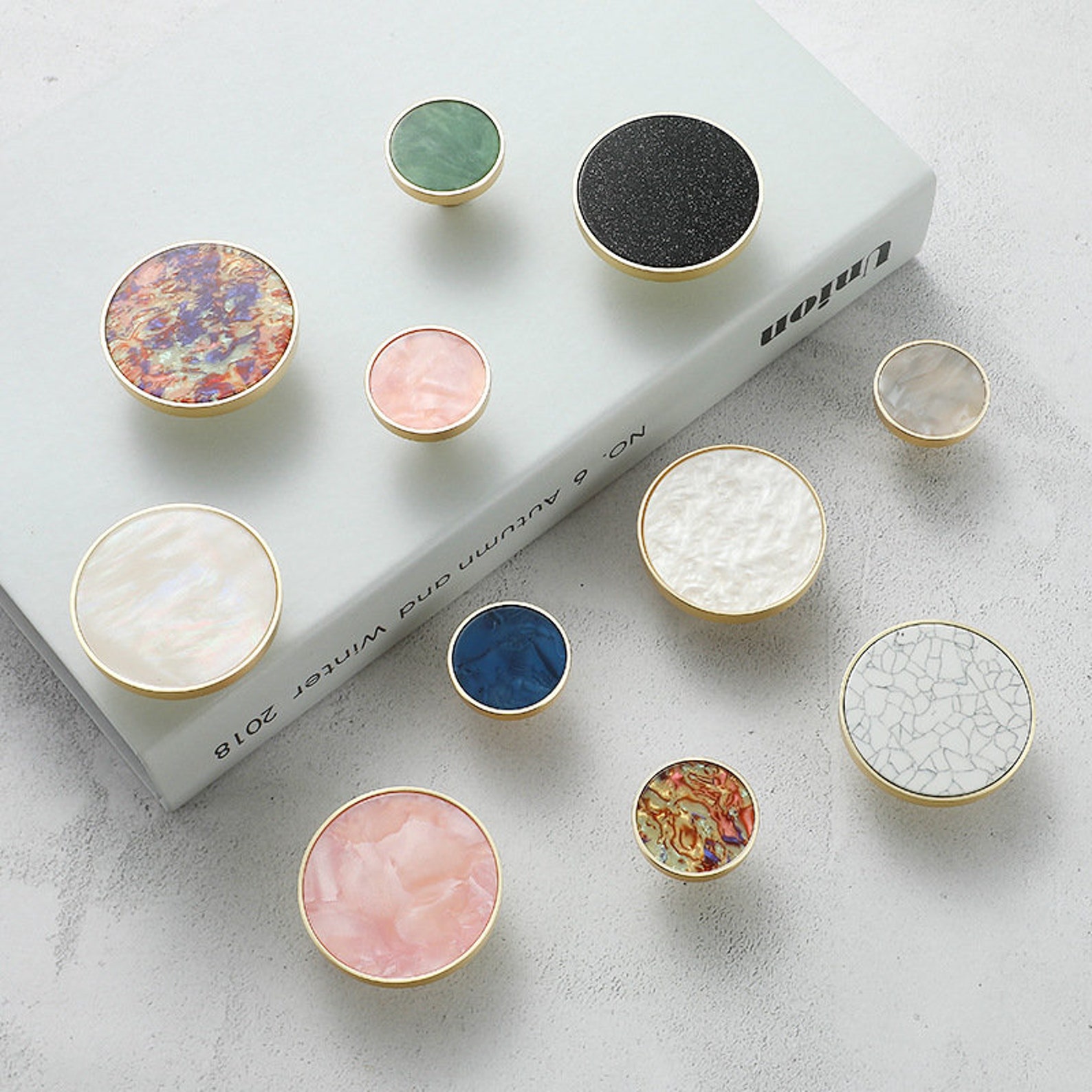 Ikea offers their own accessories to the Kallax series, like Ikea Kallax inserts. You can take the customization up a notch by changing out the door inserts knobs. From round shell knobs, brass hexagon knobs to leather knobs, the possibilities are limitless to suit any style.
4 — Paint or stain the shelves to match your desired aesthetics.
The Kallax series is currently only available in the basic white, black, natural and grey colorway. But you can easily give it a fresh coat of prime and paint.
We love how Hausmatter Interior matched the shelf to her robin's egg blue walls. And because her Kallax shelf was matte white versus glossy matte, sanding was not necessary.
5 — Add some height with furniture legs.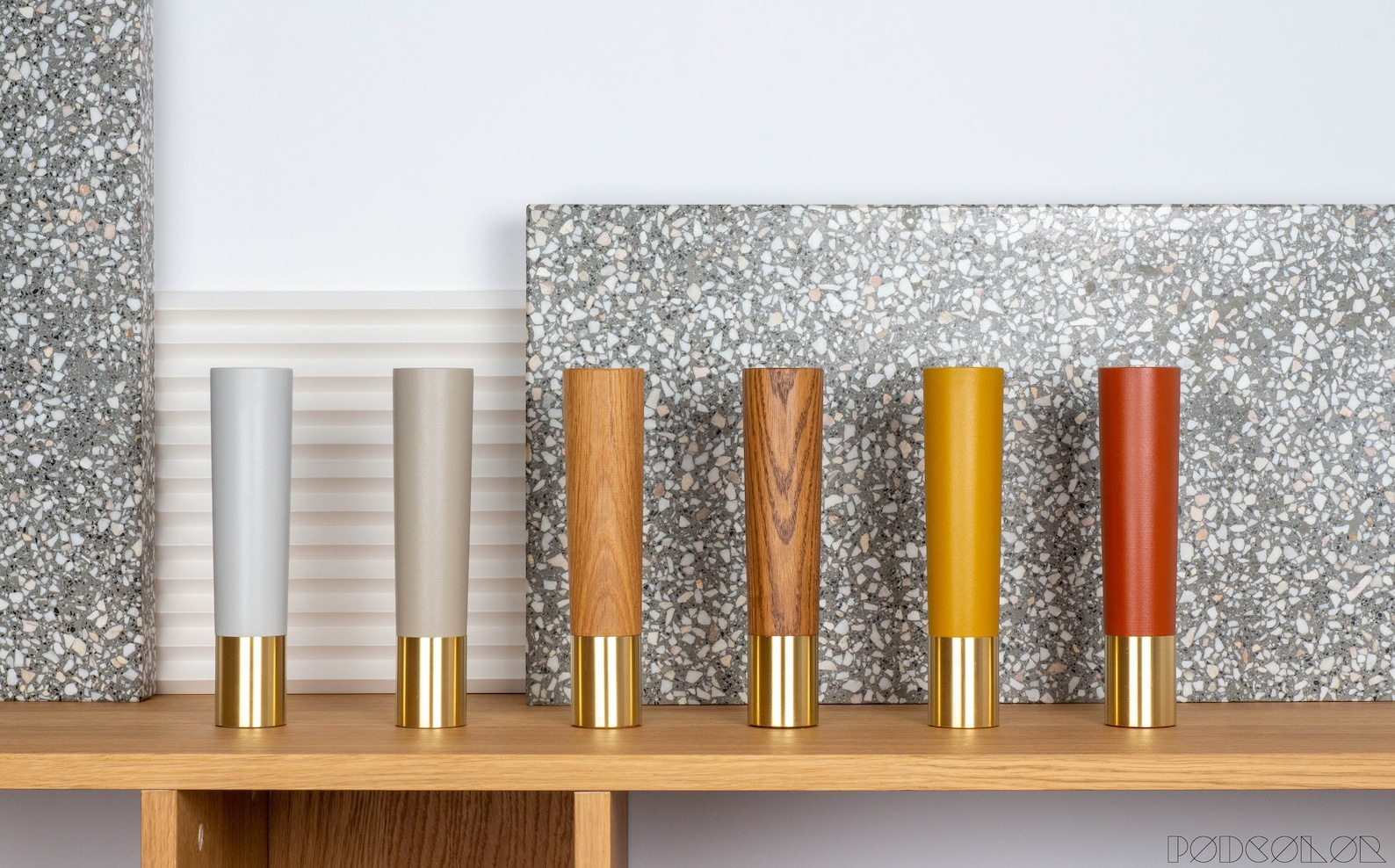 One of the easiest hack ideas is to add some furniture legs to your unit. The Kallax series is very minimal which makes it easy to change it to fit your style. So tapered legs give you a mid century modern look while straight legs are more industrial modern.
6 — Elevate the Kallax with an underframe base.
Ikea only offers a basic base attachment, but you can easily construct your own frame as Hawthorne & Main did using scrap wood for their Ikea Kallax DIY. The tapered support gives it a mid century modern Kallax refresh. If you prefer to purchase a custom base, Etsy is a great source for personalized add-ons.
7 — Attach a front overlay.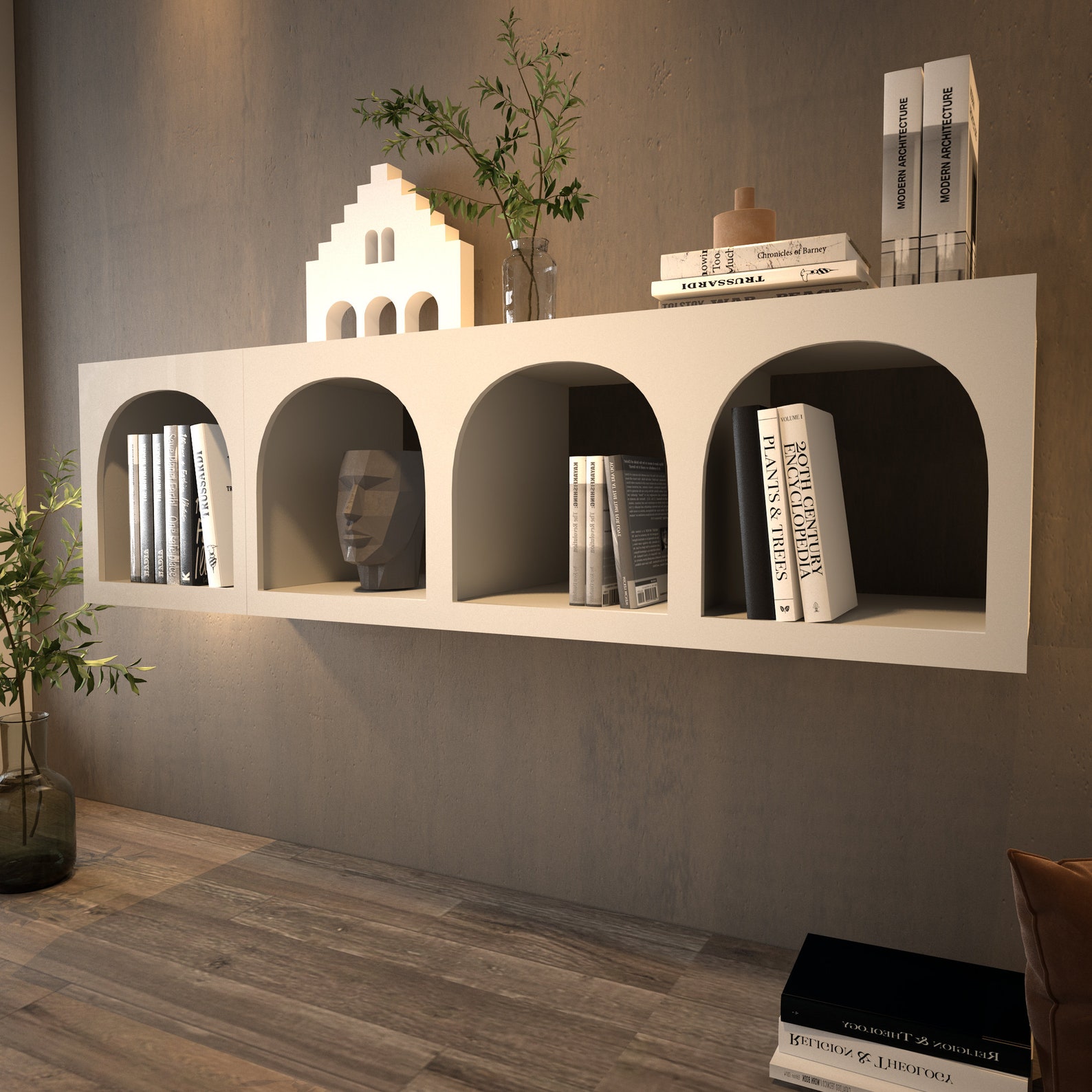 Attaching a front overlay panel will surely turn that inexpensive furniture to an expensive looking piece. We love how this particular overlay incorporates arches.
8 — Convert the Kallax bookcase into a seating bench.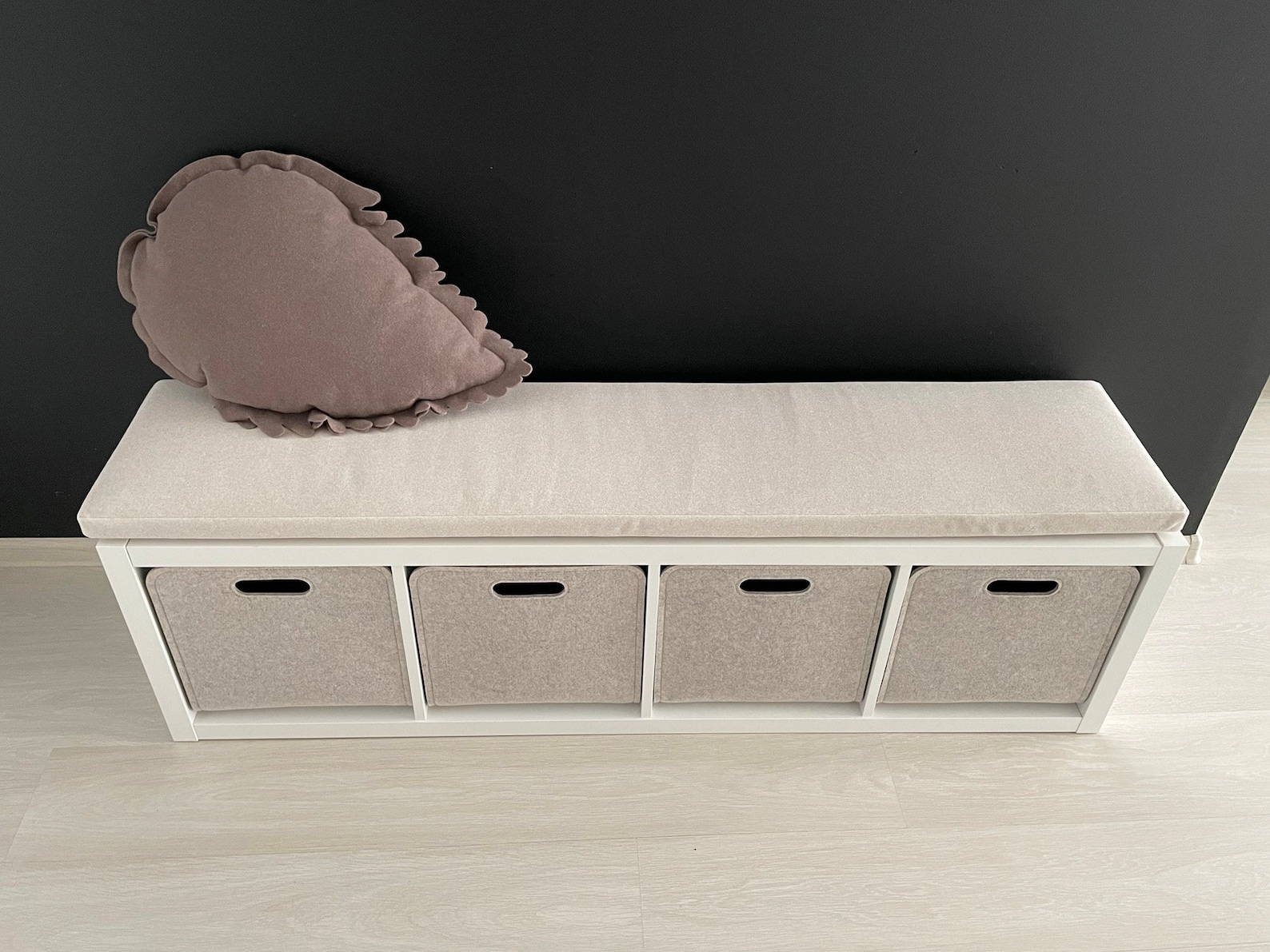 Though the original purpose of the Kallax shelf unit was to serve as a storage space. It can easily be repurposed into a storage bench by adding cushions and upholstery. It makes for the perfect reading bench or entryway seating and shoe storage for your home.
9 — Turn the shelf into a sideboard.
This DIY project turns an Ikea Kallax 4×4 into a cane sideboard by adding legs, vertical brass pulls and constructing doors with rattan fronts. Adding doors or drawers are the perfect way to conceal storage.
10 — Modify the Kallax into a platform bed.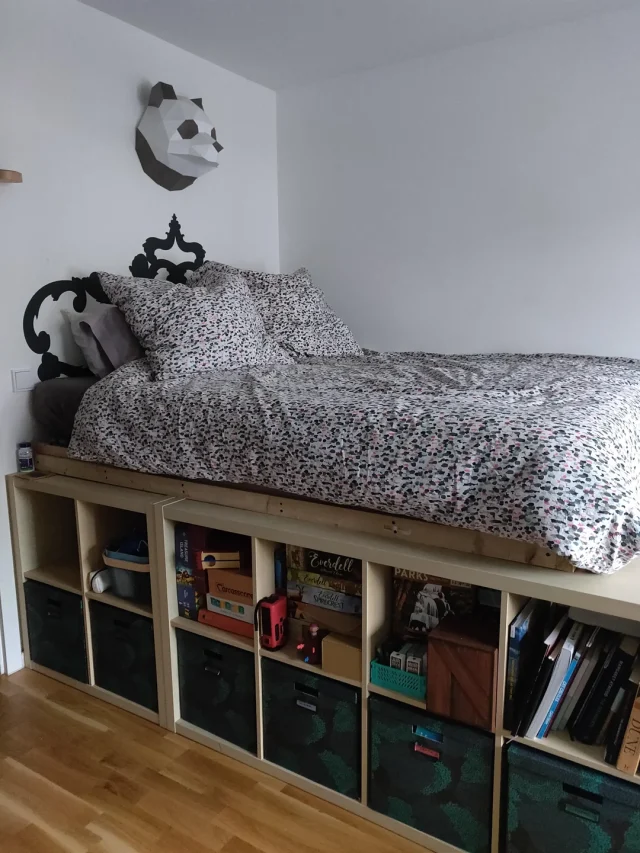 Discover how to transform Kallax units into a stylish platform bed with integrated storage in this comprehensive step-by-step tutorial. This is one of our favorite Ikea Kallax bed hacks guides since you get modifications and exact measurements for a twin, full, queen and king size bed.
11 — Dress up the doors with decorative elements such as wallpaper, fabric panels, or decals.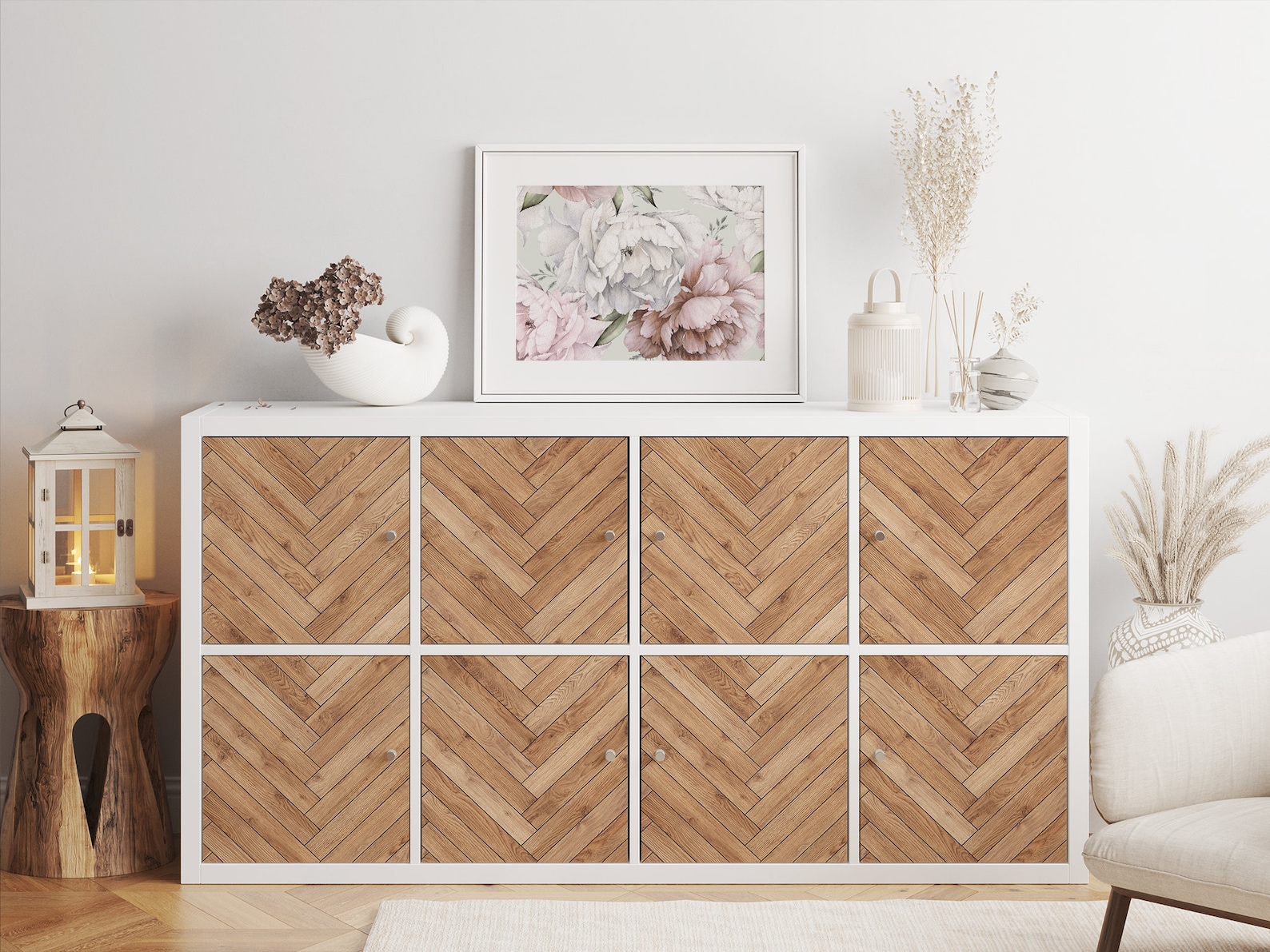 Apply peel and stick decals to the door fronts if you're wanting to make a bold statement furniture piece for your home decor. And the great thing about them is that they're removable so you can easily change them out for a furniture refresh.
11 — Construct your own DIY kitchen island hack.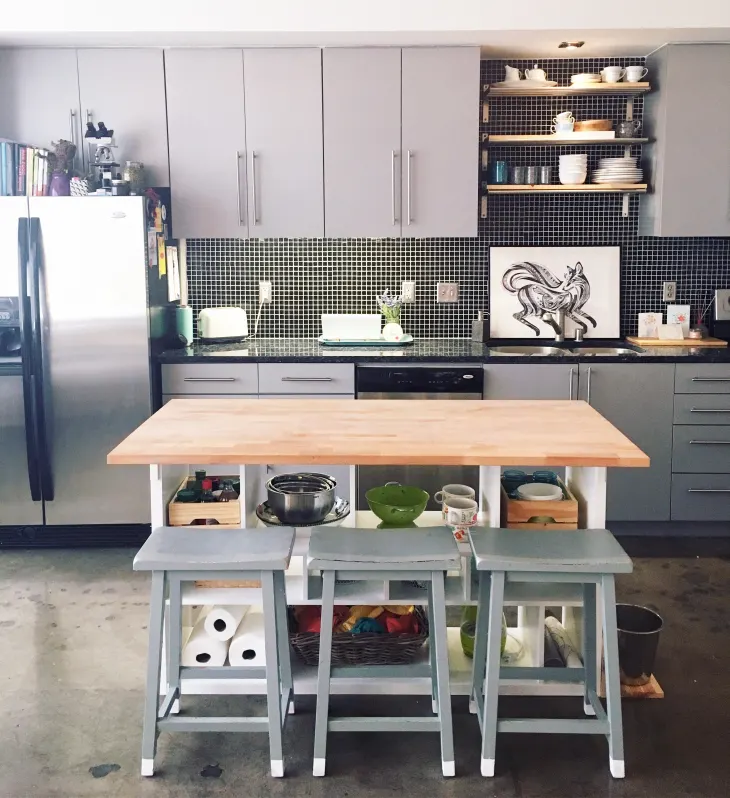 If your kitchen is lacking counter space, then this clever Ikea Kallax hack is just for you, especially if you have a rental home. The Kallax kitchen island even serves as a tabletop for additional dining space with the optional side space for your pet's food and water dish.
13 — Add cat cube inserts to turn it into a pet cave.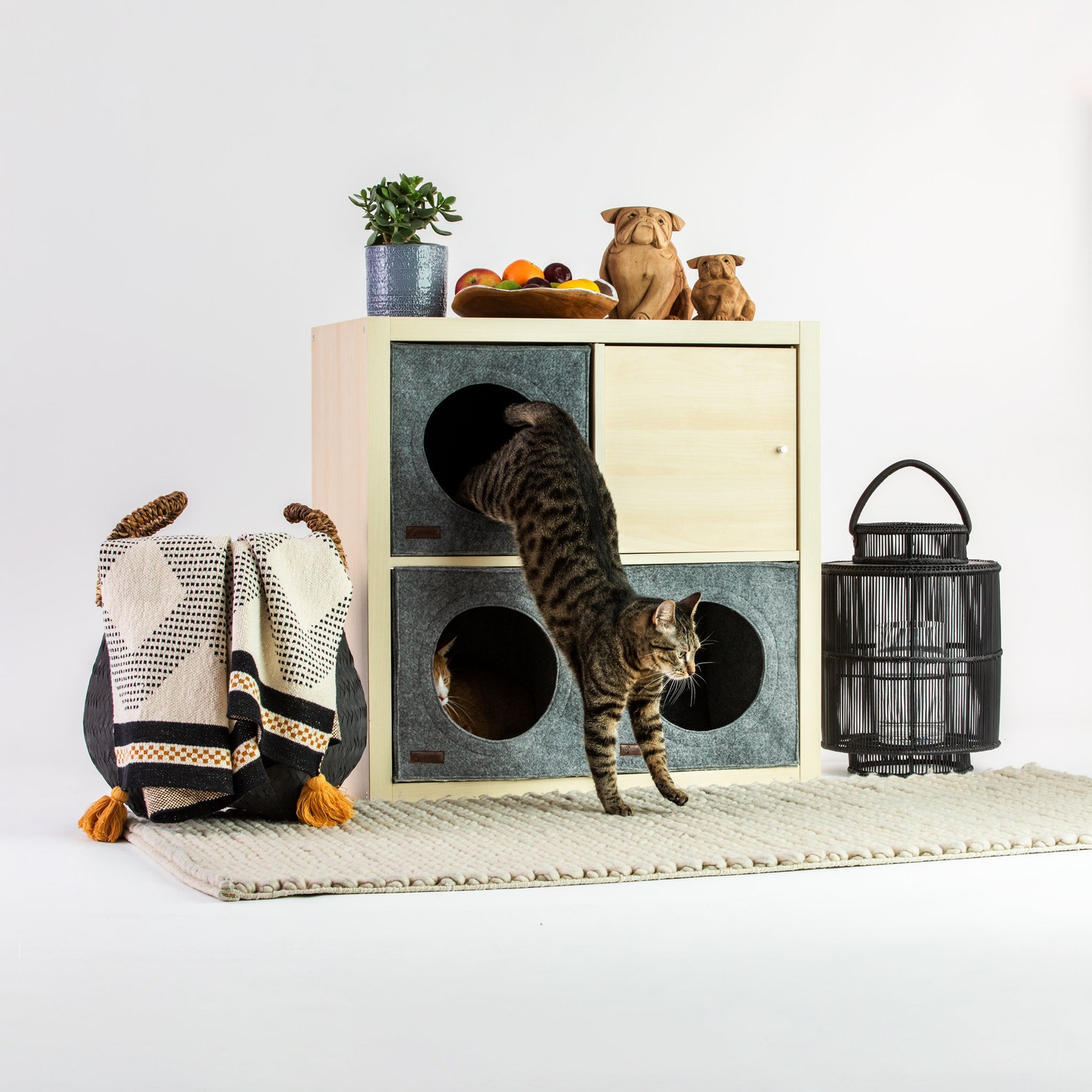 Revamp your IKEA Kallax shelf into a cozy pet cave with these clever cat inserts, creating a stylish and functional sanctuary for your furry friend within your living space. The inserts are soft and washable and even suitable for small dogs.
14 — Install sliding doors.
This Ikea hack keeps the clutter out of sight by allowing you easier access compared to those individual cube doors. All it takes is an angle bar to hold the doors.
15 — Fake the library card catalog look.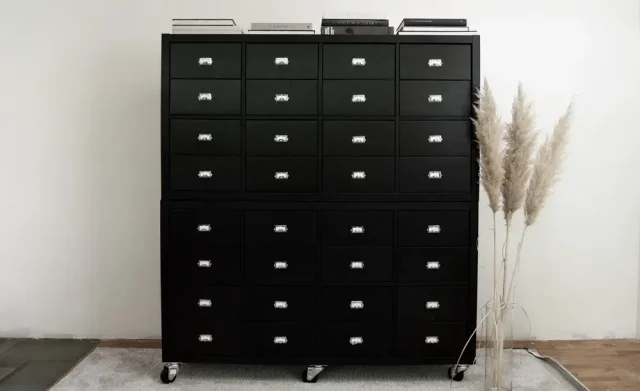 Love those antique card filing cabinets? They're pretty BUT also run a pretty penny. So you can achieve that style with this Kallax shelf hack tutorial with 2-drawer inserts, file pulls and swivel casters. This Ikea hack is perfect if you love labels. We love the black color scheme for a modern look. Opt for the brown rustic cube shelves if you want the more natural rustic style.
16 — Build a craft room storage table.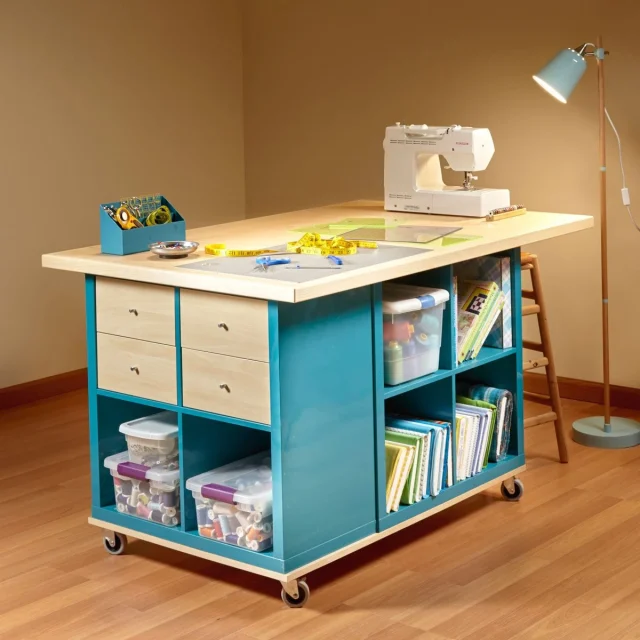 We know all too well that crafting requires a lot of supplies and tools. This DIY craft table is a storage hack and a work table hack. This project combines 2 Ikea Kallax shelves to a large top base for the workspace and bottom base for locking swivel casters.
17 — Turn the Kallax into a nightstand.
This Kallax hack idea is the ideal bedside companion if you want something minimal or have a small bedroom. All you need is a 4×1 Kallax shelf unit, drawer inserts and table legs. You can also find more DIY nightstand ideas here.
18 — Apply display windows to showcase your models and collectibles.
Create a collectible display that's dust-proof and a barrier against your kiddos hands. This Kallax Ikea hack utilizes magnetic fitted specifically for the Kallax.
19 — Transform the Kallax into a TV stand or media center.
This DIY entertainment center uses the largest shelf unit in the Kallax series. With just a few functional modifications, the center is then removed and replaced with a wood table to make room for a TV.
20 — Frame it.
Give your IKEA Kallax unit a chic upgrade with this simple hack of adding a sleek frame around it. This easy DIY project instantly elevates the look, providing a polished and customized touch to your storage solution.
21 — Get the fluted look.
We are loving the fluted furniture trend.This Kallax dresser hack adds that elemental design to the shelf by applying a wood veneer wrap with pole wraps found at the hardware store.
More Easy Ikea Hacks
Love these Kallax hack ideas? Check out these inspiring well to modify your Ikea furniture below —
Say goodbye to laundry woes with these small laundry room ideas that will make the most of every inch available. Today we are chatting about that little slice of domestic chaos we affectionately refer to as the small laundry room. It's a space that you spend a lot of time in but often overlook when…
Continue Reading 22 Inspiring Small Laundry Room Ideas for Small Spaces