Just because your fireplace is empty doesn't mean it has to stay that way! Check out these 12 inspiring ideas for how to style and use your unused fireplace.
During chilly months, we love sitting around the fireplace, lit with the roaring fire. But for most of the year (especially when it's warm), the fireplace is unused and untouched.
Still, we would never want to get rid of our fireplace, especially if it's just been through a fireplace makeover. It's the grand focal point of most dining and living rooms! In a rut on what to do with your empty fireplace? Especially with the one that you just went through a complete makeover?
Here are 12 creative decorating ideas to fill up that space, whether you have a functioning or non-functioning fireplace.
12 Empty Fireplace Ideas
1 — Incorporate Logs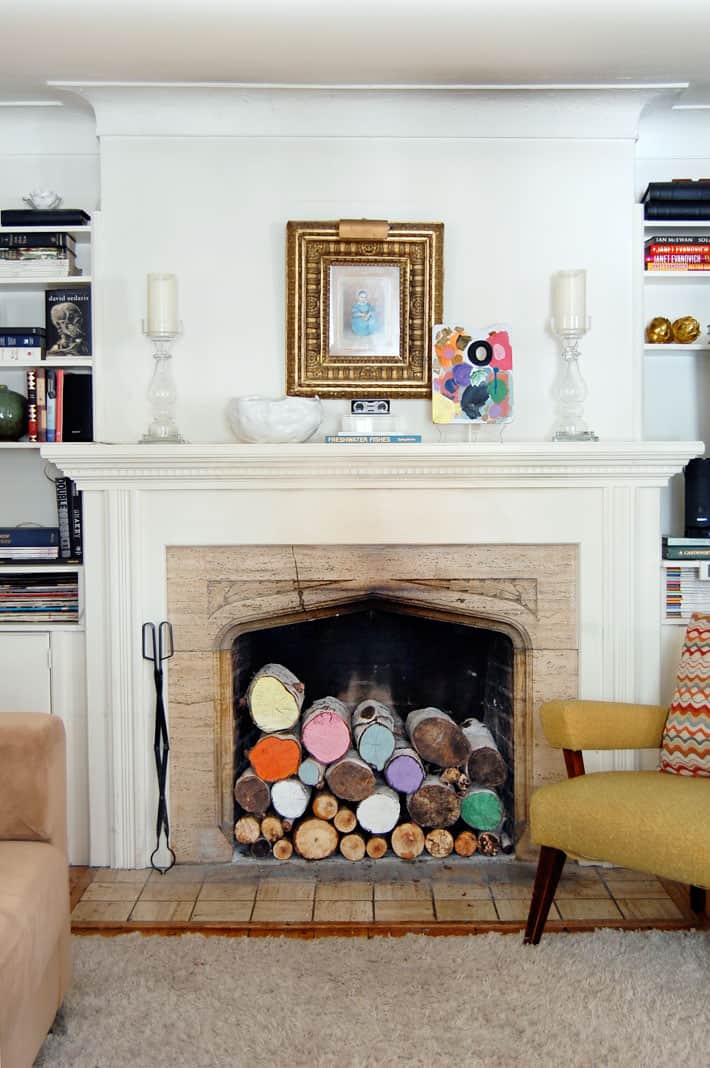 One of the most traditional ways to decorate the fireplace is with logs. You can stack them inside or outside on the hearth in a unique log holder.
Our favorite fireplace idea utilizes DIY painted logs.
2 — Place a Plant
Plants are a great way to liven up the area with some natural greenery, especially if you have a dark firebox.
You can decorate it with a single large statement plant. Like a snake plant that helps purify the air, all while requiring little light and attention.
Or showcase a variety of small indoor house plants at varying heights.
3 — Use as Storage Space
Make use of the empty fireplace by converting it into storage space.
Add some baskets to the house and organize extra blankets, house slippers, throw pillows, toys, etc.
For a non-working fireplace, install shelves to maximize your storage potential.
4 — Place Candles
View this post on Instagram
Replicate those cozy cackling flames by placing candles inside your fireplace. And there are so many creative ways to do so.
Mix and match different lanterns, candlesticks, and candle types of varying height and width.
You can also use a candleholder, tray, or basket to cluster your candles. Battery-operated faux candles also work.
5 — Display an Artwork
View this post on Instagram
Turn your fireplace into a gallery by displaying artwork.
We recommend choosing a large framed or canvas statement piece so that it doesn't get lost against the firebox.
6 — Store Books
Have old books in the donate bin? Stack them inside your fireplace. The books will add an artsy vintage touch of texture.
Or, for a more modern, clean look, opt for this DIY color-coded book idea for pops of color.
The empty fireplace also makes for an ideal place to store your magazines.
7 — Cover it Up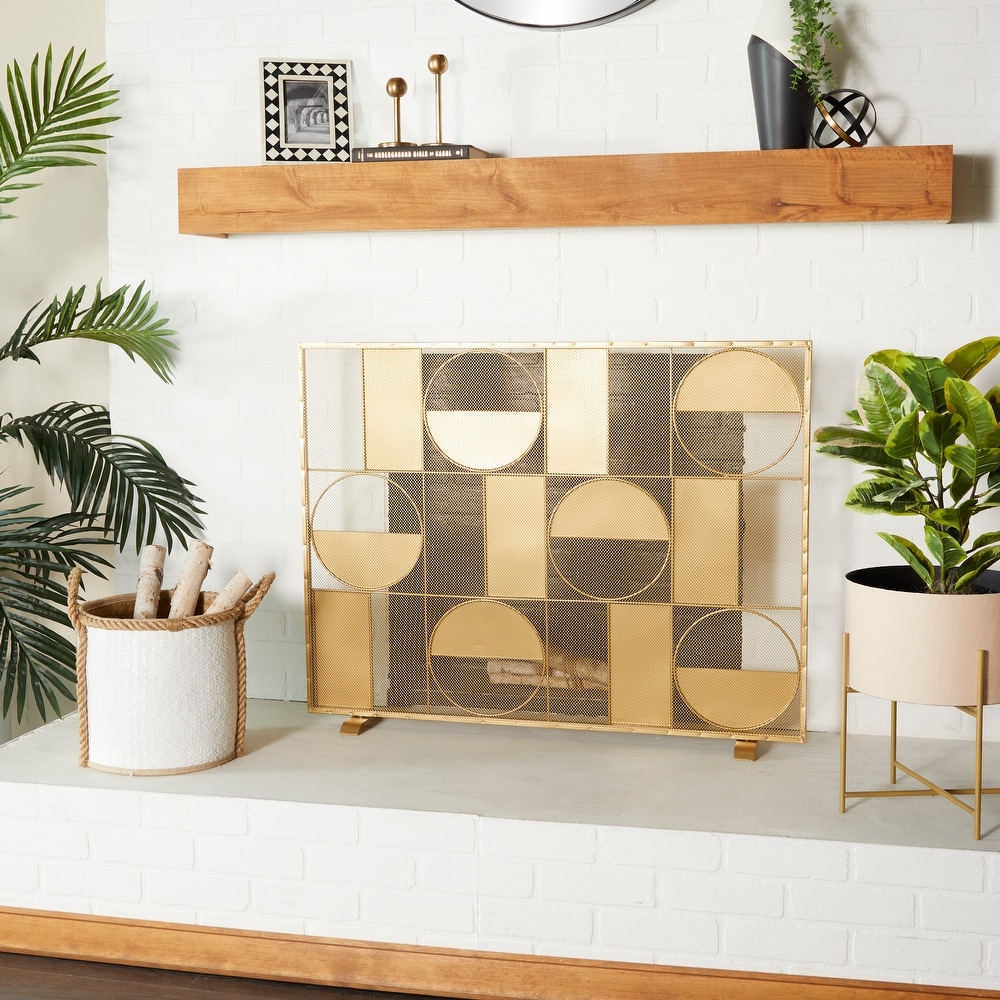 An easy solution to the empty spot is to cover it up with a stylish fireplace screen.
So when there is a lit fireplace, you'll still get some protection from the dangerous sparks.
For our lakeside renovation, we wanted to incorporate brass finishes throughout, and the screen was one of the ways to do so.
8 — Display Decor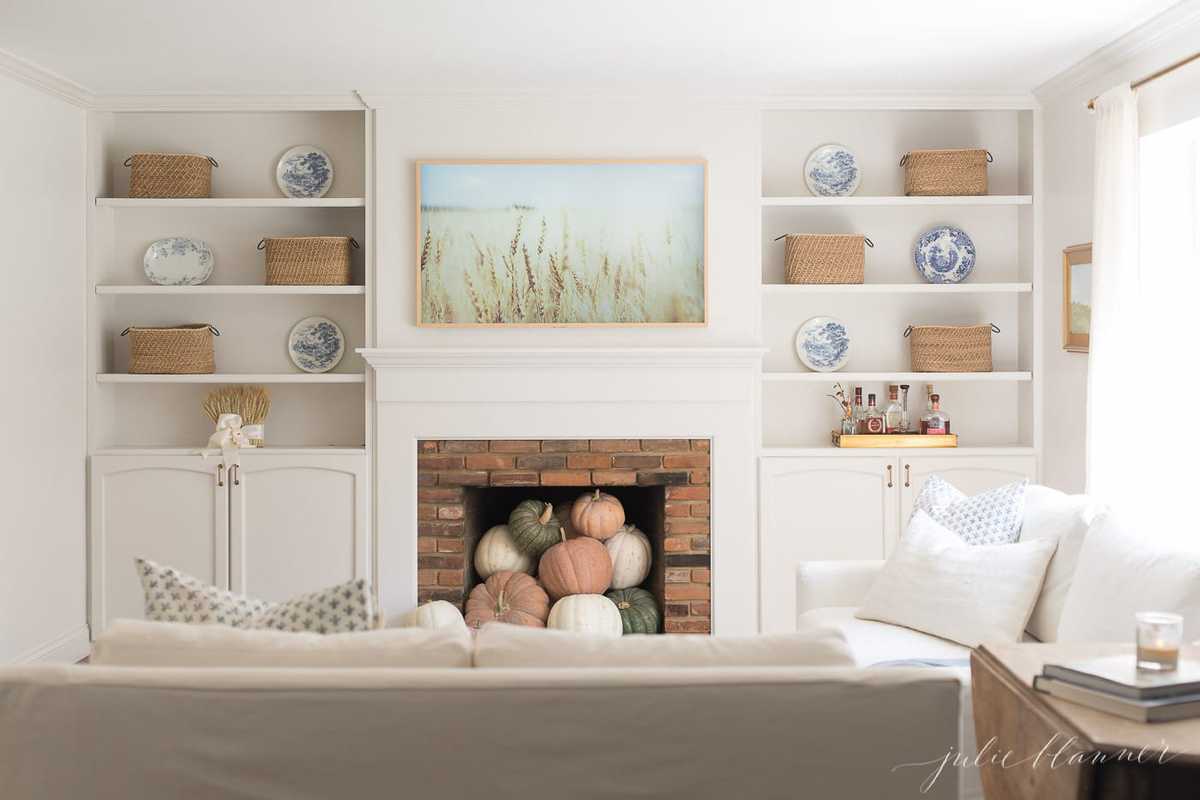 So many people decorate their mantel and hearth without realizing that the empty firebox is actually a great styling opportunity to also display decor.
You can switch it up seasonally with heirloom pumpkins in the fall and large coral and driftwood in the summer.
9 — Style Colorful Balloons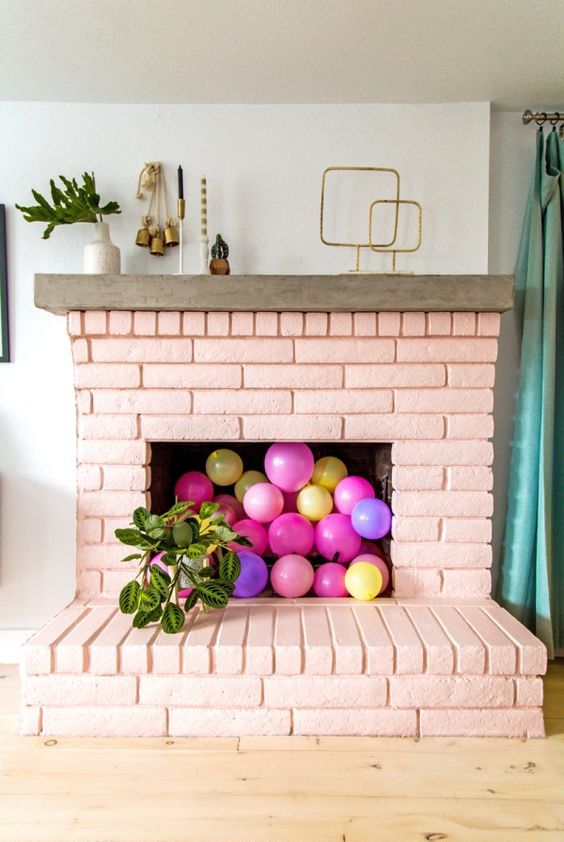 Hosting a party and want to dress up your fireplace for the night? A fun idea would be to fill it up with colorful balloons.
You could even pair it up with a DIY balloon garland hanging on the mantel.
10 — Pet Haven
Another empty fireplace idea is to turn your fireplace into a pet haven. Add in a bed and toys, and your pets now have their own designated hangout spot.
For functional fireplaces, just make sure the firebox is cleaned beforehand (as it is recommended to do so anyway after each use.)
11 — Add Some Flowers
Flowers always brighten up a space. And placing some blooms in that dark and cold firebox will do just the trick.
12 — Wine Rack in Fireplace
View this post on Instagram
A lot of entertaining happens in the living room, so an empty fireplace would be the perfect spot for wine storage.
This way, you'll now easily be able to grab, and cork open a bottle!
More Decor Ideas