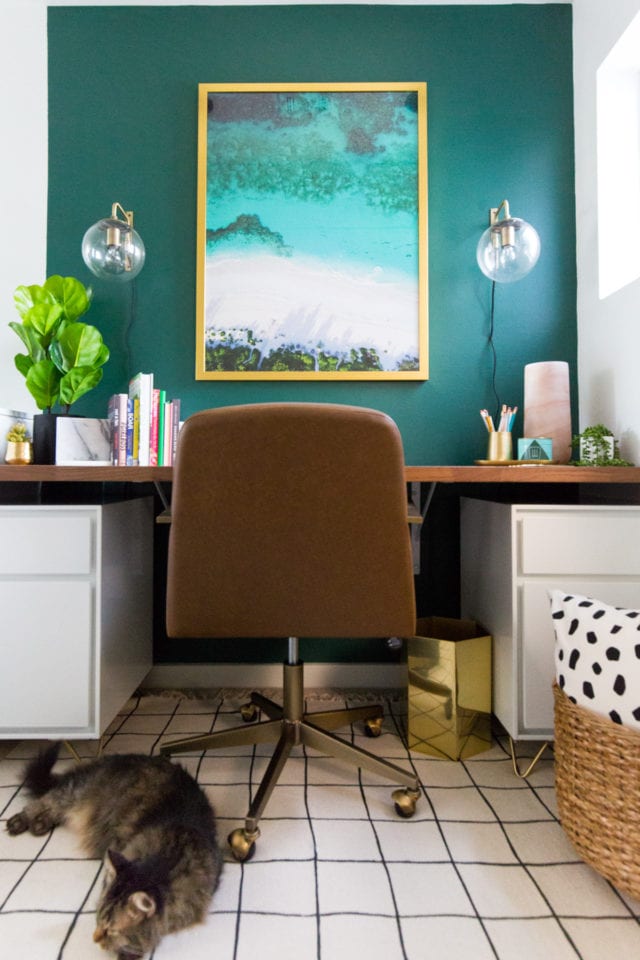 I'm going to go ahead and start this post by saying feel free to judge me for how bad these before photos are. I mean, we all have that one room that's basically the equivalent of a pool filter catch-all, right?! You can obviously see from the before + after of our study room makeover below that this room was just that! So. Bad.
It was a mixture of litter boxes, random things I was too lazy to throw away and/or organize, paperwork for "safekeeping", etc. Clearly, it was our very own home graveyard for allllll the things. The worst part? It's RIGHT off of our master bedroom. I know, I know . . . I'm disappointed in myself, too.
Needless to say, it was screaming for a facelift and a little hygge love, so we teamed up with BEHR® to transform the space using their 2018 Color Trends palette. Even though I'm a die hard all-white, bright spaces fan (as you know!), this was the perfect space for us to really branch out for a warm, cozy atmosphere. Plus there's a super quick giveaway for a $100 Home Depot gift card which is perfect to use towards BEHR paint (or anything else you'd like!) for your room makeover of choice so be sure to scroll through for details!
Now for the juicy before photos. . .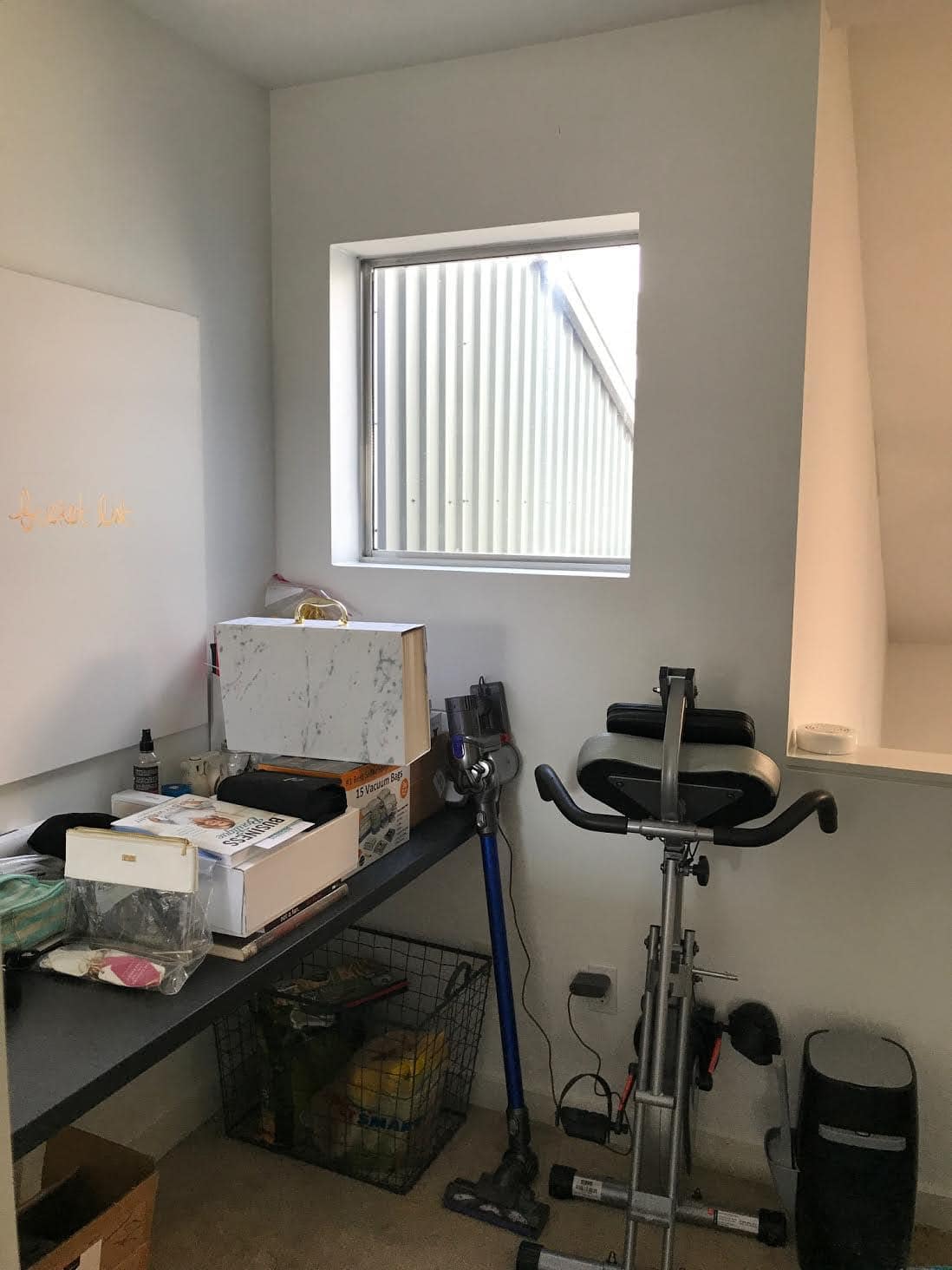 For the record, I think I've used that foldable workout bike maybe once. Basically, the only workout I got from it was from moving it to and from to vacuum. I really wasn't joking about it being a graveyard in there. Haha!
I'd also like to point out the disgusting carpet in this space. It's all connected to the bedroom and our master closet, so until we pull the trigger on hardwood flooring we'd love to replace all of the upstairs with, it will stay carpeted for now.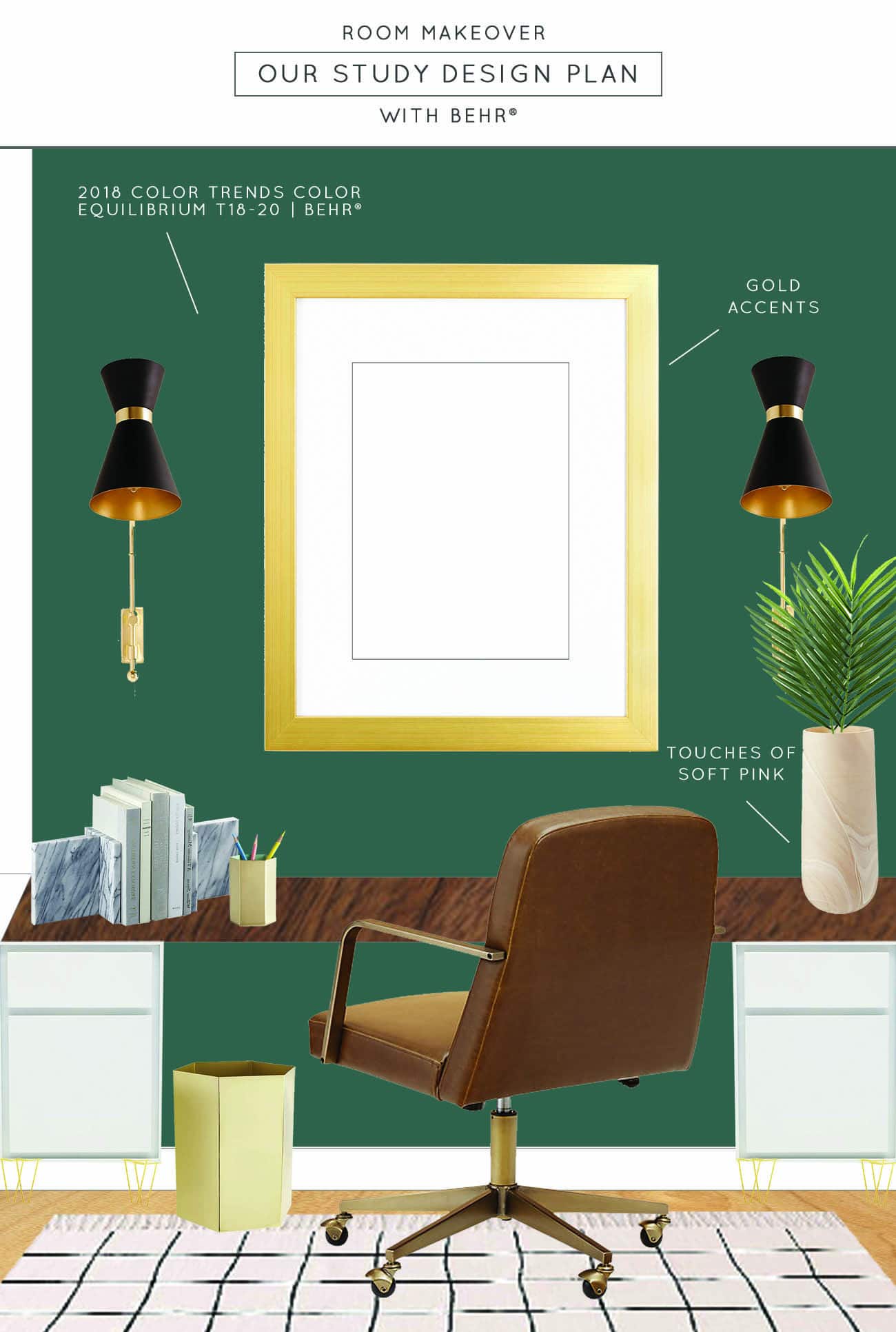 To help visualize the rooms, as we're redoing each in our house, I've been making these design-inspiration mock-ups, albeit slightly distorted, so that we can really envision the end product. I'd say we got pretty darn close to the original design!
The hardwood floors will really make a difference once we replace those, and the lights I originally bought were HORRIBLE quality, so we settled on the ones from the final images, which I actually like just as much, if not more.

Needless to say, BEHR in Equilibrium T18-20 made the biggest impact on the space, don't you think? We used the BEHR PREMIUM PLUS ULTRA® Interior Paint & Primer in eggshell, and it went on smooth like butta'! Sorry, couldn't resist!
They launched their Color of the Year for the first time ever (it's called In the Moment), but I just loved this deep green too much to pass it up.
I'm already scheming up what else I can color with the leftover paint! I really love the idea of an all-white bookcase with the backing painted with this accent green. What do you think?
Also, yes, I am a messy painter, but I can cut-in on the corners like a rockstar so at least there's that.
The next thing that absolutely had to go was the ugly built-in countertop that was used as a desk. I found this herringbone-style beauty that was already the perfect size, so we removed the old one and replaced it with the new one after we finished painting.
To tie in the wall color, we had one of Jared's drone shots from Harbour Island printed and framed in gold. I love the way it looks in the space, and he loves the fact that he has a giant version of one of his photos even more. Haha!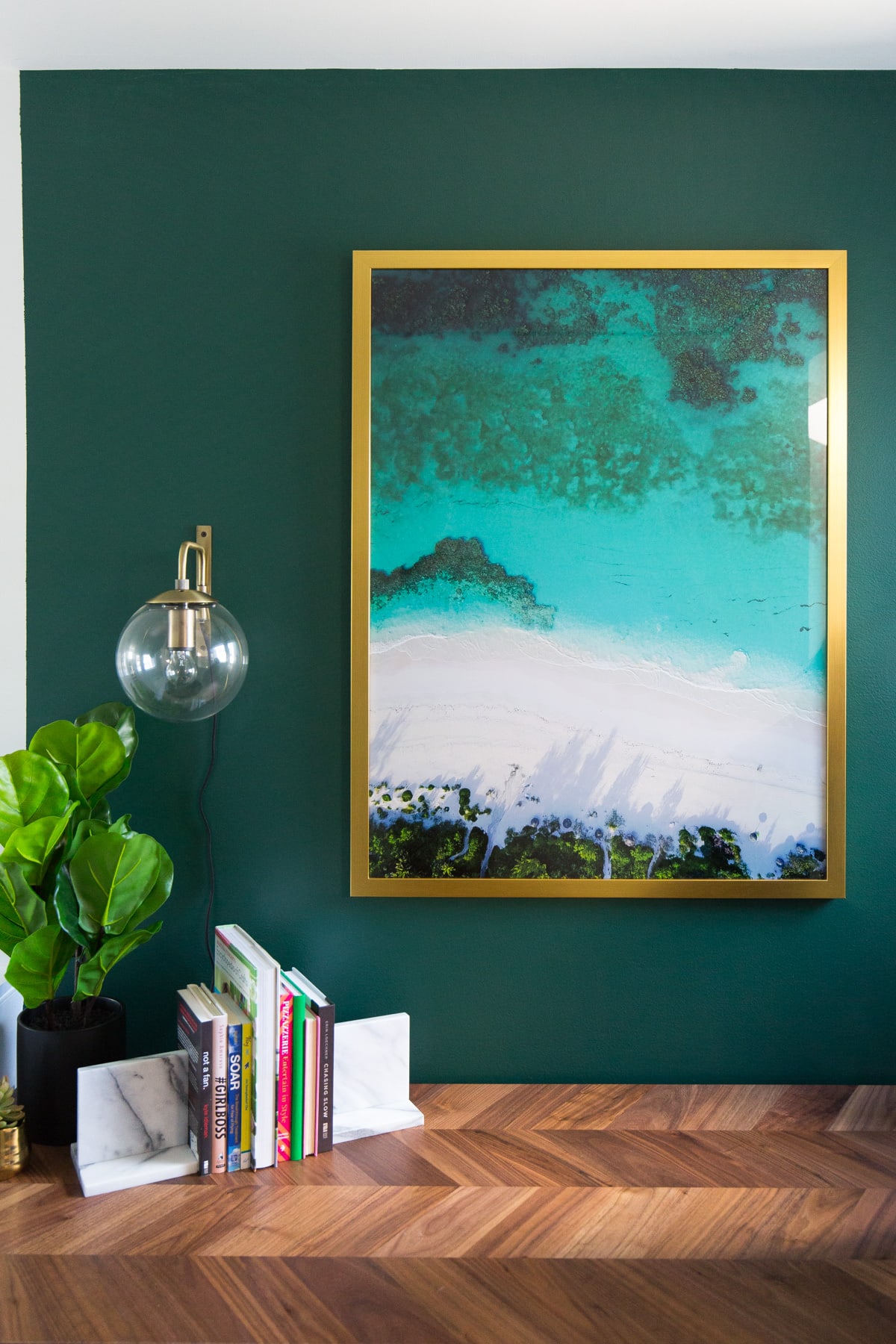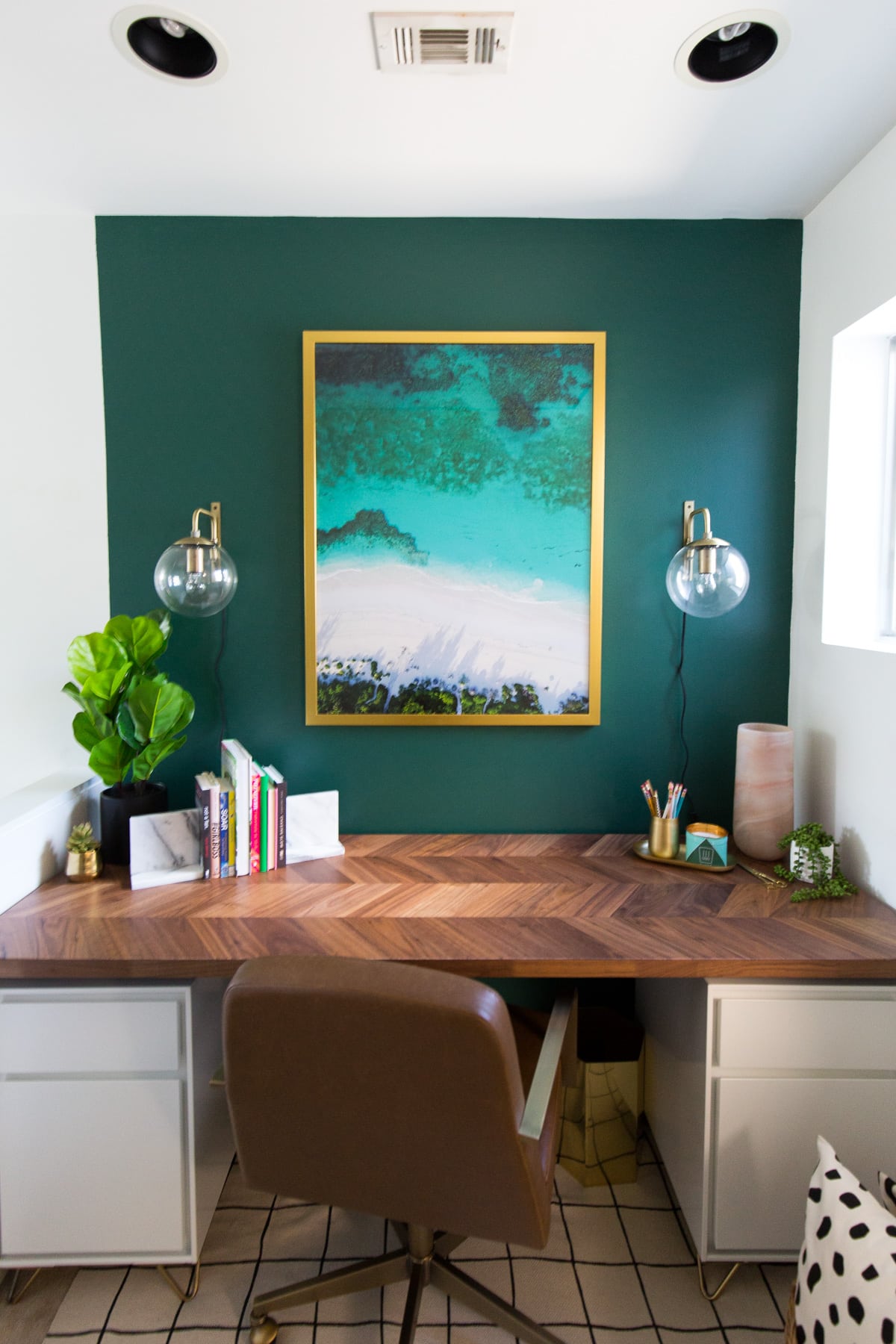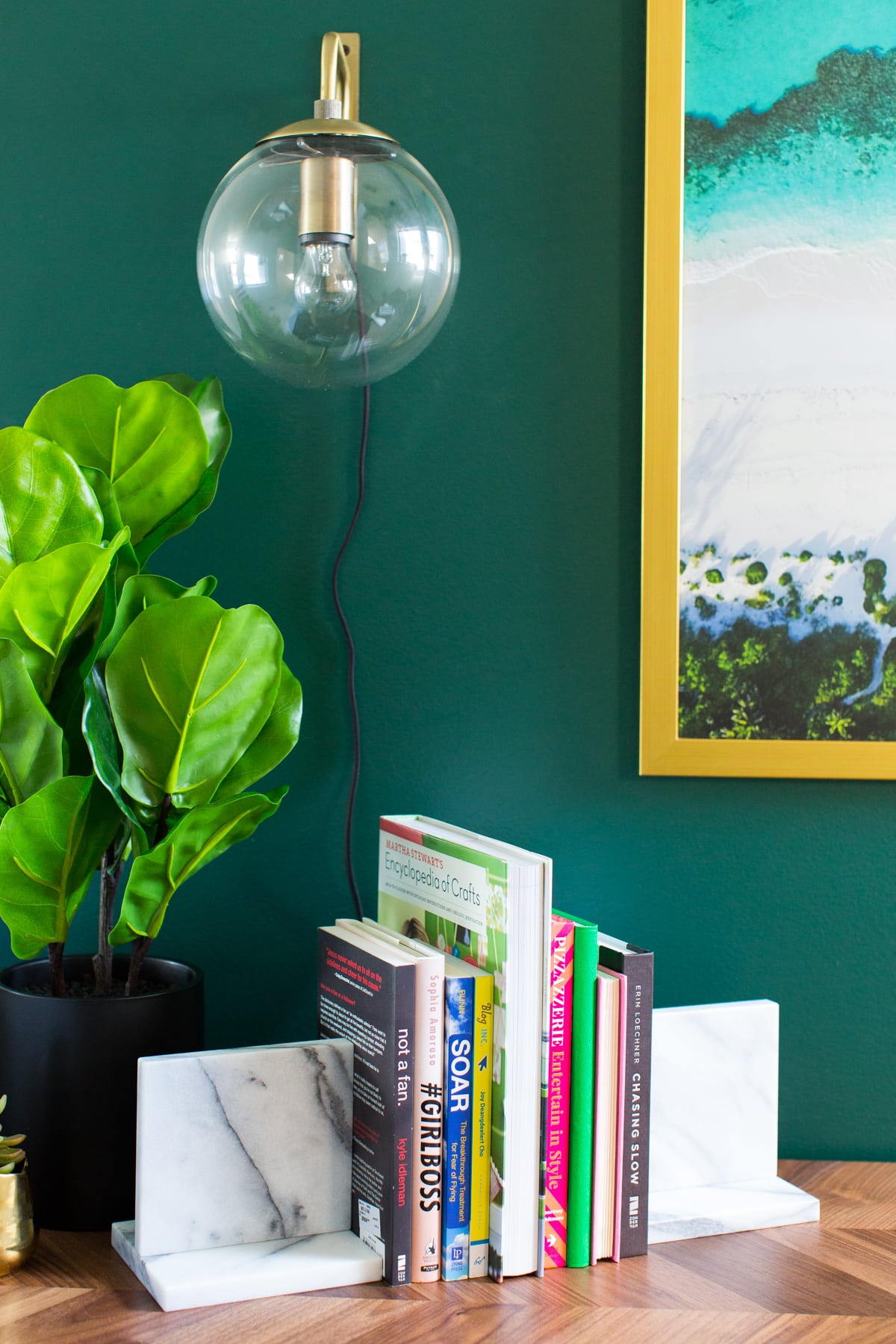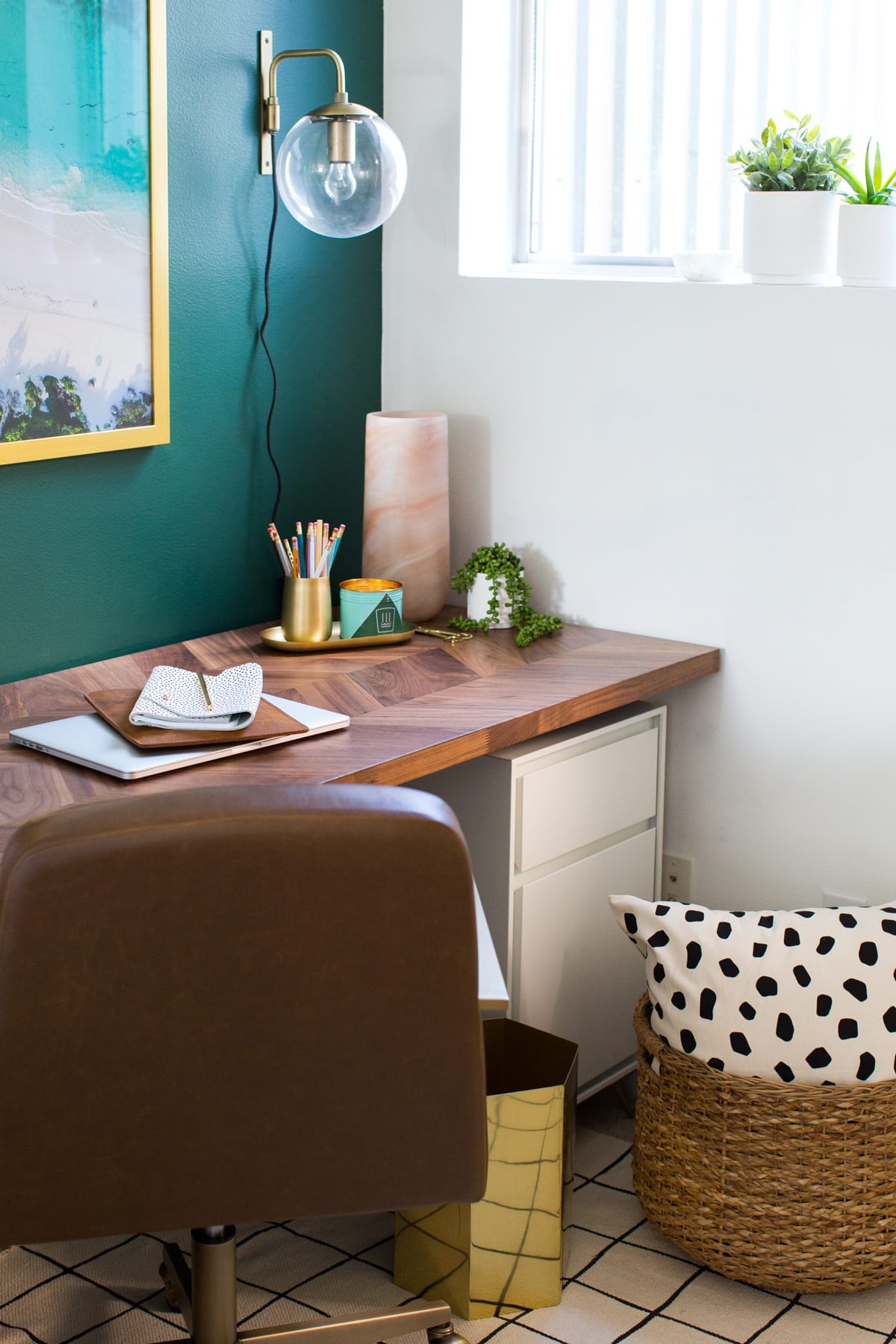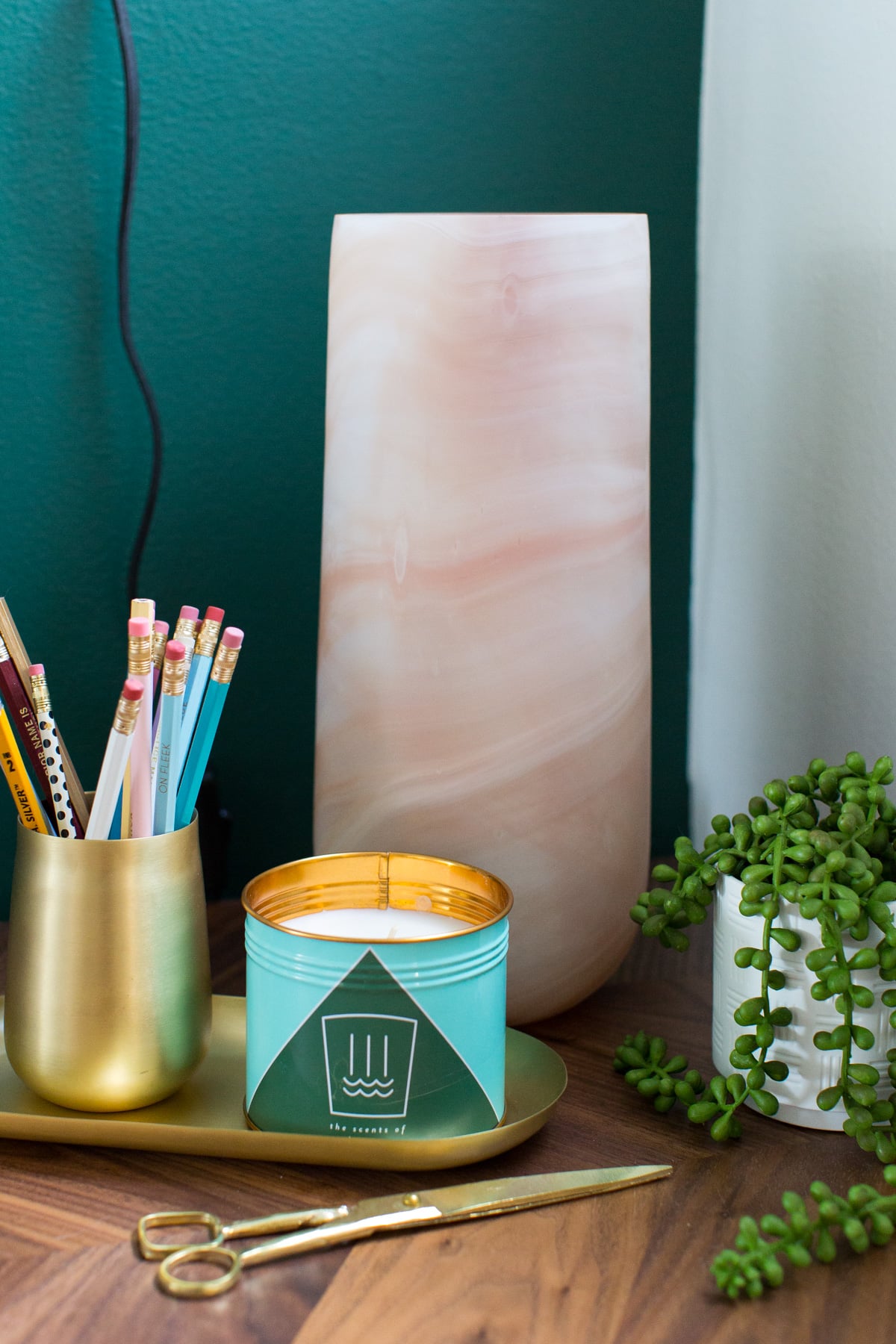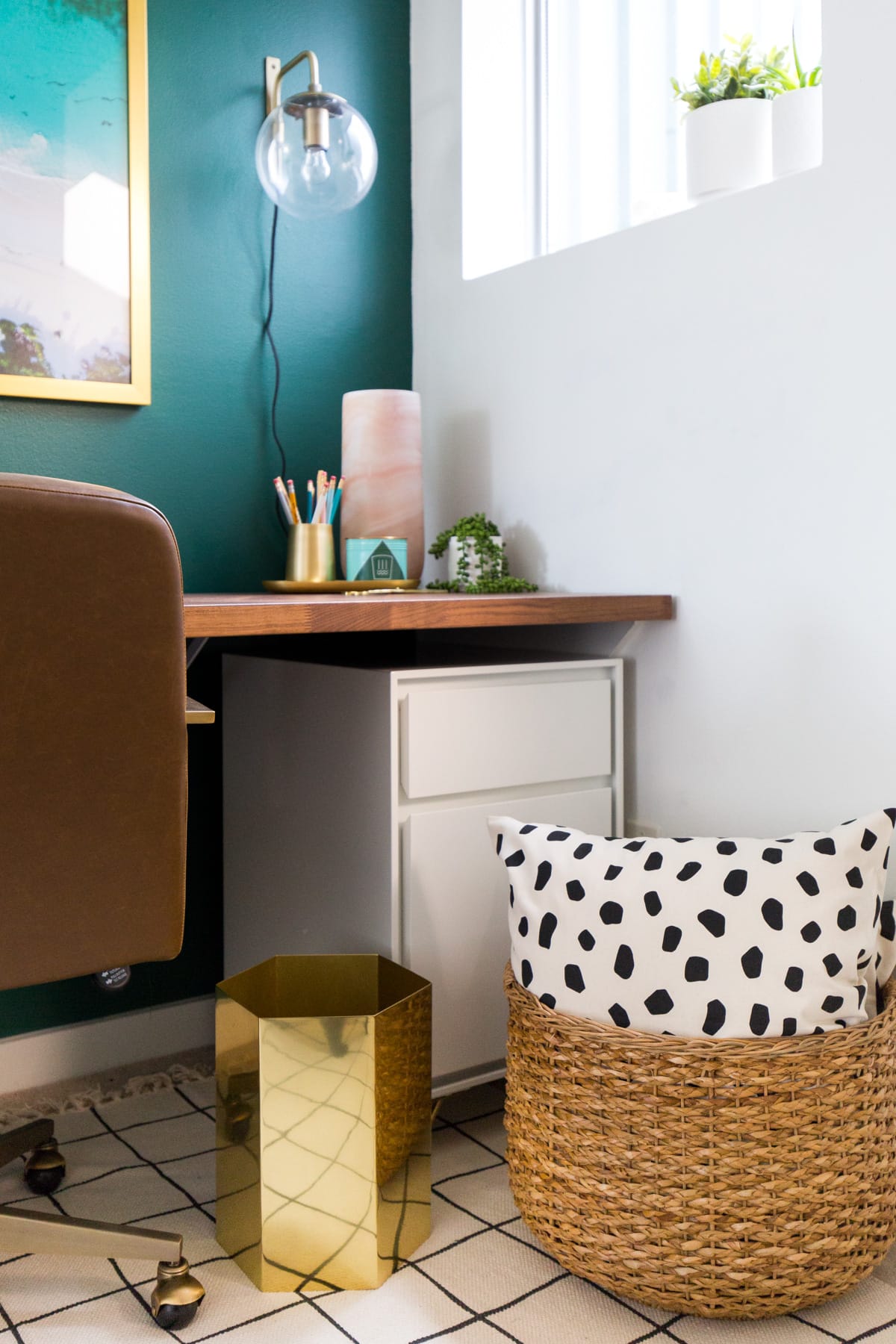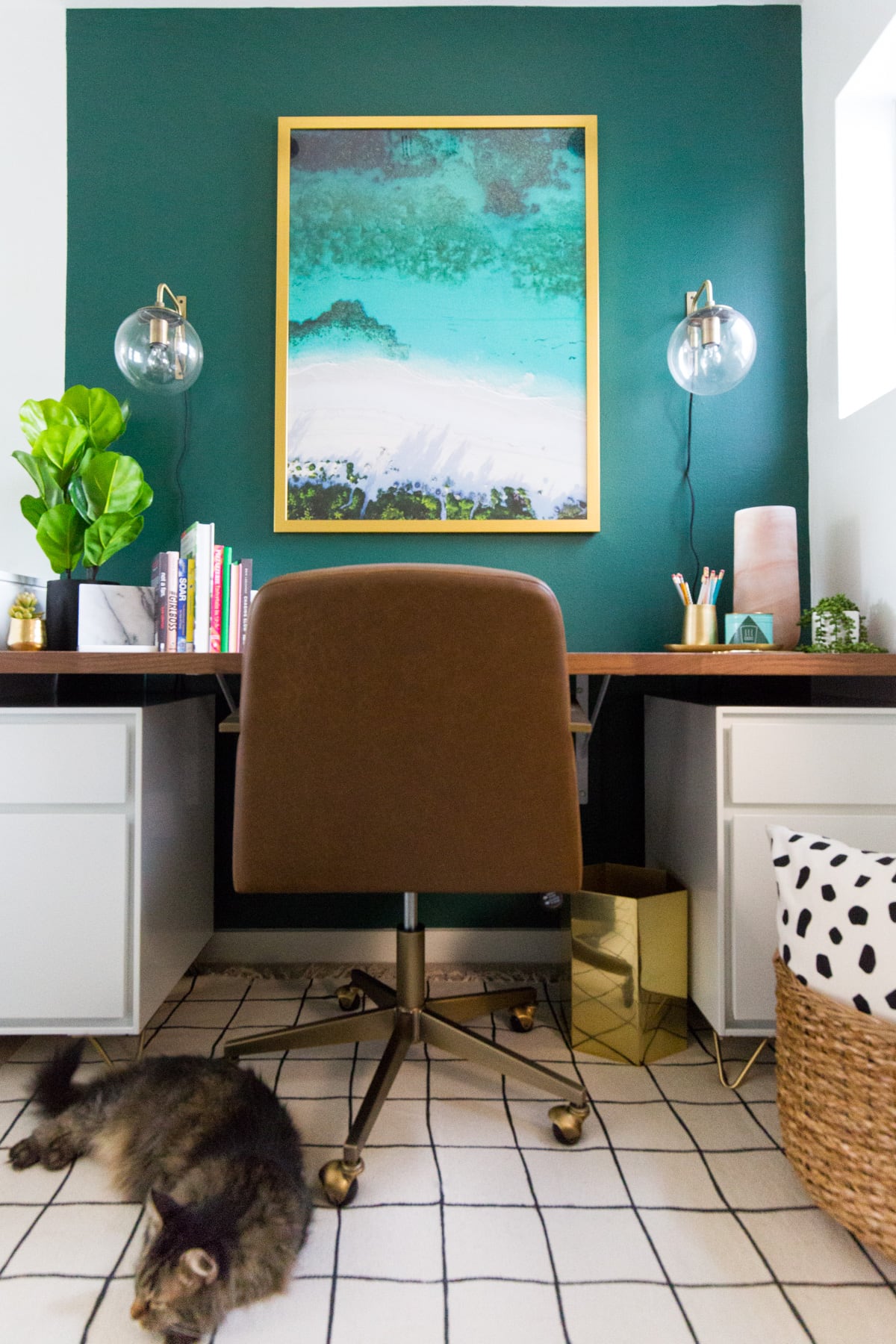 Needless to say, this is a completely new space compared to the before photos! And yay for modern filing cabinets for making me look like an organized adult instead of a Cat 5 hoarder.
Now for the giveaway! You can enter to win right here via Popsugar, terms of the giveaway listed below.
A big thanks to our friends at BEHR for partnering with us on this post! Visit Behr.com/2018Trends to explore more trend design and color inspiration! Sugar & Cloth is donating 5% of all sponsored campaigns to charity, which you can read about right here!
Room Sources: gold and leather desk chair // gold hexagon trash can // black and white modern grid rug // gold and clear globe wall sconces // white filing cabinets with spray painted gold pin legs // herringbone wood look desktop // marble book ends // custom photo in framed gold // peach vase // BEHR® Equilibrium T18-20 paint