Abstract Shapes DIY Nursery Wall Decor — A super easy and customizable DIY nursery wall decor idea for you to recreate as big or as small as you'd like! Plus it's the perfect gender neutral idea…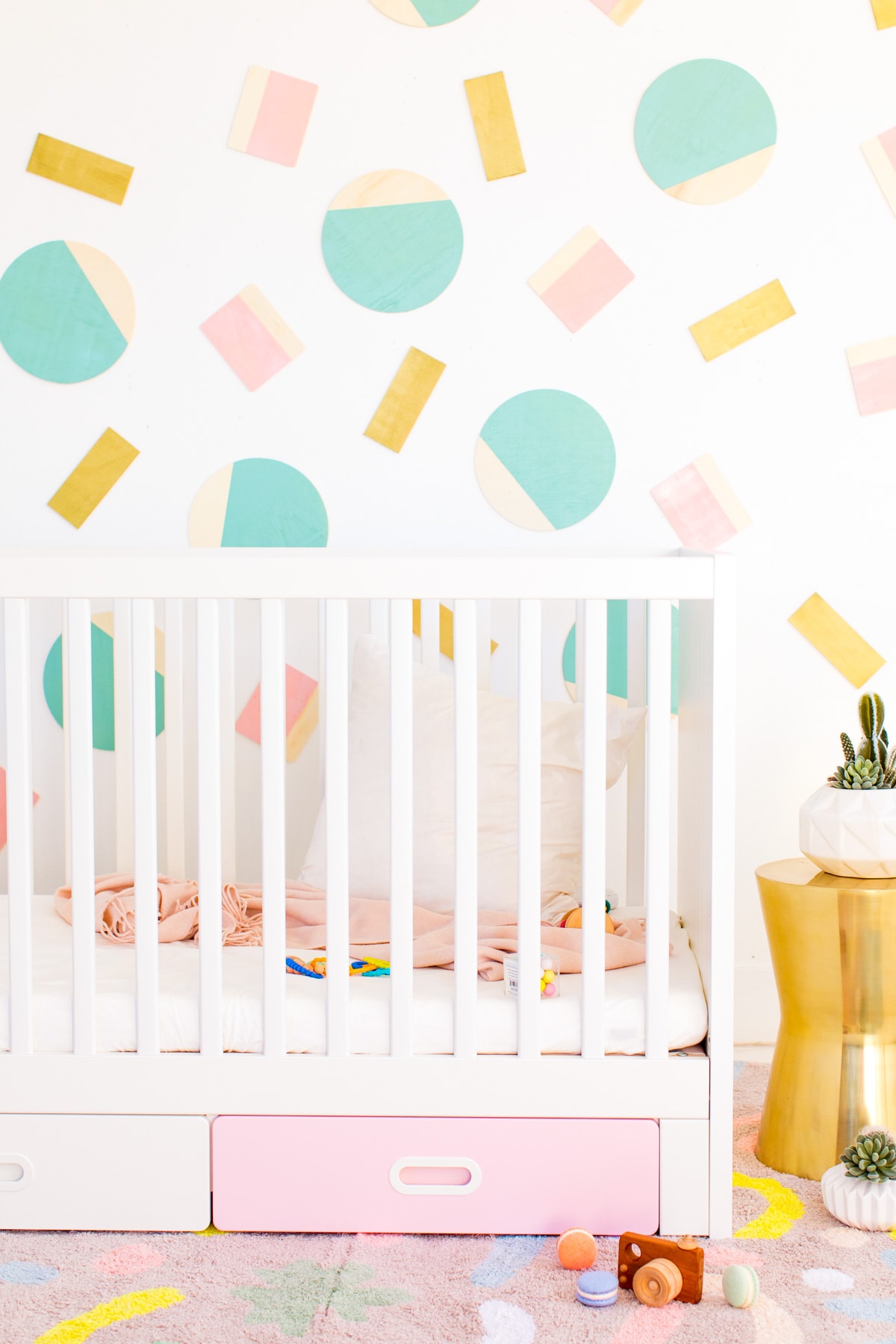 As it turns out, I was basically made for nursery decor if you're taking into account our brand color schemes, ha!
These DIY Nursery Wall Decor in abstract wooden shapes are no exception. And I LIVE for a good spray paint makeover.
I basically spray paint everything! I even spray painted the drawers on a crib!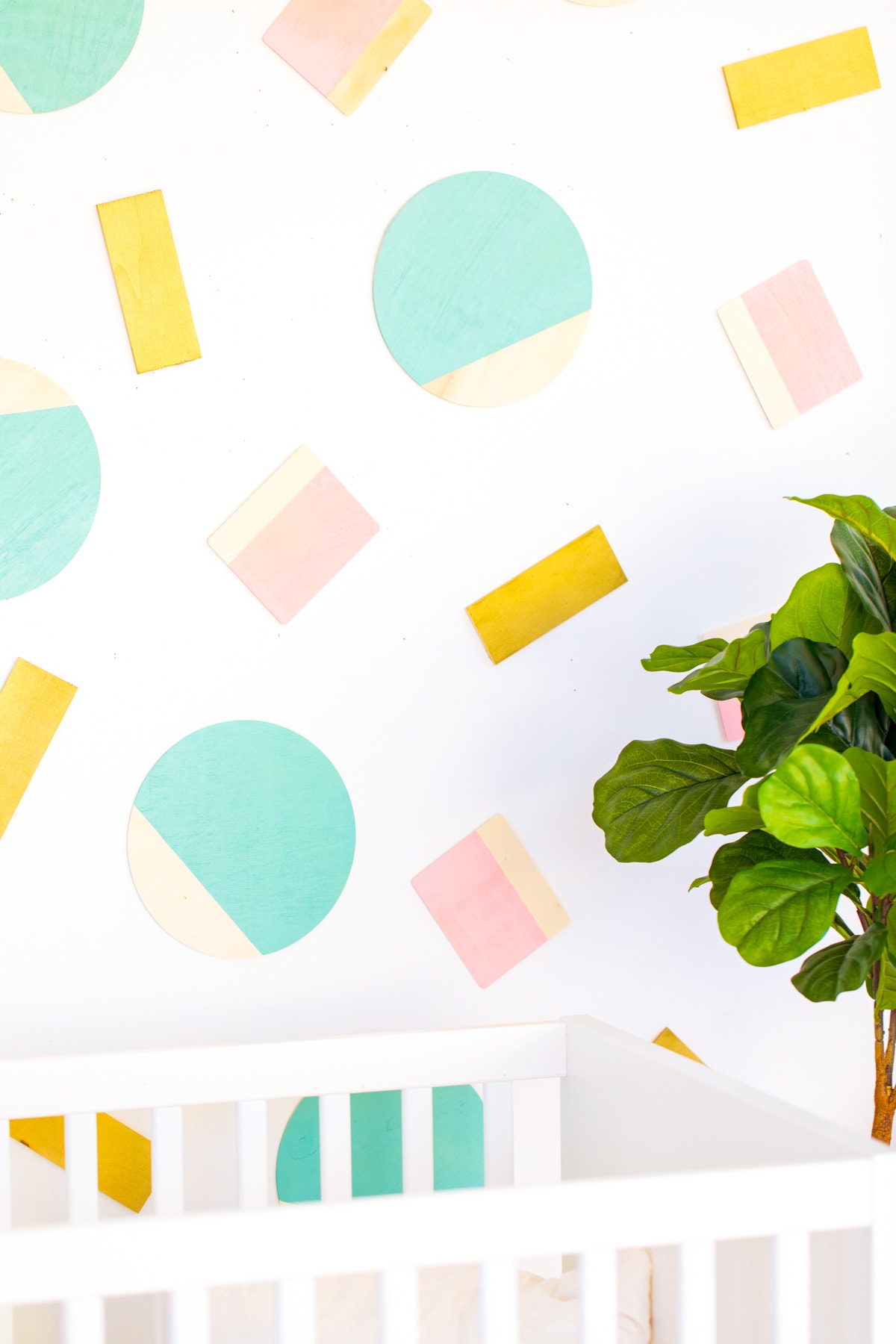 I'm not going to claim that Krylon® Brand should put "Sugar & Cloth" somewhere in the Ballet Slipper and Catalina Mist spray paint color names for my personal branding purposes. But I wouldn't hate it.
We've partnered with them to bring a really fun accent wall idea and crib upcycle for baby's room that you can easily make into a custom color scheme, pattern, and even a temporary decor solution if you're renting or just plain afraid of commitment.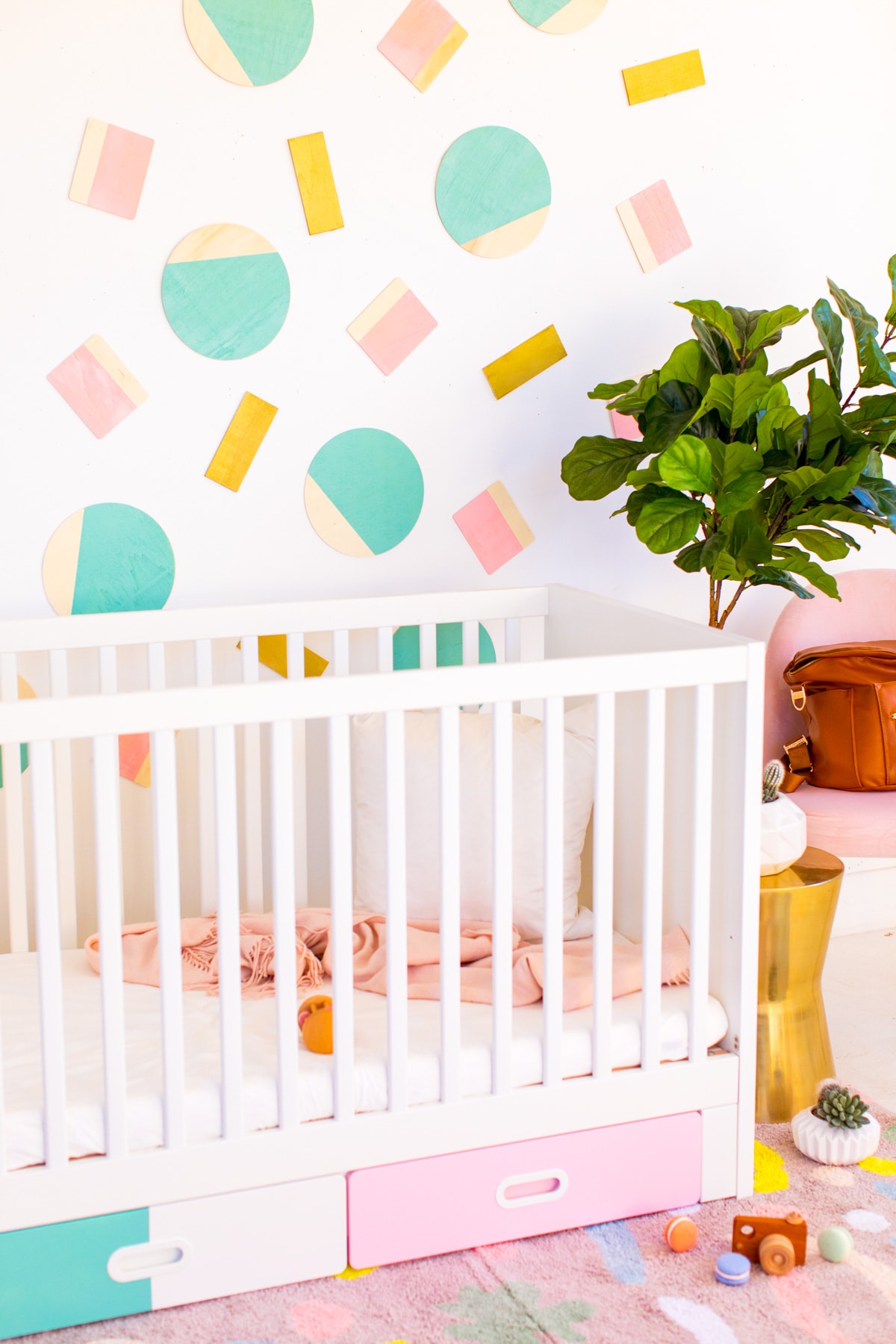 Materials Needed To Make Abstract Shapes DIY Nursery Wall Decor
Craft wood squares, circles and small rectangles
Krylon ColorMaster

® Paint + Primer Satin Ballet Slipper

Krylon ColorMaster

® Paint + Primer Satin Catalina Mist

Krylon

Shimmer Metallic in Gold Shimmer

Painter's tape
Small white nails or heavy-duty artwork adhesive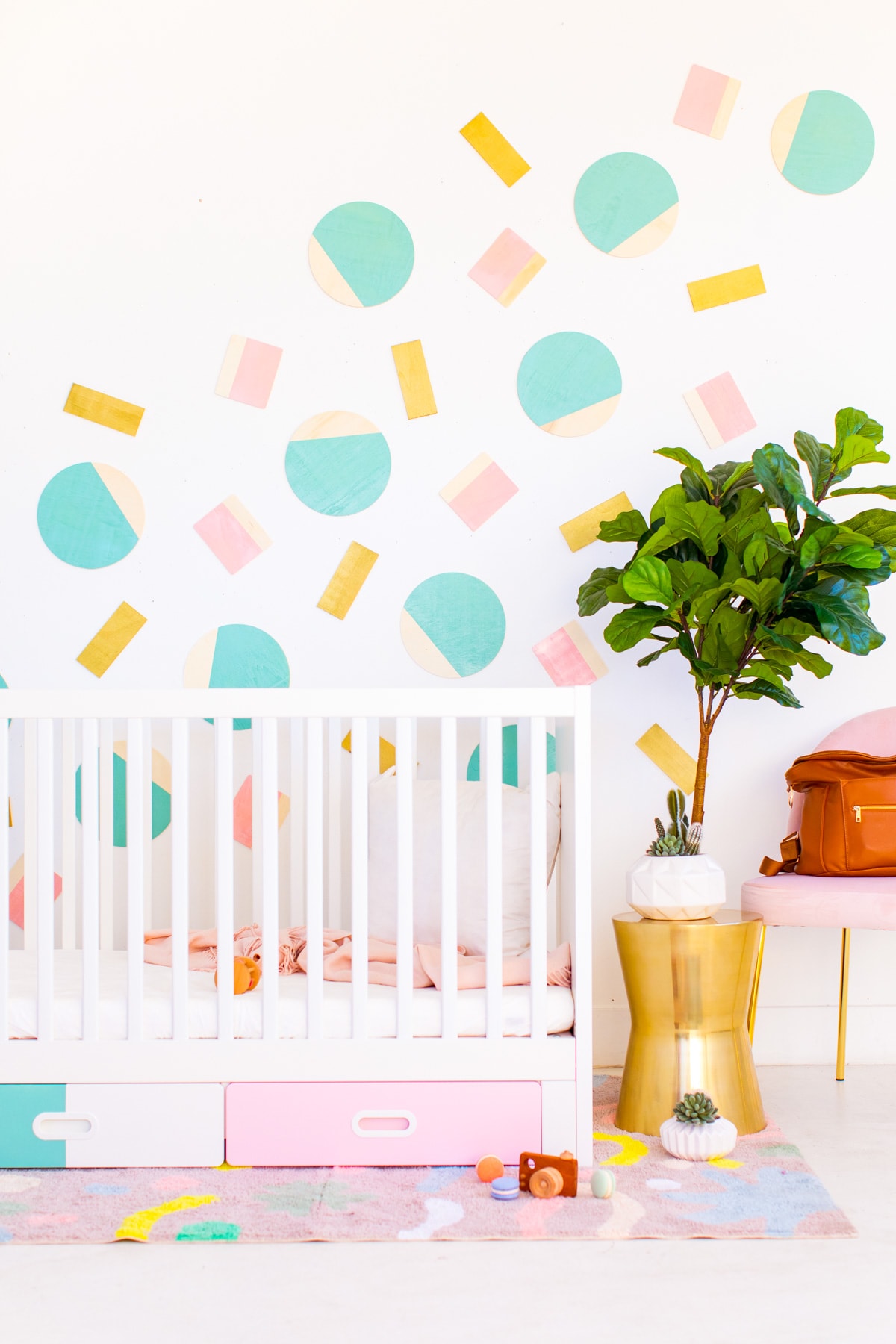 How To DIY Nursery Wall Decor | Abstract Shapes Wall Art
1– Start by taping off random edges of your wooden shapes. We chose to match all of the shapes but you can mix and
match as well!
2– On a disposable surface, in a well-ventilated area, spray your shapes with the Krylon® Brand spray paint colors of your choice. Before you start be sure to read the label for safety and application instructions. We used 2 cans of spray paint. We chose to go with a more cohesive look and color all of the pieces for each shape in the same color. For this design I opted to paint the circles in Catalina Mist, the squares in Ballet Slipper and the rectangles in Gold Shimmer.
3– Allow all of the shapes to dry. Once the shapes are dry repeat with one more coat of spray paint. The painter's tape should be removed when the paint is dry to the touch to avoid peeling or chipping. Once you carefully remove the painter's tape, you allow the shapes to fully dry. From start to finish this entire project took us about 2 hours.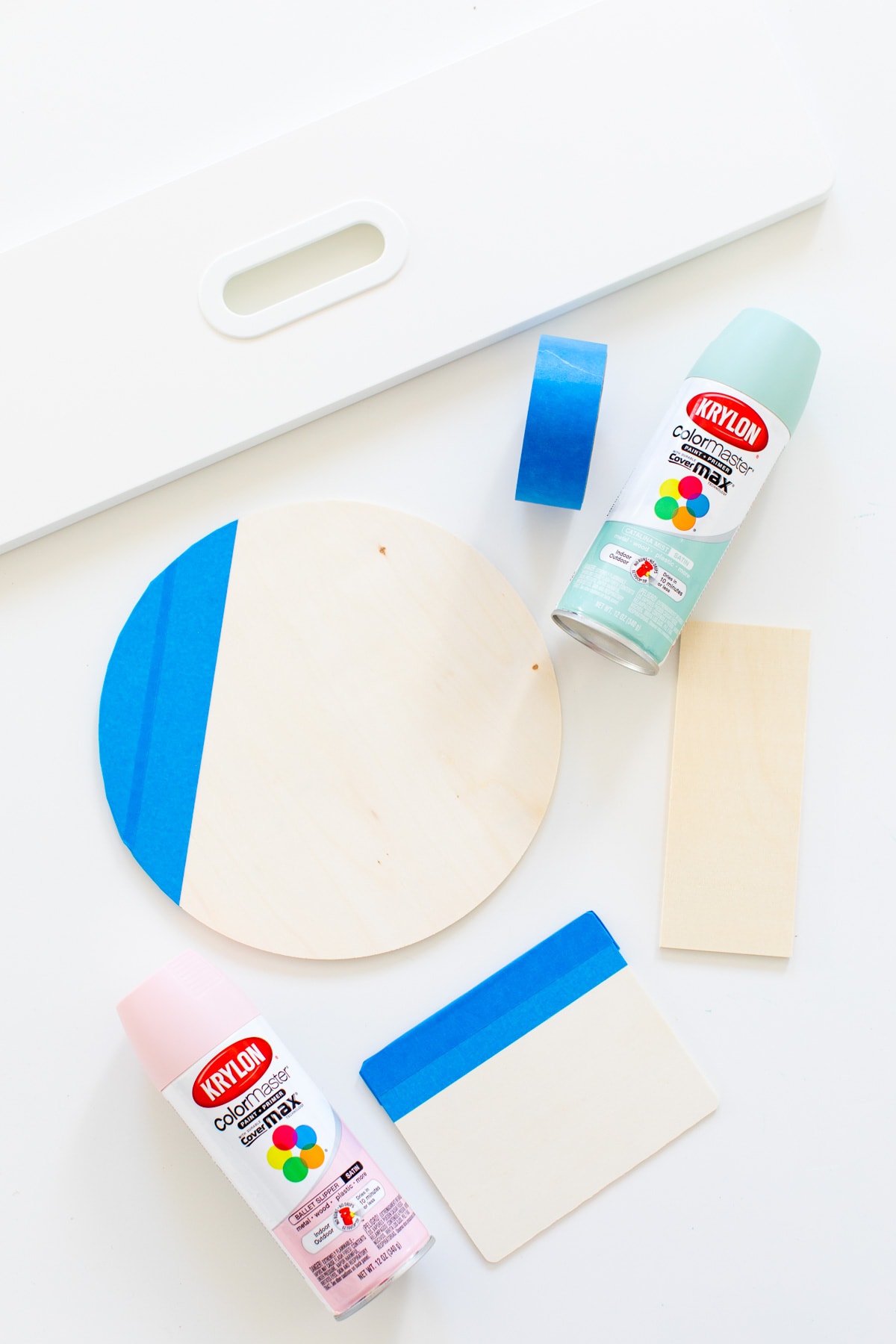 4– Once the pieces are fully dry, you're ready to create a wall pattern by attaching your color block shapes to the wall!
5– The most secure way to attach the pieces to the wall is by using small nails in a discrete color like white, but if you can only have temporary decor in your space, using something like heavy duty adhesive artwork tape will suffice as well, just be sure to keep the shapes out of baby's reach regardless.
For instance, the styled crib you see here has about a foot of space between the edge of the crib and the wall to be sure that no little hands can create a dangerous scenario.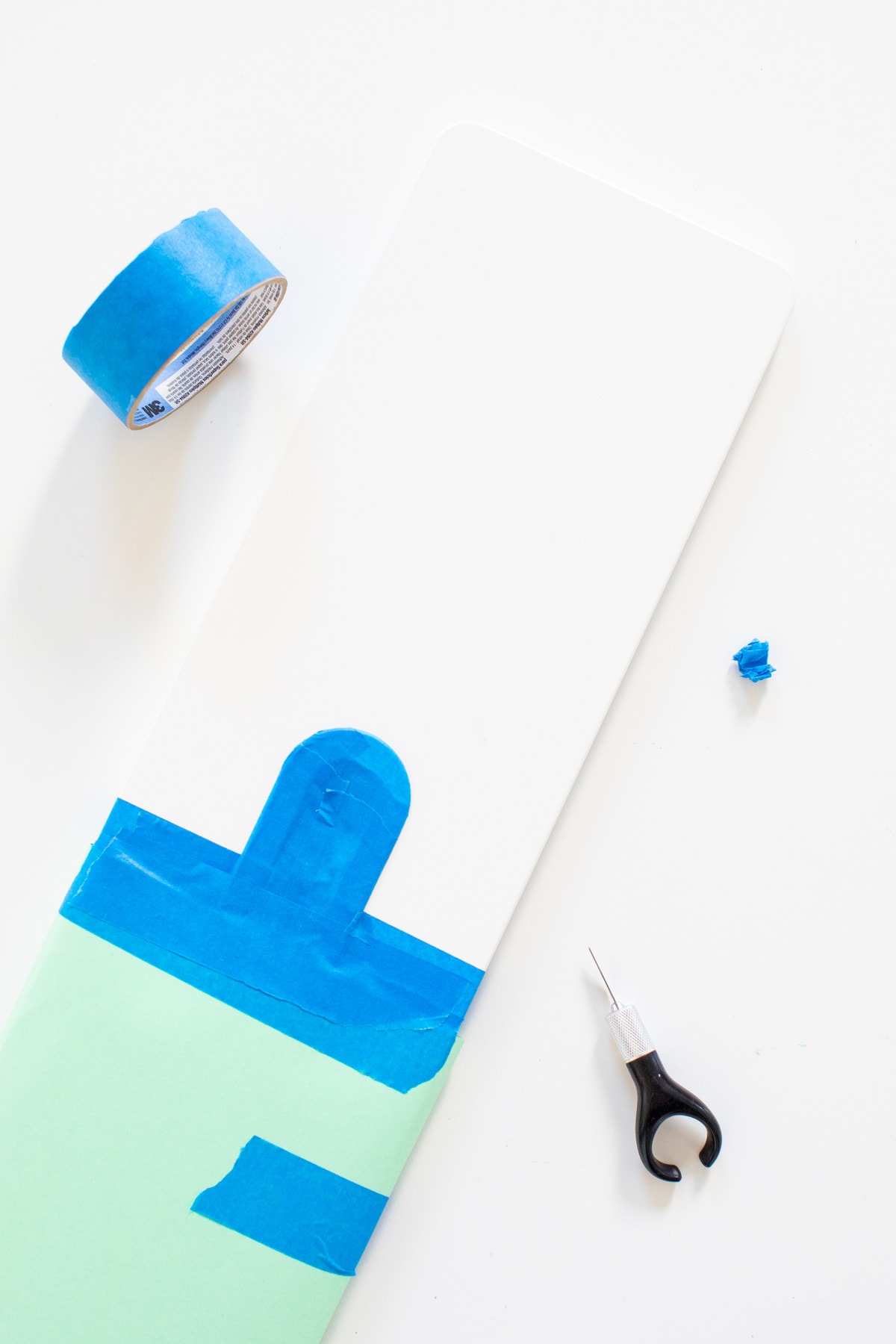 Optional | Accenting Your Crib
We decided it would be fun to do a color block storage accent on this crib.
So we used painter's tape to tape off half of the cabinet front and handles to spray paint a blue/white and all pink pop of color on to the base of the crib.
I love the added colorful element, don't you?!
We used the Krylon ColorMaster® Paint + Primer Satin Ballet Slipper and Krylon ColorMaster® Paint + Primer Satin Catalina Mist to add a cohesive theme to the entire room.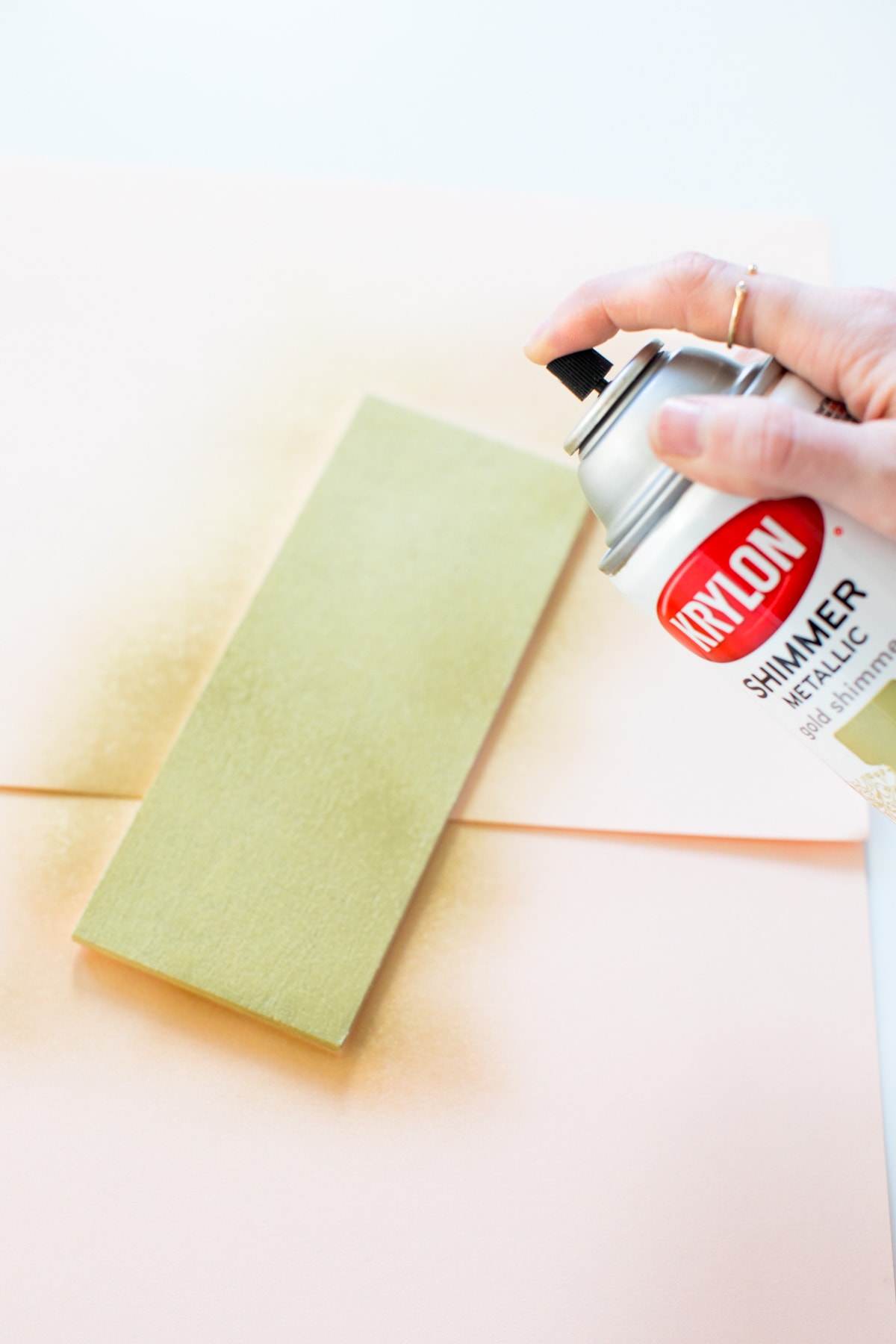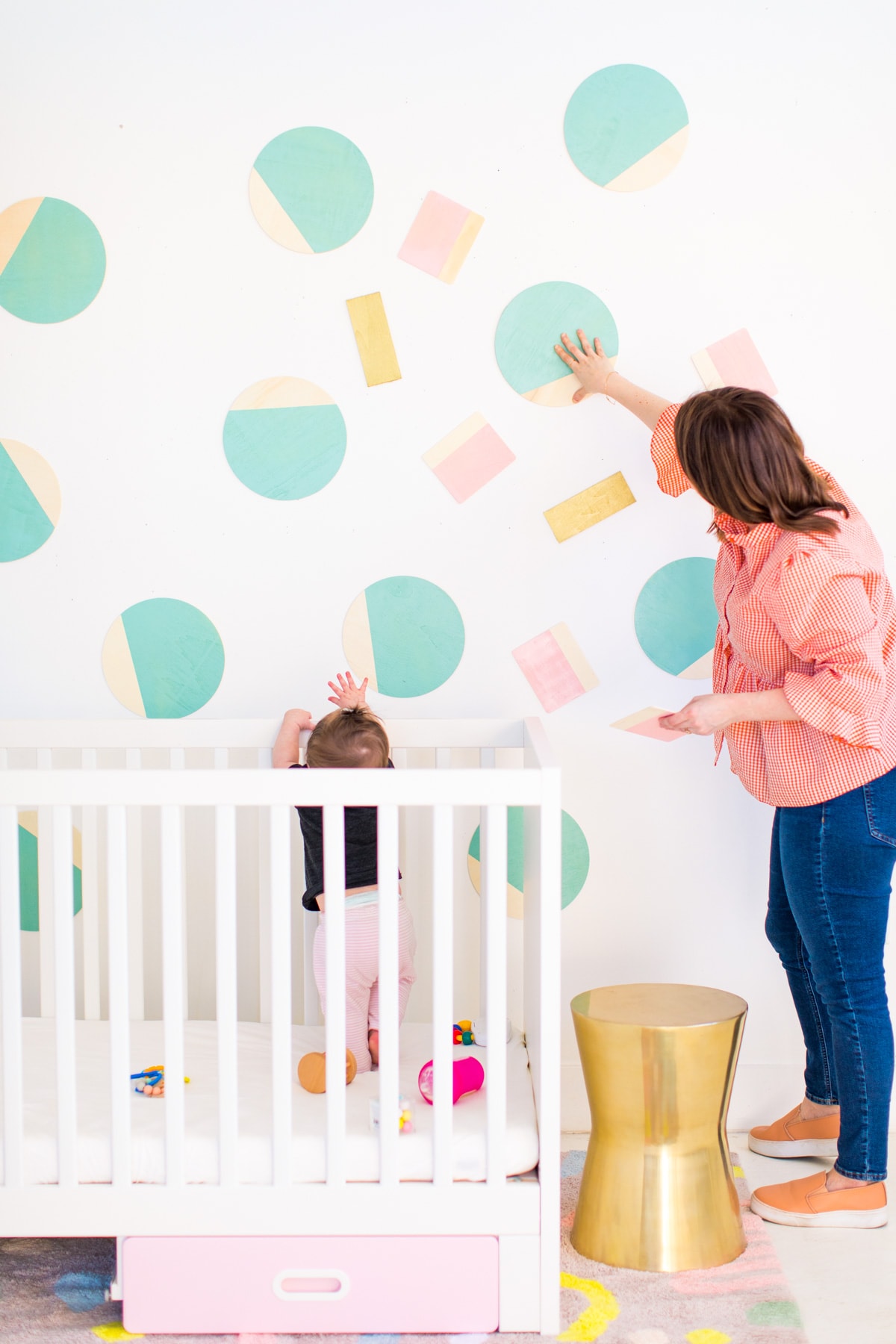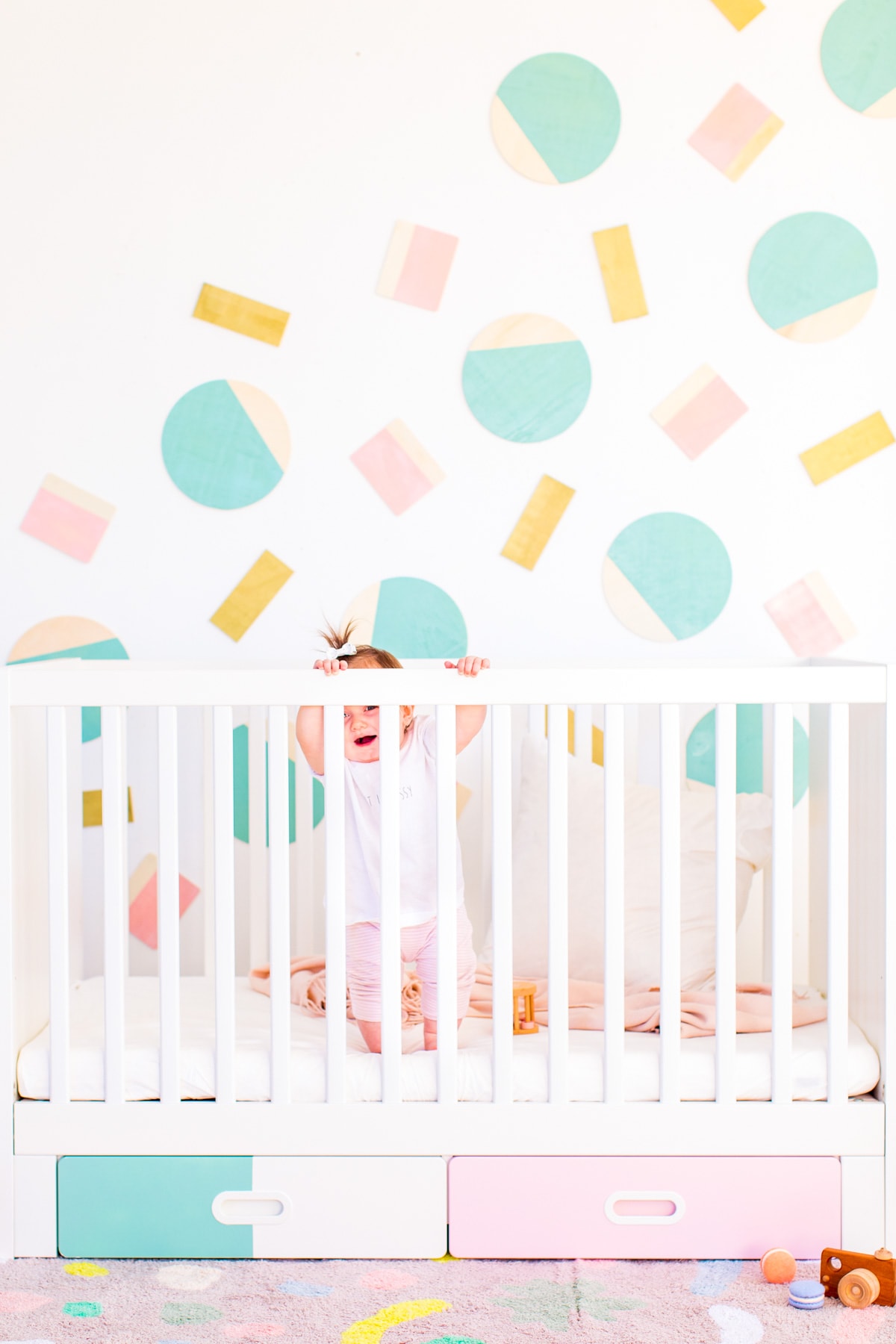 Thank you to Krylon® Brand for sponsoring this post! Sugar & Cloth donates 5% of all sponsored campaigns to charity, which you can read about right here!