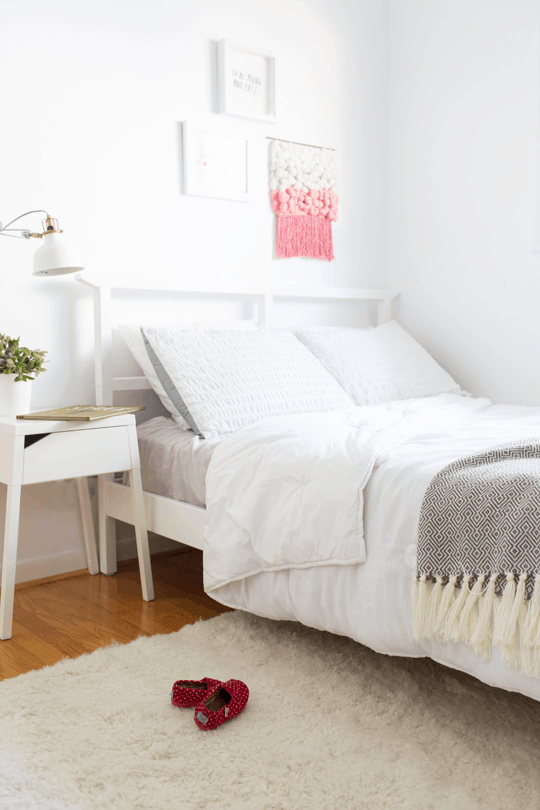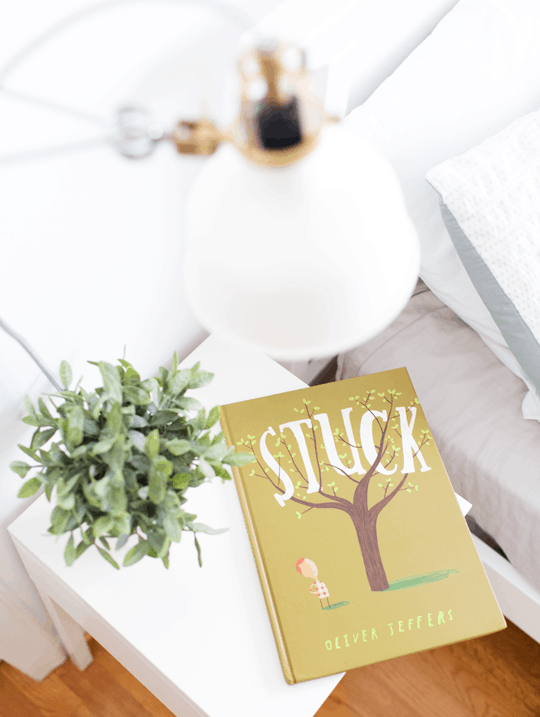 Alright, the wait is over! And by wait, I really mean my rambling about this room reveal is officially coming to an end because I'm happy to finally share all of the finished details of the DIY girls room makeover that we've been working on with Valspar these last few weeks.
I'm really in love with the how much brighter and more mature the space looks, while still being colorful with playful touches here and there that are fitting for a little girl. I mean, how cute are those little Toms next to the bed?! I don't have baby fever or anything you guys..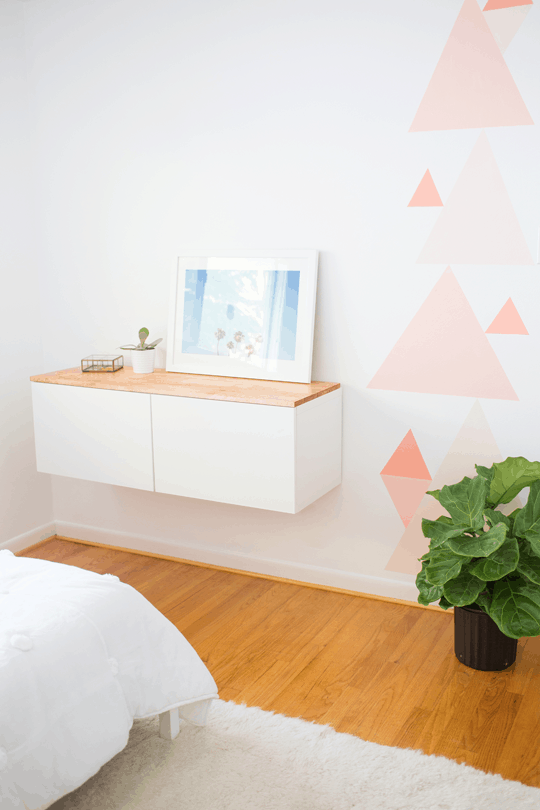 In case you're a bit behind, this was the before version of the room (and my inspiration ideas, too):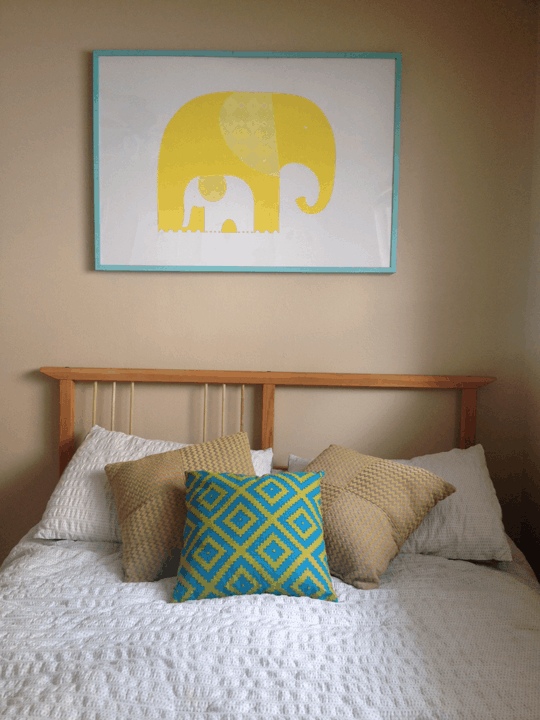 Now, this is the after:
The overall budget for the makeover came to be around $1,000, but the updates are definitely worth it since it's something she can easily grow into, mix and match new colors as tastes change, and it's still welcoming for when they have weekend guests that use it as a spare bedroom. I was also really excited about using the Valspar Reserve paint for the walls since it's stain and scrub resistant which will help keep the bright white looking nice even with two little ones running around now.
To cut costs, we actually kept the same bed frame from the before photos and used Valspar paint in Ultra White to freshen it up, and removed the old posts from the middle of the frame to give it a sleek silhouette.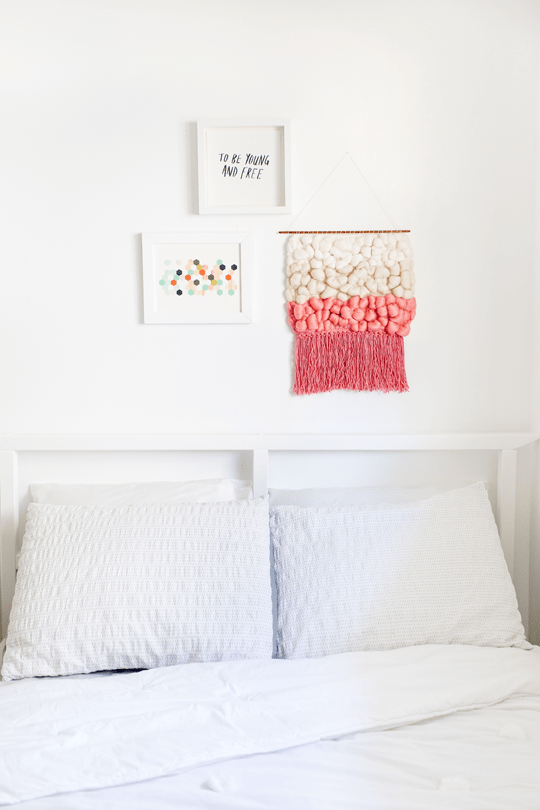 I chose this crinkle puff quilt and shag rug from Pottery Barn Teen to add soft textures and interest while still helping to brighten the room. I think Ainsley ended up loving the rug more than anything else because it's the perfect plushness for her to play with her toys sans the uncomfortable hardwood floors on her knees.
As for the wall art, I chose them all from Minted (this one, this one, and this one) with the exception of this outrageously amazing weaving that I chose to be customized by Woven Laine (if you don't have one her pieces yet, you need one!). I wanted it tie in the coral colors from the painted DIY geometric accent wall, and I think she matched them perfectly!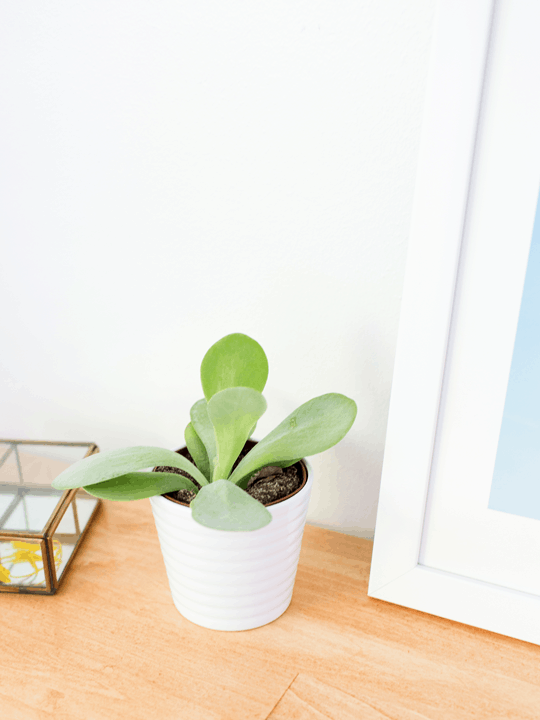 The DIY Ikea hack floating credenza might still be my favorite part of the room! I just love how expensive it looks even though it only cost a whopping $130 to make in comparison to the $600+ versions of the real deal. It's the perfect height for to be able to open the cabinets easily to tuck away all of her toys quickly, but still sleek and modern.
The only catch is I wish it was in my house to keep… and the weaving, and the rug, and the wall sconce. Okay, so basically I just want to have this room in my house,  too. Don't judge me.
Source: Wall art from Minted this one, this one, and this one // DIY credenza // weaving by Woven Laine // wall sconce, side table, bed frame, and planters from Ikea // crinkle puff quilt and shag rug from Pottery Barn Teen
This makeover series is made possible in partnership with Valspar. Find Valspar Reserve, exclusively at Lowe's. Thank you for supporting the brands that allow us to bring bigger and better content to you!