Create a memorable dinner with one of these beautiful DIY Thanksgiving table decorations and centerpieces ideas you can make yourself.

Sure, Thanksgiving is centered around the food.
But every table needs a decoration to bring on a more festive mood.
So these DIY Thanksgiving table decorations will help turn any table into a Thanksgiving table in no time!
DIY Thanksgiving Table Decorations
1 — Food Board Tabletop
Have leftover pumpkins, squash, and other fall food from cooking?
Simply set them in the center of the table and around some appetizers for an extra festive and interactive centerpiece.
This way the tabletop decor isn't merely for looks but also for snacking.
2 — Throwback Centerpiece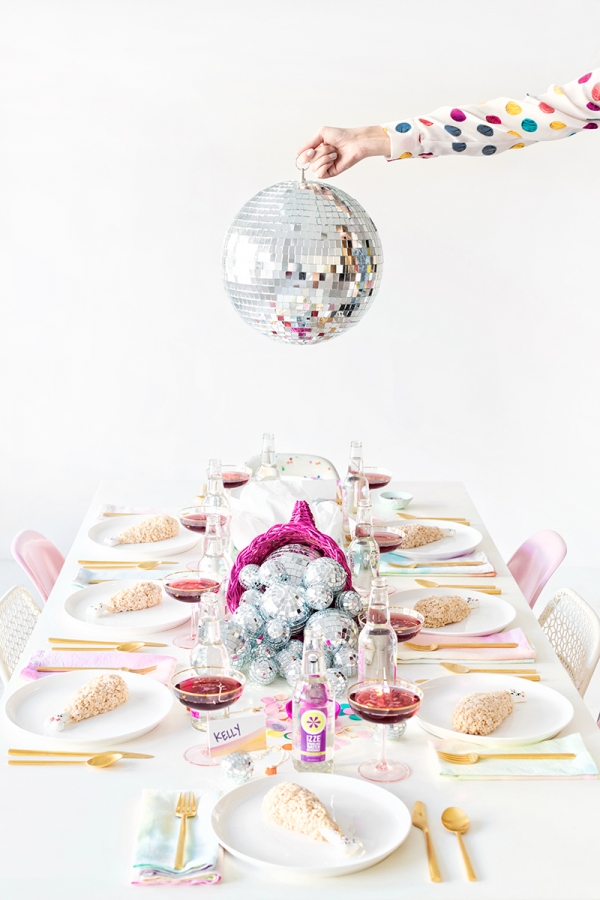 Love disco and olden days?
Try this new take on a Thanksgiving centerpiece with a colorful cornucopia and mini disco balls.
Remember the good times and what you're grateful for.
3 — DIY Balloon Centerpiece
Love balloons or have leftovers from another party?
Use them up with this beautifully designed DIY balloon centerpiece idea.
Just be sure no kids are around to pop them throughout dinner!
4 — DIY Pumpkin Vase Centerpiece
This pumpkin centerpiece is elegant and can work for any fall gathering as well as Thanksgiving.
Plus, it's easy to customize colors with the pumpkin and the stems and flowers inside.
5 — Gold Leaf DIY Napkin Rings
Love your napkins? Hold them in place with these clay DIY napkin rings.
Take them up a notch with finely detailed paint on the leaves to outline stems if you want.
6 — DIY Pumpkin Place Card Holders
Got a good deal on mini pumpkins this Halloween?
Resuse them as a DIY Thanksgiving table decor item by painting them white for your name cards.
Easy and festive, and nothing goes to waste!
7 — Rustic Modern Thanksgiving Table Setting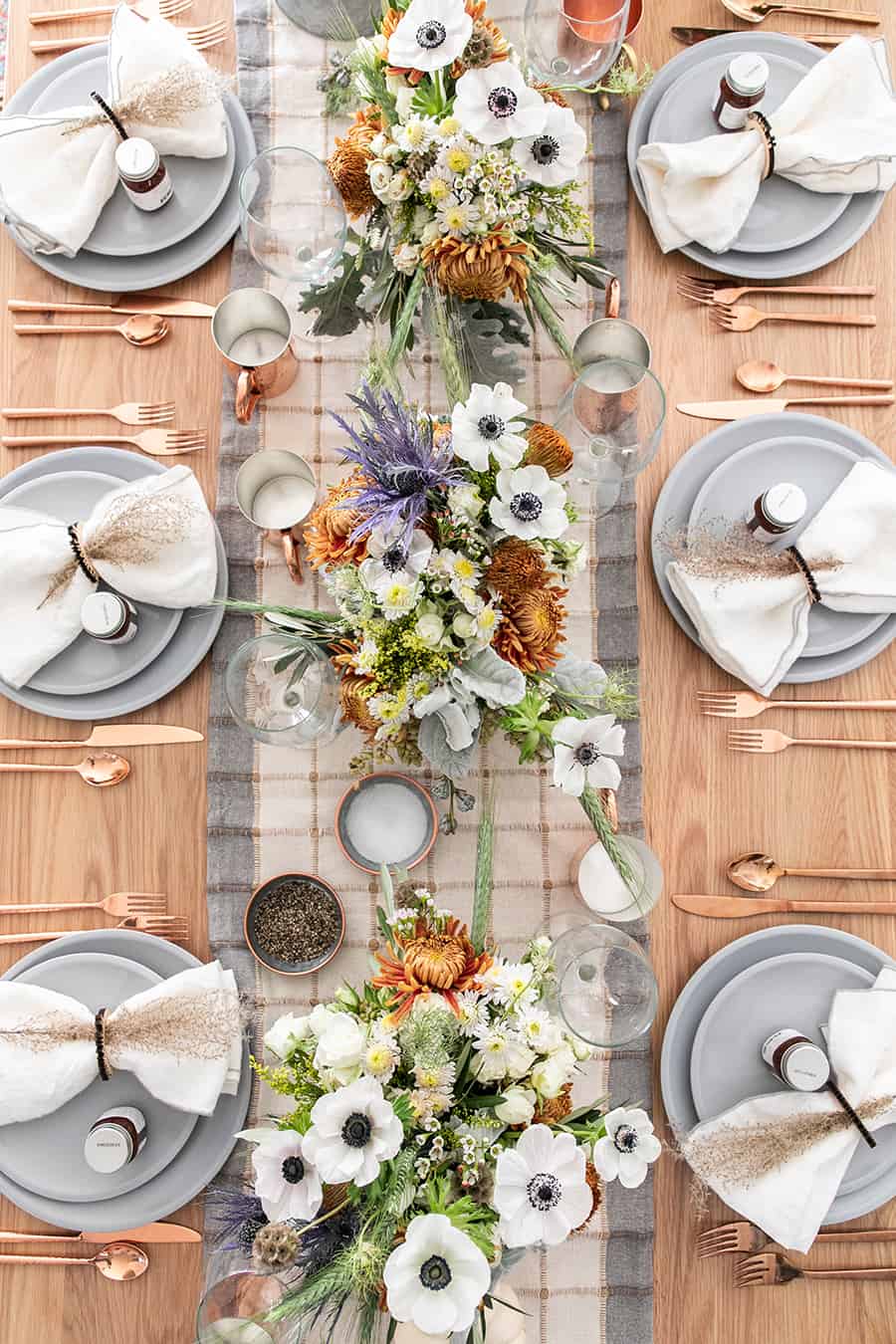 Prefer a rustic vibe?
This Thanksgiving table setting uses flowers and galvanized buckets (as vases) to give off a farm to table dinner vibe.
8 — Apples and Leaves Centerpiece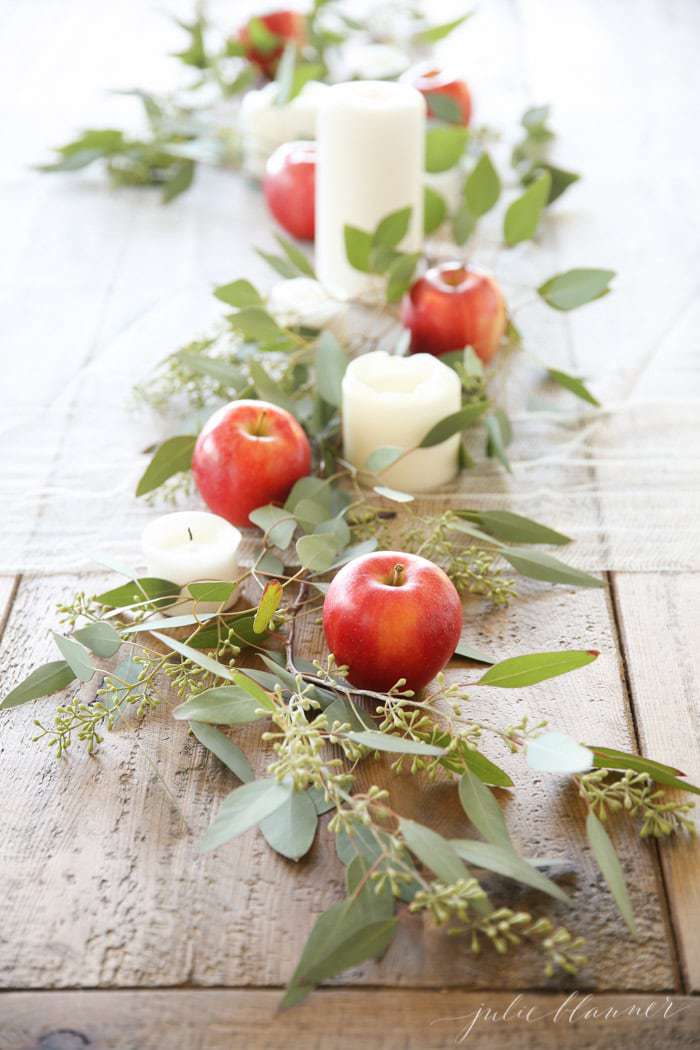 Have leftover apples from your homemade cider or dessert?
Turn them into a centerpiece by intermingling them along the center of the table with stems and white candles.
9 — Wheat Centerpiece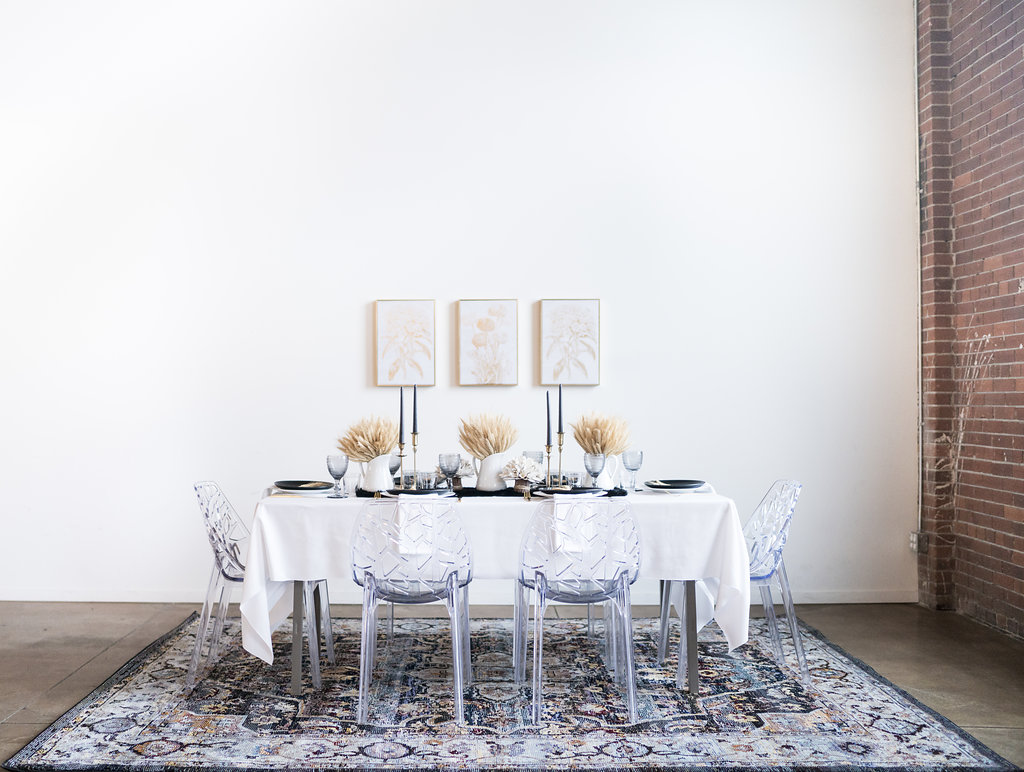 Have some matching vases?
Use them throughout the table and place some beautiful tan wheat in them for a fall-feeling table.
10 — Foraged Flower Bouquet
Love going to the mountains and picking your own fall flowers or have a great deal at your local flower shop?
Set them up in this DIY foraged flower bouquet.
It's easy and cheap to do and will dress up any table.
11 — Pumpkin Menu
Not sure what to do with your leftover Halloween pumpkin(s)?
Make them into a menu for Thanksgiving to let everyone know in the most fall way possible what delicious plates are on the menu.
All you need is some paint and/or a beautiful permanent marker.
12 — Woven Paper Table Runner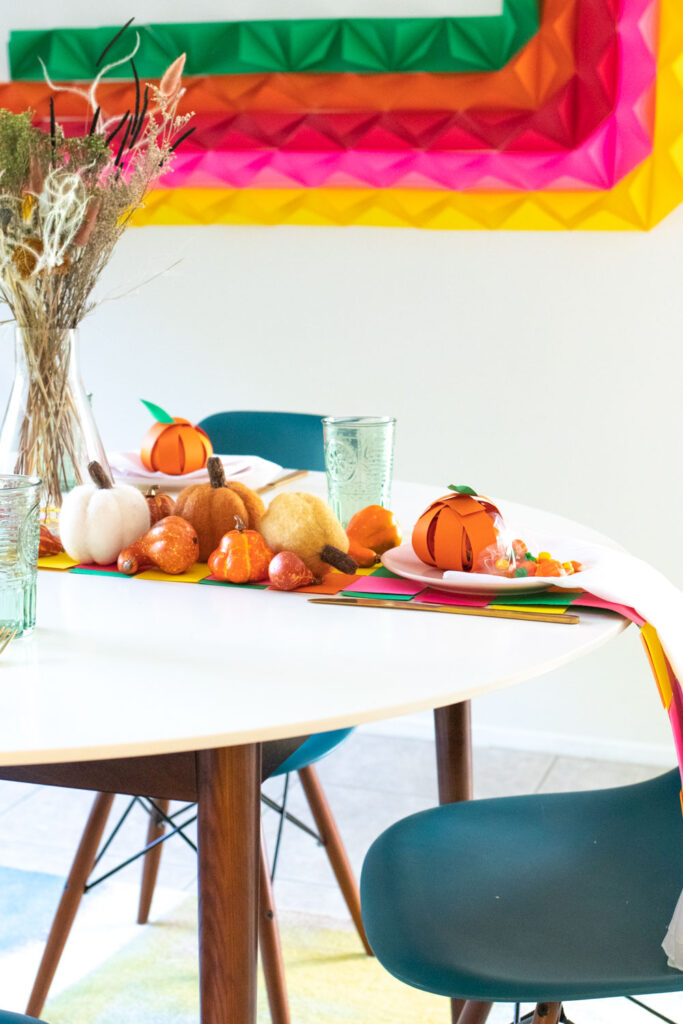 Have lots of leftover paper from various crafts?
Use it with this woven paper table runner.
It's easy to craft, doesn't require a trip to the store (unless you want special paper), and can be recycled after dinner!
13 — White Centerpiece
Regardless of your decor situation, you can never go wrong with all-white.
This beautiful centerpiece is elegant yet rustic and uses up old gourds, antlers, and pinecones.
14 — Gourd and Pinecone Centerpiece
Looking for a classy, not-in-the-way, but present centerpiece?
This gourd and pinecone centerpiece is so simple to put together and will look great while not hiding the face from someone across the table (like some flower centerpieces).
15 — Thanksgiving Gratitude Jar Centerpiece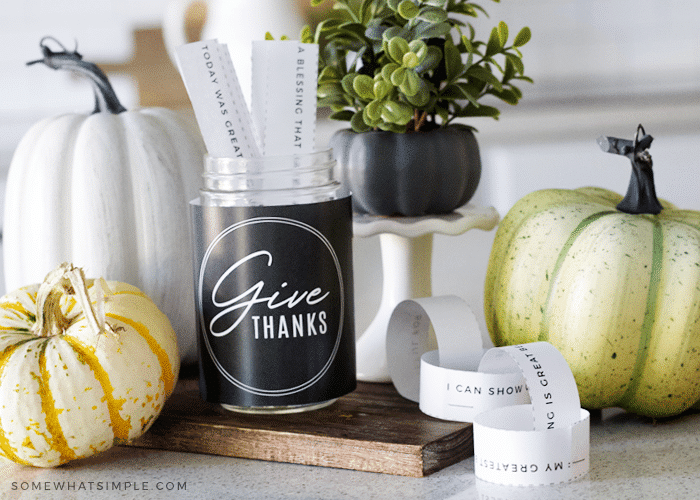 It's important to remember what Thanksgiving represents, and this centerpiece helps you keep that in mind.
Plus, it's interactive, so you can talk about it over dessert.
16 — Harvest Thanksgiving Centerpiece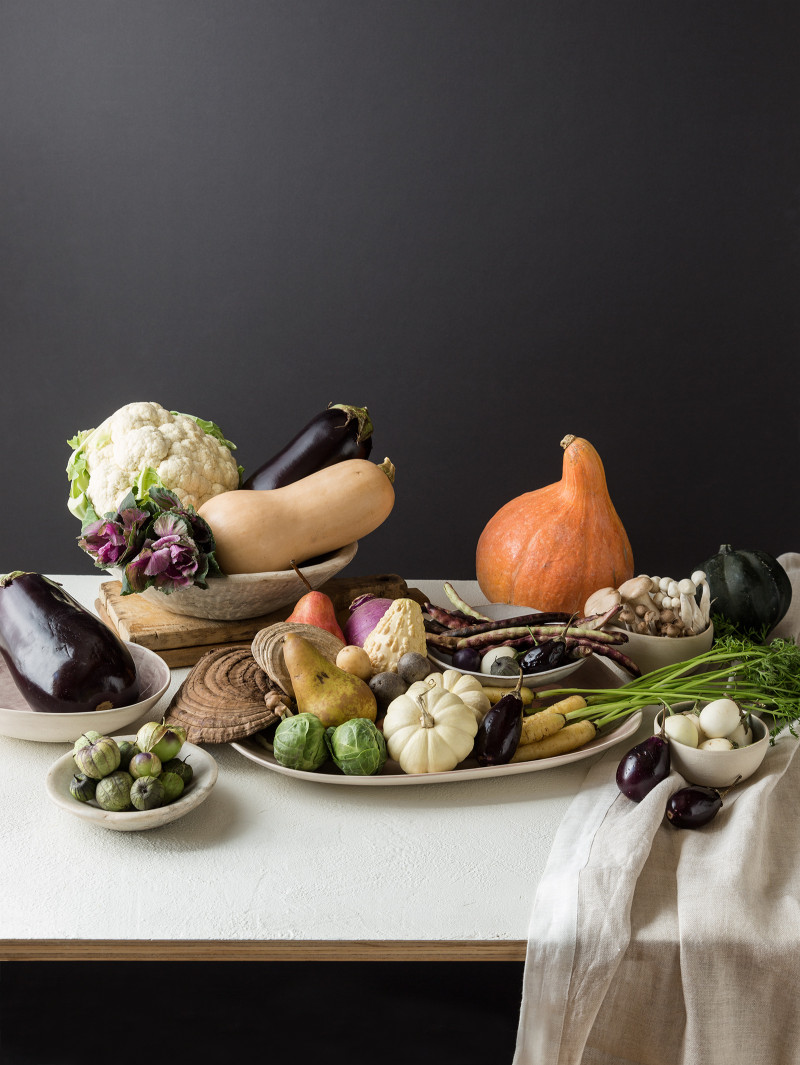 Whether you have your own garden and an abundance of veggies or have leftover unused vegetables from cooking the Thanksgiving meal, make them an even bigger star of the show by using them as a centerpiece.
17 — Thanksgiving Cornucopia Centerpiece
Love the idea of cornucopia, but your local store is all out?
Make your own and stuff them as you want (gift bags, anyone?) for an elegant crafty centerpiece this Thanksgiving.
18 — Tiered Centerpiece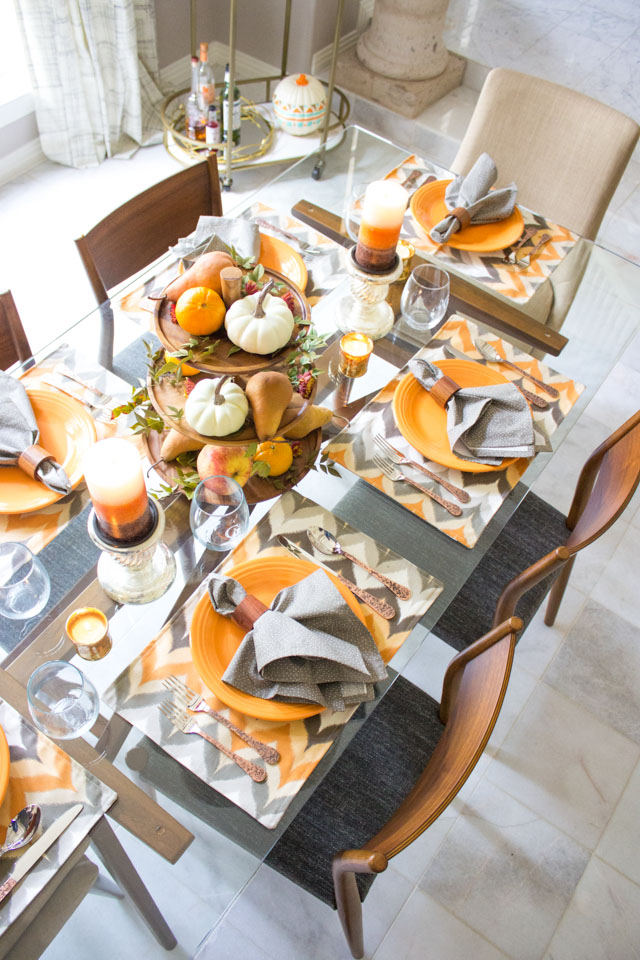 This tiered centerpiece is a great way to show off your fall harvest or put little Thanksgiving desserts on.
It's simple to put together, too, depending on what you have on hand!
19 — Tin Punched Votive Candles
There is something mesmerizing about looking at tin-punched items with light behind them.
It's calming to watch.
These easy DIY candles are a great way to keep the table lit.
20 — DIY Color Wrapped Wheat Decor
Want something colorful but not too colorful?
These DIY color-wrapped wheat are the perfect decor for that.
They're not loud in color but definitely pop more than a classic vase of wheat would.
21 — Green and Copper Thanksgiving Centerpiece
Green and copper are a beautiful combination and are perfect for fall.
And this thanks to the pastel green coloring, this Thanksgiving centerpiece is easy to customize depending on what you have on hand and could be used for Easter and other fall holidays.
22 — Natural Green Thanksgiving Table Setting
It's hard to beat Mother Nature, and this Thanksgiving table setting proves that.
It's leafy, with small additions of white and gold throughout. Beautiful for any table on any occasion.
23 — DIY Autumnal Floral Centerpiece
This beautiful autumnal floral centerpiece is a great addition to any dinner table or entryway.
Plus, if you use fake flowers, it could even work for a winter dinner party too.
Just don't tell anyone that they're Autumn florals!
24 — Pumpkin-Filled Planter
If you have more leftover pumpkins than you know what to do with, make them the center of attention with this pumpkin-filled planter.
It's easy to put together at the last minute and can be taken apart easily after dinner too.
25 — Terrarium Thanksgiving Centerpiece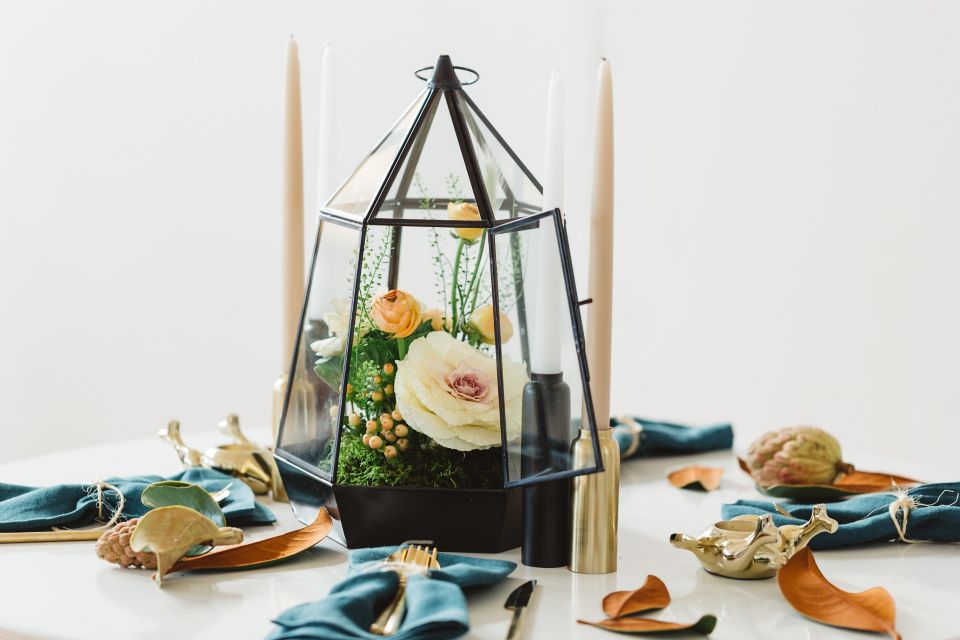 It's easy to find some cheap terrariums, and you might have one on hand!
Fill it up with florals, and you're on your way to a beautiful but subtle Thanksgiving centerpiece.
26 — Vintage Thanksgiving Table Decor
Have a leftover basket or pallet (if you're handy) that you want to upcycle?
Make it into a beautiful centerpiece filled with flowers and candles.
Use white candles and change out the flowers so this centerpiece can be used year-round.
27 — DIY Antler Centerpiece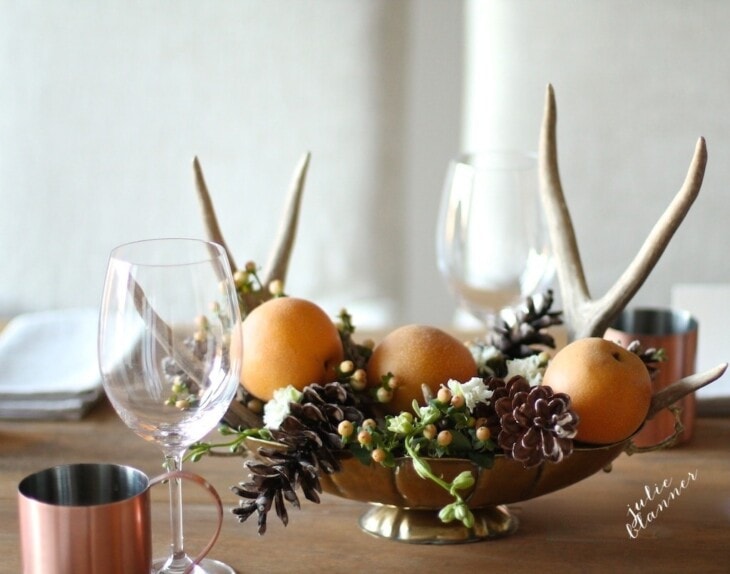 This easy DIY antler centerpiece is the perfect rustic midwestern project to put on your Thanksgiving table this year.
Plus, tt can easily be taken apart and put together.
28 — DIY Confetti-stuffed Turkey Centerpiece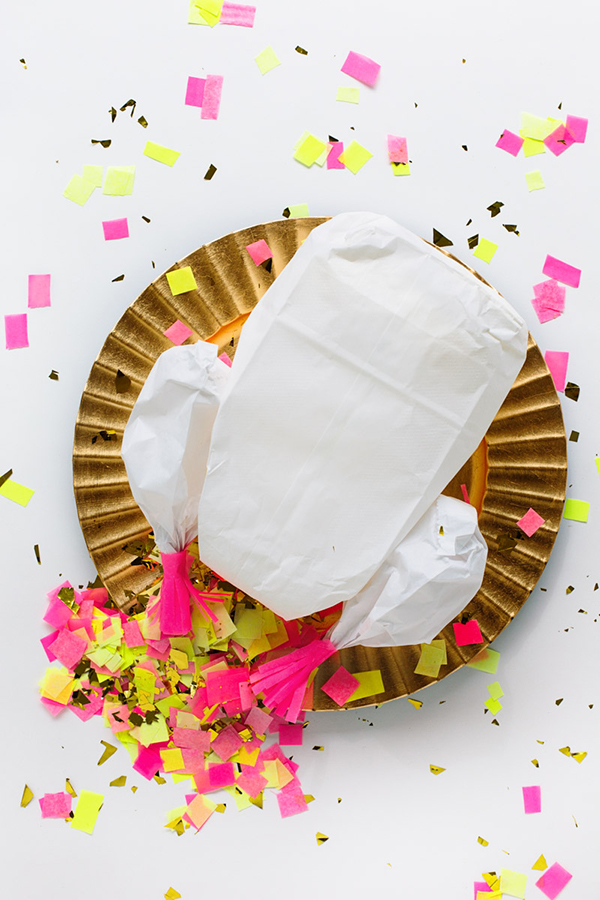 This is a great centerpiece to do with kids.
It's customizable in colors, so you can coordinate it with your home decor.
Plus, it's fun for kids to pull apart the turkey leg and for the confetti to come out.
Just be ready to clean up a lot of paper at the end.
29 — Candle and Coffee Bean Centerpiece
For a centerpiece that smells as good as it looks, this candle and coffee bean decor is the perfect addition to any coffee lover's Thanksgiving table.
30 — Rustic Bohemian Thanksgiving Table Decor
Fan of the rustic bohemian vibe?
This centerpiece will be perfect for you thanks to its simplicity by using only what you already have around your house — cacti, pumpkins, and candles.
31 — Rusty Lantern Table Centerpiece
Have an old lantern (or desk light cover) or found a good deal at the craft store?
This rusty lantern table centerpiece is a great way to provide light to the table in a classic yet rustic way.
32 — Metallics and Whites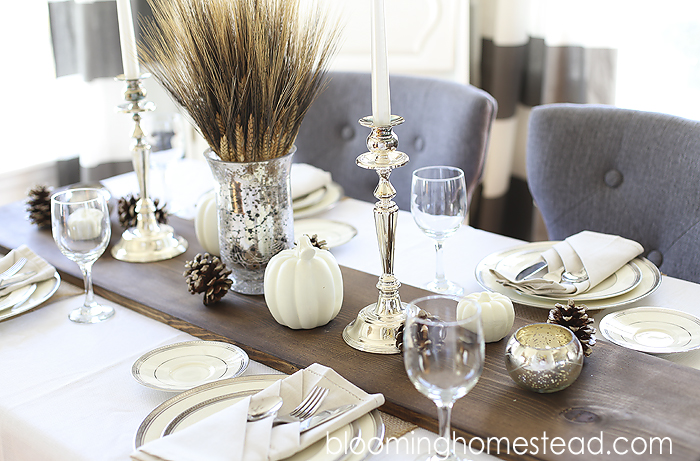 This metallic and white centerpiece is perfect for those woodworking DIYers who are great with their hands.
Depending on what metallic objects you have on hand, run to the local secondhand store and pick up some white and metallic candles or vases to help set this up.
33 — 5-Minute Fall Table Setting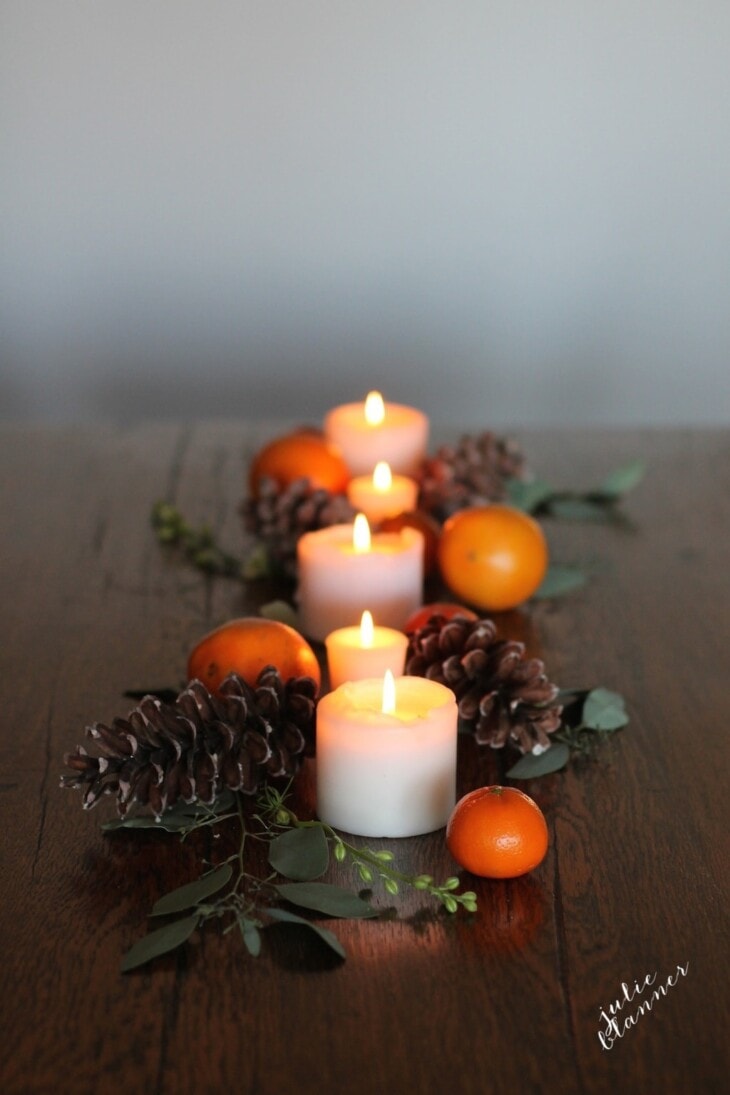 It's hard to beat last-minute projects that come together easily.
And this 5-minute fall table setting only involves candles, oranges (or fruit of choice, really), pinecones, and some branches/leaves.
34 — Sunflower Thanksgiving Centerpiece
This sunflower Thanksgiving centerpiece (and name tags) is a great way to flower power your table in a classy way.
Use sticks and willow from your yard or your local dollar store to help outline the sunflowers.
35 — Modern Branch Centerpiece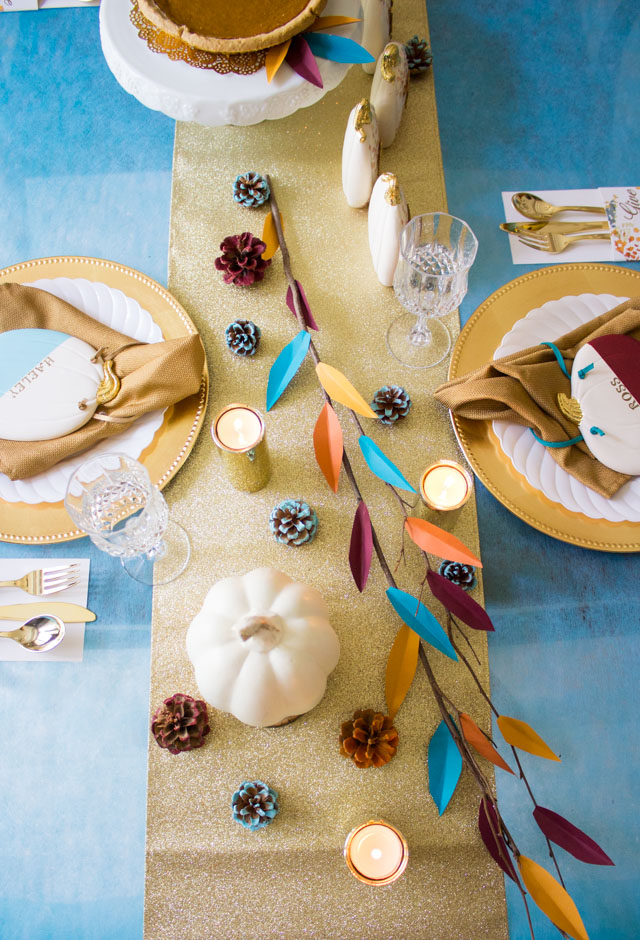 Grab some branches from your yard and some colored paper, and cut up some leaves to stick on these branches.
It makes great use of the fall branches lying around the yard and can be coordinated with your home's color scheme easily.
36 — Elegant Greenery Centerpiece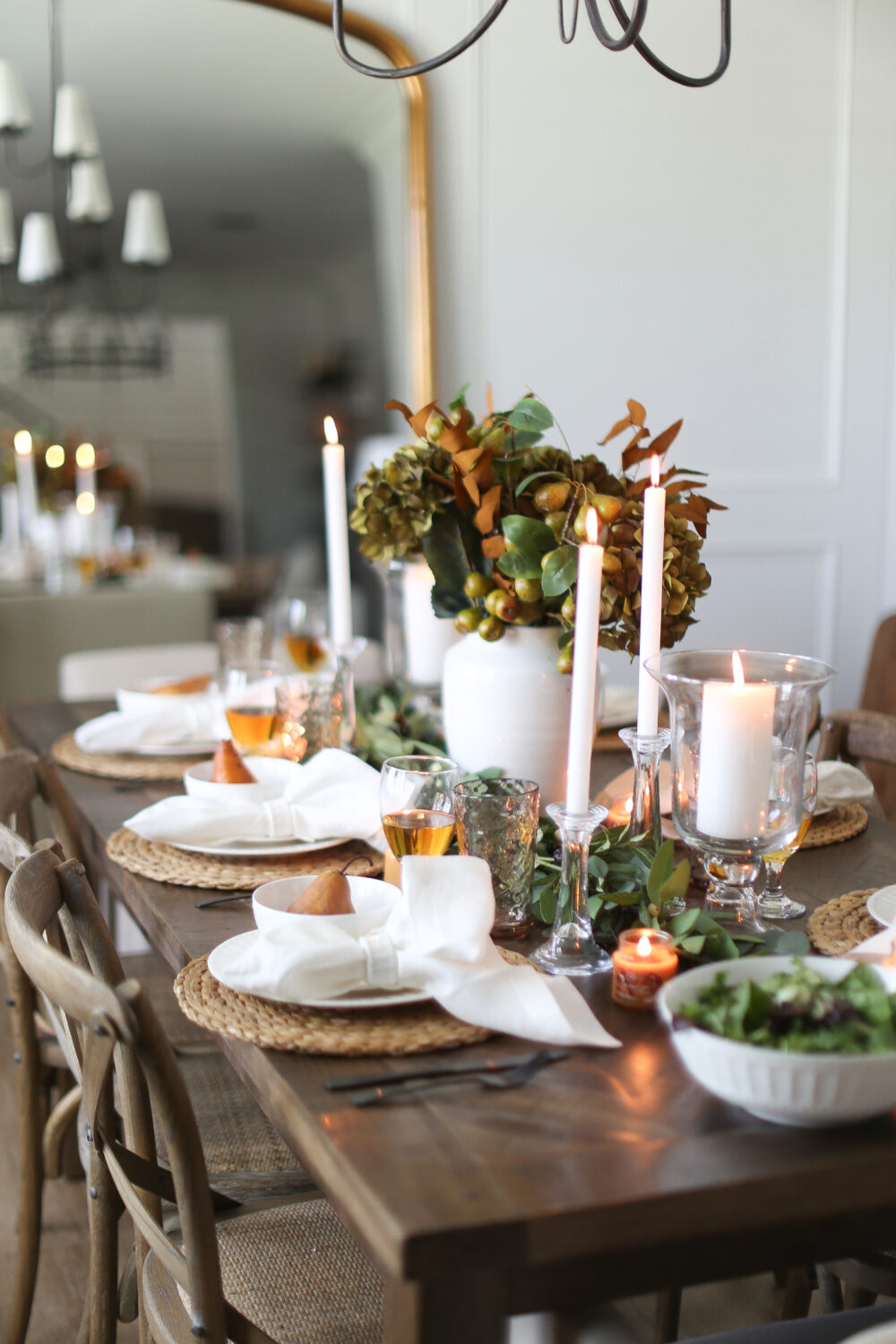 This is a great addition to a lot of the other centerpieces on this list.
Grab a fake leafy vine (or real, if you can) and weave it throughout the other centerpiece items to add a more natural, wholesome feeling to the table.
37 — Pumpkins and Candlelight Centerpiece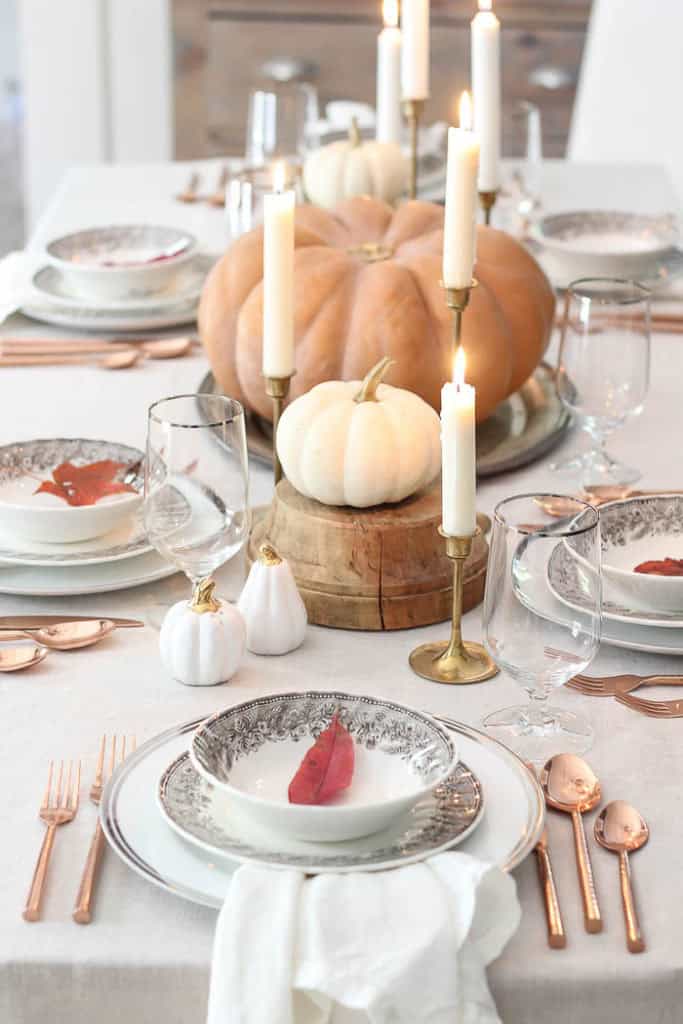 Pumpkins and candles, how could this centerpiece not personify fall?
Take it up a notch with pumpkin-spiced candles for extra fall intensity.
38 — Natural Reeds
Grab a beautiful vase and some natural reeds and willows for this tasteful centerpiece.
Since real reeds actually shed a lot and could leave pieces all over the Thanksgiving table (and in the food), opting for fake reeds are the way to go.
39 — Pom-Pom Vase Centerpiece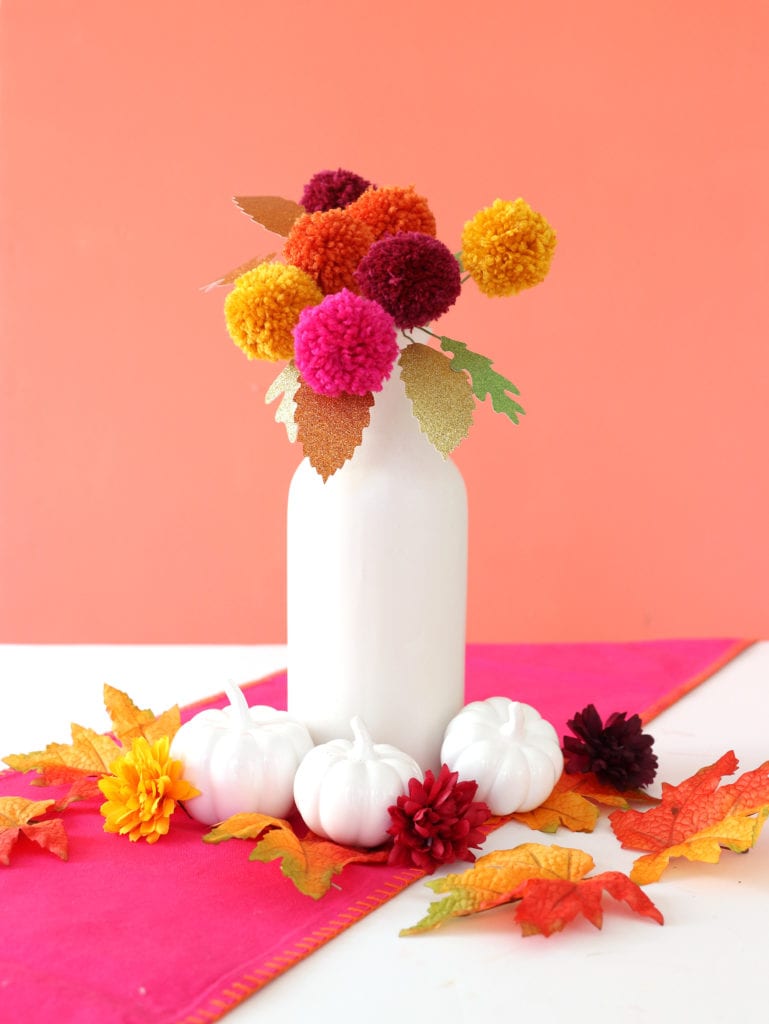 If you have yarn projects around the house, then you know how often a project is finished.
And you probably still have a sizable amount of yarn left over.
So upcycle them into a pom-pom vase centerpiece that can be used for any occasion (colors depending, of course).
40 — Dark Blue and Earth Toned Décor
Rather than trying metallic and bright, go for dark and earthy.
Dark blue napkins, deep gold willows, and white pumpkins make this toned decor piece perfect for those looking for a darker-colored decoration this Thanksgiving.
41 — Fruit Kabob Turkey Pumpkin
For a centerpiece that you can gobble up, this fruit kabob turkey pumpkin is the way to go.
It's adorable in design, delicious in taste, and easy to put together.
Set it out for your guests while dinner finishes cooking, or have it as a healthy dessert.
The possibilities are endless!
42 — Thanksgiving Dough Bowl Centerpiece
This is a delicate centerpiece perfect from the first day of fall until winter.
It smells great, thanks to the potpourri, and takes only five minutes to put together once you have all the "ingredients" for this dough bowl centerpiece.
Thanksgiving Recipes
So now that you have your Thanksgiving decor ideas, here are a few favorite dinner recipes to serve —