This autumn, let your creativity shine and fuel your inspiration with these simple, cost-effective, and easy-to-make DIY turkey decor ideas.
While Halloween, Christmas, and Easter get decorations in store months in advance, Thanksgiving is somewhat left behind. Luckily, it's easy to decorate your home for the delicious November holiday with DIY turkey decor ideas.
So look no further, fret no more, and have fun decorating your home with gobbling turkeys to keep the festive feeling alive all fall. And lots of these make for great Thanksgiving table settings too!
DIY Turkey Decor Ideas
1 — DIY Confetti-stuffed Turkey Centerpiece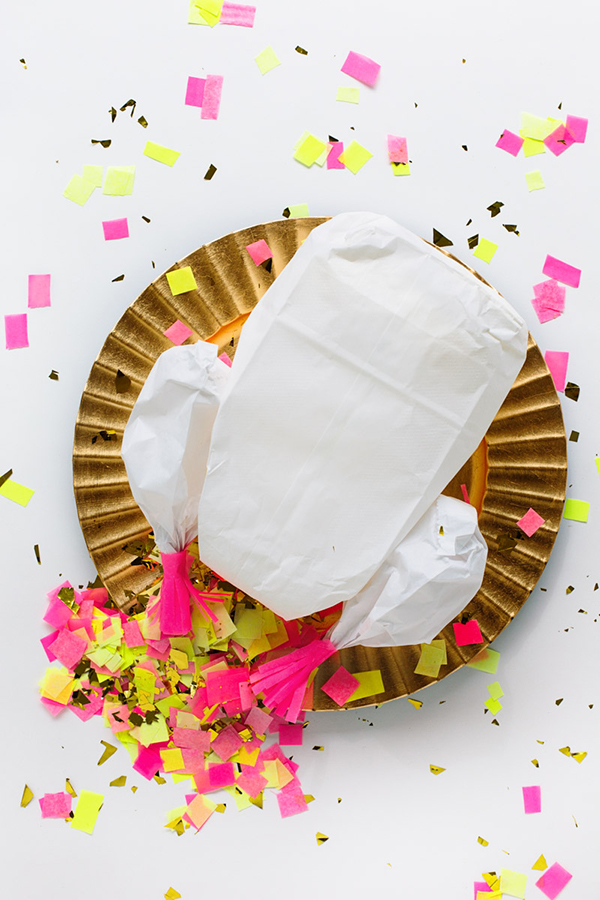 This DIY confetti-stuffed turkey centerpiece is more than just a cute and colorful centerpiece. It's also a turkey leg maraca. All you need is some white paper (or lunch bags per the instructions), confetti (colors of your choice), tissue paper, and a glue gun. Putting it together is a lot more simple than it looks. And kids will love to shake the maraca, and then pull apart the turkey leg for a confetti-filled moment.
2 — DIY Thanksgiving Turkey Macarons
Does your family have a sweet tooth? Keep some DIY Thanksgiving turkey macarons around the house. They're a fun family project and incredibly delicious. You definitely won't be able to have just one. Color the "feathers" differently if you want, and change up the macaron flavors from chocolate to cinnamon. Delicious and decorative, what could be better?
3 — Twigs Turkey Centerpiece
If all leaves and twigs around the yard are driving you crazy, put the twigs to good use by making them into a turkey centerpiece for the Thanksgiving table. It's easier to do than it looks, and you'll receive endless compliments on it. The instructions ask for an already assembled twig pumpkin from the store, but if you can make it on your own, all the power to you! You will also need a pinecone, glitter, metallic bronze spray paint, and a hot glue gun.
4 — Turkey & Pumpkin Thanksgiving Garland
Garlands are a great way to decorate, upcycle, and reuse year after year. This turkey and pumpkin Thanksgiving garland is no exception. This project repurposes old plastic bags (better in a garland than in the ocean) and also uses twine, yarn, googly eyes, feathers, pom poms, and felt. If you're crafty and love DIY, chances are you already have a lot of this lying around in scraps, to begin with.
5 — Turkey Magnets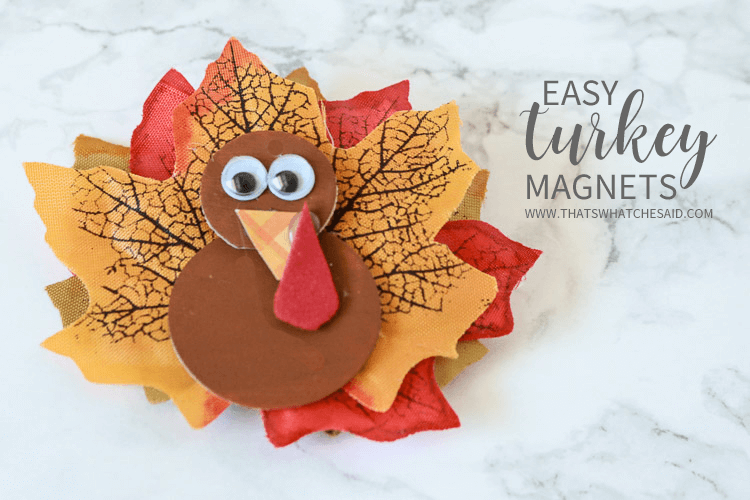 If you are a fan of dollar stores, this is a great DIY for you since much of the "ingredients" can be found there. While the instructions call for a wooden disc, if you have flat magnets that you don't use, feel free to skip and step and upcycle them by using those.
If you also have centerpieces or fall napkins that you don't use (or find for cheap in a secondhand store), use those as part of this craft too. However you put it together, one thing is for certain. They will be so good you'll stick with them for life!
6 — Thanksgiving Turkey Wreath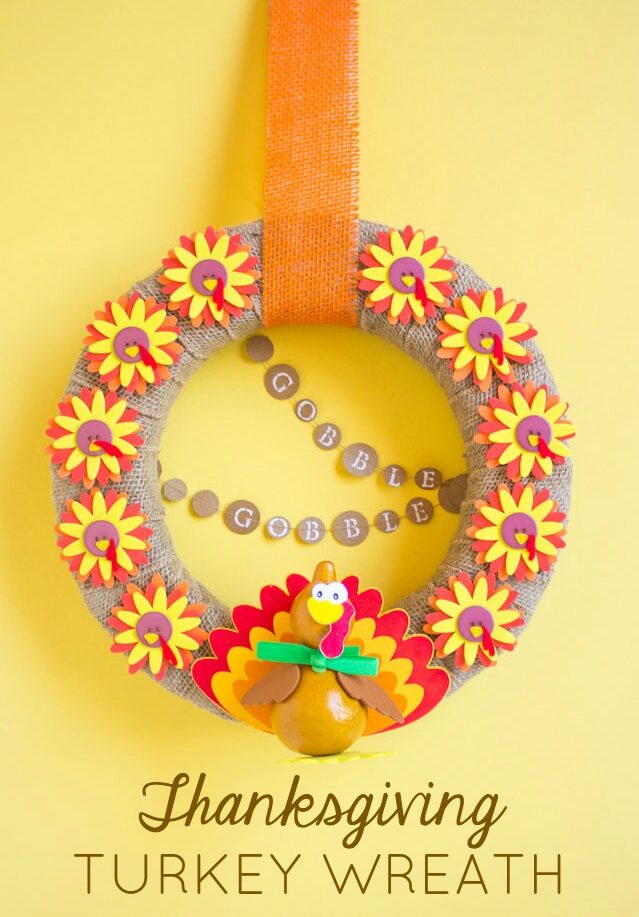 Wreaths, like garlands, are never a bad choice when it comes to decorating and can be used year and year. This kid-friendly Thanksgiving Turkey wreath project is so easy you'll gobble it up! The turkey kit makes 12 turkeys. So depending on the size of your wreath, you may have some leftovers to decorate a kid's table on Thanksgiving or make a second wreath!
7 — Thanksgiving Turkey Balloons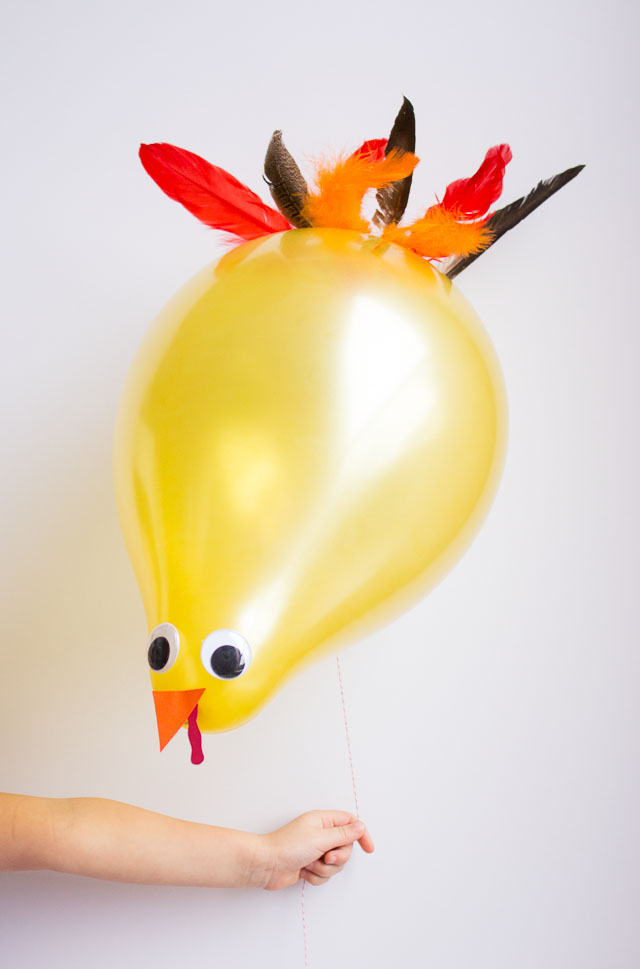 These Thanksgiving Turkey Balloons are a great last-minute decor idea and can also be great for older kids as a craft. You just need balloons, feathers, string, googly eyes, and construction paper.
Kids can choose the colors of balloons, feathers, and beaks (construction paper) they want on their turkeys, and the adult glues them together. Tie each balloon to the kids' chair at the Thanksgiving table to mark their spot. So this makes for a great way to customize decor for each kid.
8 — Pumpkin Turkey
Went pumpkin crazy at the store or have leftovers from Halloween? Fear not! This pumpkin turkey DIY project will help transform old jack-o-lanterns or leftover pumpkins into beautiful gobbling turkeys. Or feel free to also use a foam pumpkin. Grab ​​a turkey silhouette cut from thick craft paper, some feathers, and paint, and you're on your way to making this cute bird.
9 — Turkey Fan Party Favor
Go one step above this Thanksgiving, and give out turkey party favors that double as place settings. You need paper, a stapler, small cotton bags (2×3 inches), and a marker. They're easy to put together and easy to customize colors and themes depending on your home decor (bright turkey colors or dark floral colors for the "feathers"). For the party favor bags, put in friendship rings, kind thank you notes, or whatever your heart desires!
10 — DIY Gourd Turkey Centerpiece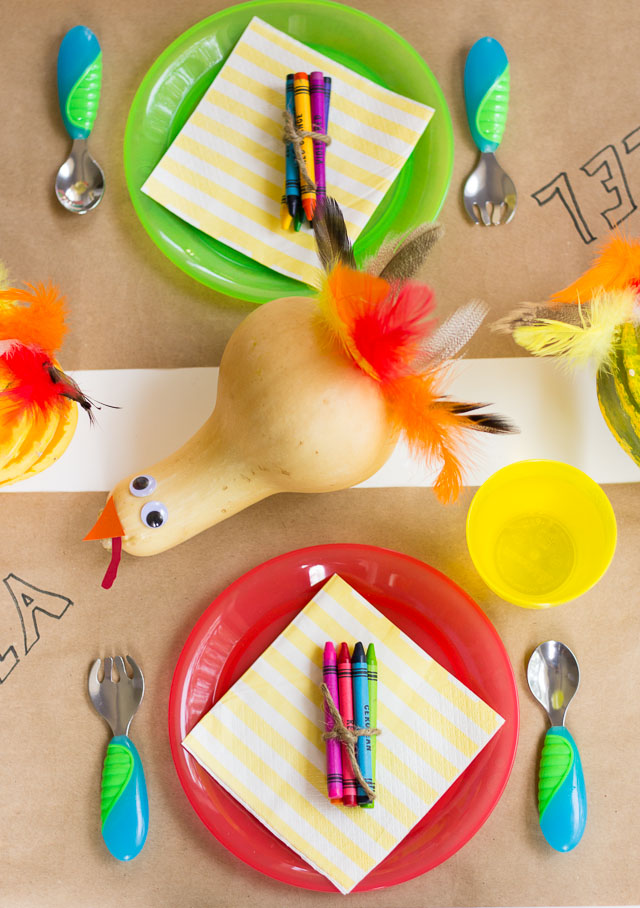 Too many squashes to squash this season? Make them into DIY gourd Thanksgiving centerpieces. This craft is kid-friendly, and you probably already have the supplies on hand – feathers, googly eyes, and craft paper. Easy as squash! Um, pie, we mean.
11 — DIY Emoji Turkey Leg Balloons
Take your balloon game up a notch by adding in some emoji turkey leg balloons. Simply grab some brown, gold, and ivory balloons, matching construction paper in brown, gold, and ivory, lightweight printer paper, and a hot glue gun. Dig into this project just like you will that turkey leg on Thanksgiving!
12 — Turkey Mason Jars
Empty mason jars are great to have around, but sometimes they take over that shelf or box because you have so many. Upcycle a few this Thanksgiving with this Turkey Mason Jar project. It's classy and can be put at the Thanksgiving table or around the house all fall long.
13 — Mini Honeycomb Paper Turkeys
14 — DIY Pinecone Turkey Place Card Holders
Live in a place where you have more pine cones than you know what to do with? Take some to make some great pinecone turkey place cardholders for your Thanksgiving (or fall) parties. If you want to get extra crafty, paint the pine cone different colors, too, like metallic bronze.
15 — Neutral Turkey
Looking for something festive but more minimal and neutral? We love this turkey makeover idea of simply taking a turkey centerpiece and spray painting it white.
16 — Tulle Thanksgiving Turkey Wreath
Prefer tulle over burlap? This tulle Thanksgiving turkey wreath is a great way to brighten up any door in an easy-to-put-together way while also being cost-effective.
17 — Fabric Turkey Wreath
If you have old clothes in red, yellow, gold, brown, or green, don't throw them away. Upcycle them into a fabric turkey wreath. Grab some paint, a foam wreath, old fabric, googly eyes, felt, and a glue gun, and get to work!
18 — DIY Dried Flower Turkey Gourds
If you like upcycling holiday decorations for the next holiday, this is the project for you. This DIY dried flower turkey gourds project isn't for the faint of heart or children. But it's sure to make your entryway festive and add a beautiful, gentle touch of Thanksgiving without being overbearing.
19 — Embroidery Turkey Hoop Art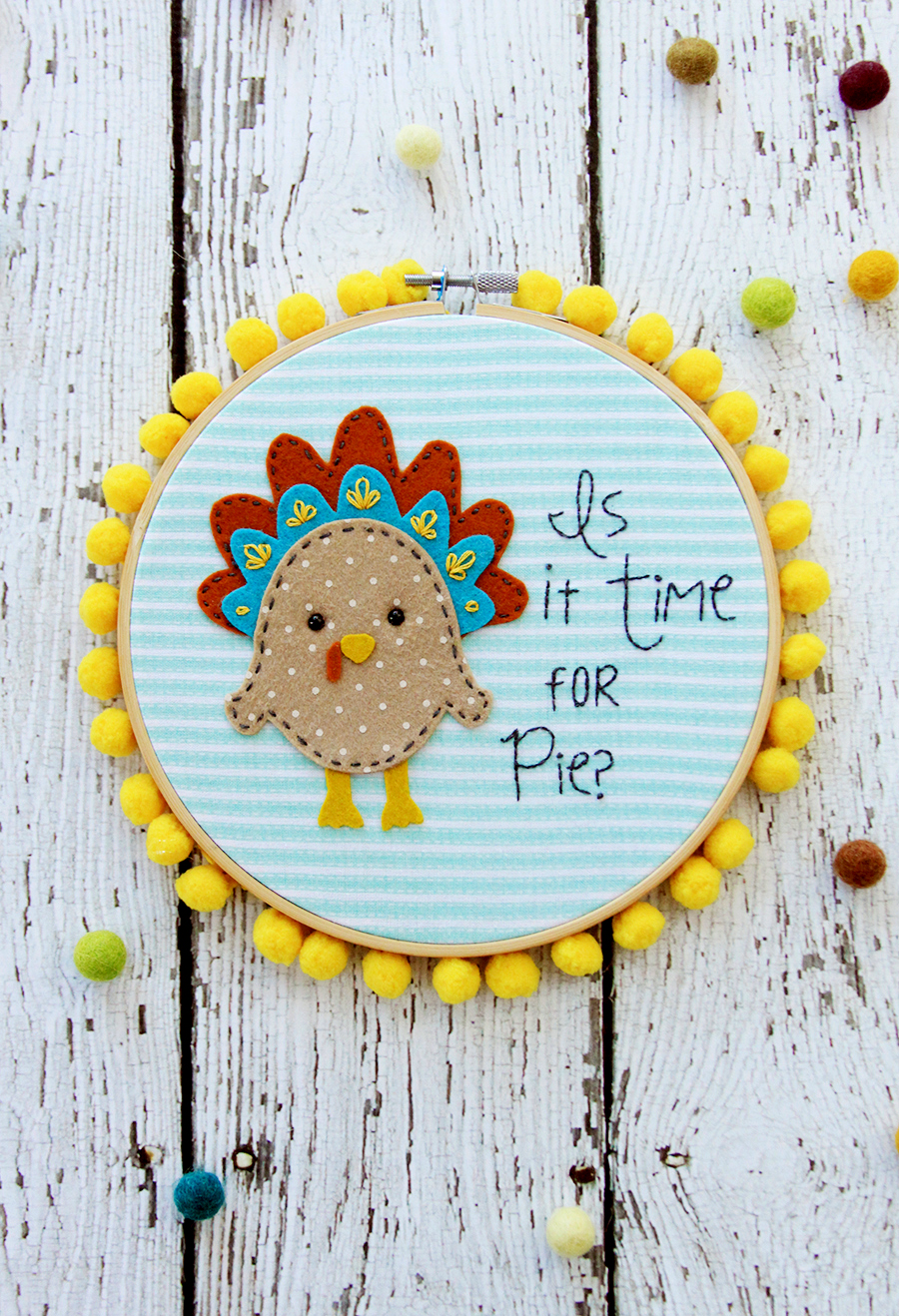 Like embroidering or looking to get into it? Check out this embroidery turkey hoop art tutorial which guides you through creating a sassy yet classy talking turkey fabric that you can frame or put on an old pillow.
20 — DIY Wooden Turkey
Bring out your toolbox and get ready to make this adorable entrance-ready DIY Wooden Turkey. It takes skill in woodworking or drilling, so be ready to bring out that side of yourself. You'll also need different colors of paint for the turkey. Everyone will be so impressed when you say you made this and didn't buy it at the store.
21 — Edible Thanksgiving Turkey Table Decor
Decoration in the entryway and front porch is fun and all, but it's much better when you can eat it at the end!
This edible Thanksgiving turkey table decor is great because it's festive, but when you're done with dinner, you can gobble them up on the spot! Plus, if you have leftover Halloween candy, this might be a great way to use it. You need some cookies, candy corn, melting chocolate and strawberries.
22 — Turkey Mini Pumpkins
The craft possibilities are endless with mini pumpkins, but these mini turkey pumpkins might just take the cake – or pie.Instead of carving a pumpkin to be a turkey, paint it and add feathers!Start with white or orange pumpkins (or paint them to your preferred color), add some fine-detailed turkey faces on the front, and glue some paper feathers on top. Viola!
23 — Turkey Pallet Sign
Thanksgiving Recipes to Try
Now that you've got plenty of Thanksgiving decorating ideas, here are some recipes for the big day —