Looking for some new ideas for delicious canned green beans recipes? Look no further! Here are 10 of the best.
Elevate your meals with our handpicked collection of the best canned green beans recipes. From savory side dishes to flavorful casseroles, discover creative ways to make the most of this pantry staple. Explore now for easy and delicious ideas that will leave your taste buds craving for more!
Canned green beans, also known as string beans, are a classic staple food. And there are so many canned green beans recipes out there. Canned beans are great because they can be prepared quickly, go in a variety of food from around the world, and can be kept for a long time in a pantry.
Plus, green beans are filled with Vitamins A and K, among other nutrients, and have a mild flavor which makes them great as a "hidden vegetable" for picky eaters. When canned green beans are cooked well, it will be difficult to distinguish between them and fresh green beans.
Are Canned Vegetables Good for You?
The short answer is that they are. The longer answer is that they are more processed than frozen vegetables in order to stay fresher.
This is done by adding a lot of salt to the vegetable water/oil that they remain soaked in until the can is opened. Luckily, that salt mostly rinses off. So just make sure they get a good wash before putting them in a salad or hot dish.
Obviously, fresh vegetables will always be the best. But canned vegetables are not as unhealthy as the reputation they sometimes get.
Are Canned Green Beans Cooked or Raw?
The beans are raw when put into the cans but are "cooked" in the sense that they won't go bad like fresh vegetables due to the canning process, which destroys microorganisms that make food spoil. They're safe (and delicious) to eat straight from the can or to cook up in a variety of dishes.
Different Types of Canned Green Beans
Cut green beans are, you guessed it, cut into small pieces. They are probably the most common type of canned green beans that you will see on the grocery shelf.
Whole green beans have the ends trimmed off.
And French cut green beans are thinly cut and take a lot less time to cook compared to whole green beans because of their thinner size.
For most recipes, it won't matter which type of green bean you use. Just be aware that the cooking times will vary between them since they are different sizes.
The simpler the ingredients are on the can, the better the green beans taste after being cooked. For example, if a can has just water and salt listed, it will be better than a can that has more (unnecessary) ingredients.
Canned Green Bean Recipes
There is a way to "cook the can out of the beans" by cooking them at a high enough temperature and for long enough that they no longer taste as though they came from a can and taste as good as fresh green beans do.
Some people prefer to dump out the canned liquid, wash the beans well, and use broth or fresh water in the recipe instead. Depending on your preference, you can do that.
Or you can leave the canned liquid in the recipe, not add additional salt to the recipe (since it's already in the liquid) and cook the beans long enough to "cook the can out" of the flavor. How you decide to cook your green beans is entirely up to your preference.
1 — Best Canned Green Beans Recipe
Eating green beans and tasting that they were from a can is not great, especially if you're serving others too.
This canned green beans recipe saves you from embarrassment and keeps you on time.
In 30 minutes, with some bacon, drained canned green beans, spices, and a hot pot, you will be good to go.
2 — Fried Green Beans
Green beans are a bean, and just like the Latino culture has refried black and pinto beans, green beans can be fried too!
This recipe takes about 30 minutes to make, and it's really easy with just four ingredients: mushrooms, onions, bacon, and canned green beans.
Since the canned green beans are already salted from the processing strategy, there's no need to add salt… just pepper and whatever other spices you so desire.
3 — Southern-Style Green Beans
South-style green beans are different from other recipes. (For example, the first one on the list – the best canned green beans recipe).
Some recipes call for the beans to be crunchy, which canned green beans simply don't do.
Southern-style calls for the beans to be incredibly soft and tender, and canned green beans are perfect for that!
This recipe calls for some good ol' grease.
Whether it's oil, butter, margarine, or delicious bacon grease (recommended for this recipe), it will definitely liven up the flavor.
If you're short on time and can't make fresh bacon to cut into bacon bits, you can also use a bouillon beef cube.
For extra flavor, you can also stir in some brown sugar.
Get ready for the hardest recipe on the list: pour the entire can of beans (liquid and all) into a pot, add the grease of choice, and leave it to simmer until there is no liquid left. Done!
4 — Canned Green Beans and Bacon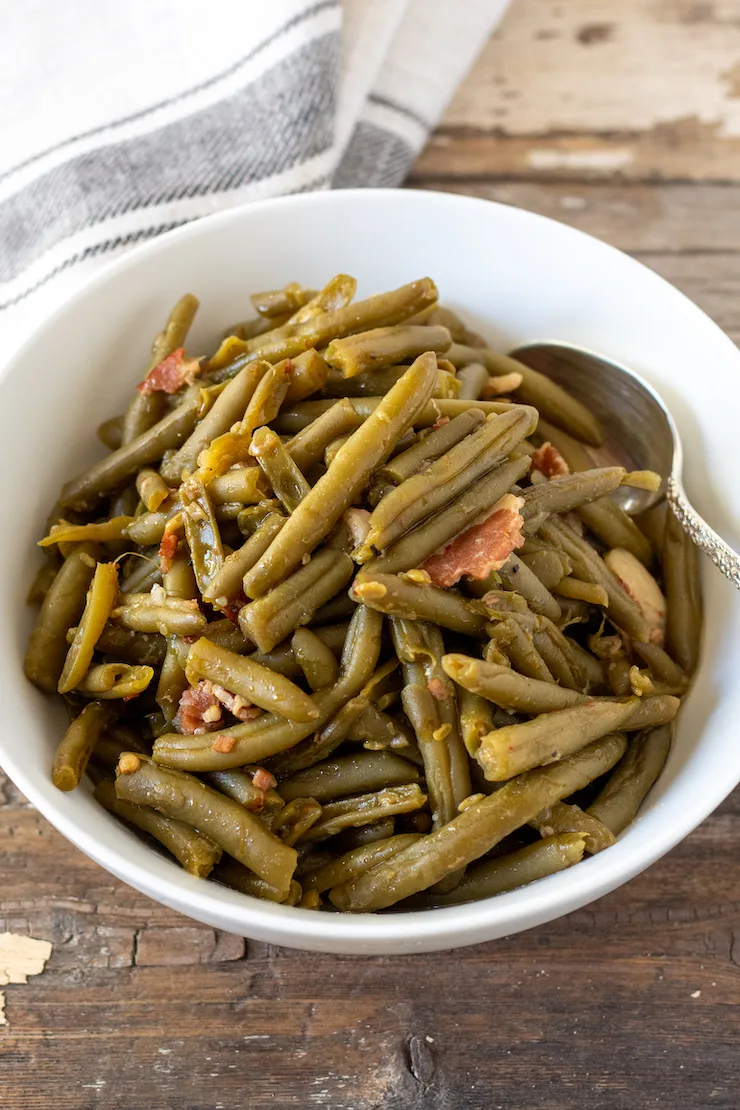 Bacon and green beans go together like two peas in a pod.
This is another style of Southern green beans and is great for when you have time to prepare the beans beforehand and let them simmer all afternoon.
This summering lets the canned green beans absorb all of the flavors, making it extra delicious.
Even though it takes hours to make. That's just the simmering.
The preparation takes honestly no time at all. Take a pot, add the beans, add the bacon, add the seasonings, and let it simmer!
5 — Tater Tot Casserole
There are two ways to make this casserole phenomenal, and both are delicious.
The first is to use canned soup as the base.
The second way is to make your own sauce (it's easy but time-consuming) and add in some caramelized onions to make the flavor pop even more.
This tater tot casserole recipe is made from a combination of ground meat (your choice of animal), canned green beans, canned corn, tater tots, and cheddar cheese.
It starts on the stovetop but ends in the oven. It is creamy and packed with great vegetables and tastes.
It's also easy to sneak in extra veggies without picky eaters noticing, thanks to the cream and tater tots!
6 — Sauteed Garlic Green Beans
The smell of sauteed garlic is hard to beat.
With this garlic green beans recipe, you get to enjoy that smell in all of its entirety while also using up some canned green beans for a simple, quick, and easy-to-make side dish.
This sauteed garlic green beans recipe uses ingredients that you probably have at your house already – canned green beans (shocker), garlic (another shocker), and some olive oil to saute it all in.
By the end, the beans are dehydrated and burst with a nice garlic flavor and a little crispiness when you bite into them.
7 — Balsamic Green Bean Salad
Salad is healthy, green beans are healthy, so combined, they're uber-healthy, right?
This balsamic green bean salad is the perfect dish to bring to any potluck as a side dish. It's extra good next to a plate of spaghetti.
It has more ingredients than the other recipes on the list, but it's still easy to make.
It's a mix of green beans, oil, lemon juice, vinegar, salt, garlic powder, mustard, pepper, cherry tomatoes, onions, and feta cheese.
The crunch of the balsamic green beans and the combination of tangy flavors is sure to be an absolute winner whatever the occasion may be.
8 — Canned Green Bean Salad
This cold green bean salad is so easy and great for long road trips and camping.
The sauce is just oil, vinegar, and mustard.
Pour it over some canned green beans and top with almonds for extra protein and nutrients. It couldn't be easier!
9 — Sausage and Green Bean Potato Bake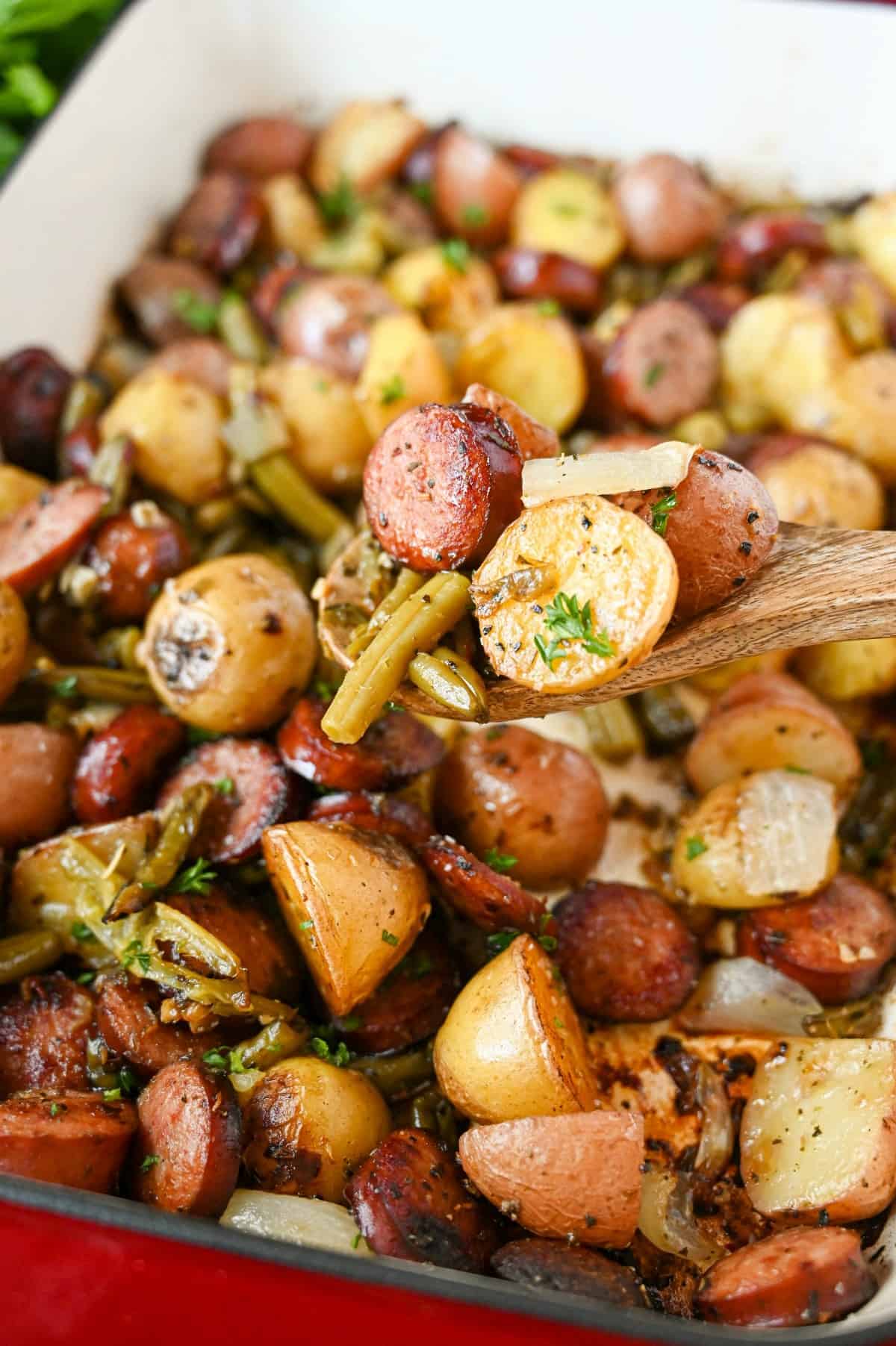 This baked dish will have the whole family asking for seconds, thirds, and maybe even fourths.
It only has a few ingredients: olive oil and spices, green beans, potatoes, and sausage. But it is chock-full of nutrients.
If you have picky eaters who hate their veggies, this is a great dish to hide some spinach, mushrooms, or tomatoes in too.
10 — Green Bean Casserole
Last but certainly not least, an all-time classic — green bean casserole.
Green bean casseroles are a fantastic dish for Thanksgiving or a potluck where you need crunchy yet creamy food.
Plus, they're quick (40 minutes to bake), easy to make, easy to keep, and definitely easy to eat.
You probably have the ingredients already too.
With a can of cream of mushroom soup, whole milk (or cream if you so desire), green beans, pepper, and some crispy fried onions to top it off, this recipe couldn't be easier to make.
Simply mix the first three ingredients together, pop them into a casserole dish, add the onions and bake.
Easy as pie — or casserole.
Conclusion
If you're looking for an easy snack, a quick side dish to take to a dinner party, or a delicious dinner plate, canned green beans are a staple food to have around.
With these canned green bean recipes, you are sure to have a can for every occasion!
More Quick & Easy Dinner Recipes