You may shy away from chicken recipes because you think they are too plain, but we have got some fresh summer ideas for you to try out.
Chicken is such a versatile food that it seems to go with almost any dish.
It is easy to cook, easy to store, and really easy to eat (or overeat).
That said, as with any dish, eating chicken the same way time after time gets boring.
That's why we are bringing you some fresh ideas to revamp your chicken recipes and offer you some new recipes to try out this summer.
Whether you are at home with the family, out at a barbecue/potluck, or enjoying the sun on a boat or on the beach, these summer chicken recipes are sure to be a hit wherever you are.
Summer Chicken Recipes
1 — Baked Lemon Rosemary Chicken Dinner Idea Recipe
This baked lemon chicken recipe is great for a warm summer's night on the patio at dusk.
Plus, it comes together easily in one sheet pan and only takes 30 minutes to prep and an hour in the oven.
Love rosemary but don't have any around?
Try this homemade lemon pepper seasoning instead. (Although, the rosemary is what makes this recipe to another level.)
If you don't have fresh rosemary around, use some dried rosemary.
It'll taste the same, but use 1/3 of the quantity since dried spices are incredibly potent, and the recipe calls for fresh rosemary.
Chicken and potatoes go together like peas and carrots.
If you have kids in the house, try these homemade french fries in place of the potatoes.
If you want to cut back on carbs or don't have potatoes around, try pairing this chicken recipe with canned green beans,
Brussel sprouts, or a salad (like this beetroot salad with goat cheese).
Give the kids some homemade lemonade with the leftover zested lemons.
And give yourself a great pink lemon cocktail as a reward.
2 — Huli Huli Chicken Kebabs Recipe
Nothing says summer and party like meat on a stick. This Huli Huli chicken recipe is essentially a play of teriyaki chicken but luau style.
Originally Hawaiian, Huli Huli sauce is a traditional sauce that marinates the chicken.
What makes the sauce so tasty and different is the blend of sweet and tangy with a mix of fresh pineapple juice, brown sugar, ketchup, soy sauce, ginger, and garlic powder.
The sauce seeps into the fruits and veggies on the kebab perfectly. "Huli" means to "turn around," so it is the perfect name for kebabs on the grill. Don't you think?
If you're having a Hawaiian or tropical-themed party, try pairing it with some great cocktails like a rum punch, a tropical bay breeze, or cool down with these Whole30 Tropical Paradise Popsicles.
3 — The Ultimate Chicken Salad Recipe
Don't know what to bring to the next potluck? This recipe will be a hit at any summer potluck. Plus, this chicken salad recipe is incredibly easy and takes only 20 minutes to put together.
In general, this is a pretty standard salad with salt, pepper, and garlic seasoning. However, it's the dash of curry that gives it an unexpected twist of flavor.
In terms of chicken, you just need some shredded, cooked chicken.
If you're running low on time, getting a rotisserie chicken from the store is an easy way to quickly put together this salad.
Otherwise, shredding baked chicken breasts or poached chicken also works well.
Salads are known for being versatile, and this salad is no exception.
If you (or someone you are cooking for) are a picky eater, it's easy to change out the toppings and have additional add-ons to give it different flavor profiles.
For example, make it more citrusy by adding in some ingredients from this Cranberry Orange Salad with Creamy Citrus Vinaigrette Recipe.
Or make it into the perfect winter salad by using this Panzanella Salad with Honey Lemon Dressing Recipe as an inspiration.
4 — Orange Chicken Recipe
Although fresh oranges are more of a winter fruit, this recipe only calls for orange zest and 3/4 cup of orange juice, which makes it a fantastic, citrusy dinner option in the summer too.
If you're sticking with an orange theme for a party, this article will give you great ideas for an Orange You Glad Party + Orange Nojito Recipe.
5 — One-Skillet Peach-Glazed Chicken Recipe
Sticking with the fruit theme, this easy one-skillet dinner will have you raving from the time you saved in the kitchen and the guests raving from how delicious it is!
Plus, it uses up a lot of summer produce that you probably have laying around the kitchen.
So instead of making the typical peach cobbler with leftover peaches, this peach-glazed chicken recipe will have you covered.
This fruity skillet chicken is a healthy and quick dish to make with a tangy caramelized peach glaze topping the juicy, tender chicken.
With just five ingredients, only one pan to clean after, and the result of a delicious meal. What's not to love?
Still have leftover peaches? Not to worry!
Try out this banana peach smoothie or a roasted peach and cherry popsicles.
There are a variety of things you can do with peaches that have probably never crossed your mind.
6 — Whole 30 Avocado Salad Chicken Wraps Recipe
Chicken salad wraps are an amazing lunch or snack because they are incredibly healthy, great to use up leftover veggies in the fridge, and are keto, paleo, and Whole-30-approved.
Plus, they keep you full with the healthy fats they're packed with, like avocado!
In addition to being incredibly healthy, the chicken filling is meal-prep friendly. So you can make it ahead of time if you're busy.
What's even better is having it the night before and then adding it to your lunch or snack for the next few days.
Wraps are great because they are easy to customize to your taste preference and diet.
For example, make this avocado salad chicken wrap with a Mexican twist by adding some spice, green onions, and pico de gallo.
Pair it with this ​​Jalapeño Skinny Margarita. And you're good to go!
Give it an eastern-Asian flair by adding in some sriracha, ginger, and maybe leftover noodles if you have them.
Pair it with some ginger-infused gin & tonic cocktails.
7 — Coca-Cola Chicken Recipe
Just like chicken, Coca-Cola is enjoyed around the world and goes with a variety of dishes.
This Coca-Cola Chicken recipe does a fantastic job of combining two incredibly versatile foods into one delicious dish, making it a favorite wherever you are.
Soak the chicken in a Coca-Cola marinade (Coca-Cola, Worcestershire sauce, ketchup, and a bit of salt and pepper) that keeps it moist while also steeping it in a sweet and smoky flavor.
It can be served as a chicken wing appetizer by itself, on a bed of rice, or on top of a salad.
If you have extra Coca-Cola leftovers, keep up the Coka theme of the meal with these Coca-Cola cupcakes!
8 — Honey Lime Chicken Recipe
This honey-lime chicken recipe is a big plate of pan-roasted chicken thighs smothered in a brightly-colored honey-lime dressing.
The sauce is a simple blend of soy sauce, honey, and lime juice.
Coat the chicken in it and let it marinate for a few hours.
Once the chicken is cooked, the chicken and sauce combination will have you tasting savory yet salty yet tangy yet sweet flavors – a delicious medley.
If you are watching what you eat, this is a weight-watcher-friendly dish!
Got extra limes? Pair it with a homemade limeade or get boozy with it and drink up with this spiked Brazilian limeade.
9 — Chicken Lettuce Wraps Recipe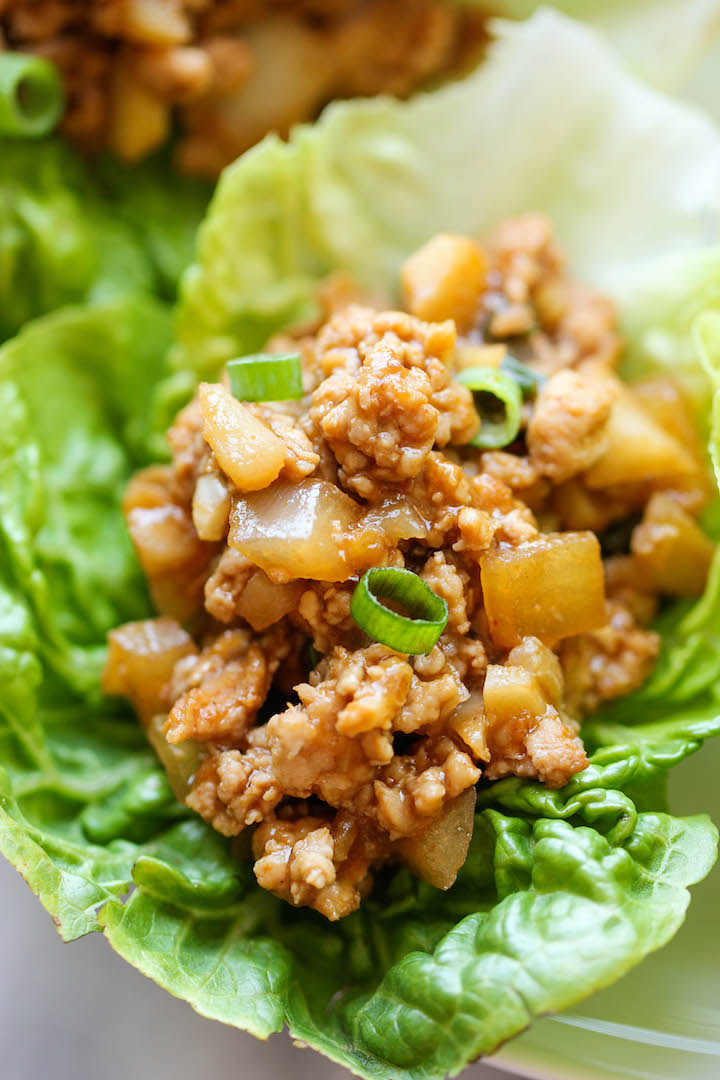 Copycat recipes are the best because they're often easier than you think and taste even better than at the restaurant (homemade is better, right?).
This PF Chang's copycat Chicken Lettuce Wraps recipe is no different.
Aside from it being a great copycat, lettuce wraps, in general, are low in carbs and quick to make, which means you can eat guilt-free and quickly.
After cooking the chicken and all of the spices and ingredients together in a hot pan, spoon them into the center of a big lettuce leaf — just like a taco.
Carrots go great with lettuce wraps. (Gotta get all of those veggies, right?)
So try out one (or two… pr maybe three) of these carrot cocktails or pair it with a Spicy Paloma cocktail to give the meal some extra flavor.
10 — Grilled Greek Chicken Salad Recipe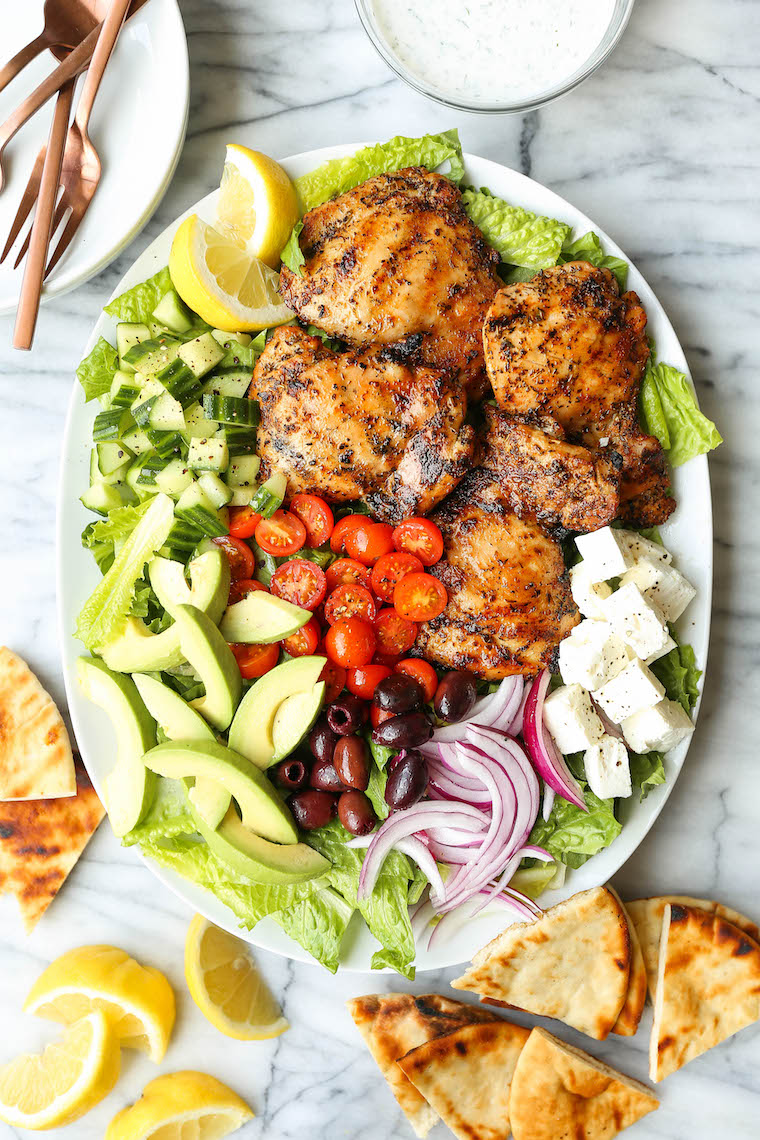 This grilled Greek chicken salad makes for a fantastic appetizer. But it is definitely not your normal appetizer.
To start, this chicken recipe is chock full of red onions, olives, romaine lettuce, cucumber, tomatoes, feta, and avocados. A delicious combination!
To top it off, there are tender and juicy grilled chicken thighs placed on top, which were seasoned with paprika, thyme, basil, oregano, and garlic powder.
Are you drooling yet?
Then comes the tzatziki sauce made from a mix of garlic, lemon, dill, pepper, buttermilk, and, of course, Greek Yogurt.
Mix everything together in a bowl, and boom!
So, don't be a chicken this summer and instead enjoy these delicious summer chicken recipes made right in your own kitchen.
Bon appetit!