This Malibu Bay Breeze recipe is a lovely and colorful cocktail with the most delicious tropical fruit flavors that will transport your taste buds to a tropical island destination!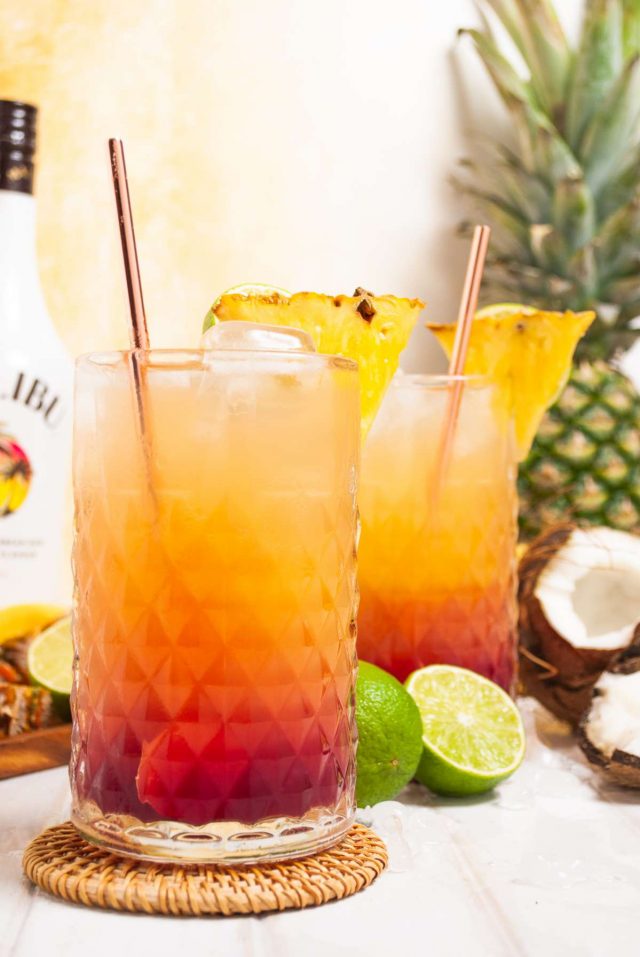 I cannot think of a better idea than a fruity cocktail to sip on a summer day in Hawaii or Bali, along the poolside with a good chat or a good book.
But let's face it, traveling is still a bit compromised so I'm coming to rescue you with this Malibu Bay Breeze cocktail recipe.
It's sweet, colorful, and very tropical. The perfect cocktail to make you feel like you are in a tropical destination even during your staycation!
With every sip, I promise you'll almost feel the sand in your toes and the sea breeze in your hair!
This cocktail has the perfect tropical flavor profile with only three ingredients: a coconut-flavored rum base, pineapple, and cranberry juice.
Incredibly easy, flavorful, and oh so pretty!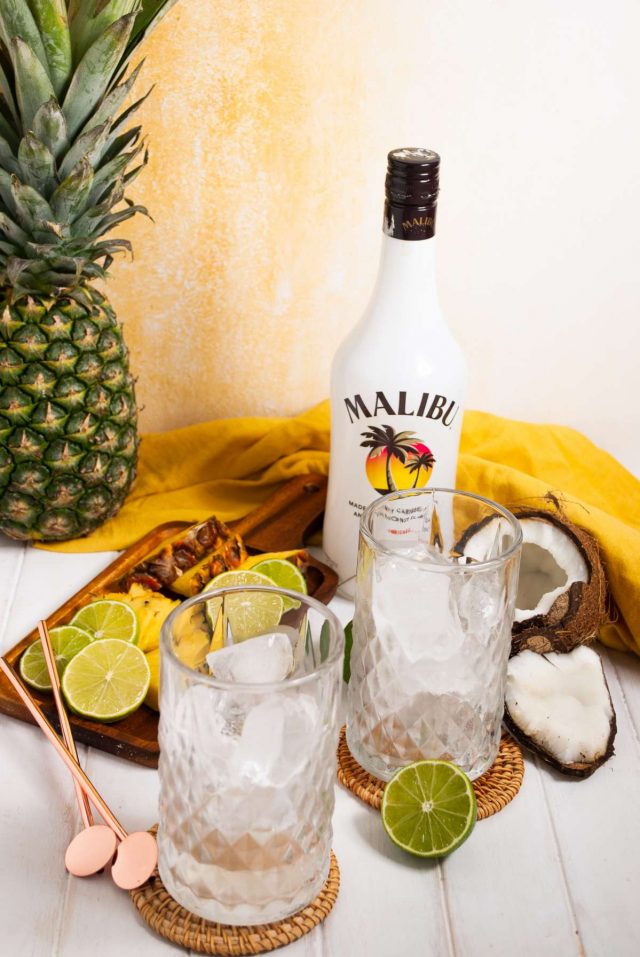 What Exactly Is Malibu?
The Malibu part on this Malibu Bay Breeze cocktail is a coconut-flavored white rum named like the lovely California bay.
Malibu rum was created to simplify the Piña Colada, which is originally made with coconut cream. (Check out our Piña Colada, to see our own twist of the drink.)
This lovely two-toned cocktail is a variation of the Sea Breeze cocktail, which is made with a base of vodka and some fruit juices like pineapple, cranberries, or grapefruit.
But do not feel afraid, this cocktail is perfect for the inexperienced mixologist, only a few ingredients are needed and no fancy equipment is involved.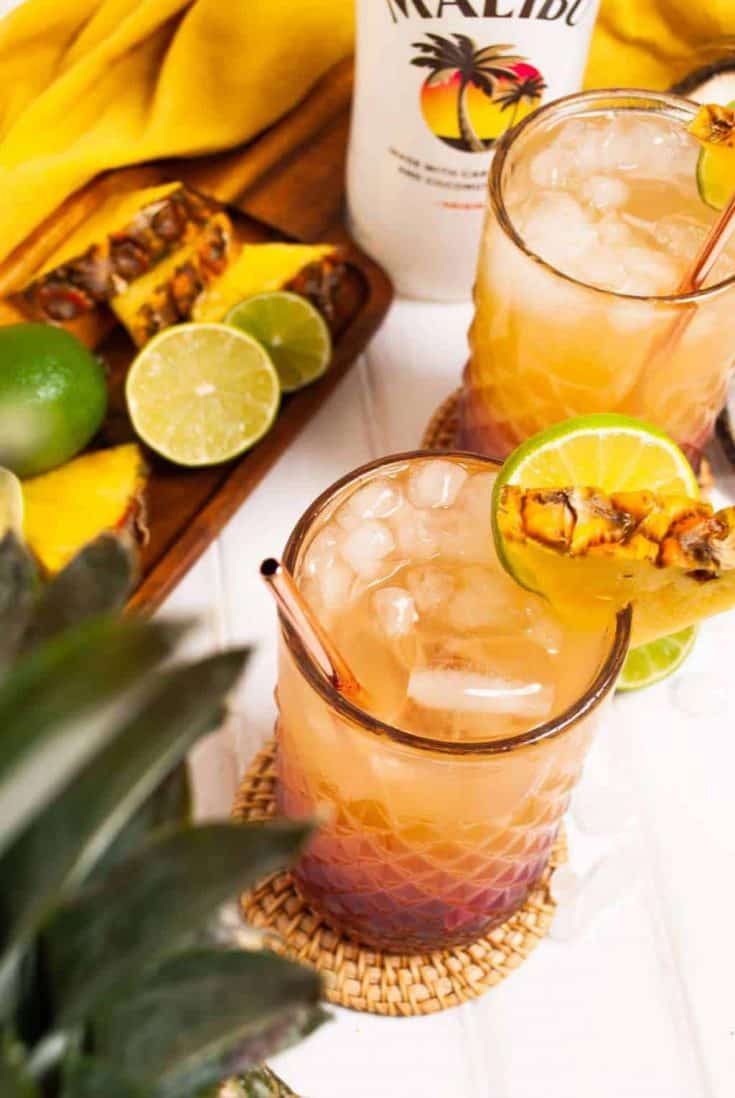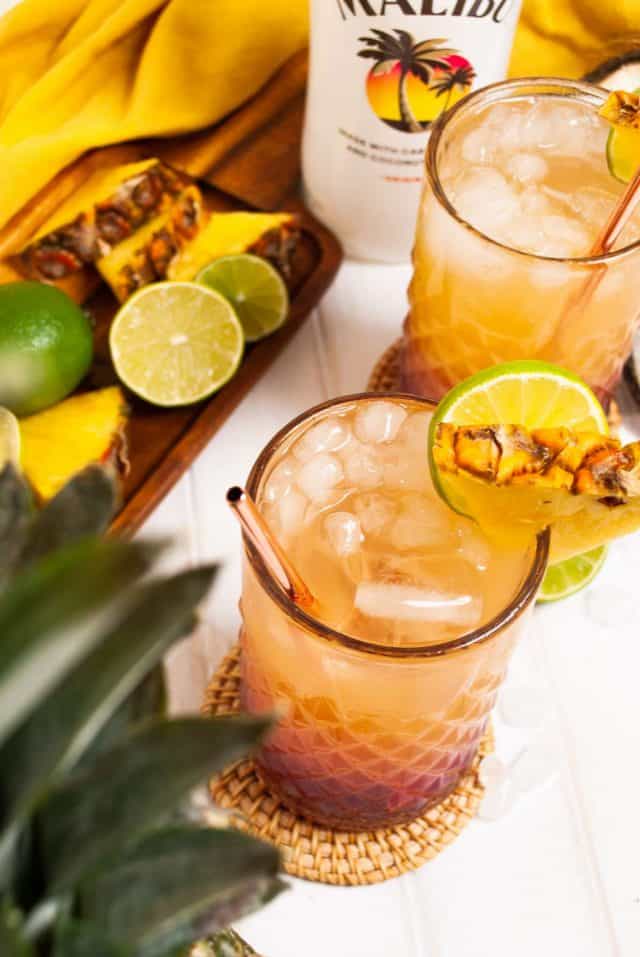 Ingredients Needed to Make a Malibu Bay Breeze
For this colorful and tropical cocktail you are going to need:
— Malibu rum (coconut flavored rum)
— Pineapple juice
— Cranberry juice
— Ice
— Pineapple triangles and lime wheels for garnish
How to Make the Perfect Layered Malibu Bay Breeze
First, you'll need to fill up a glass with 3/4 of ice.
Then, pour the Malibu, and then the cranberry juice.
To get the perfect golden layer of pineapple juice, just use the back of a spoon, adjusting it to the glass, and slowly pour the pineapple juice on top of it. The slower the better the layering.
Tools to Make a Malibu Bay Breeze Cocktail
This cocktail is not only a delicious treat but also a very, very simple one to make. Indeed all you are going to need is:
— Highball glass or Collins glass: The main difference between them is that a highball glass is smaller and has an 8-12 oz capacity while the Collins glass is taller with a 12-16 oz capacity. Use any tall glass you have on hand and you'll be good.
— A measuring glass, a jigger or a cup: To measure the quantities of each liquid. Do not worry too much about the measuring method, as long as you follow the proportions you'll find below in the recipe card.
— Straws: Any nice and fun straws of your liking.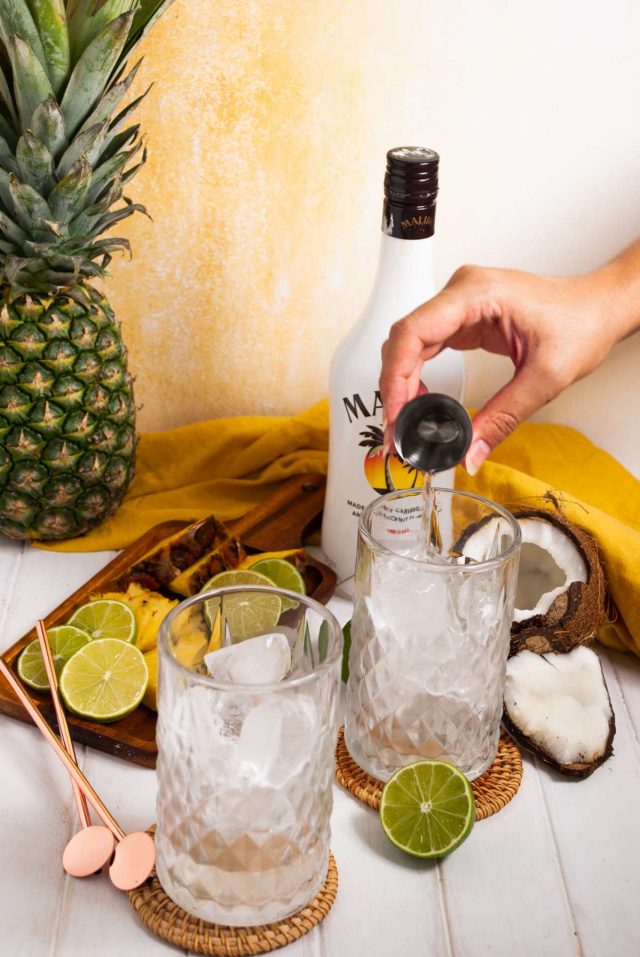 If you want to try more fruit flavor drinks, check out these recipes:
Don't forget to share your mulled wine with us on Instagram using the hashtag #sugarandclothloves. We always love seeing all of your creations! And if you're looking for more quick and delicious recipes you can find them all right here with a few desserts to go along with them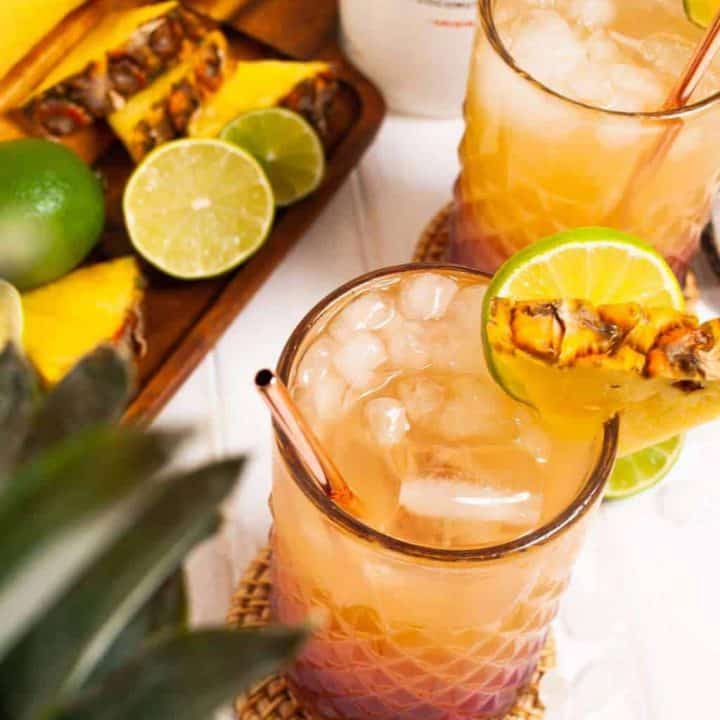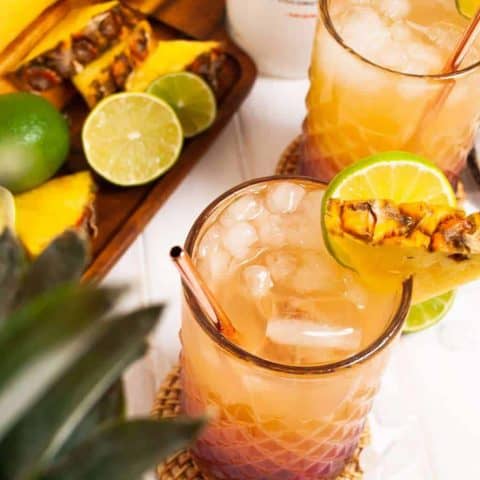 Malibu Bay Breeze Recipe
Malibu Bay Breeze is a tropical and very colorful cocktail with the most delicious fruit flavors that will transport your taste buds to an island destination!
Equipment
Highball glass or Collins glass

Measuring glass, a jigger or a cup

Straws
Ingredients
4

oz

Malibu Coconut rum

4

oz

pineapple juice

4

oz

cranberry juice

1

pineapple wedge

for garnish

1

lime wheel

for garnish
Nutrition
Calories:
376
kcal
|
Carbohydrates:
29
g
|
Protein:
1
g
|
Fat:
1
g
|
Saturated Fat:
1
g
|
Polyunsaturated Fat:
1
g
|
Monounsaturated Fat:
1
g
|
Sodium:
6
mg
|
Potassium:
244
mg
|
Fiber:
1
g
|
Sugar:
25
g
|
Vitamin A:
60
IU
|
Vitamin C:
24
mg
|
Calcium:
26
mg
|
Iron:
1
mg
Notes
Ingredients and possible substitutions or variations:

Lime: A

part from using it for garnish, try squeezing half a lime into the pineapple juice, although is not traditional, I find the tanginess of the lime to balance very well the overall sweetness. Also, lime adds a new tropical nuance to it!

Rum: 

You can use any other coconut-flavored rum if you cannot find the Malibu brand

. T

here are other flavored rum variations, like mango or passion fruit, do not be afraid to try them!

Pineapple juice: 

I've used store-bought unsweetened pineapple juice. The better the quality the better the cocktail! Try swapping the pineapple juice for mango juice to switch up the tropical flavor.

Cranberry juice: 

Avoid using p

ure cranberry juice since it's very sour, instead buy sweetened cranberry juice.

 
Grenadine: Y

ou can substitute cranberry juice for grenadine (concentrated and sweetened pomegranate juice) and make a Malibu Sunset!

This cocktail can be made ahead if you don't care about the layering. If you want to make it ahead, put the ice right before serving it. 

Since it's a sweet cocktail, it is best served after meals. 

 
Instructions
Fill a highball glass with 3/4 of ice. 

Add the pineapple juice. To form the layered style, you can use the back of a spoon, and slowly pour the pineapple juice over it, so it will sit slowly over the rest of the ingredients. Be careful and pour it very slowly so you'll not break the layering. 

Cut a slice of pineapple and make some wedges with a slit on one side so it can sit on the brim of each glass. 

Cut a few lime wheels and make a tiny slit so they can sit as well on the brim of each glass
KEYWORD:
cocktails, malibu bay breeze recipe

Check Out More Of Our Cocktails