'Tis the season for bouncing back from the crazy holiday bingeing! My sweet tooth is pretty serious, so the holiday season makes me, Rebecca, really wish that I could just eat dessert for dinner. But we all know that we can't live on cookies alone, so this Cranberry Orange Salad with Creamy Citrus Vinaigrette will be just what you've been looking for!
Throw on some fruit (in this case oranges and cranberries) to make that spinach as merry as the holidays were. Add a delicious, healthy, homemade vinaigrette to really make those mixed greens bright. And I'm not even kidding, this dressing is ridiculously good.
It's a little bit sweet with just the right amount of tang to set off the fruitiness. And adding the yogurt gives the perfect amount of creaminess—it's not thick, but has a bit more substance than your standard vinaigrette. You can also sub in a dairy-free yogurt to make it allergen friendly! It's also incredibly easy…
Just throw it all of the dressing ingredients in a blender, blitz for a few seconds, and you have a creamy, citrus dressing that will keep in your fridge for at least a week. Keep a big box of mixed greens in your fridge, peel an orange (you could totally go with canned mandarin oranges), have a few sliced almonds and dried cranberries handy, and you are set with healthy lunches and sides for days! Simple enough to whip up any day, but pretty enough to plan for a dinner party.
So tell me, what are your healthy holiday go-to recipes?  I really hope this Creamy Orange & Cranberry Salad makes it on your menu this year!
Don't forget to share your salad creations with us on Instagram using the hashtag #sugarandclothloves, we love seeing all of your creations! And if you're looking for more quick and delicious recipes you can find them all right here with a few cocktails to go along with them!
Rebecca of Good Things Baking Co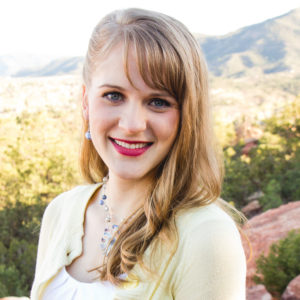 By day she's a crime-fighting, baby wrangling super mom, and by night (and nap-times) she uses her experience cooking for 9 siblings and passion for cookbooks to create the beautiful recipes and photos behind Good Things Baking Co.