Ready to take your summer pool floats game up a notch? From pizza slices to swans, we've got you covered with the best pool floats for summer!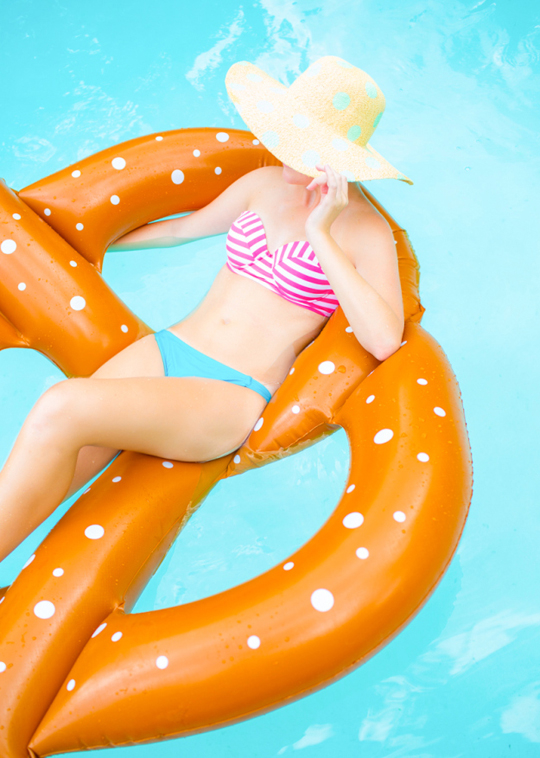 Nothing says summer like a giant hot dog to float around on… or something like that.
Regardless of what your food float of choice is, I've rounded up my favorites for the best pool floats for Summer
With everything from donuts, to flamingos, to floating cooler pineapples, all of them will make your heart sing!
And you can't have a pool day without your summer jams!
Literally. I felt the singing so much that I just set up shop (fully clothed) on my flamingo, remember that?…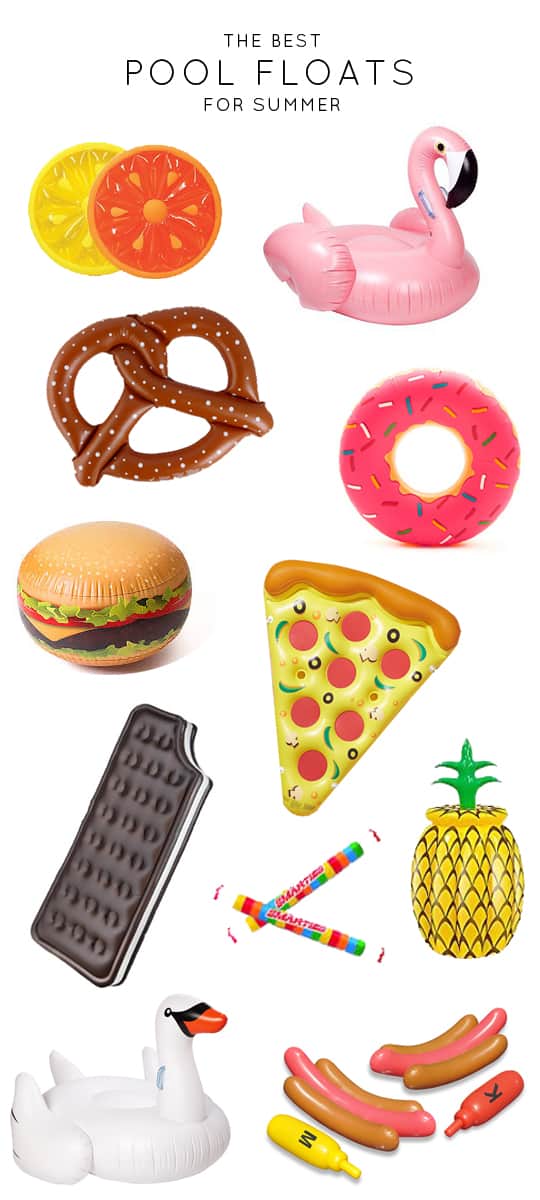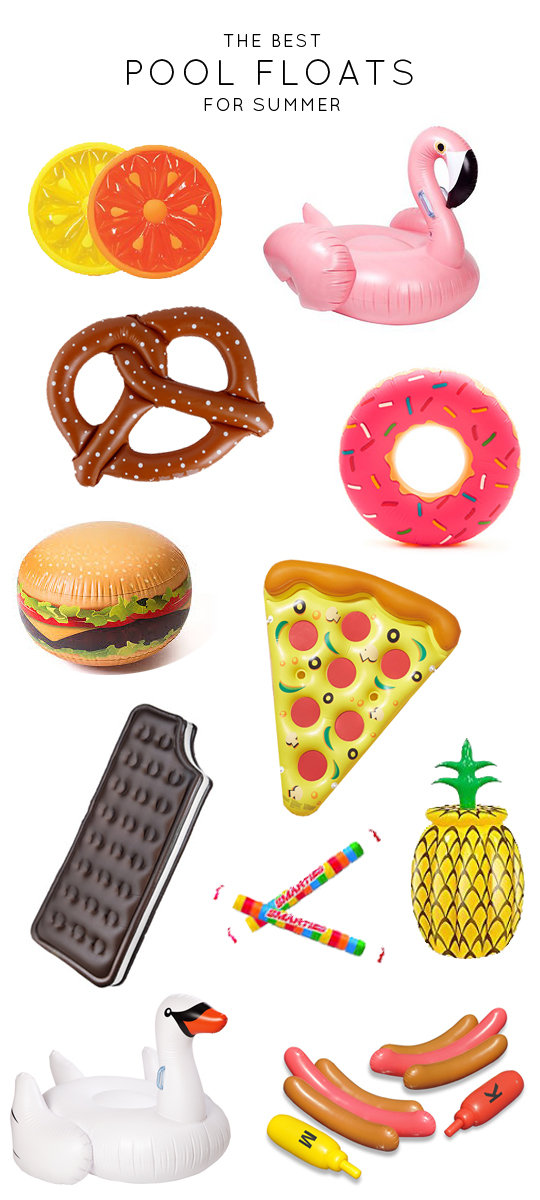 11 Best Pool Floats For Summer
1 — Pretzel Pool Float
Looking for a pool float that's as unique as you are? Look no further than the Pretzel Pool Float!
This float is perfect for those who want to relax in style, and its unconventional design is sure to turn heads. So grab one of these floats and get ready to soak up some sun!
2 — Hot Dog Joust Pool Game
Looking for the perfect pool float for your next summer bash? Look no further than the Swimline Hotdog Battle Pool Float.
This unique float is perfect for adults and kids alike, and is sure to provide hours of fun in the sun.
This comes with high-quality vinyl construction with easy inflate valves.
3 — Donut Pool Float
This vinyl pool float is designed with a thick, durable PVC material that is built to last for a very long time.
Plus, it's super easy to inflate and comes with its own repair patch kit in case of any accidental punctures.
Best of all, this Donut Pool Float is perfect for playing it cool in the pool – perfect for those hot summer days!
4 — Pizza Slice Pool Float
Looking for a pool float that will have all your friends green with envy? Look no further than the Pizza Slice Pool Float!
This jumbo float is 6 feet long and 5 feet wide, and looks just like a real pizza slice, complete with pepperonis, mushrooms, peppers, and black olives.
Made of durable vinyl, it's perfect for lounging around the pool all day long. And with two built-in cup holders, you can keep your favorite beverages close at hand.
5 — Ice Cream Sandwich Pool Float
This massive Inflatable Ice Cream Sandwich Pool Float is officially the coolest pool float around!
It's super sturdy, large enough for both kids and adults, and just too darn cute with its chocolate ice cream sandwich design.
Perfect for any summer pool party or beach day, this inflatable float will have everyone asking where they can get one!
6 – Swan Pool Float
Looking for a summertime activity that will make a splash? Then grab our Giant Swan Pool Float! At over 76" long, this blow-up swan is big enough for two riders.
The heavy-duty vinyl construction can support up to 140 lbs, making it perfect for kids and adults alike.
Whether you want to use it for play or just to lounge around in the sun, this Giant Swan Pool Float is sure to make a splash!
7 – Flamingo Pool Float
The Flamingo Pool Float is great for riding, playing or lounging around in the pool.
It is made of sturdy 14 gauge vinyl construction and includes 2 heavy-duty handles and 2 air chambers. It also comes with a repair patch in case of punctures.
8 – Cheeseburger Beach Ball
Relax in style with this fun and funky Cheeseburger Beach Ball. This colourful mattress is perfect for lounging in the pool, on the beach, or in your own backyard.
Whether you're spending a lazy day by the pool or soaking up the sun on the beach, this Cheeseburger Beach Ball is a must-have for summertime fun.
9 – Smarties Noodle Float
This gigantic Smarties Noodle Float is perfect for the pool or beach, and its easy-to-inflate design makes it a breeze to set up.
Plus, its easy-to-store design means you can take it with you wherever you go.
So whether you're looking for a fun pool toy for the kids or a relaxing way to enjoy the summer sun, the Smarties Noodle Float is a perfect choice.
10 – Floating Pineapple Cooler
The Floating Pineapple is perfect for keeping your drinks cold at your next luau party!
This high-quality cooler is made from durable materials and can hold up to 24 cans of your favorite beverage.
So fill it up with some cold drinks and get ready to have a good time!
11 – Fruit Slice Floats
This Fruit Slice Float is perfect for a sunny day by the pool.
It's made of heavy-duty vinyl and is 60 inches in diameter, so there's plenty of room for several people.
The fruit slice island comes in three colors: lime, orange, and lemon.
So get out there, and find your perfect pool float to make this summer one for the record books!
And don't forget your pets too. This ultimate DIY Pool Float Costume is perfect for your pup!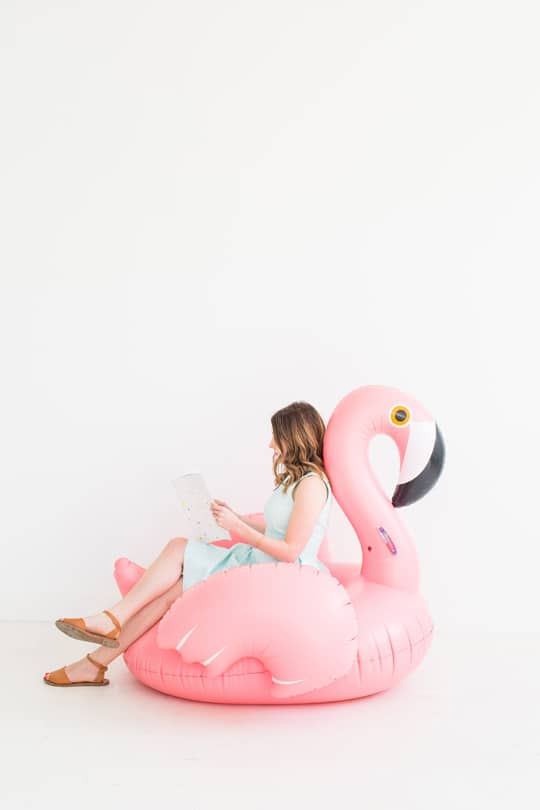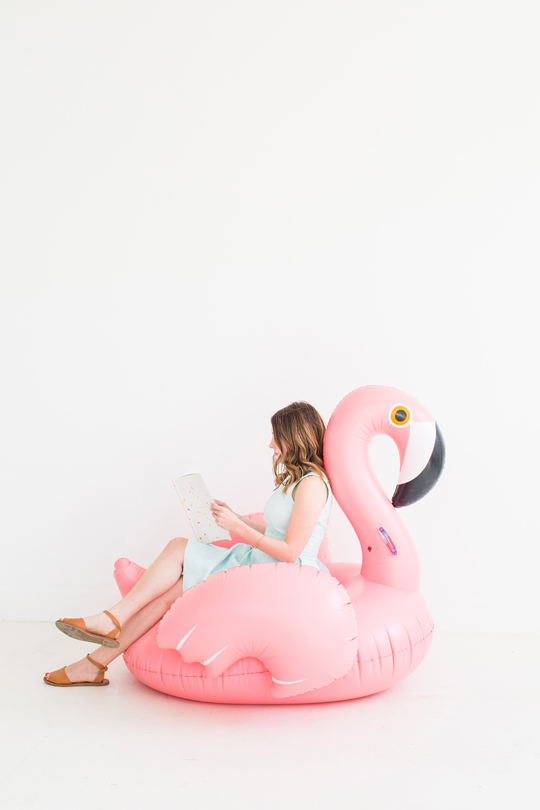 More Summer Ideas
For more summer ideas from games, and summer cocktails to attire, check out the following below –