Transform your backyard into a spa-like sanctuary with these inspiring and easy-to-implement outdoor shower ideas.
Are you looking to create a unique and refreshing oasis in your backyard? Look no further than outdoor showers!
Whether you want to rinse off after a long day at the beach or swimming pool, outdoor showers offer a great way to bring relaxation and luxury into your outdoor space.
They can also be a functional place to wash off muddy dogs or clean up after an afternoon in the garden.
Or you may want to simply enjoy a rejuvenating shower surrounded by nature. Doesn't coffee and an outdoor shower to start your morning sound pretty tranquil?
From DIY projects to luxurious installations, find the perfect outdoor shower idea that suits your budget and taste.
Outdoor Shower Ideas
1 — Novogratz Portable Rainy Outdoor Shower
View this post on Instagram
As seen in our own backyard, this Novogratz Rainy outdoor shower is perfect for rinsing or just plain backyard fun with the kids.
Attach it to your water hose, and you are in business. It's sleek and sophisticated and can be moved anywhere in your outdoor space. It also comes complete with its own slip-resistant, floor board too.
And if you're looking for camping shower ideas, this freestanding outdoor shower is portable and slim enough for small spaces.
2 — DIY Surfboard Shower
This DIY surfboard shower design makes for the perfect addition to any beach house. We love that it's inconspicuous and blends with the home. So bypassers are unaware, and you get much needed privacy.
Plus, we are beyond obsessed with the customized messaged tile floor. And the surfboard shower backdrop is perfect for the salt air beachy vibes.
3 — DIY Outdoor Shower with the Garden Hose
Transform your everyday garden hose into a dreamy backyard oasis that is super easy and budget friendly to recreate. We love that no additional plumbing is required.
Simply attach a copper pipe and showerhead to your outside wall (or fence). Then, connect your garden hose to the brass garden valve.
Plus, the tutorial includes a guide on how to make your stones look like tile.
4 — Reclaimed Wood DIY Shower
Do you have a lot of extra scrap wood? Upcycle them into this rustic yet charming reclaimed wood shower.
If your backyard doesn't have a lot of real estate, this open style outdoor shower is ideal for small spaces. We also love that the leftover wood was constructed into a ladder for wet towels.
5 — Oceanside Outdoor Shower Kit
Home improvement building not your thing? That is totally ok!
Just purchase a shower kit enclosure that can pack a big punch in your backyard space. Then, complete your outdoor oasis with faux grass decorative stepping stones.
Since it is made of vinyl, you don't have to worry about the Oceanside shower kit fading.
6 — Malibu Metal Outdoor Shower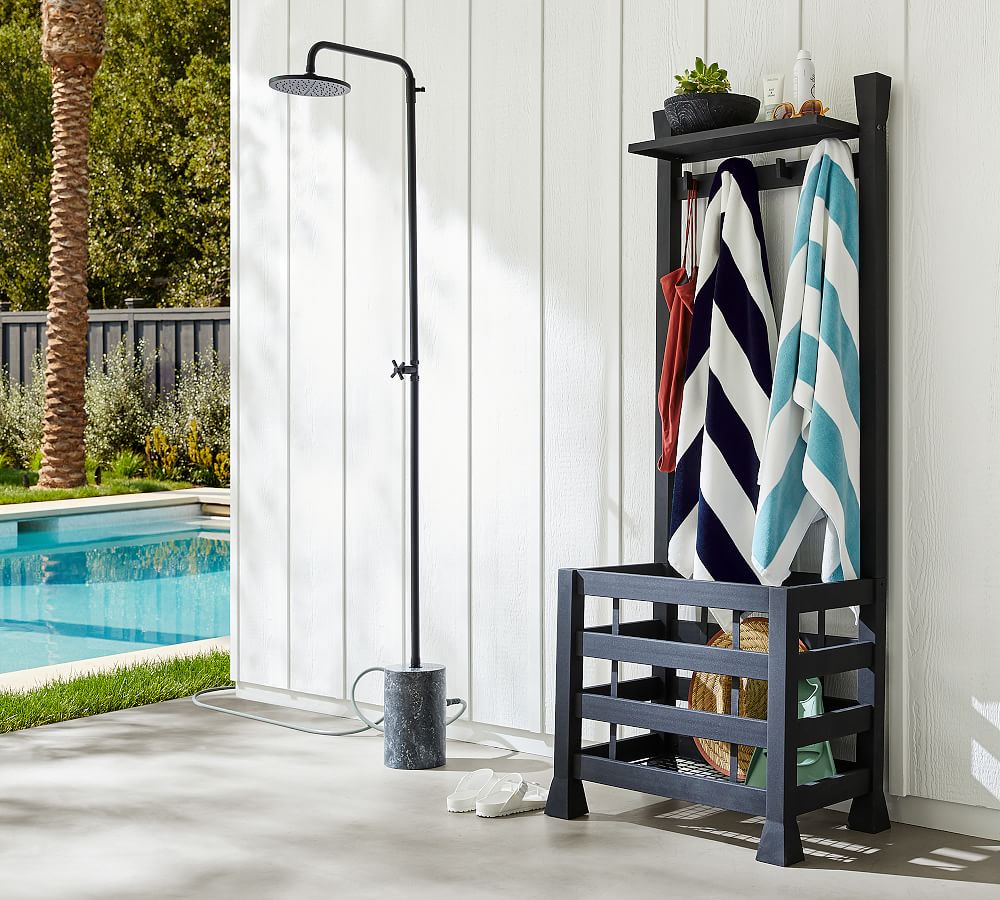 Inspired by the iconic 1960s Arco lamp, the Malibu outdoor shower is portable and modern.
It features a marble base and a sleek black rain shower head that is perfect for rinsing off. Simply attach your garden hose to it. Showering outdoors has never been more stylish.
7 — Ensuite Shower
This ensuite shower remodel allows access to an outdoor shower for a quick rinse before stepping right into the indoor shower and bathroom.
We love how the exterior design extends to the interior design. Even with some intricate tilework, the outdoor shower discreetly blends with the privacy wall.
8 — Tile & Copper Fixture DIY Shower
Have a fun tile that you want to incorporate into your outdoor living space? This tile and copper DIY shower combo are what actual dreams are made of.
Working with tile and grout requires some perfectionism. But we can assure the statement it makes is well worth the sweat!
9 — Vertical Garden Shower Idea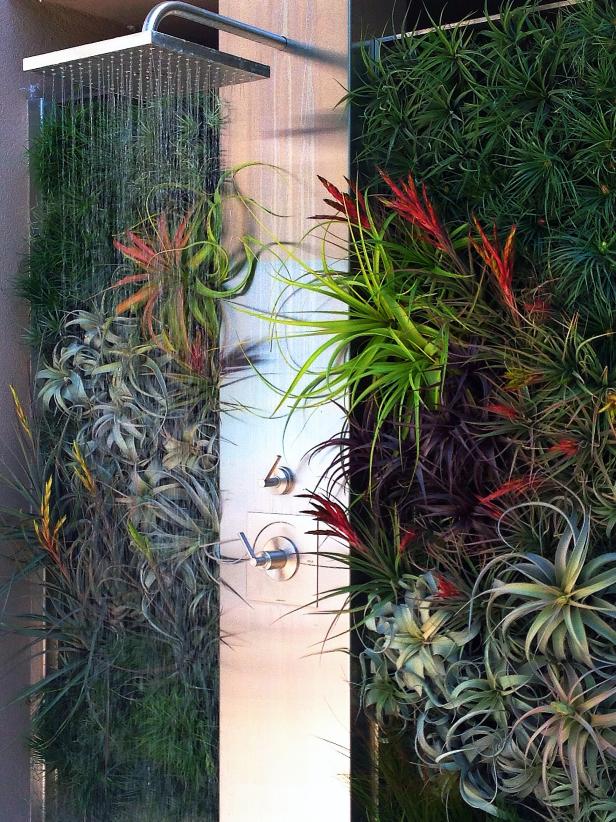 When building out your backyard shower, installing a trellis to add greenery to the space. The water from showering actually provides plenty of moisture for plants to thrive.
Another option instead of a trellis would to repurpose ladders as plant holders as we did with our vertical garden.
10 — Cinder Block DIY Shower
Turn an unused alley into a backyard outdoor shower. This once drab cinder block space was transformed into a Mediterranean masterpiece.
11 — Arch Outdoor Shower
Arches are making a comeback, and we love how this Bali villa incorporated a curved cement wall as their showerhead backdrop. This is also another example of how much fun you can have with the shower floors.
12 — Coastal Shower
We are getting all the coastal feels from this grey and white shower.
The corrugated metal roof panel serves as the backdrop that can be painted any color to transform and fit your backyard space. You can also use roof paneling for an outdoor shower enclosure.
13 — Indoor Outdoor Shower Design
If you're not entirely sold on a full outdoor shower, bring the outdoors in with a full length glass shower door that merges the two.
Keep the door open when you want the outdoor feel, and leave it closed when you prefer to stay in. The light it brings to your room and your home is a way to elevate your space to a luxury feel.
14 — Rustic Cedar Outdoor Shower Kit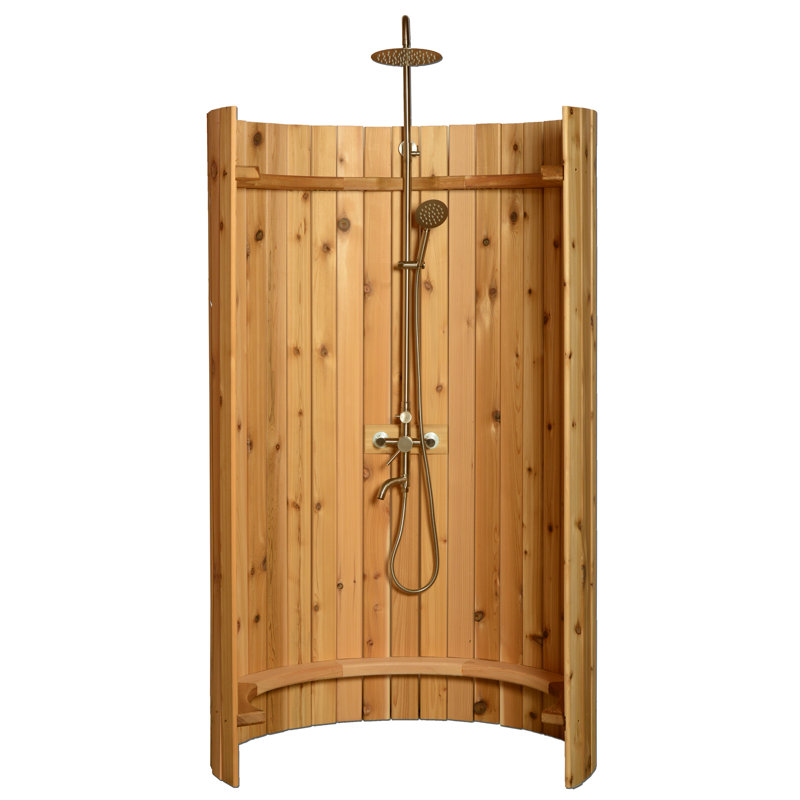 This cedar outdoor shower may seem like it is on the pricier side. However, all the hardware needed for assembly is included, even the shower head and foot wash.
This hand-crafted shower can be used as a free-standing unit or permanently anchored to a deck or adjoining structure for added support for privacy.
15 — Outdoor Shower Tub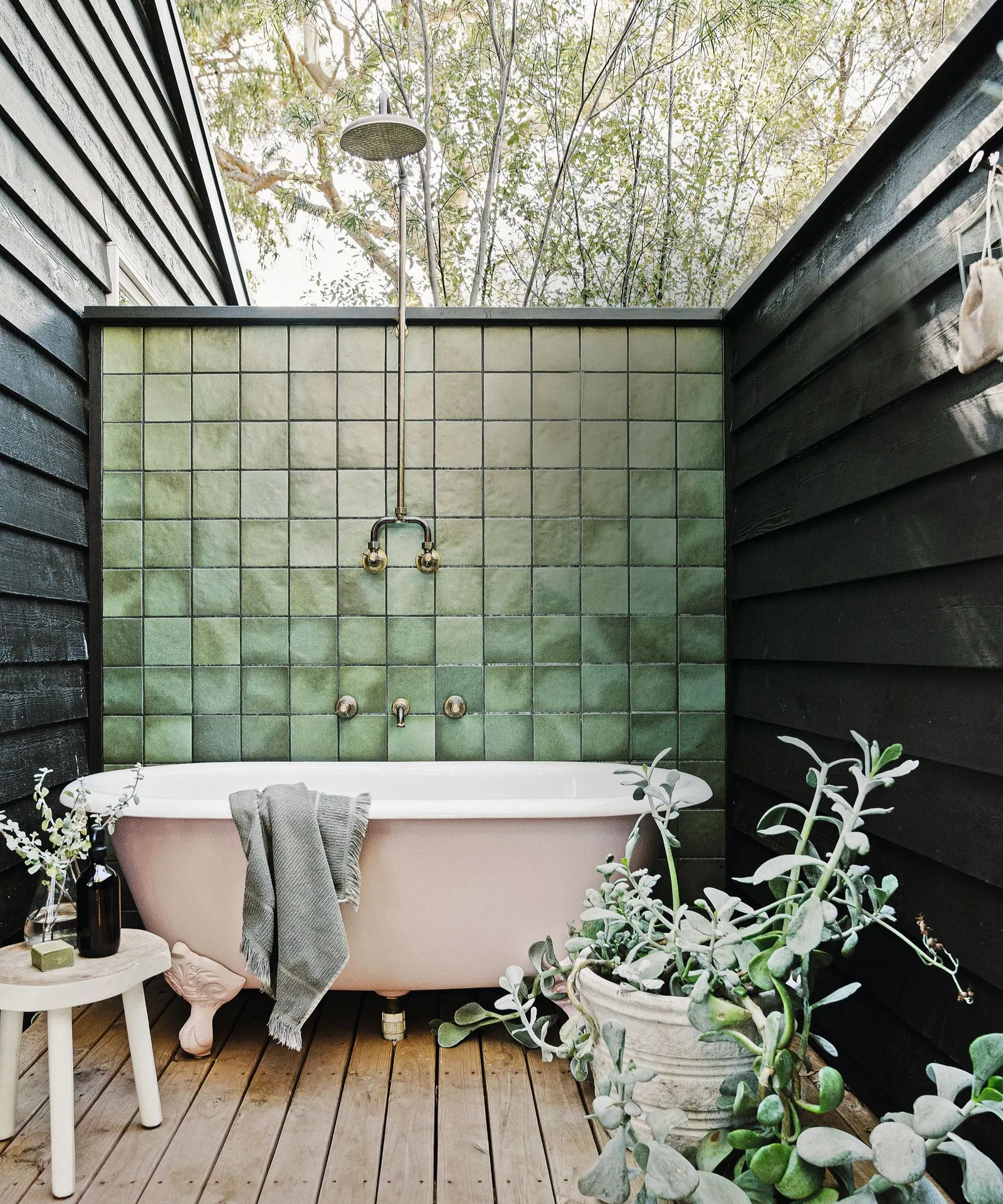 Create a refreshing paradise by installing a bathtub for the ultimate spa experience. We love the idea of sourcing a vintage claw-foot tub. Or choosing a modern tub to juxtapose nature's more organic outdoor setting.
16 — Corrugated Metal DIY Shower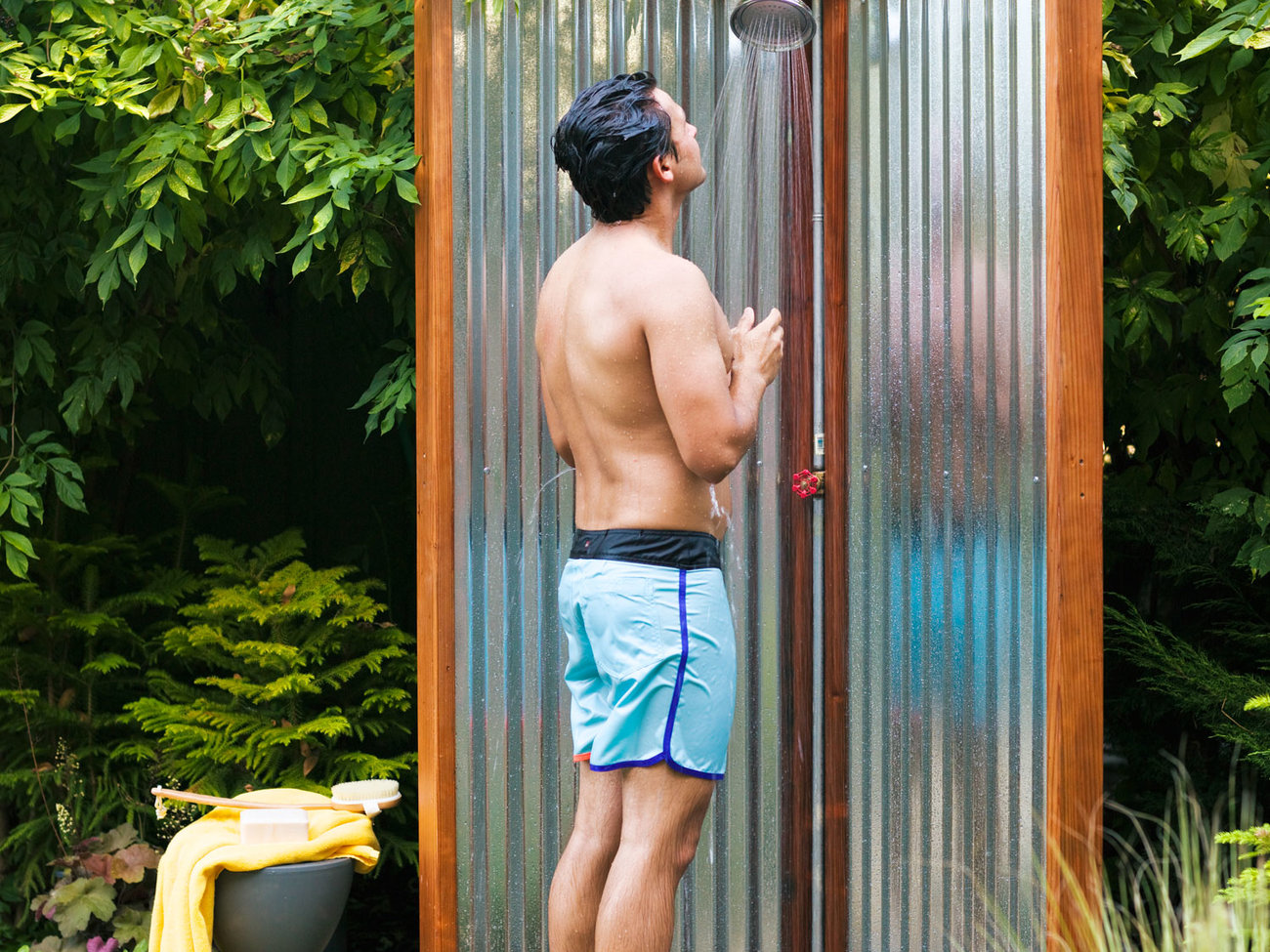 A weekend project, this corrugated metal shower requires no permits and little woodworking skills. It can be recreated in just 4 hours since it's basically three parts: 2 wing walls and a center pole with the plumbing attached.
17 — Oiled Eucalyptus Shower
This open-air shower features a hardwood slatted base crafted from sustainable Indonesian eucalyptus. There's also a handy shelf for your bar soap or a towel.
18 — Solar Outdoor Shower
There are many outdoor shower kits. We especially love the solar outdoor shower since it is energy saving. Unlike most outdoor shower designs that attach to a hose, you still can get cold and warm water.
Made of UV-resistant black plastic, this outdoor solar shower is stain and rust-resistant. It also features three shower heads at different levels. This is a great addition to a pool house!
19 — Pavestone & Pebble Floor Idea
Instead of a tiled shower floor, opt for pavers and/or landscape pebble rocks. It's more eco-friendly and budget friendly. They're perfect if you are using your outdoor shower simply for quick rinses.
Just make sure to use slip-resistant paving stones for safer showering. And elevating the floor is ideal so that the water properly drains back into your yard.
20 — Shutter Door Shower Idea
Window shutters make for a surprisingly unique shower idea, especially if you want privacy. You can then paint them for a gorgeous pop of color to your outdoor shower space.
Backyard Makeovers
For more design inspiration and DIY's, check out a few of our favorites below —