People are always curious if coming up with new ideas can be hard– and sometimes it is. But more often, my problem is coming up with about a million ideas that I never get the time to actually make. Some of that's for the best, haha.
This orange you glad party was thankfully one of the better ideas worth making, don't you think?! We dreamt up the concept a few months ago and added it to the summer entertaining list ASAP. A retro-inspired tablescape with massive amounts of color? Yes, please.
Luckily IZZE is one those brands I seriously love because they go along with my over-the-top ideas (like this tropical shoot from last year), and as a thank you, Jared single-handedly keeps them in business year-round with his extreme fizzy drink addiction, haha…It's always great when we creatively align with a brand so easily, and the IZZE Sparkling Clementine was obviously PERFECT for this shoot.

MY LATEST VIDEOS
I'm also happy to introduce some mocktails to this mix this time around after you all were raving about them in our reader survey, so let's hop to it!…
Side note: I'm obsessed with these black and white vinyl tiles! They're super easy to apply and I'm already thinking of all the other ways I can use them to transform spaces. Gimme all the adhesive vinyl…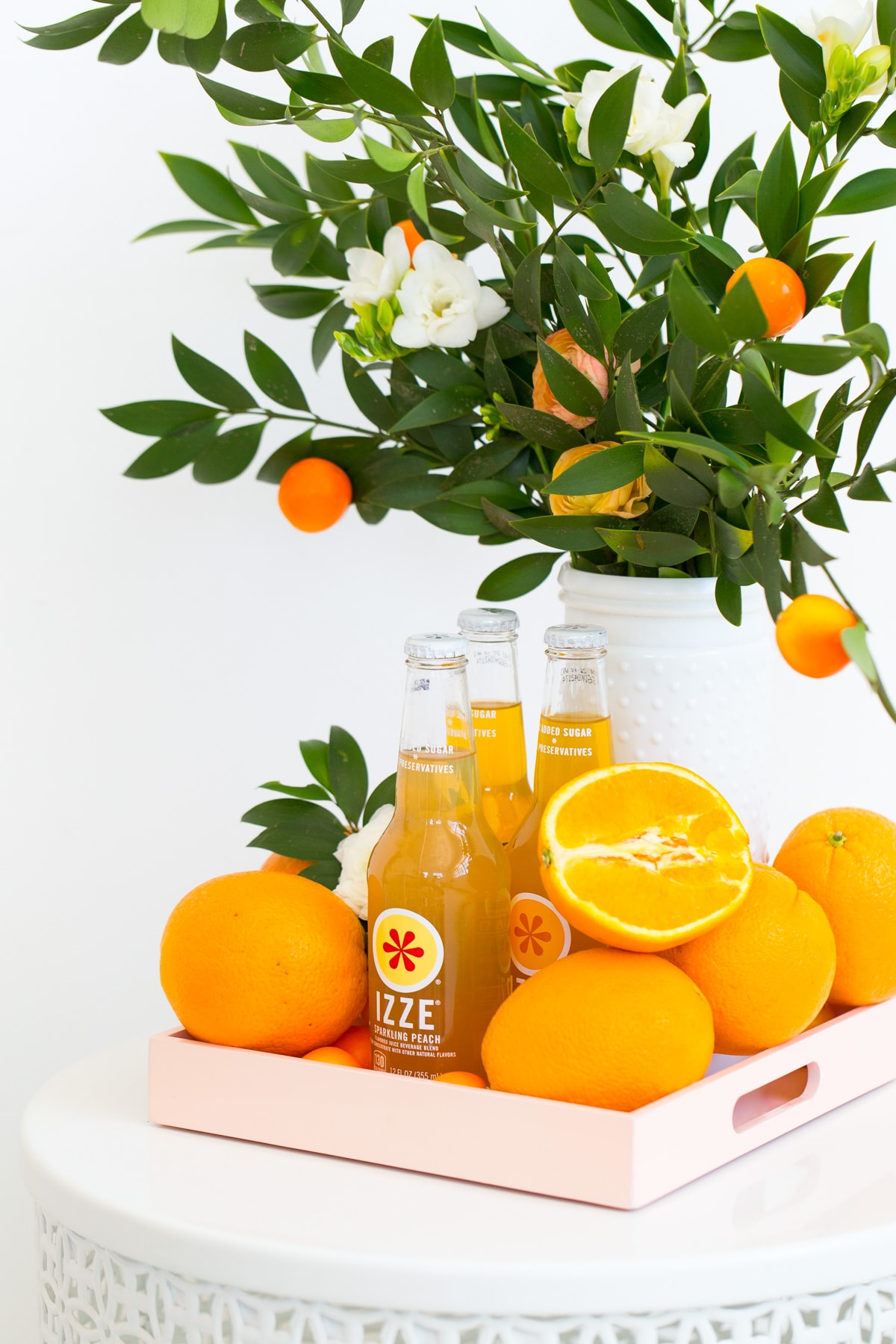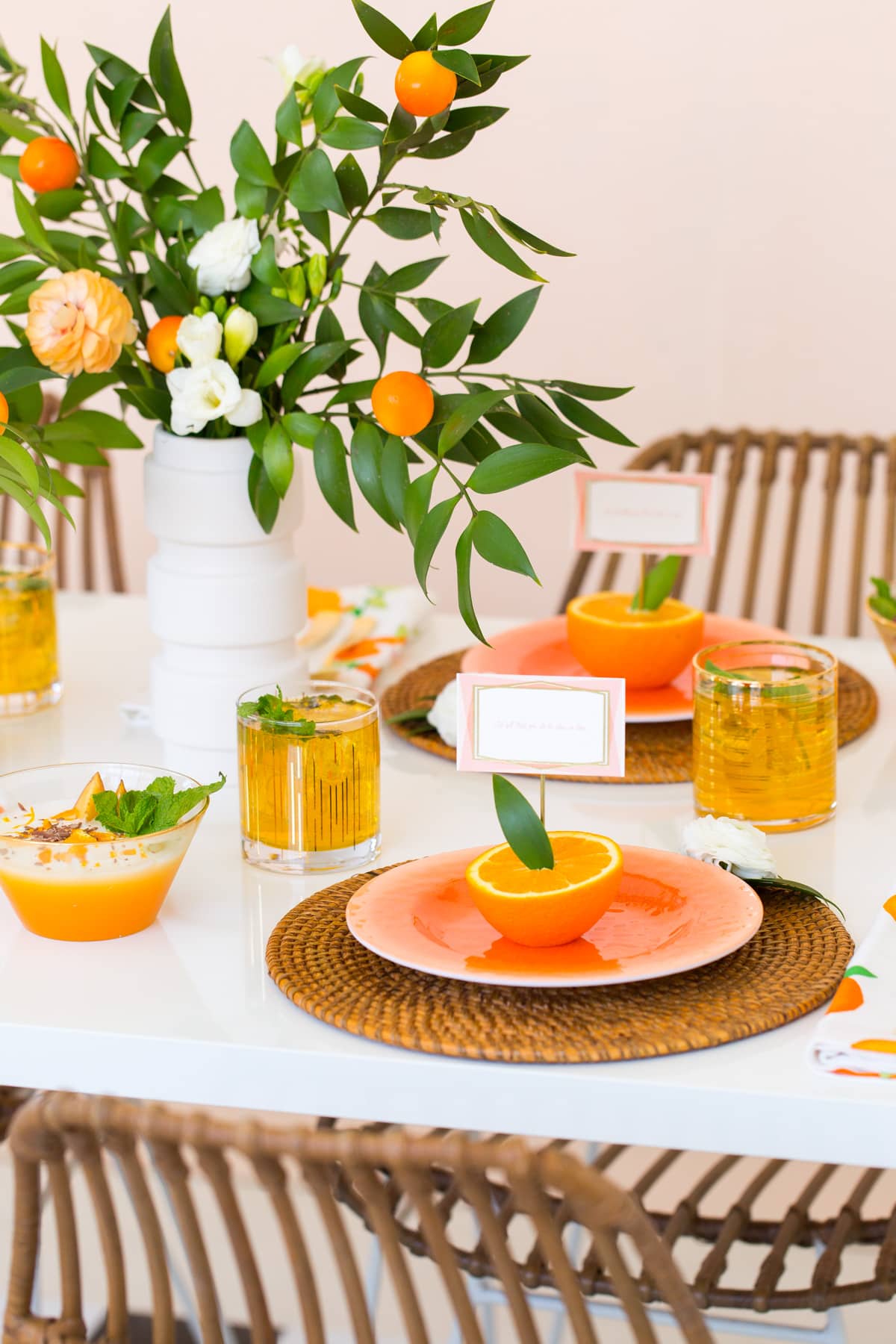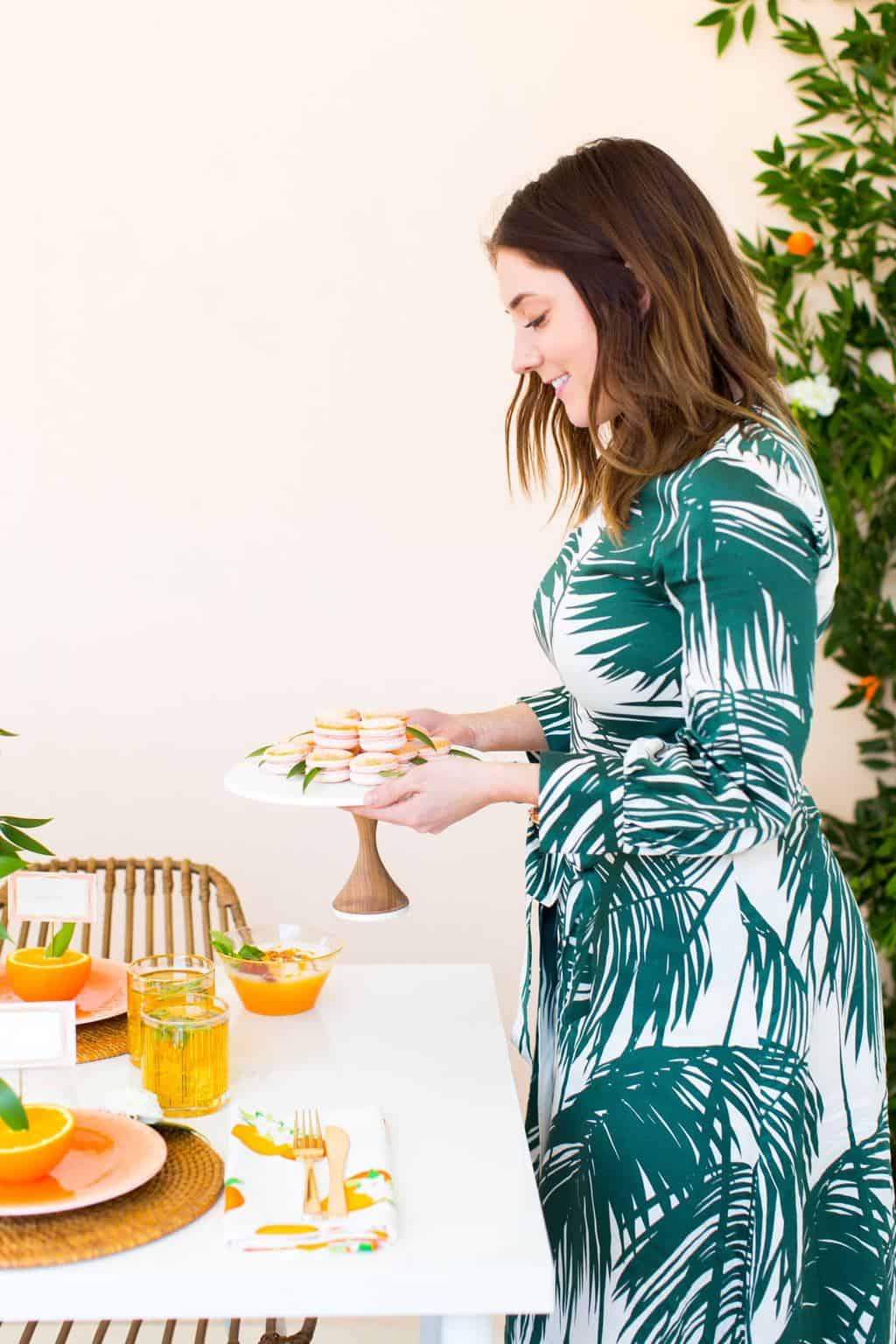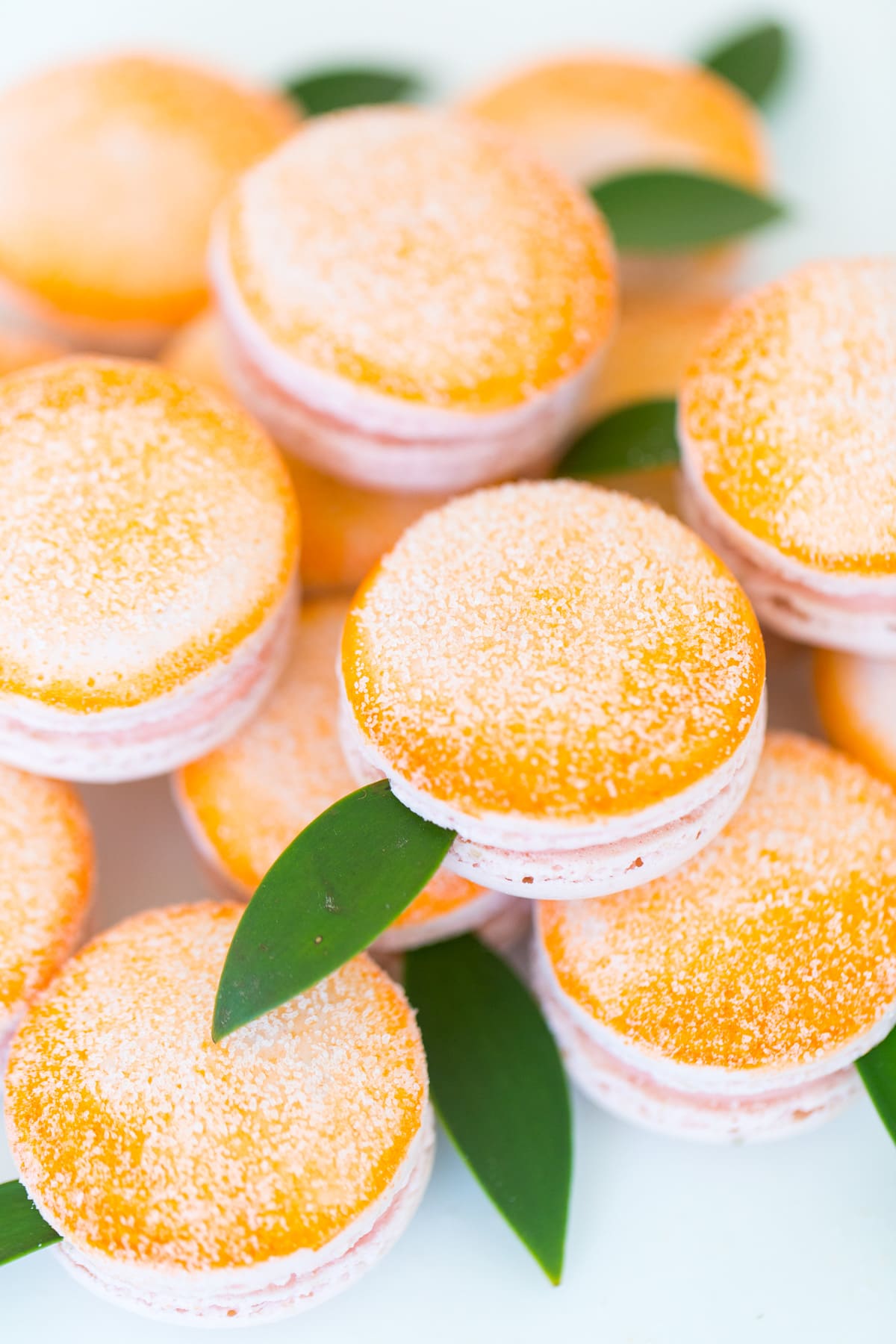 An orange you glad party was obviously the perfect excuse to whip up some of our infamous fruit macarons! I wanted to add something special, so I added a little extra orange gel food coloring and then brushed them with almond extract t0 dip them in sugar.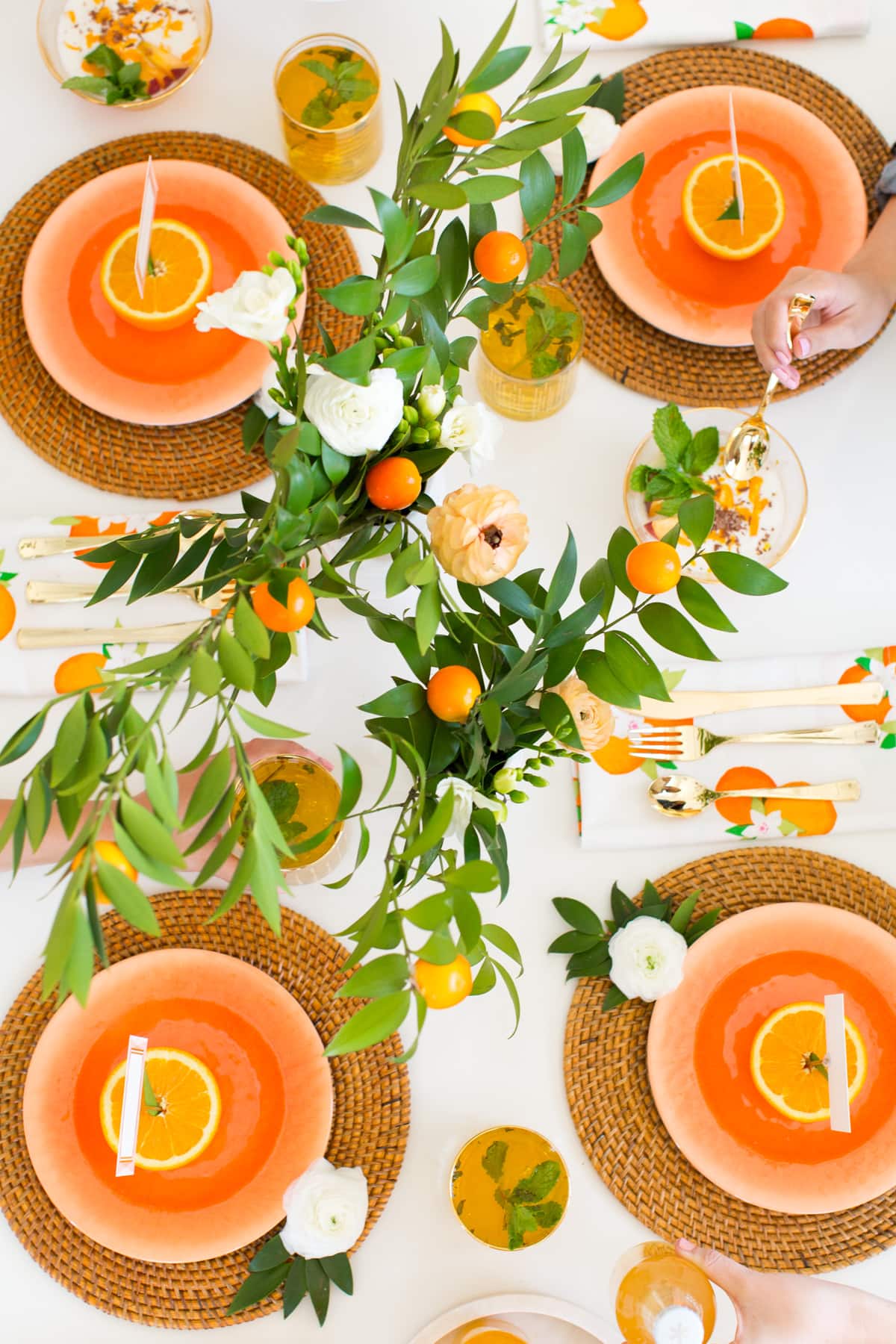 Somewhere along the way, I got it stuck in my head that we absolutely needed to include mandarin leaf sprigs in our floral arrangements. As my luck would have it, they are definitely NOT easy to source (and I'm pretty sure every Houston florist has now blocked my number.)
Still, I'm not one to give up on a good idea! We ended up ordering these fake guys and attached them to the fresh greenery ourselves with hot glue. At the end of the day, I really like how they came out, and no one was any the wiser.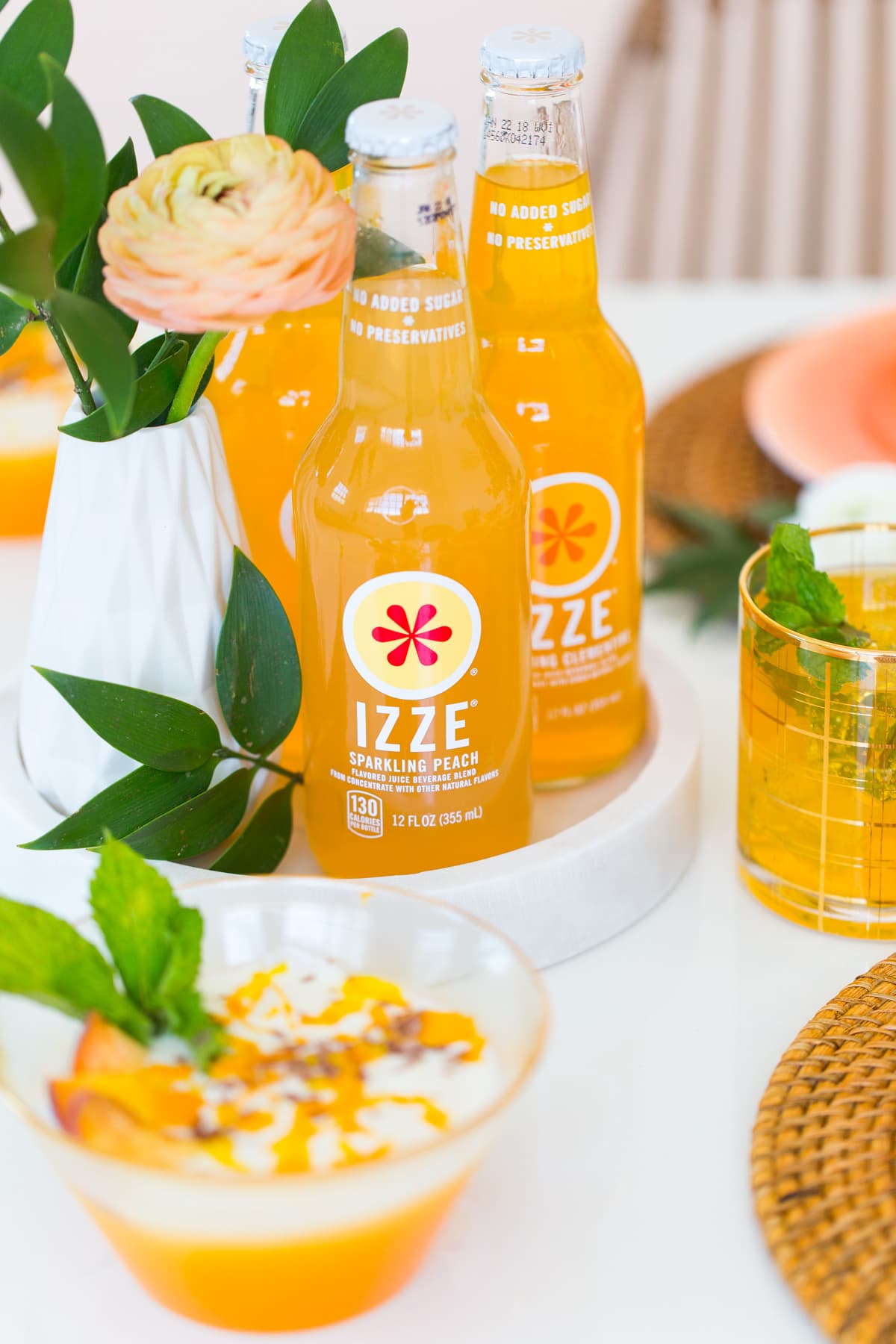 We also noticed that this year's reader survey requested more cocktails, so I whipped up this yummy Nojito based off of Jared's favorite IZZE flavor, Sparkling Clementine. Plus, it's as easy as adding a splash of rum if you wanted to make it alcoholic…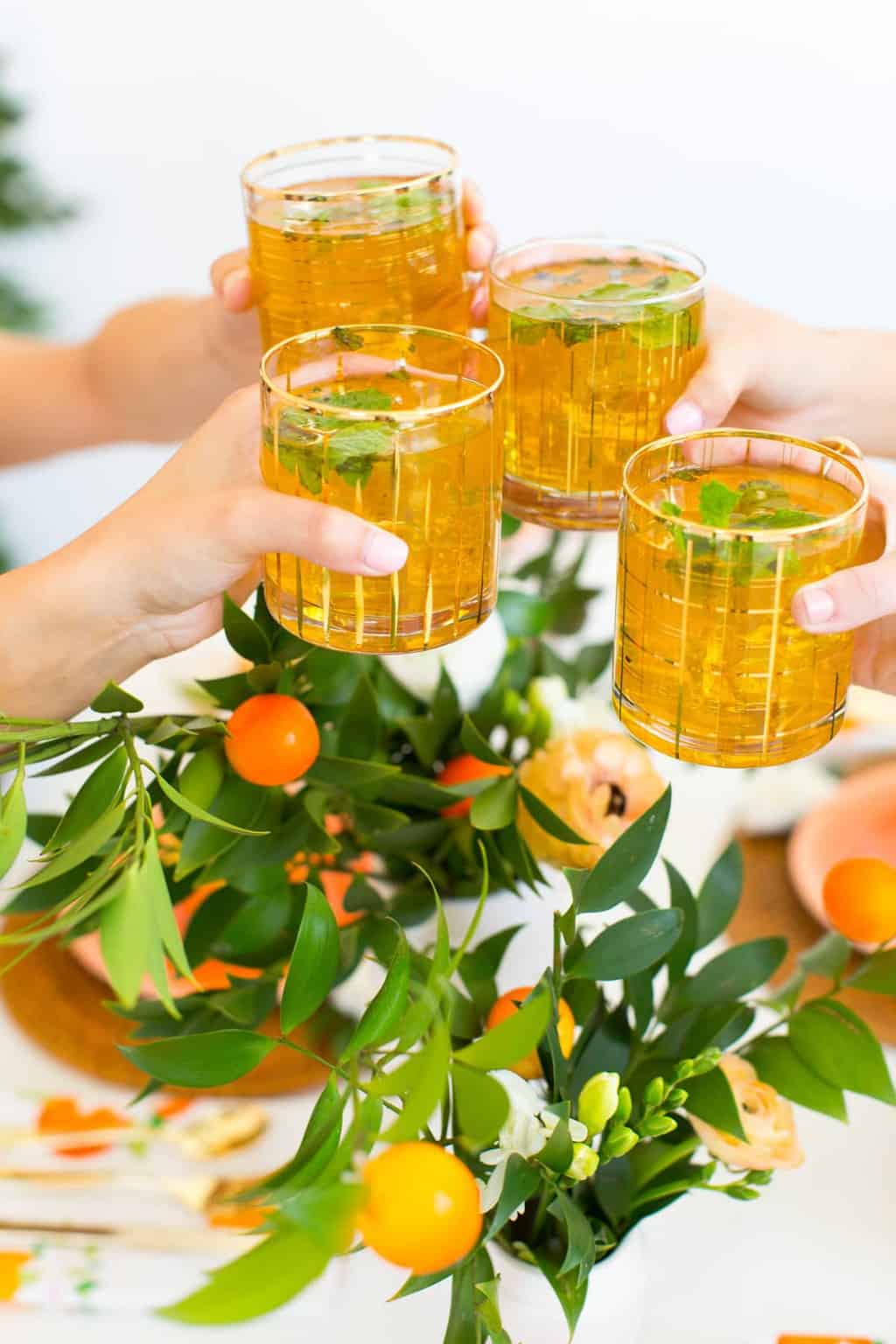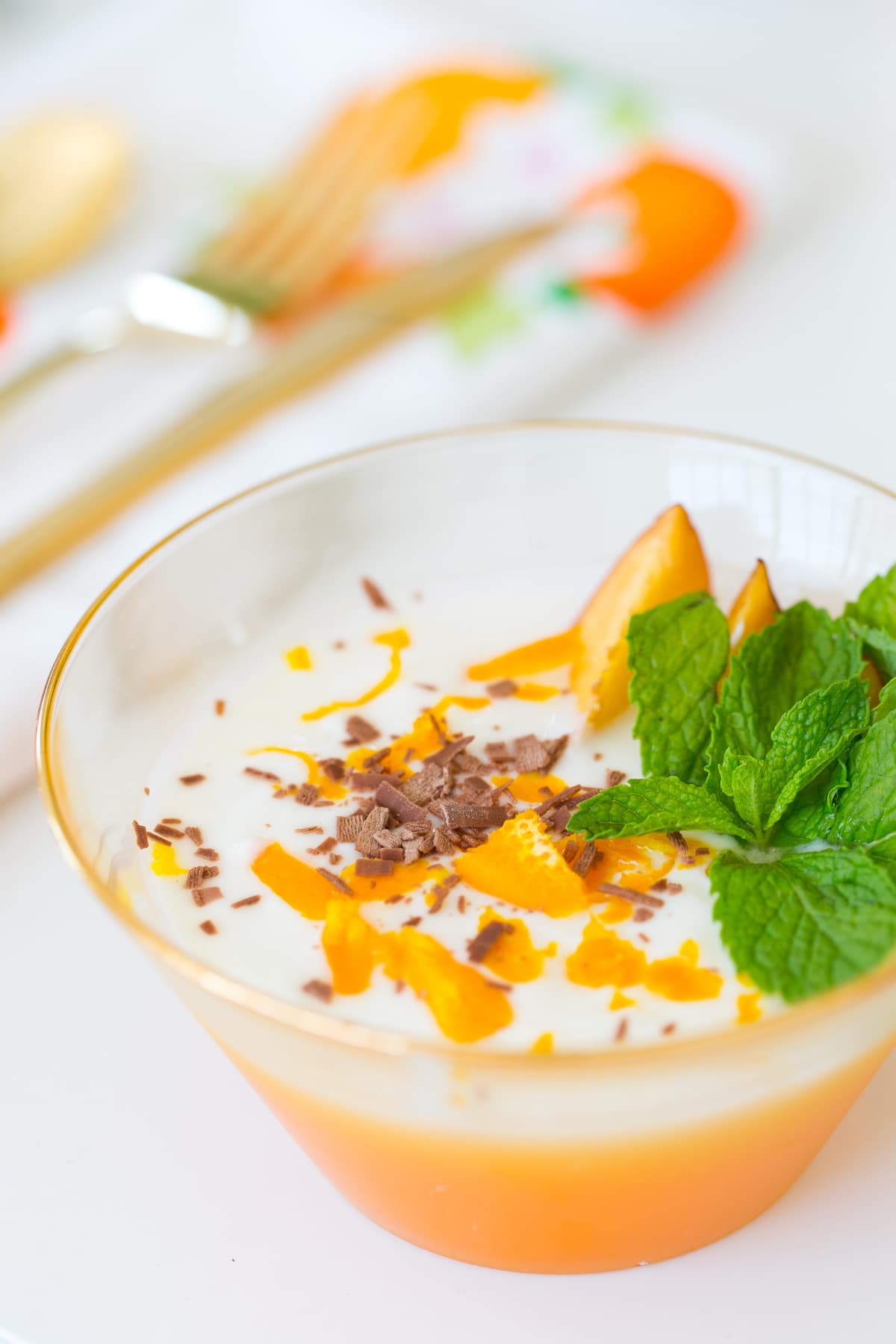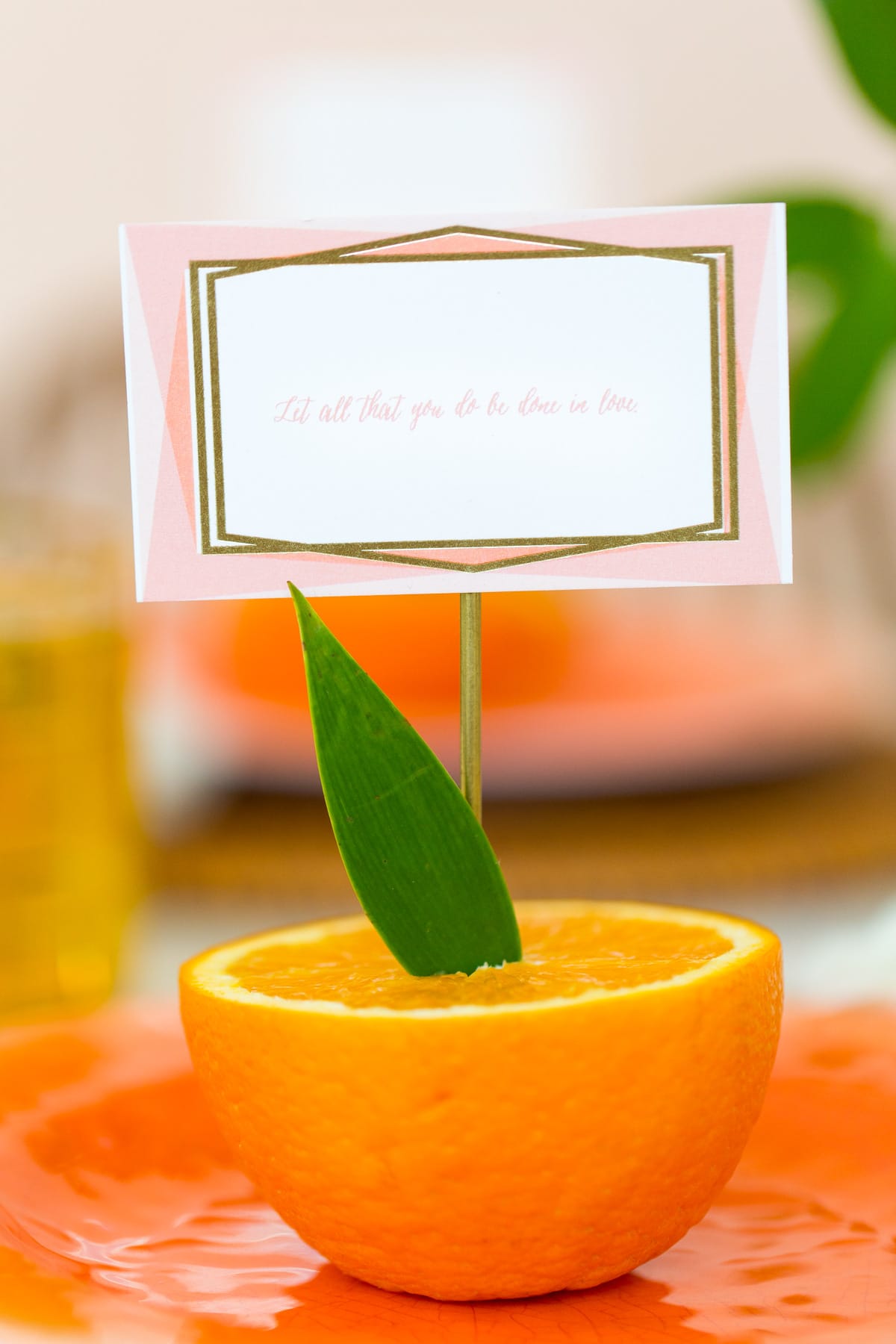 Full disclosure: these little notes were actually meant for Jared & I's destination wedding! With all the craziness of that day, they got lost in the shuffle and we never got to include them in the day's tablescape. I still love them and was determined to sneak them into something and they happened to be a perfect fit for the color scheme.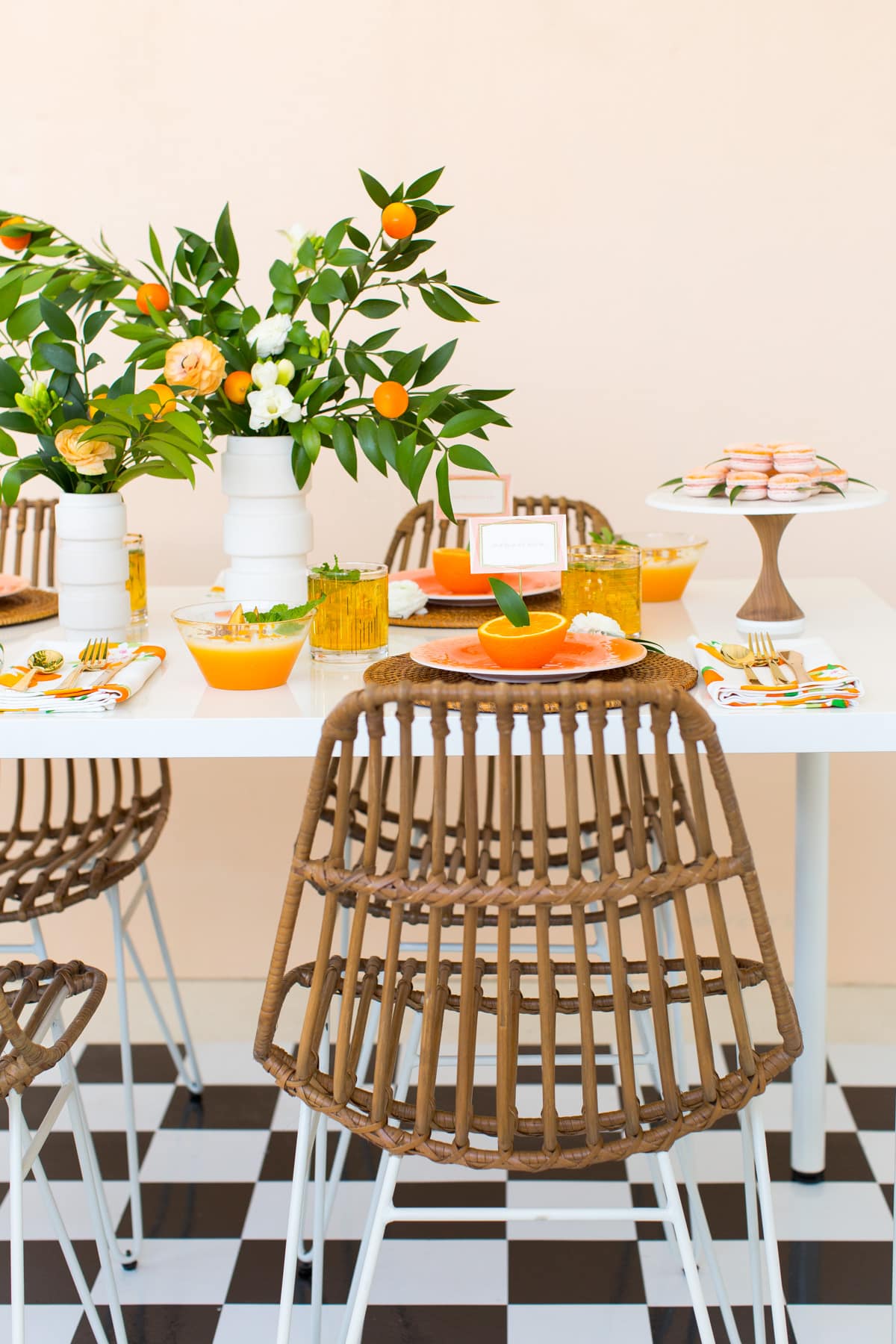 Do you have any fun summer entertaining ideas that you're dying to carry out? Would you host an orange you glad party?!
Thank you to IZZE for partnering with us on this post! Sugar & Cloth has chosen to donate 5% of all sponsored campaigns to charity, which you can read more about right here.
Kate Spade orange napkins / rattan placemats / blendo bowls / gold flatware / gold glassware / vases / crackle orange plates / wood cake stand / vinyl tile floor / chairs / artificial oranges / notecards / similar rattan bag here
SaveSave
This post may contain affiliate links which won't change your price but will share some commission using Shopstyle, Reward Style, and/or Amazon Associates.