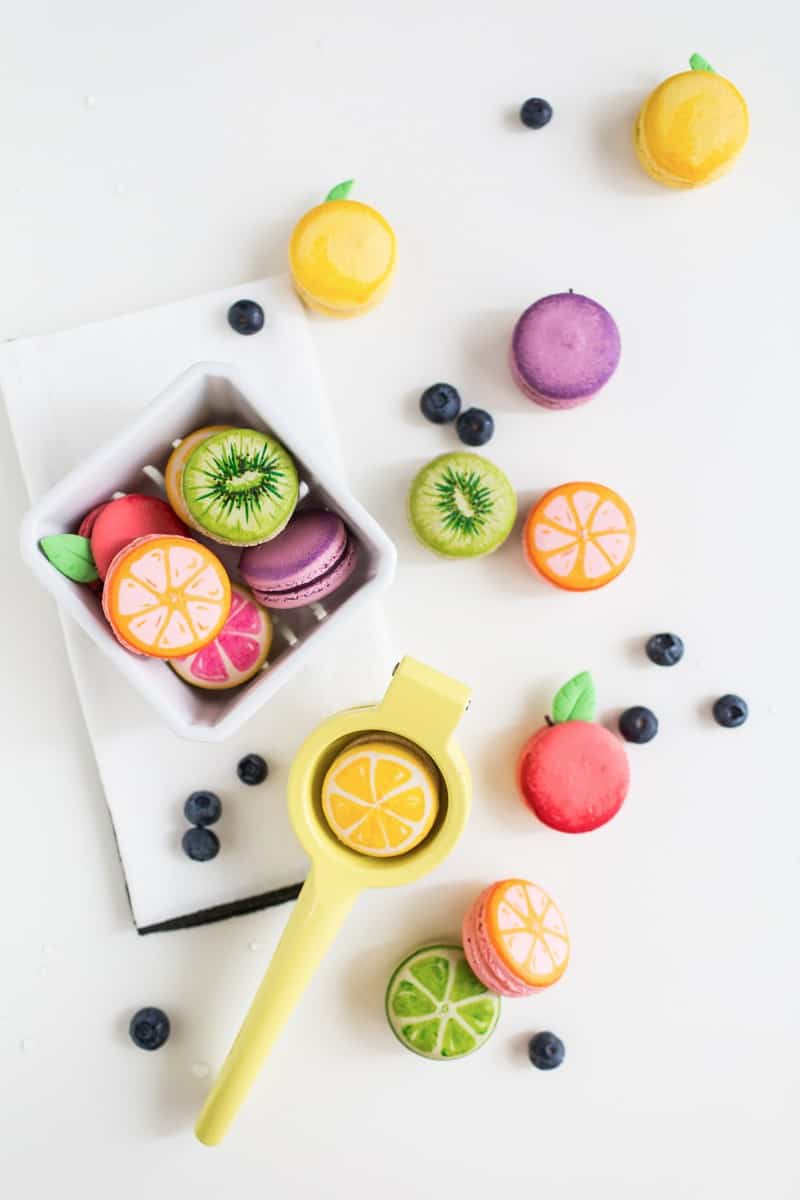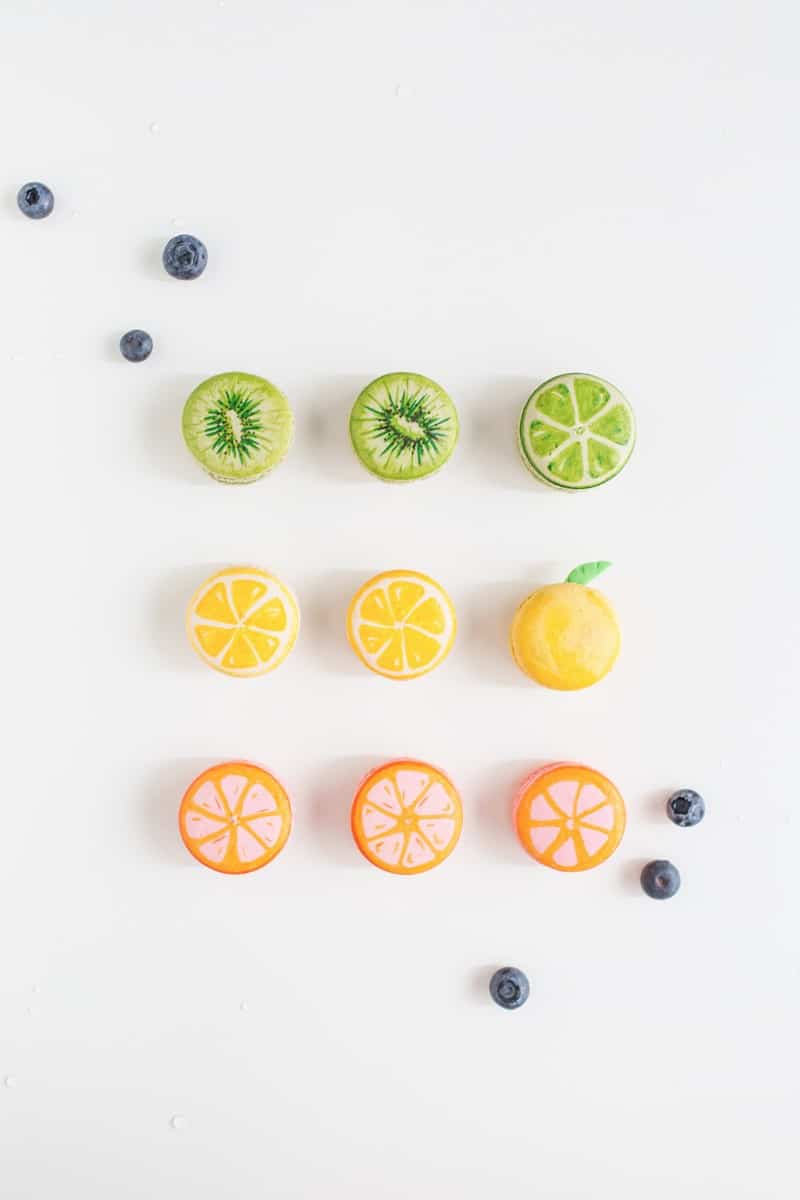 Yes, it's only been five days since I've last played with my food. This time I had a little encouragement though after a Friday morning meeting with Bite Macarons here in Houston, when naturally I left with two dozen colorful cookies that I used as inspiration for these DIY fruit macarons…
Seeing as how the fruit trend is still going full force and I'm surrounding myself with bad macaron influences, I decided I'd try my hand at a little fruit cookie action to make my college art career worthwhile. L
Luckily my career there wasn't super impressive and there's this magical thing called Amazon Prime that sells pre-made royal icing goodies, so these are sure to be do-able for the masses.
With all of this in mind, here's how to make fruit macarons to reignite your dying fruit basket, or kabob, or cake… I could go on.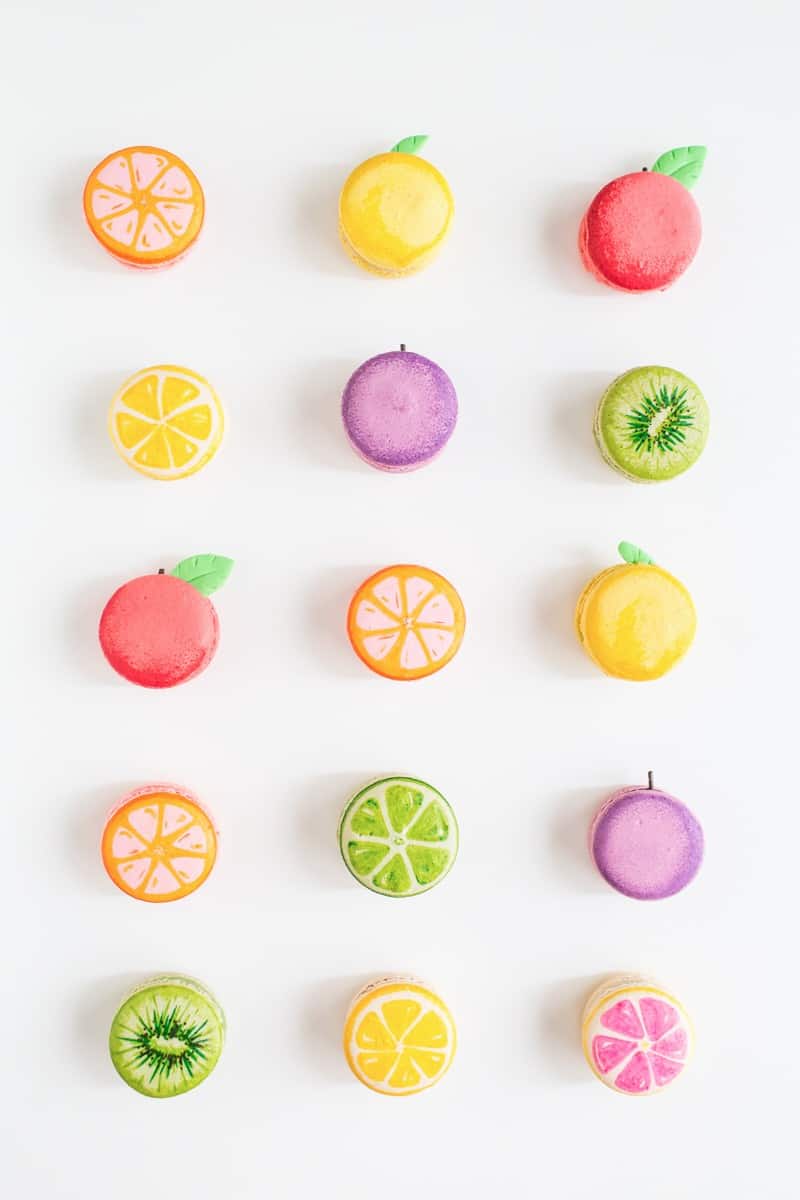 DIY Fruit Macaron | How to Draw on Macarons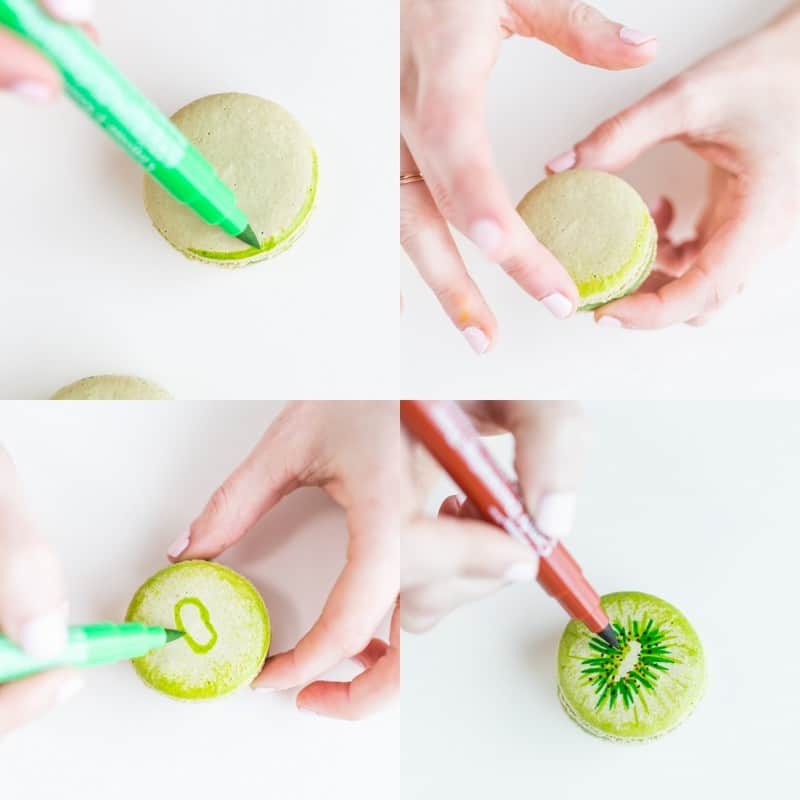 Most of the fruits are pretty simple to recreate so I won't bore you with every single step, but I'll show you how I made the kiwi since it's the most intricate.
First things first, draw a line around the edge of the top of a mint green cookie with a basic green marker, and then blend it towards the center with your finger before it dries.
Next, make a small oval in the center of the cookie with the same green, and start drawing thin, sporadic lines from the edges and outward. Repeat the lines with the darker green pen, and then make tiny dots with the brown and let it dry.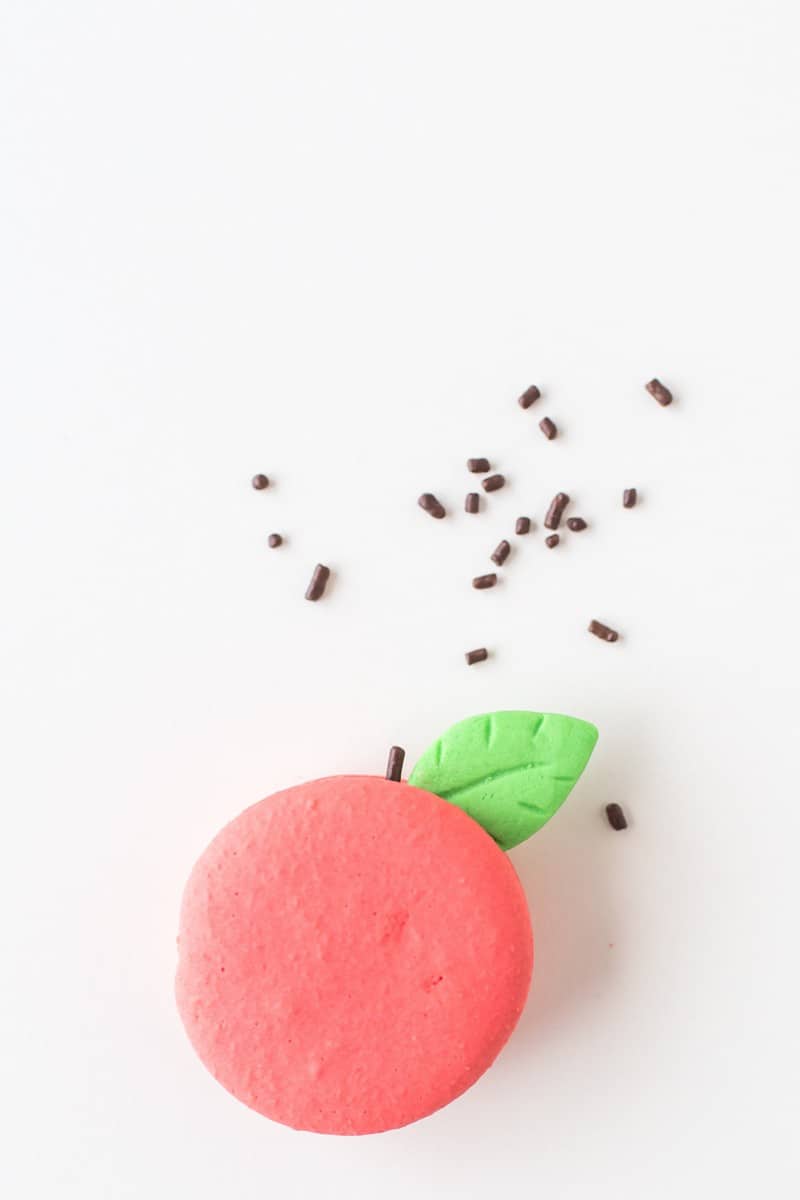 For the apples and grapes, I just used the same color marker as the cookie to shade around the edges for a little added umph and topped them off with a single chocolate sprinkle sticking into the creamy filling to act as the stem.
For the apple leaves, I just stuck a single royal icing leaf in the filling as well. I didn't want to make the whole lemon leaves quite as predominate, so I broke the royal icing leaf in half and only used one side.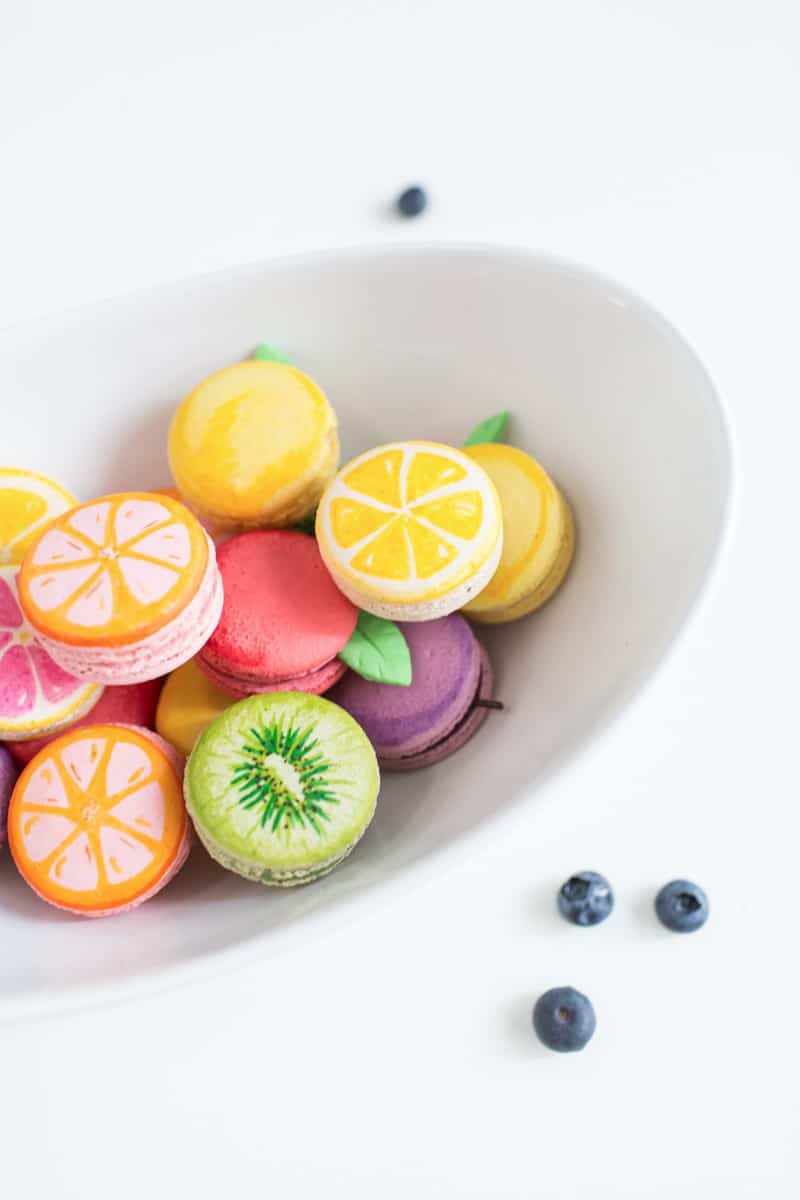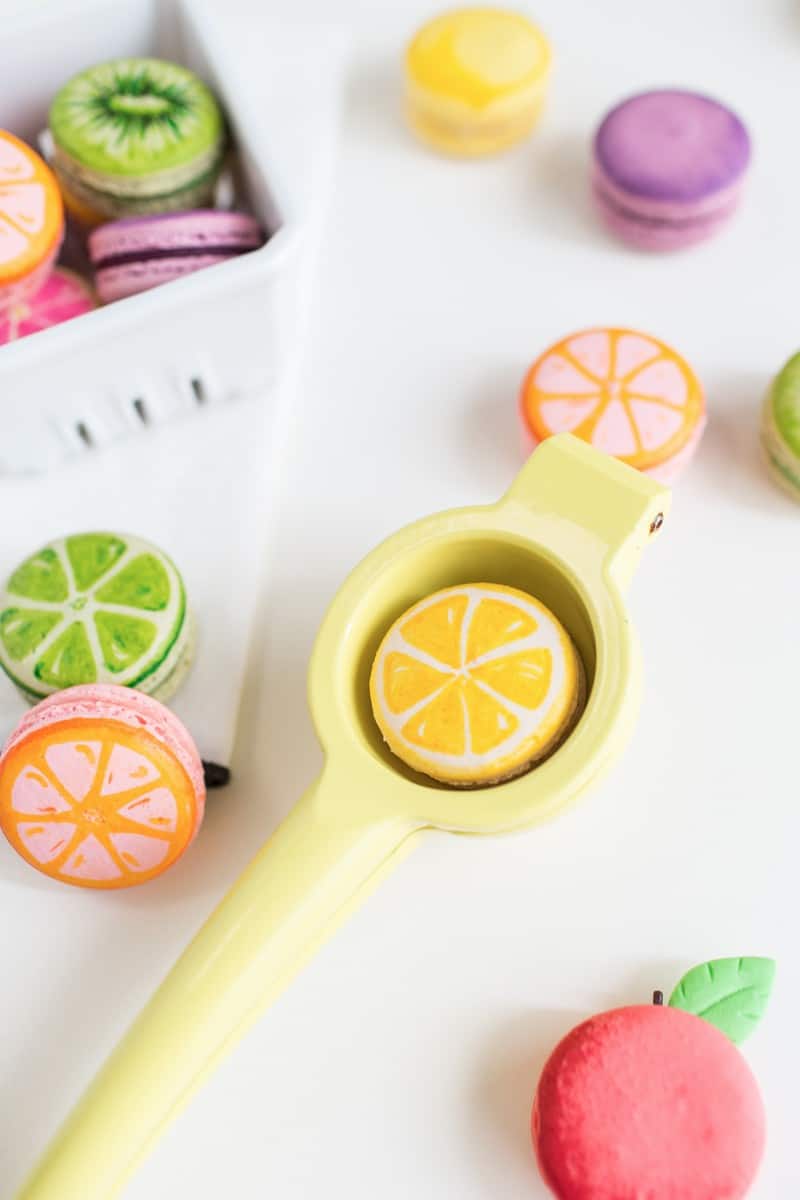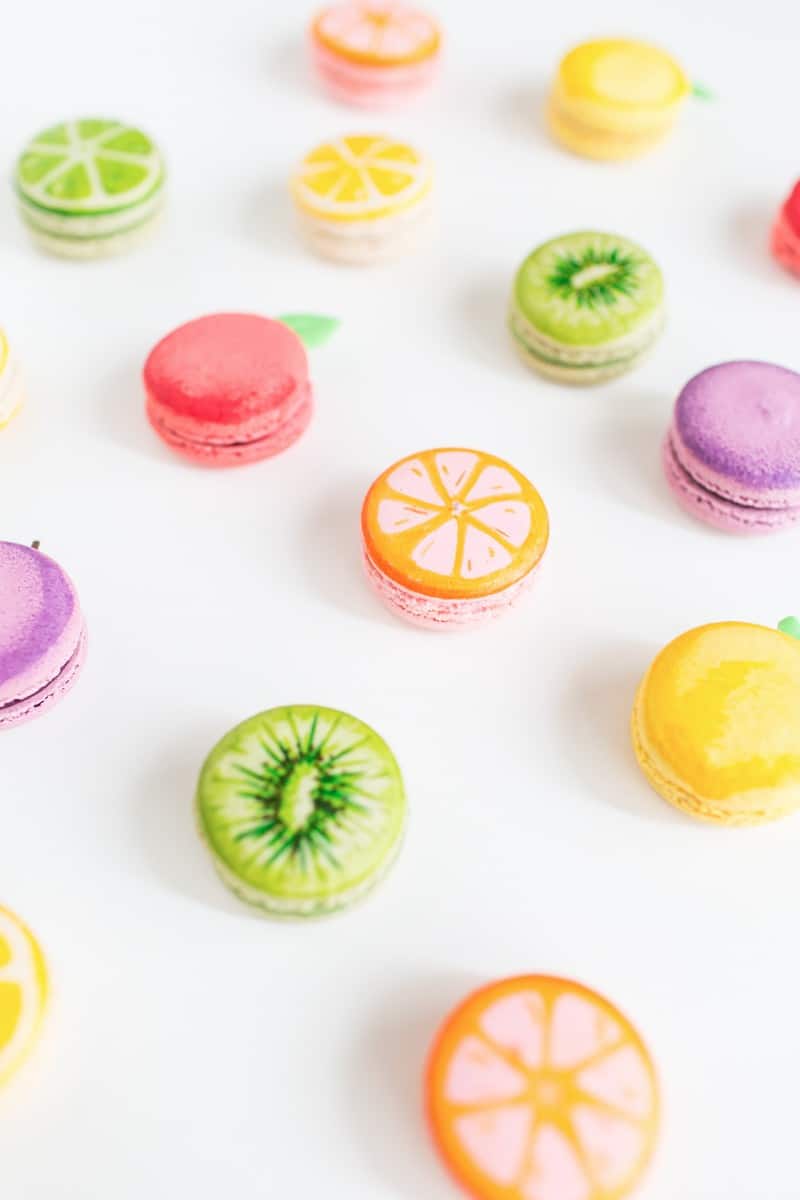 The rest are all about basic geometric shapes and mixing cookies and marker colors to get the look you're going for whether it's grapefruits made with pink macarons or lemons made with vanilla.
I really love the way they all turned out! Jared and I had a small debate about whether the apples look more like cherries or not, but we decided on the apple name.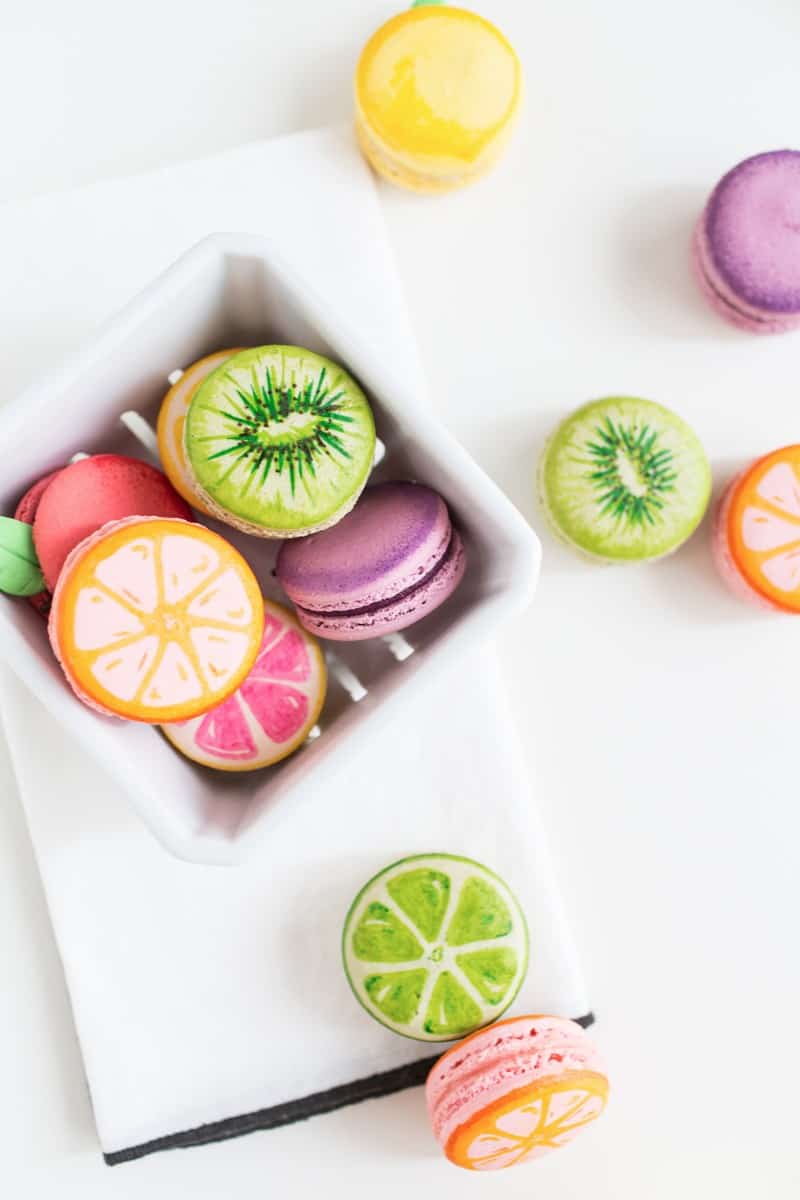 How To Store Macarons?
Macarons get notoriously gooey and overly crunchy if not stored properly. It's always best to store macarons in the refrigerator until just before you're ready to serve them.
Set them out and let them come to room temperature, then enjoy!
How Long Do Macarons Last?
If you've stored your macarons properly in the fridge, they'll last up to a week. Be sure that any fancy macarons that might contain fillings made from dairy or additional eggs are treated with a little extra care!
Wouldn't it be so cute to package these in pairs as guest favors with a little ribbon and paper leaf with guests names, or even as a clever way to recreate the "fruit" basket?
Everyone always says things are too cute to eat, but trust me, people will still eat these! And for those of you curious as to if the food markers change the taste of the macarons, I don't think so. Then again, I'm not exactly the most sophisticated of palates either.
If you're looking for more colorful macaron projects, see some of my favorites right here!