Nothing compares to laughing together with someone you love. We've compiled this list of funny Valentine's gifts for every relationship level and budget.
Valentine's Day is the ultimate time to showcase your adoration for those you hold close.
To really make them beam with joy, consider getting them an amusing gift that will lighten their hearts and bring out some giggles!
Nothing says "I love you" like making someone laugh.
So we gathered 24 of the funniest and most inventive LOL presents.
From humorous cards and gag gifts to novelty candy or chocolate goodies, silly socks, and amusing games, you're sure to find the ideal gift that will bring an ear-to-ear smile to your face.
We did the shopping so now you just have to worry about the pretty gift wrapping!
Funny Valentines Gifts
1 — Personalized Chocolate Message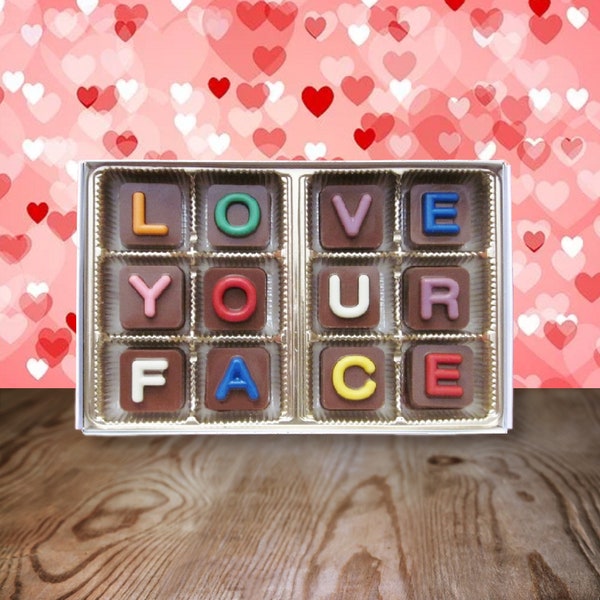 Capture your sense of humor with a cheeky message on personalized chocolates.
These handmade goodies come beautifully packaged if you're shipping them out as a long distance Valentine's Day gift.
2 — Couples Split Blanket
Sharing a bed with the one you love should be like an intimate slumber party, not a tug of war battle with the blanket.
Luckily, with the Couples Split Blanket, you can both have your own side of the bed while still staying cozy and getting warm together.
Whether you and your partner are indoors or outdoors, this humorous blanket will make snuggling up together more enjoyable than ever.
3 — Funny Valentine's Wine Label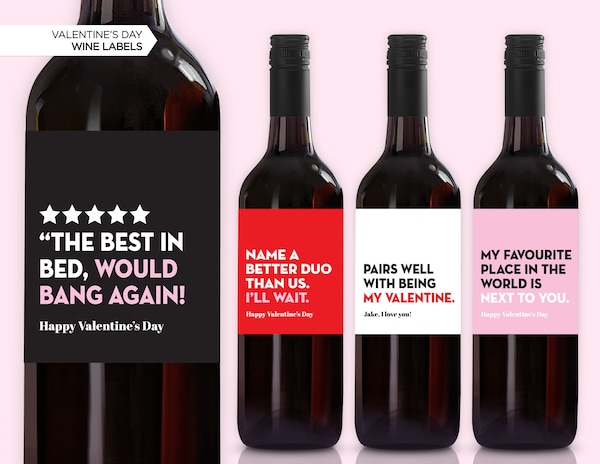 Gift them their favorite wine bottle (or two).
But put a funny twist on it with these funny wine labels.
4 — Custom Unisex Face Socks
These custom novelty face socks come in a variety of colors and styles.
You can even include a personalized message.
5 — Naughty Hammer
Funny Valentines Day gifts can be useful too.
Your handyman (or woman) will get a crack out of this naughty hammer.
6 — DIY Funny Printable Valentine's Cards
Surprise your sweetheart with these whimsical and vibrant Funny Printable DIY Valentine's Cards.
Even if you're not a creative type, these cards are easy to make and come with instructions.
You literally just print out the free template!
7 — Funny Naughty Men's Boxer Briefs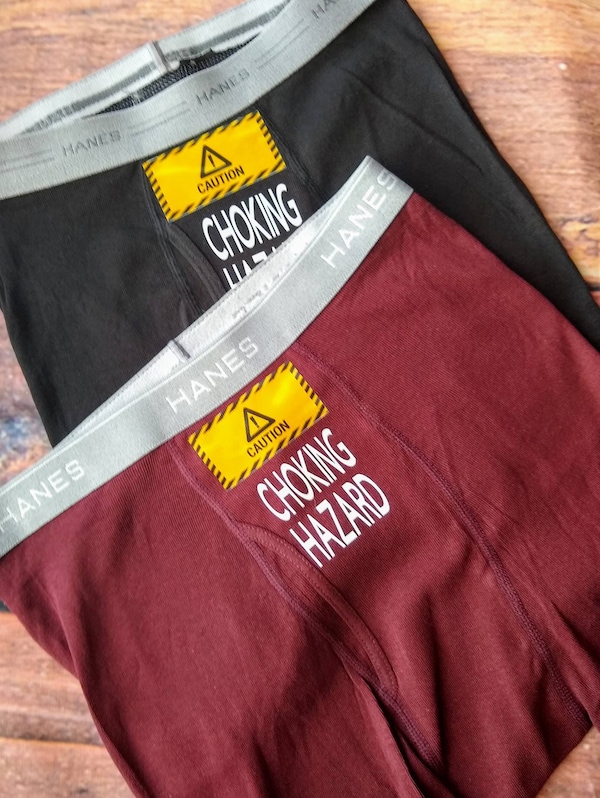 Make this Valentine's Day unforgettable with these humorous boxer briefs.
Made of high-quality fabric, they are soft and comfortable to wear… while the creative pattern keeps things interesting.
8 — Swipe Right Keychain
Found your significant other online?
Then, this Swipe Right keychain is a funny Valentines gift you must have for him or her.
9 — Personalized Mini Me Doll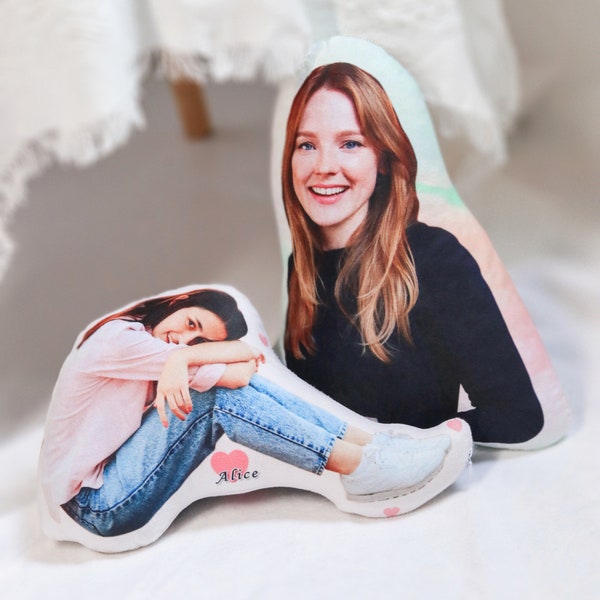 Make February 14th extra special for your beloved with a personalized mini me doll!
You can easily customize it to look just like them in a few clicks.
Simply submit a photo and a designer will do all the rendering.
It's a funny take on the girlfriend and boyfriend pillow.
Your loved one will have a token of you to take anywhere they go.
10 — Love Stinks Valentine's Printed Toilet Paper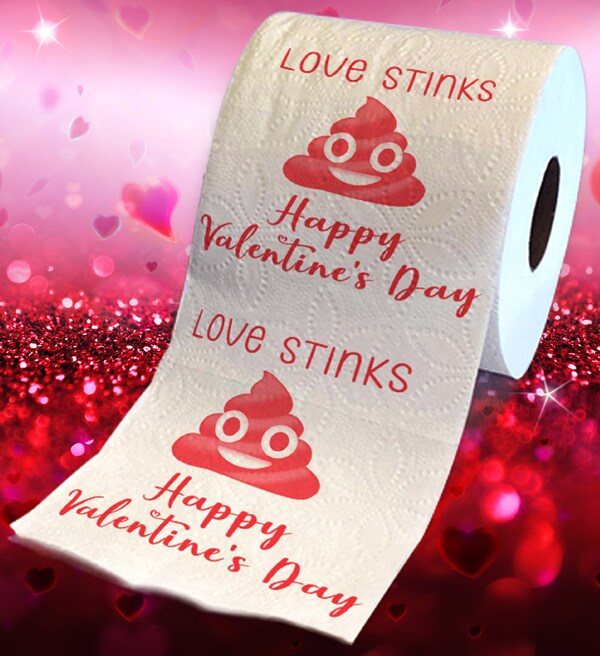 11 — Engraved Charcuterie Board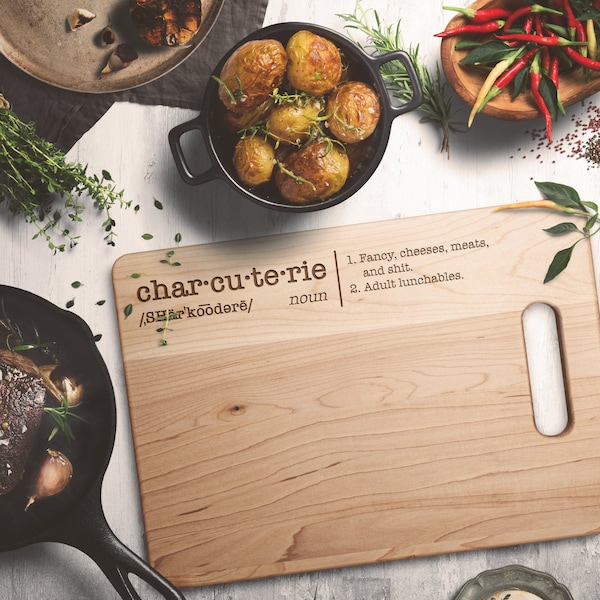 If your loved one loves to host fancy parties and has a sense of humor, then they'll get a laugh out of this engraved charcuterie board.
It's hand crafted from solid maple with a funny laser engraved message.
12 — Funny Candle
Light up their room with this funny Valentine's candle.
It may be brash, but it looks so pretty with its handmade ceramic jar and smells so good with its coconut vanilla scent.
13 — I Love You Boo Shirt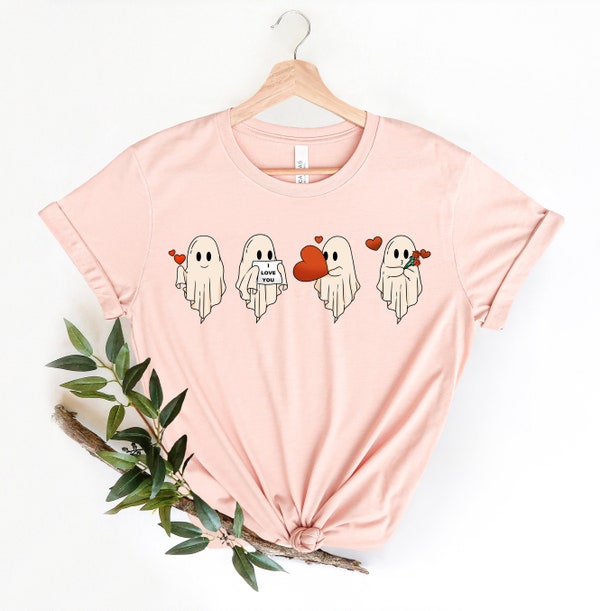 This cute unisex Valentine's Day shirt features a crewneck.
With lots of color options, choose your boo's favorite color.
14 — My Girlfriend is Hotter Than My Coffee Tumbler
Give your coffee-loving significant other a charming memento that they'll think of you every time they enjoy their morning brew.
This stylish and eye-catching hilarious travel coffee tumbler is another one of our favorite Valentines gifts.
This mug not only shows off his taken status in style but also keeps beverages warm throughout any adventure or commute.
15 — Wooden Condom Dispenser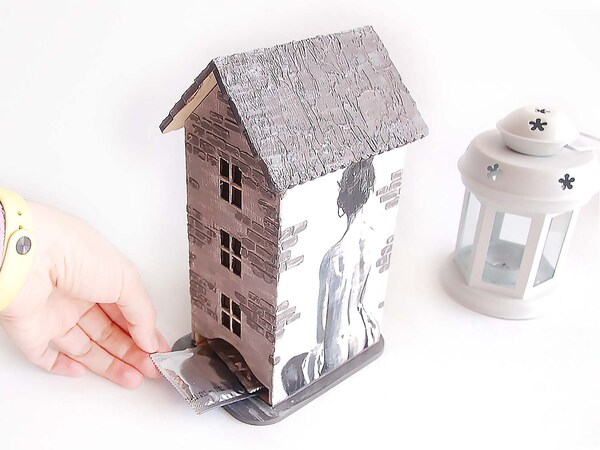 With a sense of humor and an Italian design, this wooden condom dispenser is the perfect way to celebrate your relationship's health.
This unique and stylish contraceptive holder is the ideal present to make your partner chuckle.
Not only is it an amusing bedroom decoration, but also a fantastic way to remind each other of safe sex practices every single time!
Make this handmade gift that will last for years and upgrade your love life.
This hilarious and thoughtful gift will never have a dull moment at home.
16 — Beef Jerky Flower Bouquet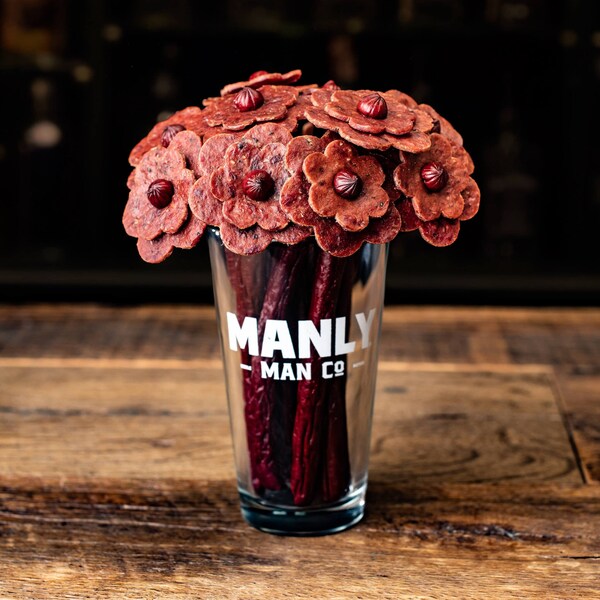 There are two sayings about love.
1) Laughter is the best medicine.
2) A way to a man's heart is his stomach.
You're in luck because this beef jerky flower bouquet does both.
Every bouquet is presented in a unique pint glass (perfect for his beer).
The jerky is also professionally arranged and sealed with oxygen absorbers for maximum freshness before being packaged in an attractive branded box.
17 — Boyfriend Pillow
Long-distance relationships can be grueling.
And we understand how hard it is to feel connected with your special someone.
That's why the Boyfriend Pillow was designed so you can always keep them close and experience their love whenever you're feeling lonely.
This pillow has a realistic male body-shaped silhouette along with one arm for cuddling purposes.
Plus, all you have to do is spray your partner's perfume or cologne onto the pillow if you would like an extra personal funny Valentines gifts touch.
18 — Tinder Nightmares Book
The Tinder Nightmares is a book filled with funny yet embarrassing online dating stories.
Get ready to laugh yourself silly as you read some of the most outrageous messages these brave souls have received while using dating platforms.
And after you both read about the zany world of online dating, you'll surely appreciate each other so much more.
19 — I Have A Heart On Boxers
Show your boyfriend how much you care with a pair of I Have A Heart On Boxers.
These undies are comfortable enough to lounge around in and bold enough to show your affection.
20 — Custom Handmade Belt