From stylish scrubs to personalized badge clips, shower the nurses in your life with these 45 best gifts for nurses.
May 6th is National Nurse Day. It's an annual day dedicated to nurses for all their tireless work and contributions to the healthcare industry. Nurses are typically the first medical professionals patients see, even before the doctors.
We have nurse family members and nurse friends. And we've had wonderful nurses care for us, our families and our friends. So we know firsthand that they really should be celebrated everyday.
And we also know what they would love and need. Show your appreciation for all that they do with these 45 thoughtful gifts for nurses.
Best Gifts for Nurses
1 — Stethoscope Necklace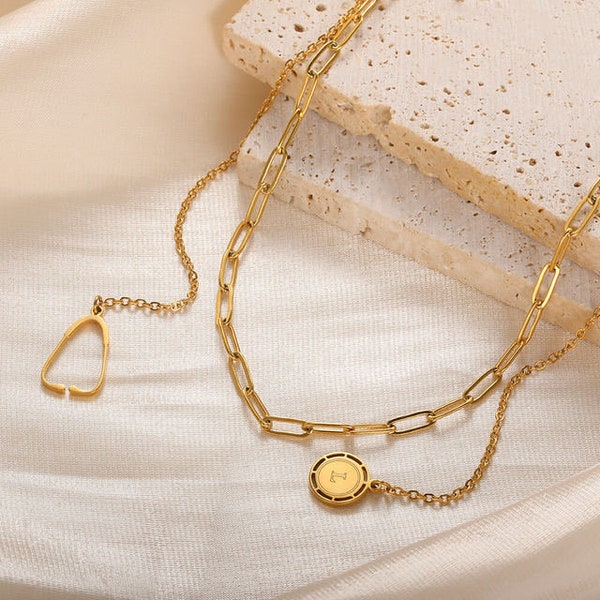 Surprise your favorite nurse with a stethoscope necklace. Choose from gold, rose gold or silver in varying lengths, and then, customize it with their initials. We love personalized gifts like this handmade piece since they're unique and one of a kind.
2 — Coffee Maker
For those long shifts, they'll need some good strong coffee to get them through the day. So gift them a coffee maker. This one has over 56,000+ rave reviews. You can set brew-time up to 24 hours ahead so that there's a fresh coffee right when you wake up.
3 — Foot Massager
Healthcare professionals are always on their feet. Help them relieve their aches and pain with a heated foot massager. It features 6 massage heads with 54 rotating massager nodes. It's also portable for at home or in-office or hospital use.
4 — Nurse Nutrition Water Bottle
Staying hydrated is key, especially when nurses are constantly out and about. Gift them with a nurse nutrition water bottle. It's leak proof, sweat proof, shatter free and BPA free.
5 — Nurse Appreciation Gift Box
Show your gratitude with a nurse appreciation gift box.
The gift set includes a tranquil lavender soy wax candle, peppermint-shea lip balm, lavender soap, rose petal bath bomb, orange bath bomb, heartfelt greeting card, and engraved wood heart with an inspirational message.
6 — Freezable Lunch Bag
Fold, freeze, pack and go with this PackIt lunch bag. The bag features non-toxic gels built into the walls so the entire bag freezes. Say goodbye to ice packs!
7 — Stylish Scrub Top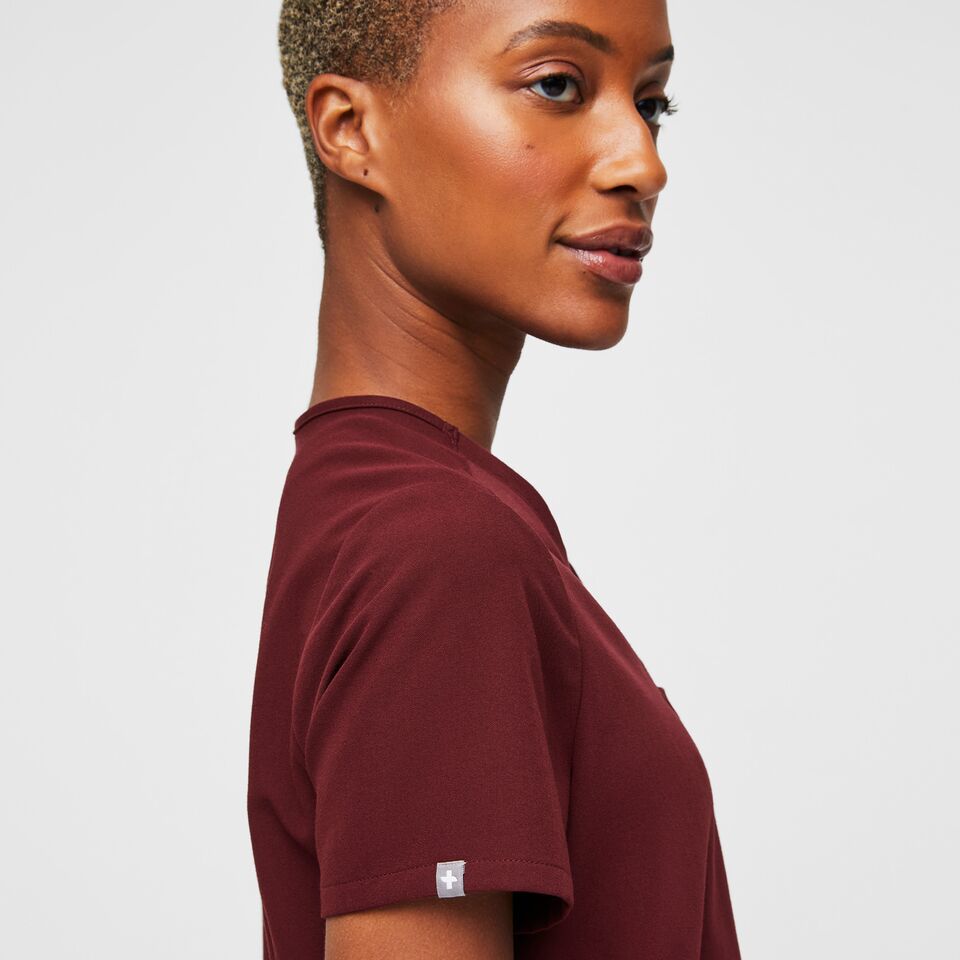 Since a nurse's everyday uniform is scrubs, this FIGS scrub top makes the perfect gift for their wardrobe. The FIGS Scrubs line is not only known for their stylish fits but also for their tech fabric. The scrubs are anti-odor, anti-static and anti-wrinkle.
8 — Stylish Scrub Pants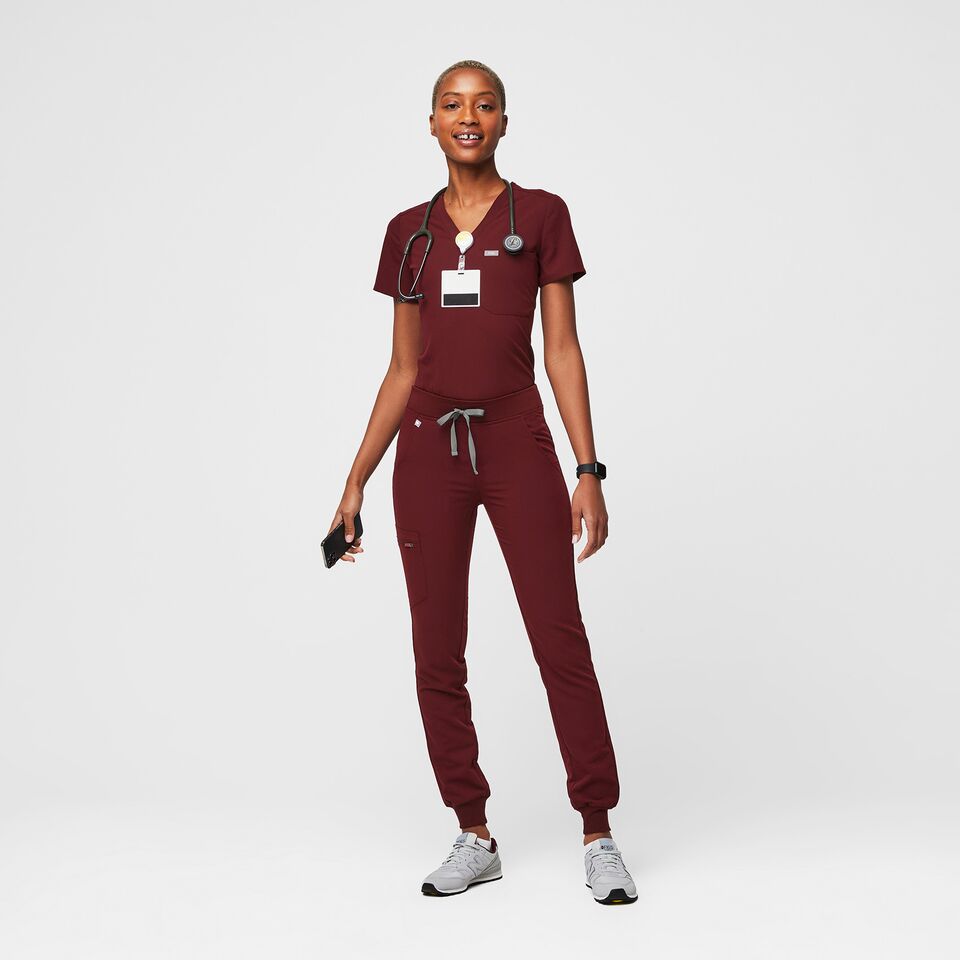 To complete the outfit, gift them with a pair of FIGS scrub pants. The Zamora joggers are slim fit and include six pockets and comfortable yoga waistband. Choose from over 20 colors. It's a thank you gift idea that will truly be used!
9 — Funny Badge Clip
10 — Compression Socks
Nurses are constantly on their feet. So compression socks make for great gifts that are practical. It'll get their blood circulation flowing while offering support.
11 — Diffuser
After a long work shift, an essential oils diffuser will surely set a relaxing mood. There are so many other benefits with a diffuser. Essential oils improve sleep, are a mood booster, reduce muscle tension and encourage better breathing.
You could also easily make your own homemade reed diffuser.
12 — Stethoscope
Graduating nurses, student nurses or even seasoned nurses could all use a stethoscope. And the Littman stethoscope has been the trusted brand since the 1960s.
13 — Stethoscope ID Tag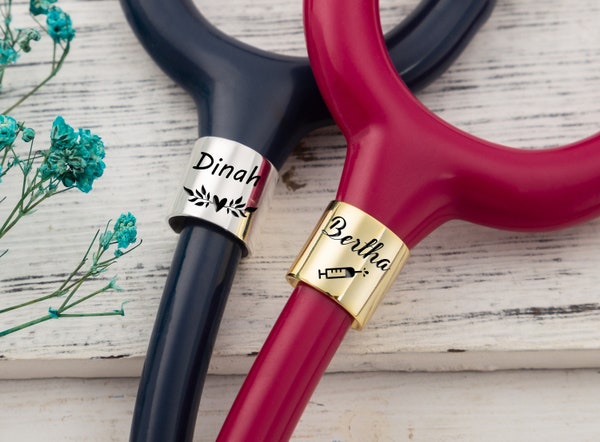 Dress up their stethoscope with a stethoscope ID tag made of hypoallergenic aluminum. Customize it with a name and pattern. There are so many options to choose from!
14 — Embroidered Scrub Cap
Scrub caps make for great gift ideas for nurses because it's part of their everyday attire.
But make it even more unique by getting one with their name embroidered and a unique icon of their specialization stitched on. The unisex scrub cap features a drawstring closure
15 — Appreciation Candle
Looking for something to give to your shift nurse after a medical stay? They'll love this nurse appreciation candle set. These soy wax aromatherapy candles will make a great addition to their home decor.
16 — Coffee Mug and Wine Tumbler Gift Set
For their daytime drink and their nighttime drink, gift them a Before Patients & After Patients coffee and wine set.
The funny coffee mug and stemless wine glass come in a gift box so all you need to do is creatively wrap it.
17 — Flowers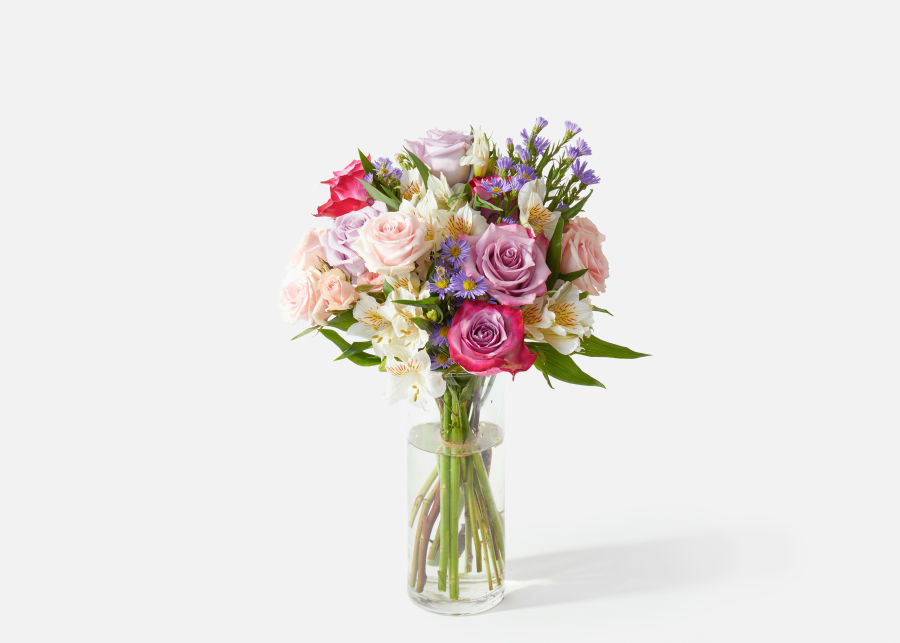 Whether it's for Nurse's Day, their birthday or just because, send them a delivery of fresh flowers.
18 — Coffee Gift Card
One thing that nurses always need and want is coffee. Gift them a Starbucks gift card when they are in a bind and unable to make their own cup of Joe.
19 — Scrub Jacket
Doctors offices and hospitals can be chilly. So your nurse would appreciate a lightweight jacket that they can easily throw on and off.
This moisture-wicking FIGS jacket features a mesh lining with back yoke vent for airflow and ventilation. Plus, you can even add personalized embroidery.
20 — Snack Care Package
Sometimes a day at work means skipping lunch or prolonging it. So send them a thoughtful snack care package. This box of sweet and salty snacks includes a variety of 50 goodies.
21 — Instant Pot
The Instant Pot is a lifesaver when you are too busy to cook. It's a pressure cooker, slow cooker rice cooker, yogurt maker, steamer, sauté pan and so much more.
From meatballs, pork loin, soups, beans, rice, poultry, yogurt, hot chocolate and desserts, there's endless things that you can make with the Instant Pot.
22 — Personalized Nurse Coffee Tumbler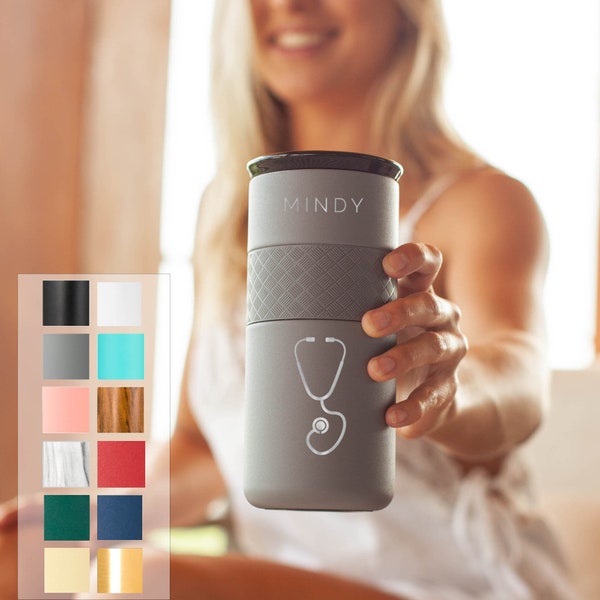 Keep their beverages insulated with a laser engraved personalized coffee tumbler.
The stainless steel tumbler features a ceramic lid and triple-wall copper insulation to keep your beverages hot up to 6 hours or cold up to 18 hours. The slim profile fits easily in a car's cup holder.
23 — Silk Eye Mask
Once you sleep with an eye mask, you'll always want to wear one at night. Constructed from 100% pure mulberry silk, this eye mask will give your nurse the best sleep.
It's a complete blackout sleeping mask that's especially perfect for night shift nurses. Covering your eyes while you're sleeping also protects your eyes and eyelashes and helps you avoid getting wrinkles. Silk eye covers also promote serotonin and collagen.
24 — Silicone Notes Wristband
Our labor and delivery nurse wore a silicone notes wristband, and we thought it was the most useful and creative thing!
Made of latex free medical grade silicone, the nurse bracelet is erasable and perfect for jotting down important vitals. It's also available in different color ways.
25 — Stoogle Blue Light Glasses
If they are not checking up on patients, they are probably in front of a screen inputting and updating data. Gift them with a pair of Stoogle Blue Light Glasses.
They're anti-fog and made of impact-resistant polycarbonate. Nurses love this particular brand due to its side and top shields. So it also serves as eye protection and a more stylish form of googles.
26 — Stackable Lunch Box
Nurses typically pack their own lunches so a stackable lunch box would be very useful. Made with food-grade, eco-friendly materials that are microwave, dishwasher, and freezer safe, we love that this lunch box is compact.
27 — Nurse Pen Set
Spoil your favorite nurse with a nurse pen set. This 10 piece collection features different sayings of appreciation.
28 — Personalized Nurse Scrubs Ornament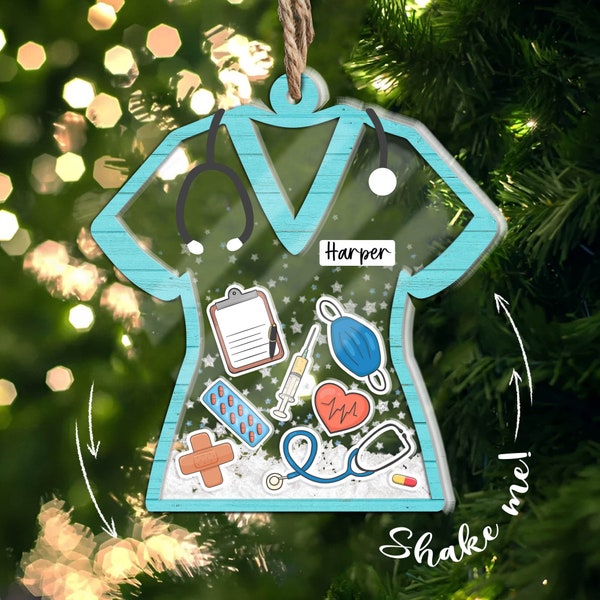 Hang this personalized nurse ornament on the Christmas tree or in the car. This handmade gift is surely a keepsake.
29 — Apple Watch
The Apple Watch is an all in one phone, health tracker, and fitness tracker. Nurses are always on the go so the watch can monitor their steps and vitals while they are busy monitoring it for others.
30 — Pin
Decorate their uniform with some fun brooch pins. This idea is especially perfect if you are looking for gifts for nurses who want to dress up their scrubs.
31 — Funny Off Duty Shirt
Gift your nurse with a funny Off Duty Shirt that actually works for any healthcare professional and first responder.
31 — Customized Whiskey Decanter Set
Choose a personalized text or their name to engrave onto this decanter and whiskey glasses set. For each decanter, a tree is also planted in the nurse's honor. It makes for a great bourbon gift idea for a whiskey loving nurse.
32 — Best Nurse Ever Planter
Express your gratitude with a Best Nurse Ever planter. It's perfect to gift along with a succulent. The planter contains a bottom drainage hole design to ensure air circulation for the plant.
33 — Nurse Throw Blanket
They'll love cozying up to a soft and fluffy nurse throw blanket.
34 — If You Can Read This Socks
One can never have too many socks, not even nurses. So they'll appreciate (and get a laugh) over these fun If You Can Read This Socks. They're unisex and come packaged in a lovely gift box.
35 — Badge Reel Holder
This badge reel holder set allows nurse to use their IDs without having to take it off their clip.
36 — Nurse Cosmetic Bag
Gift them with a nurse cosmetic bag. You can fill it up with lip balm, lotion and even a gift card, especially if it's a graduation gift for her. It's large enough to use as a mini bag to carry sunglasses, keys and a phone.
37 — Carrying Case for Travel Nurses
This stethoscope carrying case is perfect for traveling nurses and for all nurses to keep their stethoscope safe. The stethoscope is an expensive but necessary tool so they must be protected. The holder also includes slots for the accessories.
38 — Wine Gift Bag
After a very long shift, any nurse would surely appreciate a bottle of fine wine. Gift them with a wine bottle inside this nurse wine gift bag.
It's made of eco-friendly 100% natural cotton linen, and a lot more unique than a regular paper gift bag.
39 — Hoka Sneakers
Hoka sneakers are a popular footwear brand amongst nurses. They're also highly recommended by orthopedic doctors for their excellent foot support. And being that nurses are on their feet all the time, they'll surely love a pair of comfy industry shoes.
40 — Thank You Nurse Necklace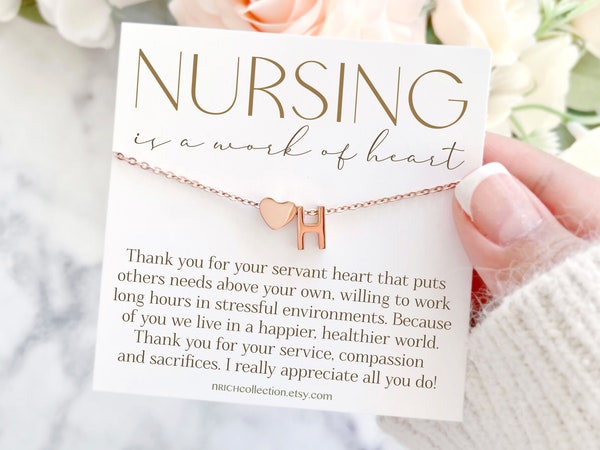 Thank your nurse with a rose gold plated dainty nurse necklace. It comes with a cardholder and a sweet appreciation message. You can then customize it with their name initial. It's truly a thoughtful gift that comes from the heart.
41 — Deep Tissue Massager
Allow them to work out their kinks and aches with a professional grade deep tissue massager.
The massager includes 10 different massage heads to target all different types of muscles. This handy device promotes proper blood circulation and relieves muscle soreness.
42 — Wireless Phone Charger & Sanitizer
Being that nurses are around germs all day, they'll probably want to sanitize their phone. There are a lot of sanitizers on the market, but we think the Lexon Oblio is the most stylish.
It discreetly kills 99.9% of harmful viruses and bacteria in 20 minutes while simultaneously charging your phone.
43 — Organic Shower Steamers
Self care gifts are always the way to go, especially for a nurse who may be too tired at the end of their shift. These organic essential oil steamers are perfect for those who need to relax but don't have time or are too tired for a bath.
Nurse Graduation Gifts
44 — Customized Milestone Wine Labels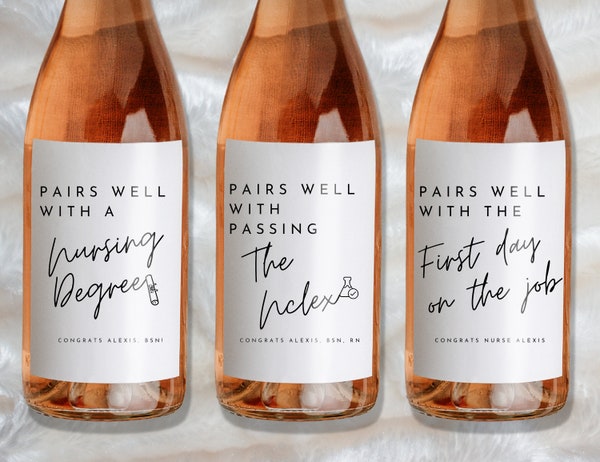 Graduating nursing school is a huge achievement that is fit for a big celebration. These congratulatory wine labels are a fun way to dress up wine bottles for a graduation party.
45 — Graduation Nurse Starter Gift Box
Gift your newly graduating nurse with a starter gift box that is also perfect for anyone starting their first day on the job.
Enclosed our socks to keep their feet warm, a coaster, and a funny nurse tumbler. There's also retractable nurse badge reel holders, inspiration key chain, wine gift bag and a card to write a personal message.
More Gift Ideas
Unique Gifts for Special Occasions