Say goodbye to bulky and boring bags. Discover the cutest, most practical and the best luggage for kids for all your family travels.
Traveling with kids can be hectic and stressful. But having the right luggage can make all the difference… especially if you want your kids more independent about carrying their own luggage so you're more hands-free.
From backpacks to rolling suitcases to kids luggage sets, there are a variety of options when it comes to finding the best luggage for kids.
And oh boy! It is overwhelming with all the choices and trying to decide which one is right for your child's needs! We can honestly say that it wasn't 5 years into parenthood did we actually truly know what are all the best kids luggage.
So we're exploring some of the top options on the market and provide recommendations based on factors such as durability, size, and ease of use.
Whether you're planning a family vacation that requires flying or just need something for weekend getaway road trips, we've got you covered with our guide to choosing the best luggage for kids.
Best Luggage for Kids
1 — Detachable Scooter Luggage
Our girls personally use and love the scooter luggage. And it's our top pick because now the kids carry their own luggage, which is a win for any parent! It's especially great for letting the kids burn some energy before they're cooped up in the plane.
An airline-approved carry-on, the scooter luggage can also detach to a separate scooter or separate suitcase.
Here's a video of the girls cruising around with them in the airport on the way to Beaches Turks & Caicos. The suitcase is ideal for children ages 4-15.
2 — Mini Logan Suitcase
For something stylish and sustainable, opt for the popular State Bags Mini Logan Suitcase. The suitcase features 360° degree spinner wheels, a kid-friendly adjustable trolley handle, and a back luggage sleeve to slip over parent's or older sibling's luggage.
However, our favorite detail is the side strap to hold a water bottle or stuffed animal. Recommended for children ages 3-5.
3 — Glow-in-the-Dark Spinner Luggage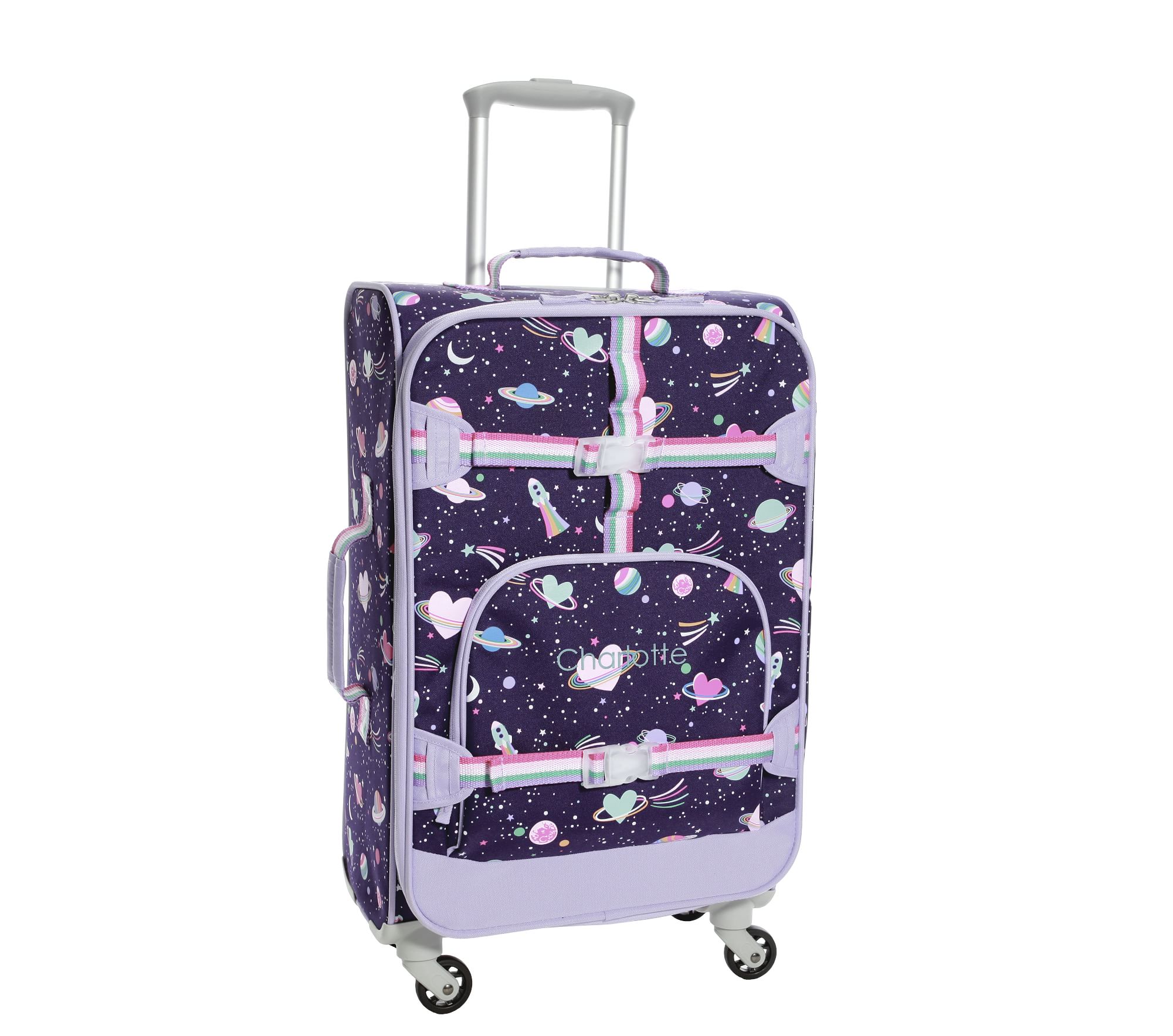 Little kids and big kids will surely be excited about this glow-in-the-dark spinner luggage from Pottery Barn Kids. Its glow lasts for approximately 3-4 hours.
Constructed from heavy duty water-resistant polyester, the suitcase was built to last. The glow-in-dark feature is also available in other fun patterns like Dino Bones and Star Wars.
And the best part about all of the Pottery Barn Kids luggage is that they can all be personalized and monogrammed.
4 — Kids' Disney Hardside Upright Luggage
The American Tourister Disney hardside luggage features in-line skate wheels. So all your child needs to do is pull their case along.
Then, the wheels will do the rest as they are made to effortlessly glide along even the bumpiest obstacles like grass and uneven surfaces.
Its hard shell upright design ensures that the suitcase never topples over. American Tourister has been producing travel gear for over 75 years so you know that you'll be getting high quality that is built to last.
There are many Disney characters to choose from including Elsa and Anna (if you happen to have Frozen obsessed fans like ours).
5 — Best Ride-On Suitcase for Toddler: JetKids by Stokke Bedbox
This ride-on scooter bed transforms from a suitcase into a bed in 5 simple steps. So your kids can get the first class experience by putting their legs up, which is especially ideal for international travel.
The included mattress is machine washable. And there's still plenty of storage room for their must-haves.
6 — Luggage Travel Seat
When your little one's feet are tired, the luggage seat ensures that you'll still make it to your destination.
The fully collapsible suitcase accessory attaches to your roller bag and converts it into a comfy seat. When not in use, it functions as an extra pocket. Safe for children 2 years and up with a weight limit of 50 pounds.
7 — Best Kids Travel Bag: Animal Activity Backpack
Keep kids engaged with an animal activity backpack, available in a monkey or unicorn style. The backpack folds into a travel toddler tray that can be used in a car seat or on the plane.
The 7 mesh pockets keep their belongings organized and secured. The compartments vary in size to hold their tablets, small toys, crayons and more. There's even a built-in cup holder.
8 — Disney Hardside Luggage with Spinner Wheels
The Disney hardside luggage differs from the above mentioned upright luggage by being larger (at 20-28 inches). Thus, they're more ideal suitcases for 10 year olds and up. But you still get the same quality and durability from the American Tourister line.
9 — World's First Built-In Connectable Luggage Set
Can't locate a luggage cart? You won't need one with this innovative connecting suitcase set. Its patented design allows for your luggages to stack together for easy navigating.
You can even link up to 6 suitcases for the whole family! The smallest suitcase is perfect for your kids.
10 — Ombre Spinner Luggage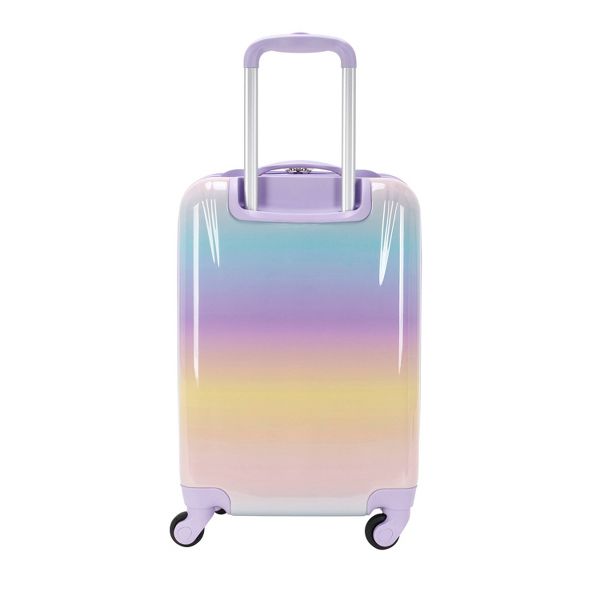 Let them travel in style with this ombre spinner luggage. The hardside suitcase features 4 recessed spinner wheels, double zipper closure, telescoping handle and straps to keep everything neatly organized.
11 — Tie Dye Logan Suitcase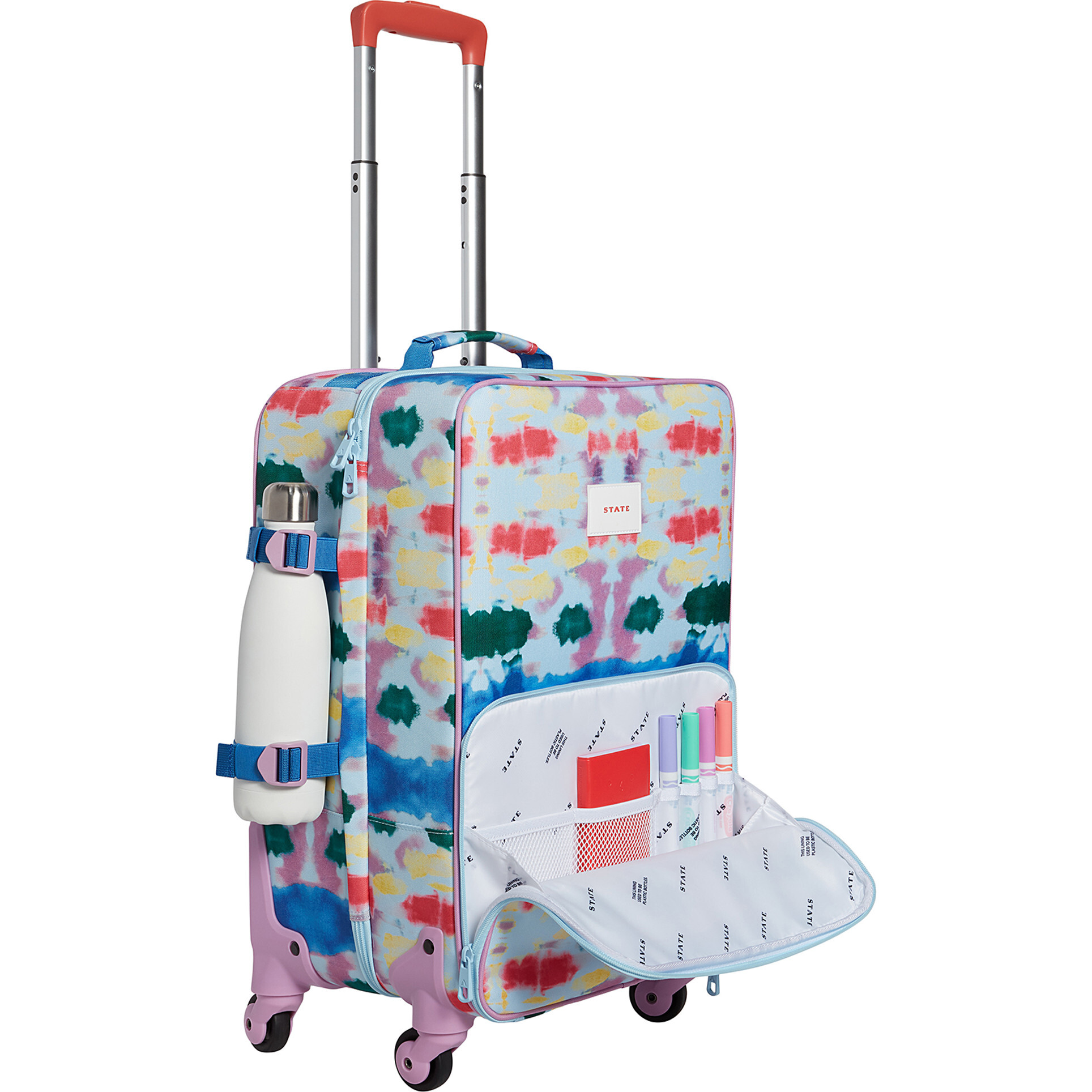 Add to your kid's tie dye collection a States Bag Tie Dye Logan Luggage. Because what kid isn't obsessed with tie dye?!?
The Logan Suitcase still includes all of the features of the Mini Suitcase. You still get the side strap to hold a water bottle or stuffed animal and the mesh front compartment.
But this one is larger and can even hold a laptop. Recommended for children ages 6-10.
12 — Construction Truck Luggage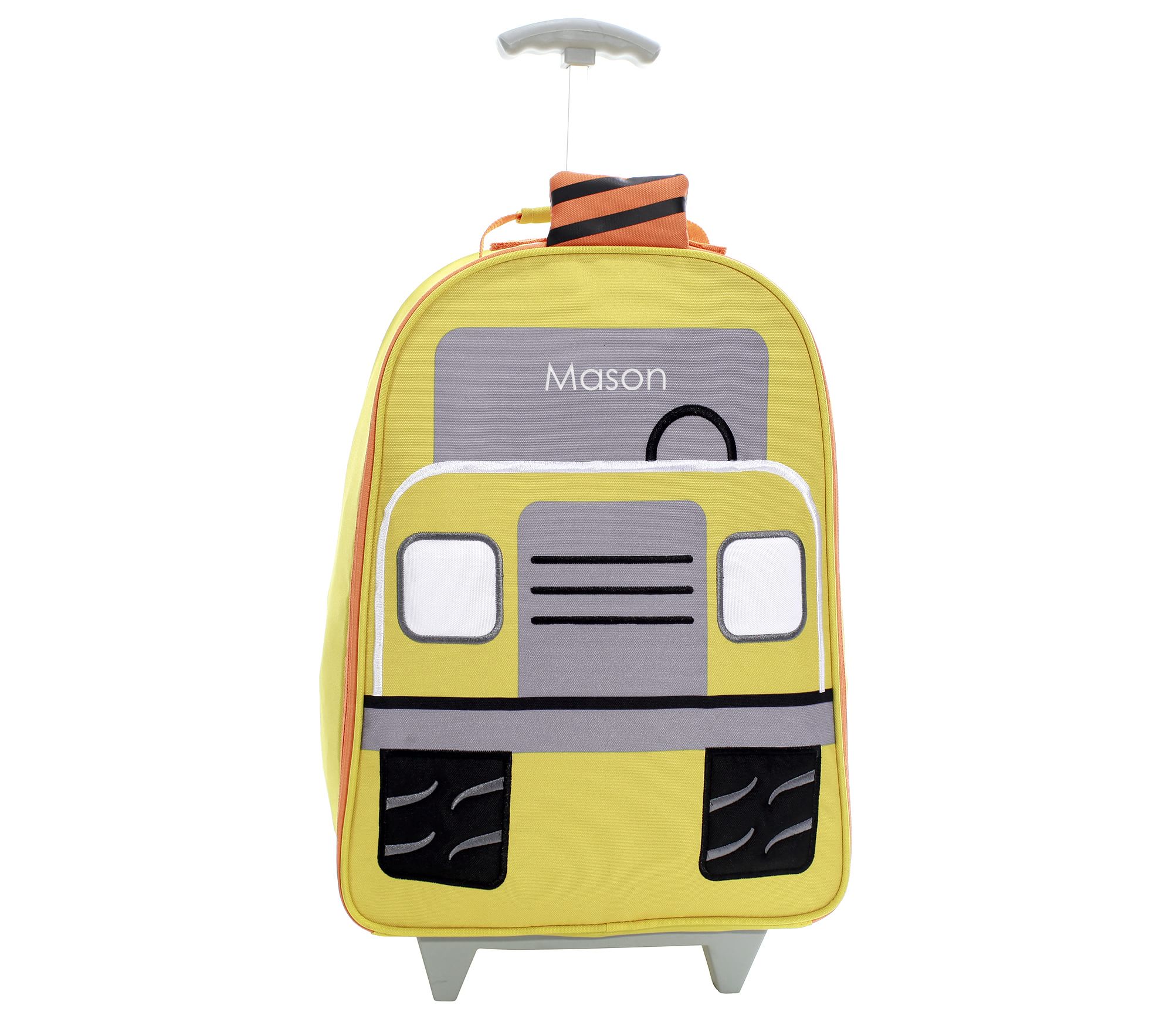 It's all in the details with this adorable construction truck luggage. There are construction warning signs, lights, truck tires and even a steering wheel.
Personalized gifts make anything one of a kind. And when it comes to luggage, you really need to make sure your kids suitcase stands out from the rest at baggage claim.
13 — Toddler Carry On Luggage: Plush Bunny Luggage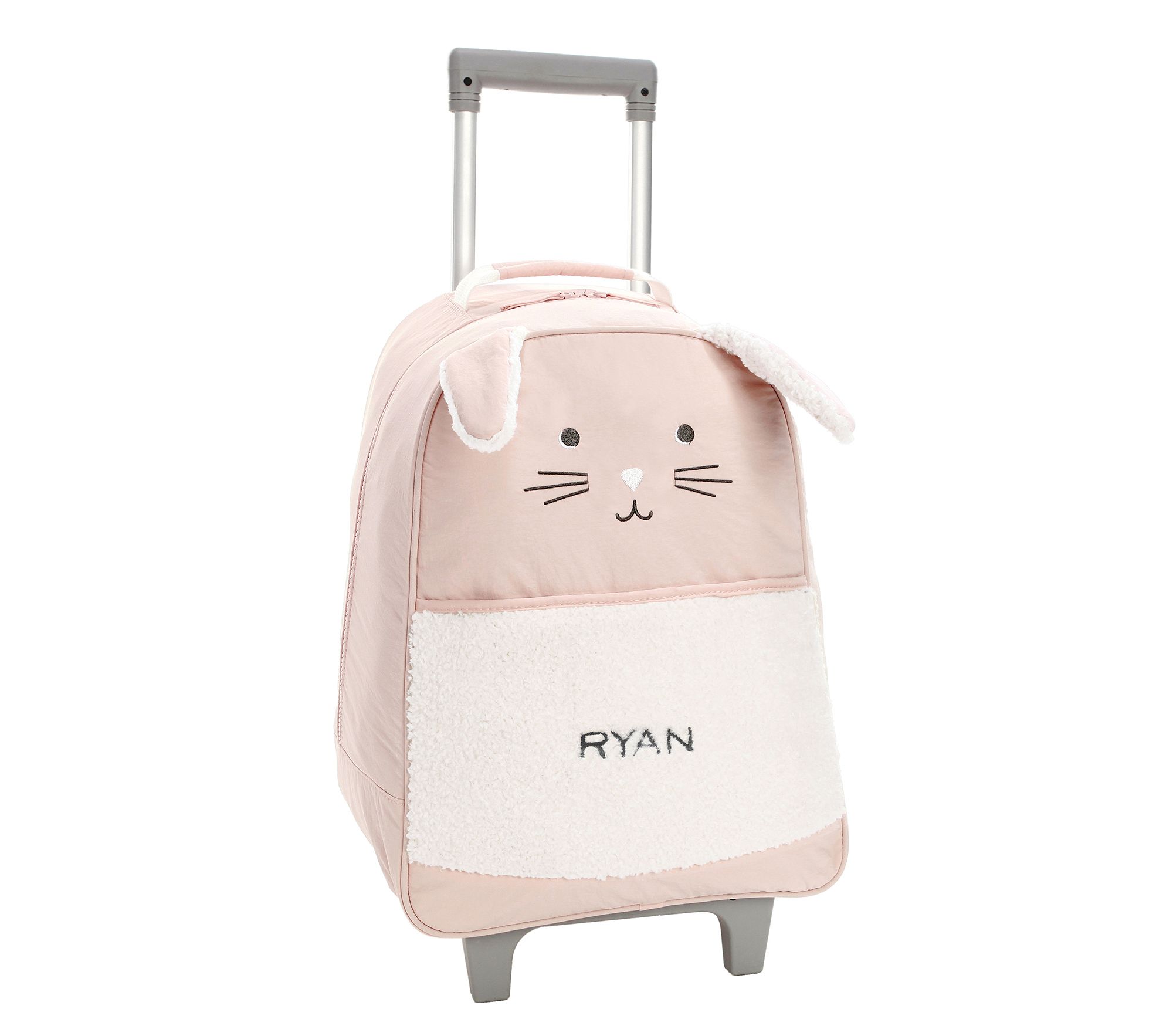 This plush bunny luggage is like a stuffed animal on wheels. So it's bound to put any toddler at ease. It also makes for a creative Easter basket for kids idea!
14 — Star Wars Luggage
Amazon has a plethora of Star Wars themed items, including this cool graphic Star Wars luggage. Choose from other styles like Darth Vader, C3PO, R2D2 and more.
15 — Space Saving Collapsible Luggage
If the lack of home storage is an issue for you, then you'll love this space saving collapsible luggage.
When expanded, the suitcase measures 22″ x 14″ x 9″. However, it collapses down to be only 2″ thick! So it easily stores under the bed or in the closet.
Despite its slim features, it is still constructed with a premium quality polycarbonate hard shell that is scratch, water, and impact resistance.
And because it only weighs 5-pounds, this is a wheeled suitcase that even your kids can manage.
16 — Ride On Seat Luggage
A 2-in-1 piece, the ride on seat luggage is a rolling suitcase and rolling seat that can function together or separately. It is suitable for children ages 1-10 years old. It differs from others by allowing your child to sit upright and front facing securely with a footrest.
17 — Trunki Kids Ride-On Suitcase
Tow your tired toddler or child along on the Trunki Pulley Ride On Suitcase. Or it's even small enough for your child to pull themselves.
The detachable multi functional strap includes an attached key to lock the luggage. And even though there are different characters, we love the Frank Fire Truck the most.
18 — Best Affordable Set: 5 Piece Luggage Travel Set
Everything they'll need for traveling can be found in this budget-friendly Travelers Club kids luggage set. The set includes an 18″ hardside spinner luggage, 15″ backpack, 10″ lunch bag, neck pillow and luggage tag.
Choose from 10 fun designs: polka dot, bunnies, butterfly, cars, cool dog, donuts, first responders, hearts, ice cream and thumbprint hearts. Recommended for children ages 6 and over.
19 — Rolling Duffle Bag with Shoe Compartment
Something for big kids and tweens, the rolling duffle bag includes a separate air-vented shoe compartment to house 3-4 pairs of shoes or even dirty clothes.
It even comes with a matching double layer wash bag for their toiletries. Choose from solid black, monochromatic white and black, pink or khaki colorways.
20 — Stephen Joseph Classic Rolling Luggage
Gift your fashionable jetsetter a Stephen Joseph Classic Rolling Luggage. There's over 20 colorful fun characters to choose from like a llama, unicorn, shark, dino, mermaid and more.
The kids rolling suitcase features a handle that locks at 2 different heights. And as with all the Stephen Joseph line, there will surely be matching accessories like a backpack, toiletry bag and lunch bag that can all be monogrammed.
Traveling with Kids
For more posts on traveling with kids, check out a few of our favorites from the archives —